You had me at cashews…Rosemary Cashews!
Add the woodsy flavor of rosemary, a teensy bit of brown sugary sweetness and a little cayenne kick and these cashews take you to a whole new level.
JOIN THE FRESH COOKY ON PINTEREST
I started making this recipe back when my boys were in grade school, in fact I think it was a recipe from the school cookbook. I've made well over 50 lbs worth of these delicious nuts over the years. If my memory serves me correctly I think it's a recipe adapted from the wonderful Ina Garten and I've adapted them a bit more.
PERFECT HOSTESS, TEACHER OR NEIGHBOR GIFT
These cashews are the perfect hostess, teacher or neighbor gift. I like to buy the big bin of cashews from Costco (which is 2.5 lbs) and make up the entire amount*. After they've cooled I return them to the original container and keep them in the freezer; remove and warm when desired or to place in a pretty jar or bag to give to a friend, hostess or neighbor.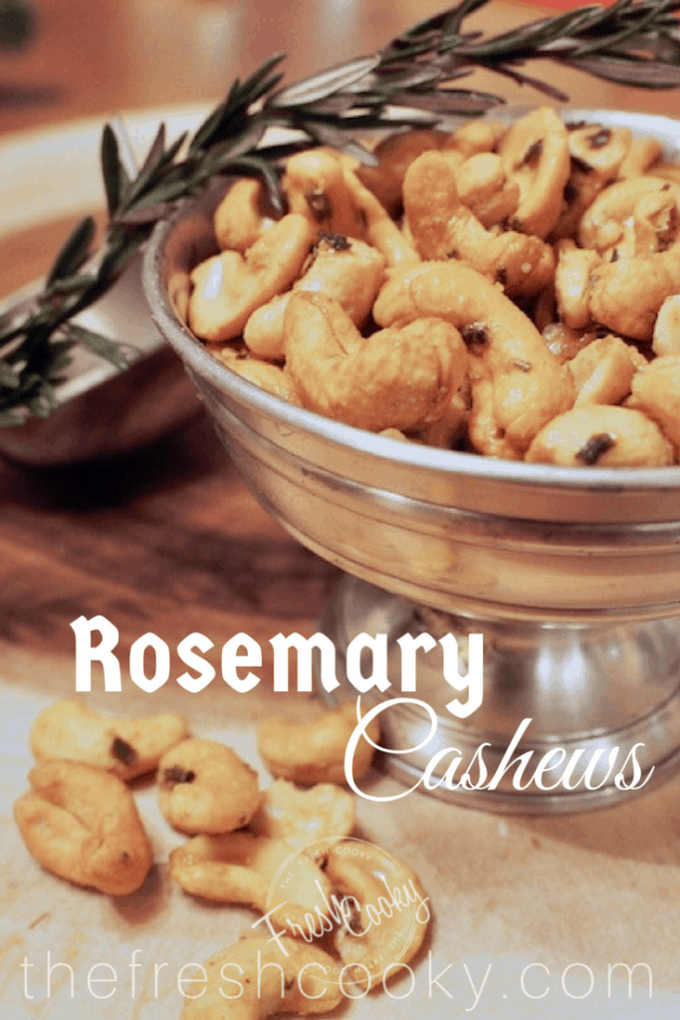 Preheat your oven to 325°. Spread cashews evenly on 1 or 2 half sheet baking pans, trying not to crowd them.
*The recipe uses 1 lb of cashews, so adjust your amounts for the herb butter if you are using the entire 2.5 lbs.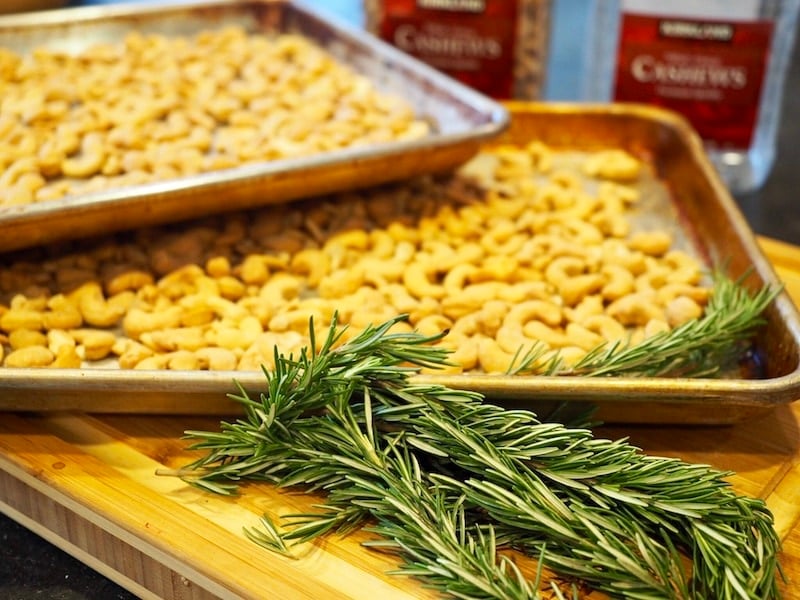 SALTED VS. UNSALTED CASHEWS
I use the roasted and salted cashews as they are the most readily available and have already adjusted the salt in the recipe to accommodate the extra salt. If using roasted, unsalted you may have to increase your salt slightly.
Bake cashews at 325° for 10 minutes, until hot. Remove from oven but keep oven on. Meanwhile, prepare your sweet-spicy slurry.
GET FREE RECIPES

FROM THE FRESH COOKY DELIVERED RIGHT TO YOUR INBOX!
Strip the wood stems of the fragrant rosemary "needles"…starting at the tip of the sprig, squeeze your fingers along the stem and gently pull backwards, removing off the stem.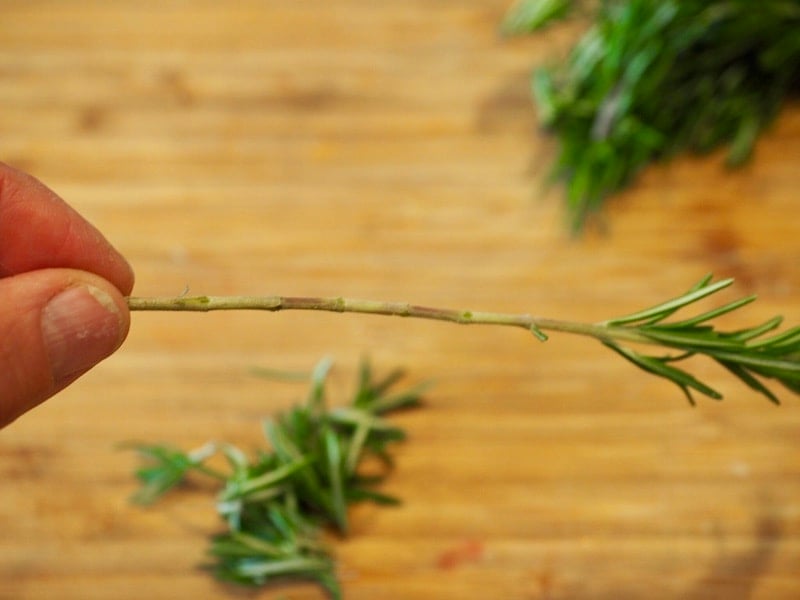 Chop the rosemary as fine as possible. Measurements are approximate so if you get slightly less or more than 2 tablespoons, no worries. This is my very favorite chopping and all around utility knife!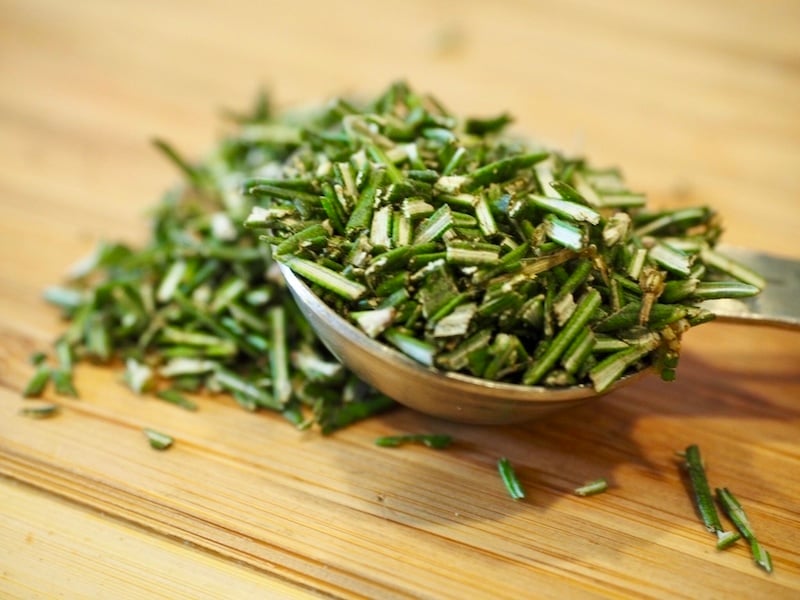 In a small saucepan, melt butter and add brown sugar, cayenne, sea salt and rosemary; stir around over low heat for a minute.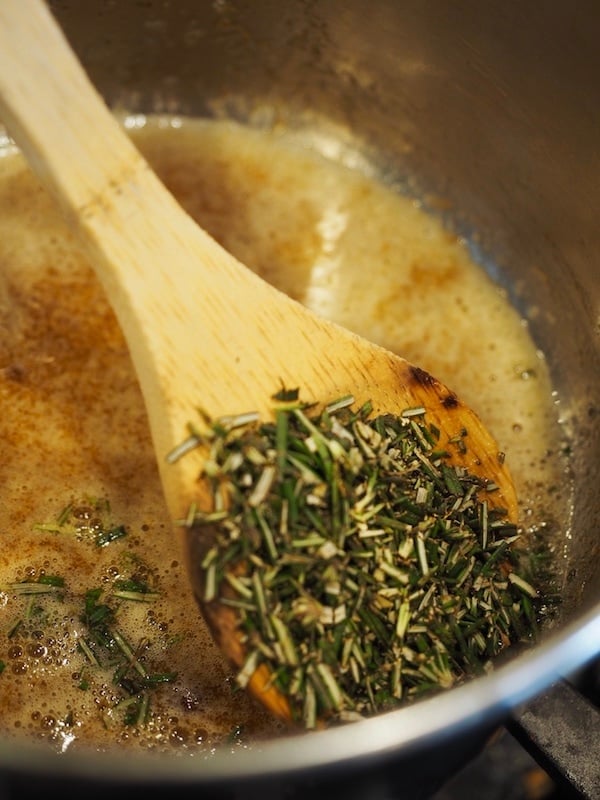 Remove your hot, roasted cashews from the oven and pour them carefully into a large bowl.
Pour the rosemary butter slurry over the top…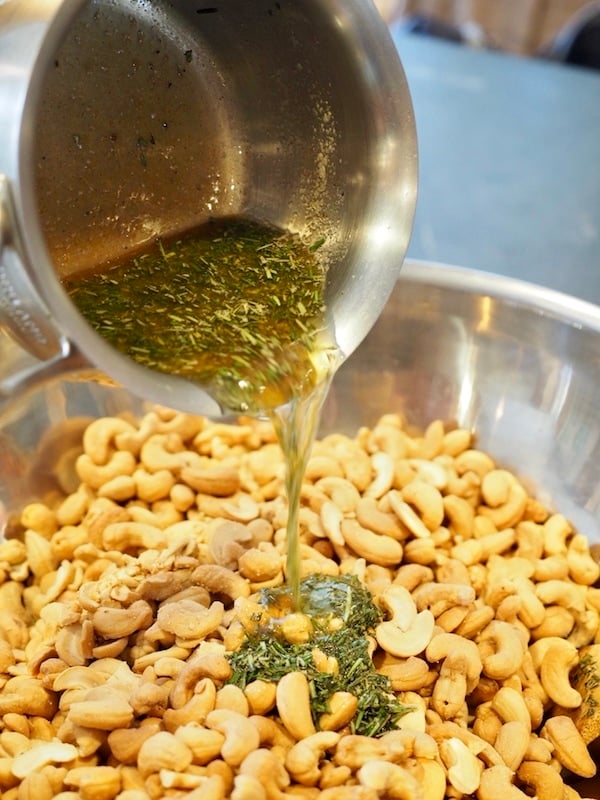 Carefully turn, using a large spoon; coating the cashews evenly with the slurry.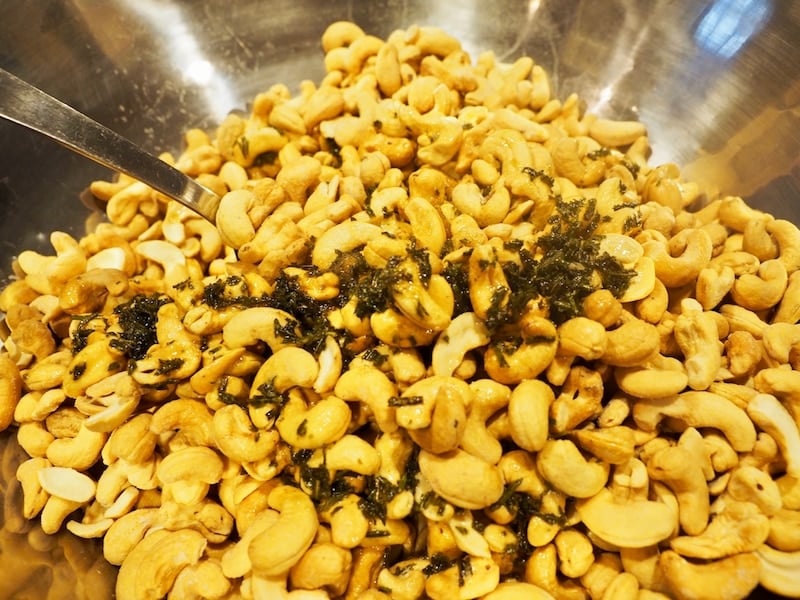 Once mixed well, return the cashews back to the cookie sheets.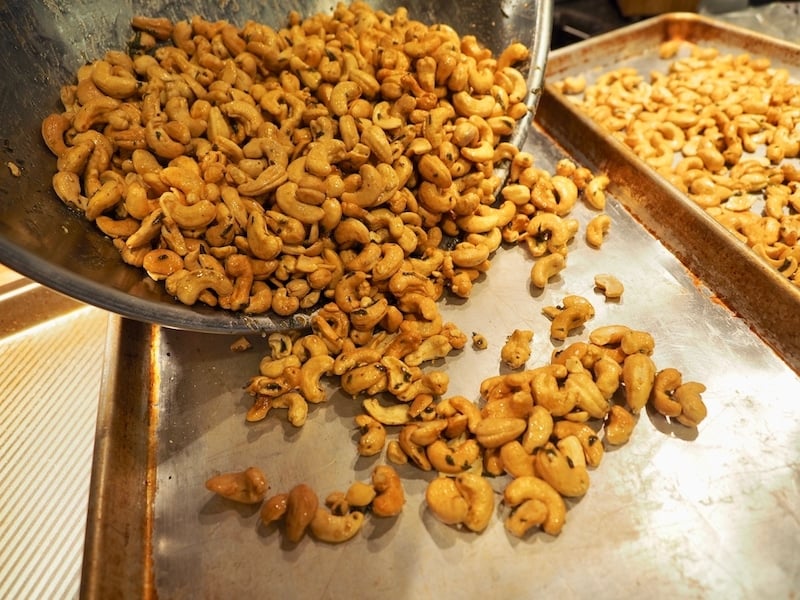 Return to oven and heat for 3-5 minutes.
Remove cashews when they look a bit "dry" (though they will still be a little glossy) and the nuts are a bit browned.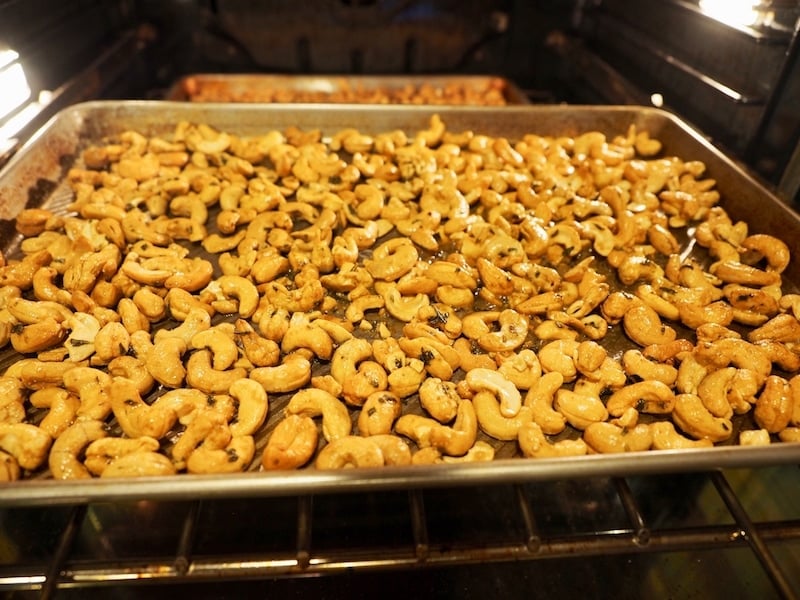 Remove from oven and allow to sit for about 5 minutes, cooling. After 5-10 minutes, stir them around on the cookie sheets using a spatula and cool completely.
Return to the container nuts came in and freeze until ready to gift, serve or nibble.
To give as a hostess gift, place several scoops in a cello bag and tie with string, raffia or a pretty ribbon. Affix a tag and maybe even a leftover little sprig of rosemary. Or place in a small jelly jar or mason jar with a pretty ribbon tied on top.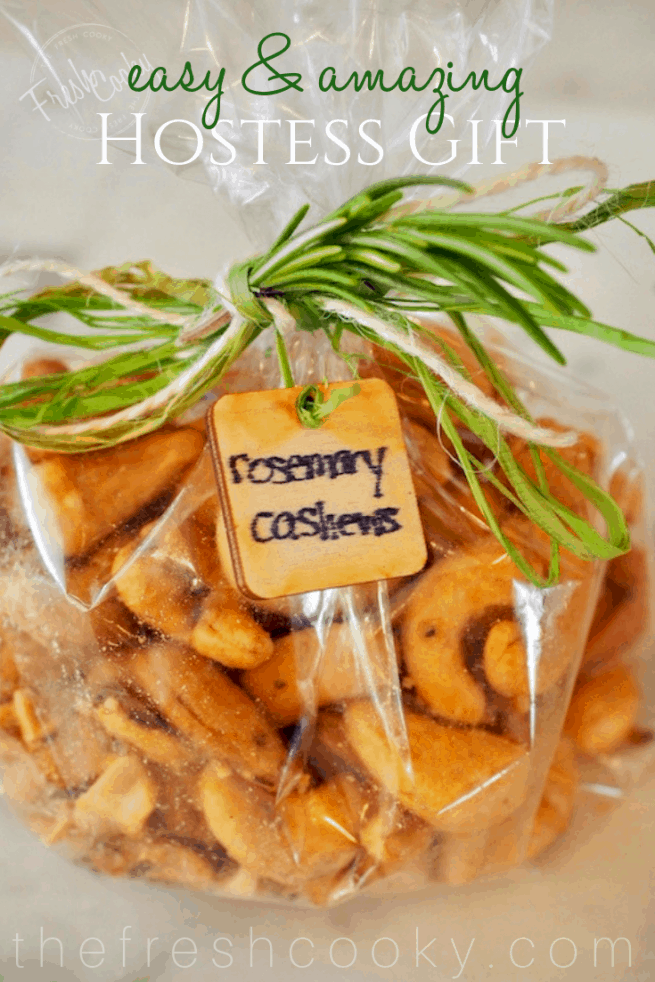 Happily sharing on Meal Plan Monday | Weekend Potluck | Full Plate Thursday
Enjoy this recipe for Rosemary Cashews? Please leave a comment and rate the recipe in the recipe card.
Hashtag any recipes you make from The Fresh Cooky #thefreshcooky or tag me @thefreshcooky on Instagram to be featured on our stories!
LOVE WHOLESOME DELICIOUS RECIPES? COME FOLLOW ALONG!
Share a picture and tag it #TheFreshCooky so we can see it.
GET FREE RECIPES

FROM THE FRESH COOKY DELIVERED RIGHT TO YOUR INBOX!