Instant Pot Chicken and Wild Rice Soup
As an Amazon Associate, I earn from qualifying purchases. Please read my disclosure policy.
Warm dishes on a cool day bring plenty of comfort, warming you from the inside out. This Instant Pot Chicken and Wild Rice Soup fits my craving for homemade goodness with herbs, chicken, and hearty grains. The aromatic rosemary and thyme make this dish extra special, and using the IP makes it easy!
I love soup night! It's so cheery to hold the bowl, warmth seeping through your hands. I like mine on the brothy side, but you can easily make it thicker. It's fun to have game night with my family after having a warm, healthy meal.
I would venture to say this is better than Panera Chicken and Wild Rice Soup — you might like these other Panera Copycat recipes; Orange Scones (Panera Copycat), Copycat Panera Autumn Squash Soup and this Panera Copycat Broccoli Cheese Soup!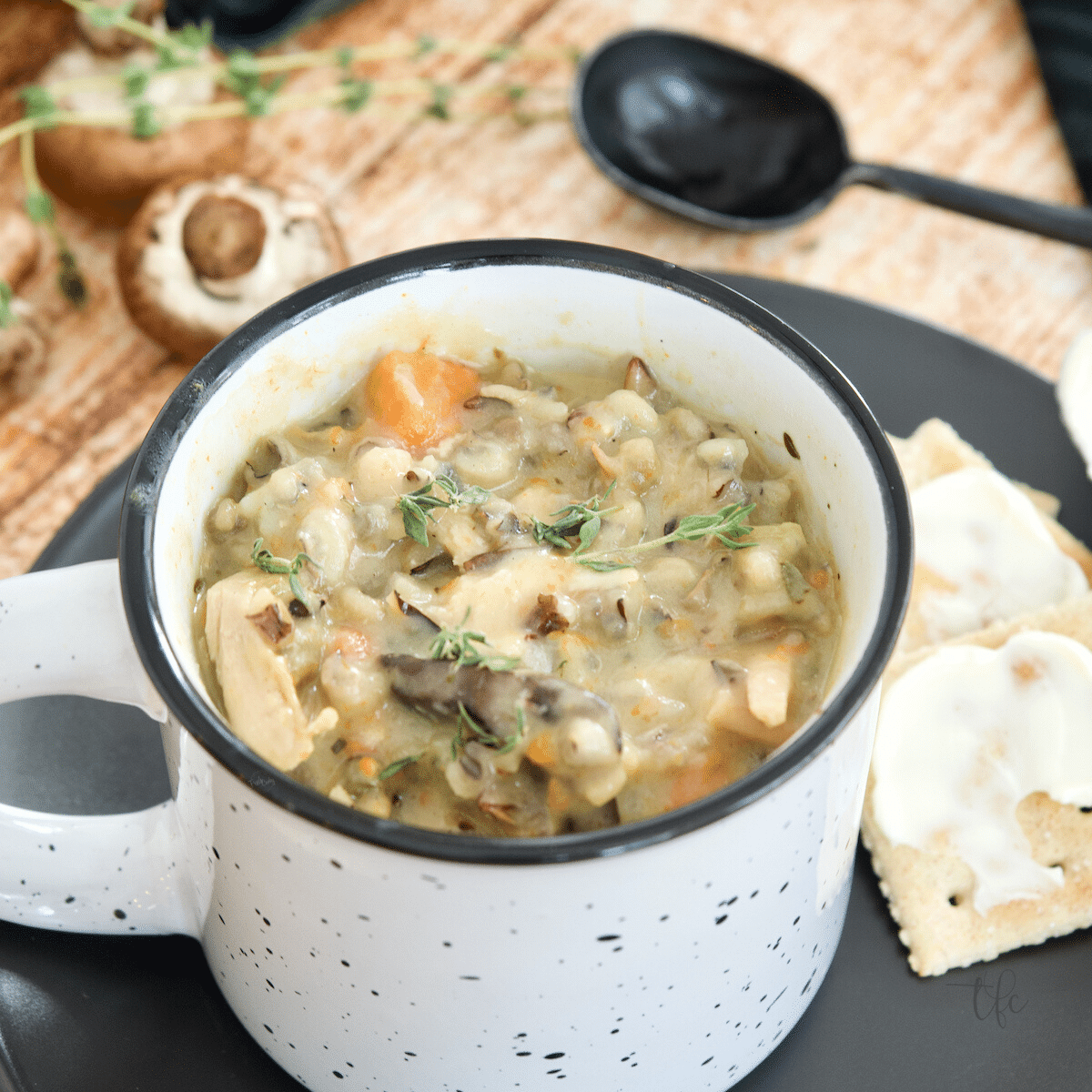 This recipe uses carrots, celery, and onion to flavor the stock, a magical combination used in famous French dishes. And I adore adding mushrooms, making this meal both hearty and earthy.
After you try this wild rice soup recipe, check out my Easy Chicken Noodle—it's a classic, especially if you're feeling under the weather. Another family favorite is my Best Bacon Beef Minestrone with its smokey bacon, nutrient rich beans, and seasonal vegetables. And there is the classic Easy Creamy Tomato Bisque Soup Recipe.
I also have side dishes to mix and match with the main dish! These Sweet Brown Bread Rolls are soft and chewy with a touch of molasses, or try this 4 ingredient Beer Bread for a quick bread side. And my Maple Apple Pecan Salad is the perfect addition to Instant Pot chicken wild rice soup for a meal that's bursting with fall flavors.
Primary Ingredients
The full measurements and instructions are in the printable recipe card at the end of this post.
Chicken Breasts | Save time by cooking these in the Instant Pot beforehand, try my friend Nikki's recipe. Pour out the excess liquid, then start the soup without needing to wash in between! Or use shredded rotisserie chicken.
Wild Rice | It's important to use a true wild rice and not one mixed with white grains.
Carrots | I use orange carrots, but yellow and purple ones are beautiful for this Instant Pot chicken and wild rice soup recipe.
Butter or Olive Oil | Either can be used to saute your vegetables.
Garlic | A little goes a long way! Fresh cloves have a bolder flavor, but the jarred minced version will work in a pinch.
Mushrooms | Button mushrooms are standardly used, but you can put a twist on this meal by using Shitake or Oyster mushrooms.
Chicken Broth | This adds loads of flavor, but vegetable broth is a suitable substitute as well! Especially if making this a vegetarian wild rice soup!
Seasonings | A mixture of thyme, rosemary, garlic powder, and onion powder adds a unique and scrumptious flavor to this wild rice soup recipe.
Recommended Equipment
Instructions
Step 1

Set the Instant Pot to Saute, then cook the carrots, celery, and onions in butter or oil until softened. Add in garlic and mushrooms during the last minute or two, then stir around the spices and herbs to bloom.
Step 2
Stir in the wild rice, broth, and chicken (optional, wait until after cooking to add the chicken).Seal the lid and cook for 45 minutes, then do a Quick Release once the timer is up.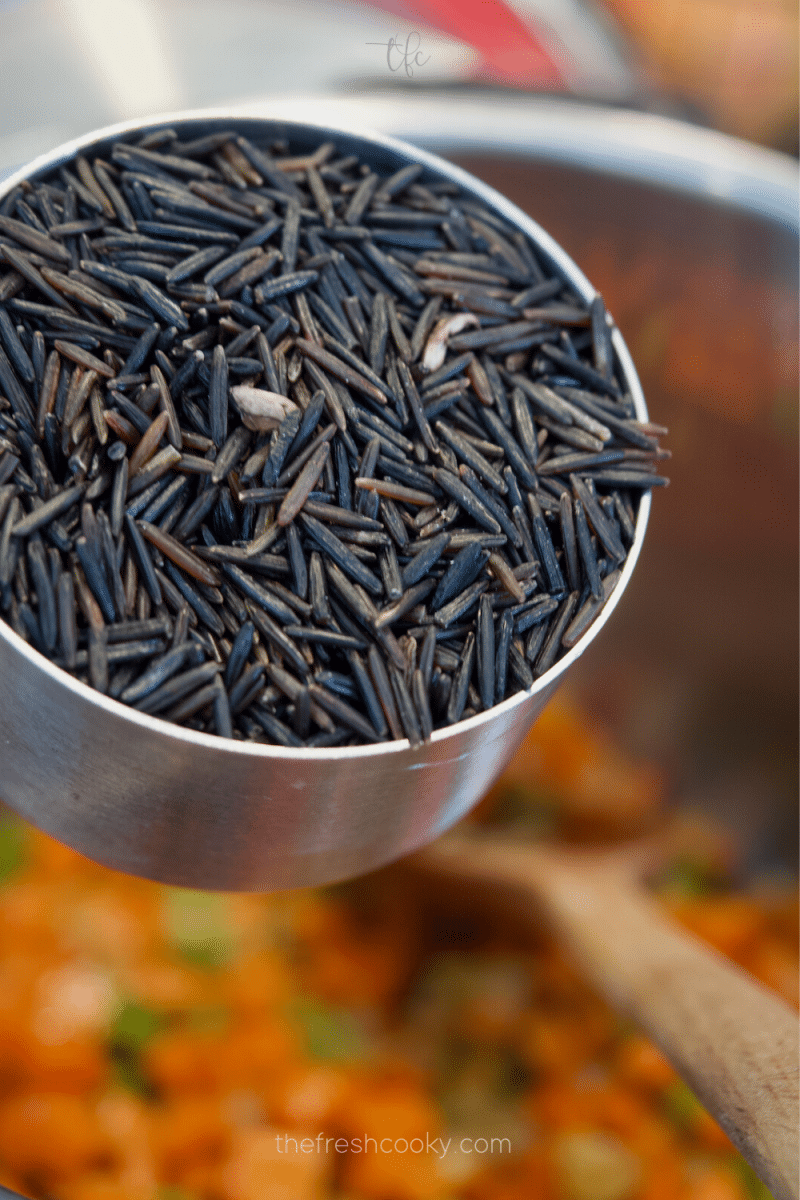 Step 3
Meanwhile, make a roux in a saucepan on the stove. Once the flour is dissolved and bubbly, about a minute to get rid of the flour flavor. Then whisk in the milk until the mixture has thickened.
Pour the roux sauce into the soup, mixing until well combined. Season to taste and serve!
Variations
Instead of IP chicken, you can substitute a rotisserie bird or leftovers from another meal, or even better, use leftover turkey!
For a thicker soup, decrease the amount of broth. If you love it extra thick, double the ingredients for the roux.
Like a thinner soup; halve the amount of the roux, omit completely (vegan) or add additional chicken or vegetable broth.
If you want a Vegetarian Rice Soup; replace the chicken with crumbled, sautéd tofu or white beans and use a vegetable-based broth, or omit the protein altogether. Substitute the milk and butter with a plant-based option for vegan wild rice soup.
Gluten-Free Wild Rice Soup, substitute the flour with an all-purpose GF blend.
Fresh Tips
PREP! I am a huge believer in chopping and measuring your ingredients before you get started on the recipe. It's also helpful to read the entire recipe through. I have missed a step or done something prematurely many times!
For a more complex and rich flavor, add a ¼ cup of white wine to your Instant Pot chicken and wild rice soup.
To make it creamier, replace half of the milk with cream, or half and half.
Frequently Asked Questions
How do I make a roux?
Melt the butter over a medium heat before adding in the flour, then slowly whisk in flour, whisking constantly. For about a minute or so, to cook out the flour flavor, then slowly pour in the milk (whisking constantly) until the mixture is rich and thick.
How do you know when wild rice is cooked?
Wild rice is full of nutrients, antioxidants, and protein, but it takes longer to cook than white or brown varieties. It takes about 30 minutes on High in a pressure cooker, while the stovetop method requires an hour. The individual grains pop open when they're done.
How do I make soup in my Instant Pot?
Be sure the liquid is below the max fill line. Make the roux separately for the soup and add it last. The milk will curdle and burn on the bottom of the pan if you leave it in the Instant Pot the entire time. You might also enjoy this recipe for Potato Leek Soup also made in the Instant Pot.
Is this like Panera Chicken and Wild Rice Soup?
Personally, I think this recipe is better than Panera Chicken and Wild Rice Soup. Super flavorful, loaded with veggies and mushrooms in a thick, rich, healthy broth. Plus make enough for meal-prep for the cost of one bowl of soup!
Is Wild Rice actually a rice?
In spite of its obvious connection to the rice world, it is actually not a rice. It is truly a grass, but such a healthy, delicious and nutty grass that you will fall in love with this dark, long skinny wild grass, that is commonly called wild rice!
Stovetop Chicken and Wild Rice Soup
While this instant pot rice soup recipe is so quick; you may not have an Instant Pot, I get it.
Add onions, carrots and celery to melted butter or hot oil, sautéing over medium heat until caramelized and softened. Add garlic and mushrooms in the last few minutes.
Add salt, and herbs to the veggies, stir around a few seconds to bloom the spices. Then stir in wild rice, chicken if using and broth, bring to a simmer, reduce heat, cover and cook 1-2 hours until rice is softened and split open slightly.
Towards the end of the wild rice cooking time; in a small skillet or saucepan, melt butter over medium-heat and then whisk in flour, cooking until golden in color, about 1-2 minutes to remove the flour flavor. Whisking constantly, slowly pour in the milk and cook until thick and bubbly. Add roux to the wild rice soup mixture, add chicken if desired. Taste and adjust spices as desired.
Crockpot Chicken and Wild Rice Soup
Follow steps 1 and 2 above through blooming spices. Place chicken breasts (uncooked) into bottom of crockpot and season with salt and pepper.
Pour veggies into crockpot over chicken, add wild rice and 6 cups of chicken broth. Set crockpot on low and cook, covered for 6-8 hours. Remove chicken and shred then return to slow cooker.
Add mushrooms in last 30 minutes of cooking. Make roux in the meantime, stirring into wild rice soup along with mushrooms.
If you want to add pre-cooked chicken or leftover chicken or turkey; I suggest waiting and adding when you add the mushrooms, about 30-60 minutes before ready to eat.
More Soup & Stew Recipes
We love soups and stews in our family, they just warm you down to the bones on chilly days, or when you feel under the weather. Here are more of our favorites!
What to Serve with Panera Chicken and Wild Rice Soup
Or simple buttered Saltines are perfect!
Be sure to PIN to your favorite SOUP board on Pinterest!
Like this recipe?
Don't forget to give it a ⭐️⭐️⭐️⭐️⭐️ star rating and comment below the recipe!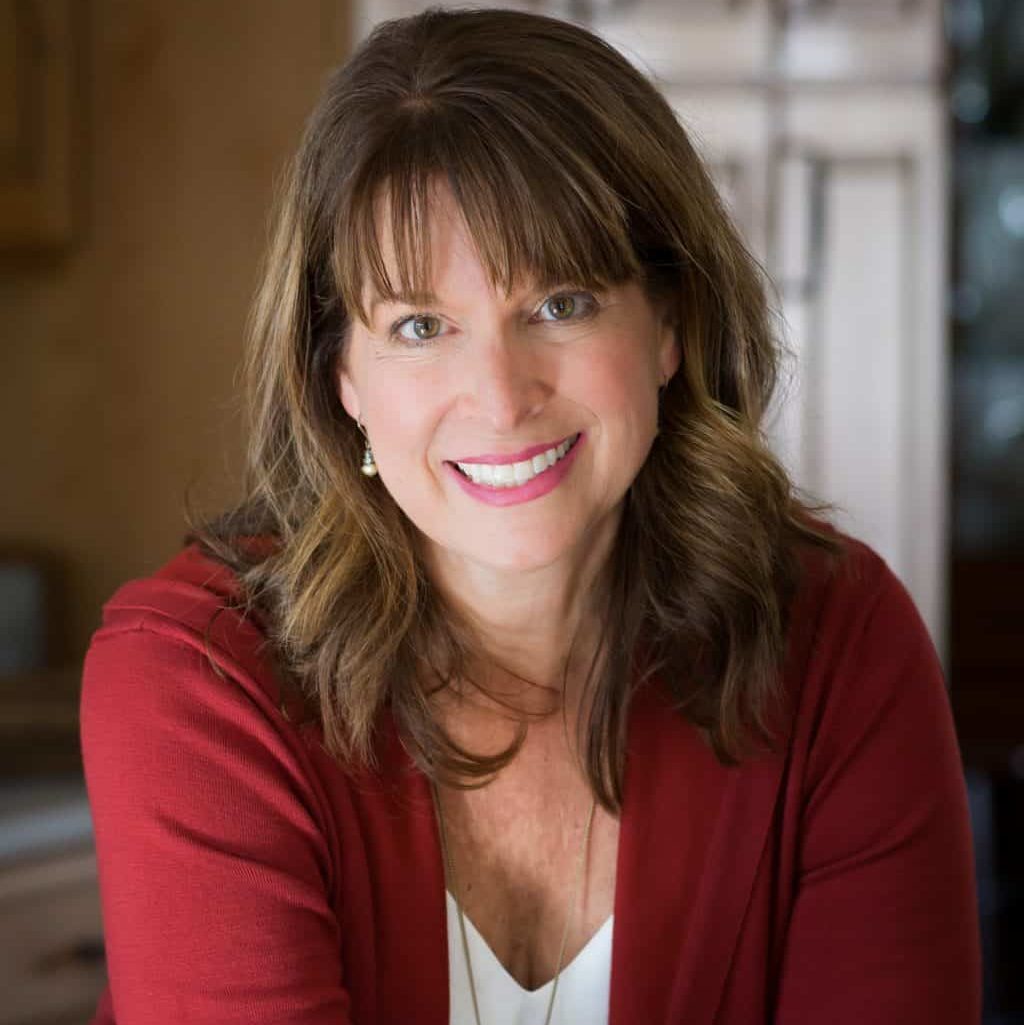 About Kathleen Pope
Recipe Innovator | Food Photographer | Food Writer
Hi, I'm Kathleen Pope. Here at The Fresh Cooky you will find easy, mostly from-scratch, trusted recipes for all occasions. From speedy dinners to tasty desserts, with easy step-by-step instructions. I am here to help teach you how to make mouthwatering recipes without spending hours in the kitchen. Read more about Kathleen here.