Homemade Vegetable Mineral Broth
As an Amazon Associate, I earn from qualifying purchases. Please read my disclosure policy.
Loaded with vitamins, minerals and antioxidants; this homemade gut-healing vegetable broth is an immune boosting, sickness fighting, anti-inflammatory powerhouse! And it tastes great too!
A friend of mine introduced me to this amazing, healing broth and I'm so glad that she did! She discovered it when her husband was diagnosed with cancer (thankfully, caught very early).
This Magic Mineral Broth was recommended to take along with his treatment, to help boost his immune system and fight the cancer. She was diligent in making this amazing or "Magic" mineral broth and thank the Lord, he is now cancer free!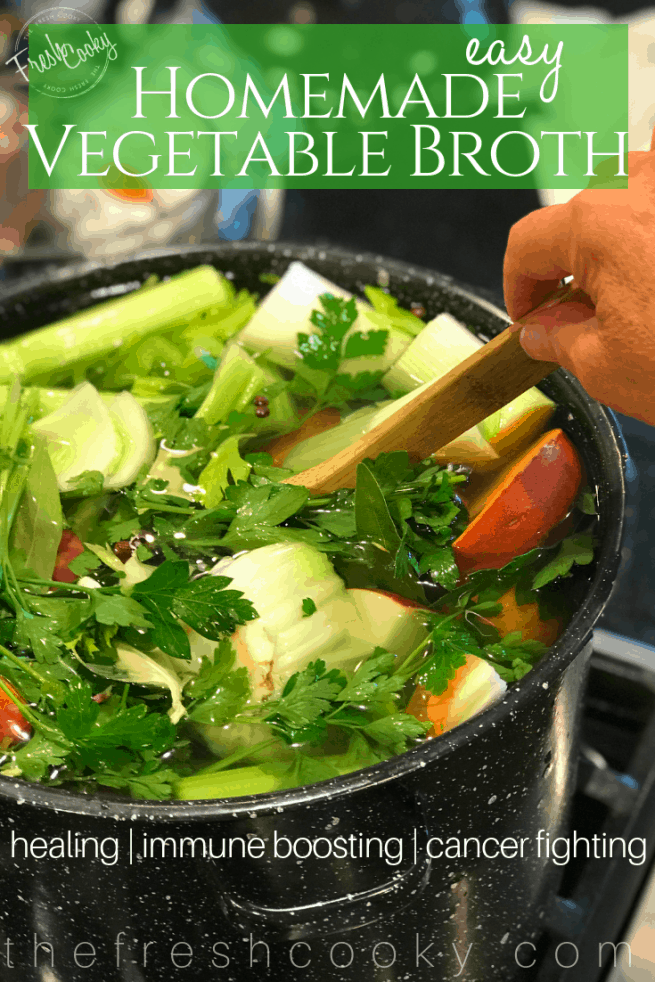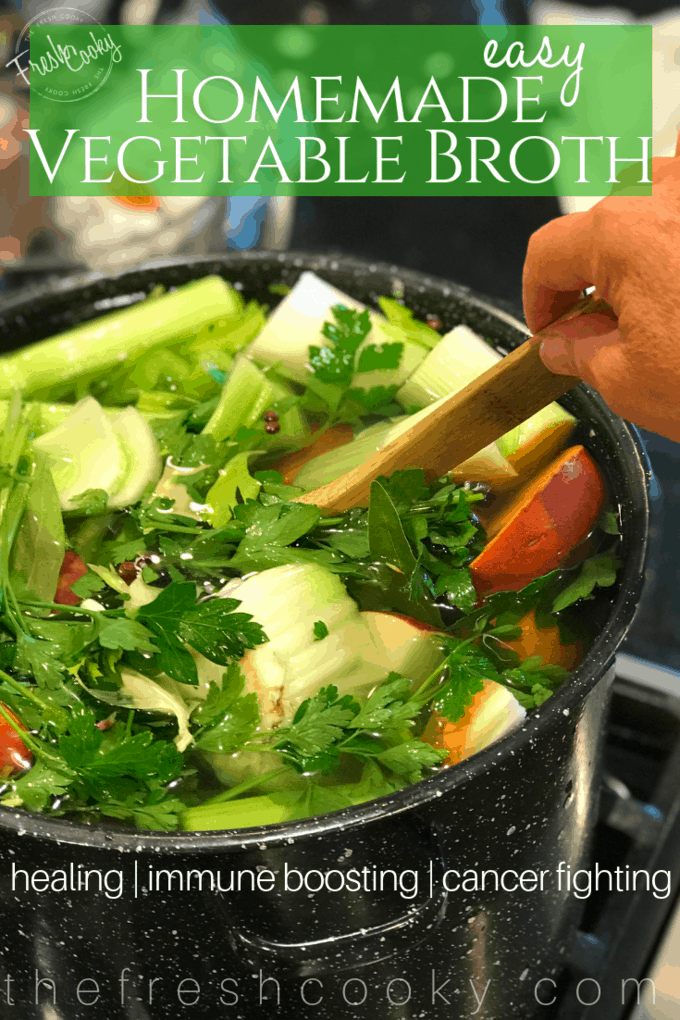 Homemade Vegetable Mineral Broth
Anyhoo, she turned me onto the gal who created this Magic Mineral Broth, Rebecca Katz; if you haven't heard about her, you are in for a treat, she is so spunky and fun, I highly recommend reading her blog. Here is what she says about this amazing broth and it is really amazing!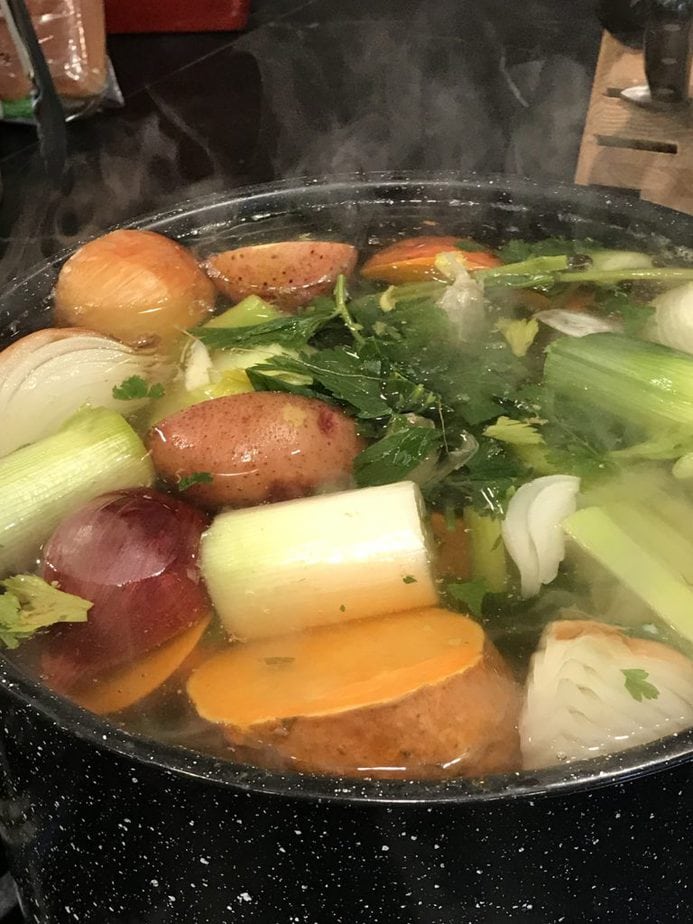 "Mothers say, My kid loves this broth! Others tell me, All of a sudden I can sleep! (The magnesium is so calming). People who are sick or run down, mothers who have just had babies, all have healing stories to tell. Many have credited MMB with helping them survive cancer treatment and… thrive!"
"Cancer-fighting, immune-boosting, sniffle-healing comfort in a cup."

Rebecca Katz – Developer of Magic Mineral Broth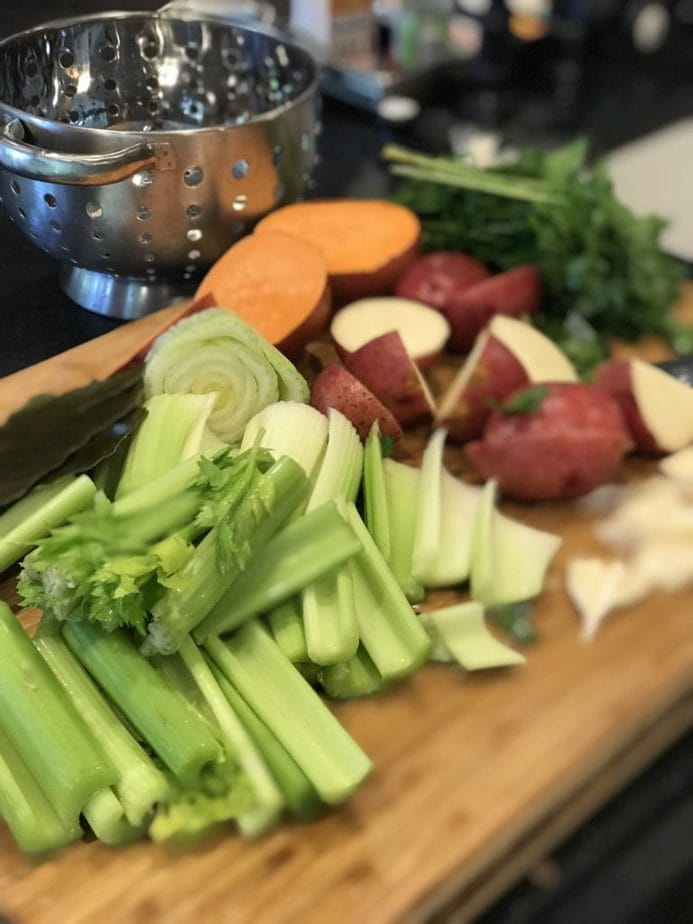 Check out her blog and her delightful post on Culinary Choreography, it's fun and educational!
Keep this amazing, healing broth around to sip on, especially if you are not feeling well; it's mild, pleasant, easy on the system and does amazing things for your body; chock-full of magnesium, potassium, and sodium (the good kind), it allows the body to refresh and restore itself. Good for regularity too!
VEGAN | PALEO | PROTEIN PACKED | GUT HEALING | GLUTEN FREE
Let's start with the ingredients!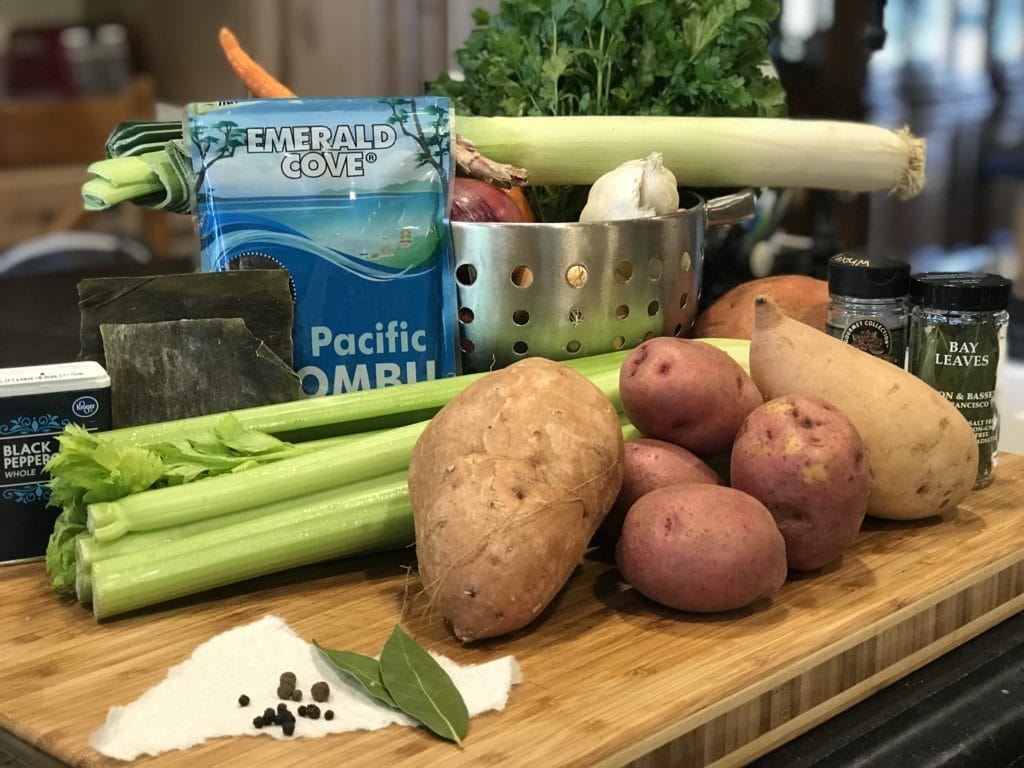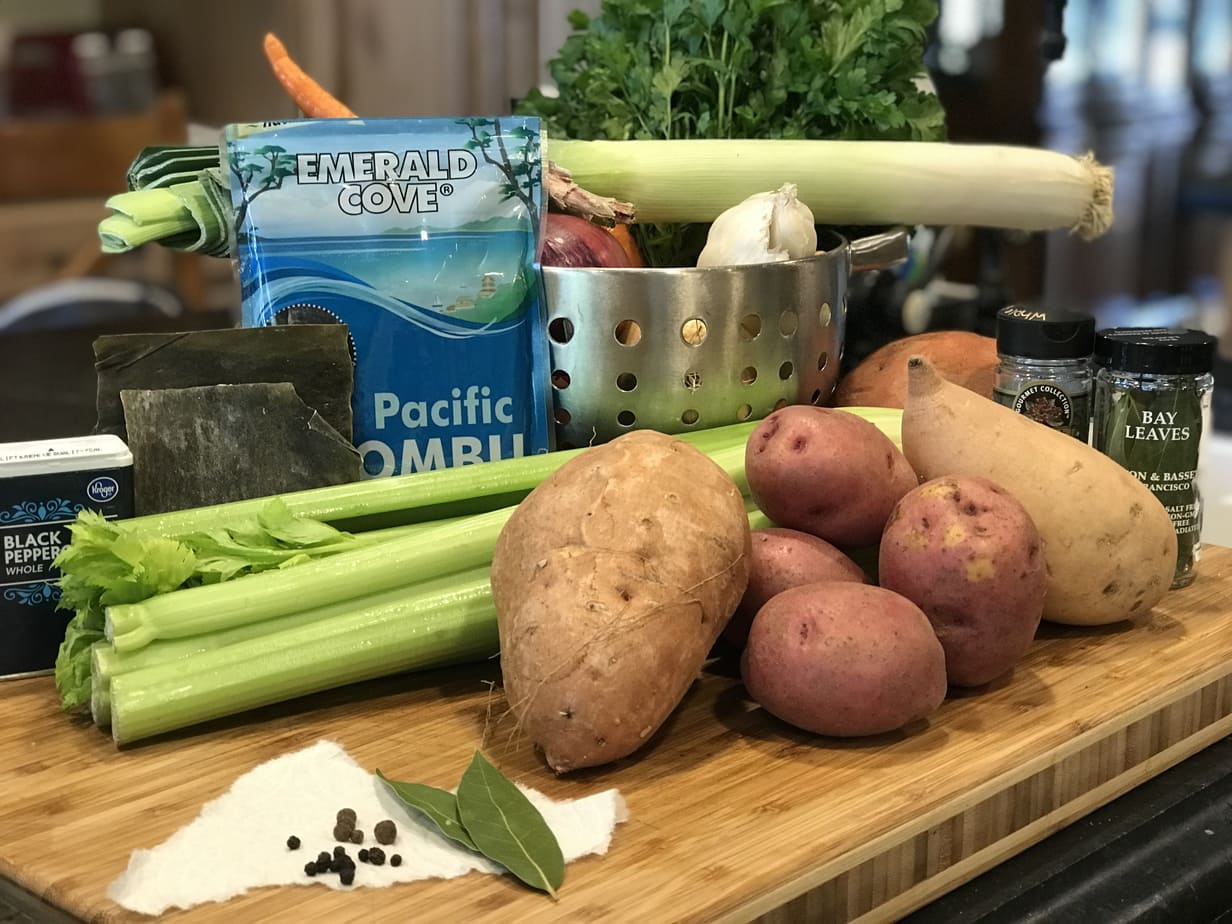 The easiest thing about this broth is that you don't need to peel anything, just wash, rough chop and go!
HOW DO YOU MAKE HOMEMADE VEGETABLE MINERAL BROTH?
Purchase quality ingredients and don't freak out about the seaweed, it's the "magic" ingredient that imparts so many amazing vitamins and minerals and you cannot taste it!
Wash and then quarter your onions and leeks, be sure to wash the leeks extra well! They tend to be pretty sandy! Leave your skins on!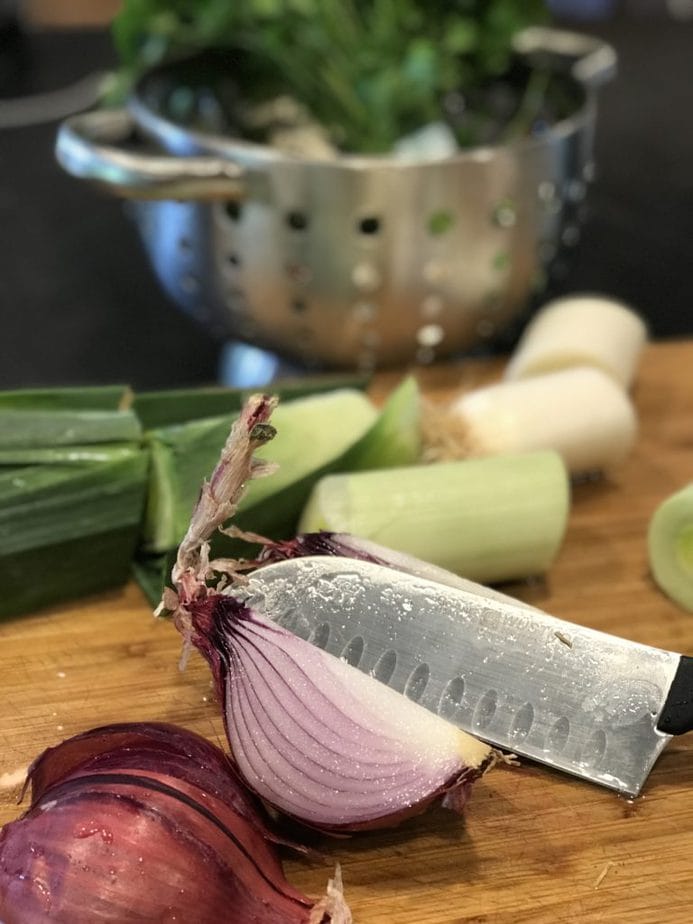 Now, wash and rough chop your carrots and toss them in a large stock pot (at least 12 qts), I show water here, but I think it's actually easier to fit to the top with water once you have finished all of your veggies.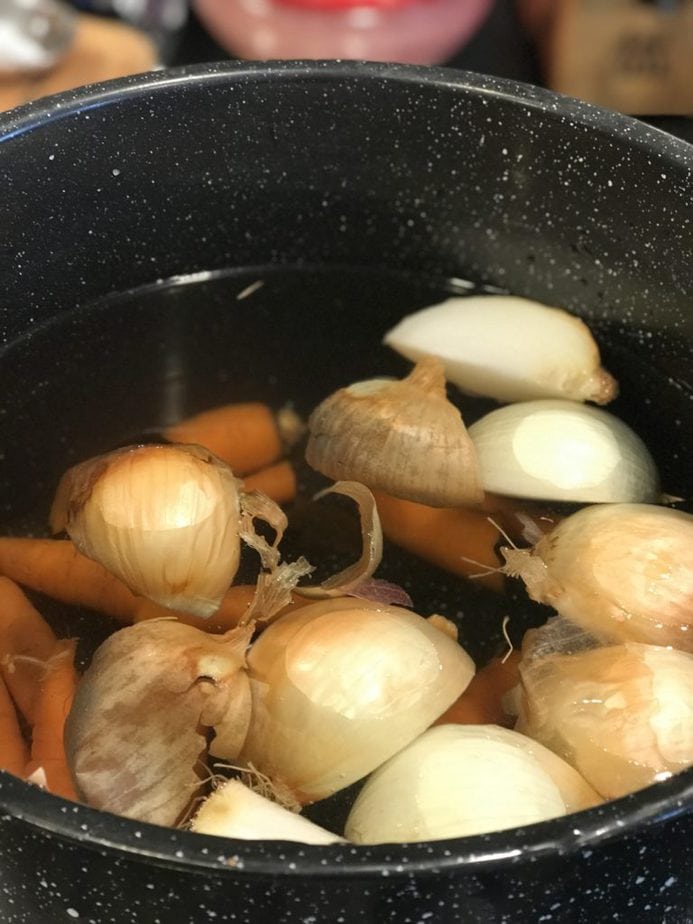 Next in; your flat leaf parsley and Japanese yam, do this in whatever order you want!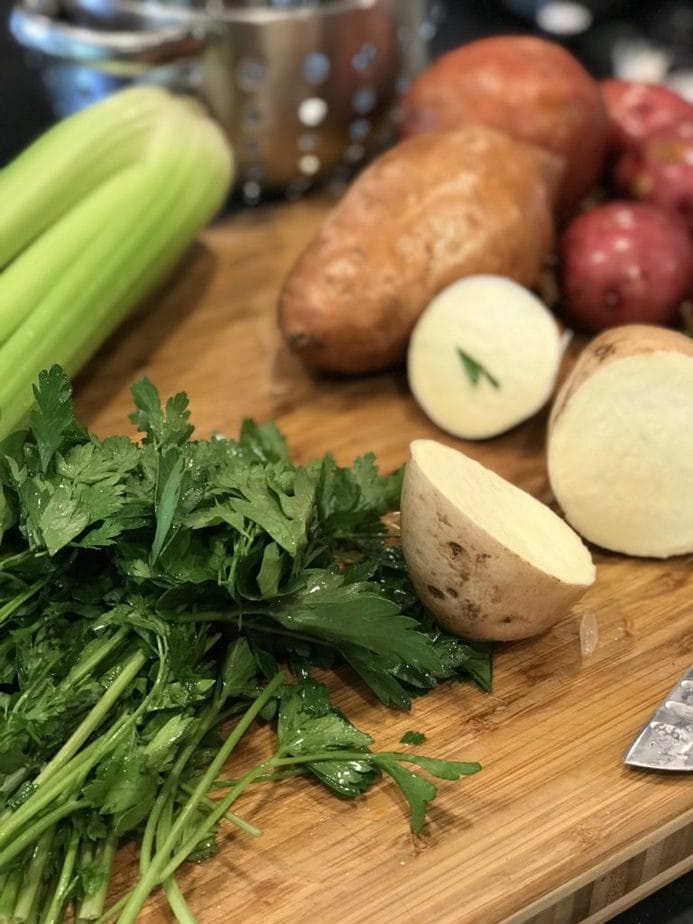 And then your celery (heart, leaves, end; all parts) and the rest of your potatoes.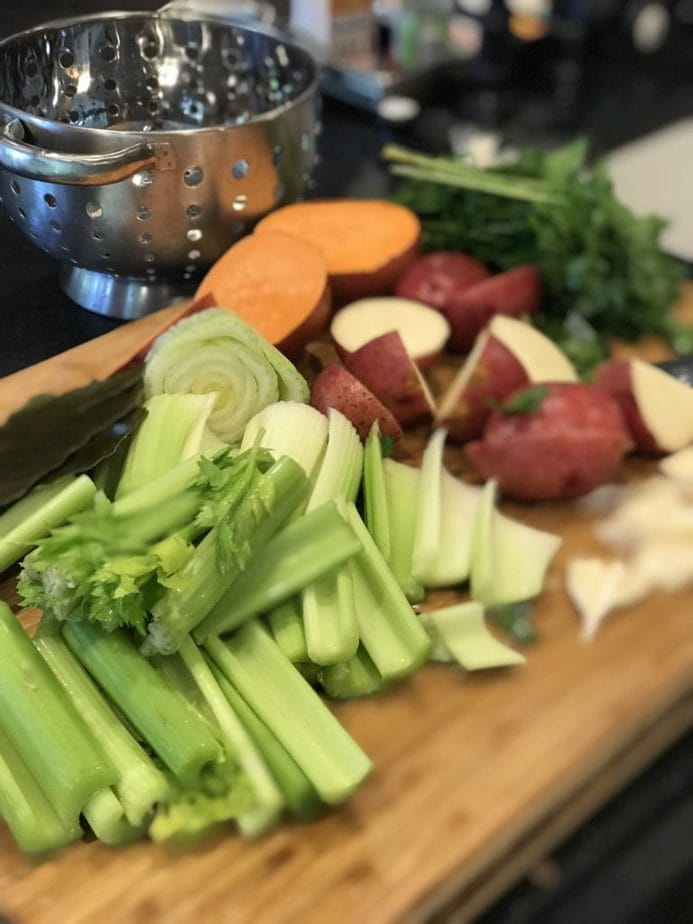 Add your garlic cloves, smooshed with the flat side of a large knife…or halved. Skins and all!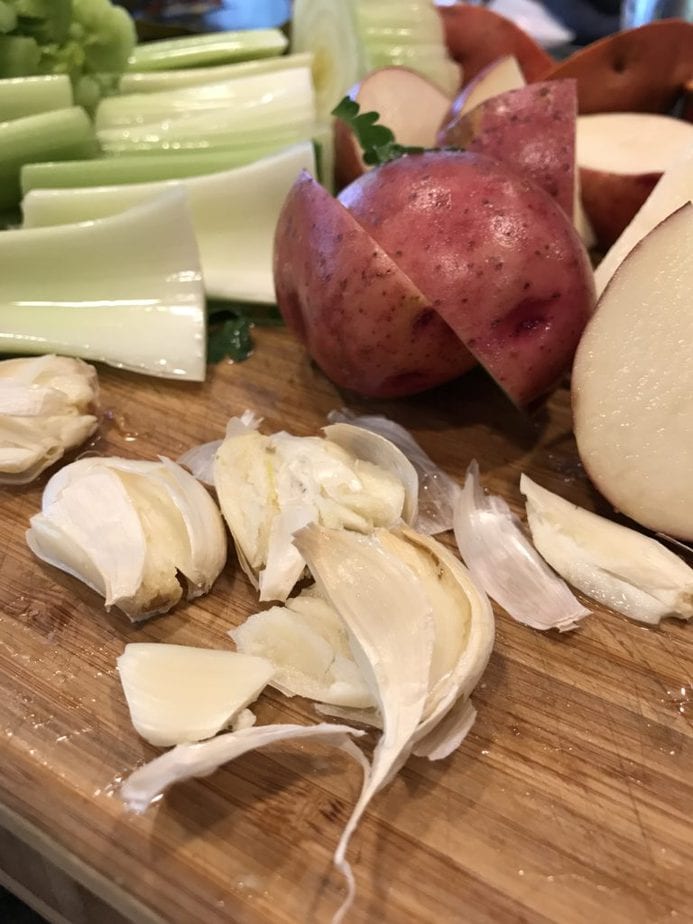 Finally, add your Kombu* (be sure to rinse this as well). You may have to go to a specialty store for this, but don't leave it out, it's the magic ingredient and as I said earlier, you cannot taste it. I found mine at Whole Foods, with more than one vegetable broth pot with enough to last several pots worth of this wonderful vegetable broth, but you can also buy online from Amazon, easy link is here Pacific Kombu .
*According to Rebecca, "Kombu is a mineral-rich seaweed (in the kelp family) that adds umami or savory flavor to stocks and broths. Kombu is usually found in the Asian section of grocery stores near the nori (seaweed sheets) that are used for sushi. Store dried Kombu in the cool dark area of your pantry."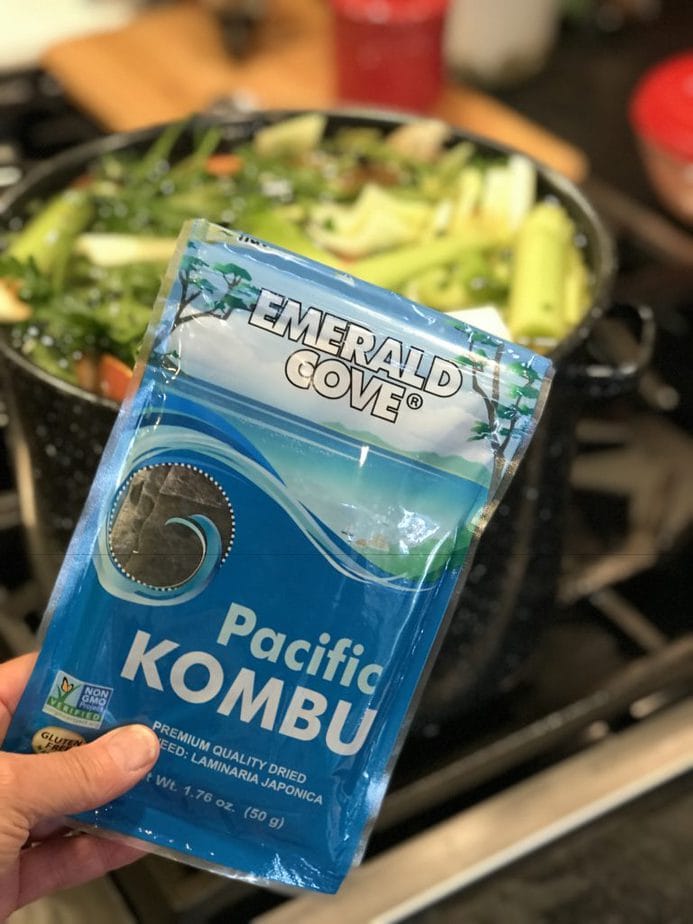 Toss in the spices…peppercorns, allspice, bay leaves and sea salt.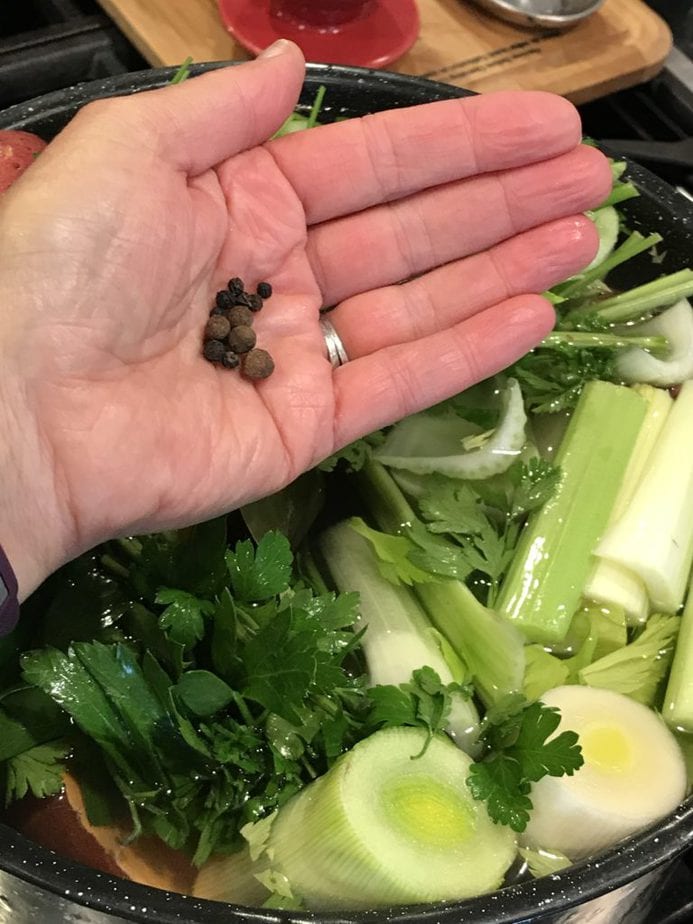 See the Kombu peeking out from behind the bay leaf?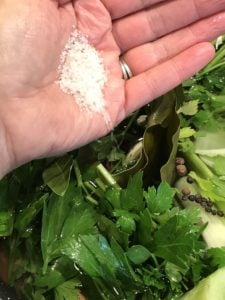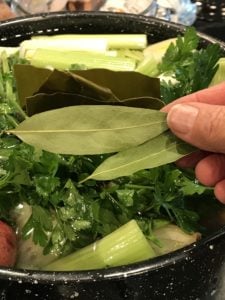 If you haven't already added your water, fill to about 1″ to the top of the pot. Give it all a good stir!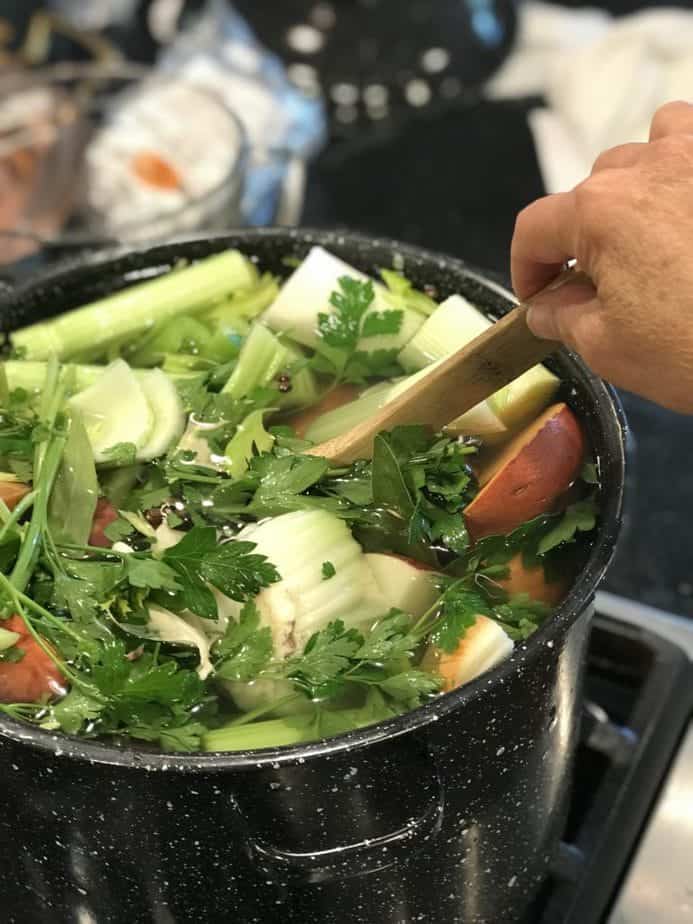 Cover and bring to a boil, then remove the lid and reduce the heat to low and simmer, uncovered for 2-4 hours. Below is what it looked like after 2 hours.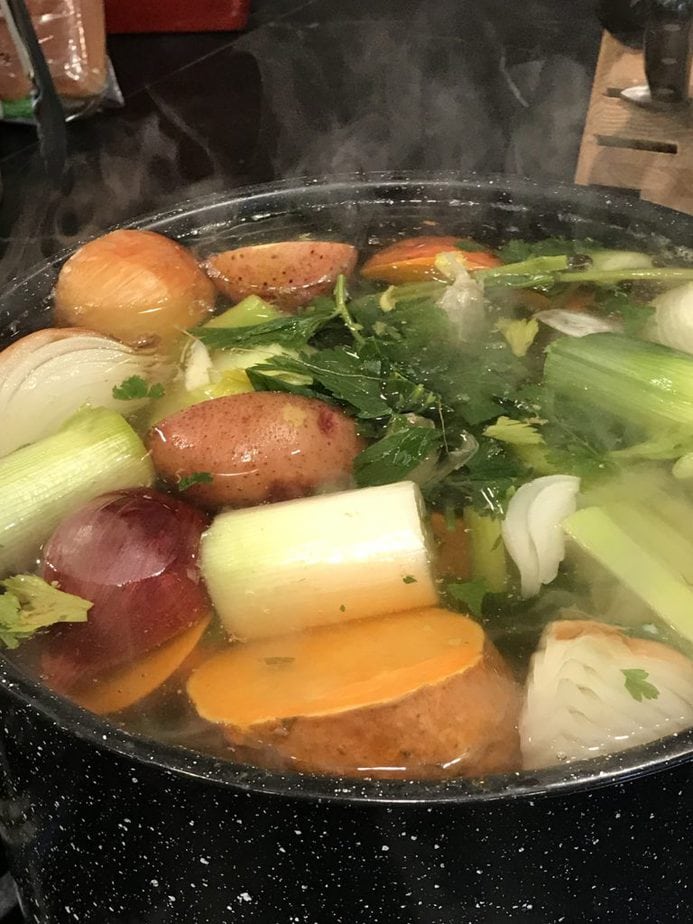 Continue simmering until the broth is a rich color and you can taste the vegetables in the broth. 4 hours worked best for me.
Strain broth using a large, coarse mesh sieve, making sure you have a heat-resistant large batter bowl below the sieve to catch all of that great broth.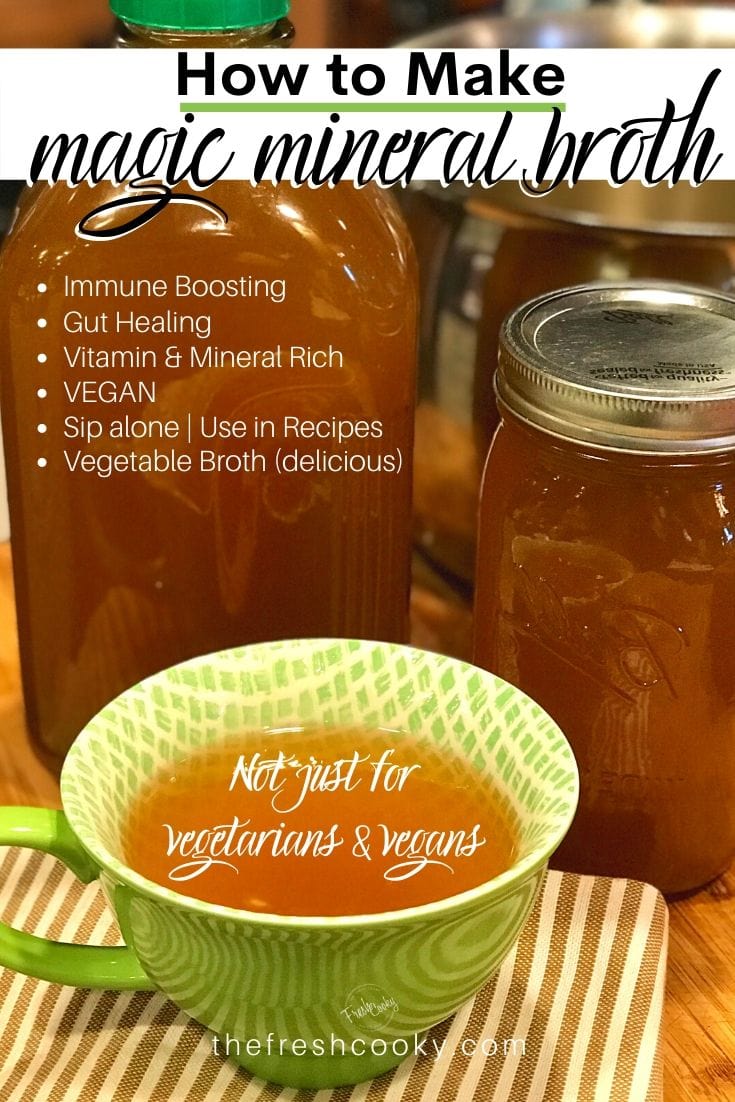 Season with sea salt to taste and cool to room temperature prior to refrigerating or freezing! Ladle into glass jars or bottles, fill only to the top of the shoulder to allow for expansion in the freezer or freeze in freezer baggies, removing as much air as possible before freezing.
Before it cools down too much, ladle yourself a mug full and enjoy yourself some of this delicious, homemade vegetable mineral broth.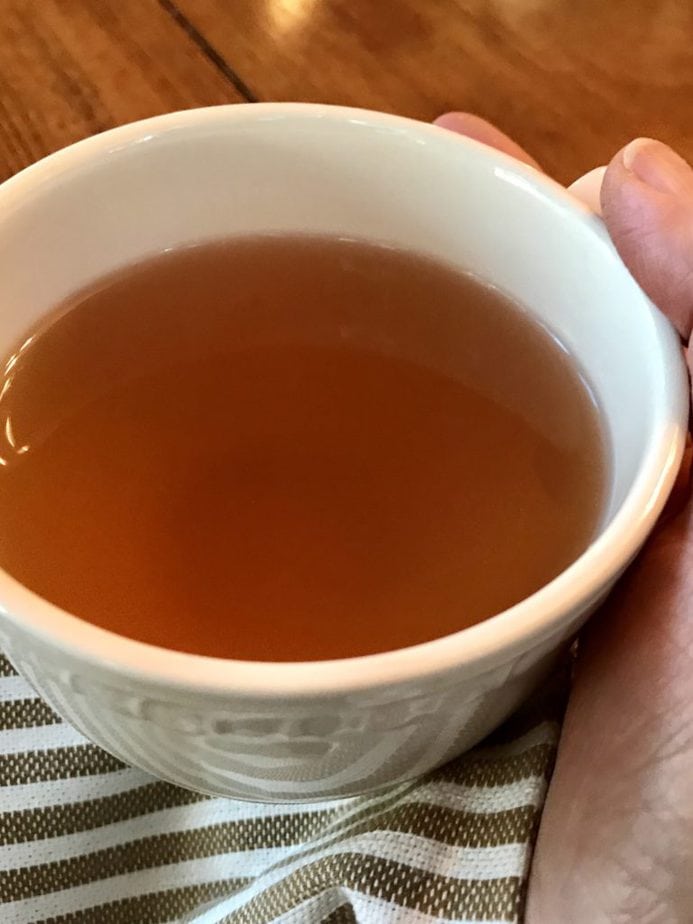 Store refrigerated up to 7 days; tightly covered, or may be frozen up to 4 months. May freeze in quart sized jars (see detailed instructions on freezing in glass in my Beef Bone Broth recipe).
Why Do You Have to Cool Broth Before Freezing?
Be sure to allow to cool completely before freezing, why? Because warm foods produce moisture, moisture produces condensation and condensation frost; frost = FREEZER BURN, EW!
For easier freezer storage, pour cooled broth into gallon sized baggies, squeeze air out and freeze flat. Thaw in fridge overnight; sip it, use it in soups & stews or anywhere vegetable broth is called for in a recipe.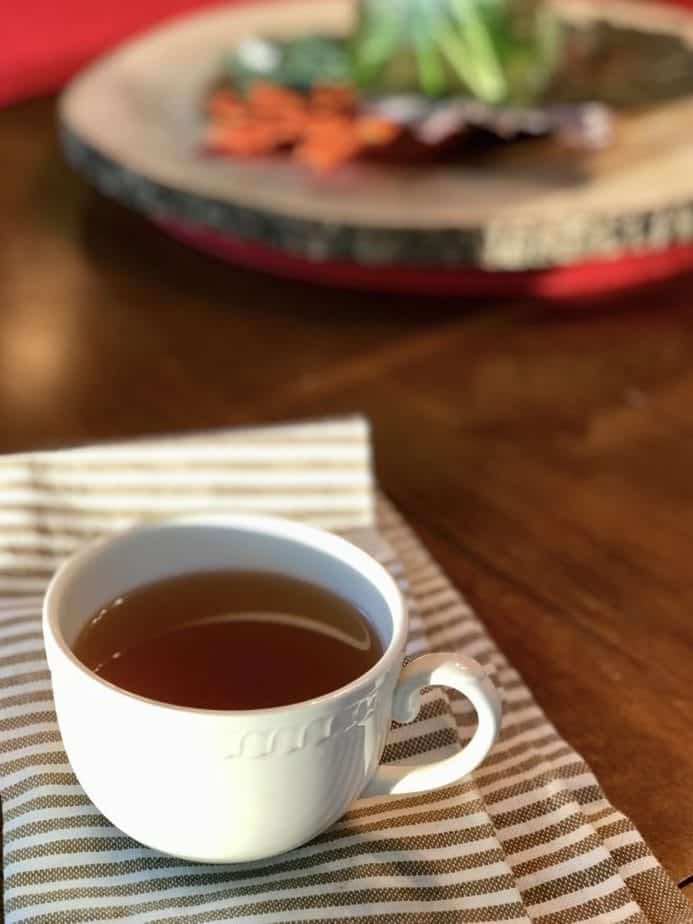 Looks like a nice rich cup of tea, the color of the broth will vary depending on your veggies, especially your sweet potatoes and yams, as long as you have plenty of flavor from the broth, it will have all of the benefits!
More immune boosting, cold and flu fighting recipes
Like this recipe?
Don't forget to give it a ⭐️⭐️⭐️⭐️⭐️ star rating and comment below the recipe!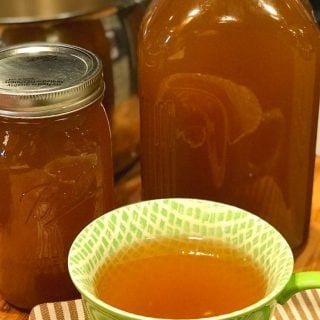 Homemade Vegetable Mineral Broth
Delicious, nutritious, immune-boosting, gut-healing vitamin and mineral rich vegetable broth! Perfect to sip, use in soups, stews or anywhere you use veggie broth.
Ingredients
6

unpeeled carrots

,

washed and cut into chunks

2

unpeeled yellow onions

,

washed and cut into quarters

1

red onion

,

washed and cut into quarters

1

leek

,

white and green parts, washed well and cut into chunks

1

bunch celery

,

including heart and leaves, was he and cut into chunks

4

unpeeled red potatoes

,

washed and quartered

2

unpeeled Japanese or regular sweet potatoes

,

washed, quartered

1

unpeeled garnet yam

,

washed and quartered (darker colored yams)

5

cloves

garlic

,

smooshed or halved, with skins

½

bunch fresh flat-leaf parsley

,

rough chopped

1 8-

inch

strip of Kombu,

I used Organic Pacific Kombu

12

black peppercorns

4

whole allspice

2

bay leaves

8

quarts

cold

,

filtered water

1

teaspoon

sea salt

Sea Salt to taste
Instructions
Wash all vegetables well, including the kombu – do not peel. In a 12 quart or larger stockpot or soup pot, toss in carrots, onions, leek, celery, potatoes, sweet potatoes, yam, garlic, parsley, comb, peppercorns, allspice, sea salt, and bay leaves. Add water to the pot within about 1-2 inches from the top. Cover and bring to a boil.

Reduce to simmer, remove lid, and simmer for 2-4 hours, preferably 4 hours. As it simmers some of the water will evaporate, if the veggies start showing, add a bit more water. Simmer until you can taste the richness of the veggies in the broth.

Pour the broth through a strainer, make sure you have a pot or bowl beneath to catch all the broth. Cool completely, then store in quart size son jars or gallon sized freezer bags. Will keep in fridge 5-7 days or frozen up to 4 months.

If freezing in glass, COOL COMPLETELY! Fill only to shoulders of jar, leave lid off or loose and leave space between jars until frozen, or wrap a tea towel in between jars to cushion. If freezing in gallon sized baggie, fill and remove as much air as possible, freeze laying flat in freezer. Consume within about 4 months, thaw in refrigerator and use in soups, stews and anywhere else you would use a veggie broth, but mostly warm up a cup and enjoy!
Nutrition
Serving:
1
cup
Calories:
54
kcal
Carbohydrates:
12
g
Protein:
1
g
Sodium:
109
mg
Fiber:
2
g
Sugar:
2
g
Nutrition Disclaimer
The Fresh Cooky is not a dietician or nutritionist, and any nutritional information shared is only an estimate. We recommend running the ingredients through an online nutritional calculator if you need to verify any information.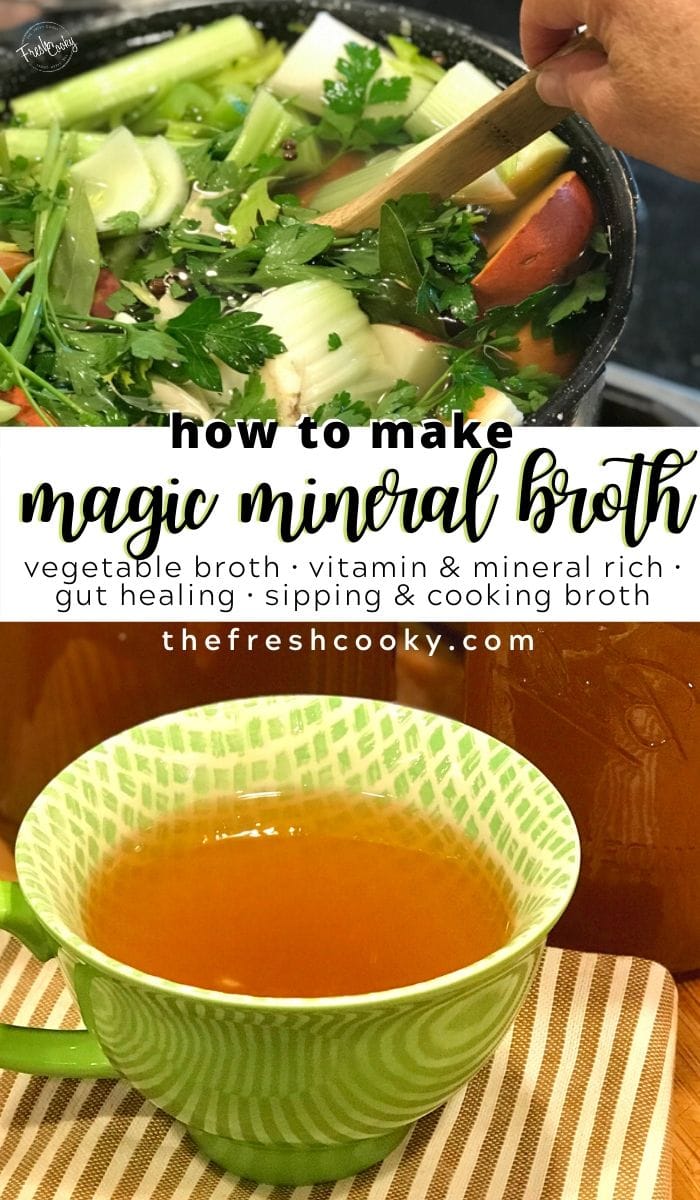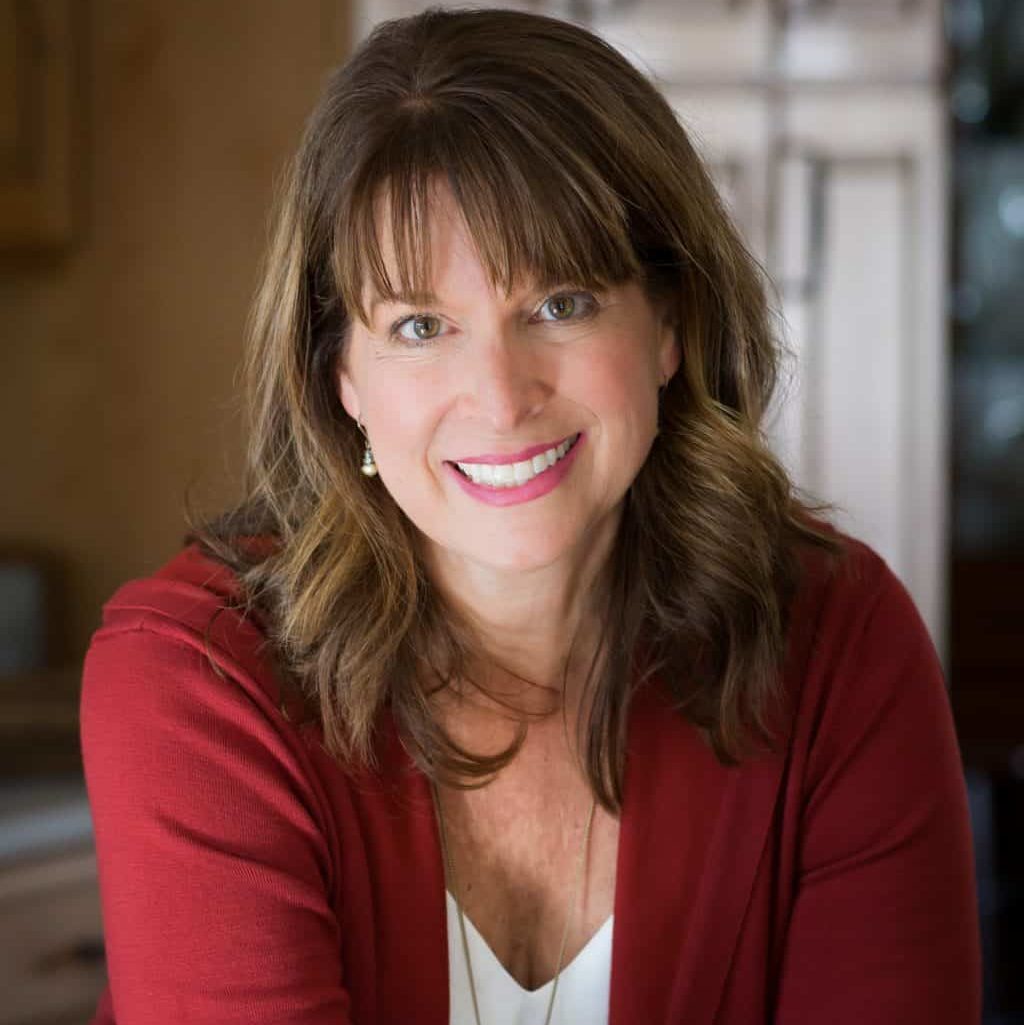 About Kathleen Pope
Recipe Innovator | Food Photographer | Food Writer
Hi, I'm Kathleen Pope. Here at The Fresh Cooky you will find easy, mostly from-scratch, trusted recipes for all occasions. From speedy dinners to tasty desserts, with easy step-by-step instructions. I am here to help teach you how to make mouthwatering recipes without spending hours in the kitchen. Read more about Kathleen here.