Instant Pot Potato Leek Soup
As an Amazon Associate, I earn from qualifying purchases. Please read my disclosure policy.
Instant Pot Potato Leek soup is a silky, elegant and classic soup. This simple soup recipe is gently flavored with leeks and creamy potatoes, rich broth and delicate spices. This recipe for potato leek soup is easily adapted to be gluten-free, vegetarian or vegan and is simply the best!
I think leeks get a bad rap, they look like overgrown green onions and while they look ostentatious, intimidating and maybe even unsavory, if you haven't cooked with leeks, YOU are missing out.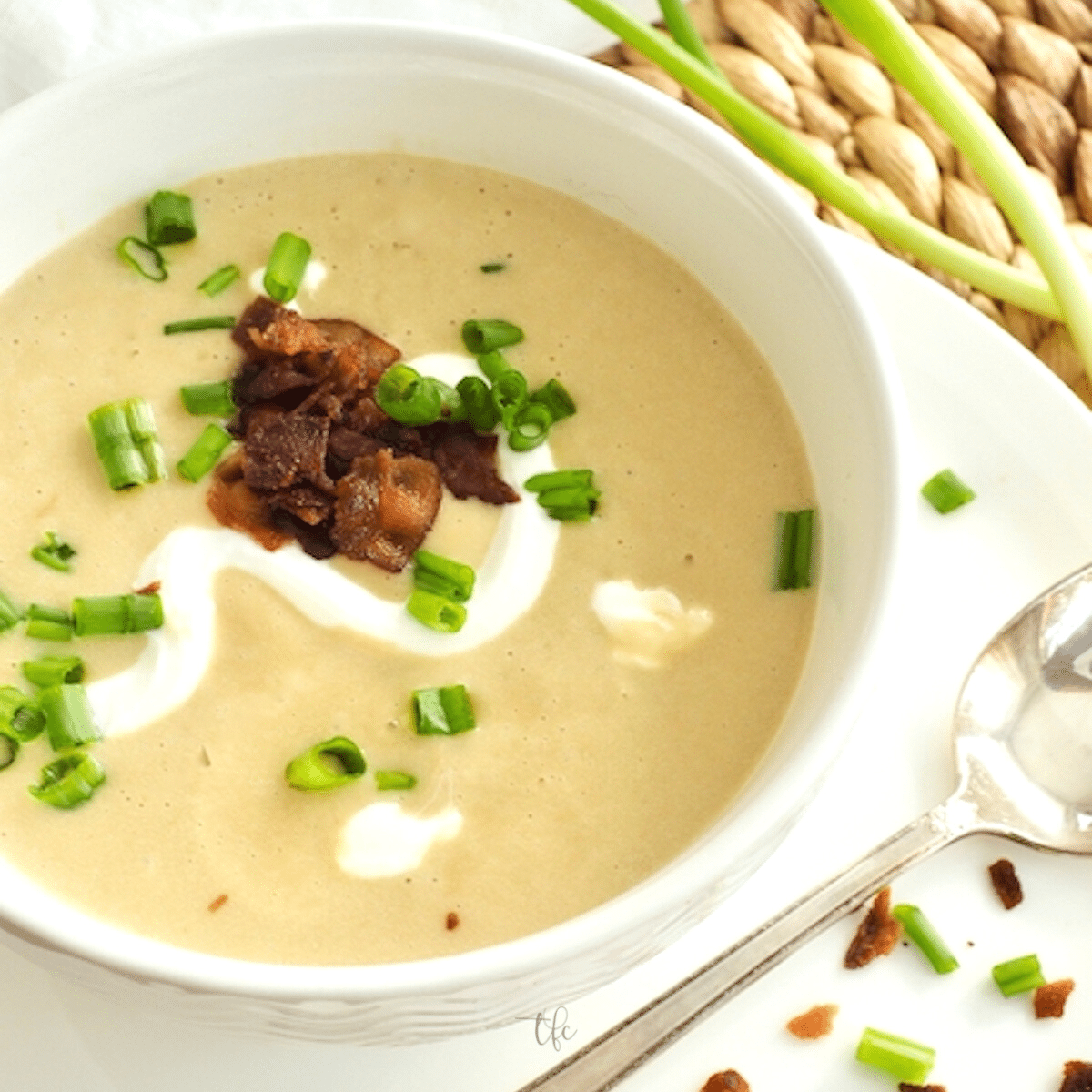 Big, robust, and a little rustic; these awkward looking giants of the onion family impart a sweet, delicate flavor to soups, stews, egg dishes and more. I use them often in dishes like my Prosciutto & Gruyere Hashbrown Quiche and Beef Bone Broth. Please give them a try!
Pair those leeks with vitamin C rich, creamy potatoes and a few other simple ingredients; in no time you will be enjoying a decadent, mouth-watering, healthy and silky soup; made even easier by making Instant Pot Potato Leek Soup! This soup is great as a starter or serve a big bowl as a main dish. Comfort food!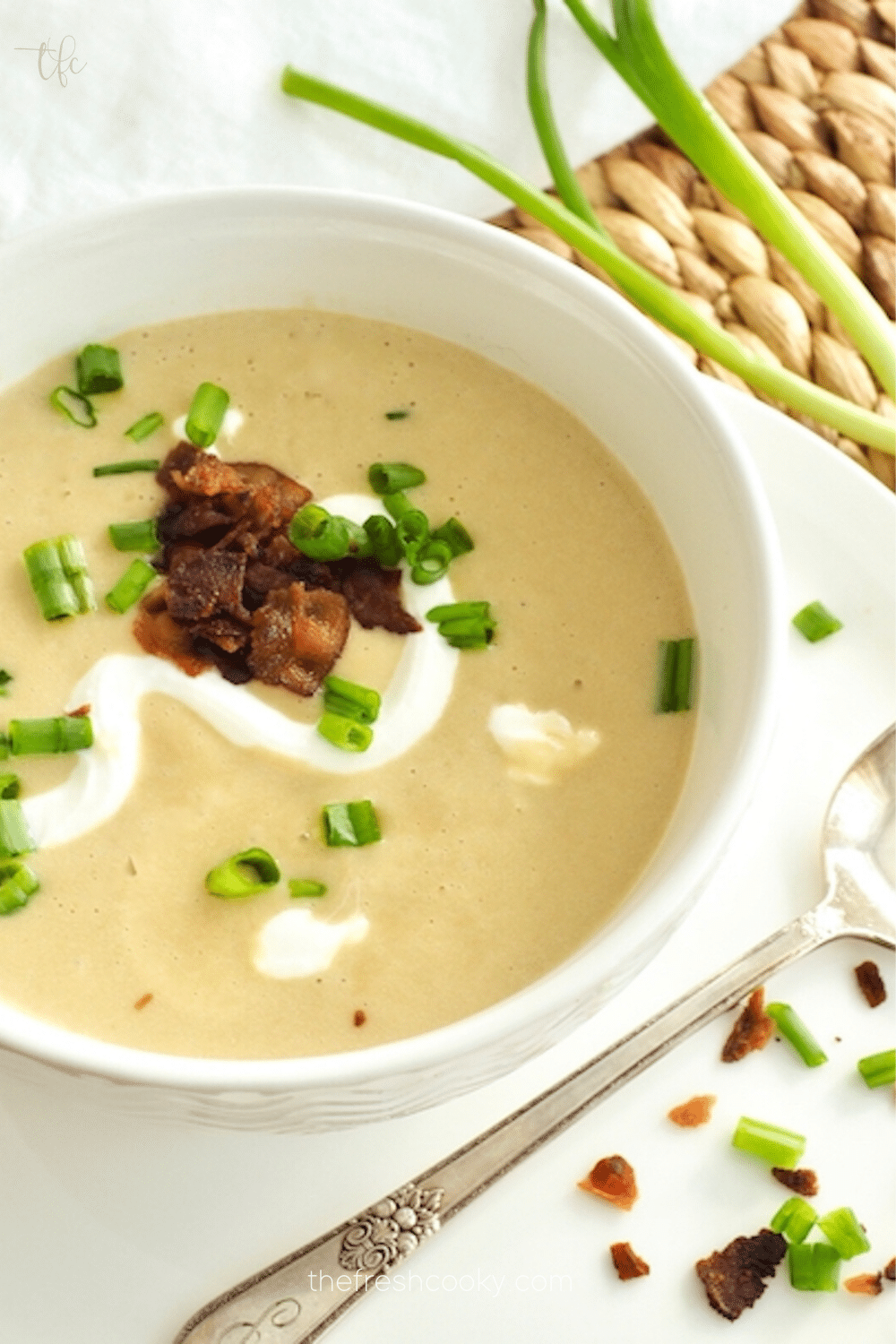 Stovetop Potato Leek Soup
Typically I make this soup on the stove top (instructions in recipe), but more recently I've adapted it to my new Instant Pot®. If you don't have one, don't worry, you can achieve the same results with a good sturdy soup pot. So the pictures will show the Instant Pot®, but the recipe will include instructions for both stove top and pressure cooker.
Ingredients
The full list of ingredients and measurements are in the printable recipe card at the end of the post.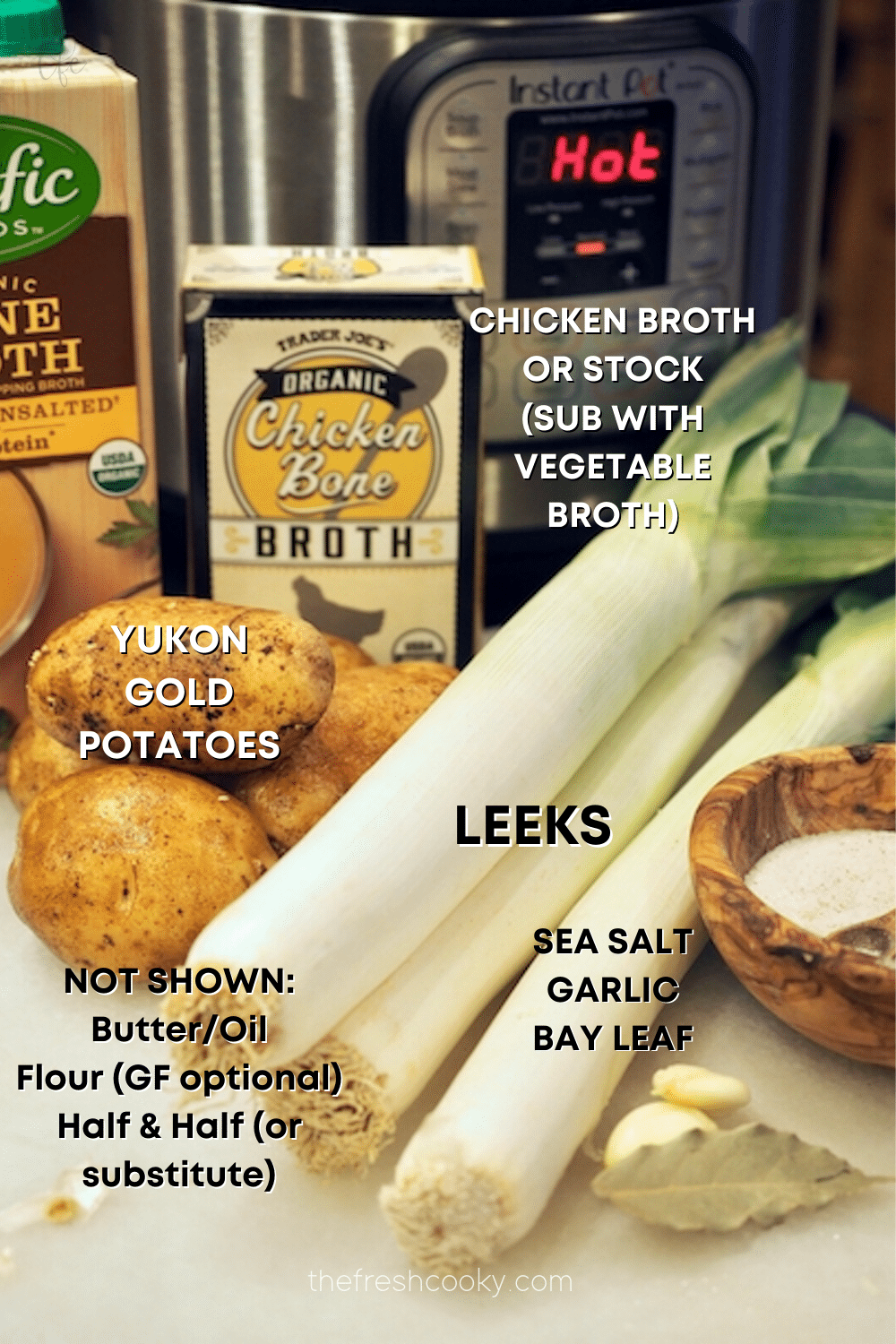 LEEKS | Look for organic leeks if possible, these giants of the onion family impart a mild delicious flavor.
POTATOES | I used Yukon Gold potatoes, they are a bit creamier than russet potatoes, but you can substitute other potatoes with good results.
STOCK or BROTH | I used Chicken Bone broth, for healthier and richer soup, but you can also use chicken stock, broth or vegetable broth as well.
SPICES | You will use garlic, a bay leaf, kosher salt and pepper in this dish!
CREAM | I used half and half, but you can easily replace this with coconut cream, whole milk or even heavy cream.
Recipe for Potato Leek Soup
Gather your ingredients and prep (wash, peel, slice, dice, mince, measure) for quick and easy soup assembly.
How to Clean and Slice Leeks
Cut the dark green part off and trim the rooted end off, keeping the light green to the white part.
Discard the cut off portions.
Slice in half lengthwise, run under cold water removing any sandy dirt (be sure to wash them well) and then slice into 1/4 inch slices.
If preferred, you can slice them, then place in a place of water to wash all of the sand out, using a slotted spoon to remove to paper towels, pat dry.
Press the Sauté button on the Instant Pot®, when it reads "HOT" add oil and butter.
Add the leeks and sauté, stirring occasionally, until soft and lightly browned. Add the garlic and stir until fragrant, about 30-60 seconds.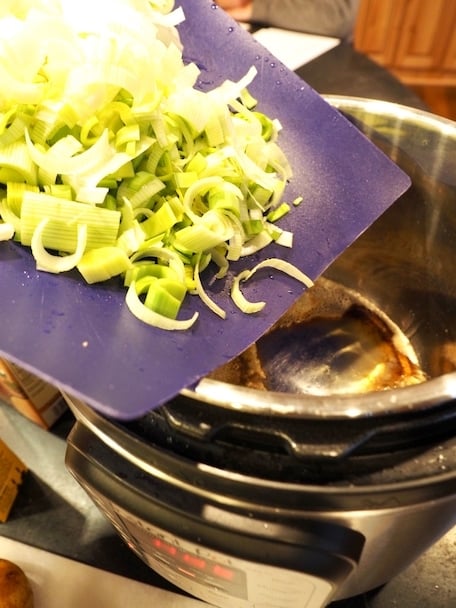 Sprinkle flour (or GF flour) over the leeks, stirring until incorporated, about a minute.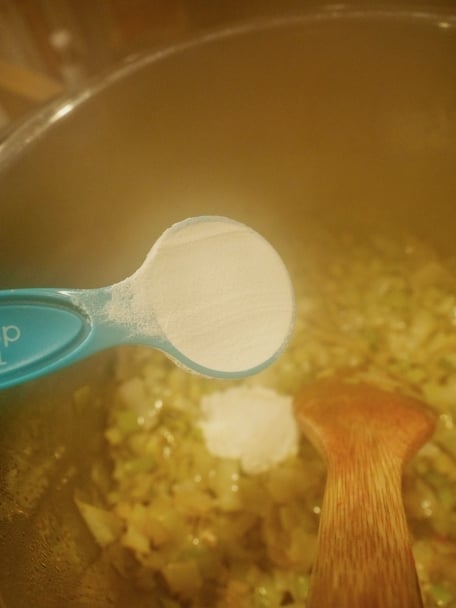 Pour in broth, stirring well and scraping bottom incorporating all of the flour.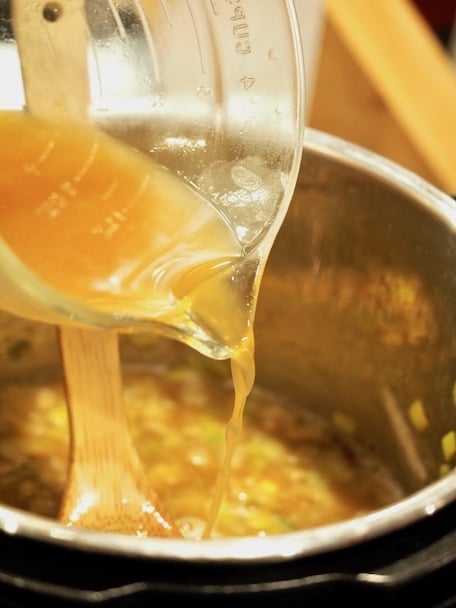 Add cubed potatoes, bay leaf, sea salt, pepper and nutmeg (trust me on this one). Stir well.
Place lid on the Instant Pot® and set the steam release valve to sealing position. Adjust time + or – to 7 minutes in Manual or Pressure Cook mode on Instant Pot.
When cooking cycle ends, allow the pot to release pressure naturally for 15 minutes, then release balance of steam (careful)! Once the pin drops on the steam release, open the top and stir the soup. Be sure to remove your bay leaf.
Pureéing Soup Options
Option 1 | Using an immersion blender, blend right in the pot until smooth and silky.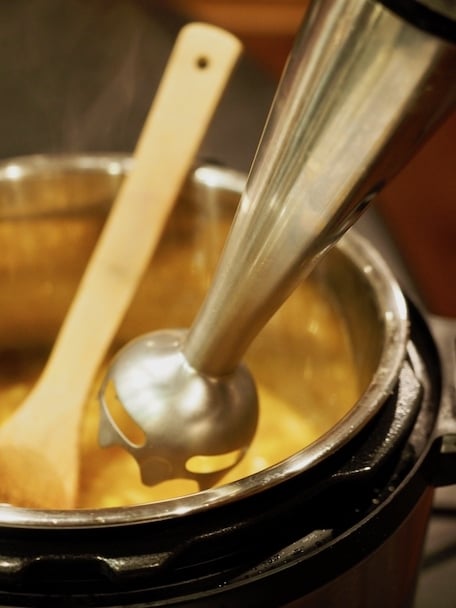 Option 2 | Puree in a blender in small batches. Pour a couple ladles of soup into blender and purée, pour puréed soup into another pot or large bowl until all soup is blended, return pureed soup to pressure cooker pot.
Option 3 | Puree Potato Leek Soup in Vitamix, this will yield the most creamy and silky soup ever! Try my Panera Autumn Squash Soup! Pour the soup into blender (if the container is large enough, if not, do in batches), turn Vitamix to low speed, then slowly increase the speed until smooth and steamy.
After soup is puréed, pour in your half and half (coconut milk, heavy cream or whole milk may be substituted), stir until combined. Taste and adjust seasonings, if needed.
Garnish (optional) with a little swirl of sour cream (crème fraîche or plain greek yogurt), chopped chives or green onions and crisp bacon; adds a lovely touch.
PRESENTATION TIP | If you want pretty swirls and "dots" of sour cream in your soup; stir the sour cream (plain yogurt or crème fraîche) well and pour into baggie. Snip the corner off and using like a pastry bag, swirl in desired pattern or use a skewer or knife to swirl around.
Creamy Instant Pot Potato Leek Soup may be served hot or cold; I like it hot. For a light lunch, serve with a slice of warm, buttered hearty bread. Or add a fresh salad or make a grilled cheese using fresh bread with some smoked gouda, cheddar or Gruyère cheese. Oh sorry, that's what I would be making.
Sit back and relax, enjoy your silky, creamy, potato leek soup, you'll thank me later!
Frequently Asked Questions
Can I make Potato Leek Soup Gluten-Free?
Yes, simple swap out the flour in this recipe with a good 1-1 Gluten Free AP Flour.
What about Vegan Potato Leek Soup?
Easily make this silky soup vegan or vegetarian by swapping out the butter for coconut oil or vegetable oil (I like Avocado oil), swap the cream for full fat coconut milk, substitute vegetable broth for chicken broth and omit the bacon.
Freezing Potato Leek Soup
You can freeze potato leek soup in an air tight container up to 3 months. To reheat, rewarm slowly on the stovetop, whisking occasionally, you might get some separation or "curdling" but that won't hurt or change the flavor of the soup. I will say however that this soup is best when eaten fresh.
More Delicious Soups!
Like this recipe?
Don't forget to give it a ⭐️⭐️⭐️⭐️⭐️ star rating and comment below the recipe!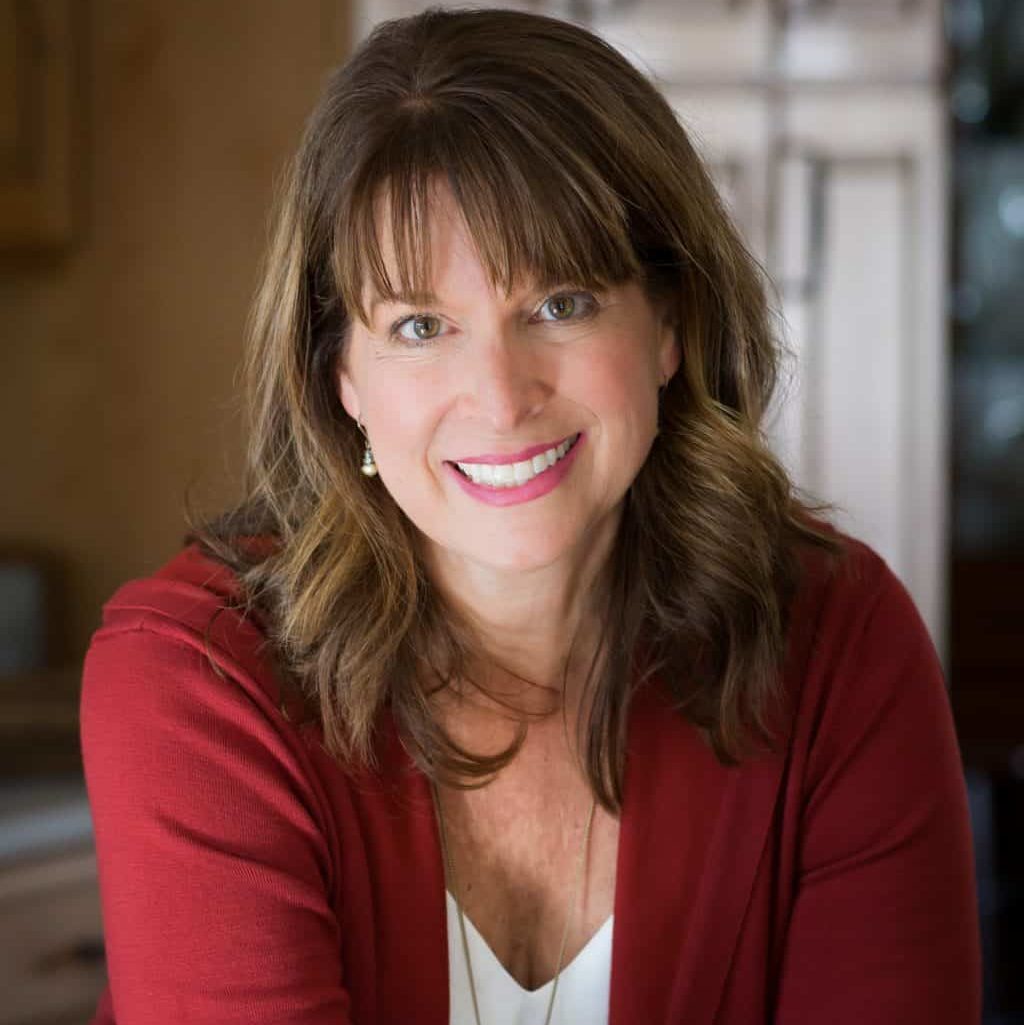 About Kathleen Pope
Recipe Innovator | Food Photographer | Food Writer
Hi, I'm Kathleen Pope. Here at The Fresh Cooky you will find easy, mostly from-scratch, trusted recipes for all occasions. From speedy dinners to tasty desserts, with easy step-by-step instructions. I am here to help teach you how to make mouthwatering recipes without spending hours in the kitchen. Read more about Kathleen here.