This recipe for All-Natural Hibiscus Simple Syrup adds a delightful subtle floral, lemony and slightly tangy flavor to craft cocktails, Italian sodas, iced-teas, buttercream and ice cream.
ALL NATURAL HIBISCUS SIMPLE SYRUP

I've been waiting ALL summer for my beautiful hibiscus plant to bloom, it brings a little bit of the tropics to Colorado, I love it!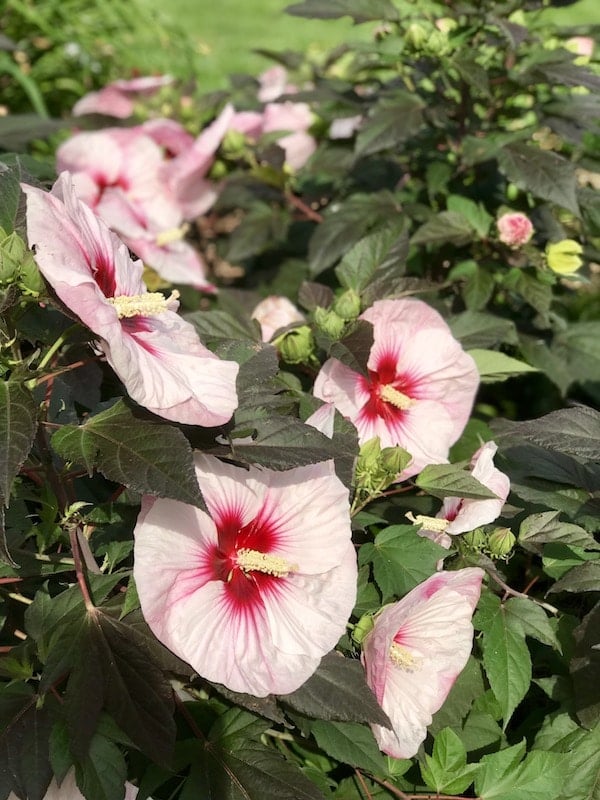 All you need for this beautiful simple syrup are dried hibiscus flowers, now I haven't tried drying my own, I bought these wonderful All-Natural Dried Flowers. I love making tea (hot or iced) with them as well, SO GOOD FOR YOU! High in antioxidants, these flowers are amazing, in fact it's the primary ingredient in Tazo's Passion Tea. And so very flavorful.
How to Make a Simple Syrup
Truly it is so "simple"! Just takes a bit of time and most of that time you can walk away from it. Here are the lovely 3 ingredients below, if you call water an ingredient!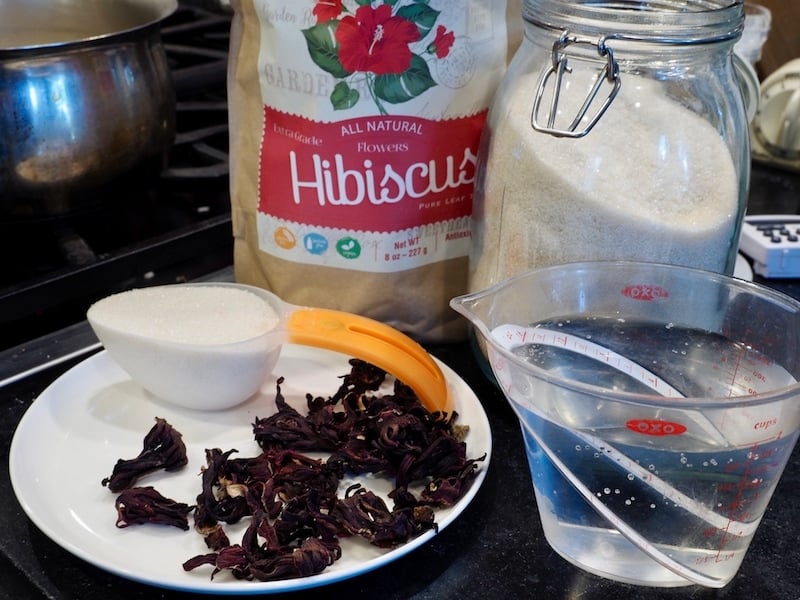 Start by placing organic cane sugar (honey or agave), water and dried flowers into a medium pot and bring it to a boil, slowly, over medium heat. Stirring occasionally to help the sugar dissolve.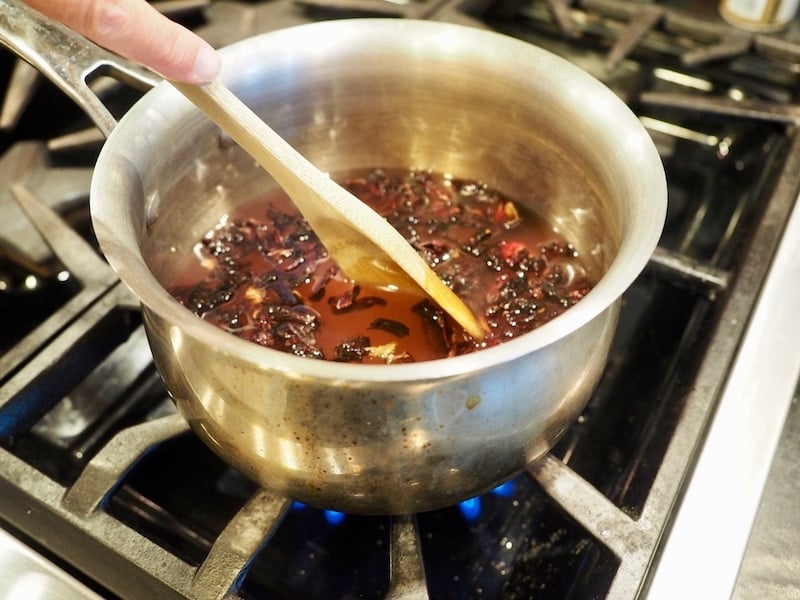 As it comes to a boil, reduce the heat to a simmer and cook on low for 15 minutes, until slightly reduced and thicker.
Remove from heat and cool completely on the stove. It took about 45 minutes to an hour in the middle of summer for me. Once cooled, place a large glass bowl in the sink, fit with a strainer and strain the flowers from the liquid into the bowl.
NON-SPLATTER TIP
Placing the bowl in the sink will reduce your chances of staining your counters or splattering/spilling all over you. Don't ask me why I know this, I just do! (wink-wink)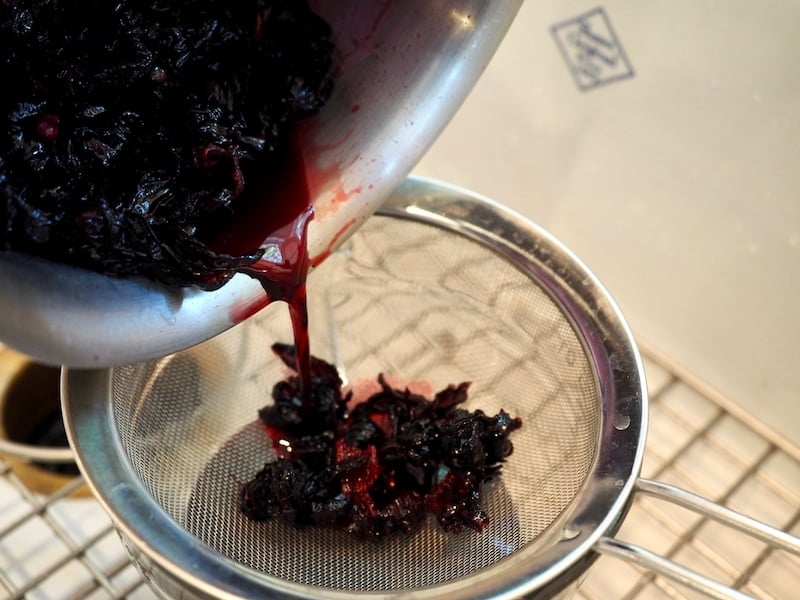 GET FREE RECIPES

FROM THE FRESH COOKY DELIVERED RIGHT TO YOUR INBOX!
Using a jar or other lidded container (a mason jar would work great too), placing a funnel on top of the jar, slowly pour your cooled hibiscus syrup into the jar. If desired, label the jar, I love cute labels and these chalkboard labels work perfectly. I love jars, I've had this jar for 9 years, I picked it up at a little dairy store while on vacation in Maine!
THE BEST WAY TO STORE SIMPLE SYRUPS
Can simple syrups go bad? Sure, they can get moldy, so it's best to store your simple syrup in the fridge. I've had them last for up to 6 months.
MORE SIMPLE SYRUP FLAVOR IDEAS
Mint (fresh, 1 cup)
Lavender (dried, 1 tablespoon)
Lemon (about 4 lemons, squeezed for 1/2 cup juice, zest from 1 lemon reduce to 1/2 sugar, omit water)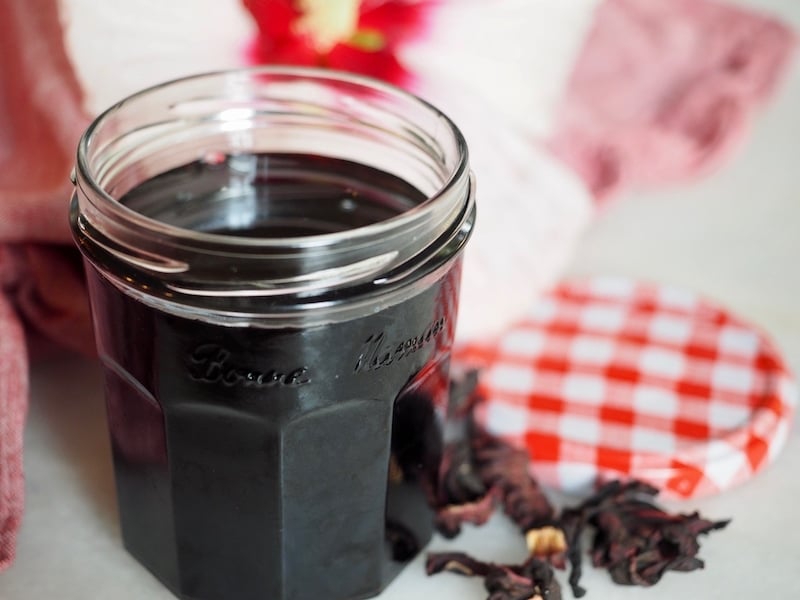 How Can I Use My Hibiscus (or any other) Simple Syrup
I'm glad you asked! Because that is the real reason I made this syrup, you can use this syrup in many different ways, such as:
A replacement for grenadine syrup in a Shirley Temple or other drinks, iced teas, punch and craft cocktails
Pour over ice cream, sorbet or sherbet (perhaps over vanilla, or a raspberry sorbet??)
Freeze it into small ice cubes for iced tea's and other drinks
Flavor Italian Sodas, it's the pretties pink color!
Bottle for hostess, teacher, Christmas and food gift baskets.
Drizzle a little into your buttercream for both flavor and pink coloring, naturally!
But probably my favorite is in craft cocktails, such as this amazing Hibiscus Mojito
Try creating a new cocktail by adding a splash to your Moscow Mules and Gin & Tonics
Have you made some unusual simple syrups, if so I'd love to hear what they are?
IF YOU ENJOY CRAFT COCKTAILS, TRY THESE
Enjoy this recipe for Hibiscus Simple Syrup? Please leave a comment and rate the recipe in the recipe card.
Hashtag any recipes you make from The Fresh Cooky #thefreshcooky or tag me @thefreshcooky on
Instagram to be featured on our stories!
LOVE WHOLESOME DELICIOUS RECIPES? COME FOLLOW ALONG!
Share a picture and tag it #TheFreshCooky so we can see it.
GET FREE RECIPES

FROM THE FRESH COOKY DELIVERED RIGHT TO YOUR INBOX!