Skillet Shepherd's Pie (No Bake Shepherd's Pie)
As an Amazon Associate, I earn from qualifying purchases. Please read my disclosure policy.
The ultimate comfort food for your family: Traditional Skillet Shepherd's Pie – aka Cottage Pie made with ground beef (or lamb!) with a creamy mashed potato crust. A hearty, delicious filling with a flavorful meat mixture under fluffy layer of mashed potatoes. The beauty of this meat pie, you don't have to bake it! You can make it all on the stovetop.
Classic comfort food especially for a busy weeknight meal. Traditional shepherd's pie is one part casserole, one part one-pot meal, and one part meat pie with no sour cream! This recipe for no bake shepherd's pie is the perfect comfort food for any chilly day, or of course for St. Patrick's day.
Use leftover mashed potatoes, make my Instant Pot mashers, use the mashed potato recipe included or try these amazing Garlic Mashed Potatoes.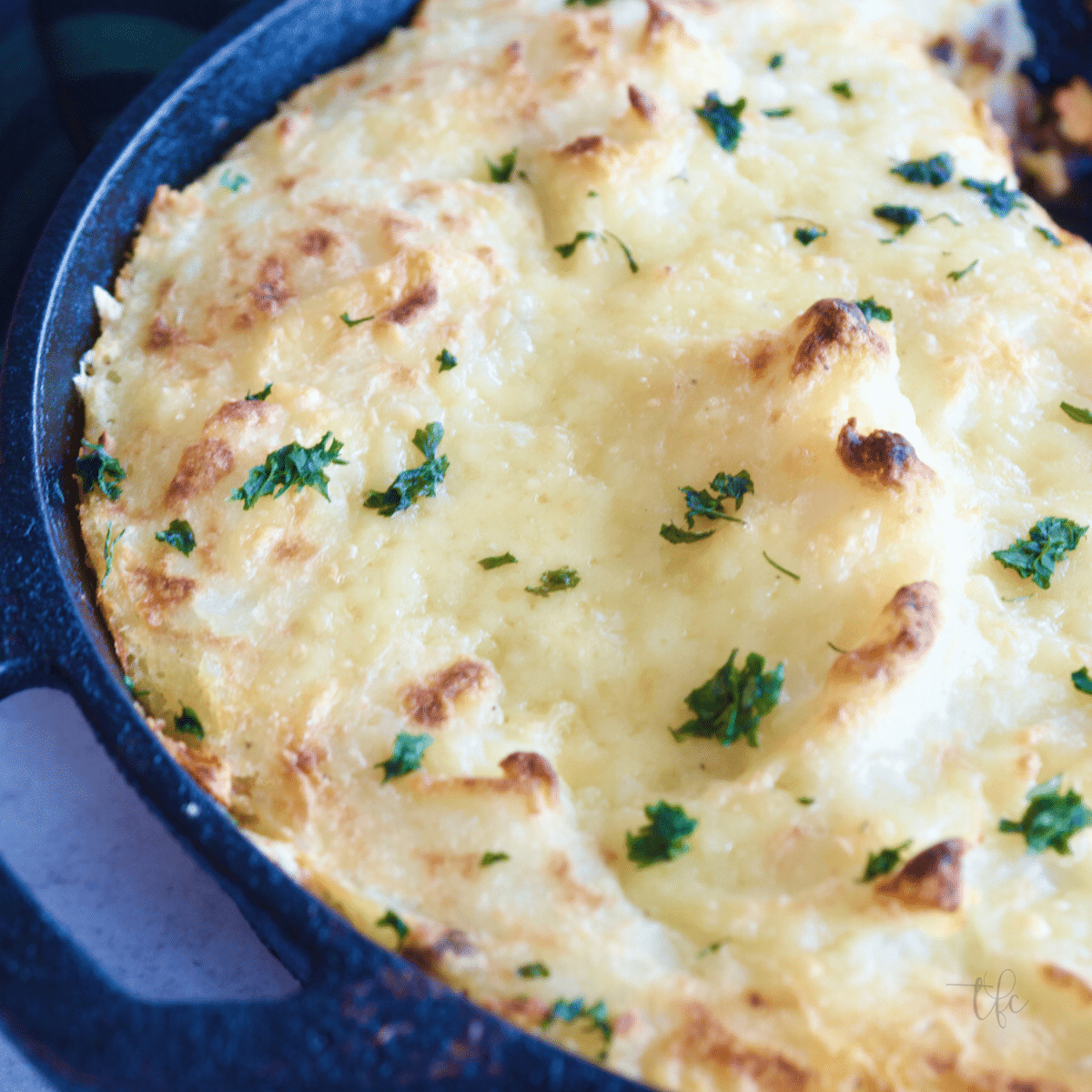 Shepherd's Pie vs Cottage Pie
Traditionally, Shepherd's pie is always made with ground lamb (sheep-herder = shepherd), so a meat pie made with ground beef (like mine!) is actually a Cottage Pie, but here in the States we know them generically as Shepherd's pie.
There are also variations on the spellings of Shepherd — Shepards and Sheppard's pie are a couple; I am not here to debate which is right or wrong — just to provide you with an award winning ground beef pie recipe!
Just wanted to make that clear from the get go!
The Best Skillet Shepherd's Pie
While we tend to think of and eat Shepherd's pie around St. Patrick's day, this is a staple dish in the UK all year long, so think beyond March 17th.
I like my meat pies, casseroles to be thick and hearty, not soupy, the flavors develop in this cast iron skillet shepherd's pie while simmering on the stovetop, then cooking in the oven. It's rich, thick, and loaded with flavor!
MEAT PIE KEY INGREDIENTS
Do not be intimidated by the list of ingredients, it all comes together rather quickly, so gather away: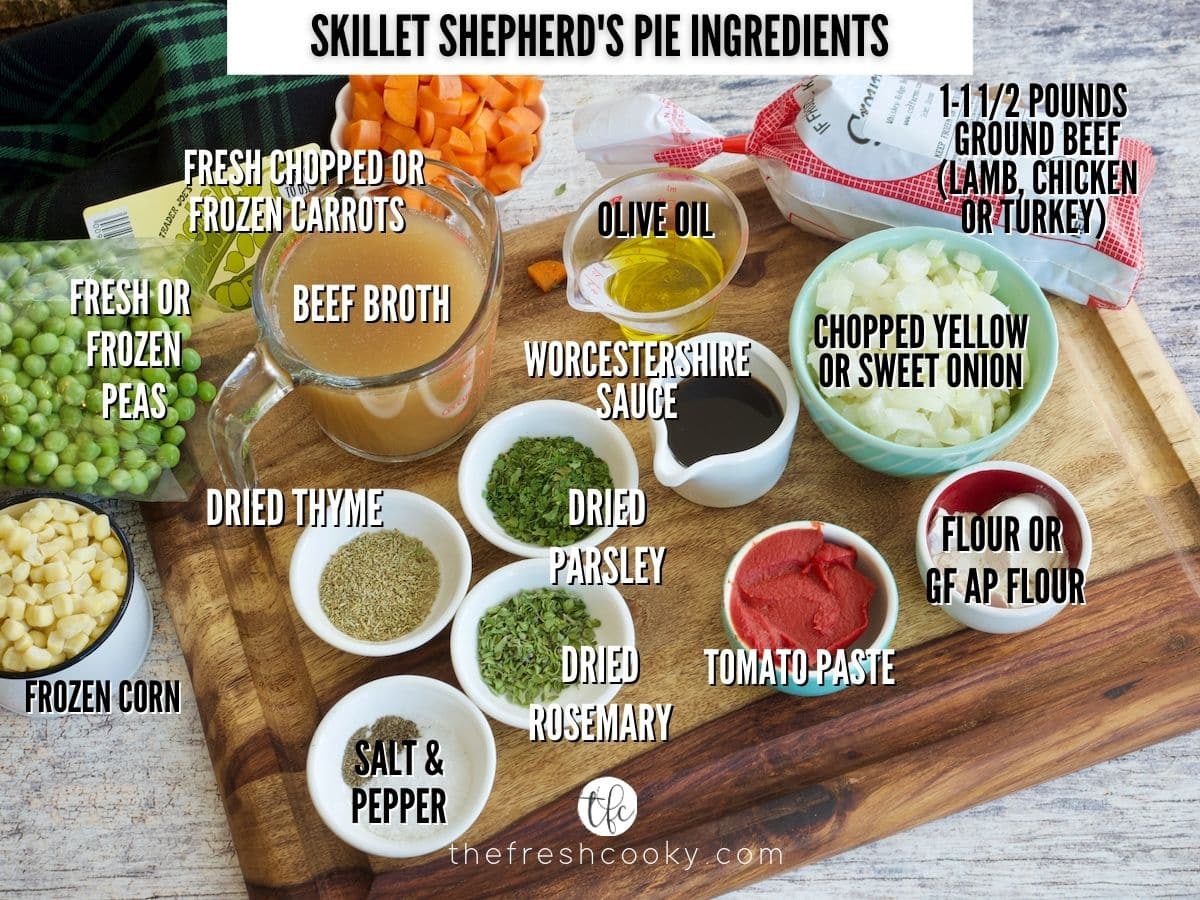 YELLOW ONION | You could also use a sweet or white onion too!
LEAN GROUND BEEF | I use a local ranch, grass fed beef, use your favorite blend, mine was 80/20. Also try ground lamb, chicken or turkey, an type of meat will work
DRIED HERBS | parsley, rosemary and thyme
WORCESTERSHIRE SAUCE | gives ALL-THE-FLAVOR! Make sure gluten-free if staying GF.GARLIC | more punch of flavor
TOMATO PASTE & AP FLOUR | the paste adds depth and richness while thickening, along with the flour
BEEF BROTH | Use a good quality broth here, it finishes the intense flavors, try my homemade beef bone broth
PEAS & CARROTS | I could not find frozen mixed vegetables, so I chopped some carrots and tossed them in with the onions, used fresh peas and tossed those in at the end.
FROZEN CORN | use fresh if you have it and canned corn may be used in a pinch!
MASHED POTATO INGREDIENTS
RUSSET POTATOES | You can use other potatoes, Yukon gold, but they are creamier and could be runnier as a topping.
BUTTER | Yes, the real deal, but just a few tablespoons of butter does the trick
HALF & HALF | If you don't have, you can use whole milk or other milk.
GARLIC POWDER | Flavor enhancer!
PARMESAN CHEESE | More flavor!
IRISH SHARP CHEDDAR | This is optional, adds a bit of a twice baked potato taste to the topping.
Easy Shepherd's Pie Recipe
It might seem daunting with all of those ingredients, but it's really no different than many casseroles or even making your hamburgers; prep your ingredients ahead and it will go so quickly.
Add olive oil to a large skillet, over medium-high heat getting it nice and hot. Saute onions and carrots (if using fresh, wait if using frozen). Stir around for about 5 minutes until caramelized.
Add ground beef (or lamb or other ground meat) and brown (a little red showing is fine), reduce to medium heat.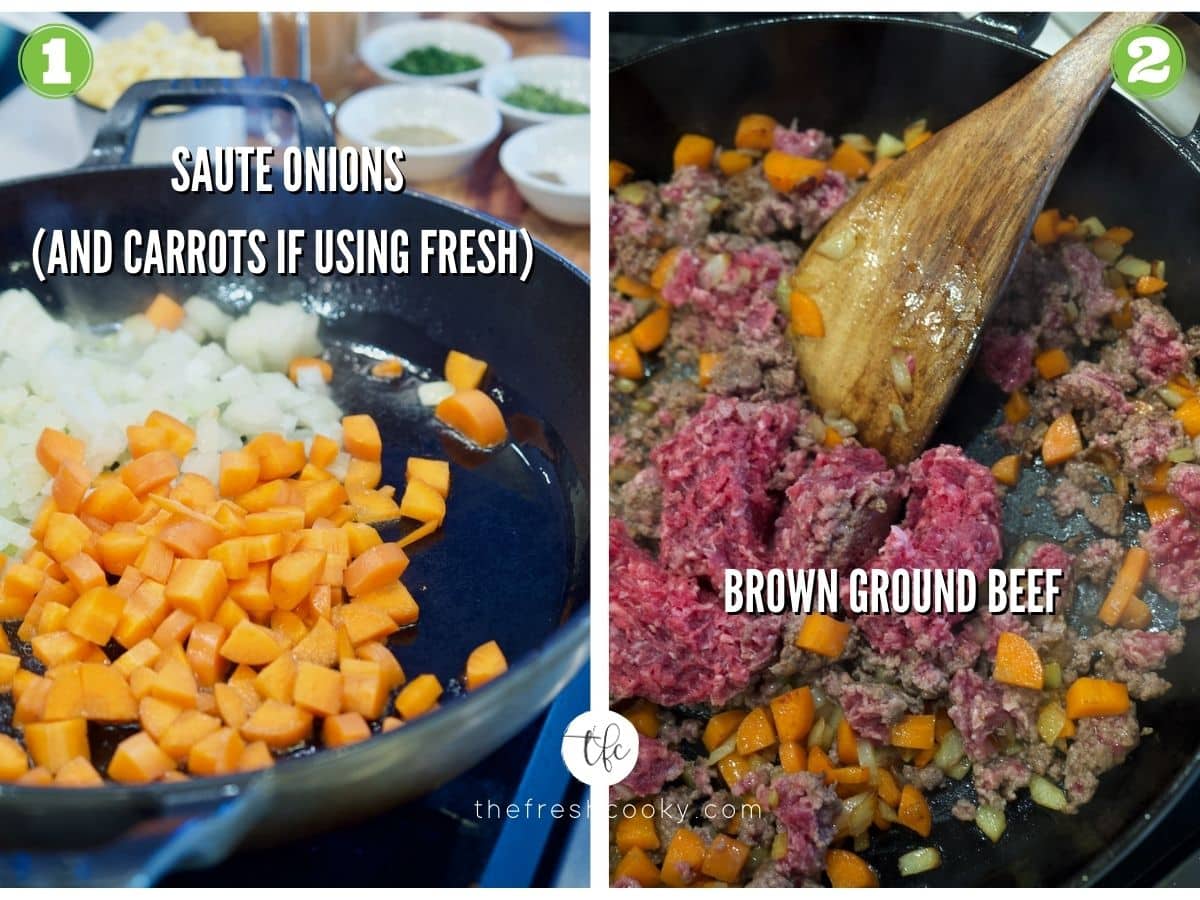 Pour in Worcestershire sauce and chopped garlic, sauce for 1 minute or so until fragrant.
Add parsley, rosemary, thyme, salt and black pepper. Stir to combine, cooking for 6-8 minutes until the meat is browned.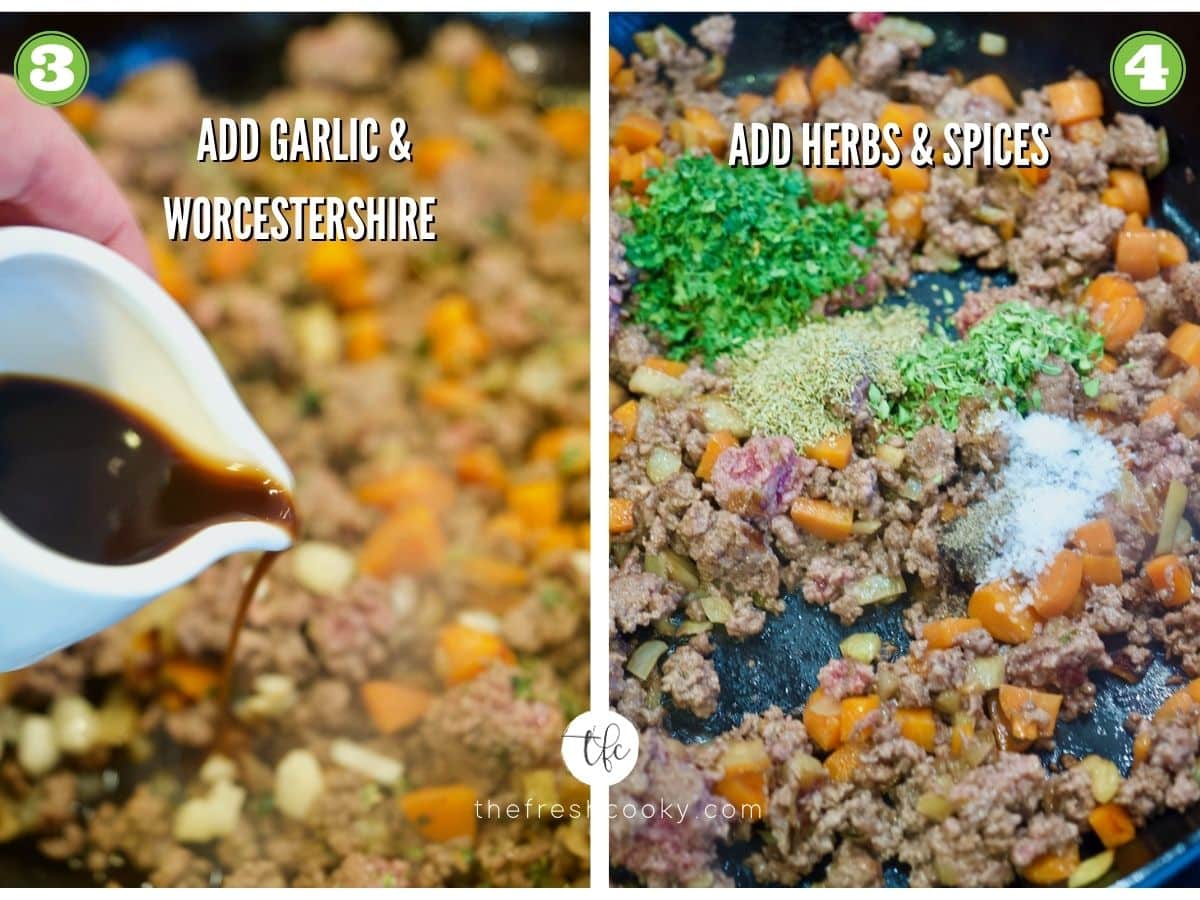 Stir in tomato paste and flour, until thick and ingredients incorporated.
Add beef broth and stir. Taste and add salt and black pepper to taste.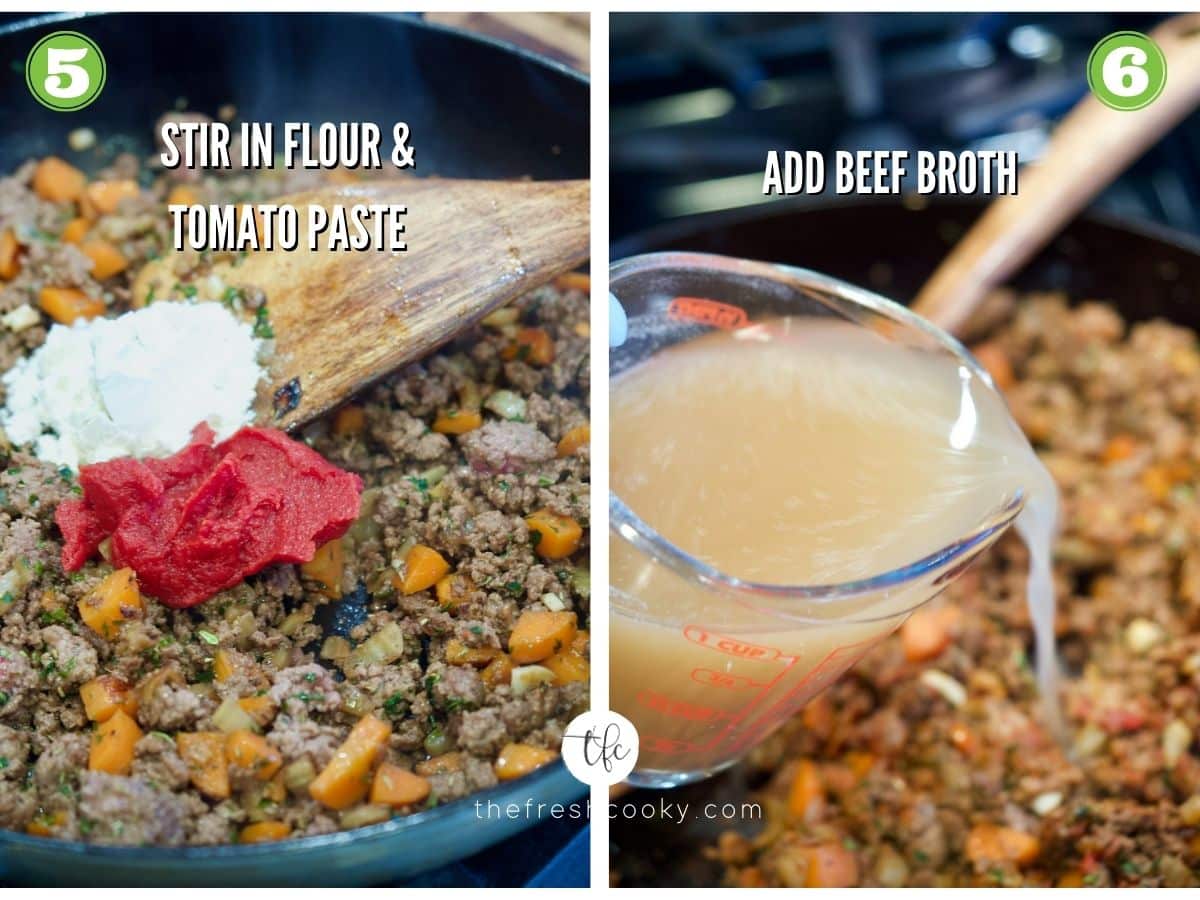 Toss in peas (frozen or fresh) and frozen corn, stir to combine, increase heat and bring to simmer, reduce heat, simmering for 5 minutes, uncovered, stirring occasionally.
Set aside, smoothing into an even layer or transfer beef mixture to 10″ cast iron skillet (<– my favorite) or 9×9 casserole dish and allow to cool slightly while you make the mashed potatoes.

PRO TIP: If making in cast iron skillet, you do not need to transfer, the best part, this traditional shepherd's pie can be made in completely in the a cast iron skillet. You might also enjoy this easy zucchini and ground beef casserole recipe.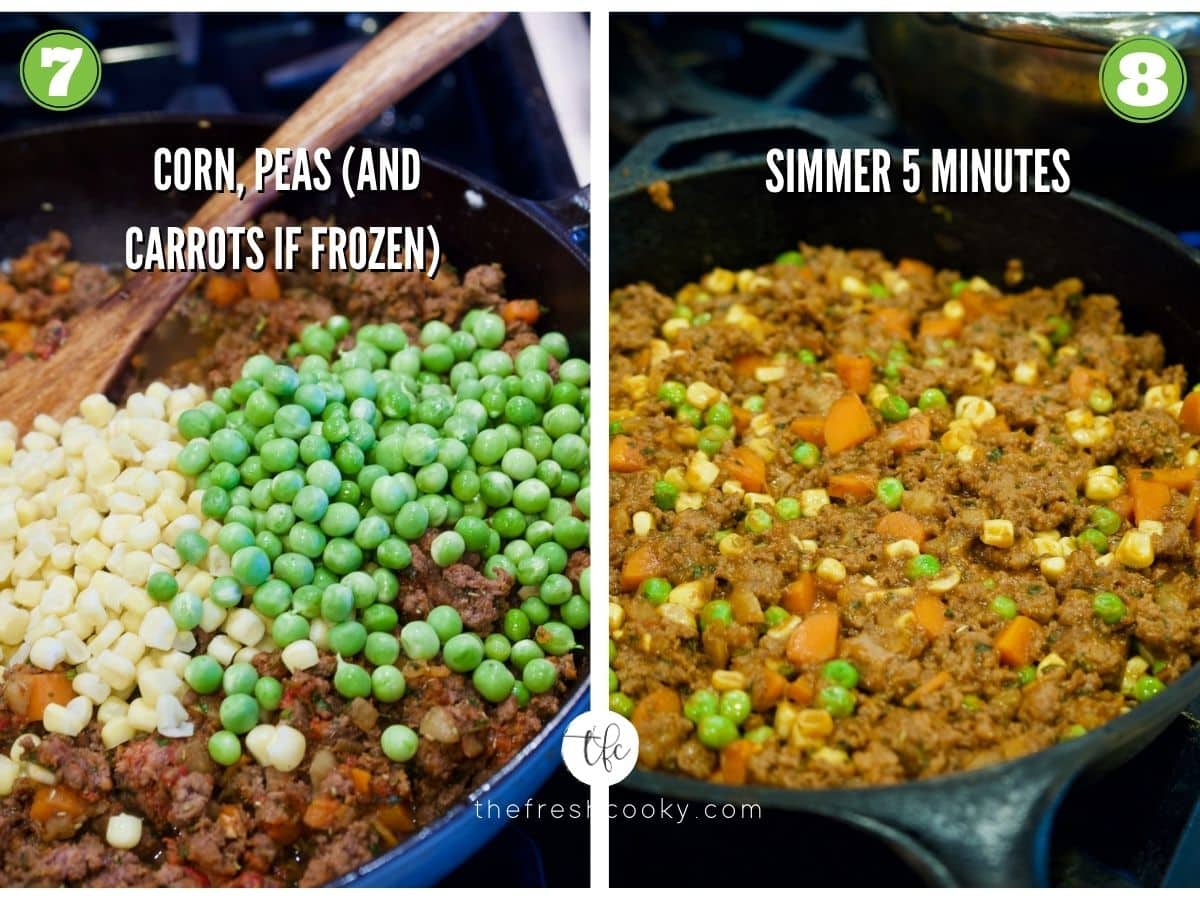 Mashed Potato Topping
These fresh garlic and cheese mashed potatoes do not take long, especially if you have your sous chef (i.e. your child or husband) peel and cube the potatoes for you while prepping the meat portion of the pie.
Place potatoes in large pot and cover with water (about an inch above potatoes). Bring water to boil, simmering until they are fork tender, falling apart a bit when you stick a fork in one. About 10-15 minutes sea level, 15-20 at altitude.
Drain potatoes and return to the hot pot, let the potatoes rest for a minute to evaporate any remaining liquid. Then add butter, spices and half and half.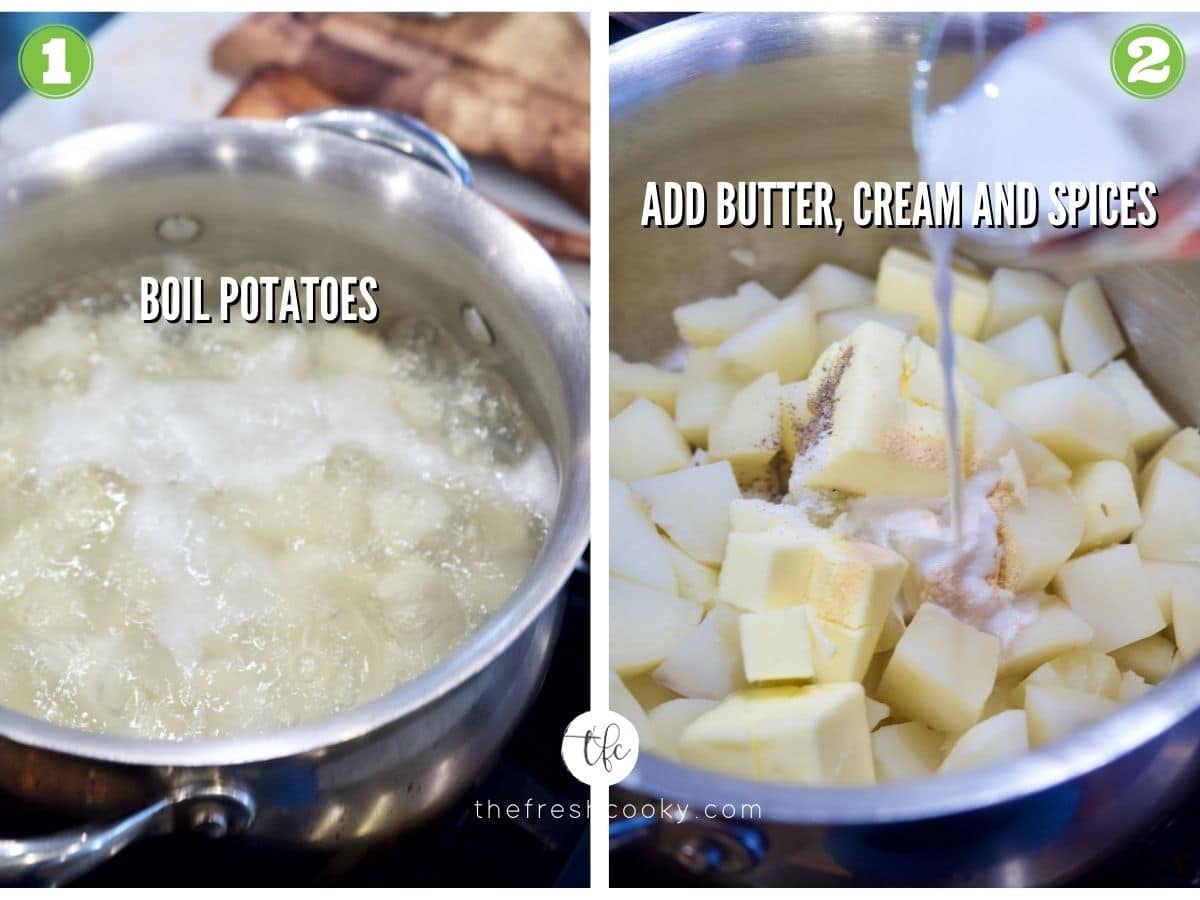 Get the potato masher out and mash until smooth, careful not to over-mix the potatoes will get gummy.
Stir in parmesan cheese, allow potatoes to cool for 5-10 minutes this will prevent them sinking into the meat mixture.
Top shepherd's pie with mashed potatoes, evenly over meat layer in the cast iron pan and if desired sprinkle with a little Irish Cheddar Cheese.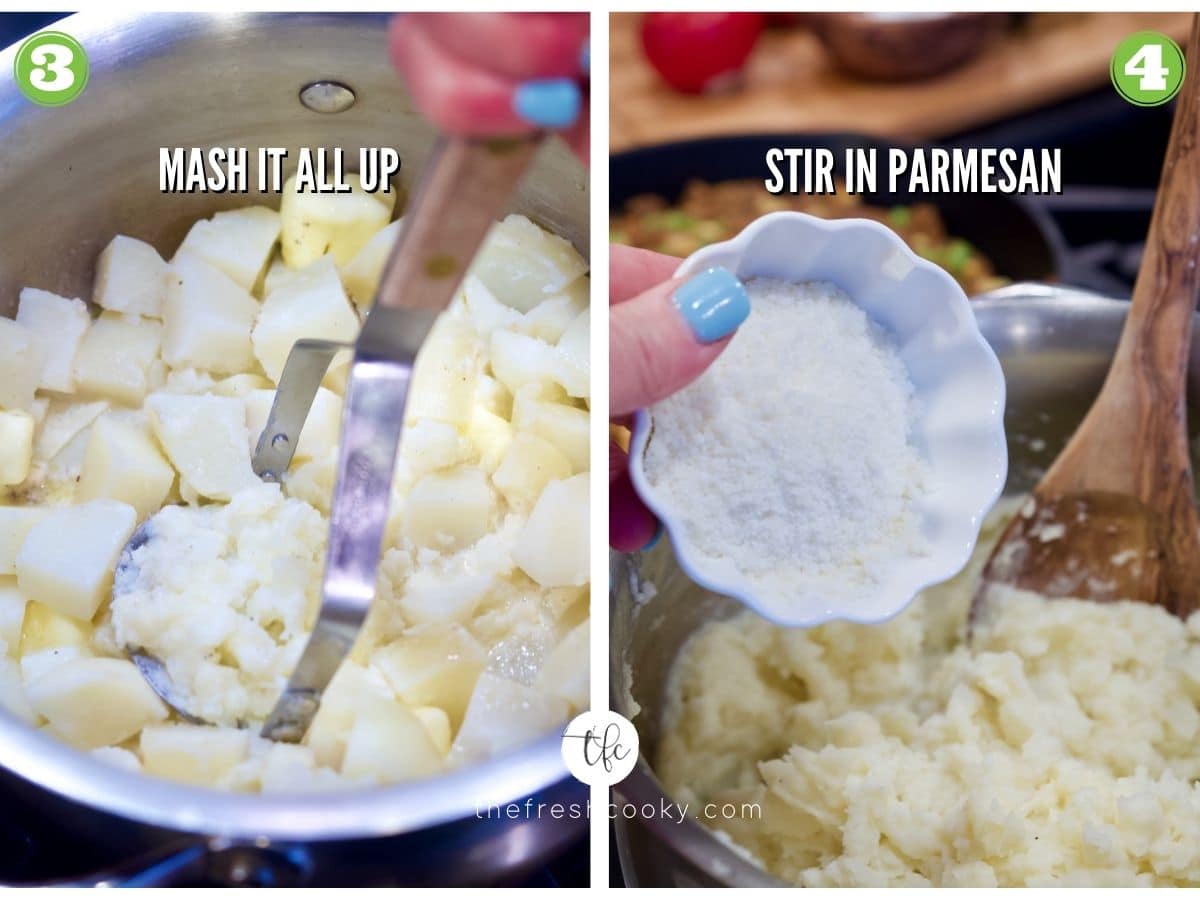 Spread potatoes evenly over meat layer and if desired sprinkle with a little Irish Cheddar Cheese.
Oven Baked Skillet Shepherd's Pie
Bake in 400 degree oven (uncovered) for 25-30 minutes until bubbly and golden. Allow to sit for 10-15 minutes before serving.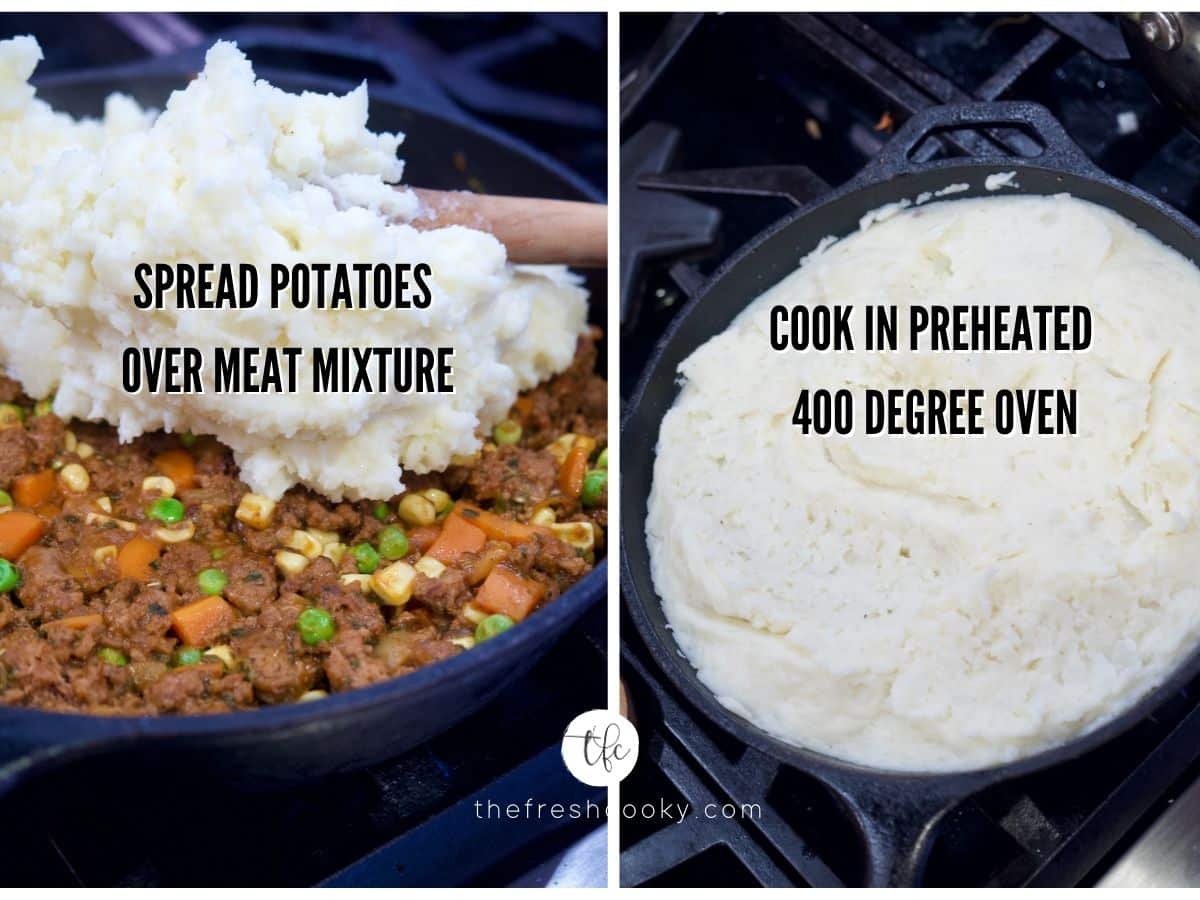 No Bake Shepherd's Pie
As long as you have made the mixture and mashed potatoes are warm, you can now assemble the mashed potatoes on top of the meat mixture, sprinkle with cheese if desired, cover and cook until everything is heated through! Bypassing the oven all-together!
Are you ready for this golden, savory and delicious Cast Iron Skillet Shepherd's pie? Grab a big ol' spoon and dig in!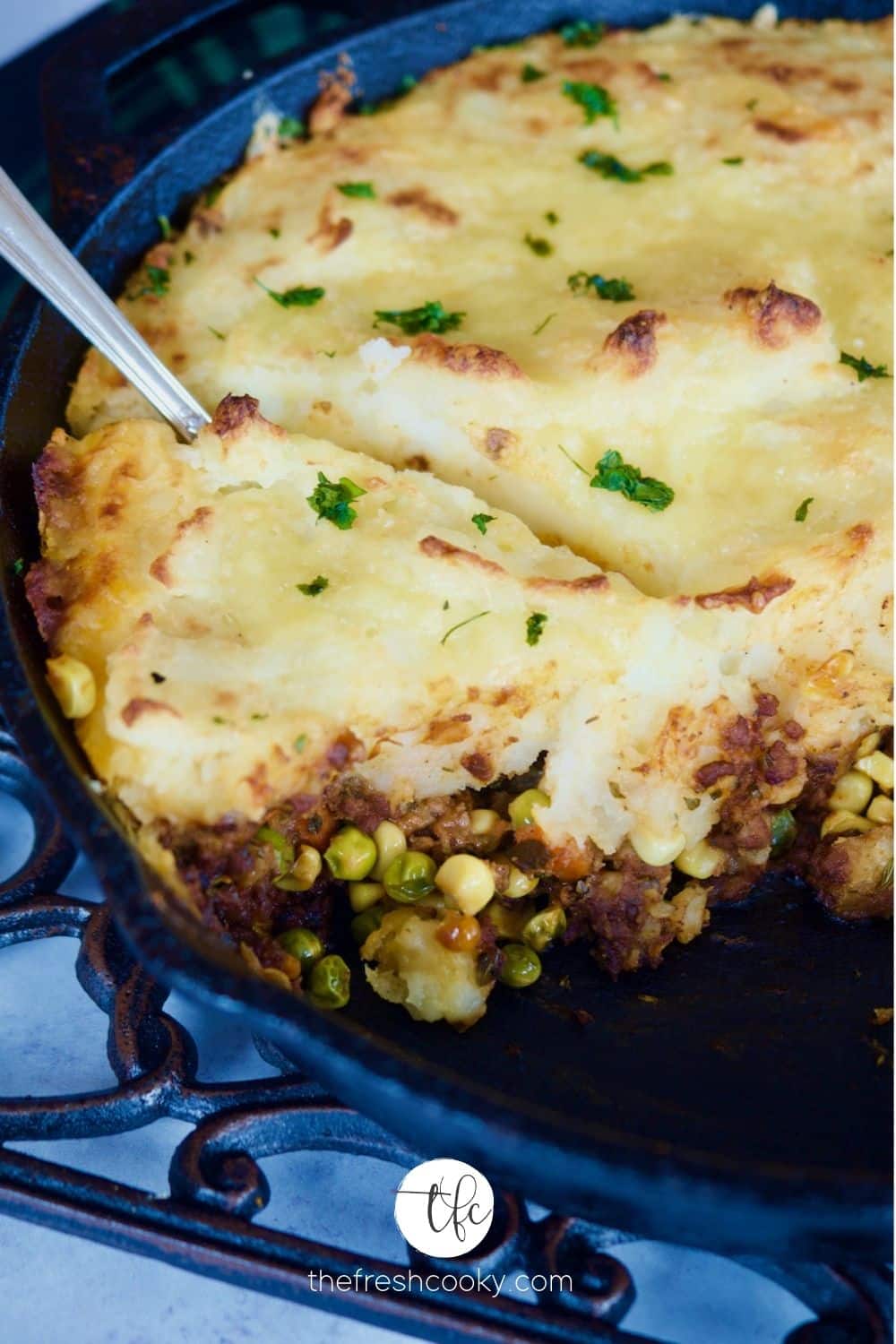 Gluten-Free Shepherd's Pie
I love giving tips on how to convert recipes to gluten-free, this Cottage pie recipe is super easy to convert:
Make sure the Worcestershire sauce is gluten free, I know for a fact that Lee & Perrins is indeed gluten free.
Replace the flour (or omit all together) with a good Gluten Free All Purpose Flour.
Check labels on mashed potatoes and pre-shredded cheeses if you are using store bought!
Frequently Asked Questions
Why does my Shepherd's pie fall apart?
This is somewhat the sloppy joe's of meat pies, it's not going to stay together perfectly, but allow it to sit and cool for a few minutes before cutting into it will help, as well as making sure you incorporate the tomato paste and flour well, cooking it down bit.
How do I stop my mashed potatoes from sinking into the meat?
The secret is allowing the meat and potato mixture to cool slightly, let them sit for 10 minutes or so before assembling.
Does Shepherd's pie or Cottage Pie have cheese on top?
The pie is traditionally served with either parmesan or a good cheddar grated on top. This recipe incorporates the parmesan into the mashed potatoes and is finished with grated Irish Sharp Cheddar Cheese on top.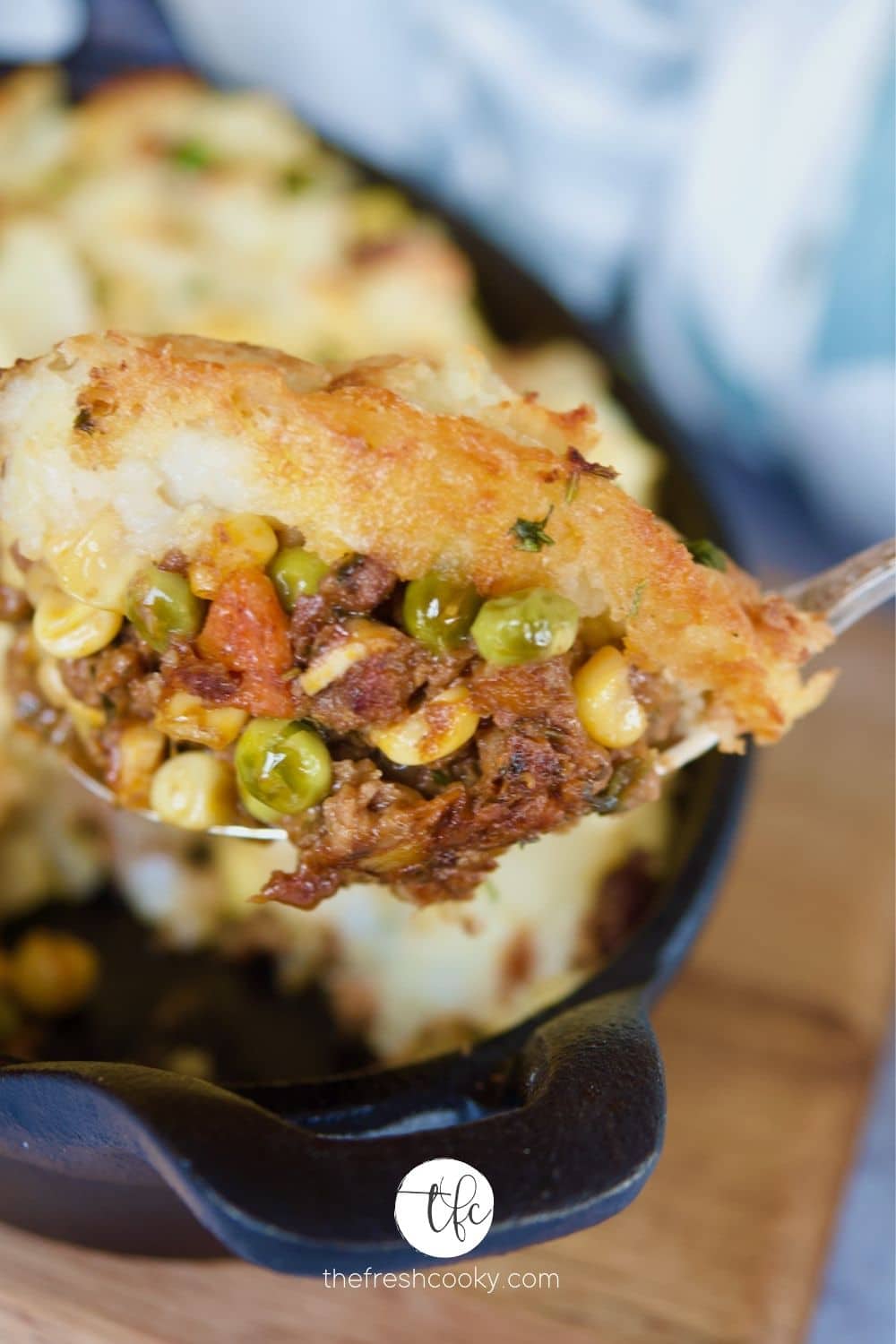 Variations & Tips
MEAT SUBS | You can make this using traditional ground lamb, or try making a Chicken Shepherd's pie or even use ground turkey.
VEGGIE SUBS | Most recipes call for frozen peas and carrots, but I had fresh on hand, which I prefer, just replace cup for cup frozen peas and carrots.
MAKE AHEAD | Yes, you can make it ahead and even freeze this meat pie. Allow to cool completely, freeze or refrigerate. To reheat, thaw overnight and bake as directed. Allow to sit on counter 30 minutes prior to baking.
BROTH | If you decide to make a chicken or turkey Shepherd's pie, then you will probably want to change the broth to chicken broth or veggie broth.
What do you serve with Shepherd's Pie?
This savory meat pie is hearty enough to stand on it's own, however; you might consider the following for a delicious St. Patrick's (or any day) meal!
I sure hope you enjoyed this recipe for traditional shepherd's pie, if you did, pop down and leave a rating and a comment and be sure to pin.
Like this recipe?
Don't forget to give it a ⭐️⭐️⭐️⭐️⭐️ star rating and comment below the recipe!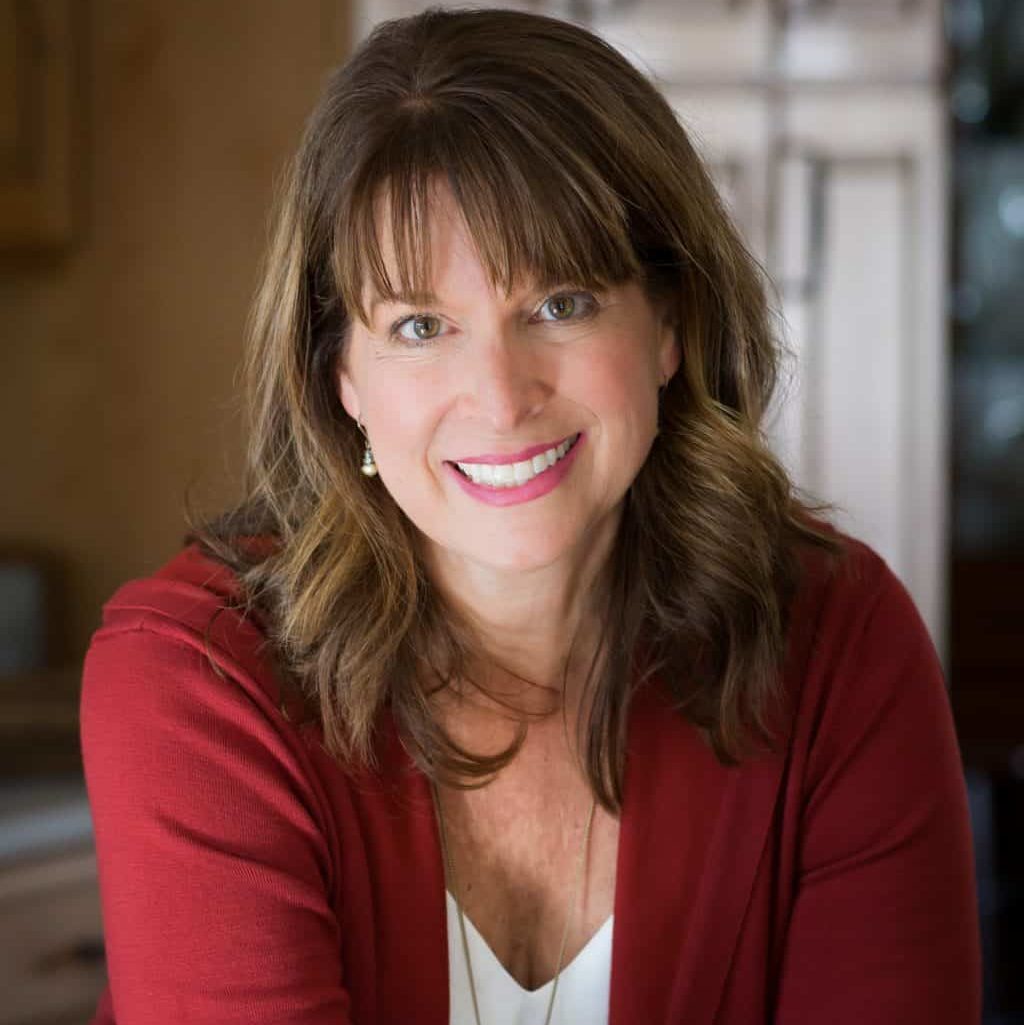 About Kathleen Pope
Recipe Innovator | Food Photographer | Food Writer
Hi, I'm Kathleen Pope. Here at The Fresh Cooky you will find easy, mostly from-scratch, trusted recipes for all occasions. From speedy dinners to tasty desserts, with easy step-by-step instructions. I am here to help teach you how to make mouthwatering recipes without spending hours in the kitchen. Read more about Kathleen here.