Easy Peanut Butter Cookies (Gluten-Free)
As an Amazon Associate, I earn from qualifying purchases. Please read my disclosure policy.
These Peanut Butter Cookies are as chewy, sweet, and peanut buttery as any flour cookie, except they are entirely gluten-free! That's right—a dairy-free and gluten-free peanut butter cookie. With a surprise ingredient! That makes these peanut butter cookies with cinnamon delicious treats for everyone to enjoy!
Just five simple ingredients — my magic peanut butter cookie recipe comes together so easily and quickly. And the taste of these gluten-free treats is just divine! No one would ever guess they are made without flour and also without brown sugar or butter!
You might enjoy these amazing Crumbl Chocolate Chip Cookies or Apple Pie with Crumb Topping, or these chewy Gluten-Free Chocolate Chip Cookies. And for the peanut butter lovers, make these Crockpot Peanut Clusters or these Christmas Muddy Buddies.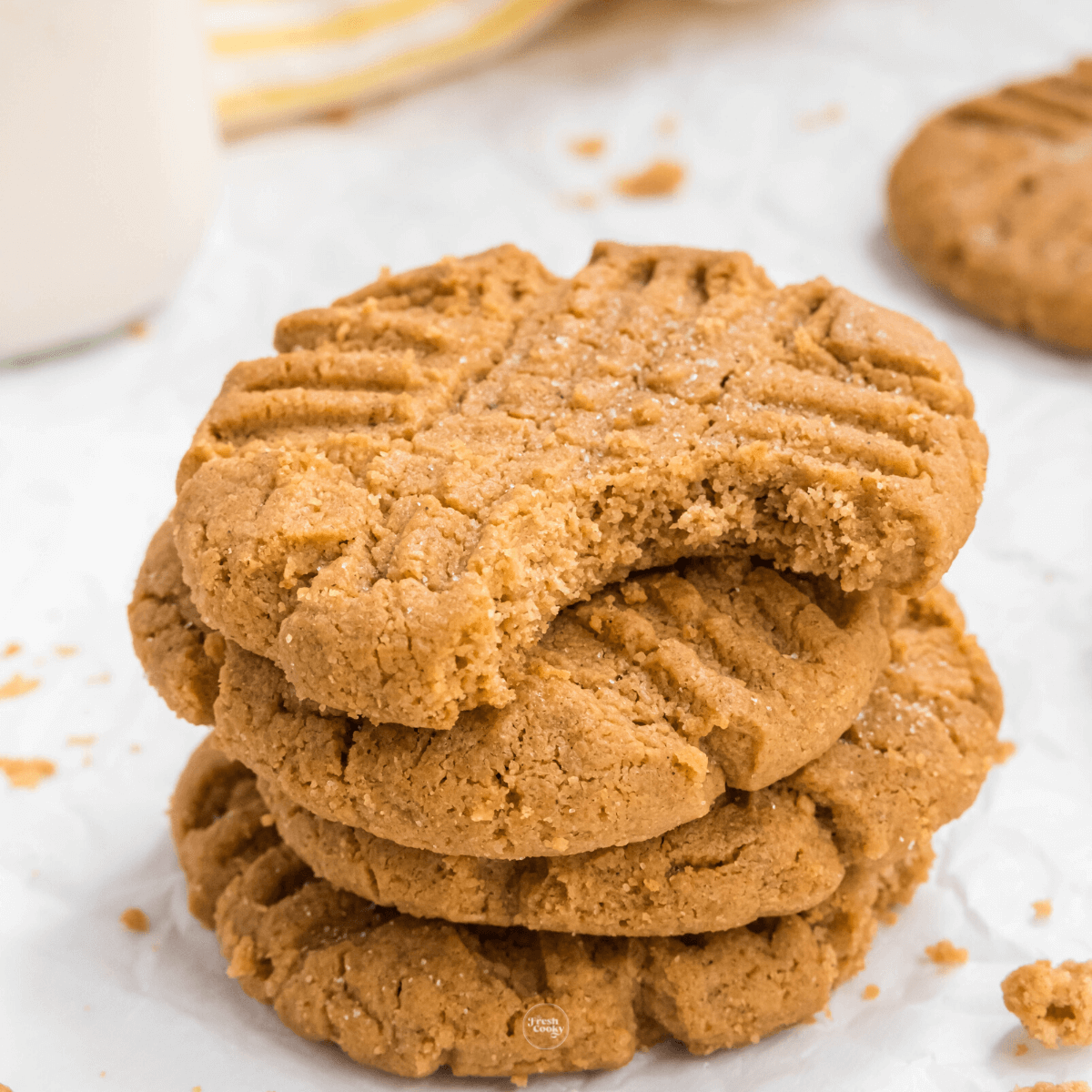 Why You Will Love this Recipe
Gluten-Free | This easy recipe is completely gluten-free and dairy-free!
Super Easy to Make | The simple ingredients make this recipe so quick and easy to throw together. All you need are five ingredients, a mixing bowl, cookie sheet, and a preheated oven.
Perfect for Peanut Butter Lovers | These flourless peanut butter cookies are so cozy and delicious. They are the perfect dessert for my crazy peanut butter fans!
Most peanut butter cookies recipes use brown sugar or a combination of white and brown sugar, but these are are peanut butter cookies without brown sugar, which makes this recipe even more convenient.
Magic Peanut Butter Cookies
These cookies are a slight twist on the classic Magic Peanut Butter Cookies, no flour, no butter, just peanut butter, eggs and sugar! You will love how easy they are!
Healthy Twist
Protein-Packed | With peanut butter as the main ingredient in this cookie recipe, each one is packed with a decent amount of protein.
No Butter or Oil | These gluten-free PB cookies are made without butter or oil!
Simple Ingredients for Gluten-Free Peanut Butter Cookies
Ingredients, directions and nutritional information in the printable recipe card at the end of the post.
Creamy Peanut Butter | Use your favorite brand of creamy peanut butter. See Tips from the Test Kitchen if using all-natural peanut butter. Most peanut butter products are naturally gluten-free, but double-check.
Granulated Sugar | Many similar recipes use brown sugar or a mix of brown and granulated sugar. I like to keep it simple by using organic cane sugar or ordinary white sugar, no brown sugar. See below to make sugar-free peanut butter cookies!
Eggs | We'll use large eggs to help bind all the ingredients together and give the cookies a fluffy and chewy texture.
Vanilla | Vanilla extract deepens the basic flavors of the recipe and compliments the peanut butter so well.
Cinnamon | Cinnamon is an optional ingredient, but I love how it brings some seasonal notes to the cookie recipe and enhances the peanut butter flavor. If you haven't tried it, now is the time!
Fresh Tips Using Natural Peanut Butter
I successfully made these using pre-stirred natural peanut butter. Though more oily, requiring time to chill before baking.
The hashmarks don't stay in the cookie when done beforehand. Do not press the cookies with fork before baking as they will spread well on their own. Add the hashmarks with the fork when they come out of the oven.
If the dough is too loose or oily, it just means you had more oil in your peanut butter. Stir in a tablespoon or two of gluten-free flour or regular flour if you are not gluten-free.
How to Make this Gluten-Free Peanut Butter Cookie Recipe
Step 1 | Mix the Dough
Begin this easy gluten free peanut butter cookies recipe by preheating the oven to 350 degrees (375 degrees F for High Altitude). Next, grab a large bowl and combine the peanut butter and sugar, mixing until creamy. You could get out a stand mixer, but these cookies mix up dreamily fast in one bowl or using a hand mixer.
Once the two ingredients are thoroughly mixed, add vanilla, eggs, and cinnamon, if using. Stir the dough until all the ingredients are well combined.
Step 2 | Form the Cookies
Now, take out a cookie sheet and line it with parchment paper or a silicone baking mat. Scoop the dough with a small or medium cookie scoop for an even amount each time and roll the dough into a little larger than one-inch balls with your hands. Use a bit of butter on your hands if the dough is sticking. Then, place each one on the lined cookie sheet. Don't forget to scrape the sides of the bowl!
If desired, roll the cookies in a little sugar or even try cinnamon sugar for a peanut butter snickerdoodle taste!
Slightly flatten the simple peanut butter cookies and give them a basic hashmark design using the back of a fork. Gently pressing with the tines of a fork to form a crosshatch pattern on top of each ball of dough. If desired, sprinkle tops of cookies with a little Demerara sugar or coarse sparkling sugar for a little more sparkle and bling.
If the dough sticks to the fork, dip your fork in a little powdered sugar or dab the fork in some granulated sugar.
Step 3 | Bake & Serve
Time to pop these gluten-free treats into the oven! Slip the baking sheet into the preheated oven and bake for about 15-20 minutes. When the edges have turned a golden brown, the peanut butter cinnamon cookies are ready to serve!
Just allow them to cool off a little on a cooling rack and lightly sprinkle sugar on top of the cookies for extra sweetness and a subtle crunch—ENJOY!
Keto Peanut Butter Cookies (Sugar-Free Peanut Butter Cookies)
I have had a lot of success using sugar substitutes in my baking! Use a cup for cup sugar substitute, I like Lakanto Monk Fruit or this Truvia Brown Sugar substitute. Bake as directed.
Fresh Tips
It helps to chill the cookie dough for an 30-60 in the refrigerator before baking. This prevents them from spreading out a little too much. But is not required.
If using natural peanut butters, chill cookie dough balls in freezer 1-2 hours before baking.
Your warm cookies may appear underdone when they are finished baking. However, you should remove them from the oven once they have crisp edges, even if they have a soft center. They will firm up as they cool.
Use a cookie scoop to create uniform sized cookie dough balls.
Use your favorite peanut butter! See tips for using natural peanut butter.
Double the Goodness | This cookie recipe easily doubles or triples!
Variations & Substitutions
Peanut Butter Chocolate Cookies: The combination from heaven—peanut butter and chocolate! Just add white or semi-sweet chocolate chips or dark chocolate chunks.
Peanut Butter Blossoms | The classic Christmas cookie! Peanut butter cookies are perfect all year long, but roll the dough ball in sugar, flatten slightly and bake, then immediately press an unwrapped Hershey's chocolate kiss onto the tops after baking.
Extra Sweet: Spread homemade gluten-free frosting or a light glaze on top of the cookie.
Cookie Sandwiches: Make gluten-free peanut butter cookie sandwiches filled with gluten-free ice cream or thick and fluffy frosting like my classic buttercream.
Salted Caramel PB Cookies: Drizzle with caramel sauce and sprinkle with a pinch of fleur de sel (flaky sea salt) for a salted caramel peanut butter cookie.
Dip 'Em in Chocolate: Melt some chocolate to dip the soft cookies for another irresistible peanut butter-chocolate combo!
Add Some Crunch: Use crunchy peanut butter instead of creamy. Or roll them in crushed peanuts.
Peanut Free Peanut Butter Cookies?
Our son is allergic to tree nuts, so I am accustomed to using other nut butters or substitutes. Thankfully, he is not allergic to peanut butter, so these cookies work for us. But if you need a peanut-free, dairy-free cookie this is it!
However you could easily swap almond butter or even Sunbutter for the peanut butter. Technically, they would no longer be the best easy peanut butter cookies, right? Instead, they would be Almond Butter Cookies or Sunbutter Cookies.
Storage Tips
Freezer | For long-term storage, freeze the chewy cookies in freezer-safe bags or airtight containers. Or freeze the dough by placing the cookie sheet of dough balls into the freezer, flash freezing for about an hour. Once frozen, remove the sheet and dump the dough into a freezer bag, squeeze out the air and store up to 3 months.
When you're ready to bake them, either thaw overnight in the fridge, or remove from freeze and allow to sit on counter while preheating the oven.
Refrigerator | Store your chewy peanut butter cookies in the fridge for about a week. Be sure to place them in an airtight container or bag so they stay fresh and chewy.
On the Countertop | The peanut butter cookies can stay at room temperature on the countertop for up to five days. When you store them in a sealed container, they'll keep their texture for longer. Allow the freshly baked cookies to cool before storing them.
Frequently Asked Questions
Can you use natural peanut butter for this recipe?
In short, yes! Some natural peanut butters still have some sugar in them not requiring stirring, these I find do a little better. But if you choose to use all-natural peanut butter, stir it really well to mix the oil in, it will not contain sugar, so your cookies might not be as sweet, which is really okay!! You may need to add a tablespoon or two of flour (regular or gluten-free) if your PB dough is too loose or oily.
How do you avoid overmixing the cookie dough?
Using ingredients that are room temperature makes mixing faster and easier. They'll require far less mixing to combine, leaving you with chewy and soft peanut butter cookies!
Why do we put fork hash marks on peanut butter cookies?
Since traditional peanut butter cookies are fairly dense, they do not spread a whole lot, especially since we aren't using butter, they tend to keep their shape as they bake. By using a fork to make hash marks it flattens out the cookie for more even baking.
Do you need xanthan gum for this gluten-free cookie recipe?
Many gluten-free recipes call for xanthan gum to provide lift to the non-gluten flour. However, these are the perfect peanut butter cookies without this unique ingredient since we do not use any flour (all-purpose or gluten-free).
High Altitude Peanut Butter Cookies without Brown Sugar
The only change I made to my gluten-free peanut butter cookie recipe was to bake them in a 375 degree oven for a few minutes less, otherwise, no changes are needed. Every oven heats differently, be sure to use an oven thermometer to ensure your baked goods are cooking at the correct temperature.
Tips from the Test Kitchen
I made these peanut butter cookies without brown sugar using Skippy regular peanut butter, Jif all-natural peanut butter and no sugar added, oil on top peanut butter.
PB Cookies made with the regular Skippy (or Jif) peanut butter held their shape best.
Peanut butter cookies made using natural Jif turned out well, a bit more oily than the previous version, I did not add flour, but they could have used some to hold their shape. Still tasted amazing (see images below).
I also made them using stirred, no sugar added peanut butter, these turned out, but were very loose oily. So I added several tablespoons of flour to the dough, (you can use all-purpose, oat flour, almond flour or gluten-free all-purpose flour) until they had more of a cookie dough like consistency. Chilled for 60 minutes before baking.
I also tried using regular white sugar and organic cane sugar, when using cane sugar it added to the looseness of the dough over all.
The hashmarks don't stay in the cookie when done beforehand. Do not press the cookies with fork before baking as they will spread well on their own. Add the hashmarks with the fork when they come out of the oven.
Test Results | If you want perfect 3 ingredient Gluten-Free Peanut Butter cookies without brown sugar, then stick to regular peanut butters and white granulated sugar.
3 Ingredients Peanut Butter Cookies
While the recipe is technically 5 ingredients, the main ingredients are 3 — peanut butter, eggs and sugar! Vanilla and cinnamon just add depth to these cookies. But really I would call these easy Peanut Butter Cookies with only 3 ingredients.
More Peanut Butter-Lover Recipes
Do not over-bake your gluten-free peanut butter cookies! Overbaking will yield a dry, crumbling and cakey cookie. We're going for chewy, dense and delicious!
More Cookie Recipes
I hope you loved this Gluten Free Peanut Butter Cookie Recipe — if you did, would you share your creation on Instagram, Facebook and Pinterest? And be sure to comment below!
Like this recipe?
Don't forget to give it a ⭐️⭐️⭐️⭐️⭐️ star rating and comment below the recipe!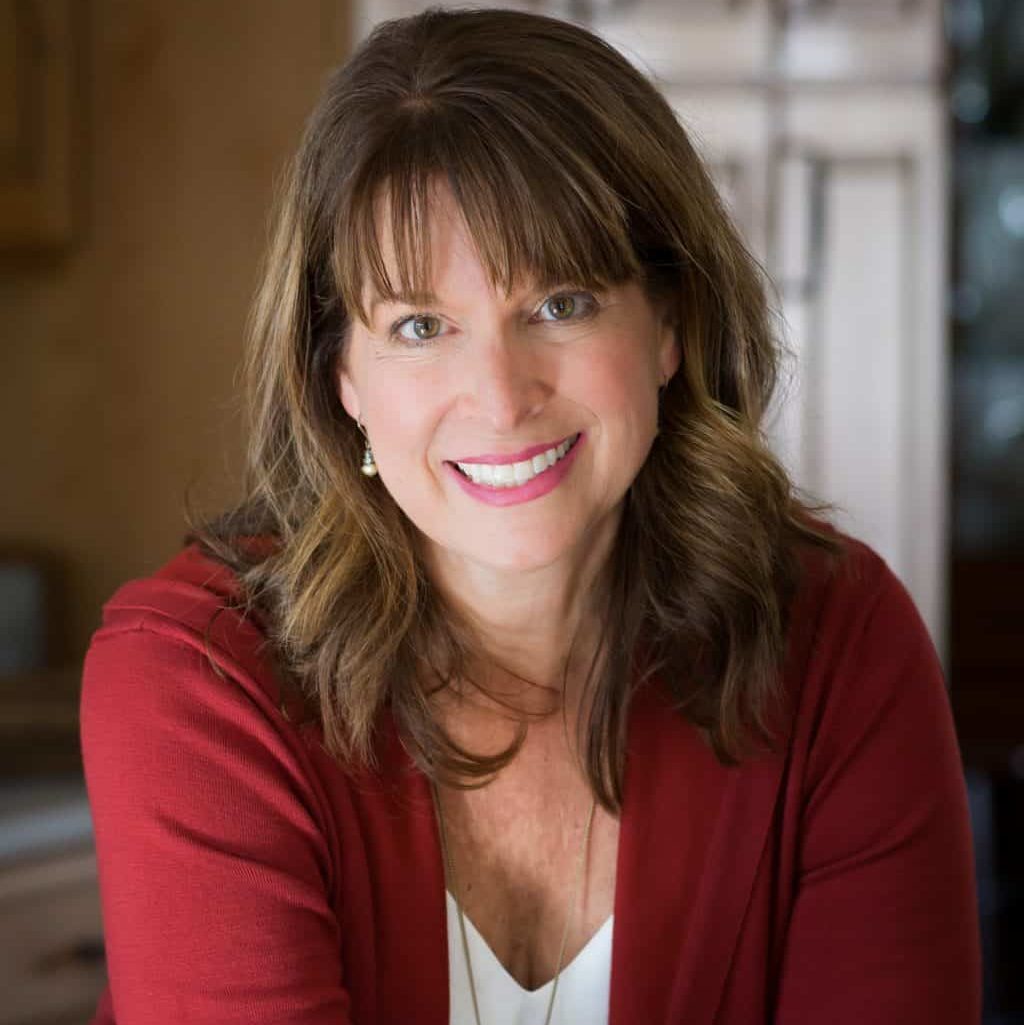 About Kathleen Pope
Recipe Innovator | Food Photographer | Food Writer
Hi, I'm Kathleen Pope. Here at The Fresh Cooky you will find easy, mostly from-scratch, trusted recipes for all occasions. From speedy dinners to tasty desserts, with easy step-by-step instructions. I am here to help teach you how to make mouthwatering recipes without spending hours in the kitchen. Read more about Kathleen here.