Panera Thai Style Chicken Soup Recipe (Tom Kha Soup)
As an Amazon Associate, I earn from qualifying purchases. Please read my disclosure policy.
Panera Thai Chicken Soup is a tasty, gluten-free, dairy-free, nutritious soup with authentic flavors. A simple copycat recipe with tender chicken in a spicy-sweet coconut broth, ready in less than an hour.
If you love Thai food or creamy and delicious soups, this recipe is for you! A hearty chicken soup with Thai-style flavors, dairy-free and gluten-free too! Cheaper than your local Thai restaurant.
I enjoy giving precise details in my recipe posts to lead my readers through any questions. If you're just here for the printable recipe, feel free to click "Jump to Recipe" right under the title of this post, and you'll head straight there!
You will love all of my Panera copycat soups; try this Autumn Squash Soup, my Spicy Mexican Street Corn Chowder and this 10-Vegetable Soup.
Why You Will Love This Recipe
Cozy – While the flavors are complex, including creamy, sweet, and subtle spice, a warm cup of soup is perfect for a chilly fall or winter day.
Fast – Ready on your stovetop in less than an hour; the perfect soup for a busy day!
Asian-style Soup – This recipe was written for those who don't regularly go to an Asian market (though you should go sometime, they are so fun!); I've used ingredients readily available at your local grocery store.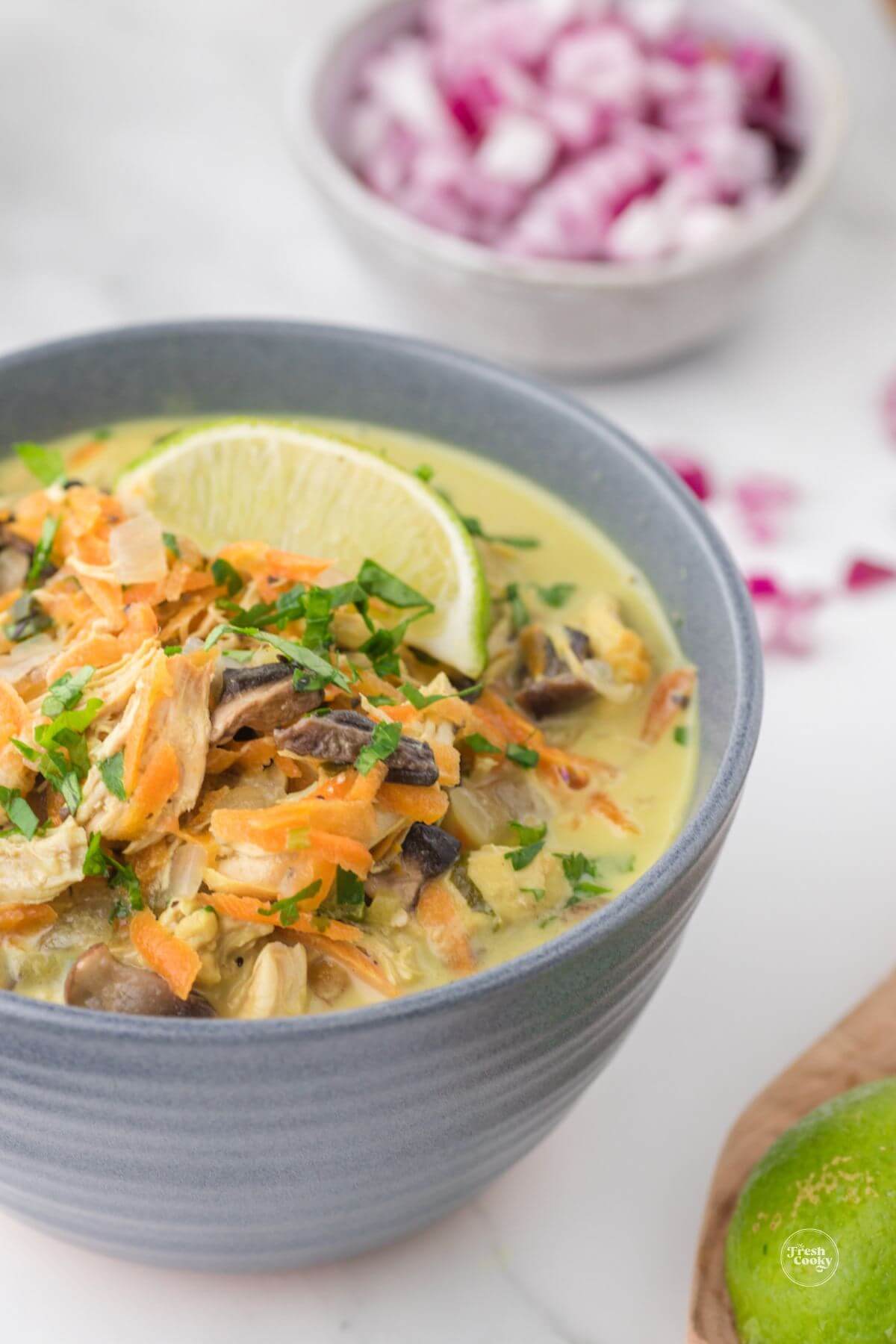 Key Ingredients
Oil | Use your favorite oil to saute the onions, garlic, and ginger at the start of the recipe. I like to use avocado oil, but vegetable, olive, or coconut oil also works well.
Onion | Bring flavor to the soup with diced onion. White, yellow, or red onions are all appropriate for the soup recipe. You'll also need some green onions as a garnish.
Garlic & Fresh Ginger | Classic flavors in most Asian cooking. If you want to be more authentic, find galangal, Thai ginger.
Massaman | Massaman is what Panera uses in their Thai-style Chicken soup; this will add a little more heat, add between ½-1 tablespoon.
Massaman
Massaman is a rich, flavorful, and mildly spicy Thai curry. Any curry paste will work, but Massaman is a Thai yellow curry paste vs. red curry paste.
Chicken | I used boneless chicken breasts. For other options or a vegetarian take on the recipe, check out the variations section of the page.
Broth | The base of the soup is savory and mild chicken broth, if making vegan, switch this with vegetable broth or mushroom broth.
Mushrooms | Add diced portobello or shiitake mushrooms for great flavor!
Carrots | Shred your own carrot or use matchstick carrots for the best crispy carrot texture.
Coconut milk | Make the soup silky and creamy with coconut creme or full-fat coconut milk. Do not use coconut creamer, coconut water, or refrigerated coconut milk.
Fresh Tip
If you are unfamiliar with using canned coconut milk, be prepared as it will probably have a hard cap of solidified coconut cream on top, use it all, it will melt into the soup.
Lime Juice | A classic ingredient in almost all Thai cuisine, fresh lime juice is best.
Garnish | Garnish the final dish with juicy lime wedges and chopped fresh cilantro and chopped green onions.
Fish sauce | Fish sauce is an optional ingredient that brings a more authentic flavor to the recipe. Don't be afraid of using this sauce, it adds great umami!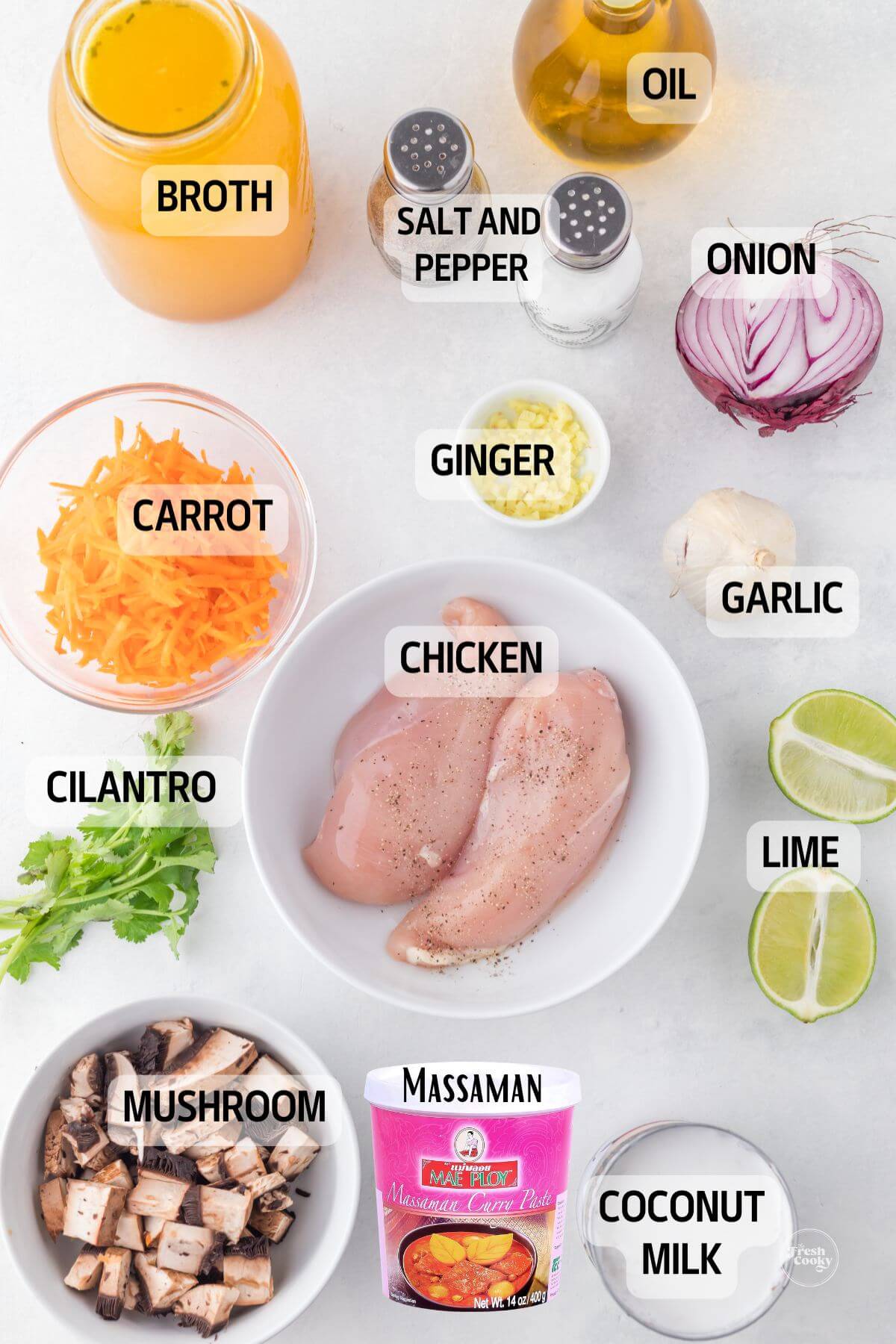 Fresh Tip
When I tested this recipe, I tried it with and without brown sugar, which Panera bread Thai style chicken soup contains. It did not change the soup noticeably, so I opted to leave it out. If you want to balance the spicy with a little sweet, add 1 tablespoon of brown sugar when adding the chicken stock to the soup.
How to Make the Panera Thai Chicken Soup
Step 1 | Saute onions, garlic and ginger
In large pot or Dutch oven over medium-high heat on the stovetop; heat the oil, and sprinkle in the diced onion and saute until translucent and just turning brown, about 5-7 minutes. During the last couple of minutes, reduce to medium-low heat and add the minced garlic, and ginger. Saute until fragrant.
Step 2 | Add chicken broth and chicken
Next, pour the chicken broth into the pot with the chicken breasts, salt, and pepper. Bring the ingredients to a boil, then lower the heat to simmer.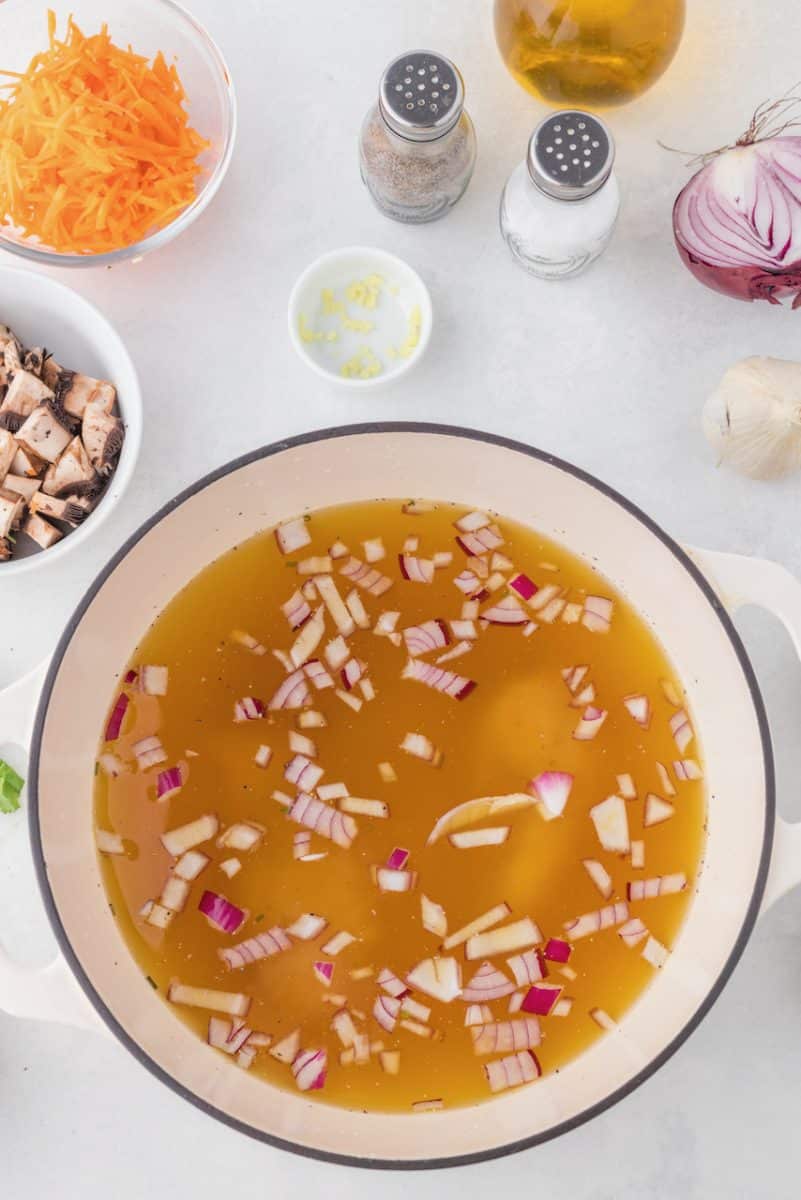 Fresh Tip
For a little more flavor and softer vegetables, I've also added the mushrooms, carrots and red pepper to sauteed onions and cook for a few minutes before adding chicken broth.
Step 3 | Shred chicken
After 20 minutes, remove the chicken with a slotted spoon or tongs to a cutting board and shred it with two forks, returning the shredded meat to the pot.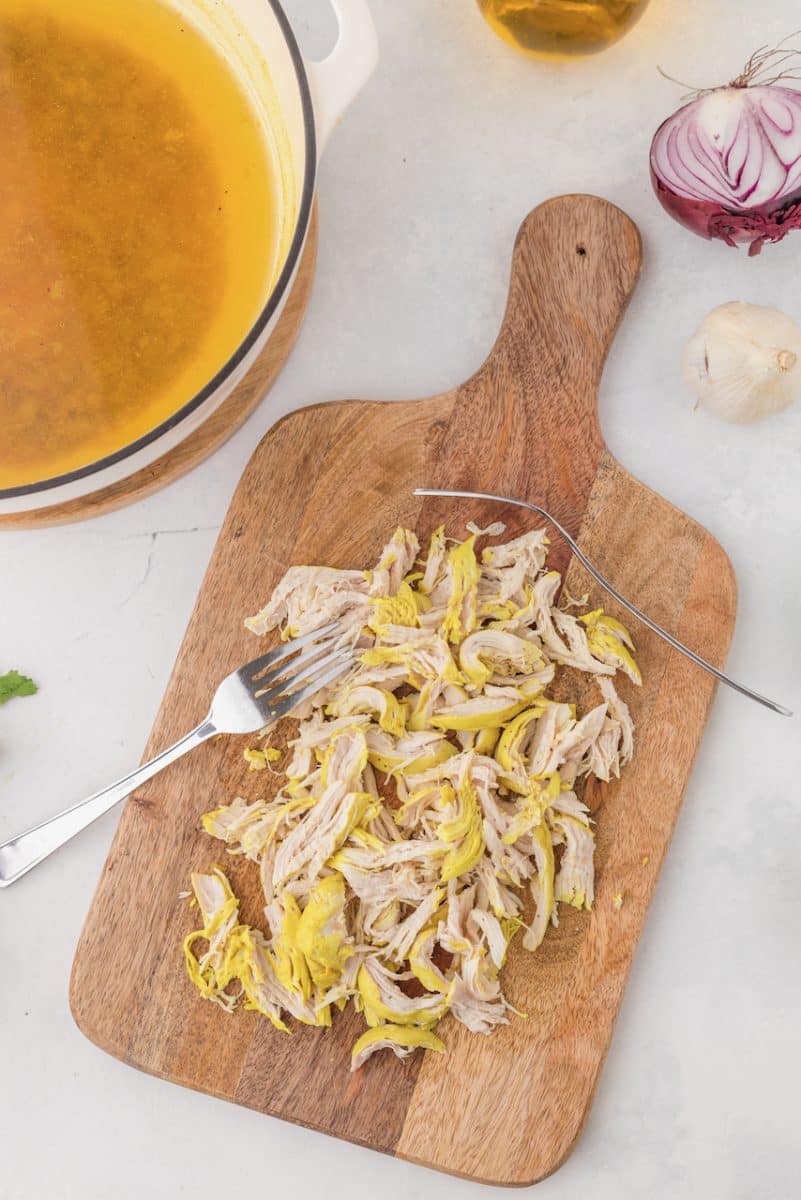 Step 4 | Add carrots, mushrooms and coconut milk
Then, toss in the carrots, mushroom, and creamy coconut milk and cook for another five minutes. Stir in cilantro and a squeeze of half a lime.
Finally, serve the delicious Thai soup in bowls garnished with lime wedges, green onions or scallions and cilantro.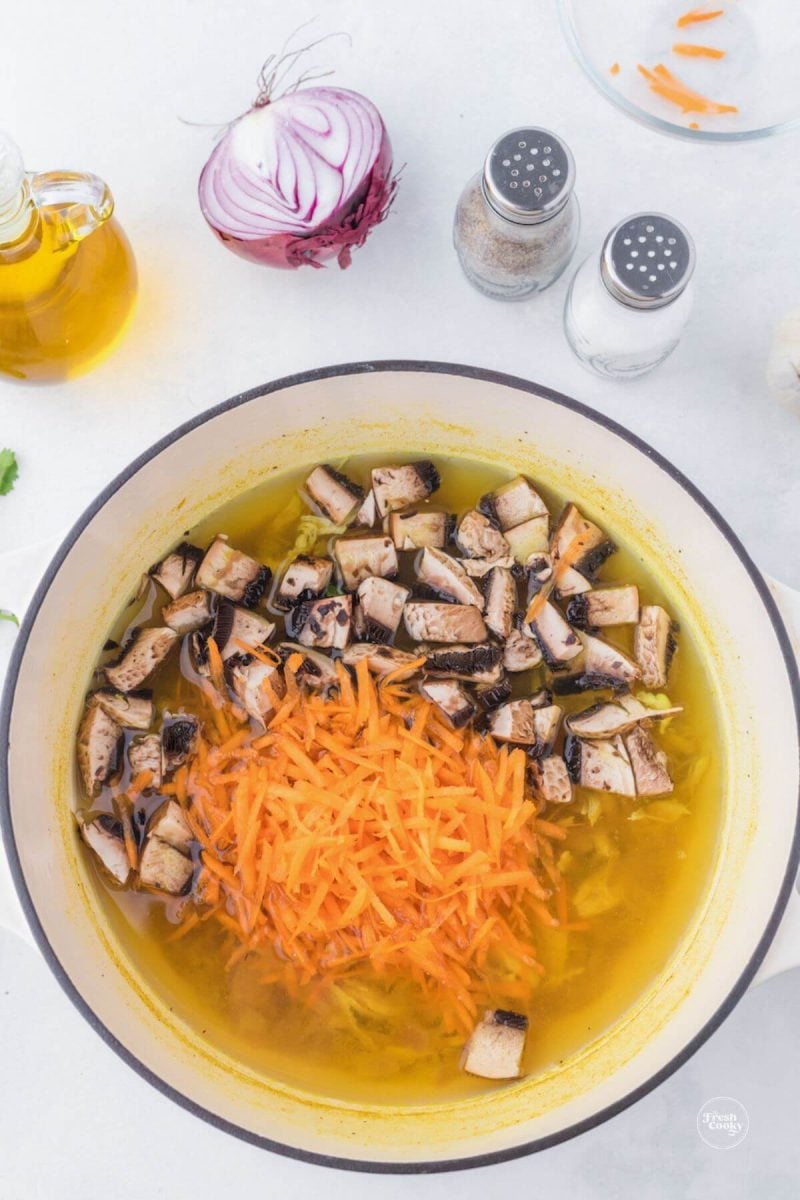 Autumn is approaching, which means it's about time we break out some of the most heart-warming and comforting soup recipes, like today's Thai coconut soup. For cozy and flavorful soups, check out my easy Instant Pot Potato Leek Soup, Panera-Inpired Autumn Squash Soup, and Creamy Poblano Chicken Soup perfect for fall!
Variations & Substitutions
Traditional Ingredients for Authentic Tom Kha Gai Soup: To keep the recipe true to the original in Thai cooking, use lemon grass paste and galangal root to replace the ginger. Kaffir lime leaves or Thai lime and sometimes red curry paste are used too. I kept them out of this simplified recipe because these ingredients can be difficult to find.
Change the Veggies: I prefer using portobello or shiitake mushrooms for this chicken coconut soup recipe because they are flavorful. But, truly, any type of mushroom will do, like baby Bella, or button white. As mentioned previously, add diced red pepper, green cabbage or shredded Napa cabbage, corn or your favorite veggies.
More Flavor: My family loves adding a dash of sriracha sauce or gochujang or a splash or soy sauce; this soup is a delicious mix of global flavors! You may also toss in some red chili peppers.
Chicken Swap: Prefer dark meat, instead of chicken breasts use chicken thighs. Or use rotisserie chicken both white and dark meat.
Lite Coconut Milk: This easy recipe is better and more creamy with full-fat coconut milk or coconut creme, but you can swap out for light coconut milk if you prefer.
Shrimp Tom Kha Soup
Replace the chicken breast with a pound of raw small shrimp and stir it into the simmering chicken broth (or use fish broth or vegetable broth). Cooking until pink and opaque.
Vegan Tom Kha Soup
Substitute the chicken broth with vegetable broth, swap the meat with tofu or other plant-based protein, and omit the fish sauce. Add a few more veggies, like red bell peppers, bok choy, edamame soybeans and baby corn if desired.
Slow Cooker Thai Coconut Soup Recipe
Prefer to pop it all in your crockpot! You bet!
For maximum flavor, I recommend you still saute the onions, garlic and ginger in a skillet and then add to slow cooker. You may just toss it all in the crockpot if preferred.
Mix chicken broth, coconut milk, and spices together in a 6-quart slow cooker. Add the chicken breasts, carrots and mushrooms to the crock. Cover and cook on low for 4 hours.
Remove chicken and shred with two forks; return to crock pot and stir in cilantro and squeeze half a lime, serve and enjoy. Some say this soup is even better the next day.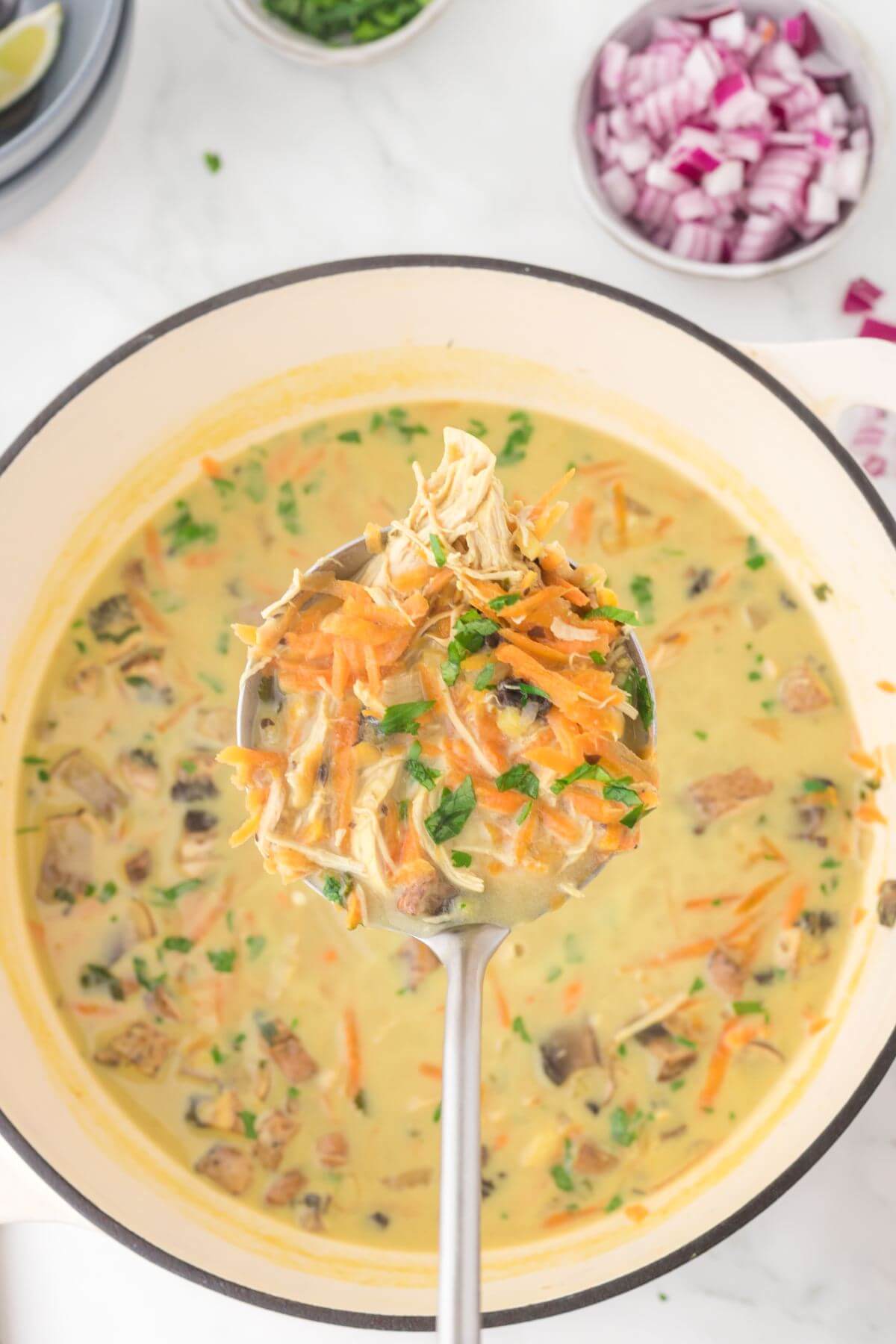 Frequently Asked Questions
Can I make this soup ahead of time?
Sure! Tom Kha Soup is excellent for making ahead and simply reheating when you're ready to serve. Keep the soup in the freezer for a couple of months, or store it in the fridge for up to four days.
Can I make this soup spicier?
Add a bit more ginger, yellow curry paste, a dash of cayenne pepper, or diced jalapeno when sauteing the onions and garlic for a spicy Tom Kha Soup. Red pepper flakes would also do the trick!
What are the taste and the texture of the Thai Chicken Soup?
Tom Kha Soup, or Thai chicken soup, is a tasty, slightly spicy, and nutritious meal with a hint of creamy coconut sweetness. The soup's texture is silky-smooth with bits of chicken and veggies in a Thai yellow coconut curry broth.
What's the difference between Tom Yum and Tom Kha soup?
Tom Yum is a spicier soup with a clear broth, while Tom Kha has a hint of spice with a creamy, sweet, savory broth.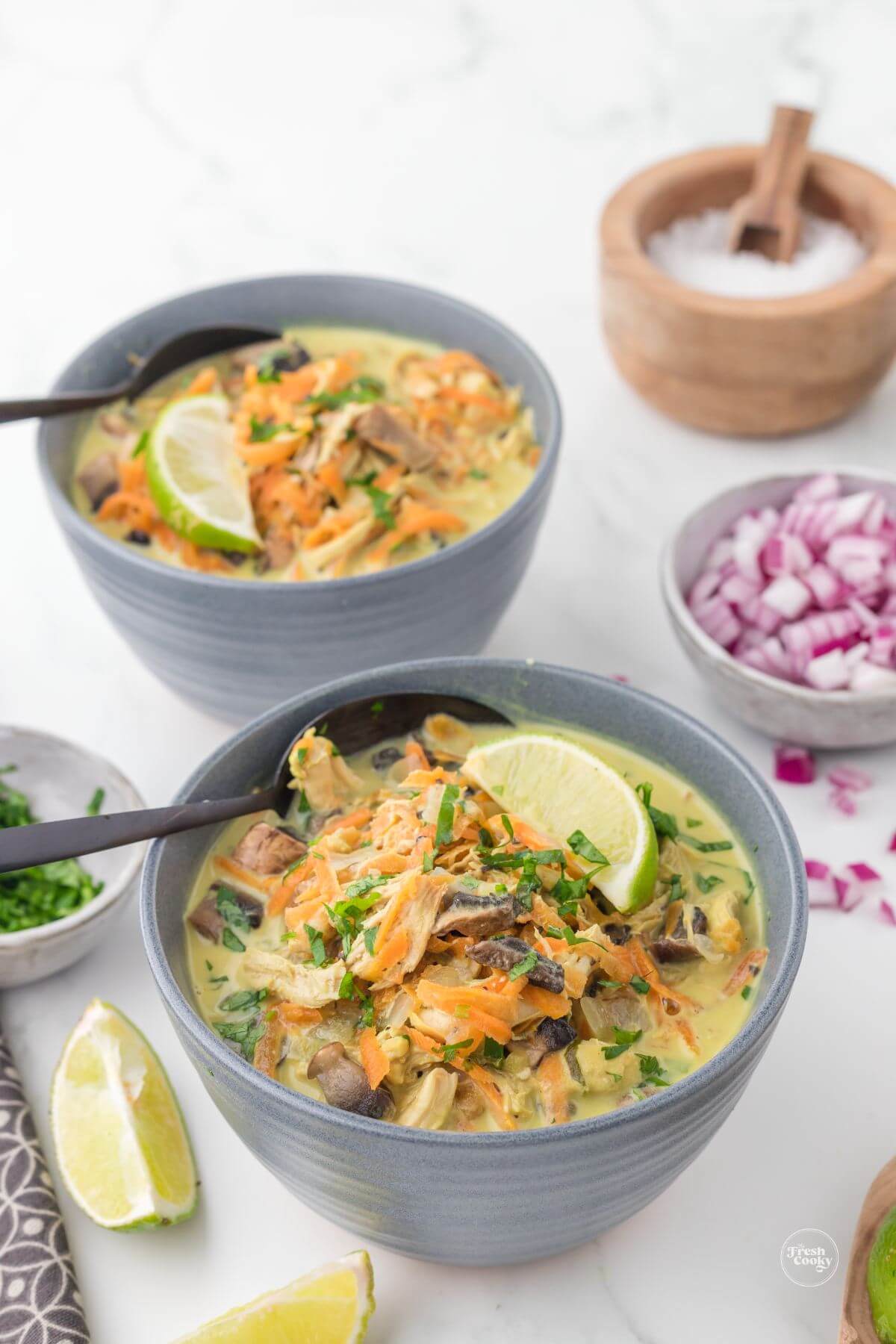 Storage Tips
To store in the fridge; cool this gluten-free chicken soup completely and store in single serving containers or and refrigerate up to four days.
Freezer: To freeze copycat Panera Thai Chicken Soup: Freeze cooled soup it in an airtight container to keep in the freezer for up to three months.
Reheat Thai Chicken Soup: Thaw in the refrigerator overnight, then reheat it on the stovetop or place in microwave soup cup and heat in 30 second bursts, stirring in between until warmed through.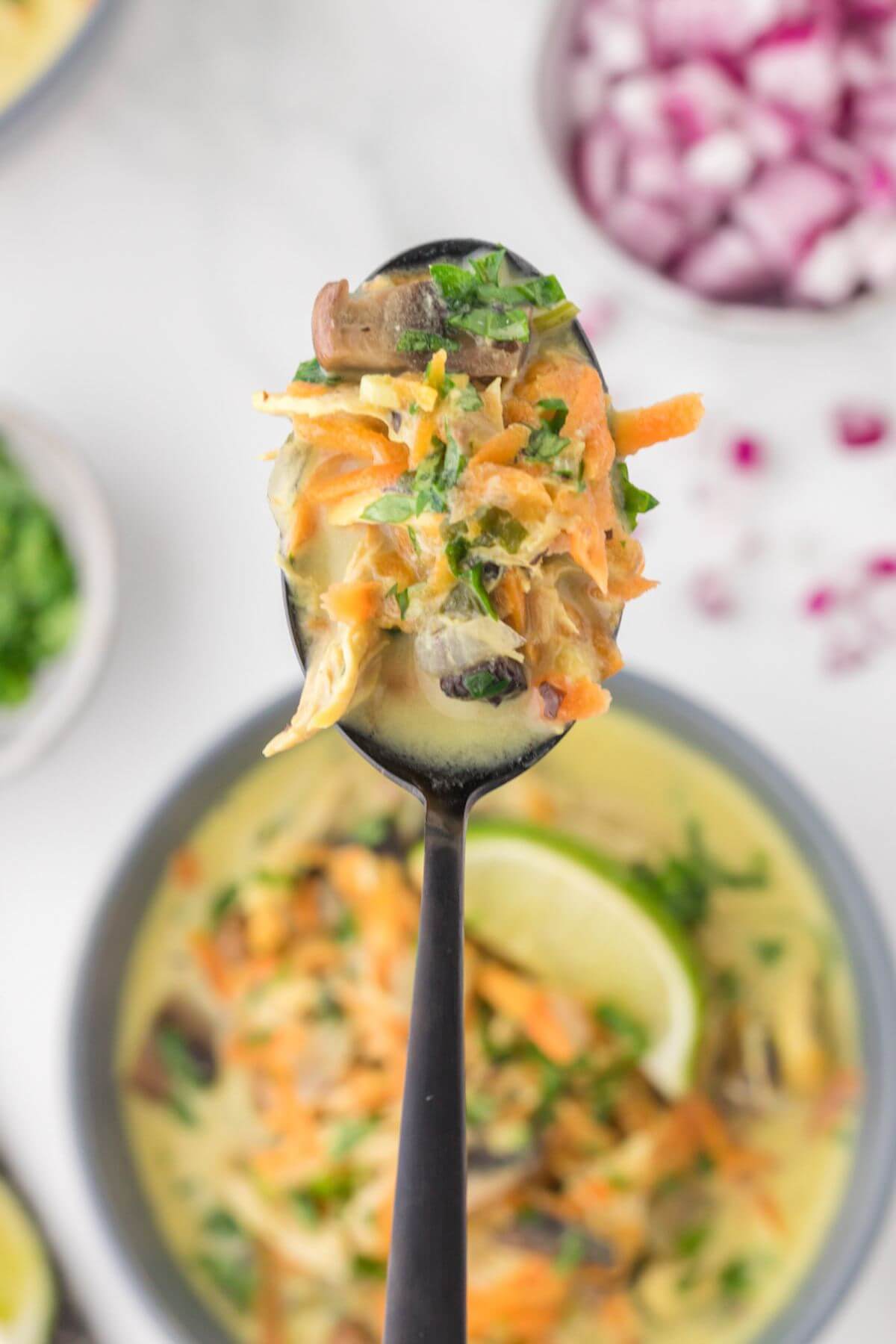 More Thai Inspired Recipes to Try
For all seafood lovers: Try these elegant but inexpensive Thai Red Curry Mussels or Thai Basil Shrimp for a main dish with your soup.
We love this Thai Basil Chicken, this One Pot Pad Thai and this scrumptious (and easy) Thai Noodle Bowl. And try making this Thai Mango Sticky Rice for dessert! A true treat!
Best Entrees for Easy Tom Kha Soup
Although Thai coconut chicken soup can be served as the main dish, it can also be enjoyed as a side soup to complete a meal. Or try serving with my Korean Sticky chicken or try my Ground Pork Stir Fry with Holy Basil (Pad Kra Pao).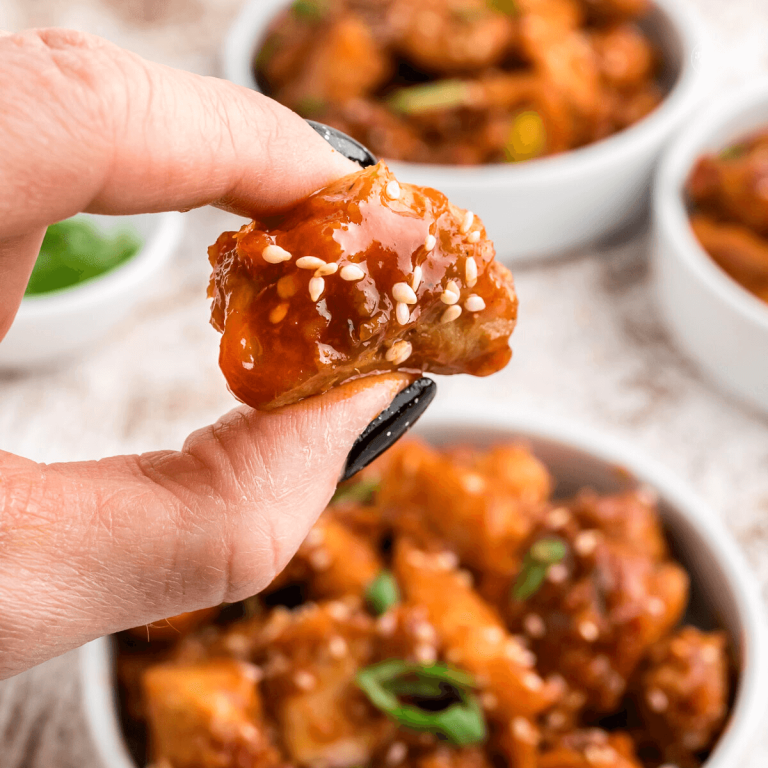 Easy Korean Fried Chicken Recipe (Air Fryer or Oven)
Korean Fried Chicken is perfectly crisp and smothered in a spicy-sweet and tangy barbecue sauce. Our version is made in the air fryer with chicken thighs! Tastier and more juicy than wings!
Ground Pork Stir Fry with Holy Basil (Pad Kra Pao)
Thai spicy ground pork stir fry with holy basil (Pad Kra Pao) is a simple and delicious 30-minute meal you must try! Loaded with fresh basil and green beans, this nutritious stir fry is typically served with rice, but can also be enjoyed on its own.
Try my other favorite Asian-inspired recipes
The next time cold weather hits, whip up this easy Thai Chicken Coconut soup in less than an hour and enjoy the simple, but bold flavors.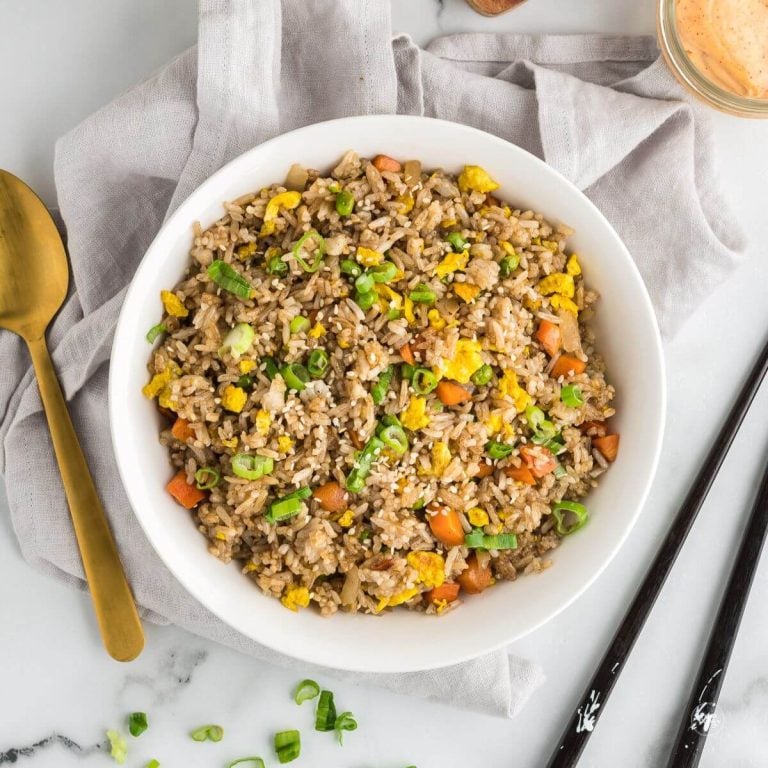 Best Hibachi Fried Rice Recipe (Benihana Copycat)
Try this delicious homemade Hibachi Fried Rice recipe Benihana style! It combines fluffy rice, crisp veggies, and savory seasonings for an irresistible Japanese steakhouse experience.
More Panera Copycat Recipes
Feel free to adjust the chicken soup recipe to your preference. Add your favorite veggies, swap the chicken breasts for thighs, or add extra coconut milk!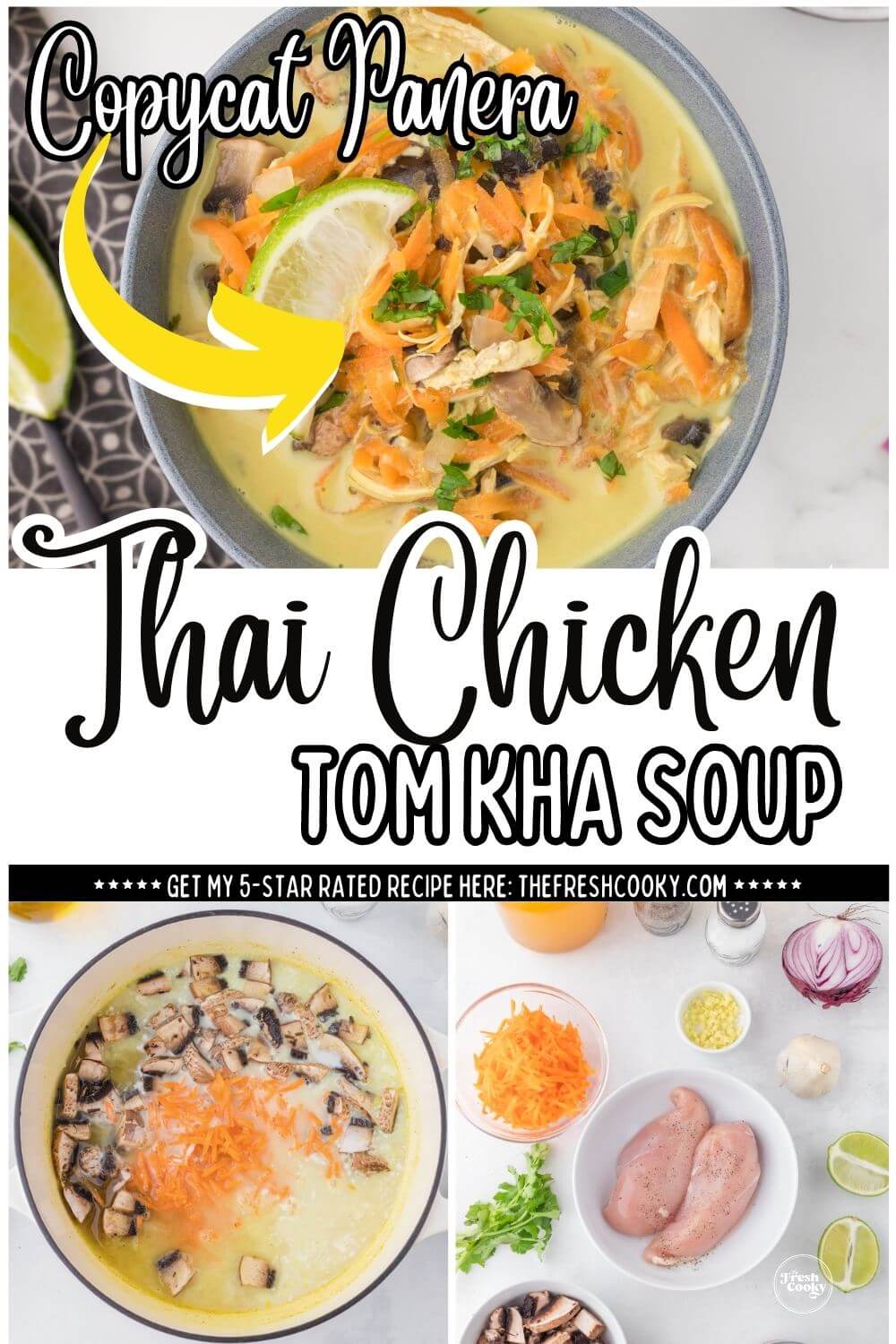 I hope you loved this Panera Thai Chicken Soup — if you did, would you share your creation on Instagram, Facebook and Pinterest? And be sure to comment below!
Like this recipe?
Don't forget to give it a ⭐️⭐️⭐️⭐️⭐️ star rating and comment below the recipe!
Panera Thai Style Chicken Soup Recipe (Tom Kha Soup)
Panera Thai Chicken Soup is a tasty, gluten-free, dairy-free, nutritious soup with authentic flavors. A simple copycat recipe with tender chicken in a spicy-sweet coconut broth, ready in less than an hour.
Ingredients
2

tablespoons

vegetable oil

,

I like avocado oil, but use olive oil, or your favorite vegetable oil

1

large

red onion

,

diced (may sub with yellow or white onion)

3

cloves

garlic

,

minced

1

inch

ginger

,

peeled, finely chopped (or ¼-¾ teaspoon ground ginger) (replace with galangal Thai ginger if you can find)

2-3

boneless chicken breasts

,

or thighs (see notes for Shrimp or vegetarian)

6

cups

chicken broth

1

teaspoon

kosher salt

½

teaspoon

black pepper

1

large

carrot

,

peeled, shredded

1

large

portobello mushroom

,

diced or about 1 cup Shitake mushrooms

14

ounce

coconut milk

,

full-fat or coconut creme

½

lime

,

squeezed

3

tablespoons

chopped fresh cilantro

Optional: add 1-3 tablespoons fish sauce for a more authentic soup

Optional: add ½-1 tablespoon Thai red curry paste for more authentic soup

,

called Massaman, adds more spice

Garnish with sliced green onions and lime wedges.
Instructions
In a large pot over medium-high heat add the vegetable oil, once hot add the diced onion, garlic, and ginger, and sauté for 5 minutes until the onion has softened.

Add the chicken broth, chicken breast, salt, and pepper, and bring to a boil. Reduce heat and simmer for 20 minutes.

Remove chicken breast from the pot and with two forks shred the chicken. Return the chicken to the pot.

Add the carrot, mushroom, and coconut milk, and cook for 5 minutes.

Add lime juice and stir in some cilantro. Serve in a bowl, garnish with lime wedges and cilantro or green onions.
✱ Kathleen's Tips
The onion can be white or yellow. I prefer red onions because they're a little sweeter than other onions and add a pretty pop of color.

The garlic can be fresh or jarred.

The ginger can be fresh or ground. If you're using ground ginger, start with a small amount (around ¼-½ teaspoon) and add more to taste. Also try Thai ginger, galangal.

I use portobello mushrooms because they're a little more flavorful than other types of mushrooms, but use any type.

I use full-fat coconut milk because it's richer and creamier than light coconut milk. Do not use coconut creamer, coconut milk that is refrigerated, or coconut water, it will not work in this recipe. Canned coconut milk, or even better, is Coconut Creme.

The lime wedges are optional but add great tartness to the soup.
Variations
Traditional Thai Chicken Soup uses lemongrass stalks and galangal; since those ingredients are a little harder to find, I omitted them, but feel free to replace the ginger with galangal (Thai aromatic ginger).
And add lemongrass* to the onion mixture when sauteing.
*To prep lemongrass, cut off the bottoms and the tough (green) part on top. Should be about 6-8 inches of lemongrass left. Pound stalks with a mallet or rolling pin.
Shrimp Tom Kha Soup
Add up to 1 pound raw small shrimp to soup after it's simmered. Stirring until shrimp turns pink.
Vegan Tom Kha Soup
Replace chicken broth with either vegetable broth or increase the coconut milk or cream to 2 cans.
Nutrition
Serving:
1
serving
Calories:
220
kcal
Carbohydrates:
7
g
Protein:
11
g
Fat:
18
g
Saturated Fat:
11
g
Polyunsaturated Fat:
3
g
Monounsaturated Fat:
3
g
Trans Fat:
0.1
g
Cholesterol:
18
mg
Sodium:
376
mg
Potassium:
425
mg
Fiber:
1
g
Sugar:
2
g
Vitamin A:
1530
IU
Vitamin C:
4
mg
Calcium:
30
mg
Iron:
2
mg
Nutrition Disclaimer
The Fresh Cooky is not a dietician or nutritionist, and any nutritional information shared is only an estimate. We recommend running the ingredients through an online nutritional calculator if you need to verify any information.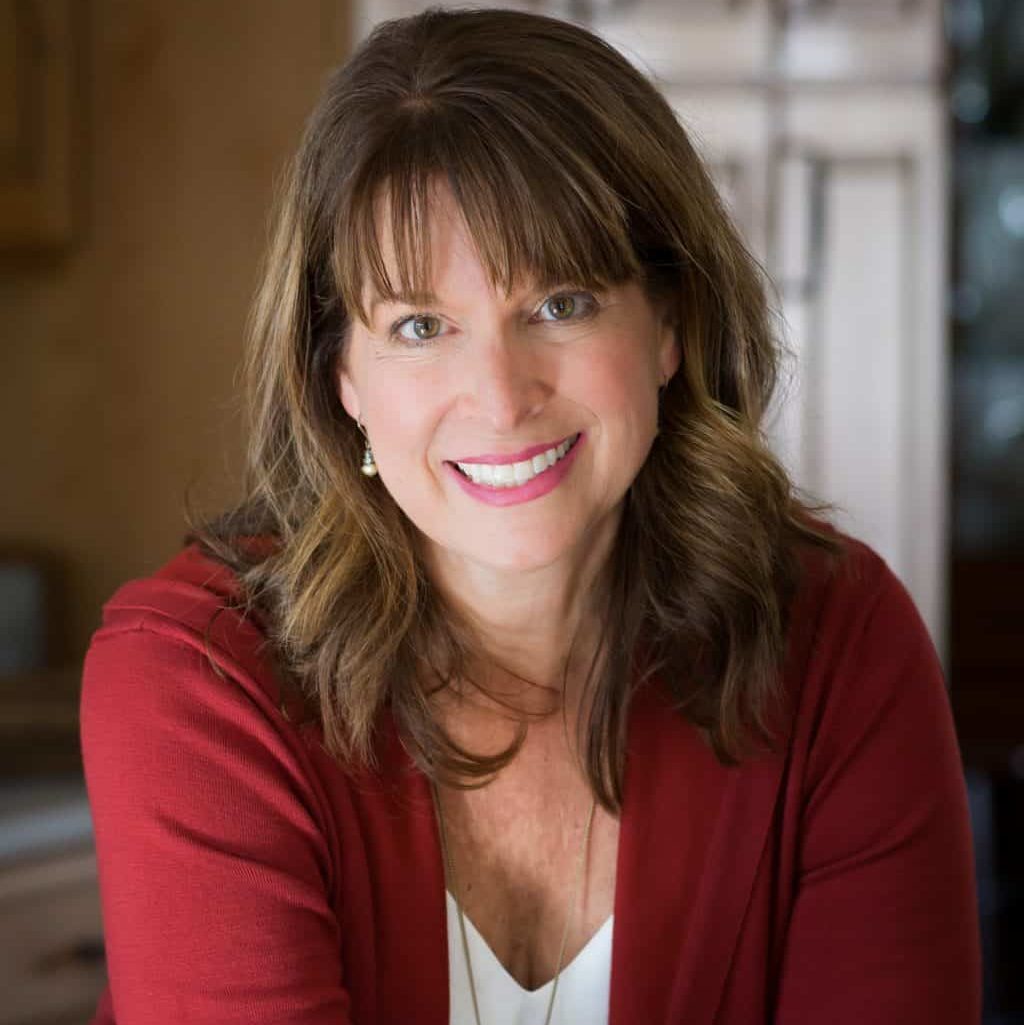 About Kathleen Pope
Recipe Innovator | Food Photographer | Food Writer
Hi, I'm Kathleen Pope. Here at The Fresh Cooky you will find easy, mostly from-scratch, trusted recipes for all occasions. From speedy dinners to tasty desserts, with easy step-by-step instructions. I am here to help teach you how to make mouthwatering recipes without spending hours in the kitchen. Read more about Kathleen here.