10 Vegetable Soup Recipe (Panera Bread Copycat)
As an Amazon Associate, I earn from qualifying purchases. Please read my disclosure policy.
Our Delicious copycat Panera Bread 10 Vegetable soup recipe is a healthy, nutritious and vegan soup. This satisfying vegetarian soup is loaded with a variety of fresh vegetables and hearty grains, beautifully balanced in an all-natural broth. It's the perfect choice for a wintery, cold day.
You might also enjoy some of my other favorite soups; Creamy Chicken Poblano Soup, Outback Potato Soup, 30 Minute Chicken Noodle or try my Panera Broccoli Cheddar Soup.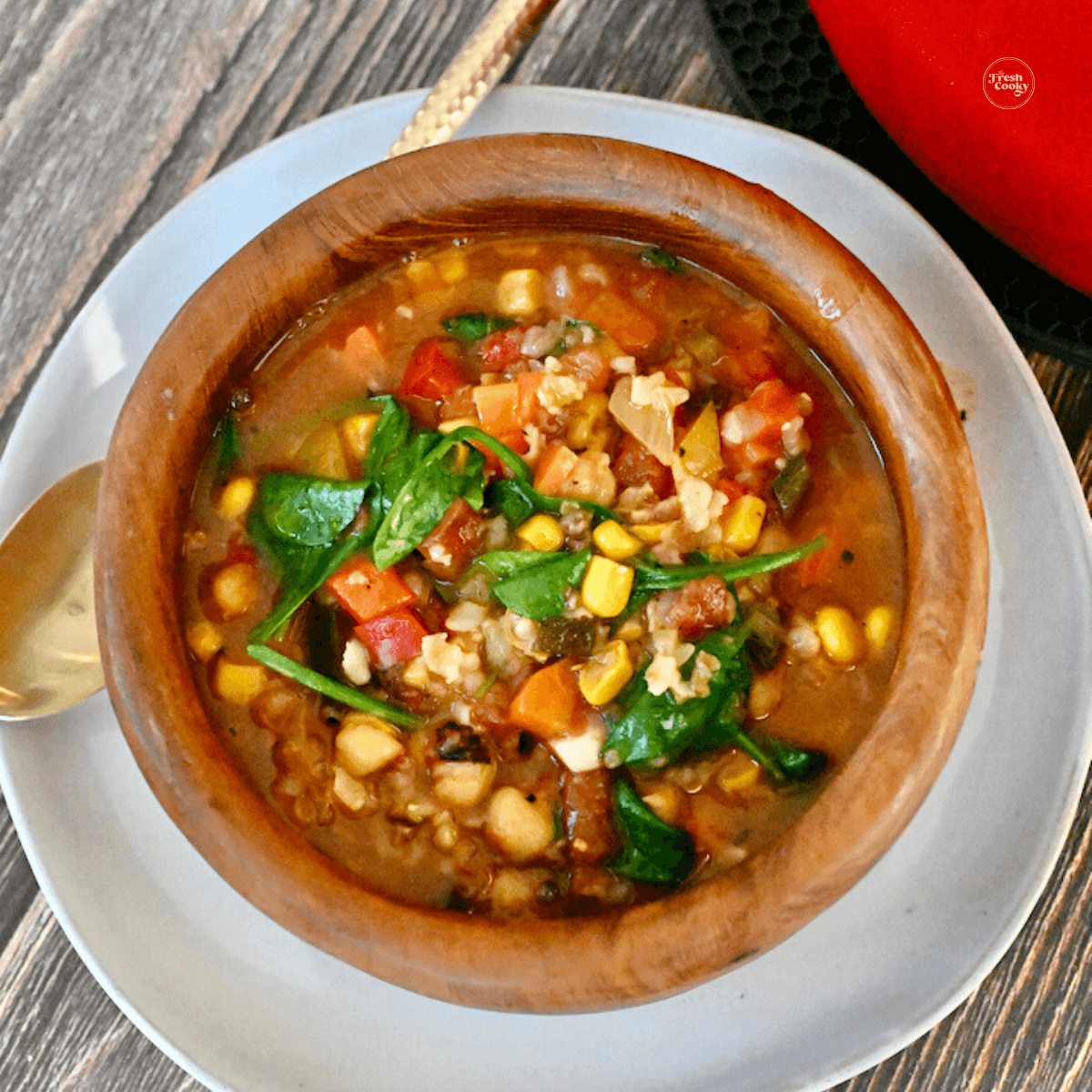 Why You Will Love 10 Vegetable Soup
Oh So Healthy | Kick off the new year by feeding yourself and the ones you love something delicious and extra healthy!
Versatile | You can add in or substitute vegetables and spices according to your preferences…so many possibilities of healthy goodness!
Discontinued Soup! | Panera's ten vegetable soup vanished from their menu sometime in 2020. Gasp! But have no fear! Simply head to the grocery store, get your ingredients and create your own version…I guarantee it will taste even better.
There is something so comforting about a bowl of soup! It's like a warm hug. Or wrapping up in a cozy blanket. I'll be honest, I've rarely met a soup I didn't like!
Healthy Twist
Honestly, you can't get much healthier than this soup! It is low in calories, Mediterranean diet-approved, an excellent source of vitamins and minerals and keeps you full long after you've finished. See simple substitutions below to easily make this soup gluten-free.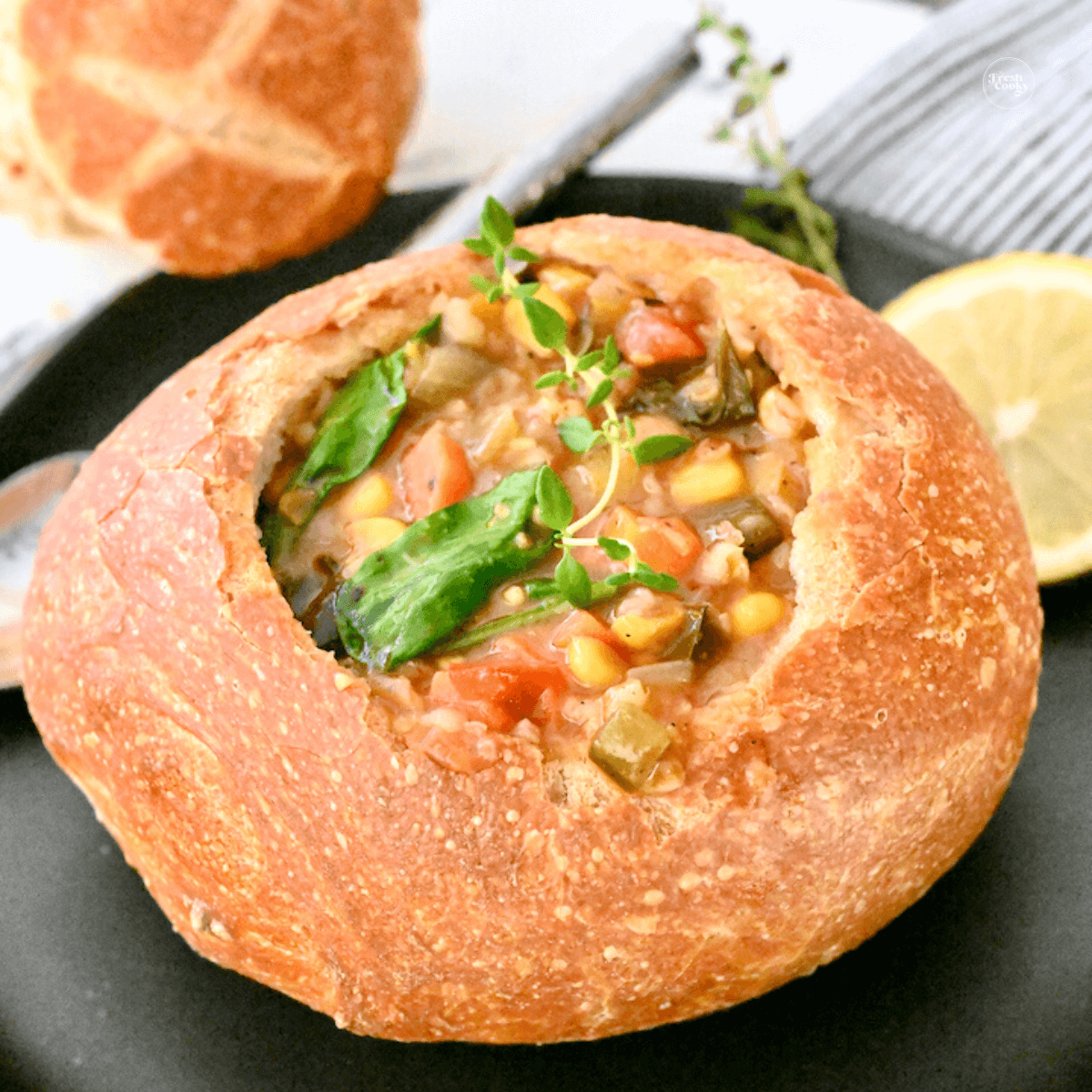 Key Ingredients for Panera Bread 10 Vegetable Soup
Ingredients, directions and nutritional information in the printable recipe card at the end of the post.
Optional Add-Ins
How Do You Make Garden Vegetable Soup?
To prepare this soup faster, ask your family to help chop! Once all your chopping is done, start the recipe, it will go much faster.
Step 1 | Chop those Veggies
To make this soup even easier, chop and prep all of your veggies ahead of time, wash and drain your beans, measure out the grains, seasonings, etc.
Step 2 | Saute the Veggies for Max Flavor
In a large pot or Dutch oven heat olive oil until it shimmers. Add onions, red and yellow peppers, poblano peppers, carrots, and celery. Saute until the vegetables start to brown slightly on the edges, about 5-7 minutes. Add garlic in the last minute or two, stirring until fragrant.
Stir in garbanzo beans, corn, tomato paste, soy sauce, cumin, salt, pepper, smoked paprika and Aleppo chili powder, stir for a minute until fragrant, this blooms the spices.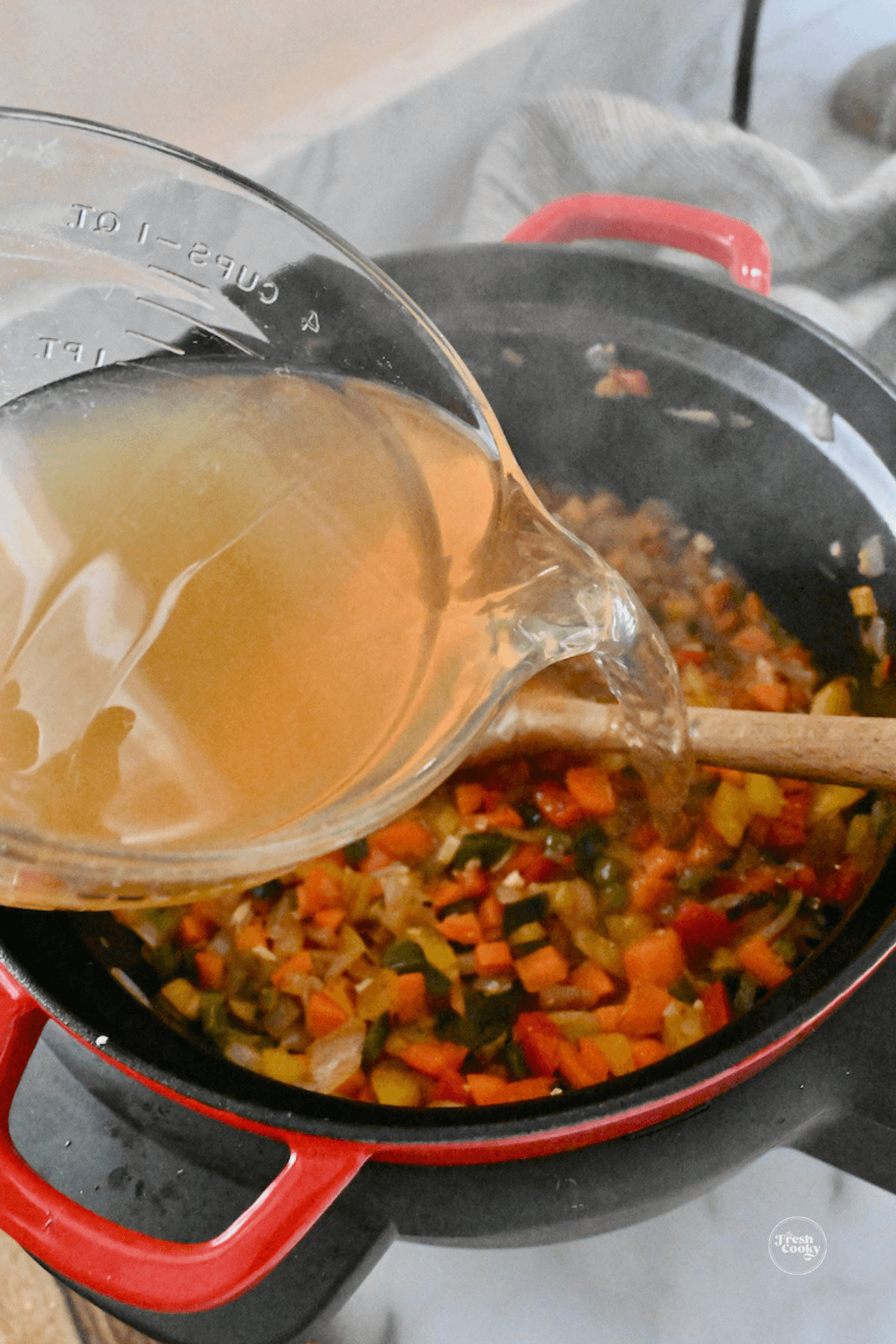 Step 3 | Deglaze the Pan & Finish Soup
Deglaze pot, by increasing heat to medium-high and then pouring in 1 cup of vegetable broth, using a wooden spoon to scrape any browned bits from the bottom of the pan. Add remaining stock to the pot as well as the diced tomatoes and bring to a boil; reduce heat to simmer and add the hard red wheat and sprouted brown rice, stirring to combine. Cover and simmer for about 45-60 minutes.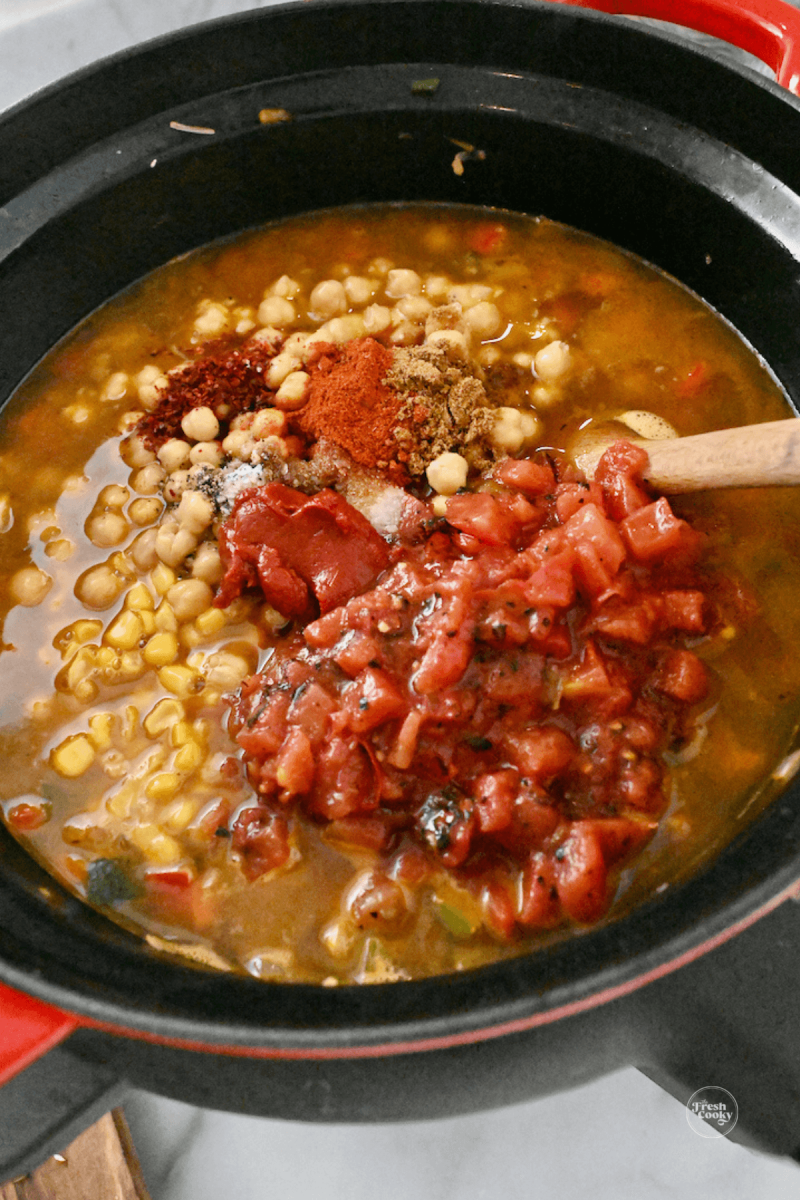 Step 4 | Serving Panera Bread 10 Vegetable Soup Recipe
When ready to serve, stir in fresh spinach, it will wilt almost immediately. Or even better, add a small handful of spinach to soup bowls, then ladle soup into bowls and garnish with a lemon slice and a little fresh thyme if desired.
Fresh Tips
This recipe makes about 10 cups which is a lot! If you don't plan on eating it all at once, or within a few days, it can easily be frozen to serve at a later time. See storage tips below.
Add the spinach at the very end of the cooking process, otherwise it becomes too limp and loses its vibrant color.
Rinse your red wheat and your rice before cooking, this pulls off some of the starches that cause grains to get clumpy.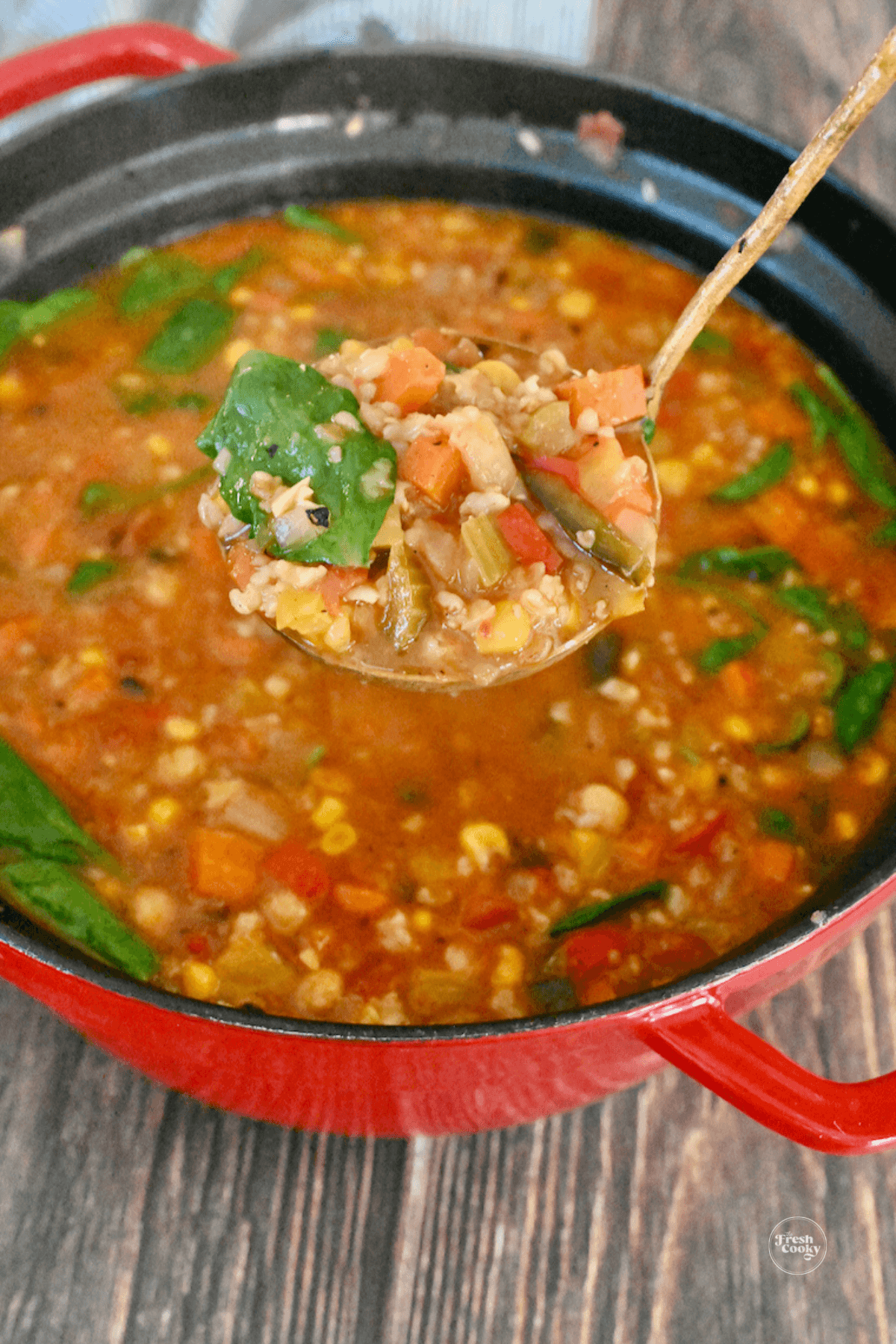 How to Make Crockpot Panera 10 Vegetable Soup
This recipe is easily adapted to be made in the crockpot or slow cooker.
I recommend sautéing the vegetables in a stovetop safe slow cooker or something like this Instant Pot Dutch Oven (love this small appliance) for optimal flavor development in this veggie soup. If none available, in a large saute pan, saute your veggies, deglaze and then add everything to the crockpot.
Once all ingredients (except spinach) are added to the crockpot, cover and cook on LOW 4-6 hours or on HIGH 2 ½ – 3 ½ hours. If going to be gone all day, keep the sprouted brown rice and red wheat out of the crockpot (it will soak up too much broth) and instead add during the last hour to 90 minutes of cooking, turning the crockpot up to HIGH. Stir in spinach just before serving or add a small handful to individual bowls.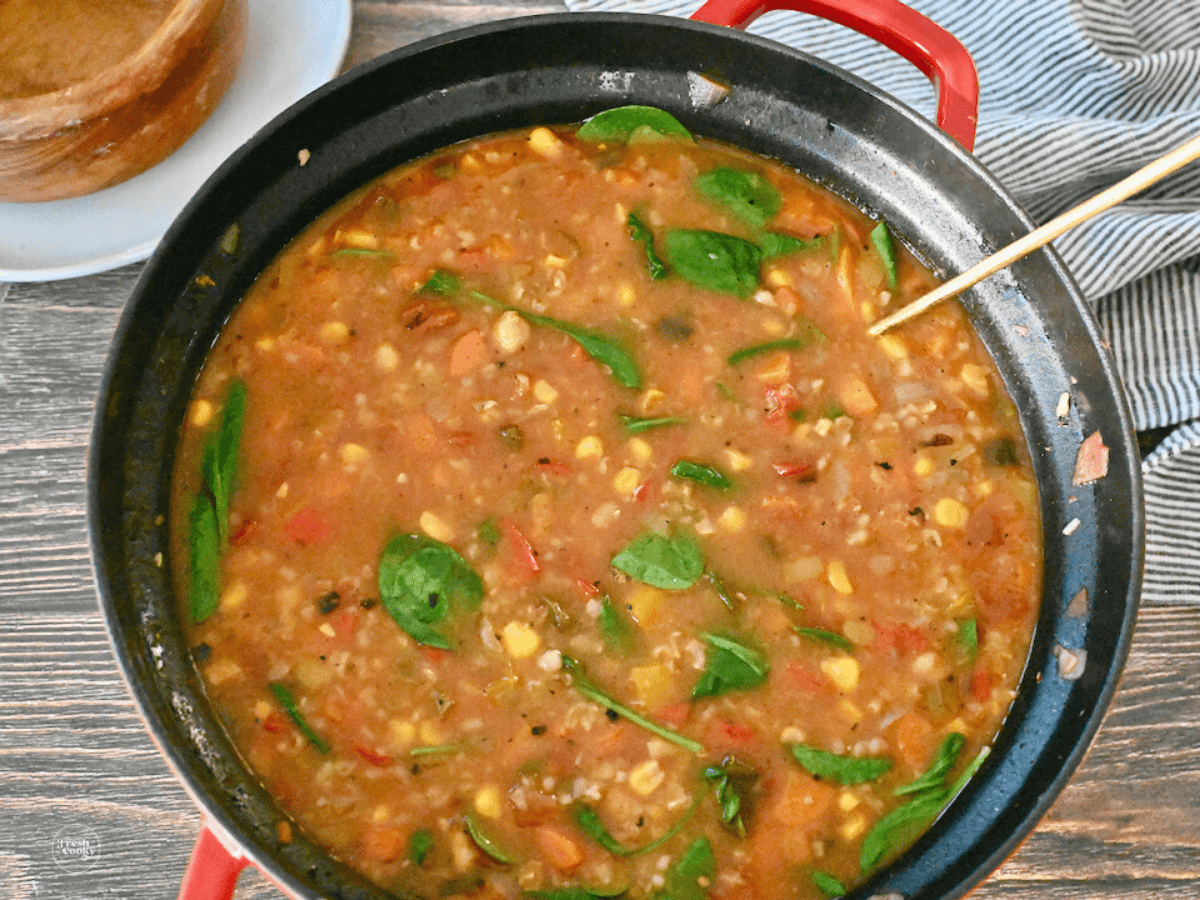 Vegan Vegetable Soup
This soup is entirely vegan or vegetarian, in fact, that was the reason Panera Bread added it to their menu. Check your soy sauce, or just use apple cider vinegar instead.
Variations & Substitutions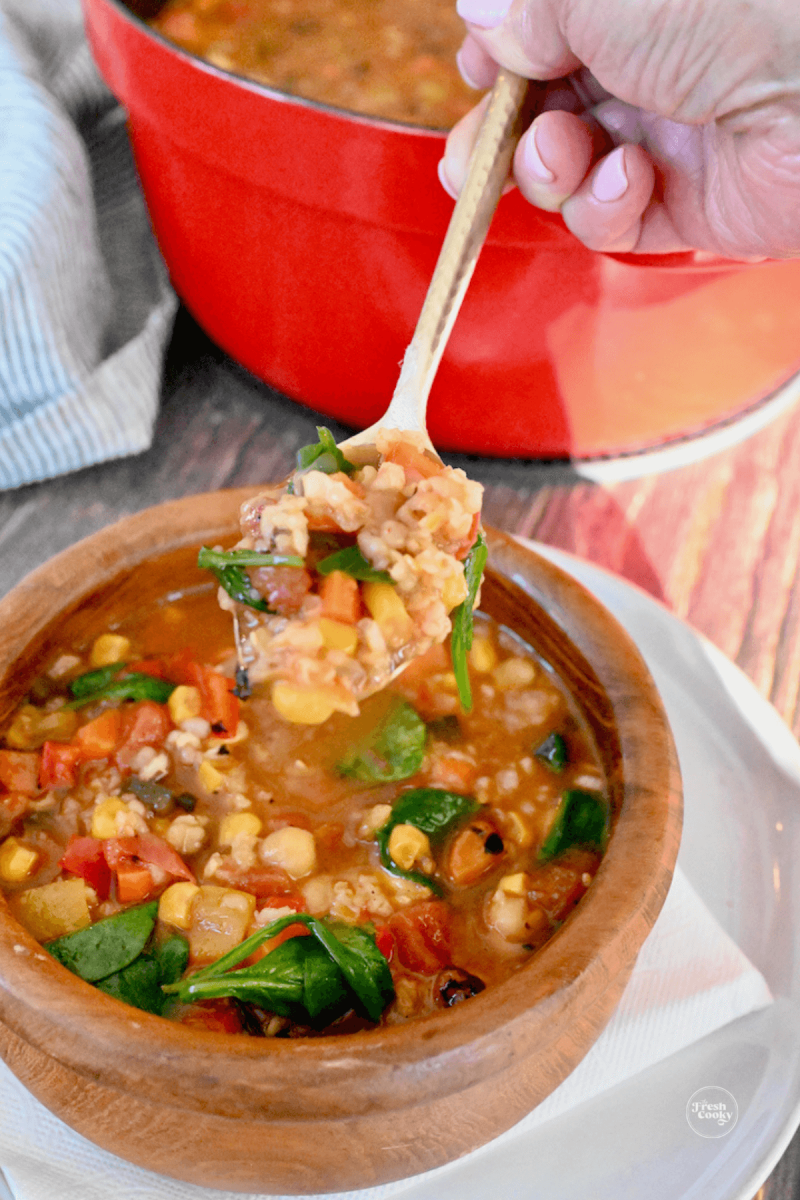 Storage Tips
Make Ahead | Panera Bread 10 Vegetable Soup recipe can be made ahead and stored in an airtight container in the refrigerator for up to 5 days, allow the soup to cool before refrigerating.
Freeze | Freeze leftover soup in 1 cup portions or use these Souper Cubes (perfect 1 cup portions) freeze for up to 3 months. See more detailed freezer instructions below
Reheat | Thaw overnight in the fridge then reheat as desired, or place frozen soup in a saucepan and heat over low heat until bubbly and hot. Add spinach just before serving.
How Long Can You Freeze Vegetable Soup?
When you have a big batch of soup, more than likely you will need to freeze some. In fact it's the best way save homemade soup! Below are a few tips: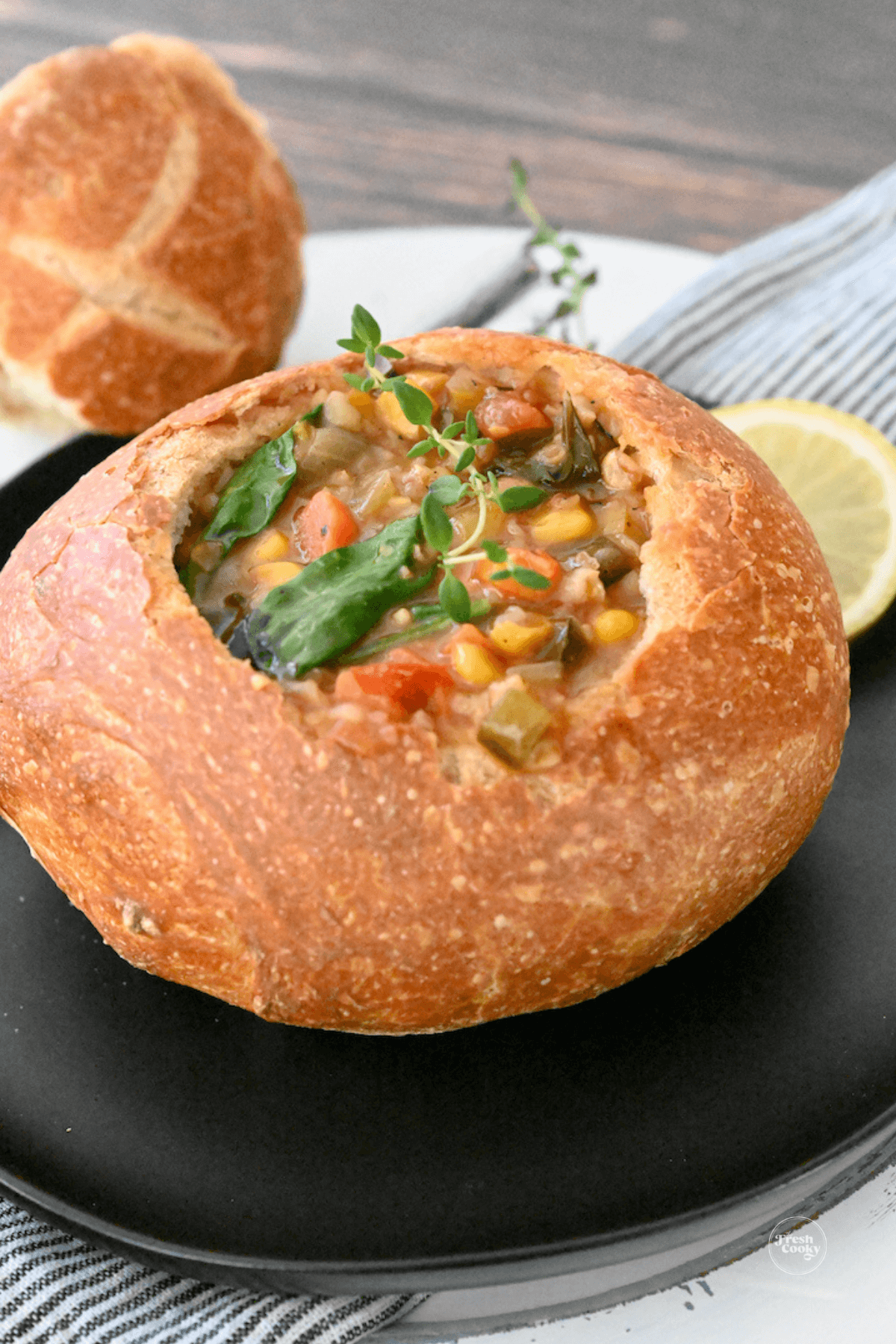 Frequently Asked Questions
Can I add more protein?
Absolutely! Since this makes a large pot of soup, adding browned ground beef or turkey – or any other protein of your choice after several days will change things up a bit!
Do I need to add the Better than Bouillon?
No, but I promise you it will kick up the flavor! It is highly flavorful in its concentrated form, so you really can't go wrong. It's a chef's trick too, for a flavor booster!
Can I add different vegetables?
Of course! That's what makes this recipe so fun! Mushrooms – yes! Leeks – yes! Potatoes – yes!
Can I roast my vegetables instead of saute?
You bet, roasting yields a slightly firmer vegetable. Preheat the oven to 400 and line a baking sheet with parchment paper. Place cut vegetables on the baking sheet and drizzle lightly with a good EVOO. Roast veggies for 35-45 minutes, stirring every 25 until roasted to your desired roasted-ness.
Does Panera make their own soups?
While it might taste homemade, it is not. Panera's soups are actually made by Blount Foods, flash frozen (keeps more of the nutrients in), then shipped to the local stores. They are taken from frozen to hot in a unit called a Rethermolizer. Rethermalizers ensures your food crosses the danger zone quickly, reaching 165°F to kill off bacteria before holding food to be served above 140°.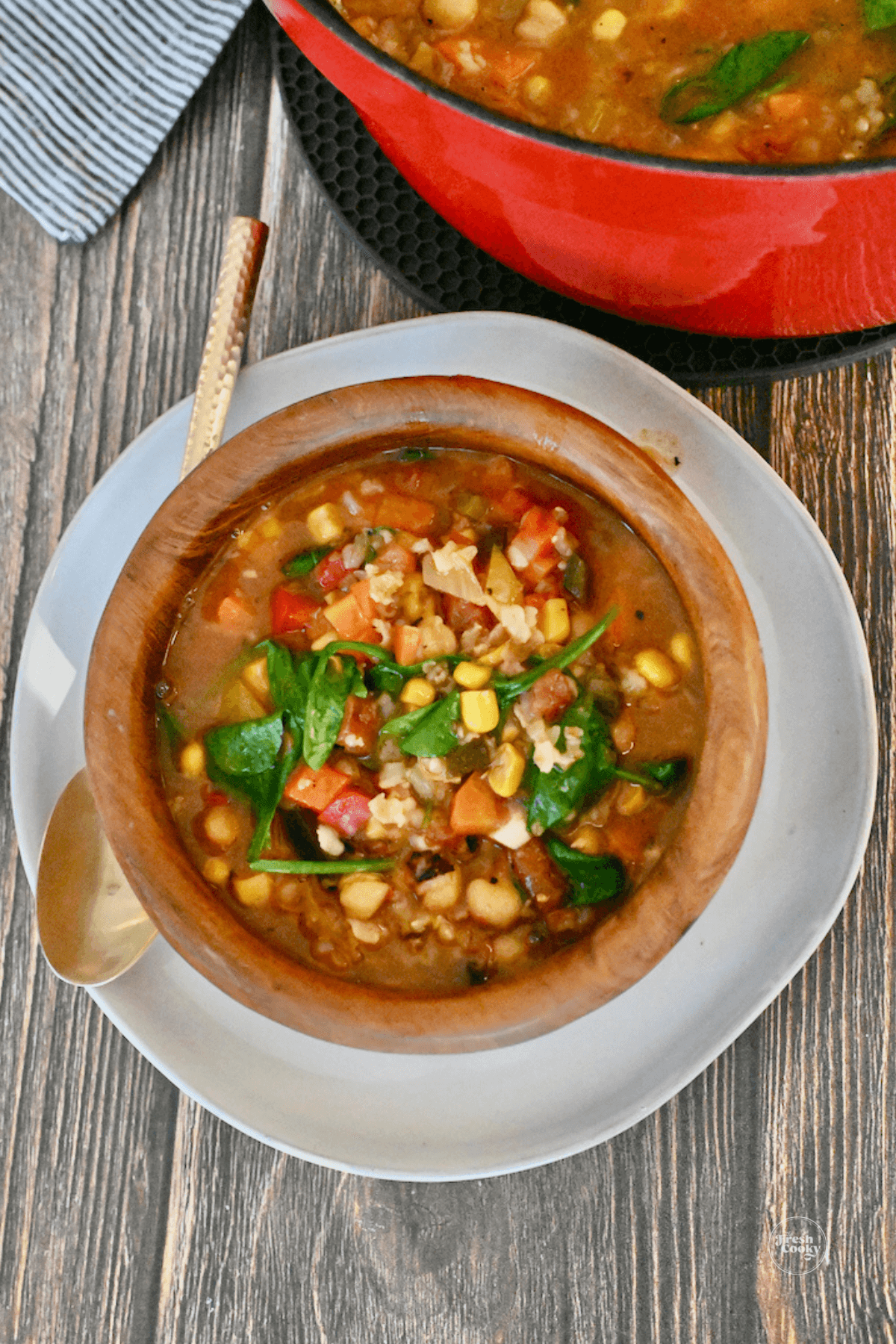 More Yummy Ideas for Cold Weather
What to serve with the best Vegetable Soup Recipe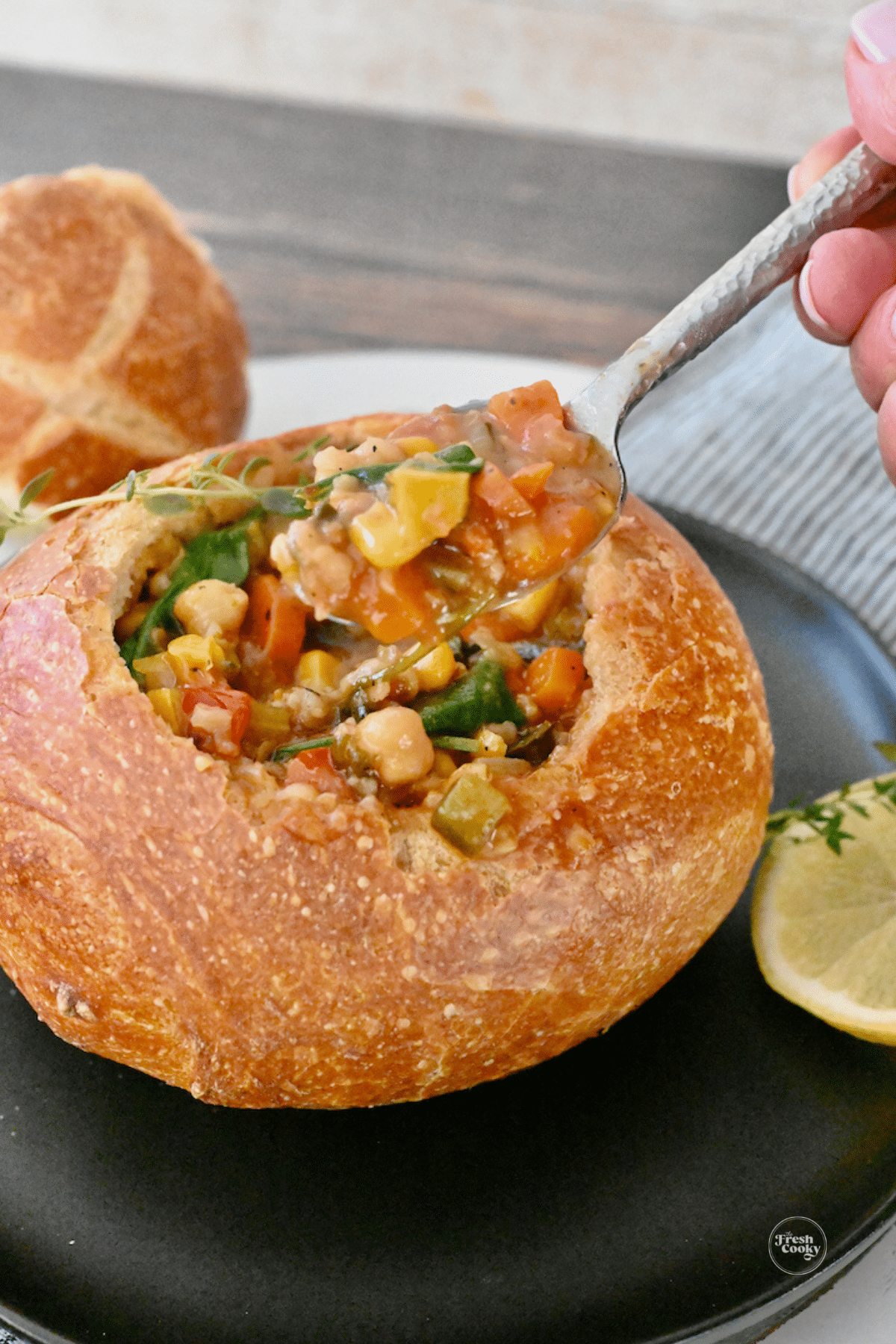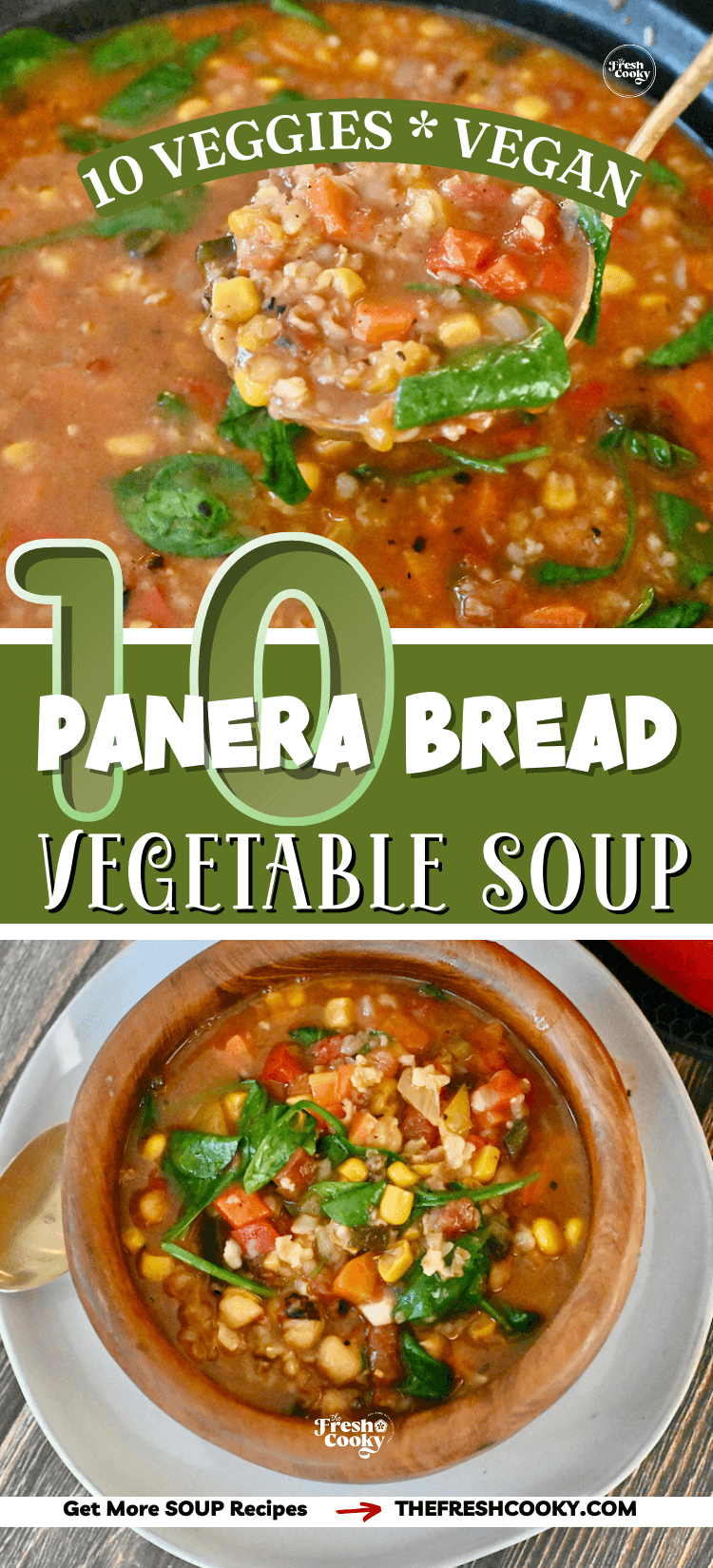 I hope you loved this Panera Bread 10 Vegetable Soup Recipe — if you did, would you share your creation on Instagram, Facebook & Pinterest? And be sure to comment below!
Like this recipe?
Don't forget to give it a ⭐️⭐️⭐️⭐️⭐️ star rating and comment below the recipe!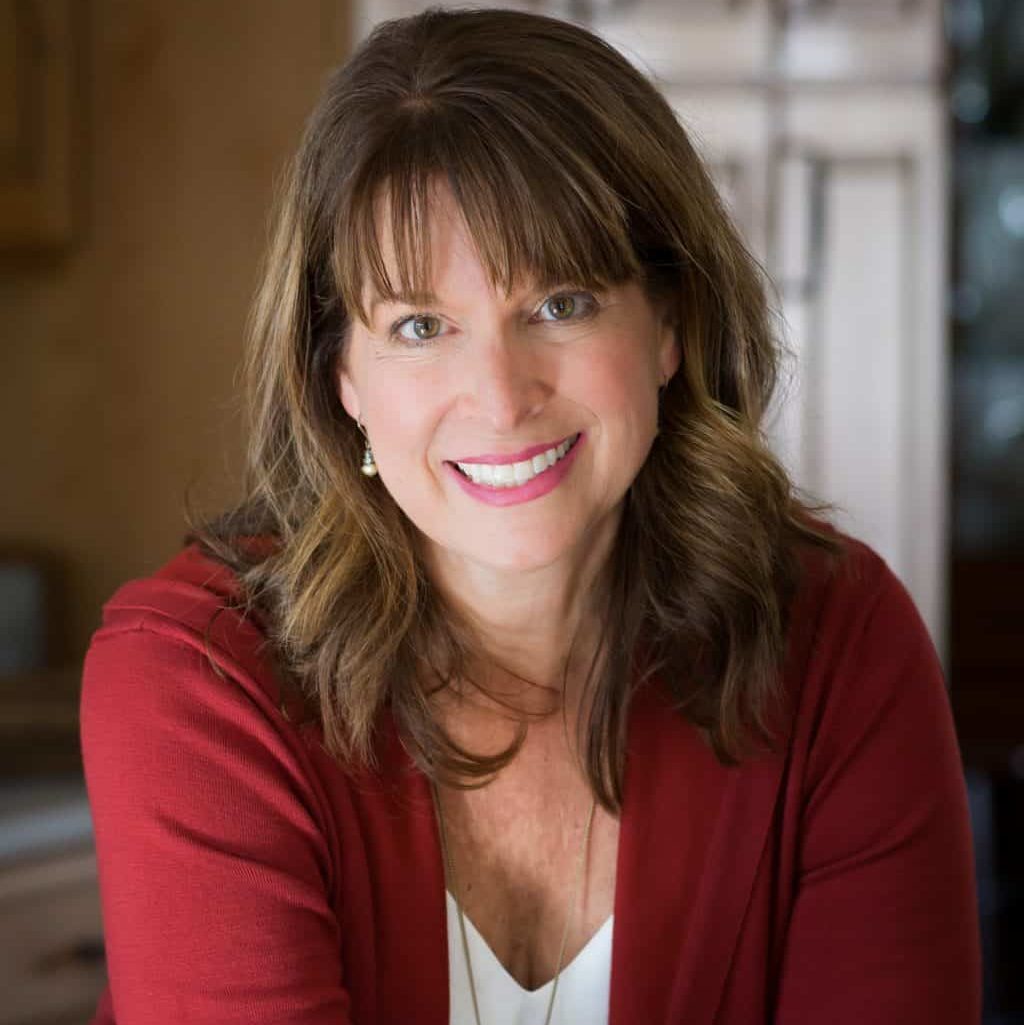 About Kathleen Pope
Recipe Innovator | Food Photographer | Food Writer
Hi, I'm Kathleen Pope. Here at The Fresh Cooky you will find easy, mostly from-scratch, trusted recipes for all occasions. From speedy dinners to tasty desserts, with easy step-by-step instructions. I am here to help teach you how to make mouthwatering recipes without spending hours in the kitchen. Read more about Kathleen here.