Delightfully sweet and sour pickled red onions are the perfect compliment to any salad, sandwich, burger or pizza…where will you put them? If you are a pickling newbie, run, don't walk to make these scrumptious complimentary pickled red onions.
Quick Pickled Red Onions
I really wanted to title this post, "Pickled Red Onions – For Dummies" because that would fit me, I've never canned or jarred or pickled…well, anything really. I wasn't raise on a farm, an orchard or a ranch, instead I was raised in the San Fernando Valley (yup, I'm a true Valley Girl; like totally, for sure; gag me with a spoon!), growing up in suburbia, there weren't many opportunities to can green beans, fresh peaches or pickles, though we did boast a fine guava tree, several citrus trees along with an abundant apricot tree.
Pickled Red Onion Recipe
This recipe is from A Farmgirl's Dabbles and I've been admiring for awhile. I thought it would pair perfectly with my Blackberry Grilled Chicken Salad and I was right.
I must have ranch-hand/farmgirl roots in me somewhere; my grandmother grew up on a sugar beet farm in South Dakota. I love getting my hands dirty, growing things, I adore the smell of fresh cut hay, grass and more.
⭐️ FREE, DELICIOUS RECIPES? YES, PLEASE! ⭐️
Well all of that to say, I really enjoy others pickling skills but I have never tried it myself, until this past week. I love red onions in salads, on sandwiches, pizza, or calzones…but sometimes when they are raw they don't quite like me. Know what I mean. You'll want to give these a try!
Cutting the top and bottom off of the onion, cut in half and then peel away the top layer/skin, slice into thin slices, I wish I had used my mandoline actually to make them a little thinner and more uniform, next time.
Next pour your vinegars (I used Bragg's unfiltered apple cider vinegar, not necessary to use barrel aged red wine vinegar, just what I happened to have) into a medium pot over medium-high heat, add in the sugar (I use all natural, unbleached cane sugar)…
…sea salt and bring to a boil, whisking or stirring until sugar is dissolved.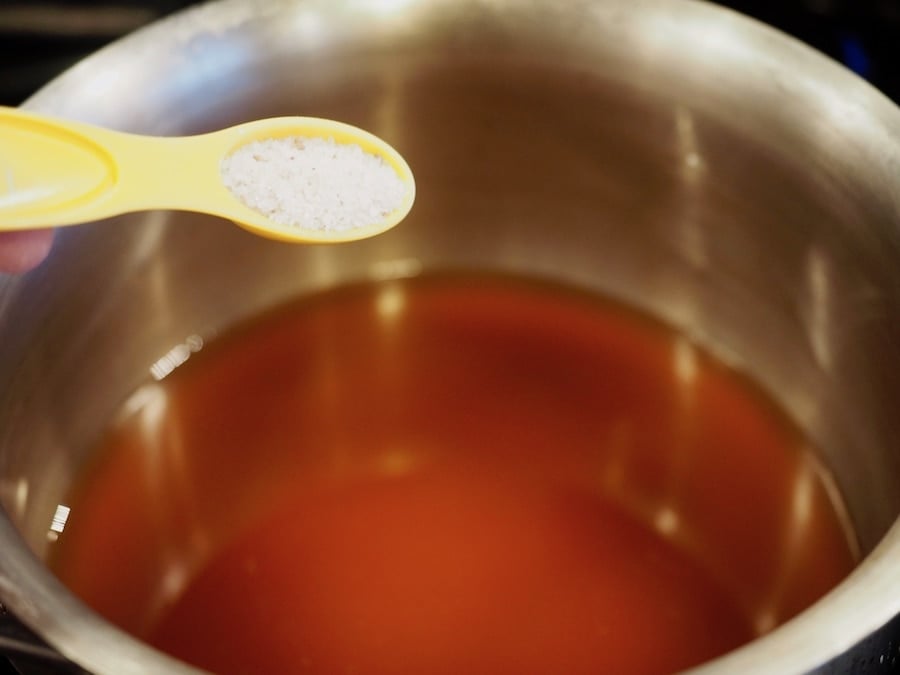 Remove pan from heat once sugar is dissolved and stir in allspice…
…and a shake of red pepper flakes.
Slide your sliced red onions into the pot carefully and stir until coated.
Allow to sit, cooling completely in the pot, at room temperature. Once cooled, transfer the onions and pickling juice to a glass container. I, like Brenda from A Farmgirl's Dabbles used a larger canning jar, which is the perfect size. They will also work just fine if you put them in a mason jar, glass storage container with a tight fitting lid, etc.
Note the color difference, the above picture is right after "pickling" them and the below picture is after about a day and a half.
TIP | These are not shelf stable, but are intended to keep refrigerated.
Original recipe by A Farmgirl's Dabbles; mine varies only in that I used natural unbleached cane sugar & unfiltered apple cider vinegar. Photograph inspired by A Farmgirl's Dabbles.
⭐️ FREE, DELICIOUS RECIPES? YES, PLEASE! ⭐️
Like this recipe?
Don't forget to give it a ⭐️⭐️⭐️⭐️⭐️star rating in the recipe below!
Yield: About 2 cups
Pickled Red Onions (for non-picklers)
Tangy, sweet pickled red onions. the perfect compliment and condiment for salads, burgers, sandwiches and pizzas!
Ingredients
1 large red onion, sliced thin
1 cup apple cider vinegar (I like Bragg's Unfiltered ACV)
1/2 cup red wine vinegar
1/4 cup sugar (I use natural, unbleached cane sugar)
1 teaspoon kosher salt
1/8 teaspoon ground allspice
shake or two red pepper flakes
Instructions
Slice off the top and bottom of your onion, cut in half and peel back skin and top layer. Slice thin, about 1/8 inch, if you have a mandoline might be easier and more uniform.
Over medium heat, in a medium saucepan, add the following: apple cider vinegar, red wine vinegar, sugar, salt and stir or whisk bringing to boil. Once sugar is dissolved, remove pot from heat and stir in allspice and red pepper flakes.
Add sliced red onions carefully to the pot of hot vinegar and stir gently to combine. Allow to come to room temperature, stirring occasionally. Once cooled; spoon onions and pour liquid into a large jar or storage container.
Refrigerate until chilled, ready in about 24 hours, but the flavors will enhance with time. Keep pickled red onions in refrigerator, use within about a month.
Notes
TIP | Try these delicious pickled onions on salads, burgers, sandwiches, pizzas, tacos and more!
Original recipe from A Farmgirl's Dabbles check out her amazing pairings for these pickled onions!
Nutrition Information:
Yield:
2 cups
Serving Size:
1 tablespoon
Amount Per Serving:
Calories:

118
The nutritional information is estimated and may not be entirely accurate.
GET FREE RECIPES DELIVERED RIGHT TO YOUR INBOX!
Love Wholesome & Delicious Recipes?
Follow along on Pinterest ★ Instagram ★ Facebook ★
More Pickling & Condiment Recipes