Easy Mini King Cake Recipe with Crescent Rolls
As an Amazon Associate, I earn from qualifying purchases. Please read my disclosure policy.
Bake up this easy Mini King Cake recipe with crescent rolls to celebrate Mardi Gras! Transform buttery crescent rolls into a Fat Tuesday treat, laced with cinnamon sugar, optional pecans and topped with a simple buttery glaze, decorated with traditional King cake colored sugars.
I love cake, I love using cinnamon in baking, like these popular Cinnabon Cinnamon Rolls, scones, and bundt cake recipes are excellent, and I love any excuse to celebrate!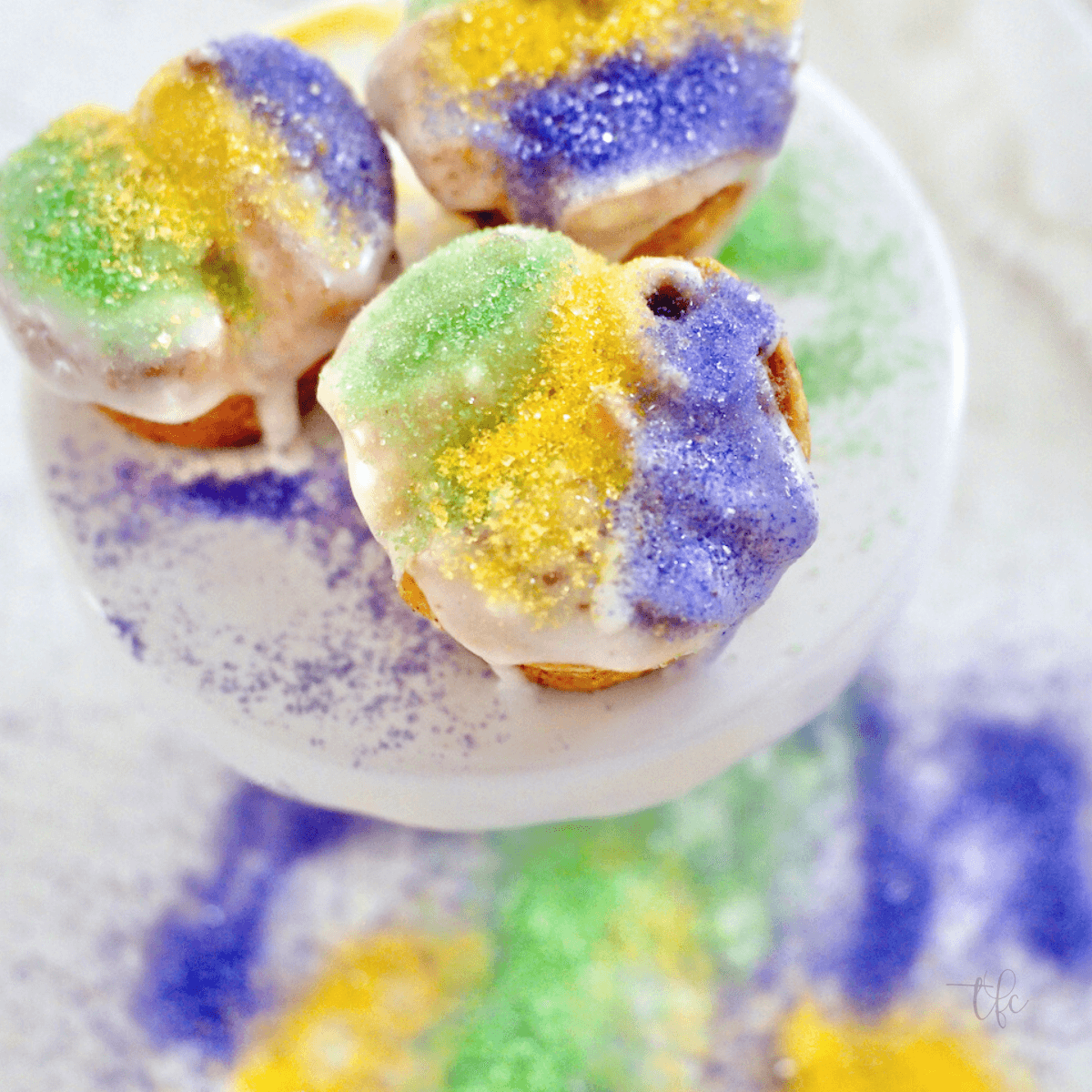 Mini King Cakes are such an easy recipe and are the perfect way to celebrate Mardi Gras. It's one holiday where you don't have to limit yourself when it comes to food – in fact, that's the whole point!
Mardi Gras translates literally to "Fat Tuesday." I'm not saying you need to overstuff yourselves, but it's definitely a time to indulge! You are going to love these easy King cake bites, perfect for your Mardis Gras celebration!
Freaky Friday and Easy King Cake Bites
What is Freaky Friday and what does it have to do with this easy King cake recipe using crescent rolls?
Our Freaky Friday Blog Hop creator is Michaela from An Affair from the Heart, where she secretly assigns participating bloggers to another blog to remake a recipe of their choice.
We make their recipe, photograph it as if it were our own, write a post about it in our own words, then all share our posts on the selected Friday.
Meet Ellen from Family Around the Table
I hope you take the time to get to know Ellen and her blog Family Around the Table. She is my kind of person, one who strives to create recipes that anyone can make and enjoy, her real passion is baking! Be still my baking heart!
Ellen is the mom of two teenage boys (boy, can I relate), she adores her family and her site and recipes ooze her love of her family and gathering friends.
An accomplished freelance writer, Ellen is also a recipe developer and former correspondent for the Tampa Bay Times!
She and her husband have long time experience in the Wine & Spirits industry, which is why I love following her; check out her Frozen Strawberry Margarita and her Irish Buck Cocktail, perfect for St. Patrick's day.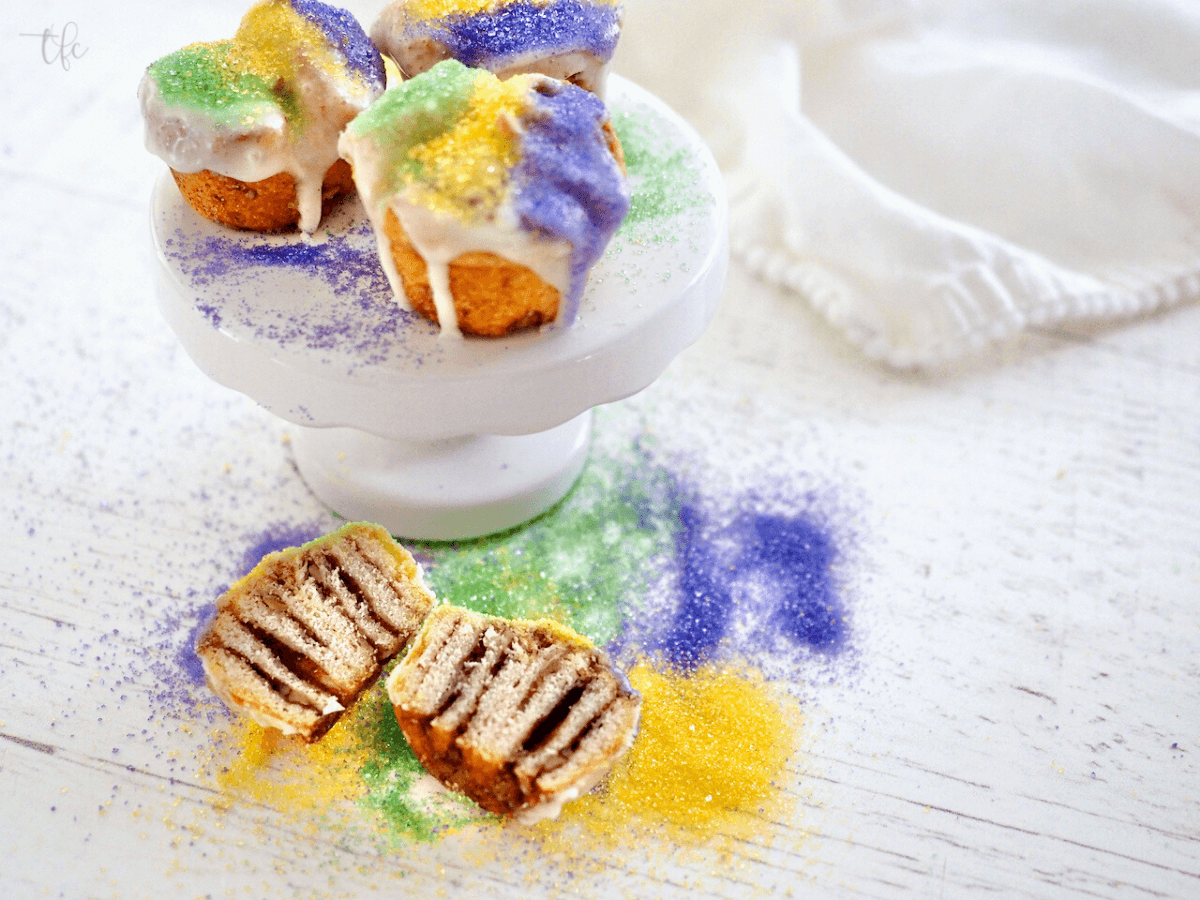 Easy King Cake Recipe Crescent Rolls
While trying to decide what recipe I would choose, I was drawn in by her Classic French Onion Soup, or these Herbed Hasselback potatoes (drool) and this Apple Banana Streusel Bread. But in the end, I went with these fun Mini King Cakes, because I love recipes using shortcuts!
Here are a my previous Freaky Friday recipes: White Chocolate Peppermint Cookies, Toasted Ravioli, Old Fashioned Lemon Squares, Creamy Bow Tie Pasta Recipe, Cranberry Bourbon Sour, Mint Fudge Brownies, and Oatmeal Rolled Sugar Cookies.
What is Mardis Gras and Why Do We Celebrate it?
Mardis Gras literally translated is French for Fat Tuesday, it is always the Tuesday before Ash Wednesday, which marks the close of the pre-Lenten season. It's called Fat Tuesday from the tradition of using all the fats in the home before Lent in preparation for fasting.
Mardis gras is a huge deal in New Orleans, I have never been, but I have to say, I love making this Creole Instant Pot Jambalaya and Slow Cooker Red Beans and Rice and maybe someday I will make it down to that beautiful area!
What is the meaning behind King Cake?
The history behind the name "King Cake" is said to come from the three kings who brought gifts to the Christ child. Which is also why there is usually a small plastic baby figure baked and hidden inside each King Cake.
Each cake is decorated in the traditional colors of Mardi Gras – purple representing justice, green representing faith, and gold representing power. I did not bake in a plastic baby in my easy mini king cake bites, I didn't want anyone breaking a tooth in this bite size King cakes!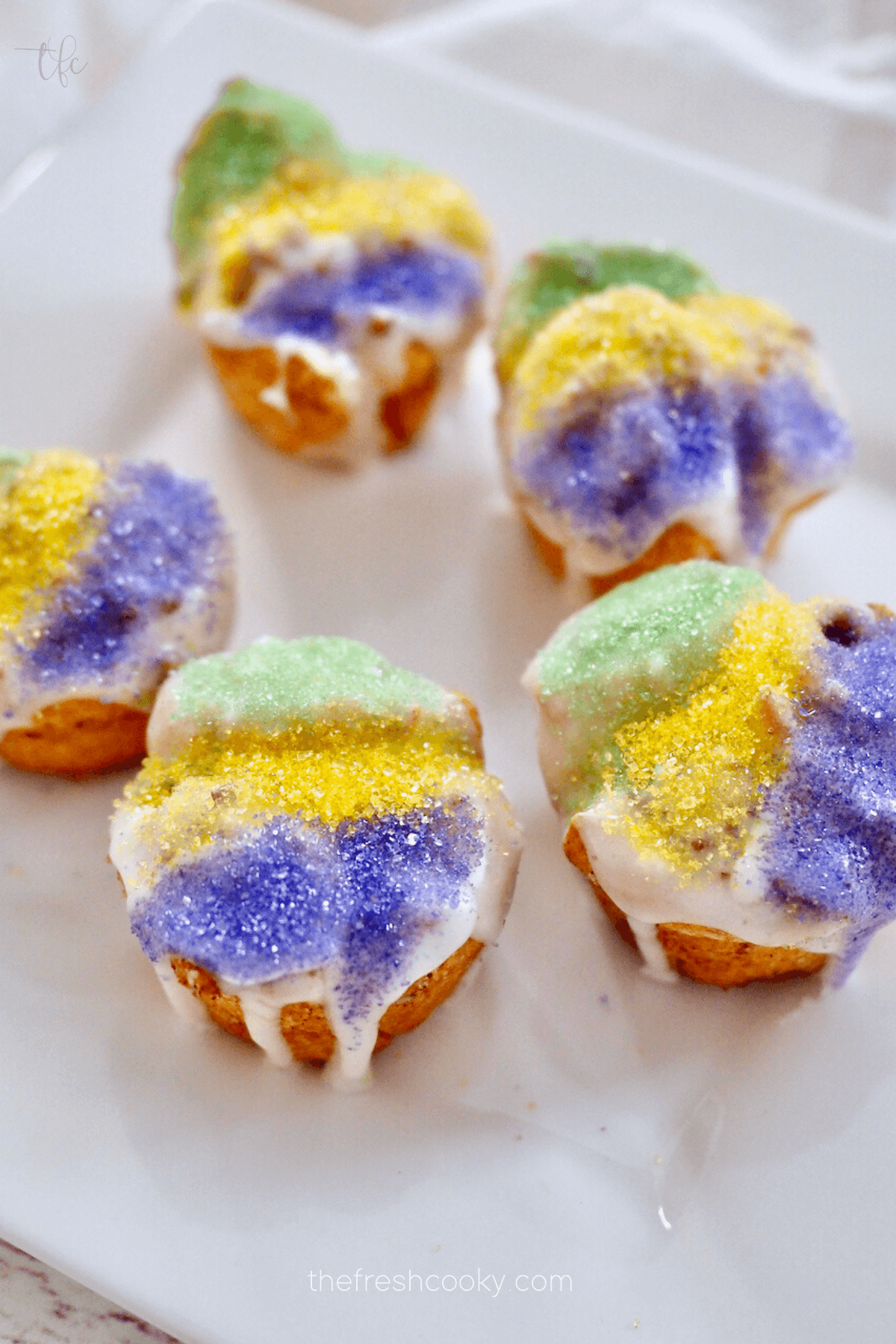 Why You Will Love this Easy King Cake Recipe Crescent Rolls
It's easy to put together: Because I use crescent roll dough instead of brioche, this recipe is simple and comes together in under 30-minutes. It's a great recipe to try with your kids!
There are minimal ingredients: All you need is the crescent dough, cinnamon, sugar, pecans (optional if you have an allergy), vanilla extract, and decorating sugar. You probably have most in your pantry already.
These taste great, like mini cinnamon rolls and they will bring a smile to everyones face!
Simple Recipe Ingredients
The full ingredients & how to are in the printable recipe card at the end of the post.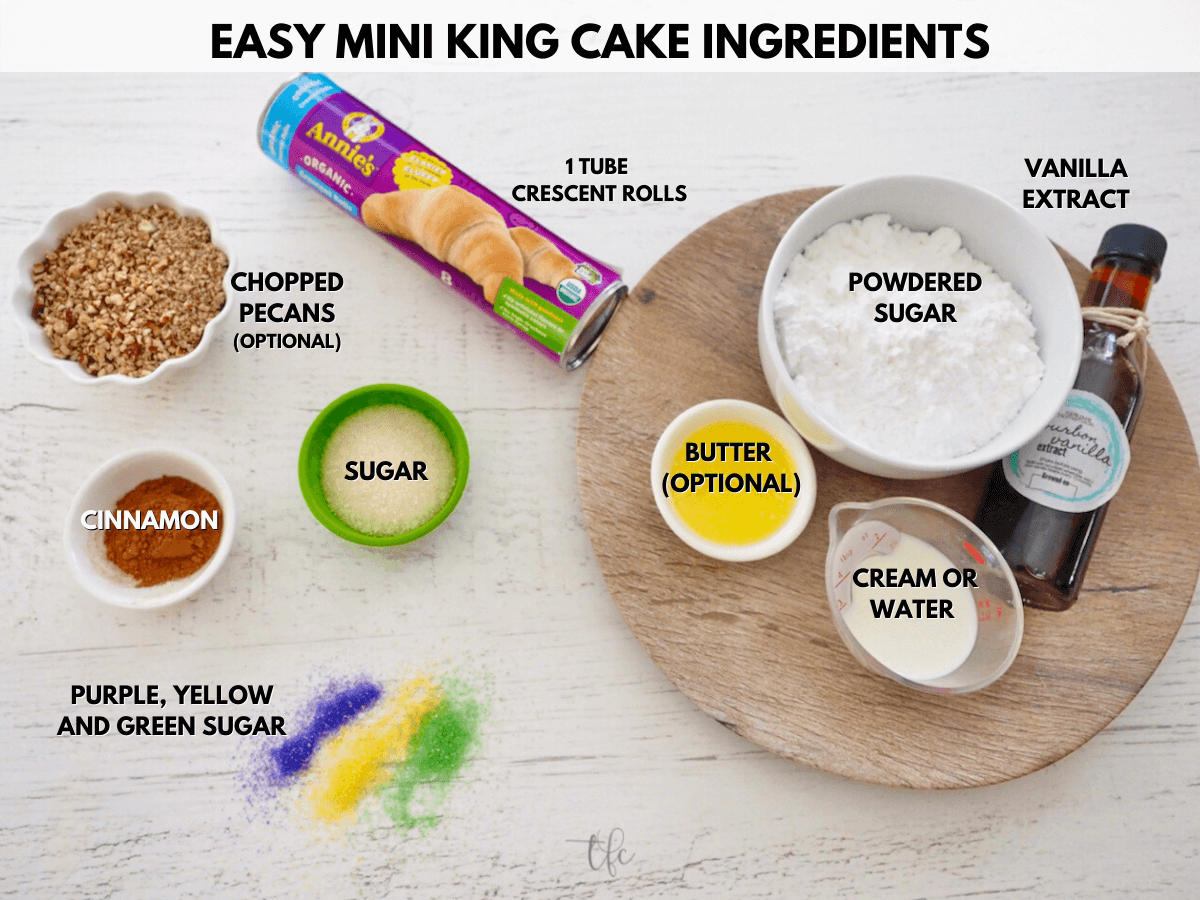 Refrigerated Crescent Rolls | I used an organic tube of crescent rolls, but you can use Pillsbury crescent rolls if that is what you would normally use.
Cinnamon Sugar | You can purchase pre-made cinnamon sugar, but I will show you how to quickly made some and save you some money!
Pecans | These are optional, if you use them be sure to chop them fine since these rolls are so tiny! I used my Ninja smoother blender, works great for nuts.
Glaze Ingredients | A quick buttery powdered sugar glaze, you'll use butter, powdered sugar, vanilla extract or almond and a little milk or water. Try using my bourbon vanilla extract.
Colored Sugars | Traditional different colors are purple, gold and green.
How to make Easy Mini King Cakes
Preheat your oven to 375 degrees F. and grease a mini muffin pan so your cakes don't stick. Ellen's original recipe calls to make 14 mini King cakes, but my muffin pans have 12 spots, so I split up the last few pieces and made 12 mini king cakes.
Truth? I was lazy and didn't want to dirty another pan, if you have a pan that holds 24, go for it!
You can also make them in a regular muffin tin and place mini muffin liners in the pan.
Step 1
Open crescent rolls (I used organic) and unroll them, putting them on a cutting board. Dust with a bit of flour first so that they don't stick.
Separate crescent rolls into pieces where you see the vertical perforations in the dough. Then, press seams at the diagonal perforations to create 4 rectangles. I used a floured rolling pin and rolled out each rectangle slightly.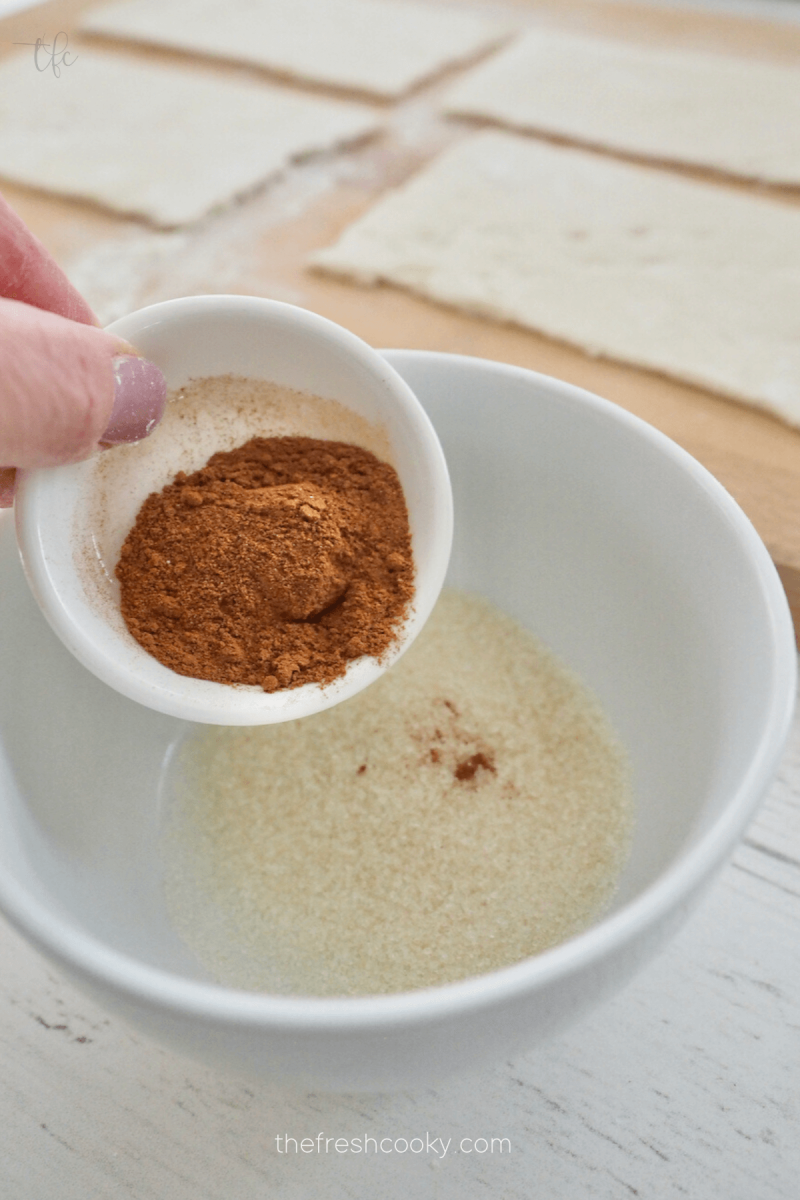 Step 2
Spread the cinnamon sugar on top, plus the pecans if you're using them. Roll the rectangles as you would cinnamon buns, starting at the long sides. Cut into 24-28 pieces. Use a sharp knife or a bench scraper.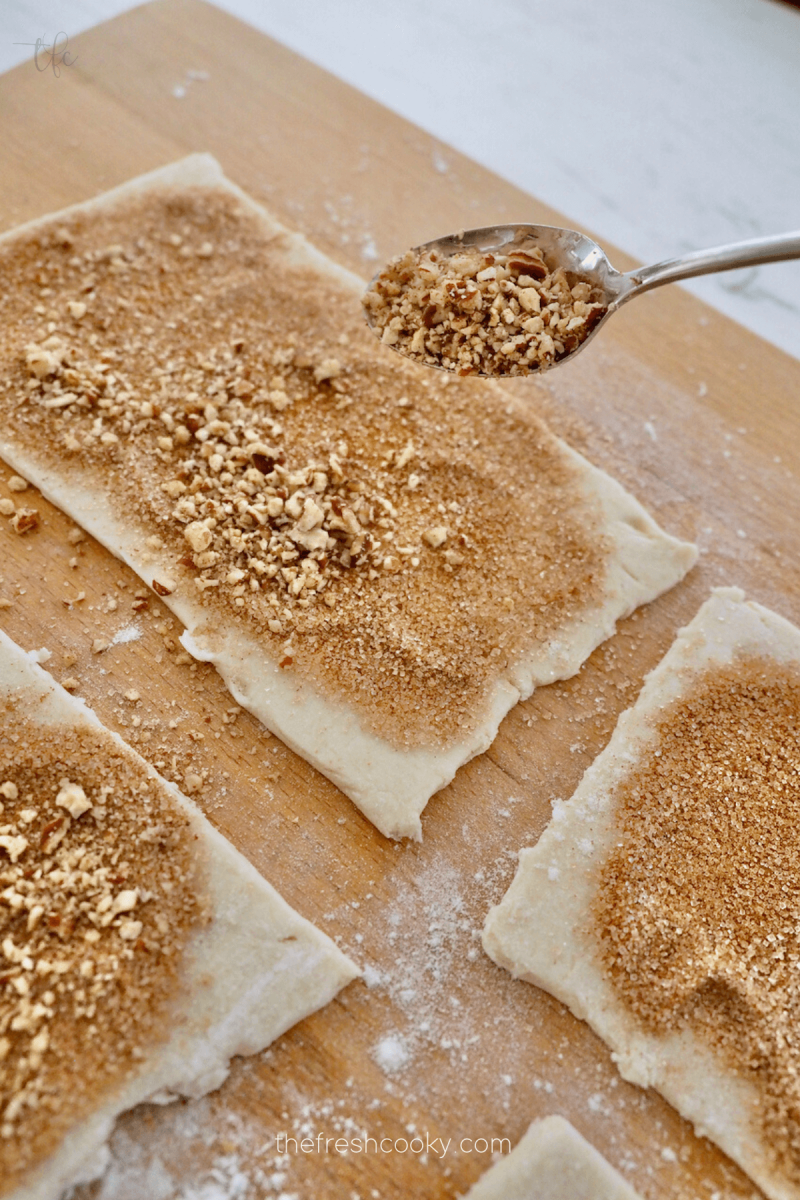 Place two or three pieces in each muffin tin and bake until golden brown. Let them cool before adding your frosting glaze!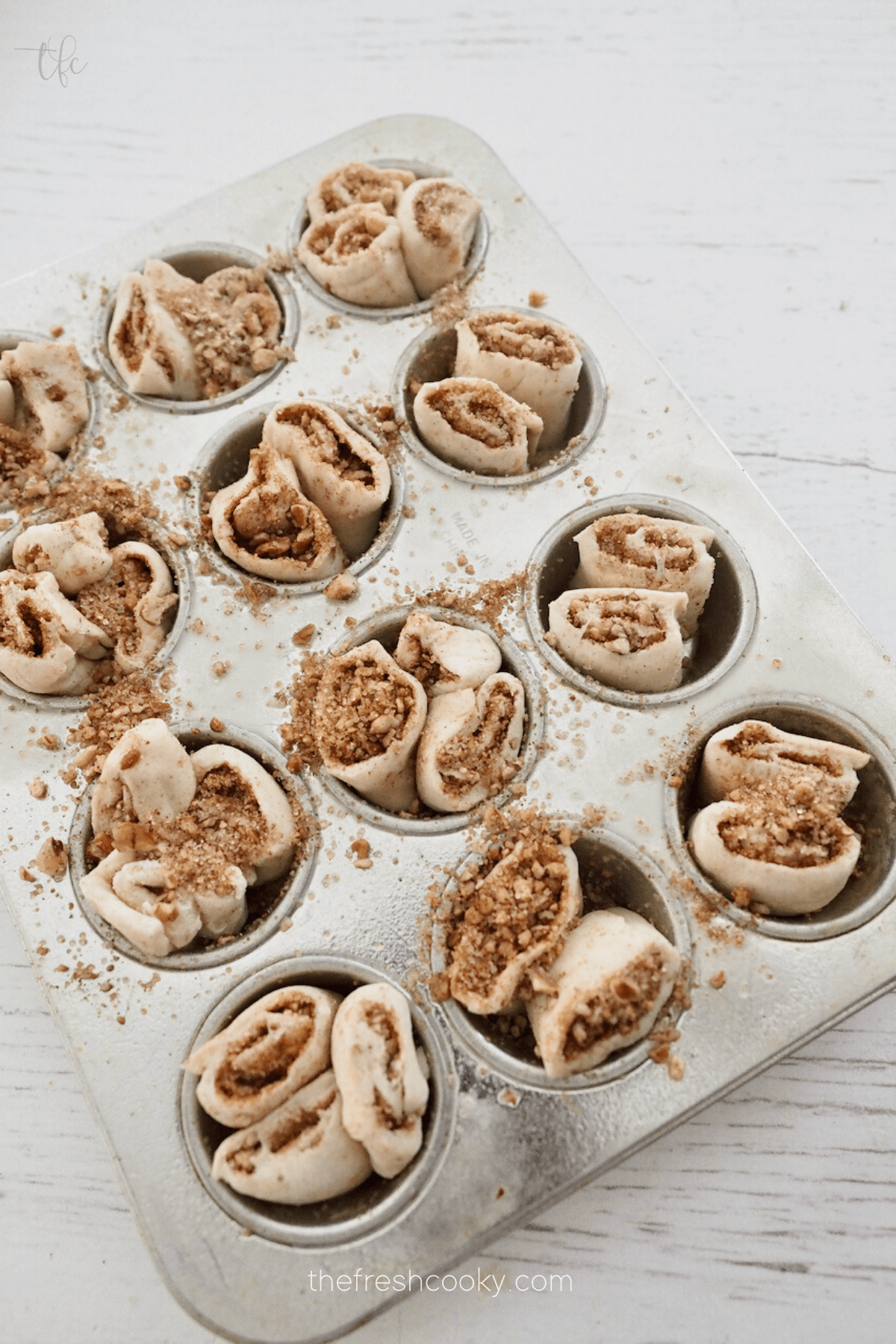 Step 3
Remove mini King cake bites to a wire rack, cool. Or drizzle a little glaze on while they are hot, then add more when ready to decorate and cooled.

To make the glaze, combine butter, powdered sugar, water or milk, and vanilla or almond extract. Mix and glaze your Mini King Cakes, then add the decorative sugars before the glaze hardens. Repeat until all of your treats are decorated!

PRO TIP | Place a sheet of parchment paper underneath the wire rack while drizzling the glaze on, makes for quick clean up.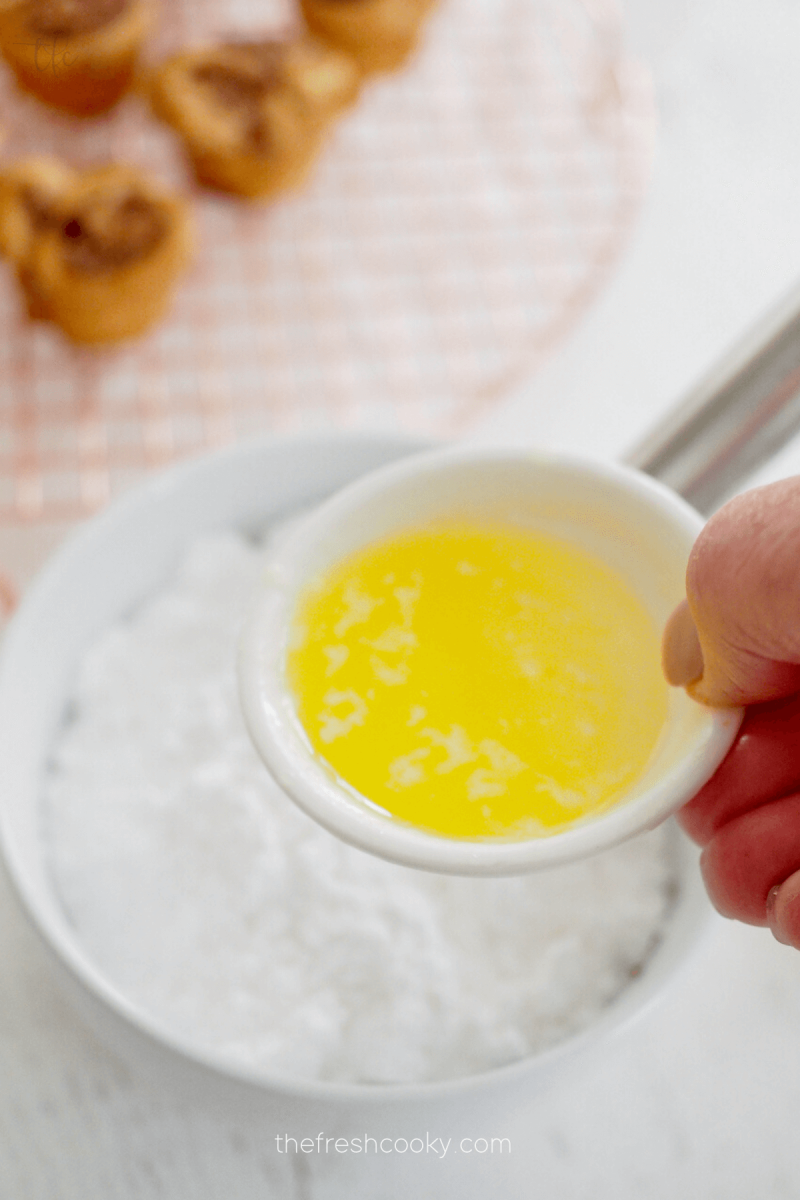 Variations
Omit the pecans if you have an allergy or if you don't like nuts.
Add a teaspoon of lemon juice to the glaze mixture.
Swap a couple tablespoons of brown sugar for some of the granulated sugar.
Change up the colors and serve my Mini King Cake recipe for any holiday. Red and green for Christmas, pink and red for Valentine's Day, or green and yellow for St. Patrick's Day comes to mind!
Make these cakes even more indulgent by adding a few tablespoons of cream cheese filling. You could even use a plant-based option.
If you want to hide a plastic baby Jesus, I suggest tucking it in the bottom of one of the individual King cakes after baking.
Brush the crescent rolls with 1 tablespoon melted butter, then place on cinnamon sugar for a more buttery mini King cake.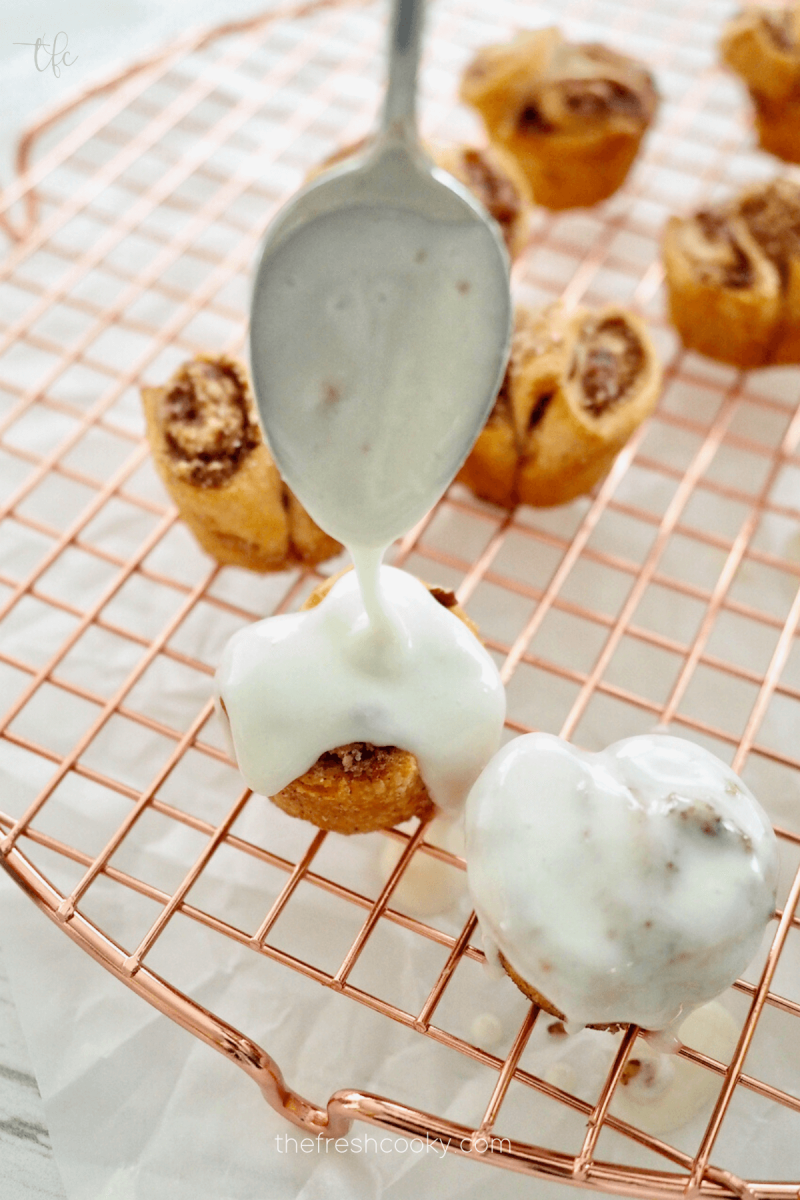 TFC Pro Tips
To store, place in an airtight container on your counter or in the pantry. My Mini King Cake recipe will keep for up to 5 days. They are always best fresh, but a-few-days-old pastries are tasty too.
To freeze, skip the glazing and sugaring step for now. Place in an airtight container and store in the freezer for up to 3 months. Thaw overnight in the refrigerator before adding the frosting and decorative sugar.
When glazing, make sure to stop periodically to add the sugar. It won't stick if the glaze has hardened!
Frequently Asked Questions
What Makes a King Cake a King's Cake?
This festive dessert is traditionally made with brioche and a large variety of fillings. Filling options include cinnamon and sugar, chocolate, and cream cheese. My Mini King Cake recipe features a light frosting and purple, green, and yellow-colored sugar — the colors of Mardi Gras!
What Flavor is Traditional King Cake?
Traditional recipes are made with cinnamon, just like my Mini King Cakes! People have been making them with cinnamon dough for decades. These days, other fillings have become popular as well. Cream cheese, lemon, praline, and strawberry are just a few.
What Do The Colors On The King Cake Mean?
jeweled crown that the Wise Men offered to Jesus on the Epiphany, which is another Christian holiday that is celebrated on January 6th.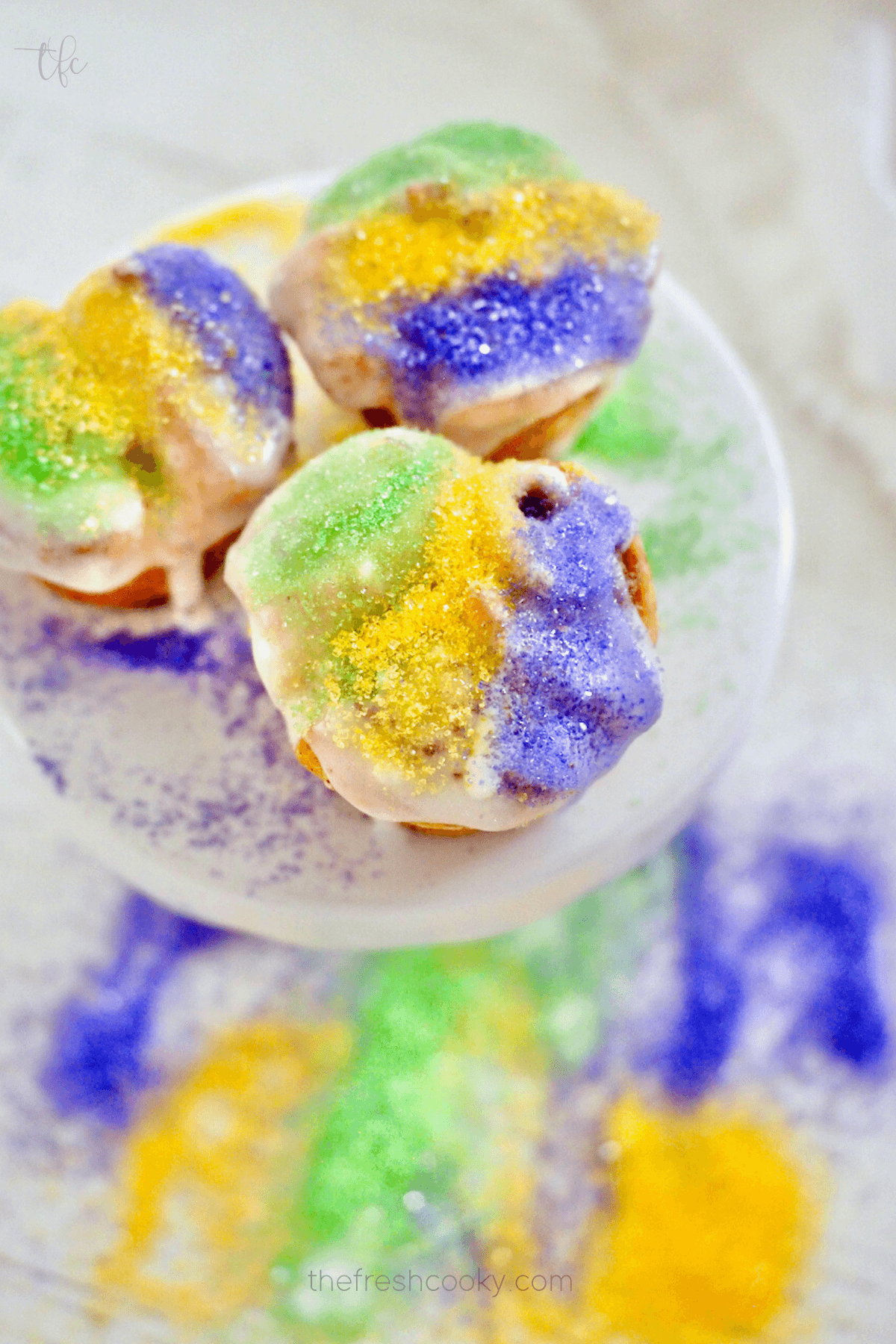 I hope you enjoyed this homemade King cake recipe, you will love these individual King cake at your next party. Be sure to rate and comment below. And don't forget to browse through all of our great Freaky Friday recipes below.
Take a look at all of our 2022 Freaky Friday Winter Edition Recipes:
LOVE IT? PIN IT!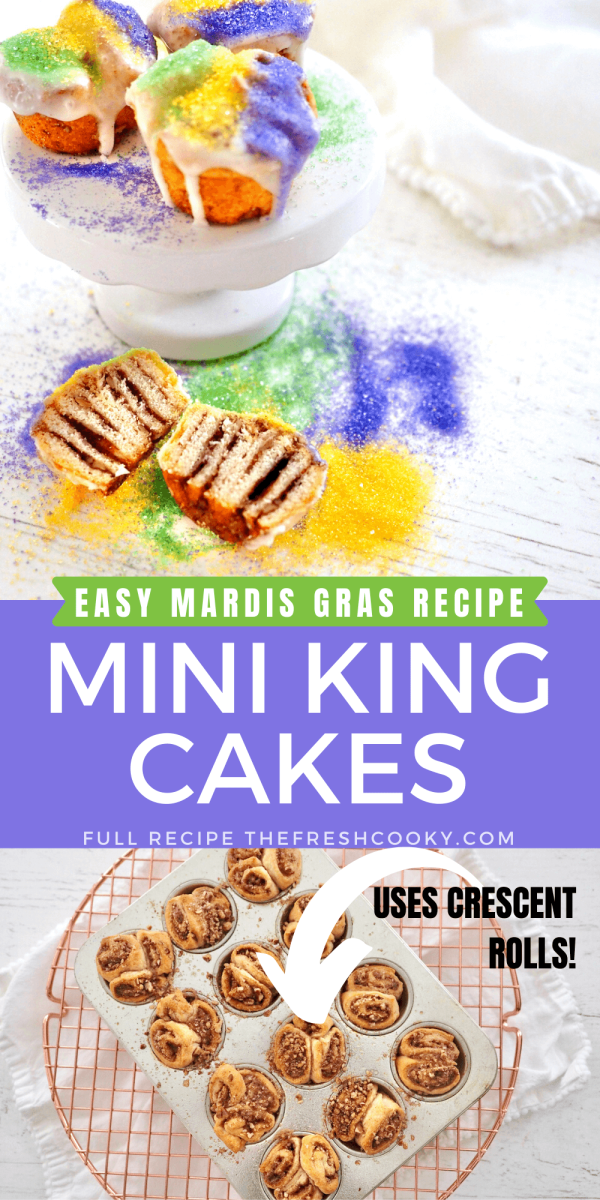 Like this recipe?
Don't forget to give it a ⭐️⭐️⭐️⭐️⭐️ star rating and comment below the recipe!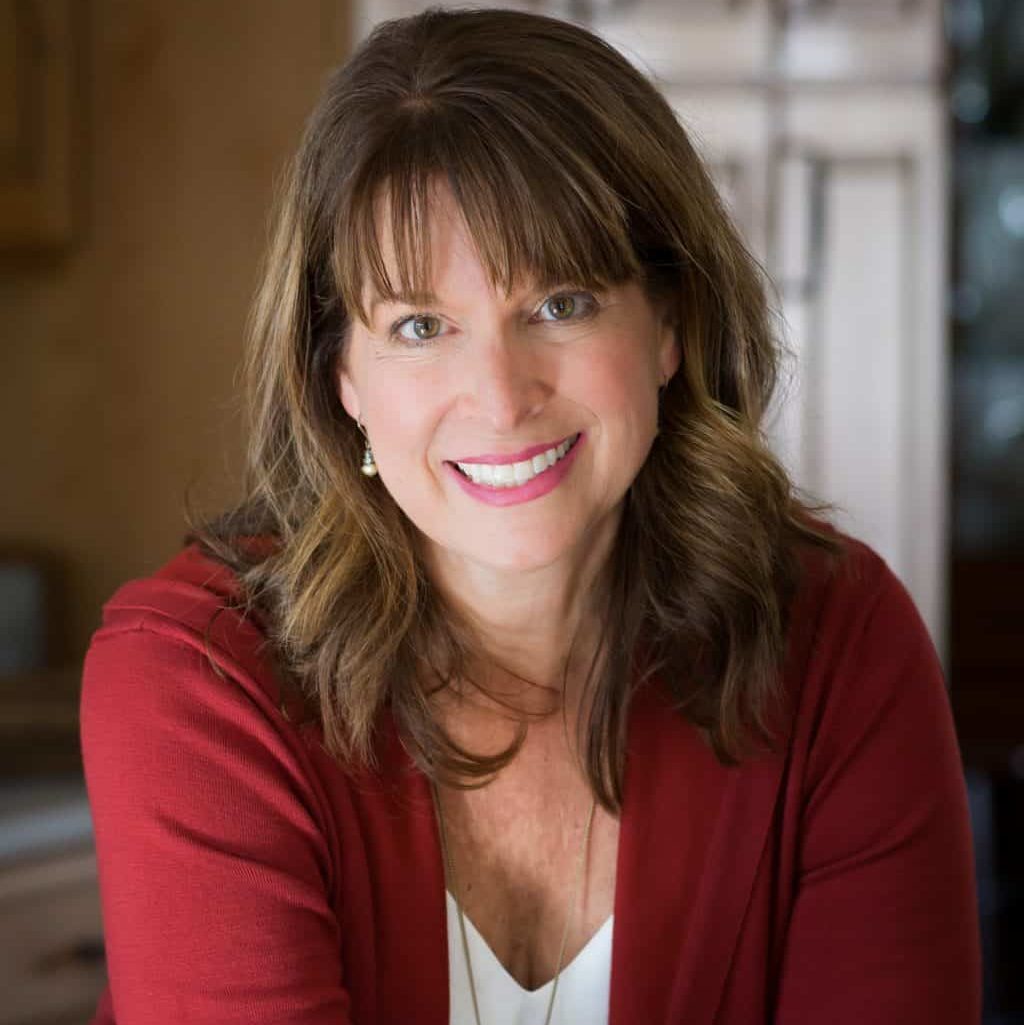 About Kathleen Pope
Recipe Innovator | Food Photographer | Food Writer
Hi, I'm Kathleen Pope. Here at The Fresh Cooky you will find easy, mostly from-scratch, trusted recipes for all occasions. From speedy dinners to tasty desserts, with easy step-by-step instructions. I am here to help teach you how to make mouthwatering recipes without spending hours in the kitchen. Read more about Kathleen here.