Chocolate Chip Pudding Cookies
As an Amazon Associate, I earn from qualifying purchases. Please read my disclosure policy.
Grab an ice cold glass of milk 'cause these Triple Chocolate Chip Pudding Cookies will knock your socks off. A chewy, soft, chocolate chip cookie, filled with three types of chocolate wrapped in a warm pudding dough.
Not another chocolate chip cookie recipe!! Said no one, EVER!
Also try these amazing recipes Chewy Blondies Recipe, Giant Chewy Chocolate Chip Cookies, S'Mores Stuffed Chocolate Chip Cookies, and Triple Chocolate Cookies.
Chocolate chip cookies on steroids, or pudding-oids. These soft, buttery cookies are loaded with chocolate; are gooey, chewy, with a hint of oatiness and topped with a sprinkle of flaky sea salt, they are so very delicious.
I find myself making chewy chocolate chip cookies at least 2-3 times a month for one reason or another, so naturally I occasionally search for something a little different to add to my Chocolate Chip Cookie recipe collection (yes, I have a collection) and I am SO glad I found and made these! You might also try, these and these.
Ingredients for Vanilla Pudding Cookies
BUTTER | Always use real butter in cookies, blends that are soft coming out of the fridge will yield different results.
LIGHT BROWN SUGAR | Lends the warm, caramel undertones to the cookies
INSTANT VANILLA PUDDING MIX | This is what makes these vanilla pudding cookies!
EGGS | I use large eggs in all my baking
ALL PURPOSE FLOUR | I use unbleached, organic all purpose flour, regular flour may be used
OAT FLOUR | Adds a bit more chewiness, but this is optional
CHOCOLATE CHIPS | Semi-Sweet Chocolate Chips or chunks, Milk Chocolate and MIni Chocolate chips.
How to Make Chocolate Chip Pudding Cookies
Starting with quality ingredients, place your soft butter and and brown sugar in the bowl of a mixer and mix on medium-high speed until light and fluffy, about 3-4 minutes.
Now would also be a good time to preheat your oven to 350° and prep your baking sheets with parchment paper.
While you are creaming the butter and sugar, measure your all-purpose and oat flour into a medium bowl, adding your baking soda, baking powder and flaked sea salt*, stirring with a whisk to combine.
TFC TIP | You may substitute regular salt (fine or kosher) for the flaked sea salt, but if you have never tried this on your cookies, what are you waiting for?
Add in the dry pudding mix, on medium speed mix for an additional minute.
Next add eggs and vanilla, mix until evenly incorporated, about a minute. Scrape the sides down. Ever made your own vanilla extract? Please oh, please give it a try!!
With your mixer on low or stir, slowly pour in your flour mixture, mixing until just combined, scraping sides if needed.
WHAT ABOUT THE CHOCOLATE CHIPS!?
Here's where it really gets fun! I did a "chocolate chip cleanout".
Do you ever had 1/2 a package leftover from a recipe, then your kids and husband sneak into the bag, so now you've got a 1/4 of a bag?? No? Just me? Well, that's okay, it's how my family rolls.
I had several partial bags of mini chips, dark chocolate chunks, milk chocolate chips and a small handful of M&M Mini's, so I tossed them in, just make sure you end up with 3 cups total. Give these combinations a try; white chocolate, butterscotch, mint (not with butterscotch, ew!) or toffee bits.
With your mixer on low or stir, incorporate your chocolate chip concoction evenly into the batter.
Drool alert! Look at the batter!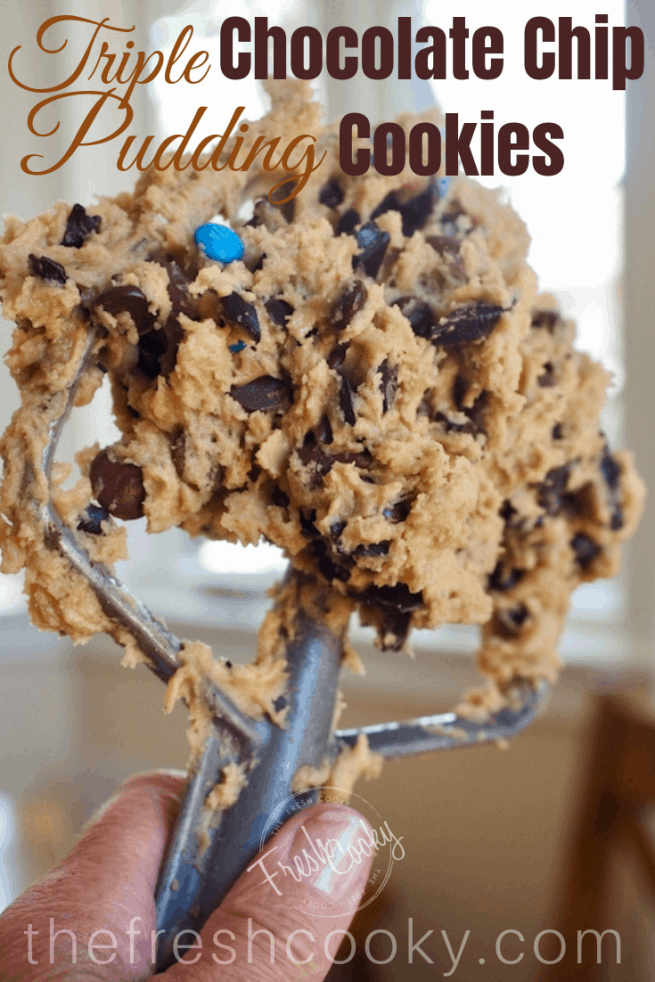 Using a large cookie scoop (3 tablespoons, which is about 1/4 cup of cookie dough!) or if you need to stretch the recipe a bit further, then use a medium cookie scoop; yielding slightly less than double the amount of cookies.
Scoop onto parchment lined baking sheets about 12 to a sheet (9 for large cookies). If desired, sprinkle with a little more of that wonderful flaky sea salt.
Bake at 350º 10-12 minutes for large cookies or 8-9 minutes for smaller cookies. Edges should be set and just barely starting to turn golden.
The centers will seem under-done, that's just how you want them, don't over bake them. Cool on baking sheet for 3 minutes, then transfer to cooling rack to cool completely.
What are you waiting for? Grab that ice cold glass of milk (or almond milk or a latte) and dip this baby in; savor, drool, devour, repeat…you're welcome!
Variations
Substitute the Vanilla Pudding mix with chocolate, butterscotch, white chocolate for a delicious new twist.
Use a combination of your favorite chips in the cookies, even chop up leftover Halloween candy bars, just make sure you are using about 3 cups of chips/candy.
More Pudding Recipes
TFC Pro Tip
Do not over bake cookies, any cookies, this will cause the cookie to dry out, become more cakey in texture.
Recipe adapted for altitude and personal taste Cookies & Cups,
Like this recipe?
Don't forget to give it a ⭐️⭐️⭐️⭐️⭐️ star rating and comment below the recipe!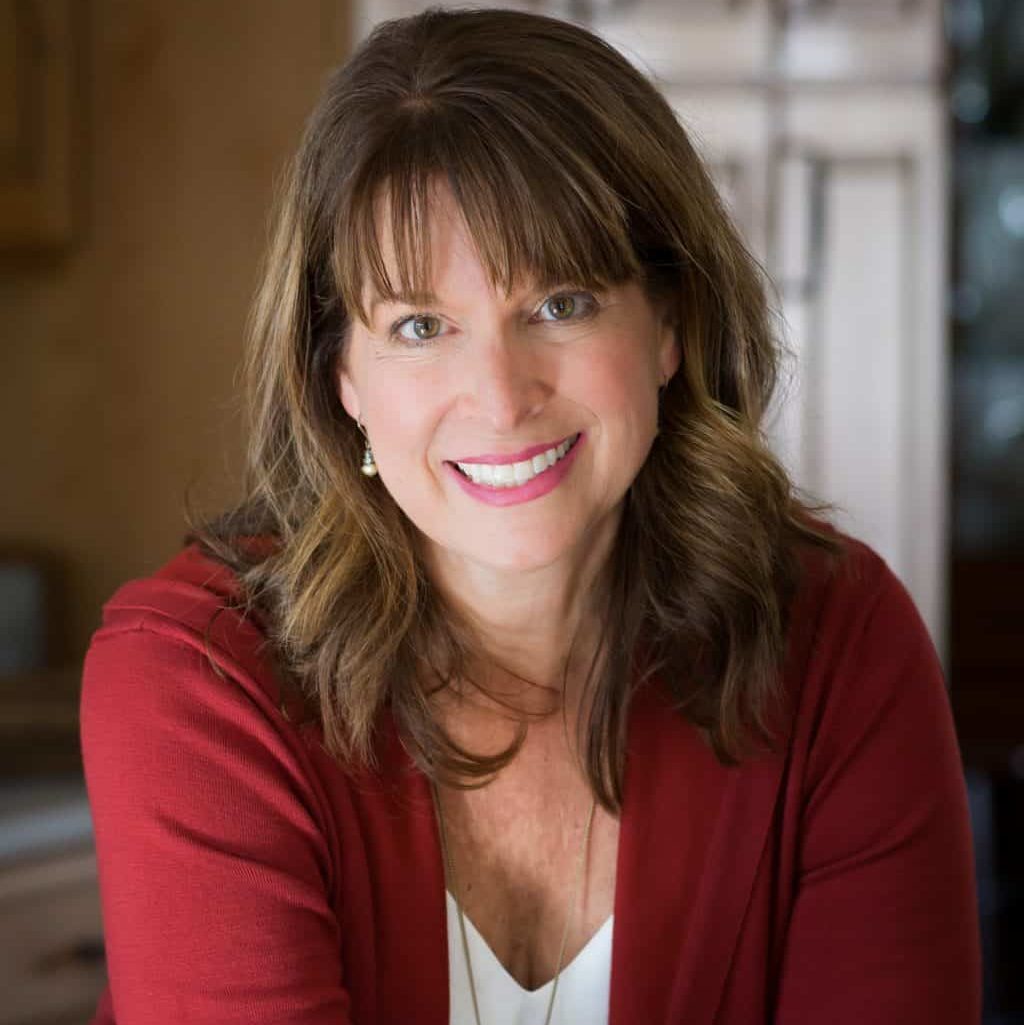 About Kathleen Pope
Recipe Innovator | Food Photographer | Food Writer
Hi, I'm Kathleen Pope. Here at The Fresh Cooky you will find easy, mostly from-scratch, trusted recipes for all occasions. From speedy dinners to tasty desserts, with easy step-by-step instructions. I am here to help teach you how to make mouthwatering recipes without spending hours in the kitchen. Read more about Kathleen here.