French Onion Chicken Skillet Recipe
As an Amazon Associate, I earn from qualifying purchases. Please read my disclosure policy.
For an easy weeknight meal that will wow your taste buds, look no further than this delicious French Onion Chicken Recipe! This skillet chicken recipe features a mouth-watering combination of flavors. The sautéed yellow onions add great flavor to the chicken, while the cheese provides a nice creamy texture and nutty flavor.
For more simple 30 minute recipes, check out my tasty Cheesesteak Sandwich, our popular Beef or Chicken Shish Kababs, or these Cheesy Cheese Enchiladas.
Why You Will Love this Skillet Recipe
One-Pan Recipe | The fewer dishes, the better, right? I think we can all agree on that. Well, this French Onion Chicken recipe uses only one large skillet—That's it!
Flavorful | If you love French onion soup or dip, you will love this easy chicken recipe.
Picky Kid Approved | You can be confident that this recipe will put a smile on everyone's face—even your harshest critics.
Easy chicken dinners are the best and these tender chicken breasts, in a savory and flavorful French onion sauce with shredded gruyere cheese all made in one skillet!
Healthy Twist
No Breading | Similar french onion chicken recipes instruct you to bread the chicken breasts. For my take on this delicious dish, I like to simply sear the chicken and cook it in the savory broth. That way, there are slightly fewer calories but the same incredible flavor!
Easily Made Gluten-Free | With just a few simple adjustments, you can make this tasty chicken gluten-free for all to enjoy!
Key Ingredients for French Onion Chicken Casserole
Ingredients, directions and nutritional information in the printable recipe card at the end of the post.
Butter | Butter adds a creamy flavor. But, more importantly, it aids in browning the chicken and sautéing the onions for this recipe, you may also use olive oil.
Tender chicken breasts | Boneless, skinless chicken breasts are meaty, making for a perfect base to boost the flavor with this French onion recipe.
Yellow onion | Sweet yellow sliced onions give the chicken great flavor and that classic French onion taste.
Salt and pepper | A little kosher salt and some freshly ground black pepper subtly enhance the other flavors in this French onion chicken recipe.
Seasonings | The onion soup mix will act as the main seasoning for the chicken breasts. However, I also like to add some garlic powder and dried thyme for a little something extra.
Onion soup mix | Onion soup mix is a pre-packaged blend of dried onions and other seasonings. It's a convenient way to add flavor to your dishes. I used an all-natural onion dip mix, which doesn't have beef bouillon as Knorr does (but doesn't have MSG). So, I added the onion dip mix with two teaspoons of butter, then bouillon (use chicken or beef). See the instructions below to make your own onion soup mix.
Beef broth | Beef broth is a flavor-packed liquid that enriches this dish. You can find it in the soup section of your grocery store. Or try making your own beef bone broth — so good!
Gruyere | Rich, creamy, and nutty gruyere cheese compliments this recipe's garlic and onion notes so well. It's the traditional cheese used on French Onion soup, but is on the pricier side.
Fresh thyme | Fresh thyme leaves are an optional garnish for this delectable dish.
How to make your own onion soup mix:
¼ cup dried onion flakes
2 tablespoons of beef bouillon granules (Most I found have poor ingredients. So when making your dish, add 2 teaspoons of butter, then Bouillon beef.)
¼ teaspoon onion powder
¼ teaspoon parsley flakes
⅛ teaspoon celery seed
⅛ teaspoon paprika
⅛ teaspoon ground black pepper
Combine above ingredients and store in air tight container in a cool pantry. Use your expiry date as the earliest date on your products.
This recipe is written to serve four– you can easily alter it to serve two. All you need to do is half each measurement. For example, use only two chicken breasts, half of a yellow onion, a half cup beef broth, and so on. With little effort, you'll have a dinner for two! Or make the whole recipe and enjoy for another meal.
Gluten-Free French Onion Chicken
This French Onion chicken skillet recipe is naturally gluten free! Ensure the seasonings you choose say GF on the bottles, as well as the onion soup mix. Then check the beef broth label and see if you can find a gluten-free bouillon. From there, the rest of the ingredients should be naturally GF.
Recommended Equipment
I love my cast iron skillet, it's inexpensive and it heats easily and if seasoned properly is non-stick.
Instructions for French Onion Chicken Breast
This entire chicken dinner recipe is prepared in a single large skillet over medium heat, one pan meal, no oven involved!
If you don't have a large skillet, you can use a medium skillet. Just make sure that the chicken breasts fit comfortably in the pan.
Step 1 | Sear the Chicken
Begin with two tablespoons of butter dropped into a hot skillet. Melt the butter, then add the chicken breasts and sear each chicken breast for about 3 to 4 minutes on each side. Your goal is to brown each side of the chicken breasts– the trick is to not turn the piece until it easily releases from the pan.
Step 2 | Cook the Onions
When the chicken breasts are finished browning, remove them from the skillet to make room for the next step! Add the rest of the butter to the same skillet with all those golden bits from cooking the chicken pieces. Sprinkle in the chopped onion and continue cooking until the onion has softened and looks translucent and is browning, caramelizing.
Step 3 | Add Onion Soup Mix
Next, add the spices, dry onion soup mix, and cup beef broth. Combine all the ingredients by stirring with a whisk or a wooden spoon.
Now, add the chicken to the sauce and bring the ingredients to a boil. Cover the skillet and reduce the heat to a simmer. Allow the chicken to cook in the broth for about 12 minutes.
Step 4 | Top with Cheese
Time to uncover the skillet and top the chicken breasts with the tasty gruyere cheese. Re-cover the chicken skillet once more and cook for another 3 to 5 minutes. When the cheese has melted, your French Onion Chicken Skillet is complete!
Or if preferred, place oven safe skillet without lid, under the broiler, for 1-2 minutes until melted and lightly browned.
Now, if desired, all that's left to do is garnish the chicken breasts with fresh thyme. Then, serve this delicious dish hot with a side salad, veggies, or mashed potatoes—YUM!
Fresh Pro Tips
Chicken breasts vary in size, so adjust the cooking time accordingly; you may also pound with a meat mallet to uniform thickness or butterfly really thick pieces.
If you can't find gruyere cheese, you can use Swiss cheese or mozzarella cheese instead.
Searing the chicken helps to create a nice brown crust on the outside. This step is optional but adds extra flavor to the dish.
For the caramelized onions, make sure to slice or dice the onions evenly so that they cook evenly.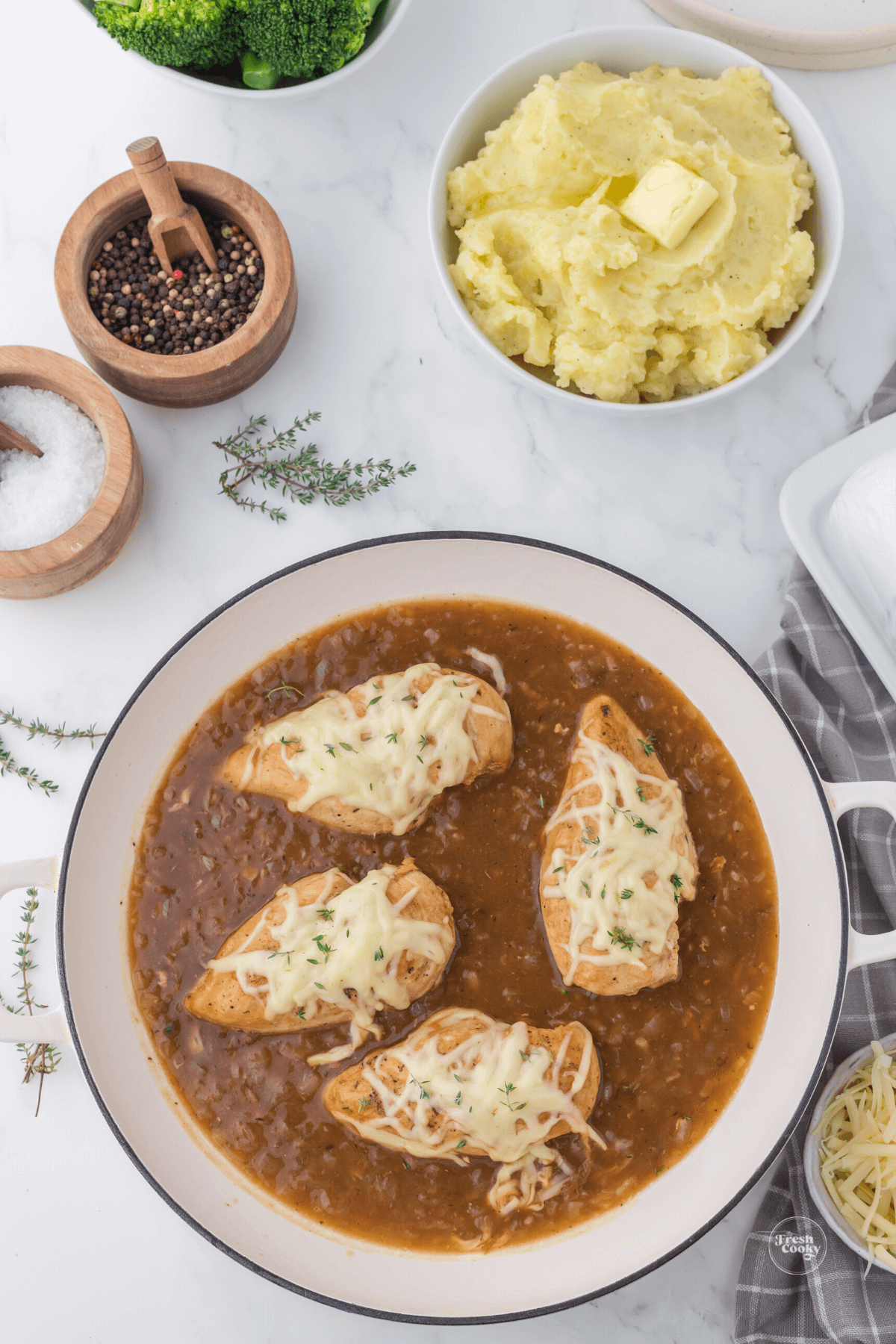 Toppings
Garnish the onion soup chicken with fresh thyme leaves. You can sprinkle on some freshly grated parmesan cheese if you'd like.
Variations & Substitutions
One of the best parts of cooking at home is making any recipe your own. Here are a few variations on this dish that you might want to try:
Substitute juicy chicken thighs for the chicken breasts, you might need to cook a bit longer.
Use white wine or red wine instead or in addition to beef broth for a deeper and richer flavor.
Add some chopped mushrooms to the dish when sautéing the onions
Top with crispy fried onions, like on this Chicken and Wild Rice casserole.
After you turn the chicken the first time, add a few handfuls of croutons for a fun variation.
Storage Tips
Leftovers | Store leftovers in an airtight container in the refrigerator for up to four days! This easy French onion chicken skillet makes for a quick and tasty lunch another day.
Freeze | You can absolutely store this recipe in the freezer. Just make sure to store it in an airtight container. It will keep in the freezer for up to three months. When you're ready to eat, thaw it overnight in the fridge and reheat it on the stove—EASY.
Frequently Asked Questions
What are the taste and texture of French onion soup chicken?
This simple dish is savory and slightly sweet, with a rich and creamy texture. The onions are softened and caramelized, which gives them a lovely sweetness. The gruyere cheese adds a delicious richness to the dish.
Can you make this recipe in the instant pot or crockpot?
Absolutely! Make this easy recipe even more effortless by preparing it in the instant pot or crockpot. Instructions are below.
I don't like Gruyere cheese, what else can I use?
No worries, Swiss cheese is similar, as is Provolone. You could also use milder mozzarella or your favorite cheese!
Instant Pot Instant Pot French Onion Chicken
Start by browning both sides of the chicken breasts. To do this, turn your instant pot onto the sauté mode, add some oil, and brown the chicken breasts for a minute or two on each side.
Then, remove the chicken and add the butter and chopped onions. Saute for about 10 minutes. Next, add the beef broth and seasonings, mix, then add the chicken breasts back to the pot. Submerge the chicken in the broth and pressure cook on high for about 10 minutes.
Perform a quick pressure release. Finally, add the cheese to the tops of the chicken and cook for another 1 to 2 minutes, or transfer to oven proof dish and melt cheese in 350-400 degree oven.
Crockpot French Onion Chicken
Begin the French onion chicken in the crockpot by spraying a large crockpot with cooking spray. Next, place the chicken breasts* in an even layer at the bottom of the pot. Drop in the diced onions. In a small bowl mix onion soup mix and beef broth pouring over chicken and onions.
Cover and cook on high for 4 hours, low for 8 hours. When finished, remove chicken to an oven safe casserole dish, then spoon the onions over the top and finally add a little bit (not all) of the liquid to the casserole, about ⅓-½ a cup. Top with grated gruyere or sliced gruyere cheese and broil about 2 minutes until golden and bubbly.
*For better flavor, do a quick saute of the chicken breasts and onions if desired, then place everything in a crock pot.
More Creative Ways to Cook Chicken Breasts
If you serve chicken regularly, you likely need more ideas on how to switch things up. I like making unique and flavorful recipes to turn ordinary chicken breasts into something new! These are our favorites!
What to serve with French Onion Chicken
The last thing anyone wants is undercooked chicken breasts—YUCK! To prevent this from happening, adjust the cooking time for each chicken breast according to its size. For instance, if the chicken breast looks slightly larger than the average, increase the cooking time.
Use a cooking thermometer or slice into the chicken breasts with a knife to ensure they are done all the way through. The internal temperature should read 160-165 F degrees, it will continue cooking once you remove it from the heat.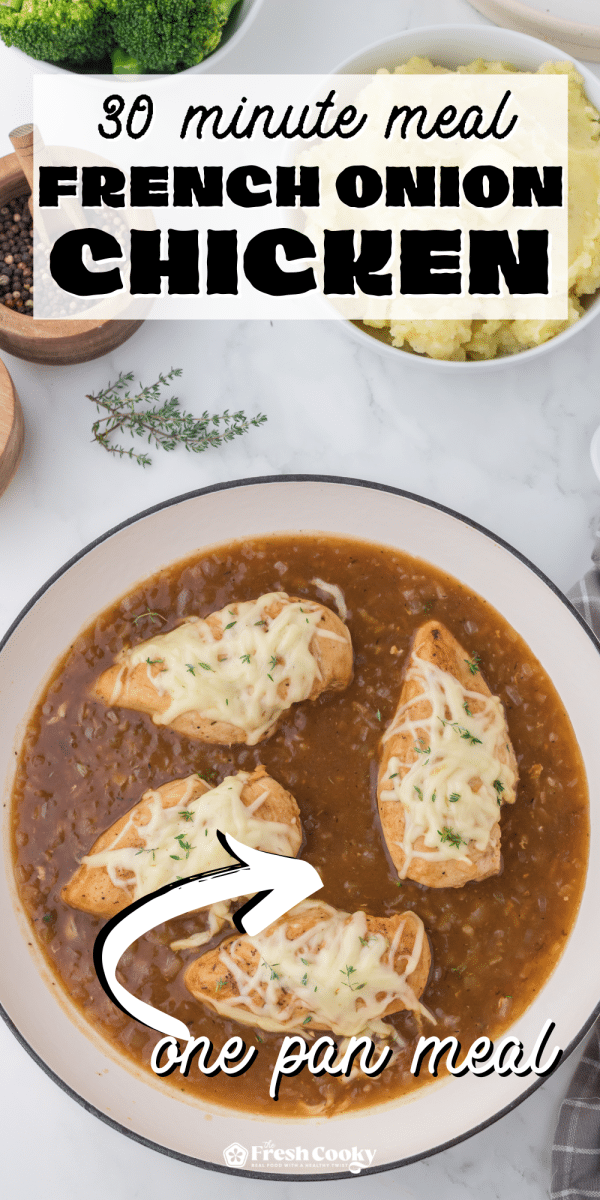 I hope you loved this French Onion Chicken Skillet — if you did, would you share your creation on Instagram, Facebook and Pinterest? And be sure to comment below!
Like this recipe?
Don't forget to give it a ⭐️⭐️⭐️⭐️⭐️ star rating and comment below the recipe!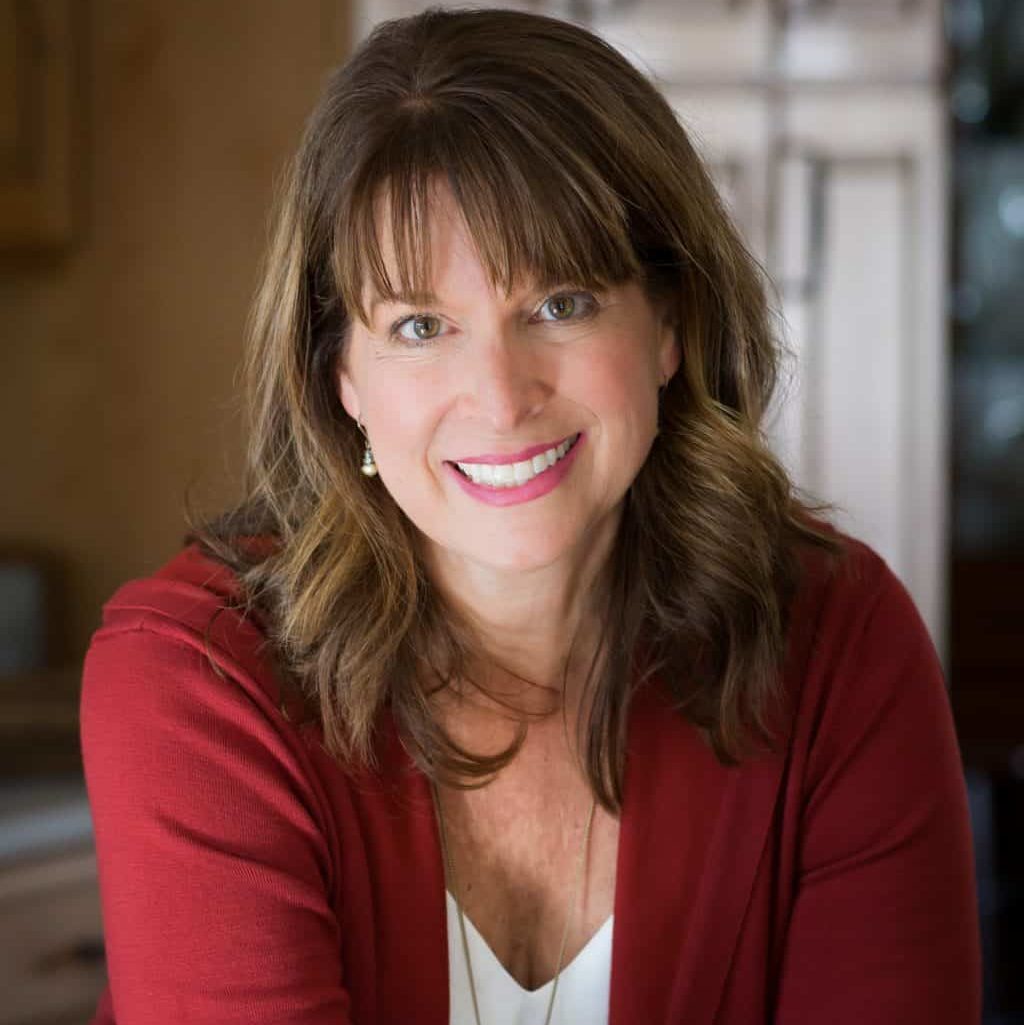 About Kathleen Pope
Recipe Innovator | Food Photographer | Food Writer
Hi, I'm Kathleen Pope. Here at The Fresh Cooky you will find easy, mostly from-scratch, trusted recipes for all occasions. From speedy dinners to tasty desserts, with easy step-by-step instructions. I am here to help teach you how to make mouthwatering recipes without spending hours in the kitchen. Read more about Kathleen here.