Easy & Healthy Grilled Chicken Shawarma Bowls
As an Amazon Associate, I earn from qualifying purchases. Please read my disclosure policy.
Easy Grilled Chicken Shawarma is out of this world! I mean who wouldn't love chicken marinated in bright, healthy Mediterranean spices, then grilled to tender tasty perfection. A low-carb, delicious, healthy and filling meal, a recipe that is on repeat in our home!
Delicious bright Mediterranean spices flavor an easy to make marinade, my favorite type of meal! Paired with fresh tomatoes, crispy cucumbers and drizzled with a garlic sauce makes this out of this world delicious.
If you are into easy chicken marinades, you have to try my Copycat Chipotle Chicken, Coconut Lime Chicken or this Blackberry Grilled Chicken Salad with Fried Goat Cheese.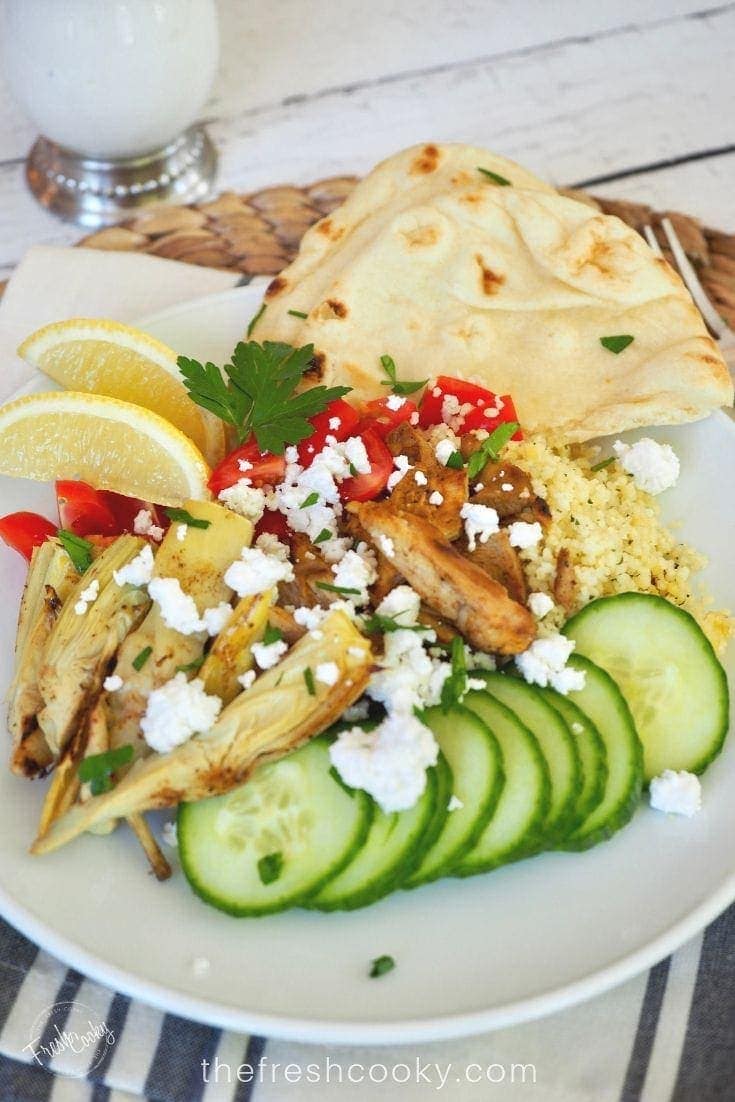 Served atop a bed of couscous (or keep it gluten free using quinoa or rice), topped with crisp cucumbers, tomatoes, feta cheese, artichoke hearts and drizzled with a light garlic yogurt sauce and homemade naan will take it over the top!
I love recipes like Shawarma Chicken; with only a few minutes prep, you can have multiple freezer meals. In fact this recipe is on repeat in our family! It's that GOOD! It's so fresh, bright and is bursting with Mediterranean colors and flavors.
A heart healthy recipe using simple marinade ingredients that you probably already have in your cupboard!
Making Shawarma Marinade
Double or triple the recipe for the marinade or just the spices; freezing once you've added the chicken. Cut your breasts in half, lengthwise (not necessary with thighs). Then place your chicken breasts in a sturdy gallon baggie (I like freezer baggies, they are a bit thicker).
Using a meat mallet (I've had this one forever!) Pound chicken until they are all about 1/2 inch thick. Try boneless, skinless chicken thighs too!! Sooo tender!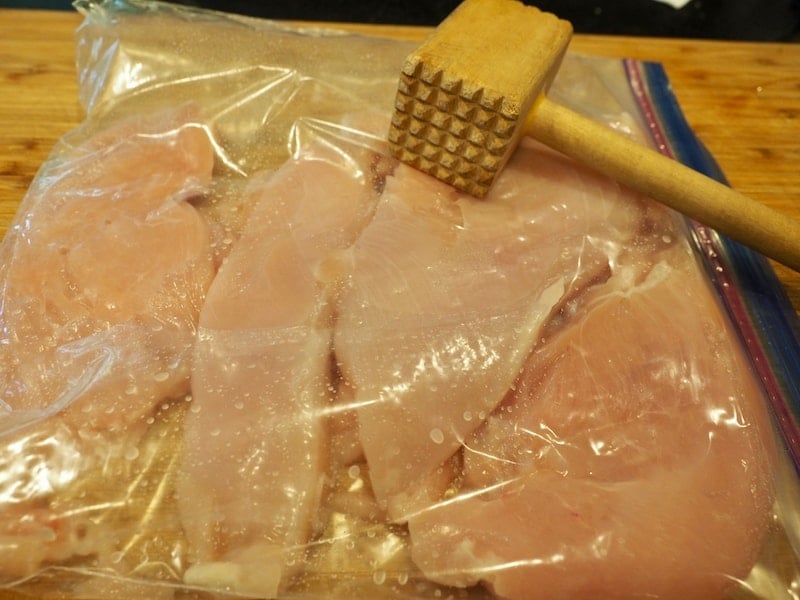 In a small bowl combine the marinade ingredients. Olive Oil, Lemon Juice, garlic cloves, cumin, smoked paprika, turmeric, curry powder, cinnamon, red pepper flakes, kosher salt (my favorite), and pepper to taste; mix well.
Meal Prep Tips
If making multiple batches of Chicken Shawarma, place pounded chicken in separate baggies in increments large (or small) enough to feed your family. Or simply make your spice packets ahead of time then you just need to add lemon juice and oil to marinate!
Then multiply your marinade ingredients according to the number of batches/pounds. Example: 2 batches = 2 lbs chicken = double the marinade.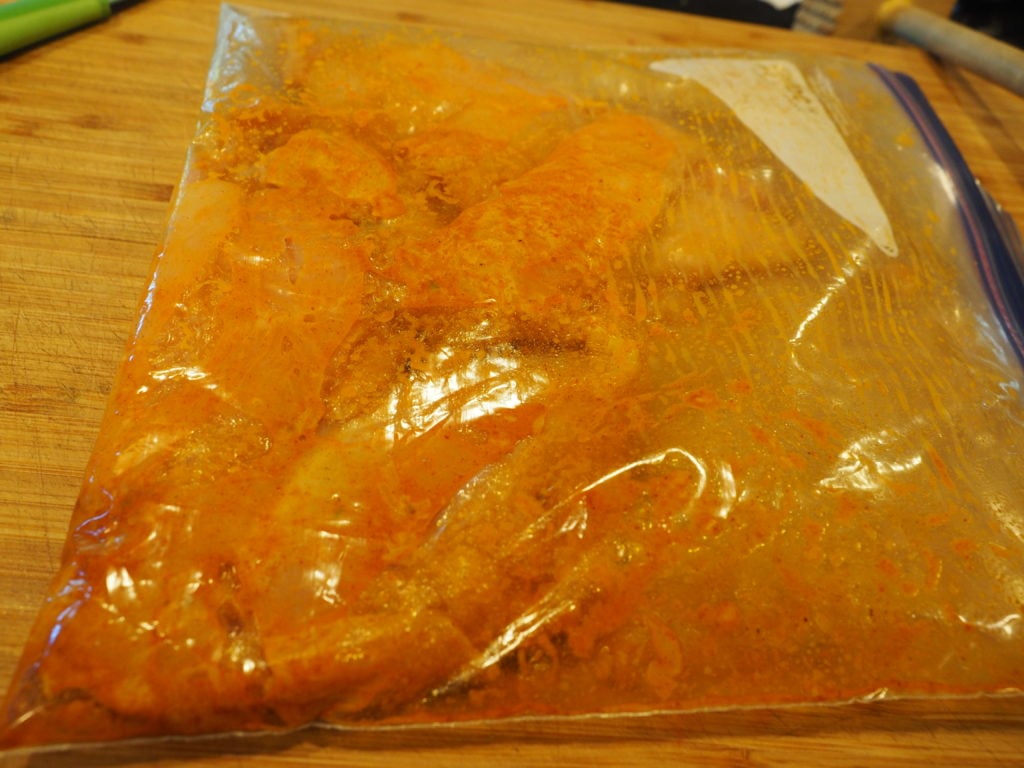 Squeeze out as much air from the baggie before sealing, then squish marinade around to evenly coat the chicken. Refrigerate for a minimum of 1 hour, up to overnight in the fridge or freeze.
FREEZING TIP
Lay as flat as possible in freezer, simply remove from freezer and allow to thaw in fridge overnight or on the counter for a couple hours when ready to grill.
EASY GARLIC YOGURT SAUCE
Make the Garlic Yogurt Sauce! 4 ingredients, easy, packed with flavor recipe! Or substitute with Tzatziki sauce!

Once your shawarma chicken has hung out in the marinade 30 minutes or longer, fire up the grill or grill pan to medium heat and prep your toppings for your bowls. But first, if you want a grain with this meal, get that started.
I love serving this dish over couscous, mainly because I like saying it! "Just a little grain of couscous"…pretty sure that was from a cartoon my kids watched when they were little.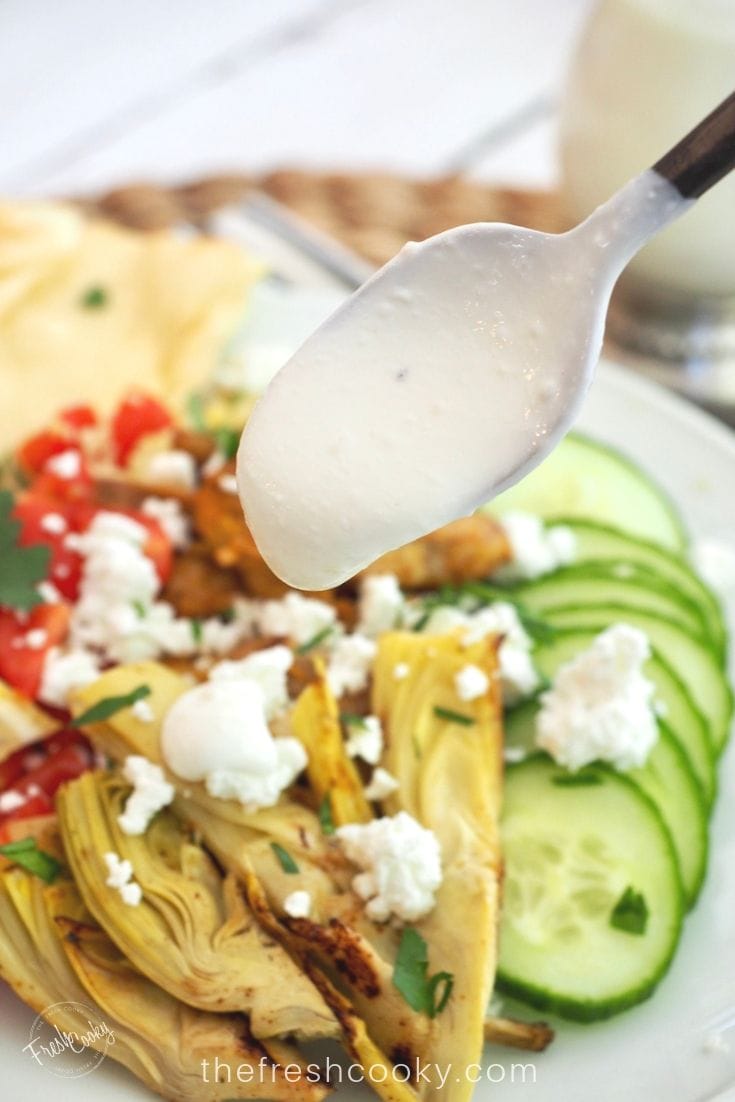 Try it with your favorite grain – rice pilaf, brown rice or quinoa as well! Simply follow the instructions on the box!
If you are using a grill pan (I love my Lodge Grill & Griddle pan), toss your artichoke hearts onto the grill for a few minutes as well.
Not necessary, but enhances the flavors a bit. If you still want to do this and you don't have a grill pan, try using a sheet of foil on your outside grill. This step is completely optional.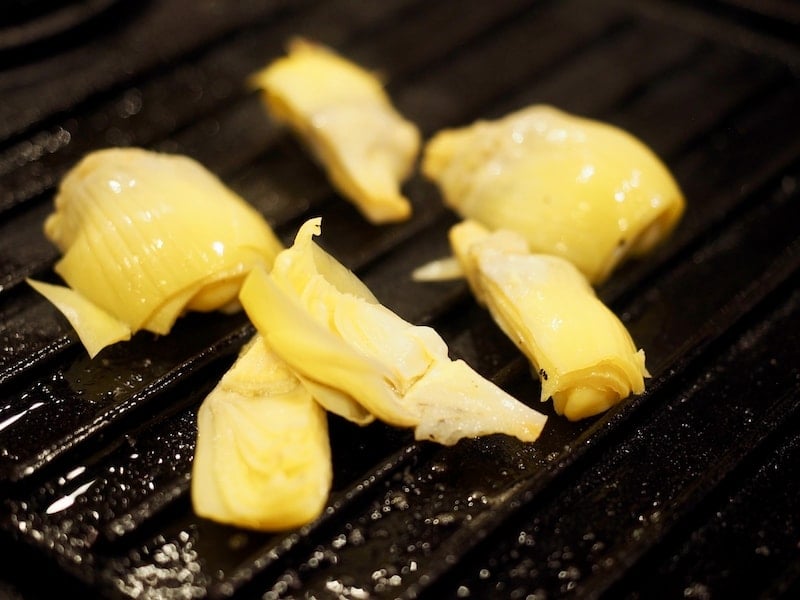 How to Grill Shawarma Chicken
Over medium-high heat, grill chicken breasts for 3-4 minutes (thighs 4-5 minutes) until it no longer sticks to the grill. Turn and grill an additional 3-4 minutes, remove chicken and allow to rest on a plate for 5 minutes.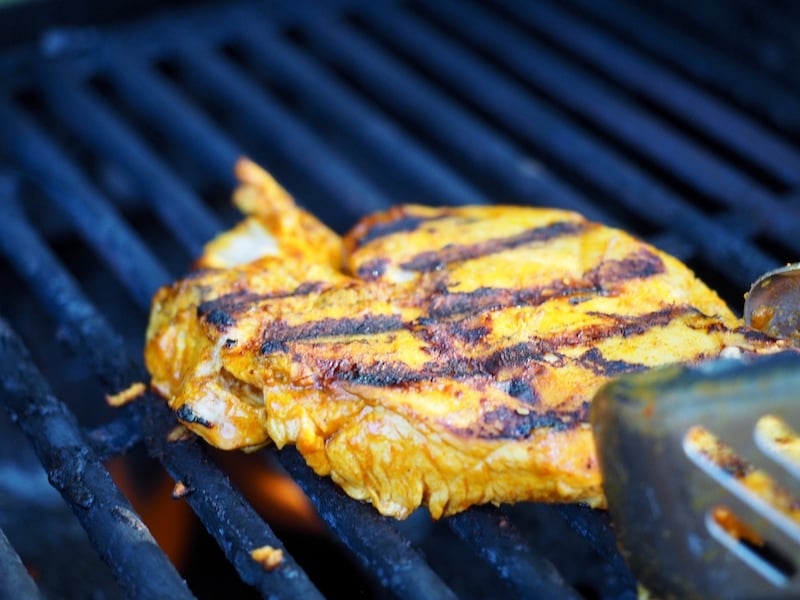 Look at those beautiful colors, courtesy of the turmeric and curry powder!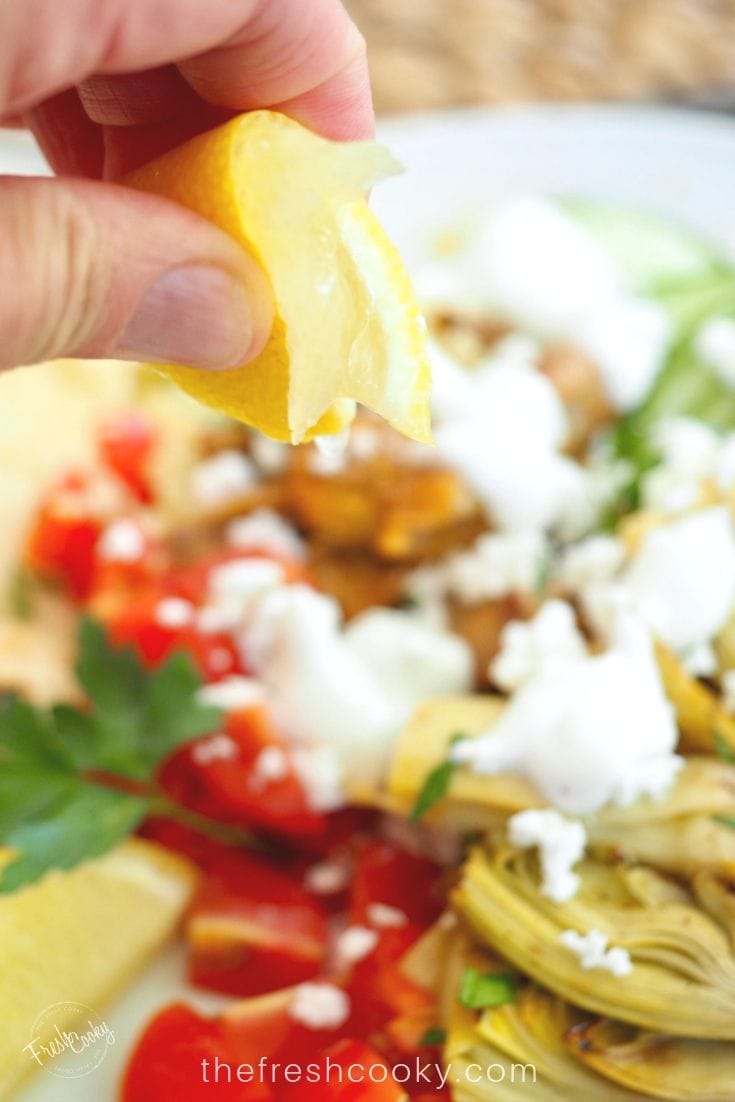 How to Build a Shawarma Bowl
Slice, dice or shred some cucumbers
Halve or dice some tomatoes
Crumbled feta or goat cheese
Fresh parsley or cilantro, chopped
A squeeze of lemon
Artichoke hearts, quartered (marinated or in brine)
Sliced red onion or try Pickled Red Onions
Sliced Kalamata or other Greek olives
After your meat has rested, slice thinly and lay on top of grain.
In individual bowls or plates, lay sliced Shawarma Chicken on a bed of couscous (or other grain); toss on cucumbers, tomatoes and artichoke hearts, feta cheese crumbles and drizzle some of that delicious Garlic Yogurt Sauce. Garnish with fresh chopped parsley (I like flat leaf for this), cilantro and a wedge of lemon.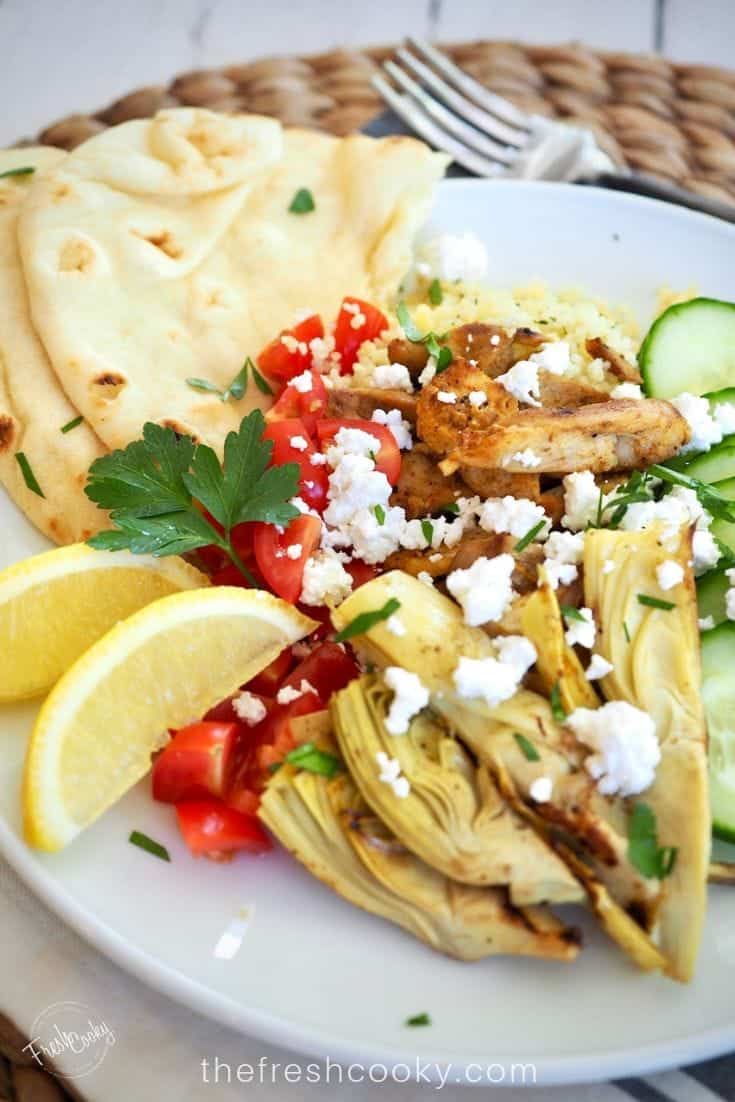 Serve as pre-made bowls or allow everyone to assemble their own, like a taco bar. Don't forget the pita bread or try my homemade naan! Oh those flat breads, I could so easily live in the Mediterranean!
This recipe has been adapted from the Skinny Taste
Like this recipe?
Don't forget to give it a ⭐️⭐️⭐️⭐️⭐️ star rating and comment below the recipe!
Recipes that Compliment Grilled Chicken Shawarma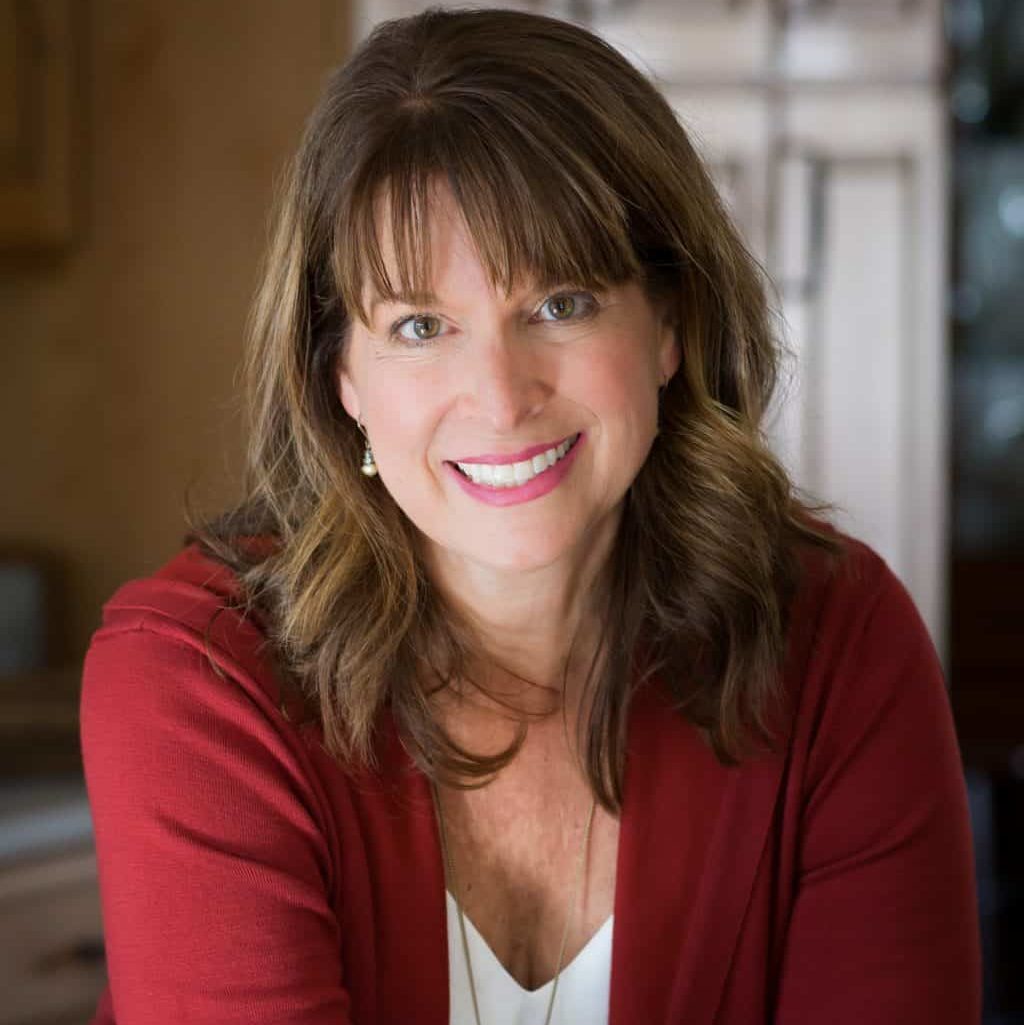 About Kathleen Pope
Recipe Innovator | Food Photographer | Food Writer
Hi, I'm Kathleen Pope. Here at The Fresh Cooky you will find easy, mostly from-scratch, trusted recipes for all occasions. From speedy dinners to tasty desserts, with easy step-by-step instructions. I am here to help teach you how to make mouthwatering recipes without spending hours in the kitchen. Read more about Kathleen here.