The Best Key Lime Pie | A Traditional Key Lime Pie Recipe
As an Amazon Associate, I earn from qualifying purchases. Please read my disclosure policy.
Describe your BEST Key Lime Pie…is it citrusy, sweet-tart, creamy — with the perfect sweet to-pucker ratio; light and easy with a crisp not-to-sweet graham cracker crust? Look no further…you found it! This traditional key lime pie recipe is easy and so simple to make and the most popular year round dessert on the blog!
I am a sucker for a good sweet-tart key lime pie! Creamy, plenty of pucker power and the best part is you make it ahead of time! A year round dessert delight!
If you dig make ahead desserts, try these other reader favorites; Easy Lemon Cream Pie, Traditional Italian Tiramisu or Old Fashioned Chocolate Ice Cream!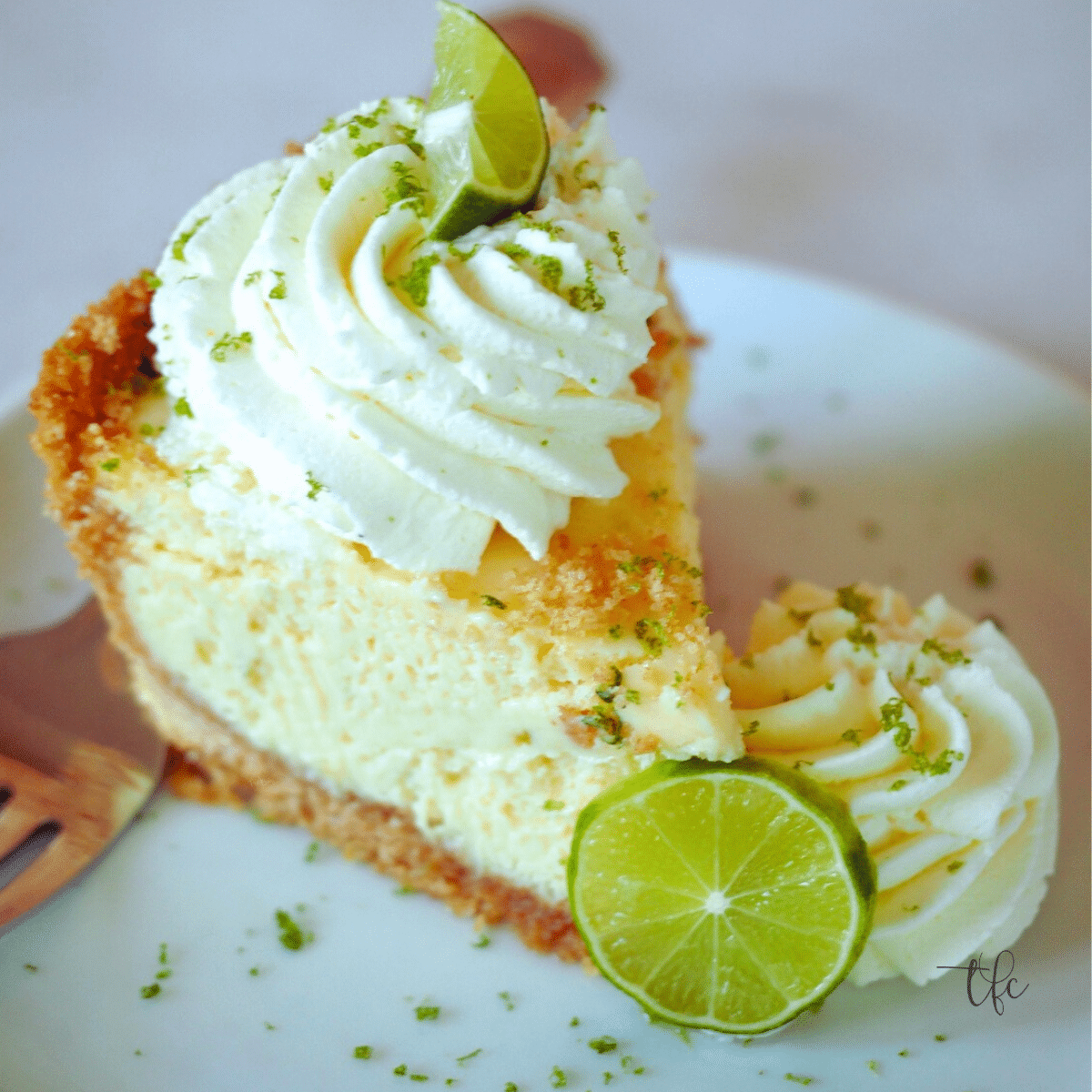 I enjoy giving precise details in my recipe posts to lead my readers through any questions. If you're just here for the printable recipe, feel free to click "Jump to Recipe" right under the title of this post, and you'll head straight there!
Plan Ahead for Easy Key Lime Pie – It needs to CHILL!
It does take a bit of pre-planning as it needs to cool and then chilled a couple of hours before being eaten, but WOW! If you are a key lime anything lover you will L O V E this crazy good Key Lime Pie!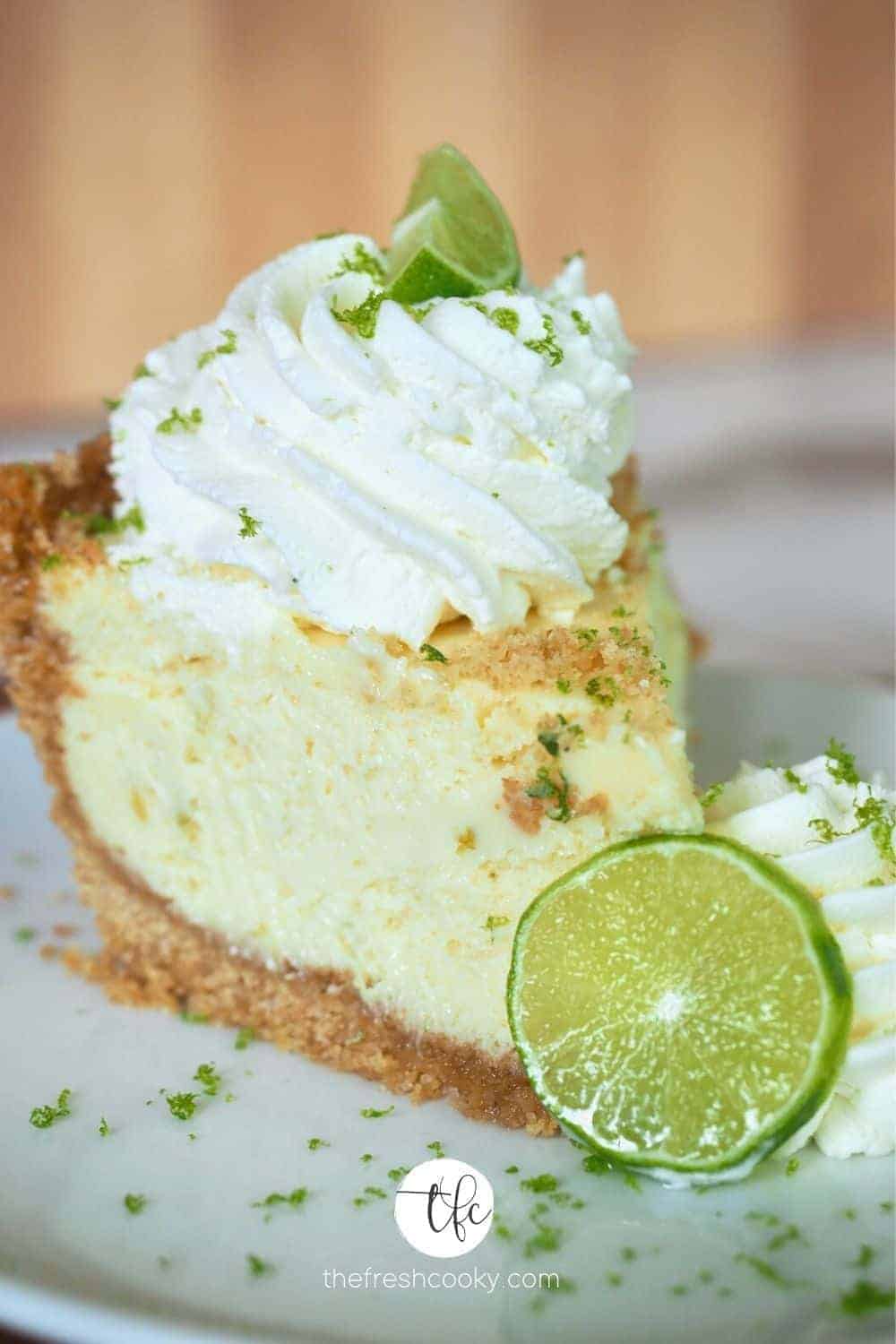 The original recipe is a prize winning, no an Award winning Key lime Pie recipe! So if you are looking for the best, perfect Traditional Key Lime Pie recipe you have found it!
Simple Ingredients & Substitutions
The ingredient list is small, simple and over the top delicious! Get the measurements in the recipe card below.
Sweetened Condensed Milk | provides a silky, creamy, sweet texture, I use organic
Sour Cream | I use full fat, but you may replace with full fat thick plain Greek yogurt too!
Zest from Key Limes | or Persian limes if that is easier
Key Lime Juice | If you can find real key limes, they make a difference, if you cannot, Persian limes will work and taste delicious!
Egg Yolks | these help to thicken the cream pie filling, you may omit them for an egg free key lime pie, it will be a bit looser but the pie will still set up.
Graham Cracker Crust Ingredients
Graham Crackers | finely crushed, I use organic graham crackers, may also replace with gluten free grahams.
All Natural Cane Sugar | Just a little, to lightly sweeten the graham cracker crust.
Butter | use the real thing, salted or unsalted, it's so worth it!
How to Make an Easy Graham Cracker Crust
Start by making the crust as it will need to bake and cool prior to placing your filling in it.
Preheat oven to 350° and gather your ingredients.
Melt the butter and set aside, I love my butter melter, I still do it on the stovetop, so my microwave doesn't get splattered.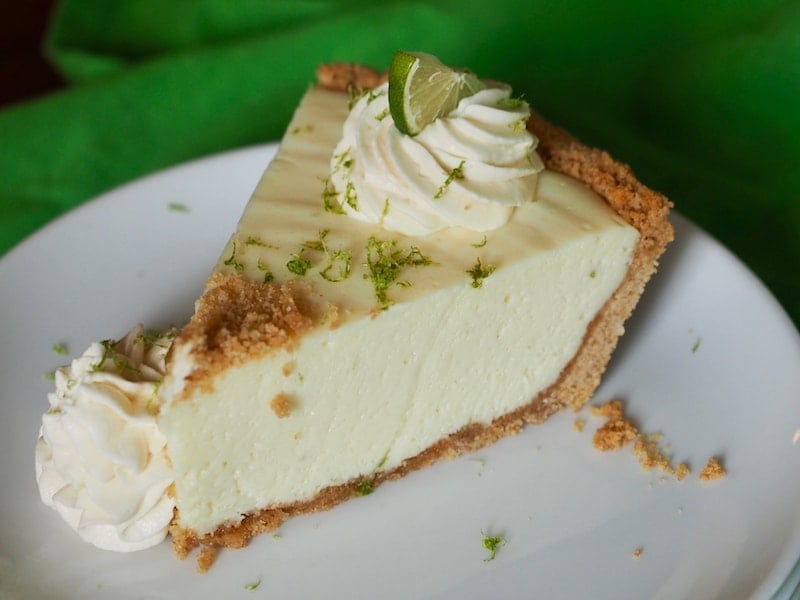 In a food processor or blender (I used my Ninja – love it!) whir your crackers into fine crumbs. Or place crackers in a gallon sized freezer baggie, crush your graham crackers; if using a baggie, I like to hand break them, then using a rolling pin, roll back and forth until the crumbs are about the same size.
1 1/2 – 2 sleeves of graham cracker equals about 2 cups. You can use store bought Graham Cracker Crumbs, but honestly it's so easy and fresh to make your own.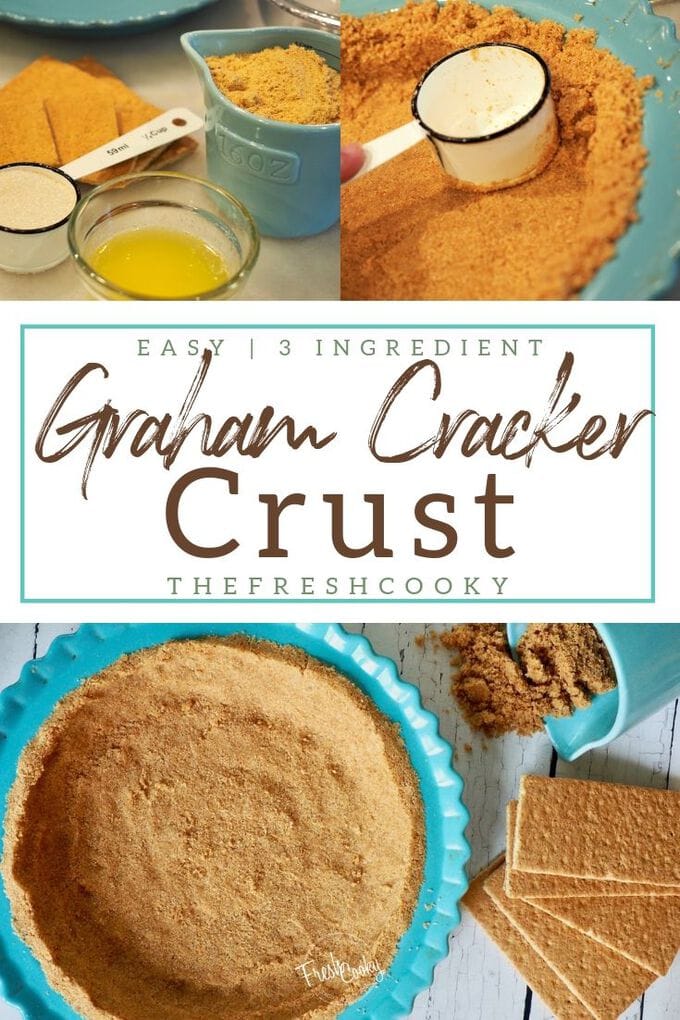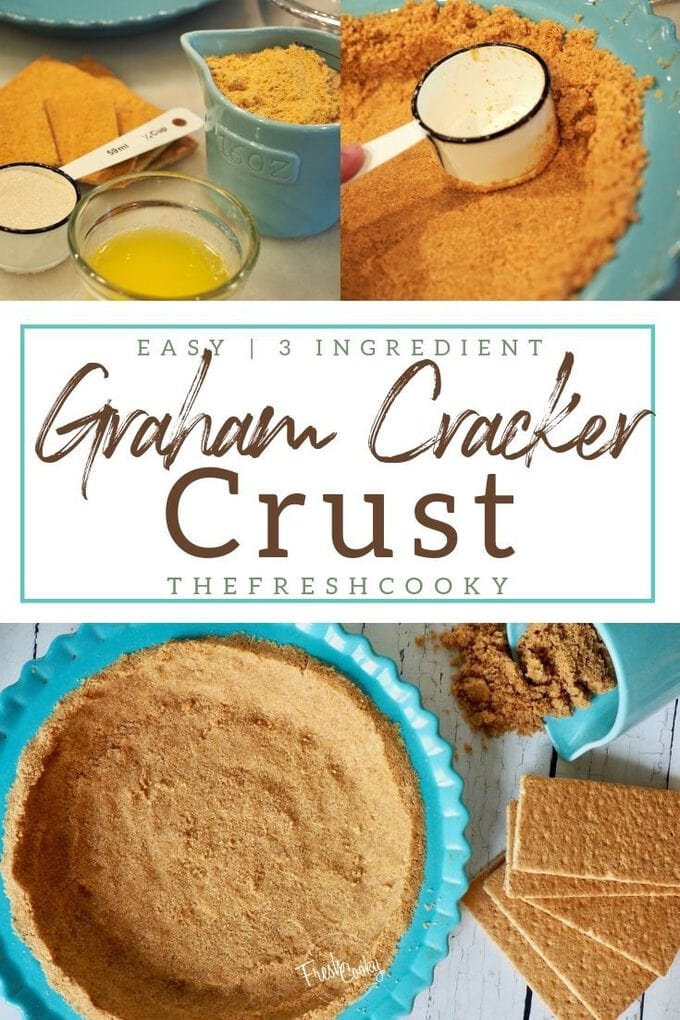 Pour in sugar, pulse a few times, then pour in butter and pulse, or just mix with a fork as I've done here.
Reserve about 1/8 cup of graham cracker crumbs for topping, if desired.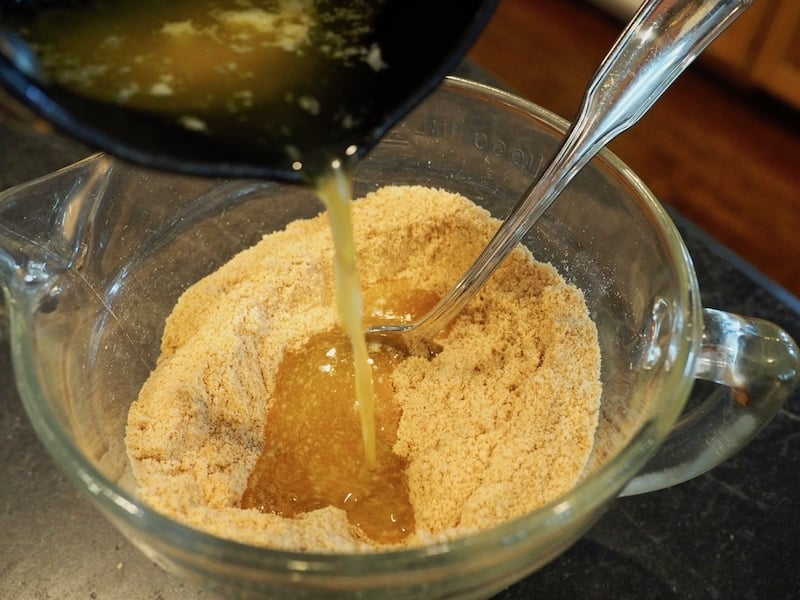 Press the graham mixture into your pie plate. I chose a 9″ rimmed deep dish pie plate, so I could easily press the crumbs all of the way up the edges.
Using my knuckles, I gently pressed into the sides and smoothed the edges/tops creating a pretty fluted edge.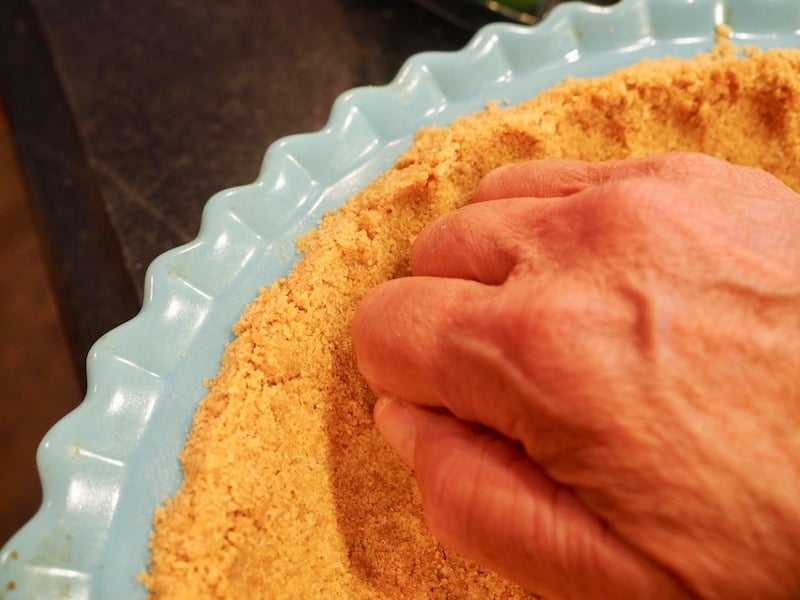 Carefully place the crust in the preheated oven and bake for 6-8 minutes. You want it golden, not brown.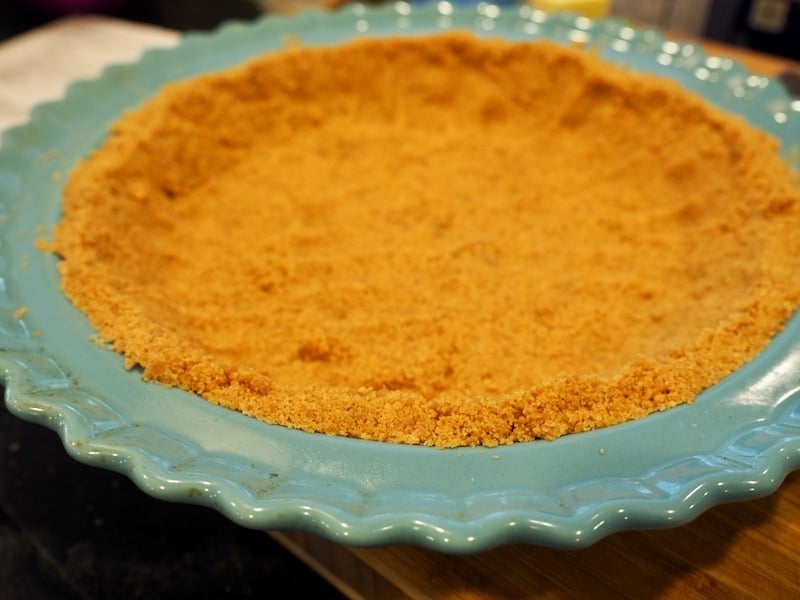 TIPS for Cooling Graham Cracker Crust Quickly
Allow to cool on a cooling rack for 10 minutes, then place in freezer for 20 minutes until pie plate is cool to the touch.
Careful you don't put it somewhere it will get scraped or bumped, the crust is still rather fragile. While the crust cools, make your key lime filling.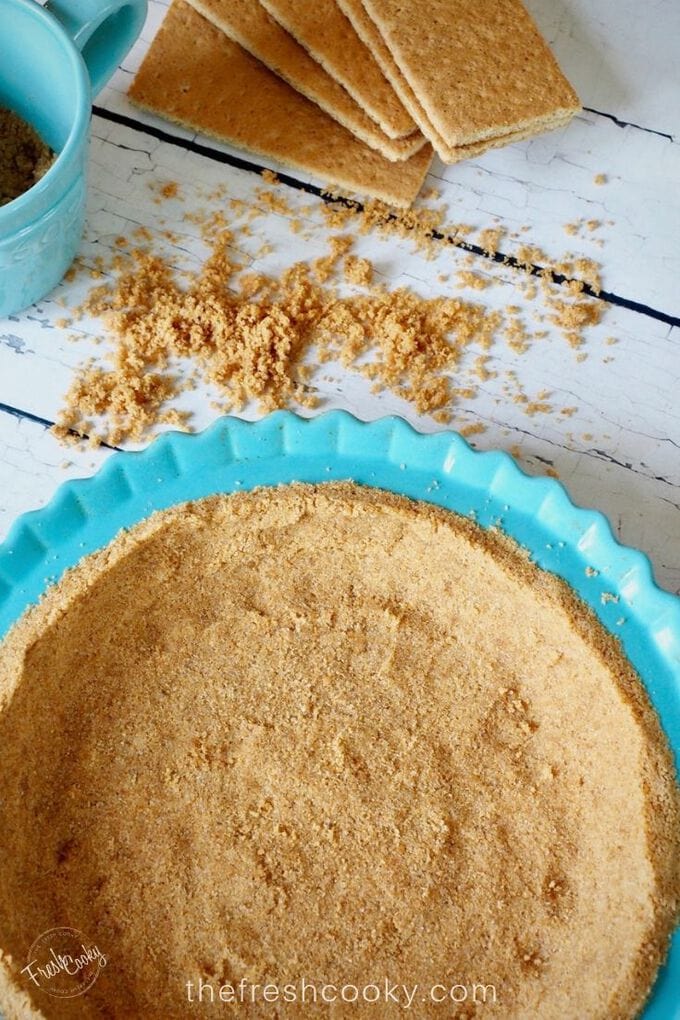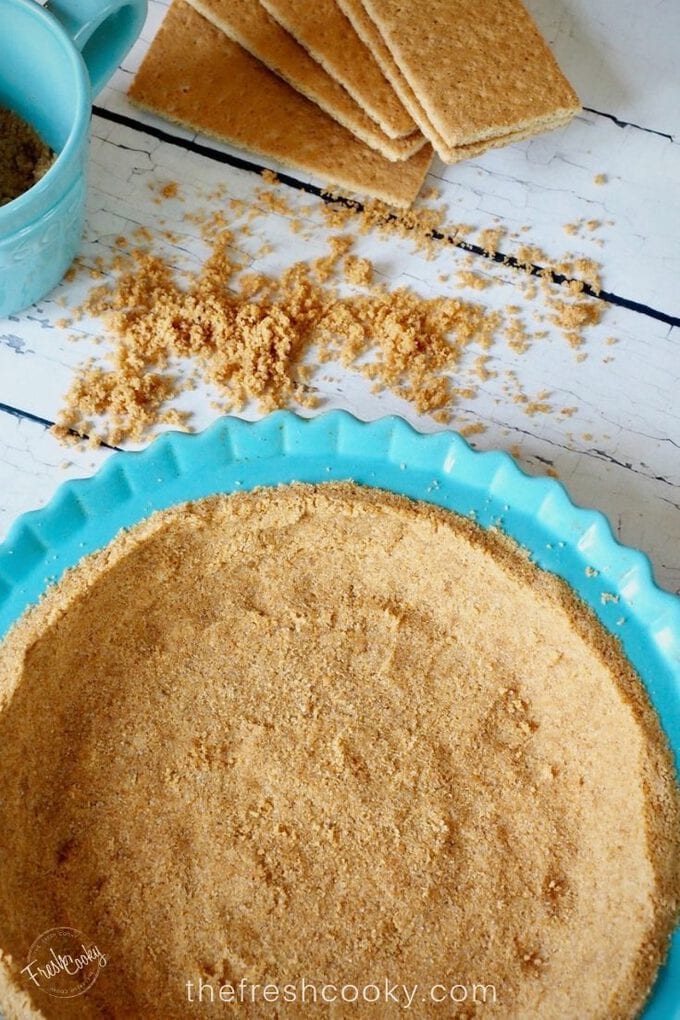 How to Make Award Winning Key Lime Pie
This traditional key lime pie recipe takes a bit of planning, but it's so easy and so worth it, every sweet-tart pucker powered bite.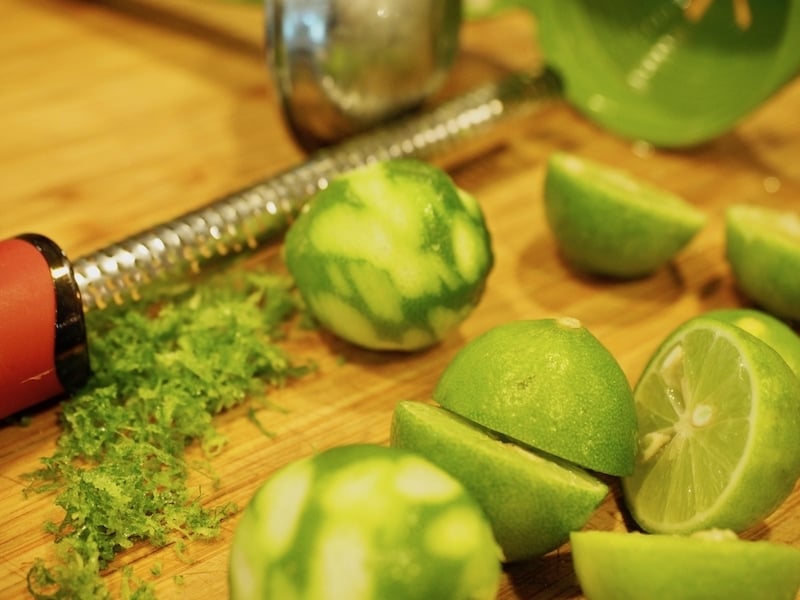 Wash and dry the limes and get out your zester, zesting just the green part of the lime, not into the bitter white "pith."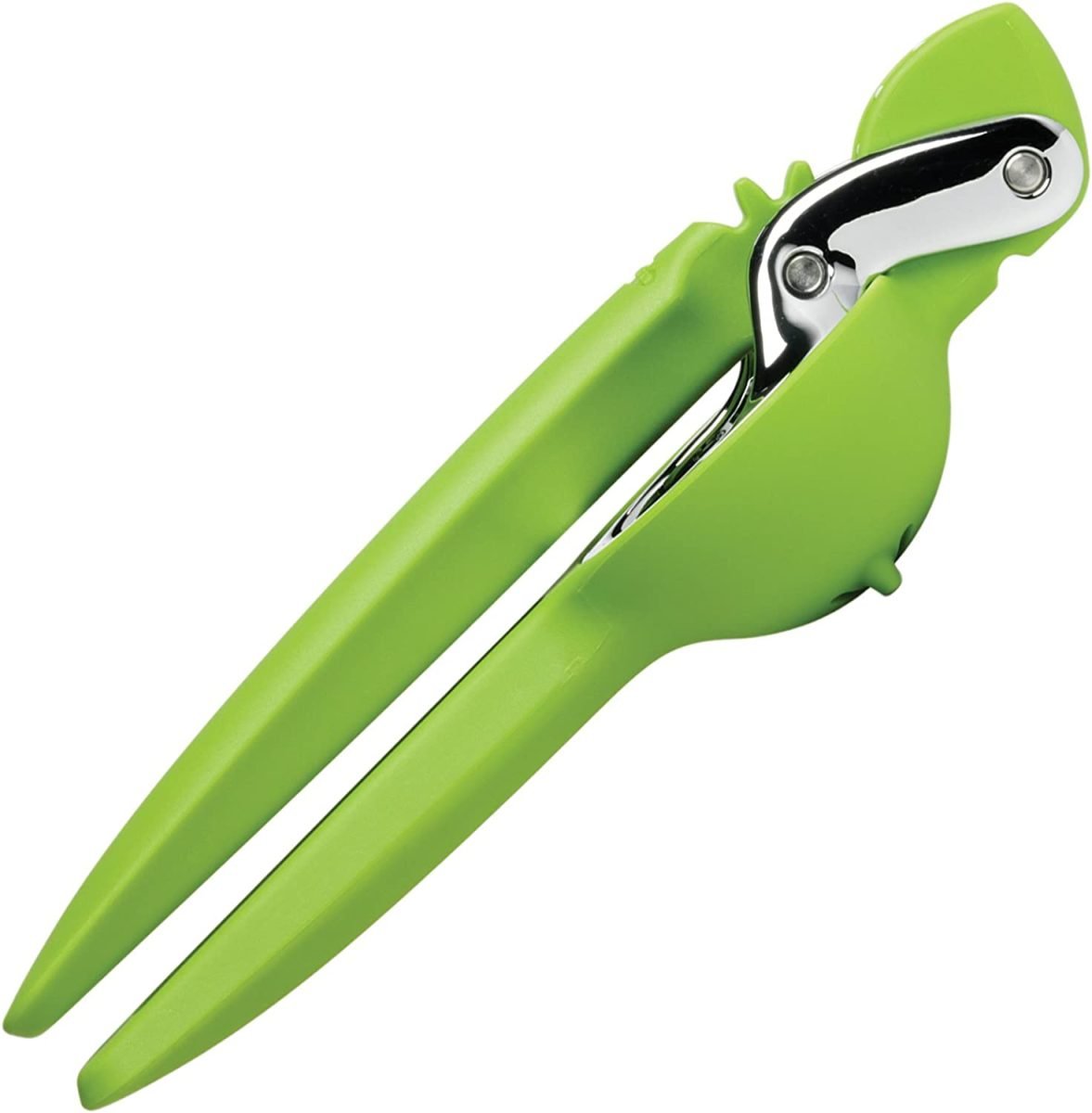 My Favorite Juicer
20% more juice than other methods
Strains while juicing
Easy to clean
Dishwasher safe
Reduces hand fatigue
CHECK IT OUT >>
Juice the limes, this hand juicer works like a charm and is probably the MOST used tool in my kitchen, besides my favorite knife and mini measuring cup, is that weird?
It took 24 Key Limes to get a little over 2/3 of a cup of juice, plus 1 Persian lime to get it up to 3/4 cup lime juice. I reserved one key lime to use as garnish.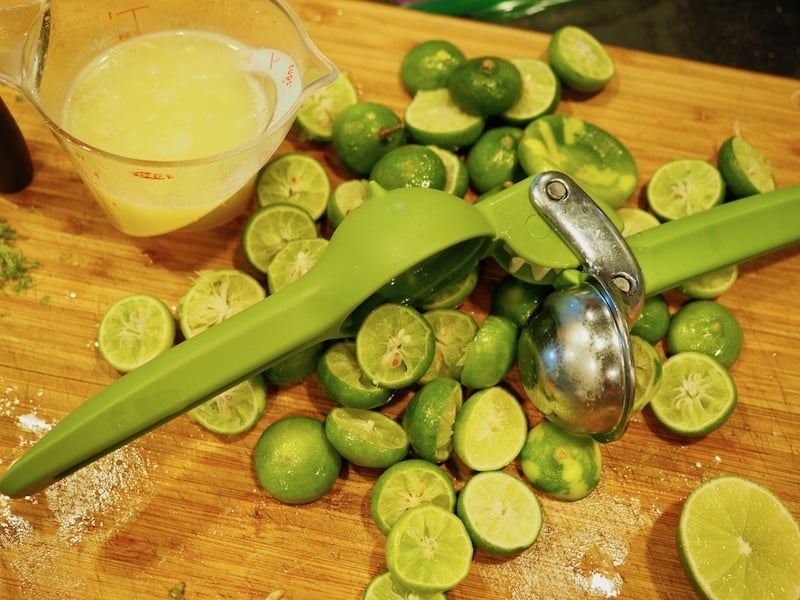 How to Thicken Key Lime Filling
Now that you've done the hardest part, pour the sweetened condensed milk, sour cream, key lime juice, egg* yolks and lime zest into the bowl of a mixer (I love this type of recipe, where you just dump and mix).
Beat on low until combined, then increase speed and beat medium-high for 2-3 minutes. Scraping down the sides every now and then. It should be thick and creamy, nice and thick, whip longer if it's still a bit runny.
To ensure a firm key lime filling, beat it on medium-high speed for 2-3 minutes or whisk vigorously. Bake at the correct temperature until set; it will further firm up as it cools.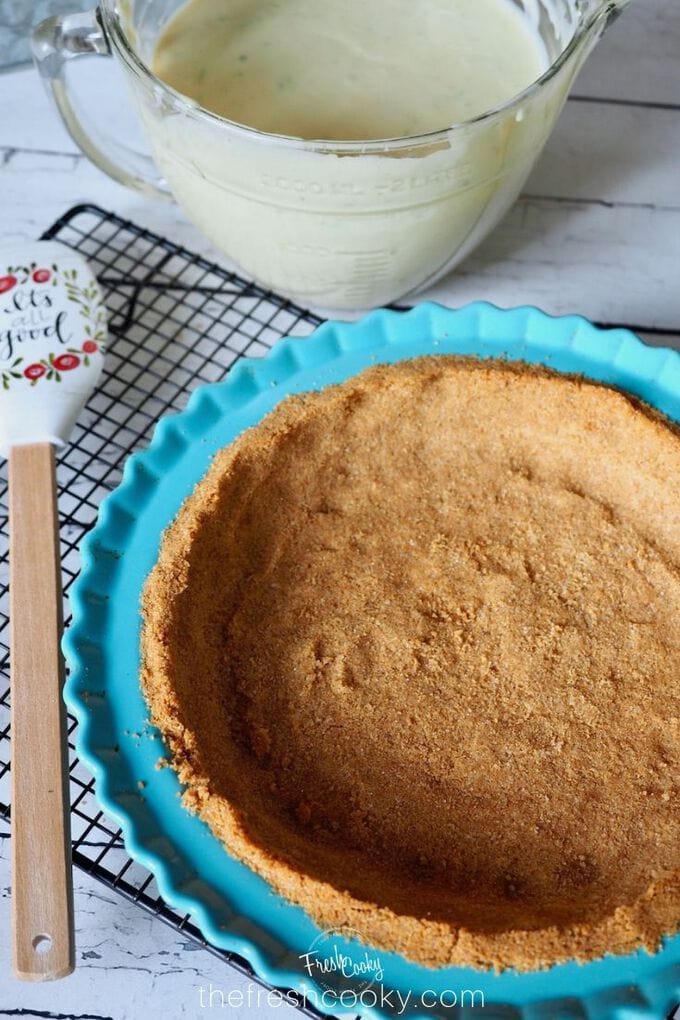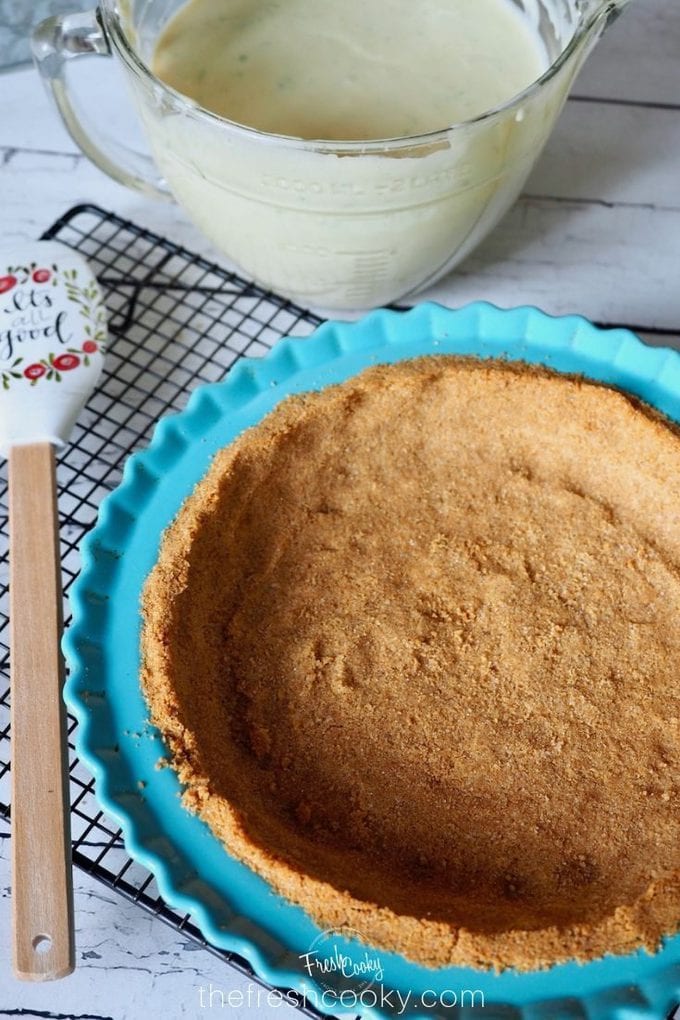 Pour mixture into cooled graham cracker crust.
Bake for 350°, 15-20 minutes, just until filling wiggles a bit in the center when gently shaken back and forth, careful you don't allow it brown.
Cool on wire rack for 30 minutes, then place in fridge for at least 3 hours before serving (you can still serve earlier, it just won't be quite as set as it will a bit later. I personally recommend you bake it the day before you need it.
A beauty isn't it! While the pie is cooling, make your whipped cream, it's optional, but does add a beautiful touch.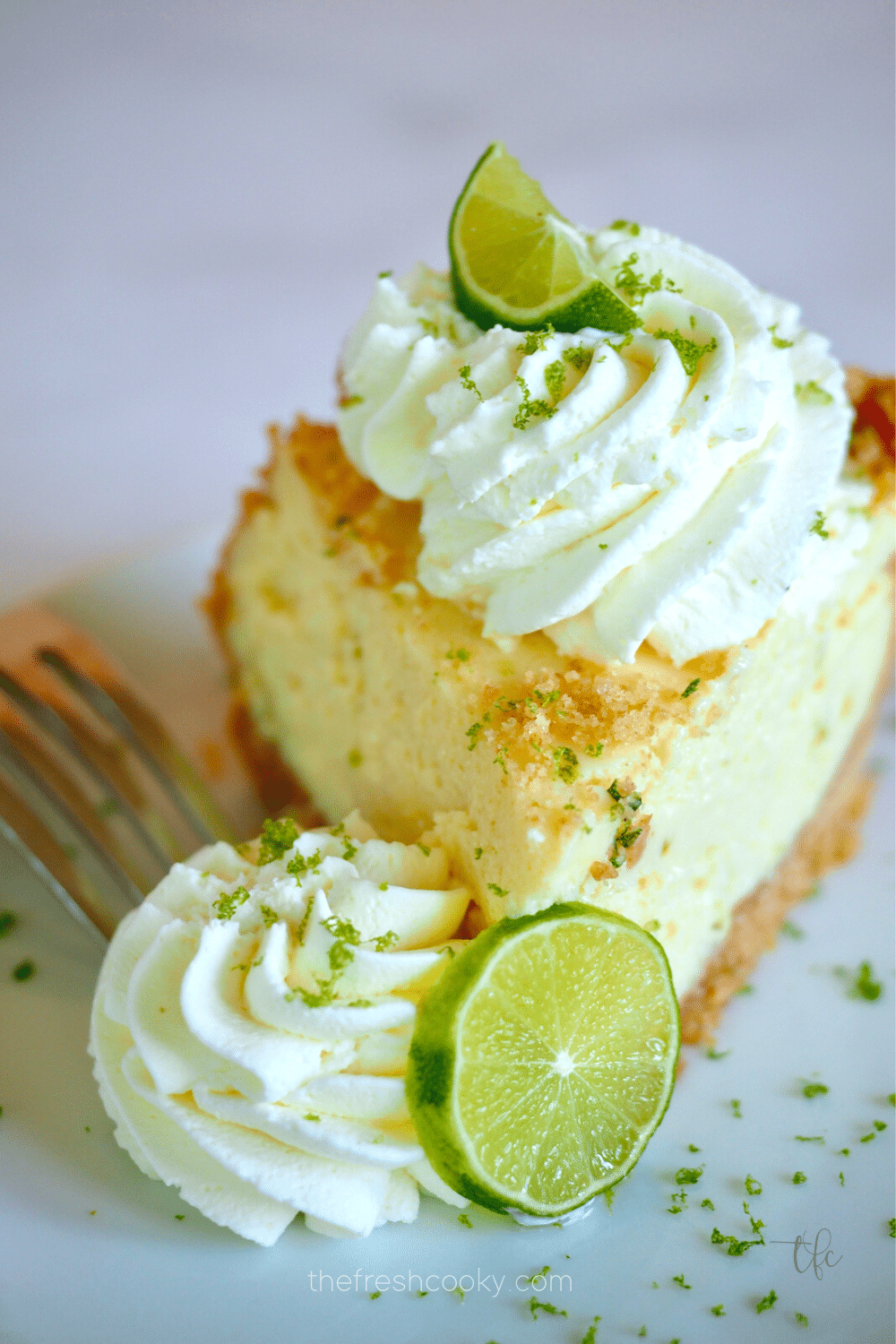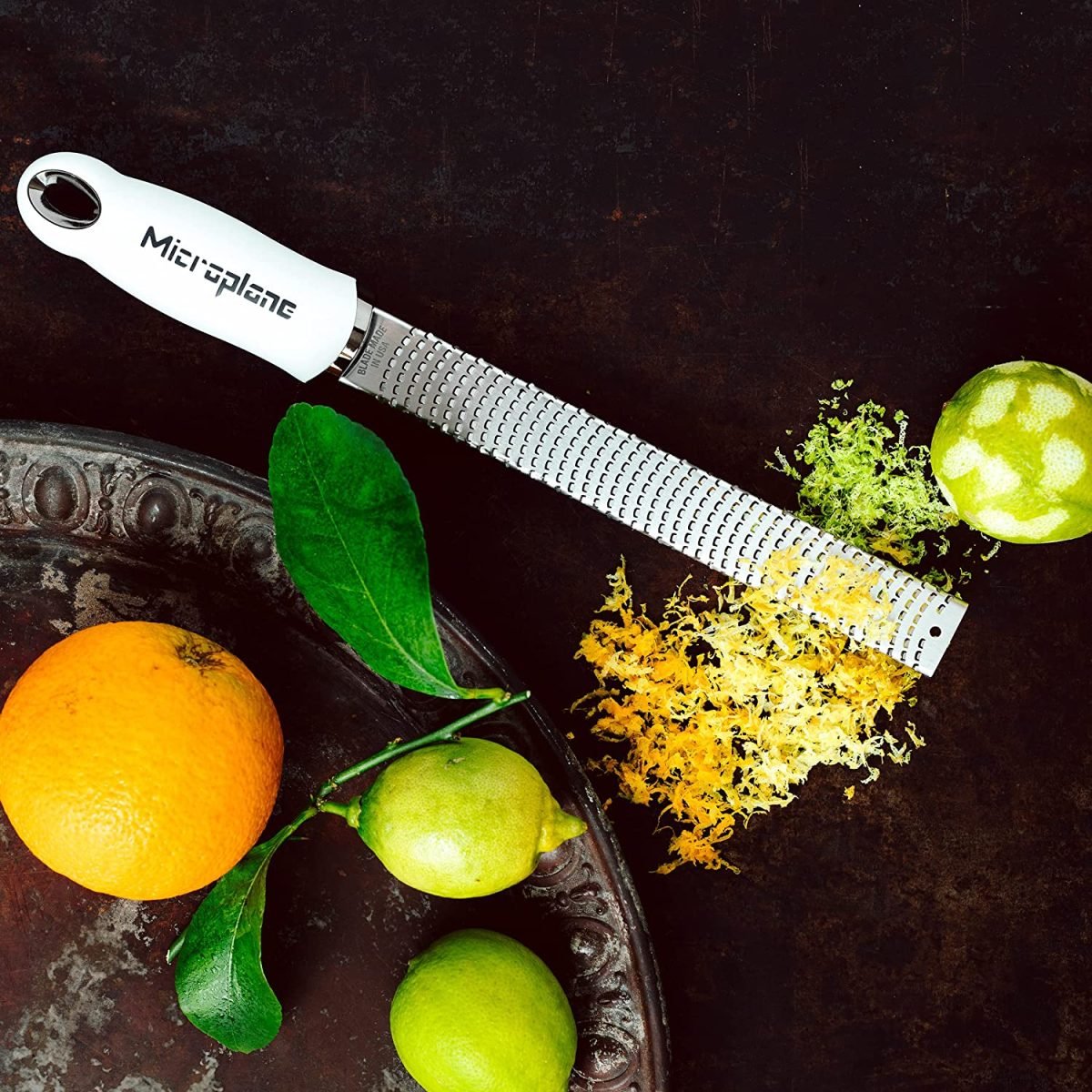 My Favorite Juicer
Made from surgical steel.
Leaves bitter pith behind
Dishwasher safe
Made in the USA
Use on coconut, chocolate, cheese, nuts, spices, and more!
CHECK IT OUT >>
How to use Leftover Sweetened Condensed Milk
Frequently Asked Questions
Can I make Key Lime Pie Gluten Free?
YES! Easily convert this recipe to gluten free, by substituting gluten free grahams.
EGG FREE Key Lime Pie | Simply omit the eggs, it won't be quite as creamy, but it will still set up!
Key Lime Pie without eggs?
You may omit the egg yolks if needed, they provide some of the lift and lightness, enhance the color and creaminess of the pie, but it should still set up just fine.
Can I make using a different crust?
Again yes, we at TFC are all about u0022Making it Yoursu0022 so do what you want to do. I have many readers who make their key lime pie using a store bought graham cracker crust, I have some who have made it with a delicious cookie crust (yum!) and others who have used a regular pie crust.
Can I replace Key limes with Persian Limes?
If you can't find fresh Key Limes in the store, I can tell you that I've used regular (larger) Persian limes for other Key Lime recipes; it's not quite as tart, so I'll add another lime or two worth of zest, but otherwise it's delicious.
Recipe adapted from Souffle Bombay.
How to Make Stabilized Whipped Cream
In a cool mixing bowl (sometimes I'll put mine in the freezer for a few minutes if it's a hot day) pour your cold whipping cream (heavy cream) into the mixing bowl and using a hand mixer fitted with a whisk attachment and whip on high speed until stiff peaks form. See my post on homemade stabilized whipped cream.
Add in powdered sugar and vanilla extract and continue to whip until firm, more firm than you are used to, you want it nice and thick, almost to butter!
Scoop whipped cream into a piping bag with a tip (this is a good starter set), and keep in the coldest part of your fridge until the pie is completely cooled and ready to serve.
How to pipe whipped cream without a pastry bag
Simply scoop whipped cream into a sandwich baggie and once ready to pipe, snip off a corner to desired size — about 1/2 inch), pipe as desired.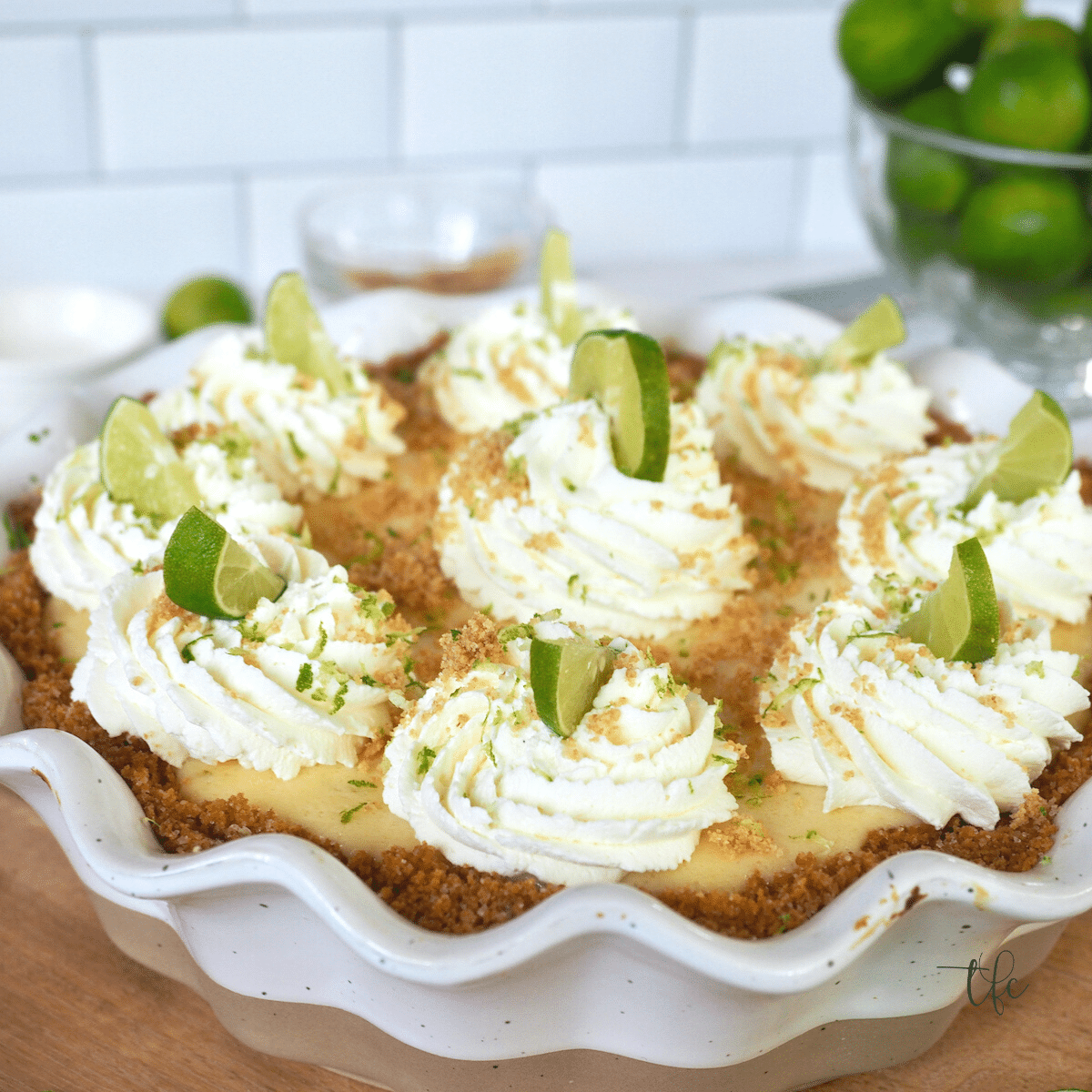 Garnish, if desired with a whipped cream, slices of lime, reserved graham cracker crumbs, and grated lime zest.
Keep refrigerated until ready to serve.
Variations & Substitutions
Use Store-Bought Crust | While a homemade graham cracker crust is not only easy but delicious, you may substitute it for your favorite store-bought graham cracker crust.
Swap Persian Limes for Key Limes, not quite as limey, but still delicious.
Use Nellie & Joe's Key Lime Juice and skip juicing altogether.
Use plain Greek Yogurt instead of sour cream.
How to make Mini Key Lime Pies
I love when my readers get creative, make it their own! A reader reached out to me to see if she split it into mini pie pans how long she should bake them and here's her response.
Eight minutes worked perfectly for the mini pies! This recipe made 12 mini pies and they were delicious!

~ Jennifer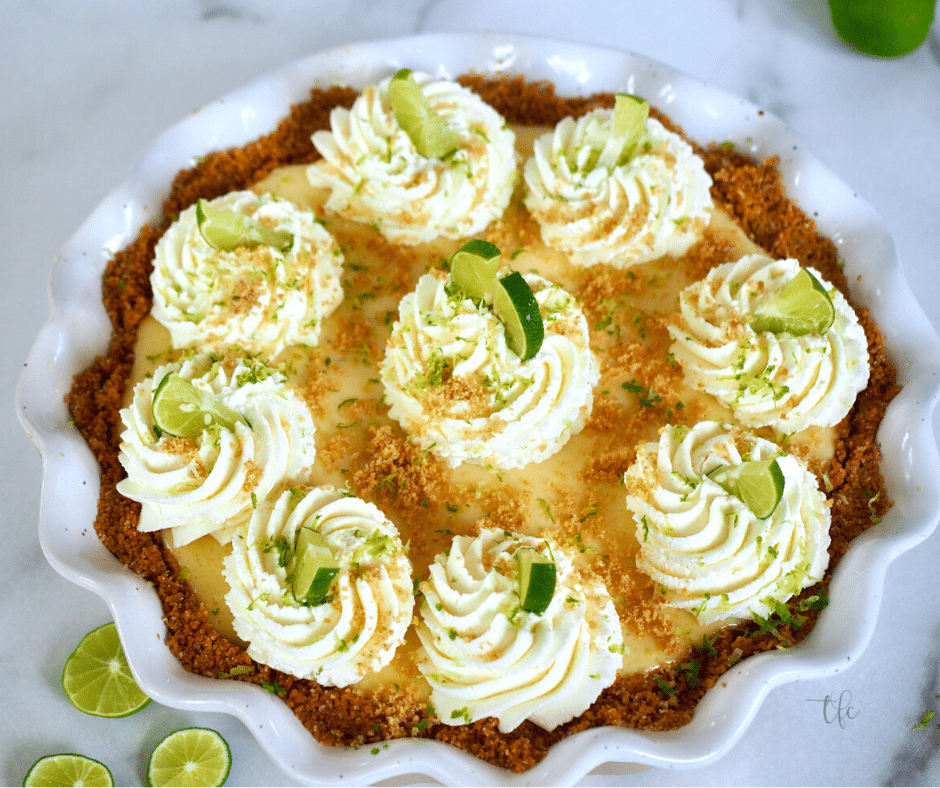 Let me know if you enjoyed making this award winning key lime pie recipe! Pop down below the recipe to the comments!
Recipes that compliment Key Lime Pie!
More Fantastic Cool Desserts:
Don't forget that while we think of Key Lime Pie as a summertime dessert, it's a delicious, tasty and beautiful non-chocolate, non-pumpkin holiday dessert as well! The most popular recipe on the blog, year round!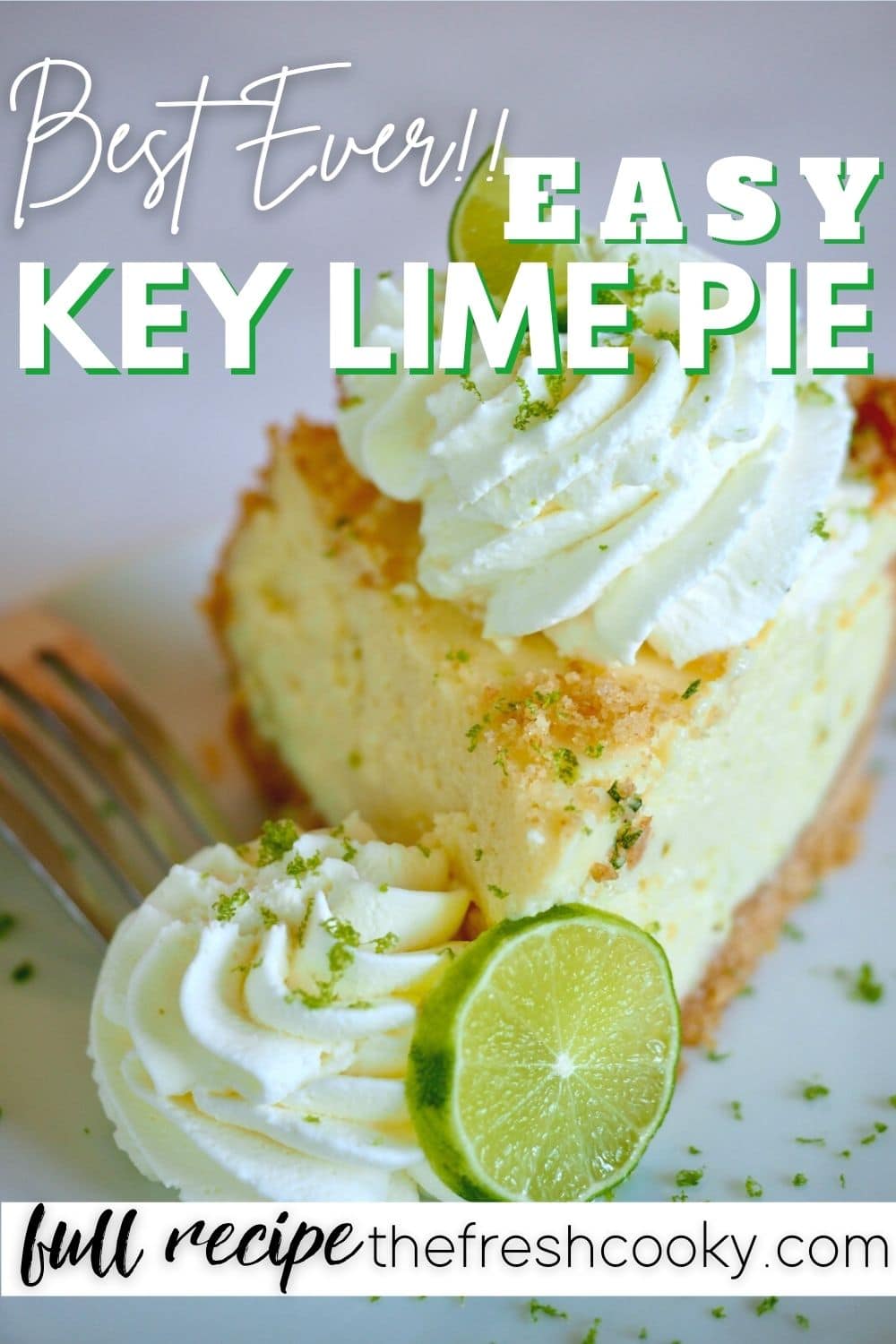 Like this recipe?
Don't forget to give it a ⭐️⭐️⭐️⭐️⭐️ star rating and comment below the recipe!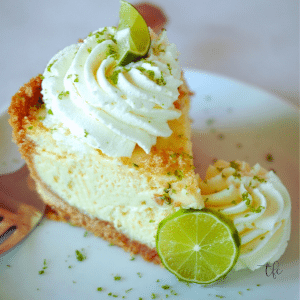 The BEST Key Lime Pie
This is the BEST Key Lime Pie, so easy too! A traditional Key Lime pie recipe that is, citrusy, sweet-tart — the perfect sweet to-pucker ratio; light and bright with a crisp not-to-sweet graham cracker crust! Award winning!
Ingredients
Graham Cracker Crust
2

cups

graham cracker crumbs

,

1 sleeve equals about a cup

1/4

cup

sugar

6

Tablespoons

butter

,

melted
Key Lime Pie Filling
2

cans

sweetened condensed milk,

14 ounce cans, I love Organic

1/2

cup

sour cream

,

I use full fat, may use Greek Yogurt too

2-3

Key Limes

,

zested (Persian limes may be used)

3/4

cup

Key Lime juice*,

about 30 Key Limes and about 9 Persian limes if using

2

large

egg yolks
Instructions
GRAHAM CRACKER CRUST
Preheat oven to 350°F. Melt butter and set aside. Finely crush graham crackers in food processor, blender or freezer baggie with rolling pin until all the same size. Add in sugar and pulse a few times until blended, pour in butter and stir with fork or pulse a couple times until mixed. Reserve 1/4 cup crumb mixture for topping, if desired.

Pour crust mixture into 9" deep dish pie dish and using hands, press into bottom and up sides, evenly. Bake for 6-8 minutes, just golden, not browned. Remove from oven and cool completely on wire rack.

*If needed, cool for 10 minutes on rack, then transfer to freezer for 20-30 minutes to cool completely.
KEY LIME FILLING
Preheat oven to 350°F. Wash, dry and zest limes, set zest aside until ready to use. Squeeze 3/4 cup of lime juice (about 24 key limes, or 6 Persian limes).

Pour lime juice, sweetened condensed milk, sour cream, egg yolks (if using) and zest into the bowl of a stand mixer and mix on low until combined, then increase to medium-high for 2-3 minutes. Scraping down sides once or twice. DO NOT SKIP THE LONGER WHIPPING. Whip until batter is thickened.

Pour Key Lime filling into COOLED graham cracker crust. Bake at 350 for 15-20 minutes until center is set, but still jiggles slightly when shaken. DO NOT ALLOW TO BROWN. Remove from oven to cooling rack and cool for 30 minutes. Place in fridge for at least 3 hours — if you remove sooner it will still taste good, it will just not be quite as set if you had let it sit longer in the fridge. See notes for details if making key lime mini pies.
WHIPPED CREAM AND GARNISH
While your pie is cooling, make whipped cream.Pour cold whipping cream into cool bowl and whip until stiff peaks form. Add vanilla and powdered sugar, mixing on low until combined, then increase to speed to medium-high and whip until thick, almost to a light butter stage.

Scoop out and into piping bag with star tip. Whipped cream in bag may be kept in fridge until ready to garnish pie. Garnish with whipping cream stars, a little lime zest, graham cracker crumbs and a slice of lime. Keep refrigerated until ready to serve and chill all leftovers.
✱ Kathleen's Tips
MAKE MINI PIES | A reader split the batter between 12 mini pies, baked on a cookie sheet for 8 minutes and they were perfect!
GLUTEN FREE | Swap GF Graham crumbs for regular.
EGG FREE | Omit eggs all together, will still set up but not as light.
KEY LIMES | May substitute regular Persian Limes or purchase Key Lime Juice (usually on the baking isle, Nellie & Joe's Key Lime juice is preferred). If using Persian limes and you want it more tart, add additional zest from 1-2 additional limes, you'll need about 9 limes.
*Several readers have replaced the sour cream with full fat & 2% thick Greek yogurt (plain), which tasted great! I do not recommend using fat-free items in this dish.
This recipe was adapted from Souffle Bombay's Prize Winning Key Lime Pie.
Nutrition
Serving:
1
slice
Calories:
447
kcal
Carbohydrates:
64
g
Protein:
9
g
Fat:
19
g
Saturated Fat:
10
g
Polyunsaturated Fat:
1
g
Monounsaturated Fat:
5
g
Trans Fat:
0.3
g
Cholesterol:
88
mg
Sodium:
271
mg
Potassium:
379
mg
Fiber:
1
g
Sugar:
53
g
Vitamin A:
558
IU
Vitamin C:
12
mg
Calcium:
263
mg
Iron:
1
mg
Nutrition Disclaimer
The Fresh Cooky is not a dietician or nutritionist, and any nutritional information shared is only an estimate. We recommend running the ingredients through an online nutritional calculator if you need to verify any information.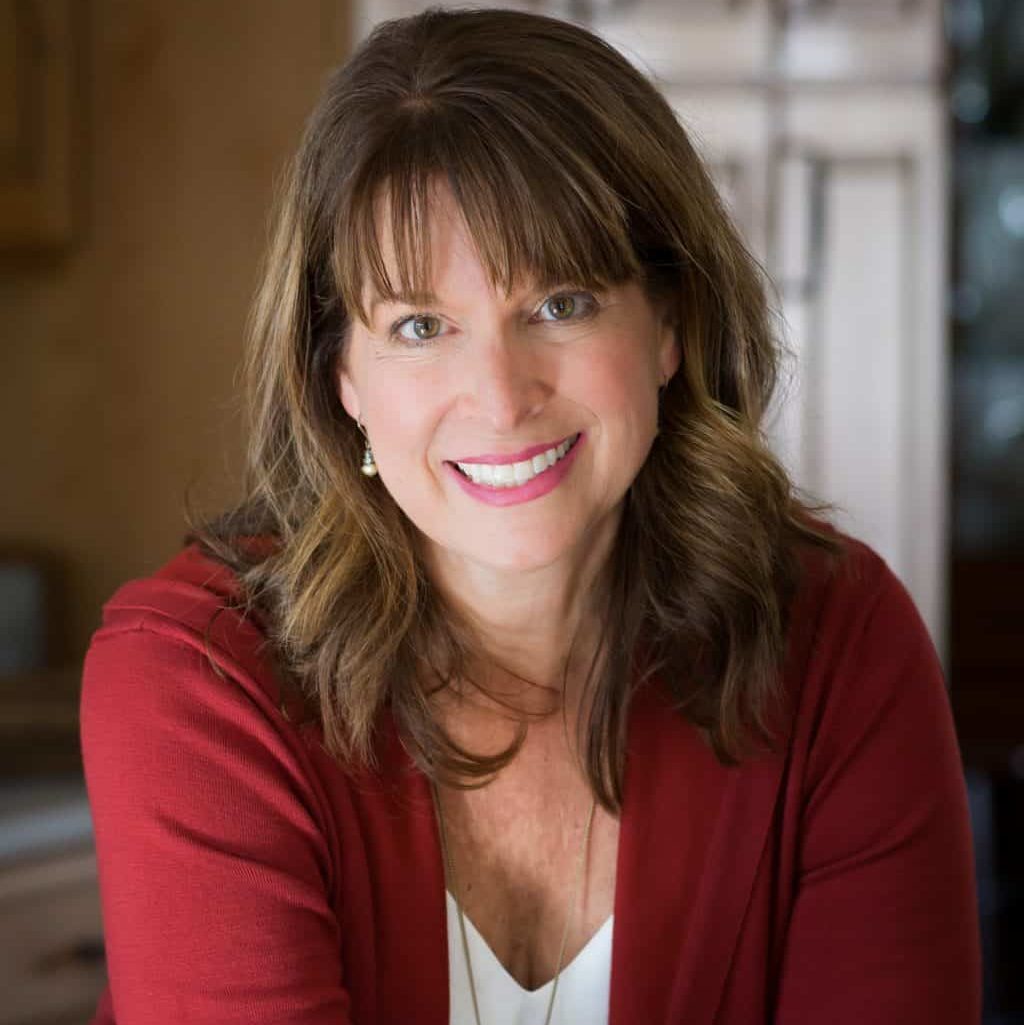 About Kathleen Pope
Recipe Innovator | Food Photographer | Food Writer
Hi, I'm Kathleen Pope. Here at The Fresh Cooky you will find easy, mostly from-scratch, trusted recipes for all occasions. From speedy dinners to tasty desserts, with easy step-by-step instructions. I am here to help teach you how to make mouthwatering recipes without spending hours in the kitchen. Read more about Kathleen here.