Easy Korean Fried Chicken Recipe (Air Fryer or Oven)
As an Amazon Associate, I earn from qualifying purchases. Please read my disclosure policy.
Korean Fried Chicken is perfectly crisp and smothered in a spicy-sweet and tangy barbecue sauce. Our version is made in the air fryer with chicken thighs! Tastier and more juicy than wings!
Korean Barbecue Chicken aka the other "KFC" is great for all kinds of occasions. Get your picky kids to eat something different, serving the delicious entrée over a bed of steamed rice. Or present it as an appetizer for your next football party!
If you're hungry for more easy air fryer recipes, check out these Crispy Air Fryer Turkey Legs, my Air Fryer Halibut Recipe, tender Air Fryer Steak Tips and my new Pigs in a Blanket recipe!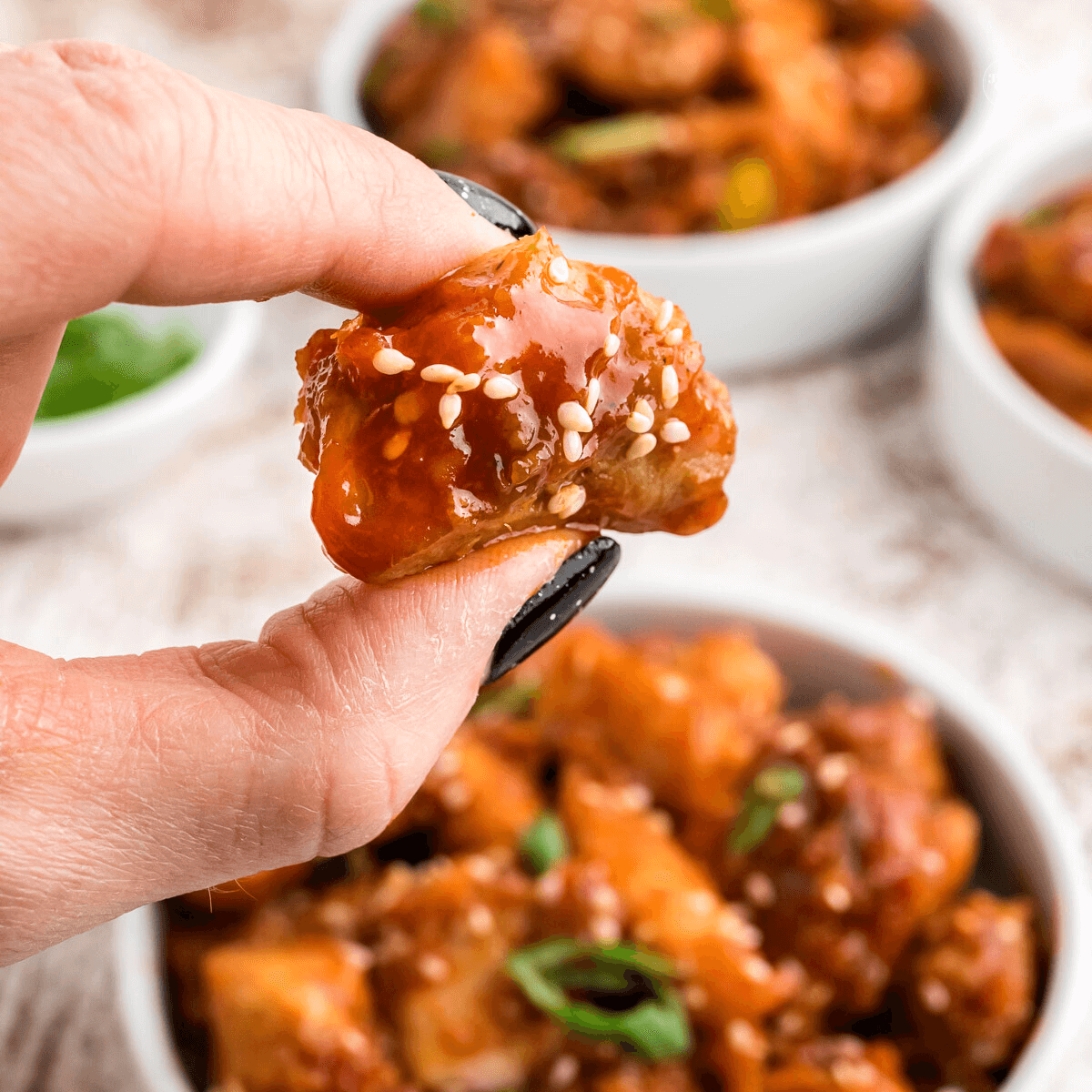 Love Asian inspired recipes? Try my faves; Chicken Fried Rice, Healthy Mongolian Beef and this tangy and easy Asian Grilled Pork.
Here in Colorado we have a fast food restaurant called WingWok, their entire menu revolves around "KFC" or Korean Fried Chicken, which all started in South Korea. It's a family favorite of ours, so I knew it was time to do a recreation.
Our youngest son eats there ALL.THE.TIME, his favorite sauce is GoChuJang and gives our version of Korean chicken wings a big thumbs up, 5 stars! WingWok's version is made in a traditional wok using hot oil, twice fried, twice as crispy!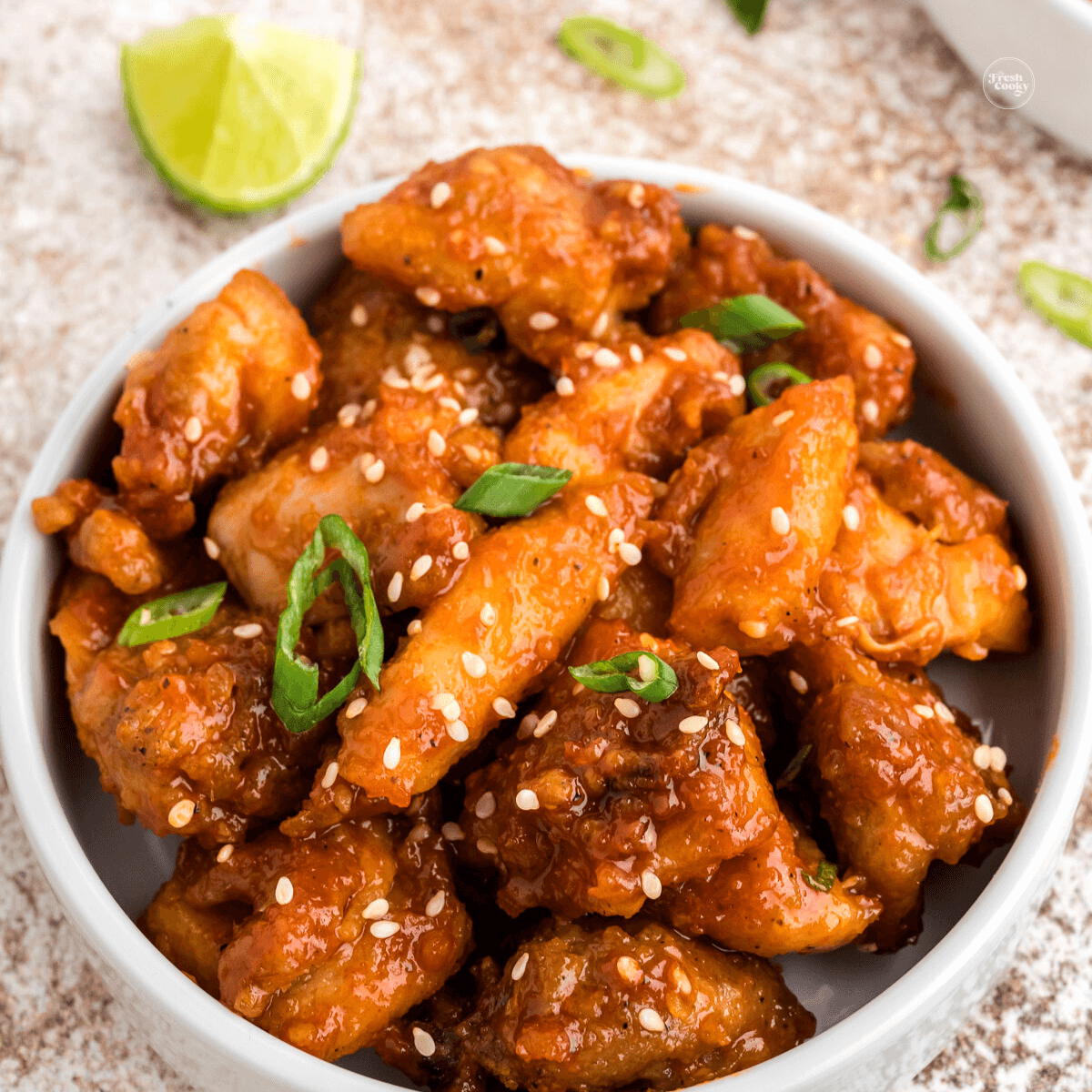 Why You Will Love this Recipe for Korean Chicken
Quick | 10 minutes of simple prep and 20 minutes of hands-off cooking, dinner is on the table!
Healthier | Made in the air fryer, it's healthier and less messy.
Meal or App | This Korean barbecue chicken recipe is excellent as an entrée served over steamed rice or a crisp or fermented salad. But it also works great as an irresistible appetizer for your next big game party, March Madness, Super Bowl — you get the idea!
Key Ingredients
Ingredients, directions and nutritional information in the printable recipe card at the end of the post.
Korean Fried Chicken Air Fryer
Chicken thighs | Use skinless and boneless chicken thighs. You may use chicken breast, chicken drumsticks, wings, or drumettes if preferred.
Seasonings | Season the chicken with kosher salt, black pepper, garlic powder and ginger.
Vegetable oil | Vegetable oil helps to hold the seasonings and cornstarch stick to the raw chicken bites and aids in preparing the air fryer basket so the ingredients don't stick to the bottom. Use another high-heat mild-tasting oil in place of the vegetable oil if needed. I like avocado oil or grapeseed oil.
Cornstarch | Coat the chicken pieces with corn starch to produce crispy chicken, you may also use potato starch if you have it on hand.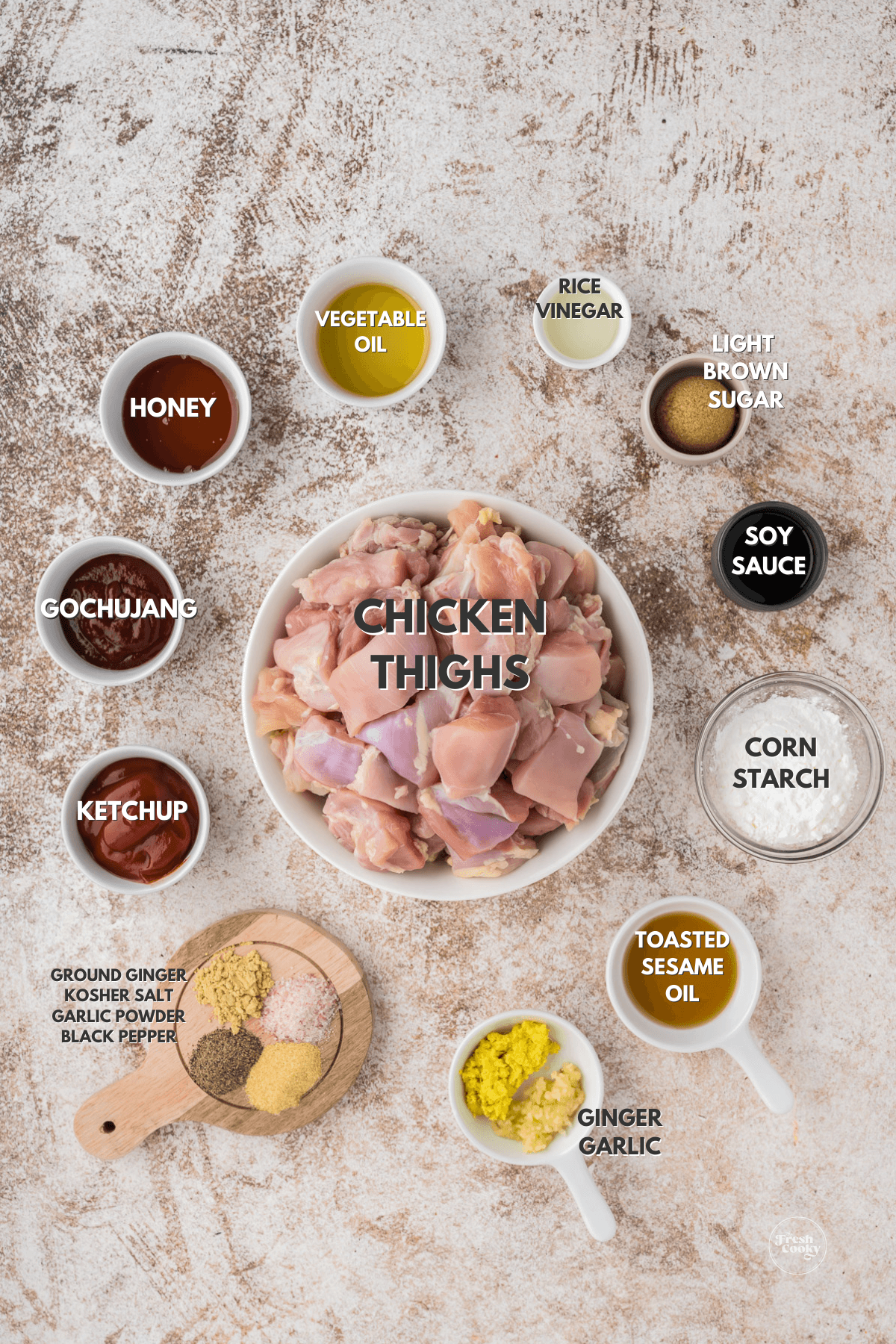 Korean Barbecue Sauce
Ketchup | One of the key ingredients to most homemade barbecue sauces is classic ketchup. Use your favorite brand or the highest quality ketchup from your local grocery store.
Gochujang Sauce | Pronounced gow·choo·jang, this unique ingredient plays a significant role in bringing authentic Korean flavor. Gochujang paste is a sweet, spicy, with salty and savory notes. Authentic fermented Korean Gochujang is made with carefully selected red peppers, rice and sea salt, you can try using try using sriracha or tabasco if you're in a pinch.
Honey | Gives the tangy barbecue sauce a touch of sweetness.
Brown sugar | Like honey, brown sugar adds some sweeter notes and balances the complex flavors of the sauce.
Rice vinegar | Rice vinegar gives the sauce a slightly acidic taste.
Soy sauce | Introduce savory, salty, and subtly sweet notes to the Korean barbecue sauce by adding your favorite brand of soy sauce or soy alternative.
Toasted sesame oil | More savory flavor and nutty notes are added to the sauce with a few drops of toasted sesame oil.
Ginger & Garlic | Use freshly grated or minced ginger and fresh garlic for the best flavors.
Garnish (Optional)
Toasted sesame seeds | If preferred, add some texture and contrast of color to the presentation of the dish with toasted sesame seeds.
Scallions | Sliced scallions further bring interest and vibrant color to the appearance of this Korean barbecue entrée.
Lime wedges | And finally, include a lime wedge or two to finish the look of your tasty meal!
How to Make Air Fryer Korean Fried Chicken with Barbecue Sauce
Step 1 | Coat the Chicken
First, prepare the chicken thighs for the air fryer. Start by patting the chicken thighs dry with paper towels so the seasonings will better stick to the surfaces.
Next, in a large bowl, toss the chicken with the oil and sprinkle it with the seasonings, including salt, pepper, garlic powder, and ground ginger. Then, toss the seasoned chicken with the cornstarch to evenly coat all surfaces.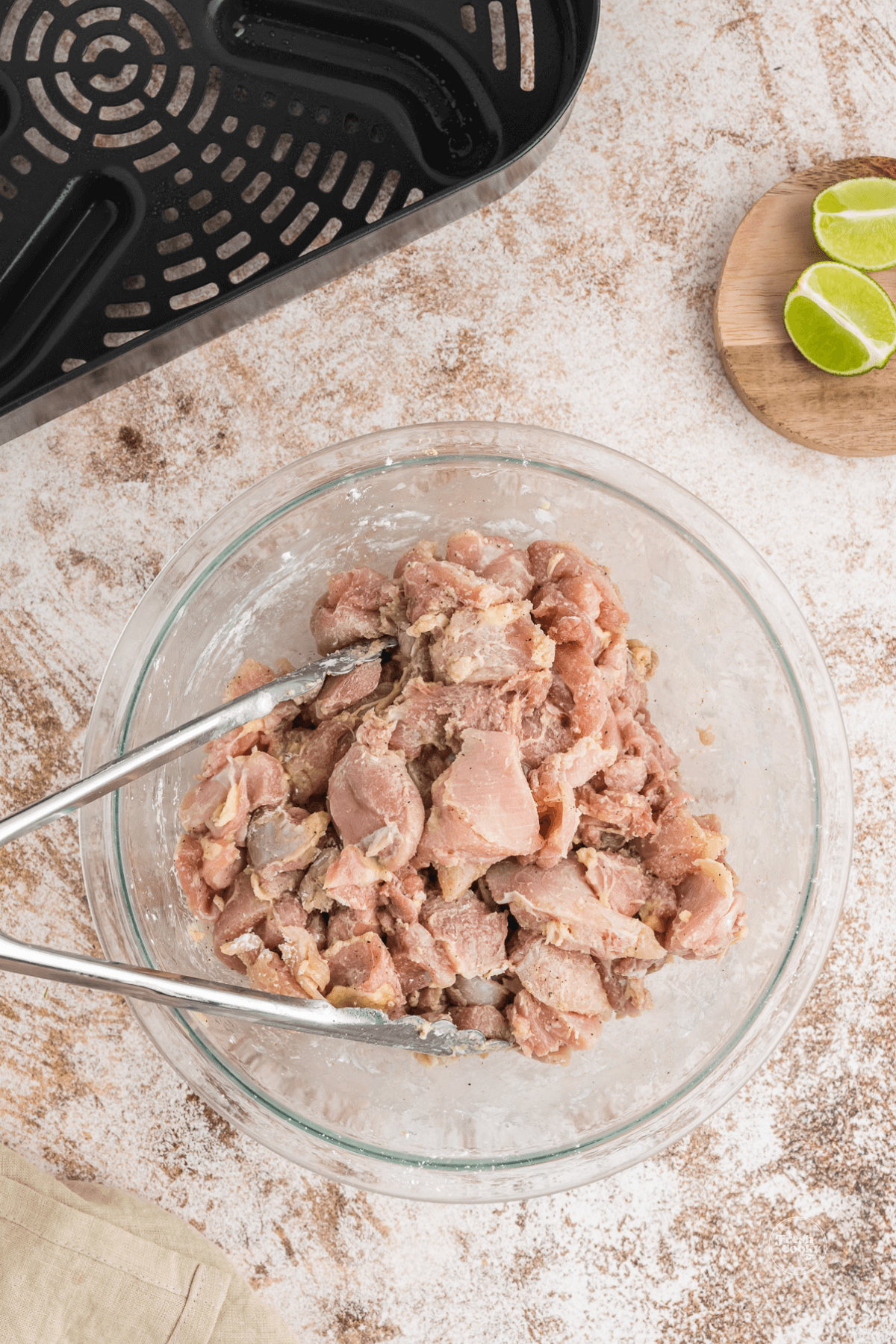 Step 2 | Prep the Air fryer
Spray the air fryer basket with spray oil (not non-stick cooking spray, it gums up your air fryer) or use a paper towel to wipe a thin coat of oil onto it.
Or line the basket with the parchment paper made for air fryers for less mess. This particular parchment paper is made with holes to allow the airflow the air fryer needs to cook the food properly. If you prefer, use air fryer silicone liners instead. Your goal is to prevent the chicken and seasonings from sticking to the bottom of the air fryer basket.
Then, preheat the air fryer to 400 degrees F.
Step 3 | Cook the Chicken Bites
Place the coated chicken bites in a single layer in the basket and cook for about 8 minutes. Then, turn the pieces and continue cooking for another 7-8 minutes until they are crispy and golden brown. You will likely need to cook the chicken in batches, depending on the size of your air fryer.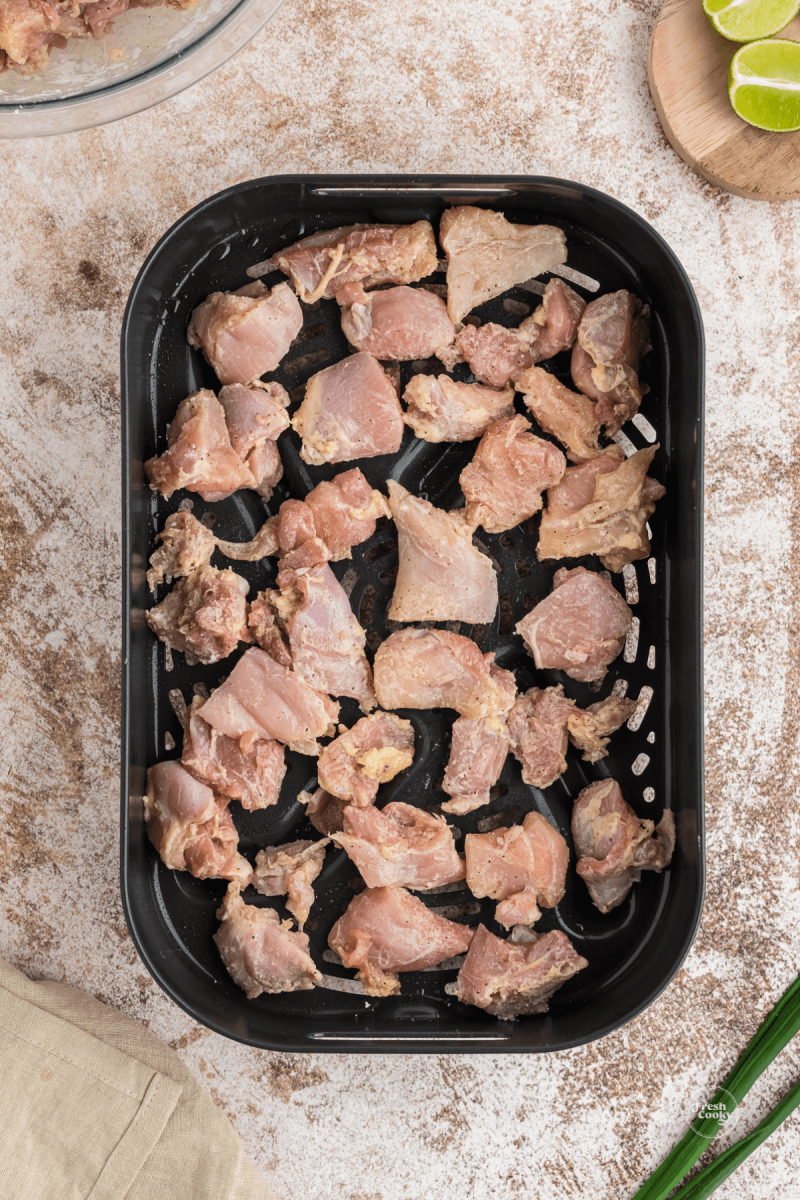 Extra crispy Korean Fried chicken, remove the chicken after cooking and transfer to a plate or wire rack. After cooling for 5 minutes, spray the fried chicken pieces with a light coating of spray oil, like Avocado oil. Then, place the chicken back in the basket in a single layer and fry for another 5 minutes. Repeat with the remaining bites, if necessary.
Step 4 | Make the Sauce
While the chicken is cooking, grab a small saucepan and toss in the sauce ingredients. Next, whisk them to thoroughly combine, and bring the ingredients to a brief boil over medium heat. Then, remove the sauce from the heat and set it aside until you are ready to serve.
Step 5 | Toss the Chicken in the Sauce and Serve!
Toss the air-fried chicken bites in the spicy sauce and garnish with toasted sesame seeds, a wedge of lime, and some freshly chopped scallion. Then, you're ready to serve this dish over rice or as a tasty appetizer!
Fresh Tips for the Best Korean Fried Chicken (Air Fryer)
If preferred, marinate the chicken bites in the seasonings for at least 30 minutes for even more flavor.
It's critical to cook the chicken in a single layer in the air fryer basket without overcrowding. That way, the airflow reaches all the pieces, and everything cooks evenly. If necessary, cook in batches until all the fried bites are complete.
Toppings
Make it look restaurant worthy! Garnish it with toasted sesame seeds, sliced green onions, and a few lime wedges! Authentically Korean!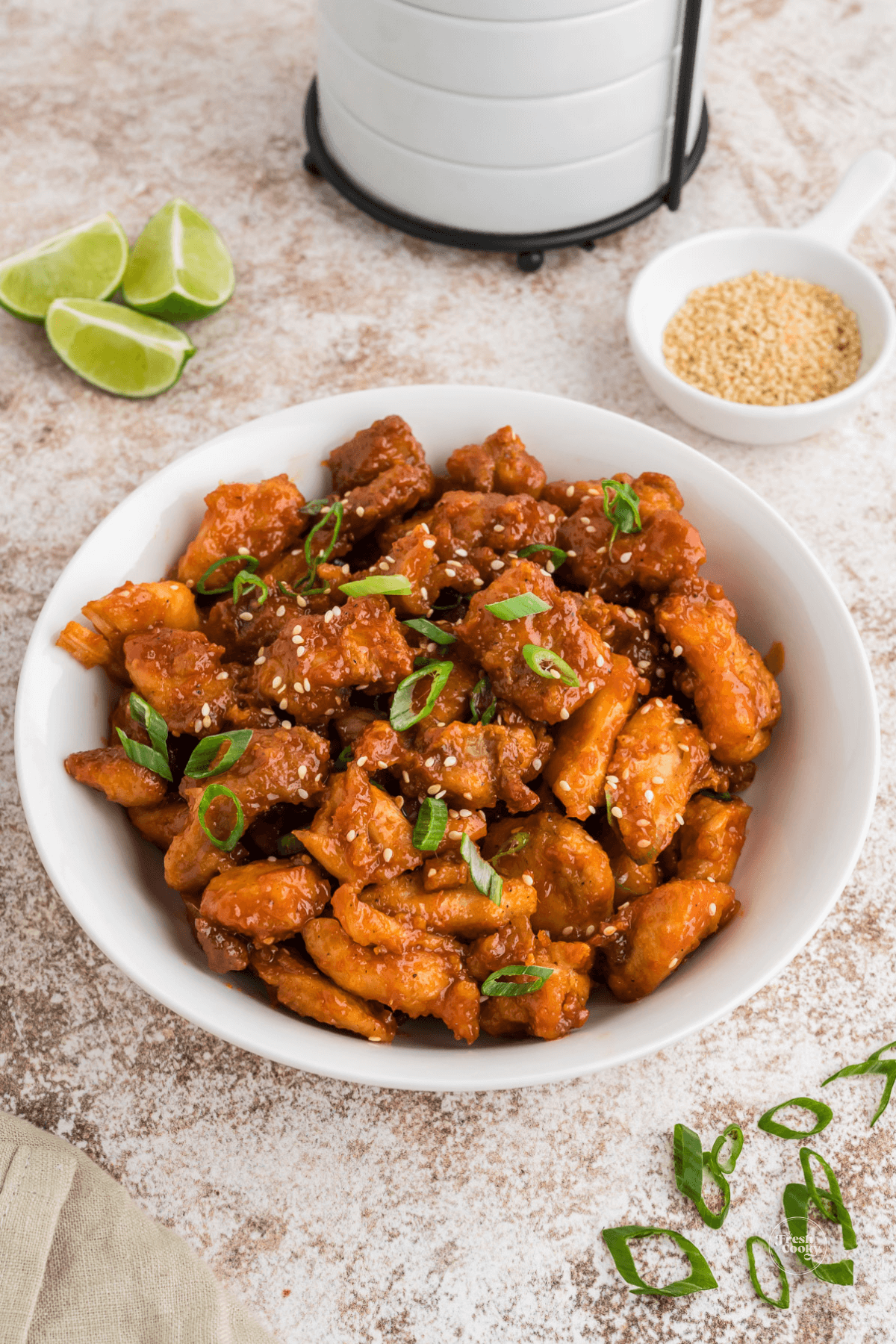 Variations & Substitutions
Spice it Up | Add extra Gochujang or Sriracha to make extra spicy Korean fried chicken.
Make it Gluten-Free | Although Gochujang sauce is naturally gluten-free, some soy sauces are gluten-free, check the labels. Good options are Tamari or Bragg's Liquid Aminos or even Coconut Aminos.
Skip the Chicken Thighs | Luckily this recipe can be easily made with chicken breasts, too!
Oven-Baked Korean Barbecue
If you don't yet have an air fryer but still want to make this tasty Korean dish, you can bake it in the oven instead. In general, you will preheat the oven to 425 degrees F and line a baking sheet with parchment paper.
Then, season and coat the pieces as directed, lay them in single layer on baking sheet and bake them for about 15 minutes, flipping halfway through. Make the chicken sauce on the stovetop as directed, and toss them together once both parts are complete.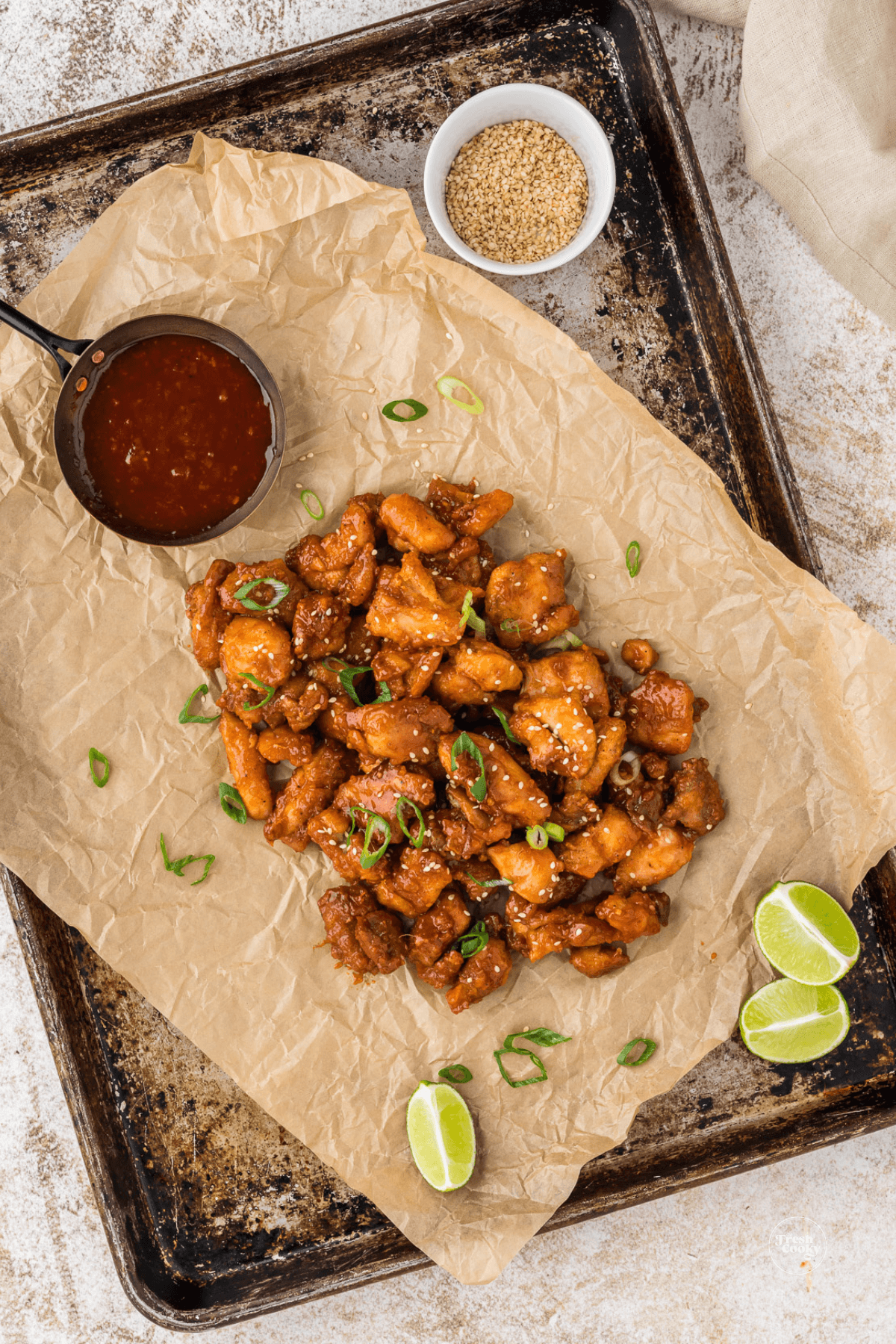 Storage Tips
Fridge | Place leftover Korean fried chicken in an airtight container in the fridge for up to three days. Then reheat them when you're ready by tossing them back in the air fryer, oven, or microwave. At same temps as directed above, for about ½ the time, until heated through.
Freeze | Freeze leftover chicken (before tossing in sauce for best results) on a parchment lined sheet pan in freezer 1-2 hours, once frozen, place in airtight container or zip-top baggie, freeze up to 3 months. Sauce may also be frozen.
Reheat Korean chicken straight from frozen in air fryer at 400 degrees for 5-7 minutes until crispy and hot.
Can you make air fryer Korean BBQ Chicken with wings or drumettes?
Sure! To make Korean BBQ chicken wings or drumettes, use the same process described above. Be sure to pat the wings and drumettes dry and air fry at 400 degrees F for about 15 minutes. Then, flip the chicken and fry for another 5 minutes. Finally, let them cool for around 5 minutes, and fry once more for another 5 minutes. Toss in the delicious sauce and enjoy!
What should you serve with homemade Korean barbecue chicken?
Traditionally, this Korean-inspired dish is served over steamed short-grain white rice, pickled radish, and and ice cold beer! Apparently it's a flavor sensation!
The vegetables that go well with Korean barbecue chicken include stir-fried veggies, fresh salads, Korean cucumber salad and of course kimchee.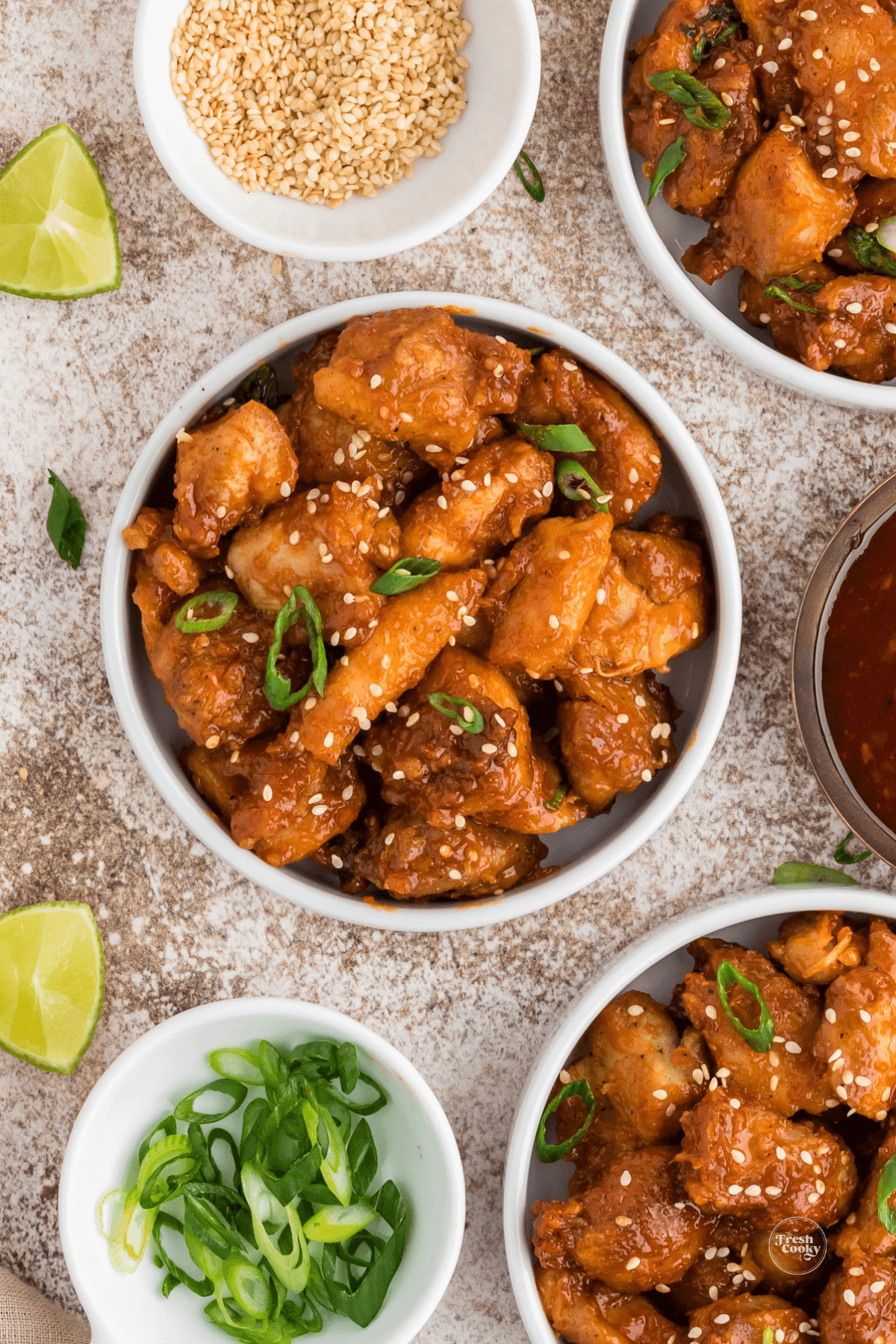 Do you have to preheat the air fryer?
Technically, no. I like preheating especially for recipes like this, because it immediately creates a crispy outside, sealing in the juices of the chicken.
Preheating the air fryer is not necessarily required because it heats up much faster than other appliances, like ovens. You may want to cook the ingredients for a little longer, though. Keep a close eye on the chicken and consider adding around three to five minutes to the cooking time.
What to serve with homemade Korean barbecue chicken?
Traditionally, this Korean-inspired dish is served over steamed short-grain white rice, pickled radish, and an ice cold beer! It's a flavor sensation! Trying that the next time!
Vegetables that go well with Korean barbecue chicken include stir-fried veggies, fresh salads, Korean cucumber salad and of course kimchee.
More Delicious Asian-Inspired Recipes
The secret to the extra crispy texture for Korean fried chicken is in the second fry. It takes a few extra minutes, but is so worth it!
I hope you loved this recipe for Korean Fried Chicken in the Air Fryer — if you did, would you share your creation on Instagram, Facebook and Pinterest? And be sure to comment below!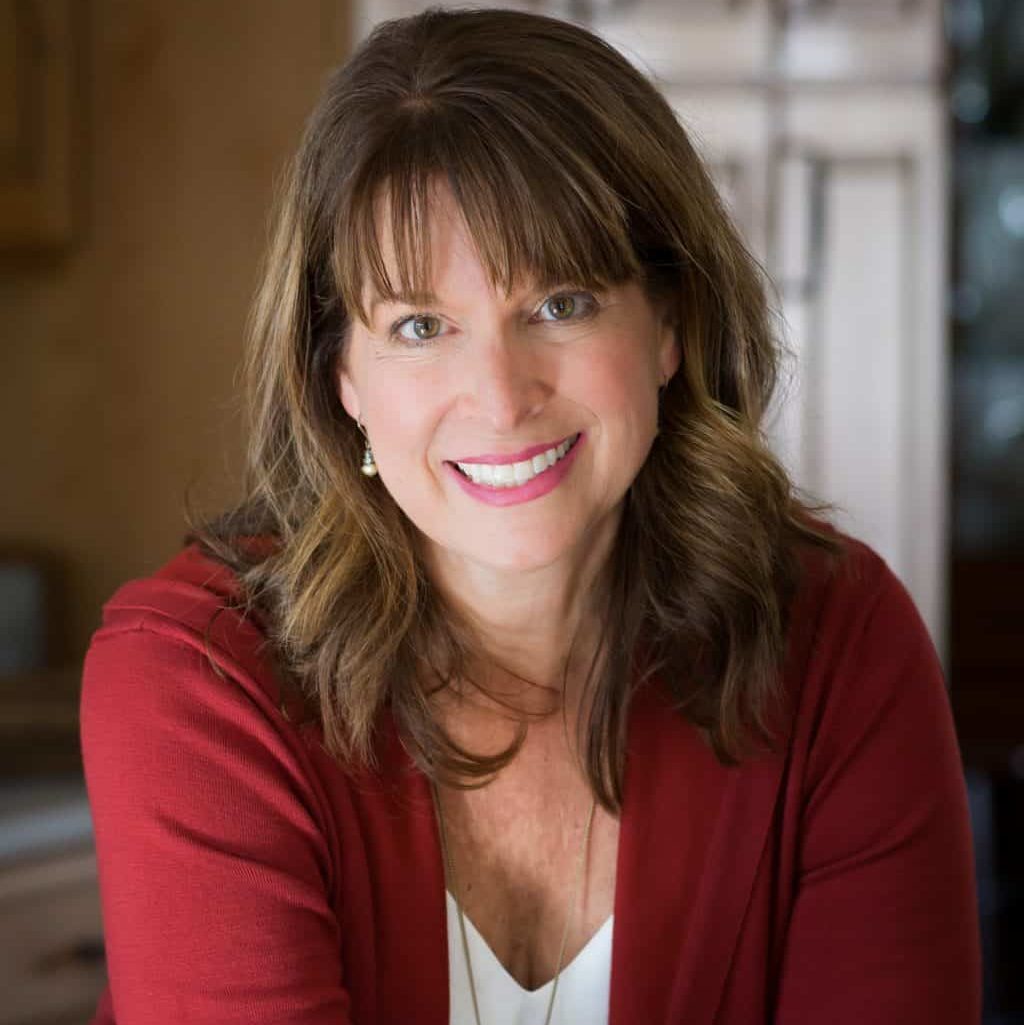 About Kathleen Pope
Recipe Innovator | Food Photographer | Food Writer
Hi, I'm Kathleen Pope. Here at The Fresh Cooky you will find easy, mostly from-scratch, trusted recipes for all occasions. From speedy dinners to tasty desserts, with easy step-by-step instructions. I am here to help teach you how to make mouthwatering recipes without spending hours in the kitchen. Read more about Kathleen here.