Ground Pork Stir Fry with Holy Basil (Pad Kra Pao)
As an Amazon Associate, I earn from qualifying purchases. Please read my disclosure policy.
Thai spicy ground pork stir fry with holy basil (Pad Kra Pao) is a simple and delicious 30-minute meal you must try! Loaded with fresh basil and green beans, this nutritious stir fry is typically served with rice, but can also be enjoyed on its own.
If you are a fan of Thai food, you will love the perfect balance of its rich and savory flavor with just a touch of sweetness.
For other delicious quick and tasty meals try my Healthy Beef and Broccoli, Healthy Mongolian Beef, Coconut Curry Chicken, or my Easy Crockpot Butter Chicken.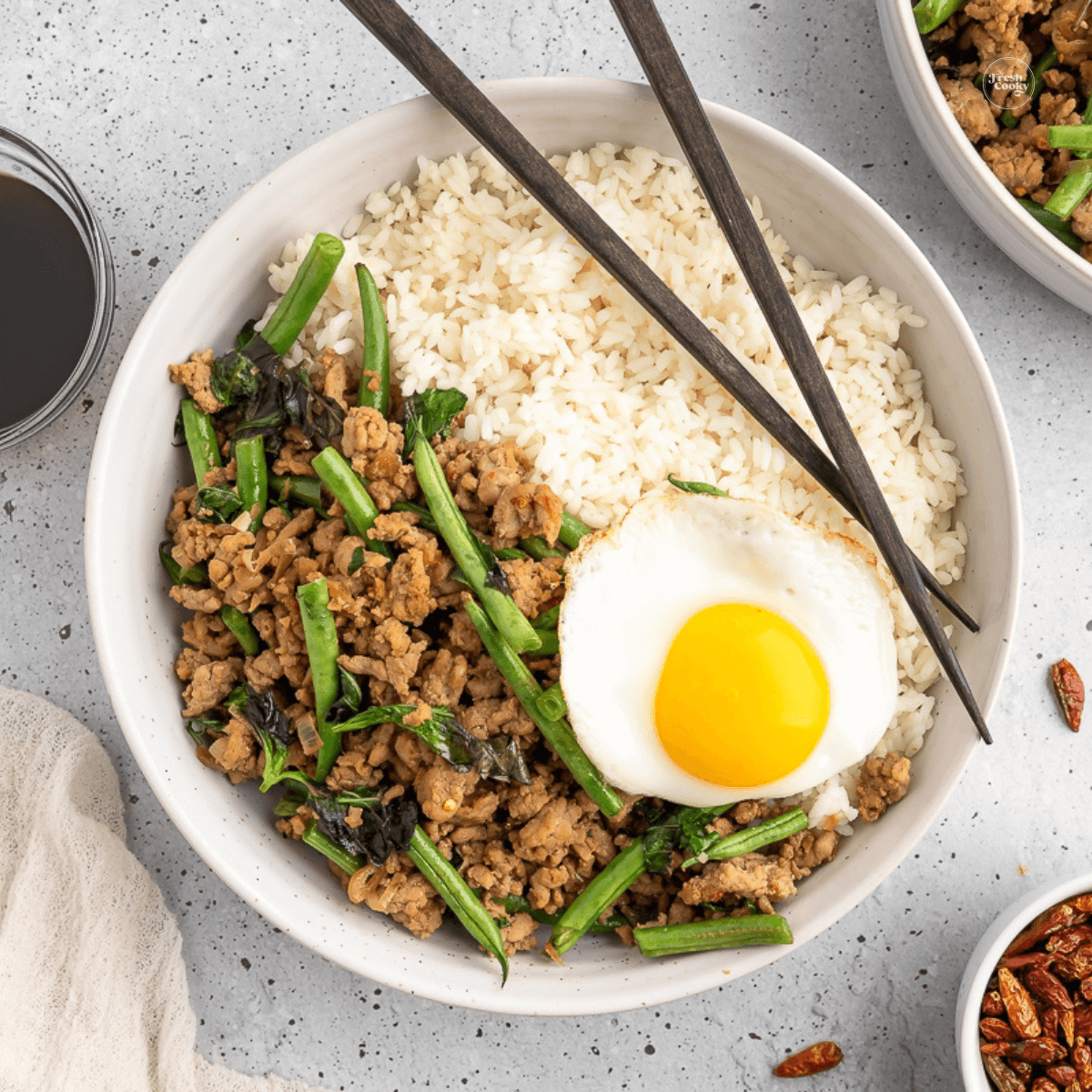 Why You Will Love This Easy Ground Pork Stir Fry
It's Yummy! | Unless you've visited Thailand, or frequent your local Thai restaurant often, the unique flavors of this dish may be unfamiliar and are sure to wow your taste buds.
So Simple | I love stir-fries because they are super simple to make. This particular recipe has only a few prep steps before you are ready to cook.
Good for you! | Lots of protein, healthy green beans, shallots, and garlic are the main ingredients of this tasty, low-carb dish. Add an egg and you've got a fabulous and filling meal.
I enjoy giving precise details in my recipe posts to lead my readers through any questions. If you're just here for the printable recipe, feel free to click "Jump to Recipe" right under the title of this post, and you'll head straight there!
What is Pad Kra Pao
Pad Kra Pao is a very popular Thai street food, literally translated to mean basil stir fry. It is so popular that Thai "fast food" can be found almost anywhere Thai dishes are served. It is not unlike a burger or sandwich here in America, something quick and easy that you might grab for lunch. The good news is that this dish is so much more nutritious than any burger and also quite simple to prepare!
What's the Difference? Thai Basil vs Holy Basil
Sweet basil (Ocimum basilicum) or our common basil in American stores is not the same as Thai basil or Holy Basil. Thai basil is native to India and grown in moist soil across the south Asian tropics; also called anise basil or licorice basil.
Holy Basil (Ocimum tenuiflorum) has a spicy, peppery, clove-like taste, and is used in Southeast Asian cuisine, for many culinary uses and medicinal purposes.
While there are differences between Thai Basil vs Holy Basil, use whatever basil you are able to find.
Healthy Twist
Google Holy Basil, and you will find many health benefits associated with the tropical plant. While my focus here is simply to bring you a super tasty and authentic meal, one can't ignore the added benefits of using the Holy Basil plant.
Key Ingredients for Ground Pork Stir Fry
Ingredients, directions and nutritional information in the printable recipe card at the end of the post.
Neutral-flavored cooking oil | I used avocado oil; coconut, grape seed, or any neutral oil that performs well in medium to high temperatures will also work.
Shallots | These beauties add a delicate but sweet flavor with a hint of sharpness. In a pinch, half of a very sweet yellow onion will work, however, a large shallot will give you the best flavor.
Garlic | Fresh garlic is a staple in Thai cuisine and always adds a delicious spicy flavor.
Dried Bird's Eye chile peppers | A small, spicy pepper generally found in the bulk spice section, Asian or Mexican spice section at grocery stores.
Ground Pork | Use no less than 85% lean. The extra fat is needed when sauteing the green beans.
Soy Sauce | Substitute coconut aminos for gluten-free/soy-free or tamari soy sauce as an additional gluten-free option.
Coconut Sugar | Coconut palm sugar adds a delicious caramel-ly flavor to stir-fries that work well with soy sauce. Or, use brown sugar, monk fruit, or cane sugar.
Fish sauce | Red Boat is my favorite. You might hesitate to include fish sauce, but leaving it out will change the flavor and reduce the saltiness. I'm not a fan of fishy-tasting foods, but honestly, fish sauce and oyster sauce are both delicious staples in Asian cuisine.
Oyster sauce | Full of sweet, salty, umami (savory) flavor. See notes below on how to substitute with coconut aminos or soy sauce.
Green beans | I prefer French green beans (Haricot verts) as these tend to be thinner and more tender.
Thai holy basil | Can be hard to find out of season, of the different varieties of basil, regular or fresh Thai basil can work as a substitute.
Egg | For a truly authentic Thai dish see notes on how to fry an egg Thai style.
Rice | we love cooked Thai jasmine rice but California jasmine works great also.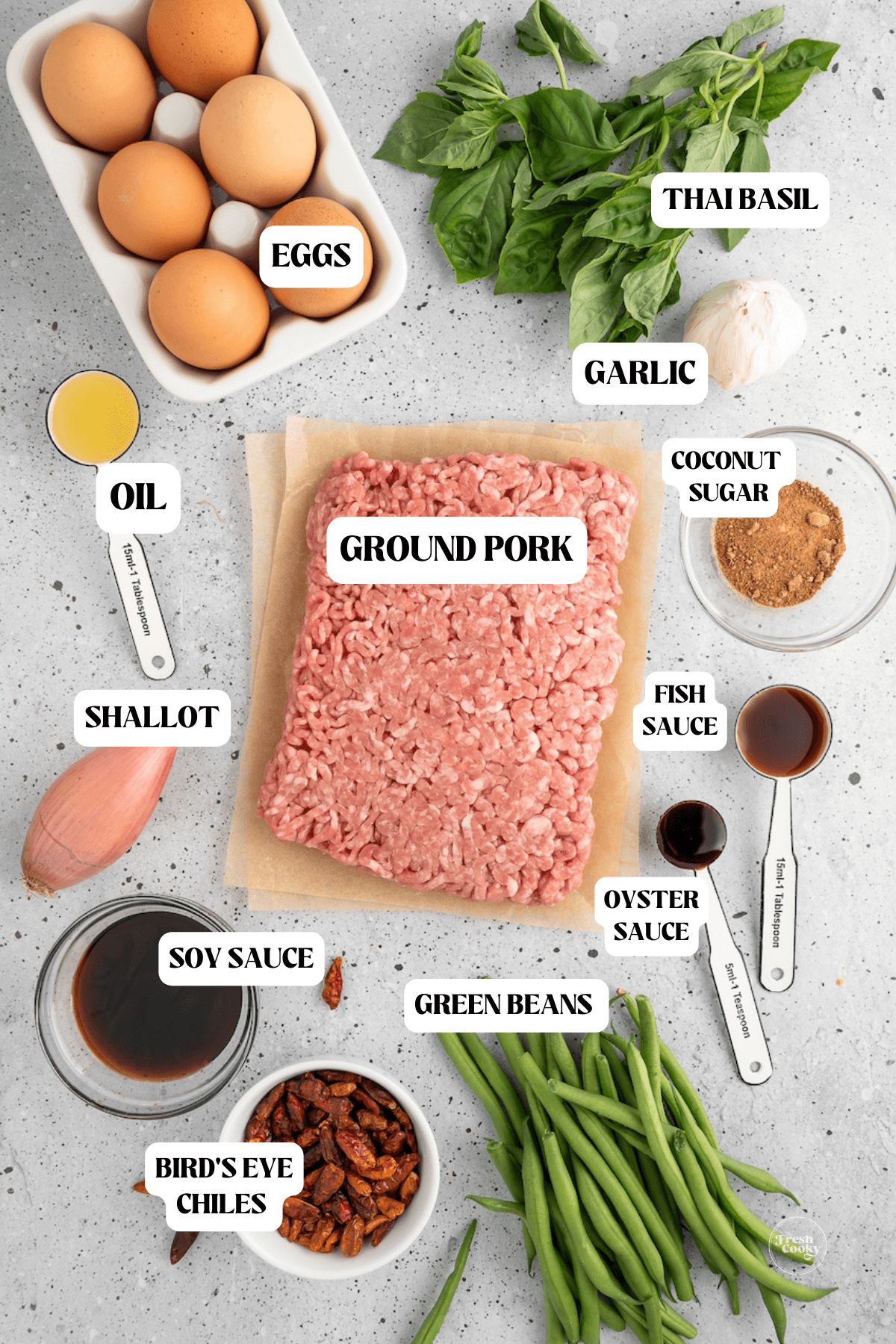 How to Make Ground Pork Stir Fry with Holy Basil
Step 1 – Saute shallot, garlic and chiles
Begin by heating oil in a large skillet or wok over medium-high heat. While the oil is heating, peel and thinly slice the shallot and add to the pan. Mince the garlic and sauté it with the shallot until they soften and become fragrant about 2-3 minutes.
Chop or crush the dried chilis and add to the pan with the shallot and garlic. Sauté for another minute or two.
Step 2 – Brown pork
Add the pork to the pan and reduce the heat slightly. Break it up using a wooden spatula as it browns, stirring frequently.
While the meat is cooking, trim and cut the green beans into half or thirds and set aside.
Once the pork is fully cooked, add soy sauce, coconut sugar, fish, and oyster sauce to the pan and stir until the pork is well-coated.
Step 3 – Add green beans and Thai Basil
Add the green beans to the pan and stir. Stir fry the green beans for about 5 minutes or until they reach the desired level of tenderness. The meat and sauce should start to caramelize slightly but not burn. Stir frequently.
Coarsely chop the basil leaves and add to the pan. Remove from heat and stir until basil leaves wilt.
Step 4 – Fry eggs and make rice
If using, fry the eggs right before serving. You will want to cook one egg per person.
Enjoy the stir fry by itself or serve it with rice.
Pro Tips
Before throwing in the towel and substituting it with one of the other basil varieties, check your local grocery store or Asian market for holy basil. Holy basil is the key ingredient and the best way to enjoy this dish.
When adding soy sauce, or using it as a substitute for other ingredients, add only a little at a time, and taste. Too much soy sauce can quickly make the recipe overpowering. I've done it!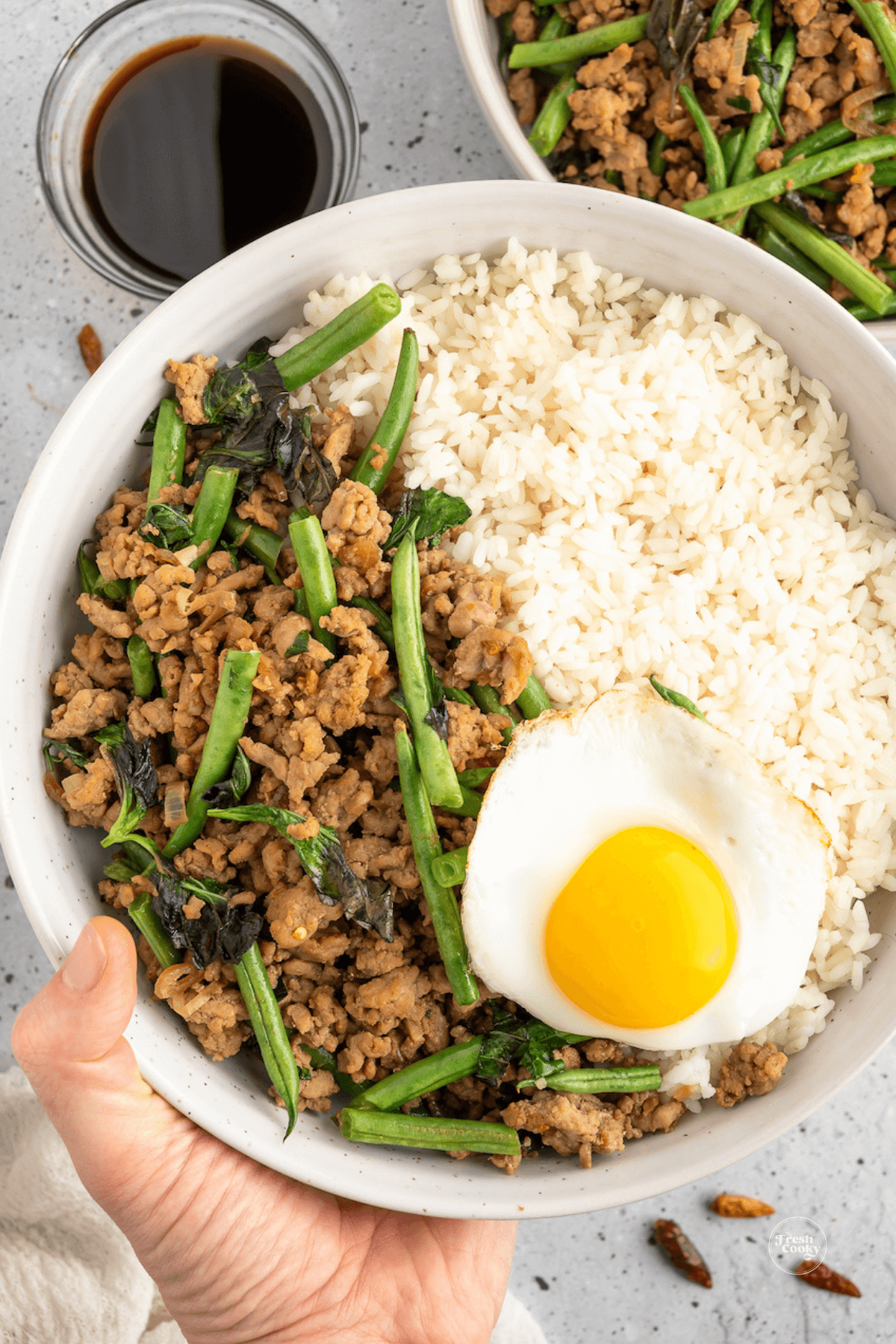 Variations and Substitutions
Can't find Bird's Eye chile peppers? | Thai chiles can be found fresh in the produce section. Fresh peppers can be substituted 1:1 for dried ones. If you can't find Thai chiles, substitute them with several Serrano chili peppers. Serrano peppers are larger but less spicy, so you may need to adjust the quantity used to taste. Dried bird's eye chilies can also be substituted for 1⁄2-1 tsp of crushed red pepper flakes.
Ground chicken | For a slightly different flavor, try ground chicken or even turkey. If it is extra lean, you may need to add a bit more cooking oil before adding the beans to the pan.
Coconut Aminos | For a slightly sweeter, rich umami flavor, try substituting 3 tablespoons of coconut aminos in place of regular soy sauce.
Sub asparagus for green beans.
Thai holy basil | This type of basil can be hard to find outside of the season. Regular basil or Thai basil can work as a substitute in this recipe.
Rice | For a healthier twist, serve with brown rice or cauliflower rice or simply on its own.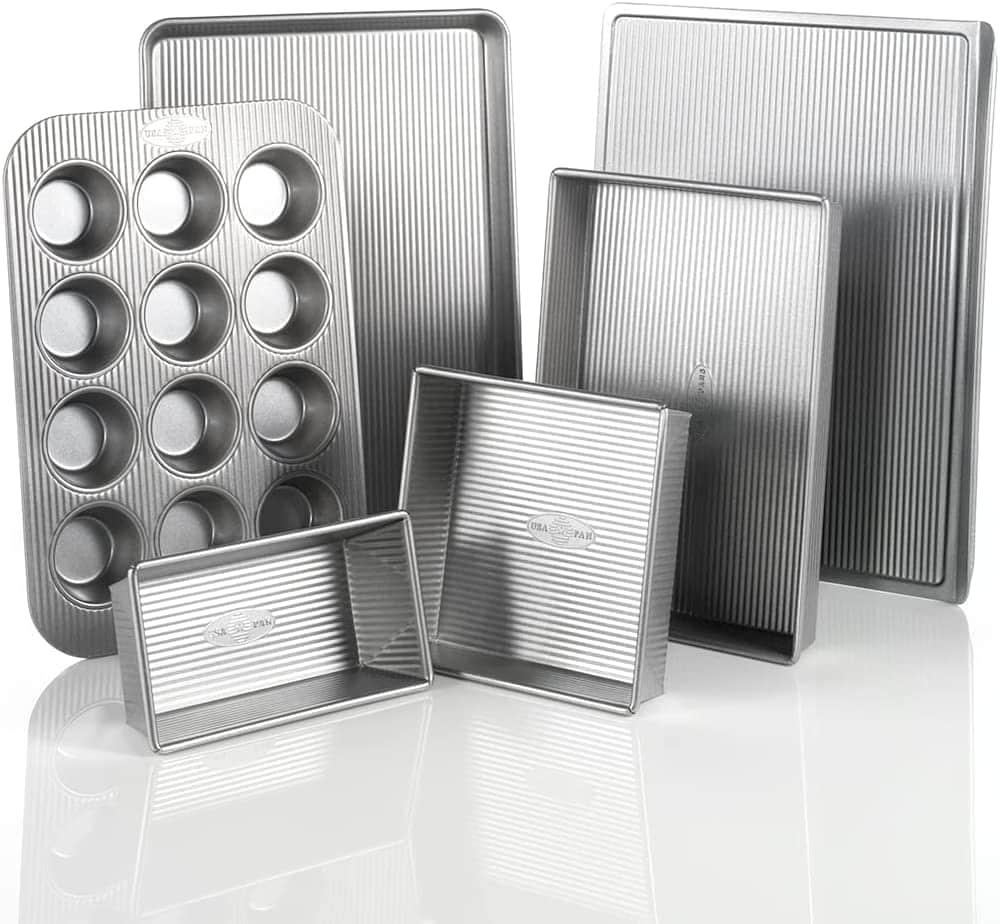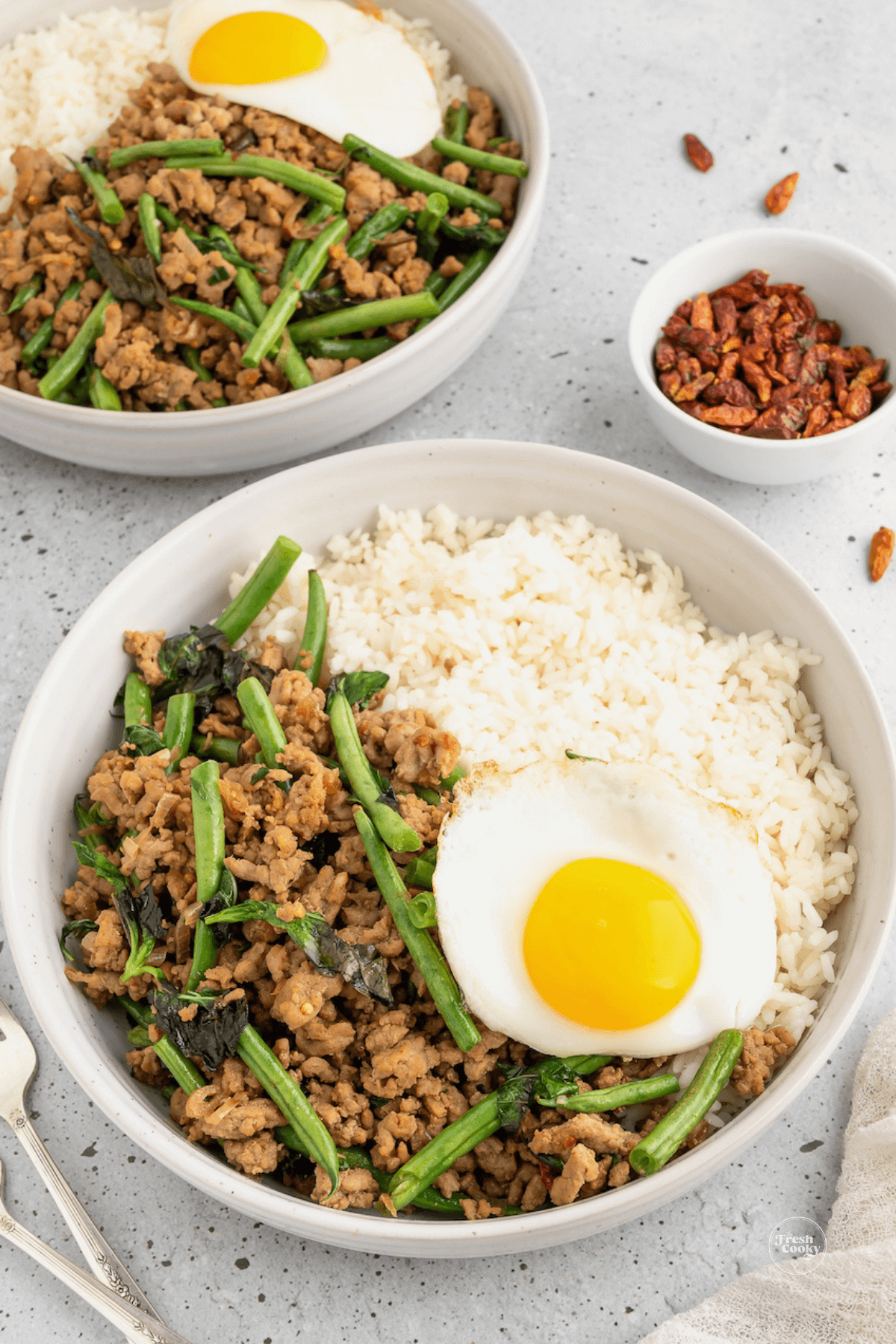 Storage Tips
Store leftovers in an airtight container for 3-4 days in the fridge.
Reheat on medium in a skillet for the best flavor, adding a touch more oil to the pan. To reheat in the microwave, do so at 30-second intervals, stirring between. Although you can freeze this dish, ideally it is best eaten fresh.
To keep basil fresh, leave it in its original plastic container, or rinse the leaves and roll them up in paper towels, and place them in a resealable bag for up to 4 days. Basil keeps best at room temperature.
To freeze basil, lay basil in a single layer on a baking sheet or tray. Freeze for at least 30 minutes, or until each leaf is frozen. Place leaves into an airtight freezer bag and use them as needed for up to 6 months.
What if I can't find Holy Basil?
This basil is so special, why not grow it? With its delicate white and purple flowers, narrow leaves, and its dark purple stems, this sacred plant is also a beautiful addition to any herb garden.
Frequently Asked Questions
Can I use other types of basil?
There are many different types of basil that add different flavors. The most popular herbs include Thai basil, cinnamon basil, Italian basil (also Italian sweet basil), and Genovese basil.
Each basil has its own unique flavor, Thai holy basil with its purple stem and spicy, anise or licorice-like flavor is a good swap. You can use other types of basil, but you will lose the kick that Thai basil brings to the dish. Thai basil leaves also hold up better during cooking.
What are Bird's Eye Chiles?
Bird's eye chiles, also called Thai chilies, are a small and spicy variety of chili pepper native to Mexico. These tasty peppers are cultivated across Southeast Asia and are commonly used in many types of Asian cuisine.
Is this recipe low-carb?
Although this recipe does contain a few carbohydrate sources (coconut sugar, oyster sauce, and green beans) it is still a low-carb recipe. Without rice, one serving of this recipe contains only about 5 grams of net carbs.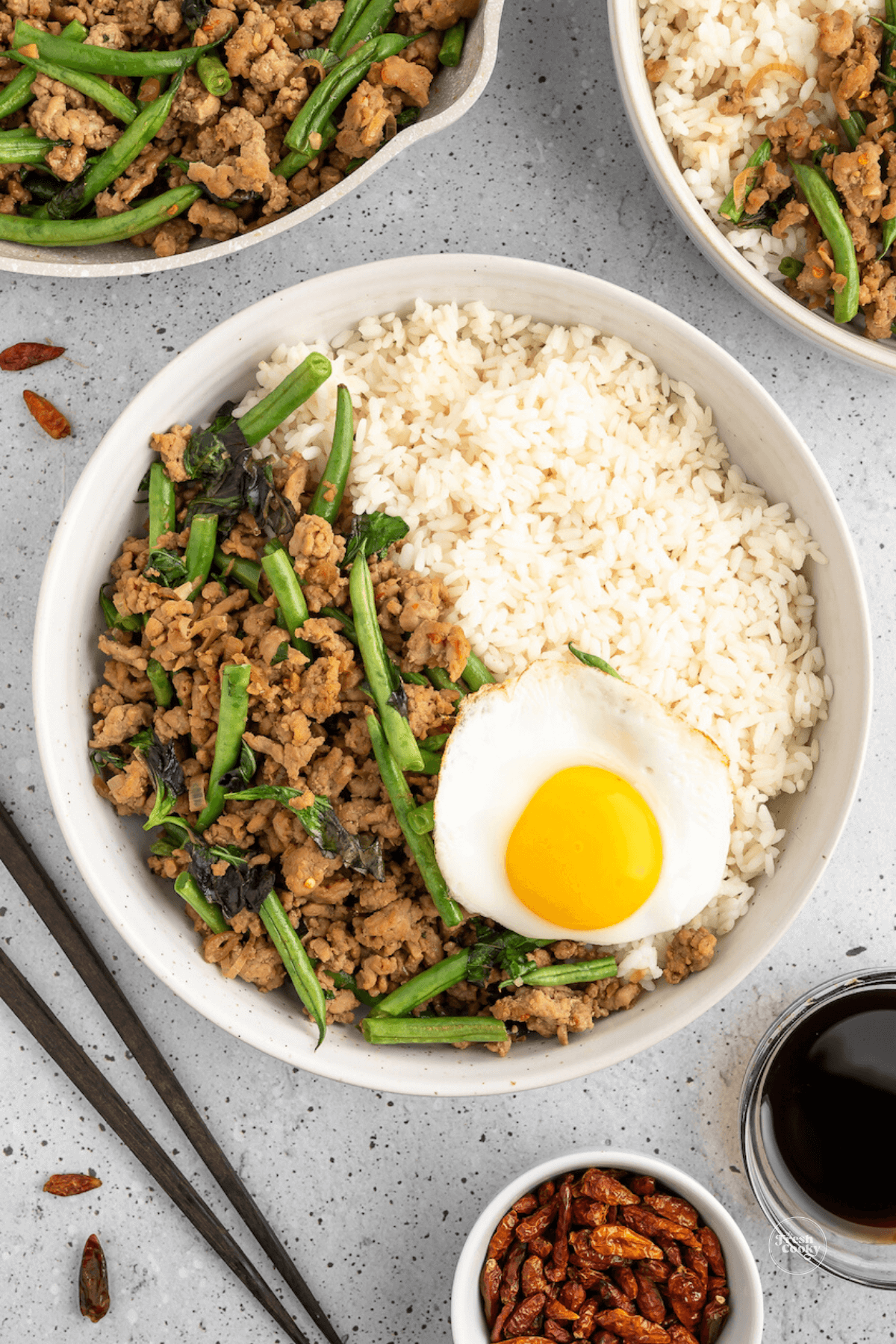 How do you fry an egg Thai-style?
Eggs with Thai food typically have a super crispy white and a perfectly gooey yolk. To make a tasty Thai-style egg you will need a very hot pan and a good amount of oil. Heat the oil in a pan over medium-high heat.
Once the oil is hot, crack the egg into the pan making sure the egg is surrounded by the oil. Spoon the hot oil over the top of the egg to cook to the top (no need to flip) and continue to cook until the edges of the white become perfectly crispy and bubbly. Remove from the pan and serve on top of the finished stir fry.
Gluten-Free Pad Kra Pao
Simply substitute the soy sauce for 3 tbsp. coconut aminos. If gluten-free, be sure to check that the oyster and the fish sauce are also certified gluten-free.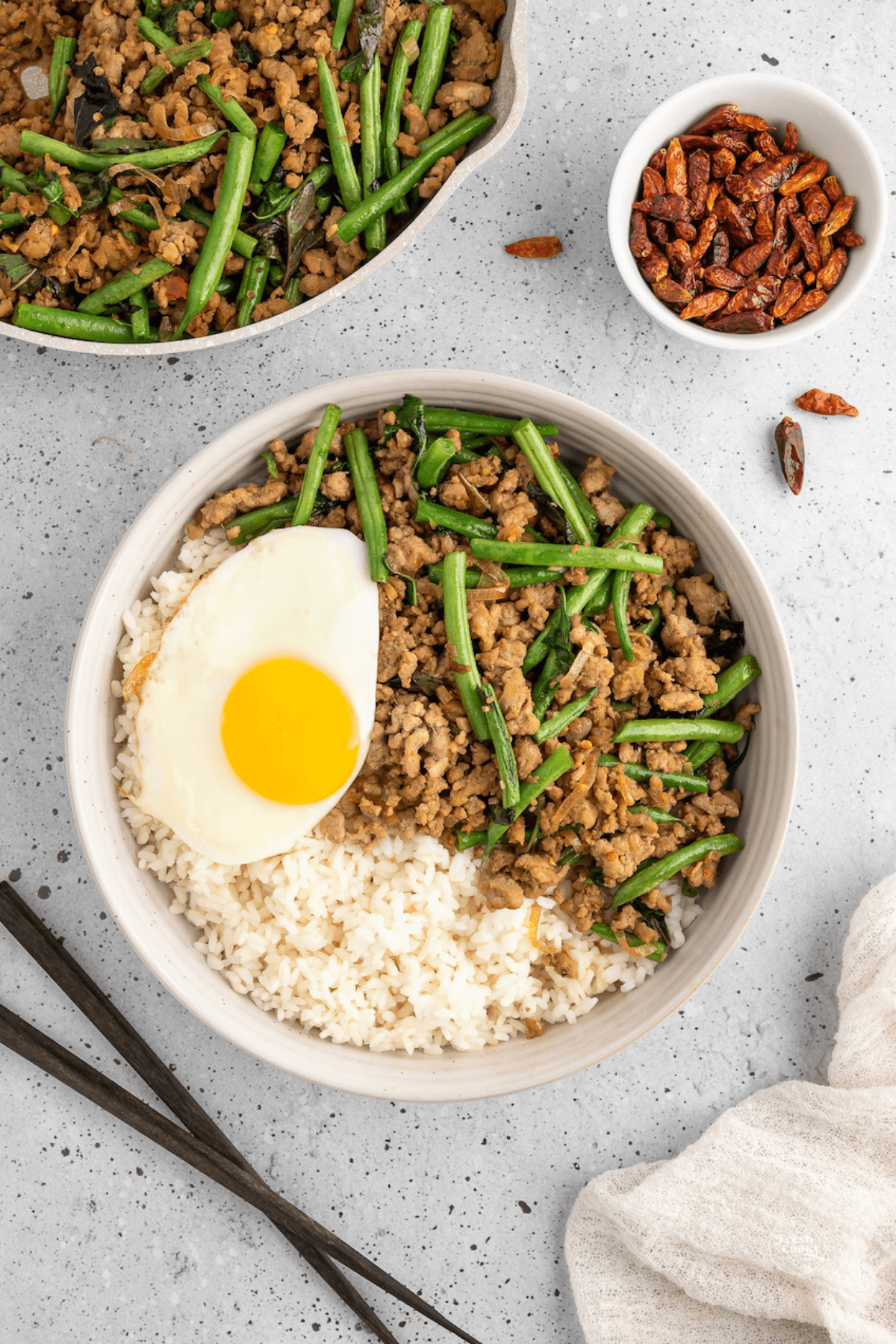 What to serve with Ground Pork Stir Fry
Rice | White rice will be ready in the same amount of time but plan ahead if you are making brown rice since it takes twice as long to cook. Our personal favorite is Jasmine, but any rice will work.
Noodles | Yummy, ground pork and holy basil noodles, yes, please! Try cooking Udon, Soba, or wide Rice Noodles.
Riced Cauliflower | Keeping it low-carb and Keto, serve with steamed riced cauliflower.
Delicious served with this Asian Ramen Salad.
More quick and delicious meals
With 6 small dried chilies, the spice level is about medium. There is a bit of a kick to it. For a milder version, feel free to reduce the number of chilies.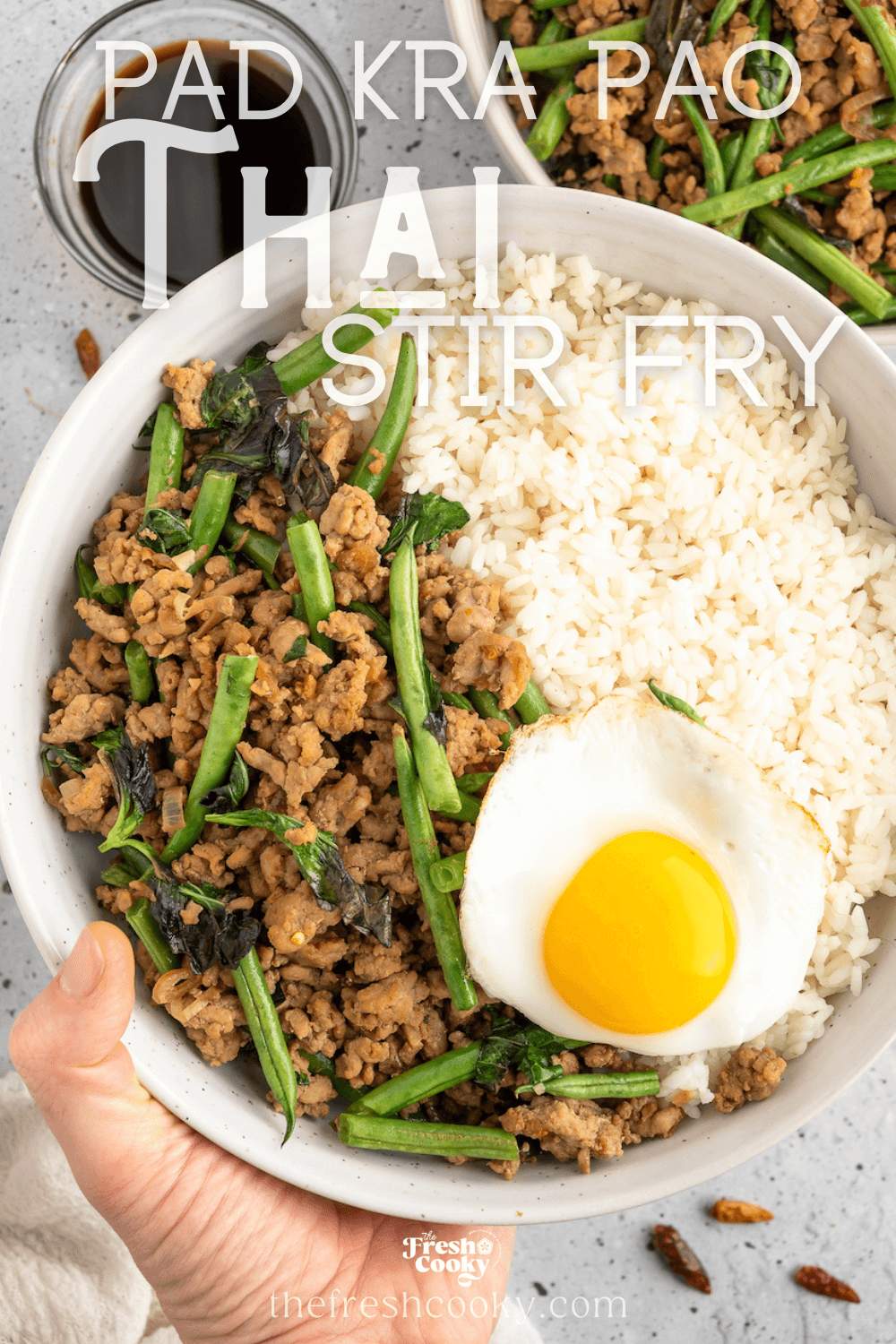 I hope you loved this ground pork stir fry — if you did, would you share your creation on Instagram, Facebook & Pinterest? And be sure to comment below!
Like this recipe?
Don't forget to give it a ⭐️⭐️⭐️⭐️⭐️ star rating and comment below the recipe!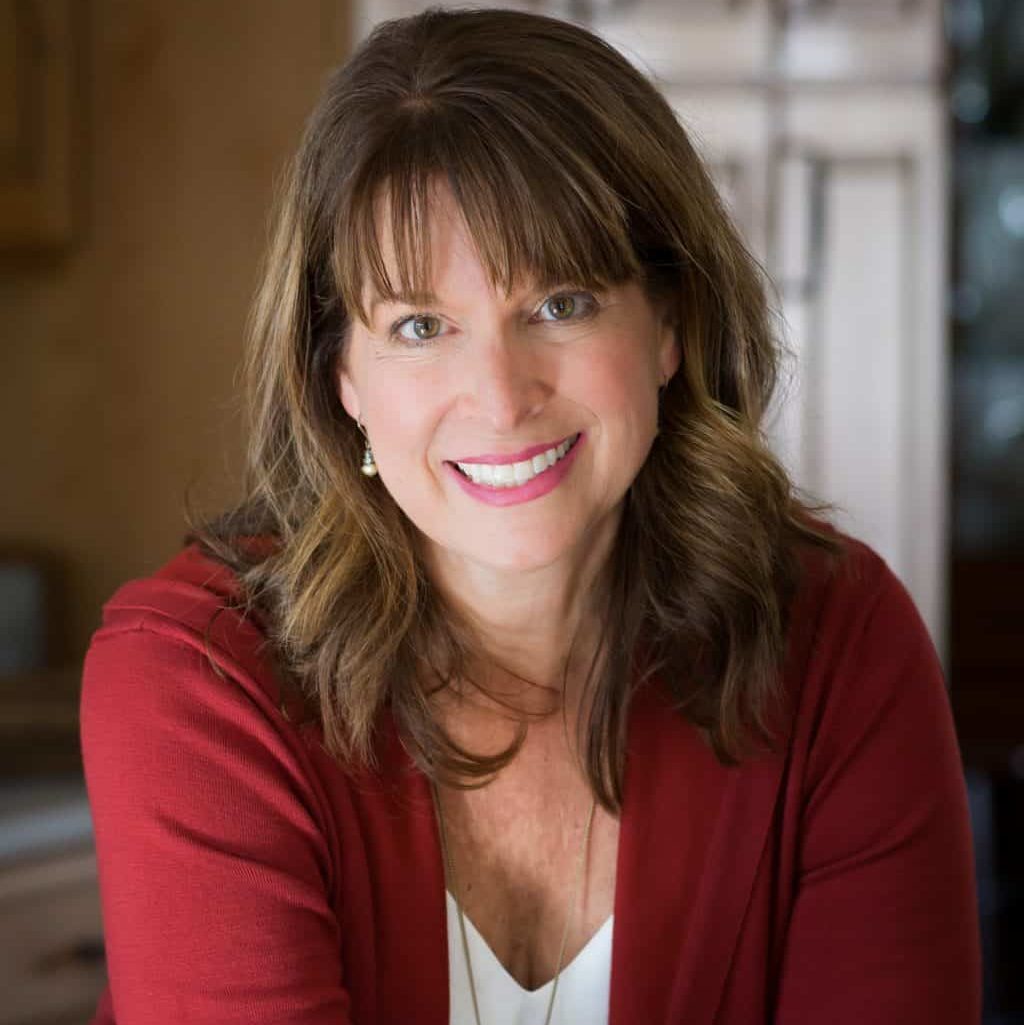 About Kathleen Pope
Recipe Innovator | Food Photographer | Food Writer
Hi, I'm Kathleen Pope. Here at The Fresh Cooky you will find easy, mostly from-scratch, trusted recipes for all occasions. From speedy dinners to tasty desserts, with easy step-by-step instructions. I am here to help teach you how to make mouthwatering recipes without spending hours in the kitchen. Read more about Kathleen here.