As an Amazon Associate, I earn commissions from qualifying purchases (
disclosure policy
).
Learn how to make homemade Alfredo Sauce without cream cheese! This homemade Alfredo sauce is creamy, rich, and cheesy, made with simple ingredients, like freshly grated parmesan cheese, minced garlic cloves, and a dash of nutmeg.
After mastering this delicious traditional Alfredo without cream cheese, everyone will ask for the recipe! Much easier to make homemade Alfredo sauce without cream cheese than a sub-par jarred or store-bought Alfredo.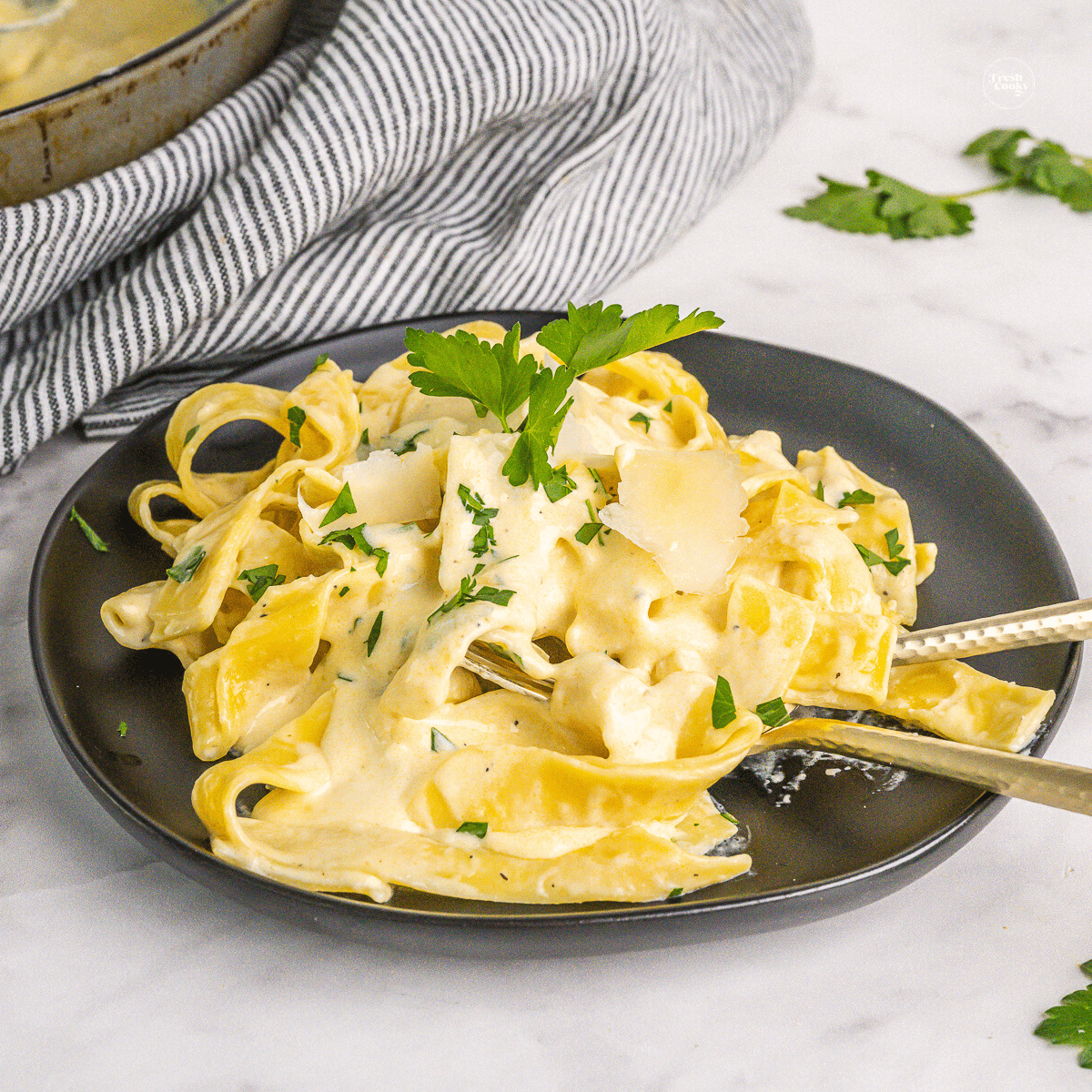 I enjoy giving precise details in my recipe posts to lead my readers through any questions. If you're just here for the printable recipe, you can Jump to Recipe to head straight there!
Why You Will Love this Traditional Recipe
Save Money – If fettuccine Alfredo is a staple in your home, you'll save big bucks with this from-scratch recipe. It even tastes better than the expensive jar at the store!
Versatile – Alfredo sauce isn't only for pasta. It's also delicious on Gnocchi or zucchini noodles, in casseroles, as a pizza sauce, and even in a creamy soup.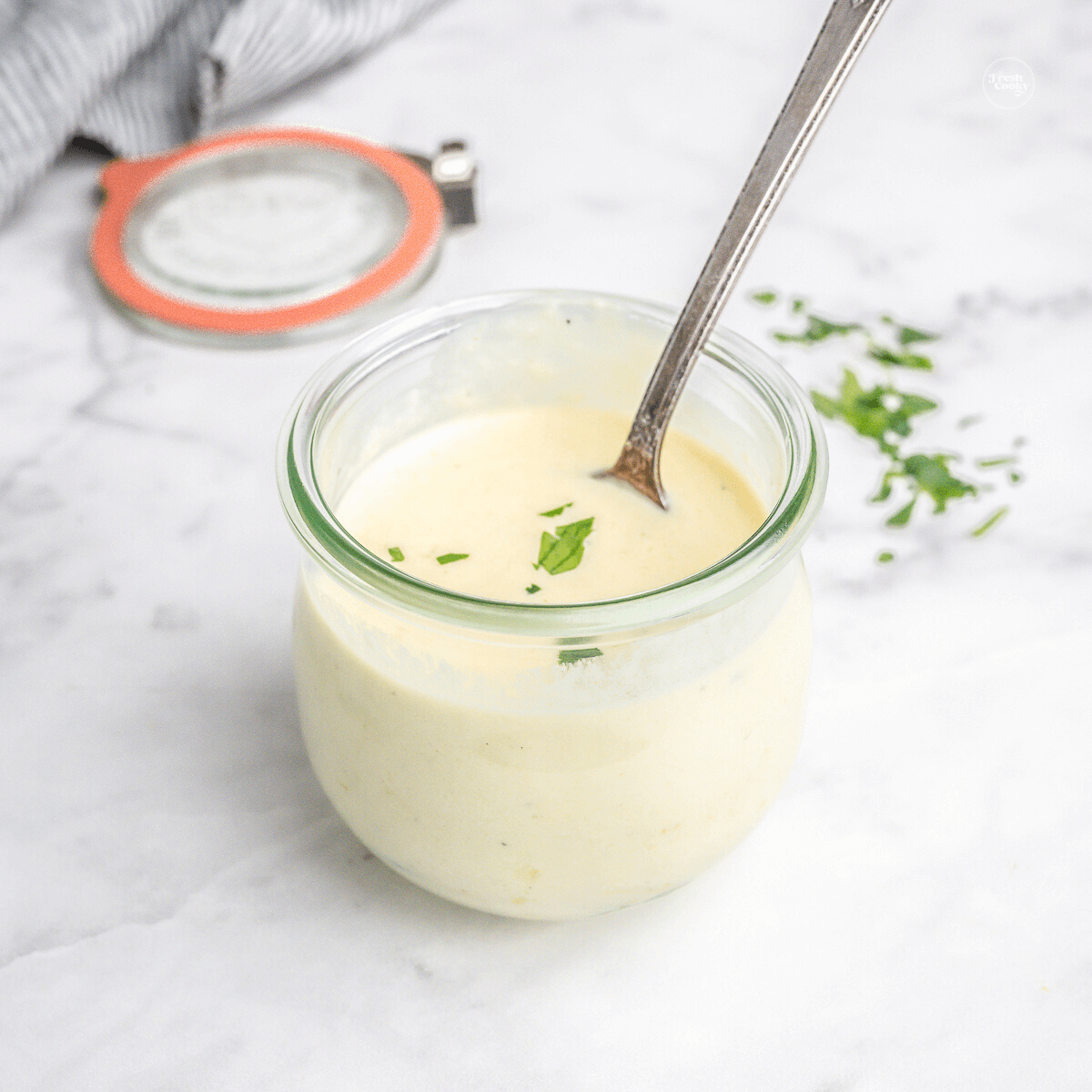 Make this easy Alfredo sauce recipe, storing any leftovers in the fridge or even freeze, and easily restore it to the creamy sauce it started out to be!
Simple Ingredients
Butter | I typically use salted butter, however; because the cheese is so salty, I recommend using unsalted melted butter for this recipe, tasting and adjusting the salt as needed.
Heavy whipping cream | Make your Alfredo sauce silky smooth and creamy by adding heavy whipping cream. If you're in a pinch, you can swap this ingredient for whole milk, but the sauce will likely be thinner and less rich in flavor.
Garlic | Just a little garlic brings that authentic Italian taste to your homemade Alfredo recipe. If possible, use freshly minced garlic cloves. Use garlic powder as a last resort.
Parmesan cheese | Finely grate a block of fresh parmesan cheese. If you take a shortcut with pre-shredded cheese, it will not melt down as well, and the sauce will lack that authentic flavor, plus you'll get the anti-caking additives.
Nutmeg | Don't skip the nutmeg! This warm spice compliments the cheese sauce beautifully. Try using freshly grated nutmeg for the best results.
Salt and pepper | A little kosher salt and freshly ground black pepper help to enhance the creamy notes of the sauce.
Water or milk | If you need to thin the Alfredo sauce, use reserved pasta water or a splash of whole milk.
Parsley | Fresh parsley adds a delicious and classic flavor.
How to Make Homemade Alfredo Sauce without Cream Cheese
Are you ready to make this deliciously creamy and rich Alfredo sauce? Let's dive in! First, you'll need a large skillet with high sides to prevent the sauce from making a mess on the stovetop. You may use a medium saucepan instead—it works just as well!
Step 1 | Saute Garlic
Melt butter and toss the garlic in, once melted. Continuously stir until the garlic is fragrant, filling your kitchen with that cozy, mouth-watering aroma.
Begin cooking your pasta if using on pasta, pappardelle, fettuccine, linguine will all work great.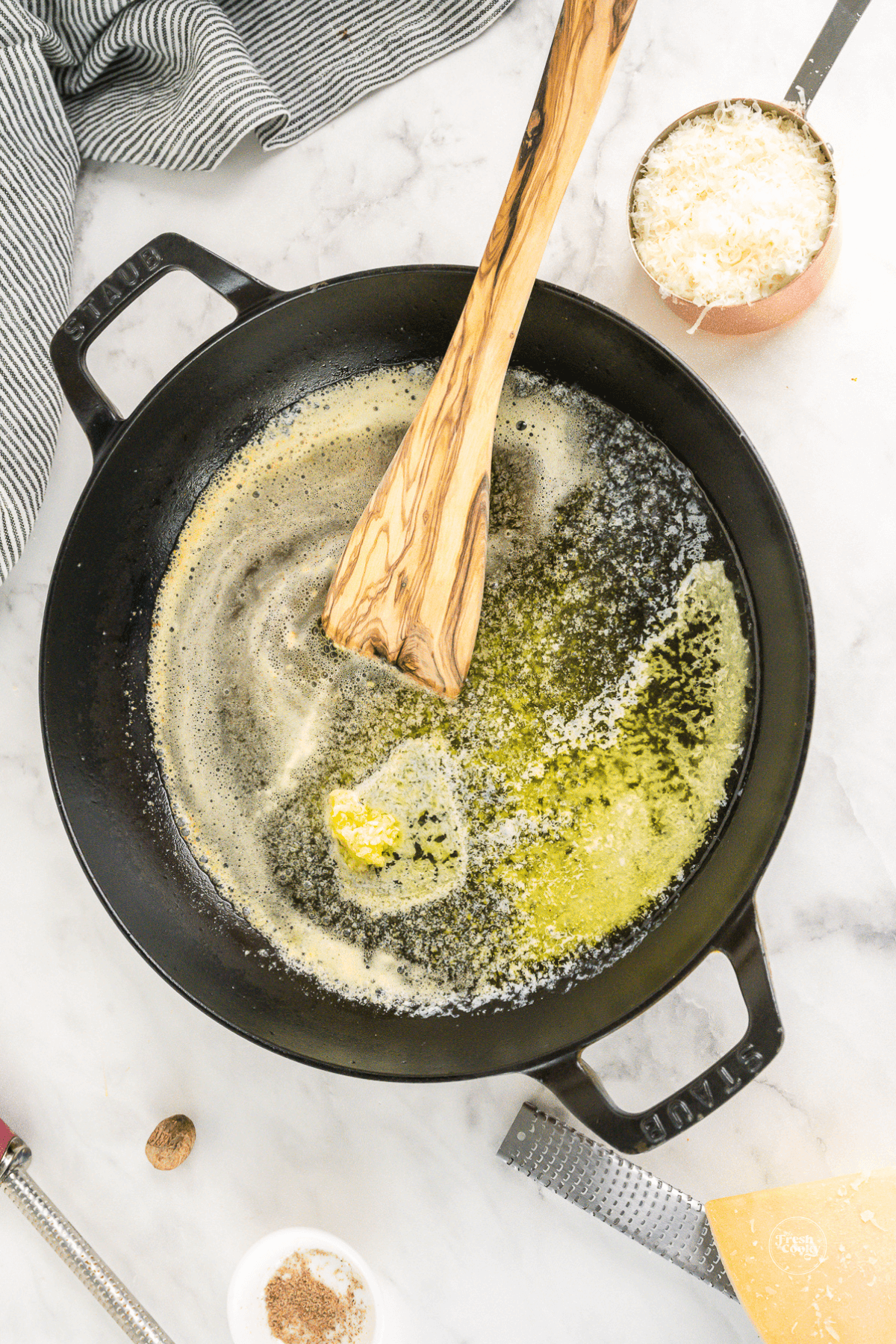 Step 2 | Add Heavy Cream
Then, set the temperature to medium heat and carefully pour the heavy cream. Gently stir to combine the ingredients, then reduce the heat to medium-low.
Next, sprinkle in the nutmeg. If you choose to use garlic powder instead of fresh garlic cloves, now is when you should add the garlic powder. Then, add the chopped parsley.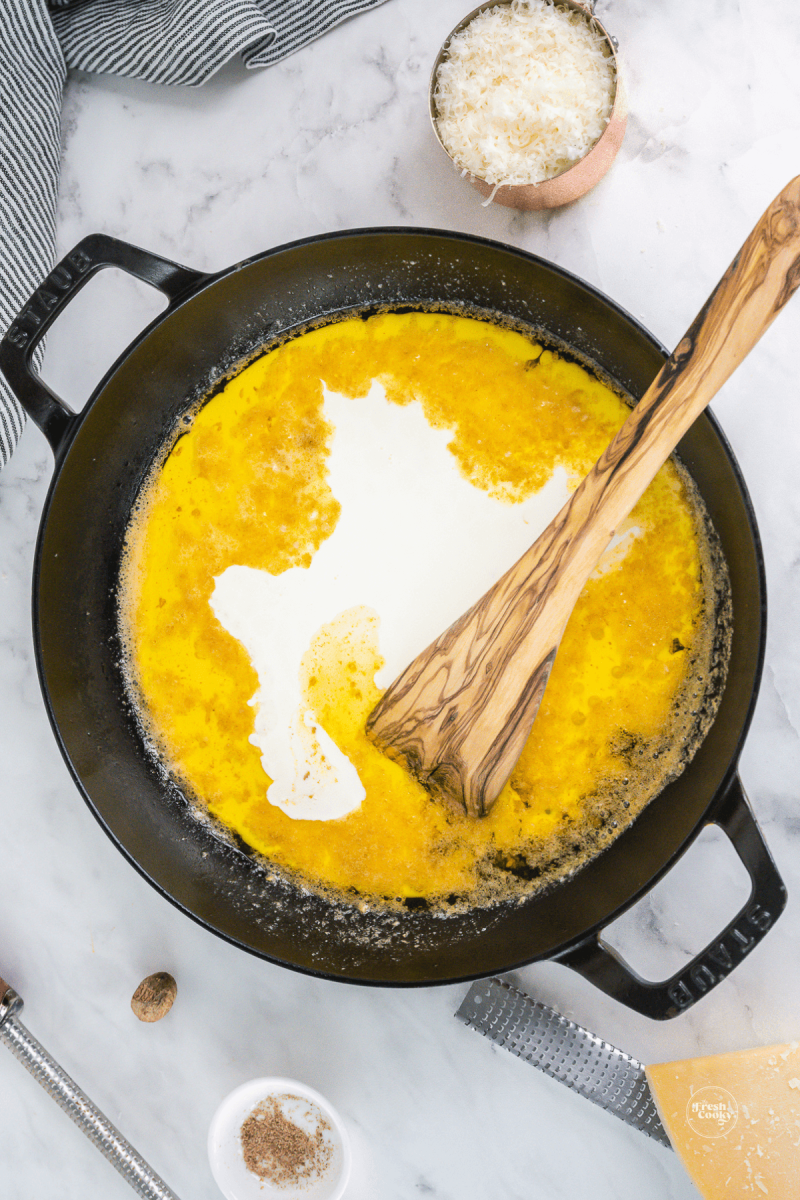 Step 3 | Finish Quick Alfredo Sauce
Stir in shredded parmesan cheese until melted and the sauce is thickened.
Garnish with chopped parsley, take a taste, and if needed stir in a little more salt.
Reserve ¼ cup pasta water, then drain pasta and pour sauce over pasta and toss. Or serve individual servings, spooning the desired amount of sauce over top of the pasta.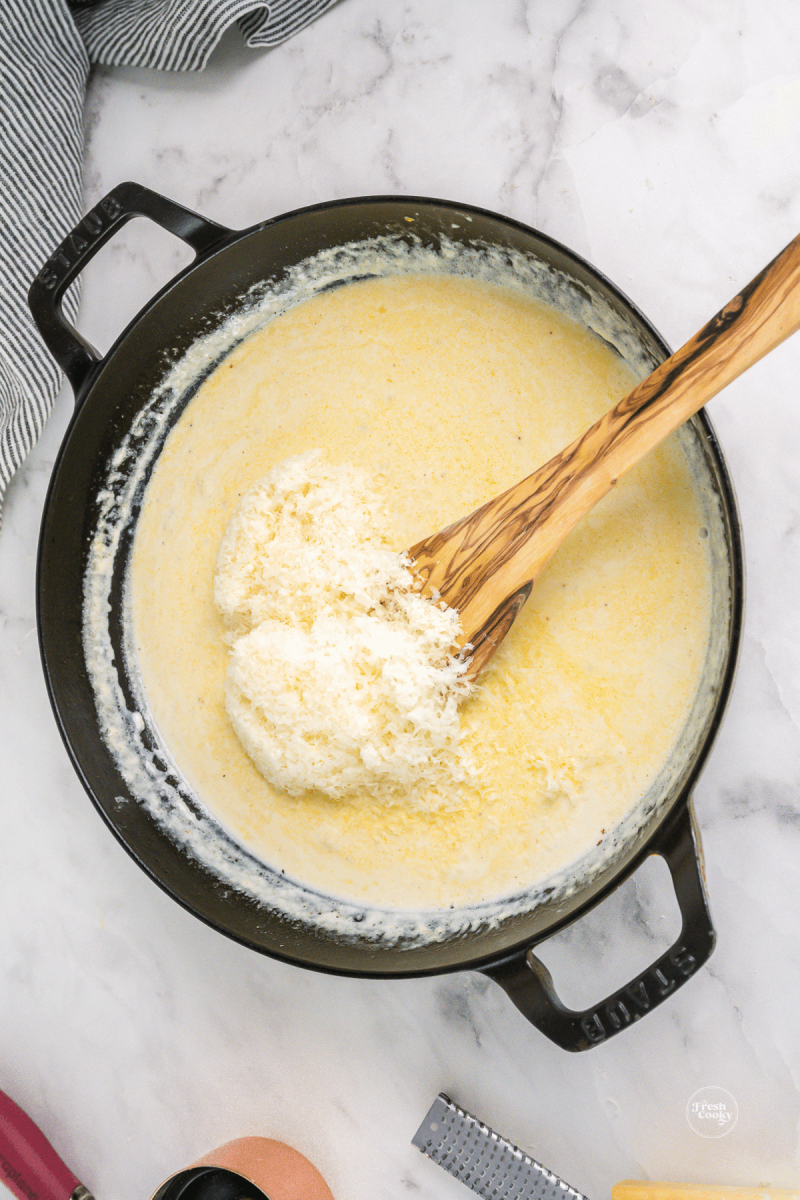 Pro Tips
Remove the pan from heat, then stir the fresh grated parmesan cheese into the sauce.
You'll know the sauce is ready, when you pull a spatula or spoon against the sauce and you see the bottom of the pan for a few seconds.
If it comes together too quickly, simmer it another minute, or add a touch more cheese. If it is too thick, add a splash of milk or pasta water, stir.
Keep the temp on low! Remove the sauce from the heat and lower the temperature if it starts to boil. Simmer but do not boil. Overheating this easy recipe may cause it to separate or even produce a clumpy texture.
The sauce will thicken as it cools.
Try these other homemade swoon-worthy sauces! 20-minute Easy Marinara Sauce, Pesto sauce, or this Authentic Italian Pasta Sauce recipe. Or bring your next backyard BBQ to the next level with my tangy and sweet Rocky Mountain Barbecue Sauce made from scratch.
While you're on a roll, check out my fool-proof Pizza Sauce recipe and divine Honey Teriyaki Sauce!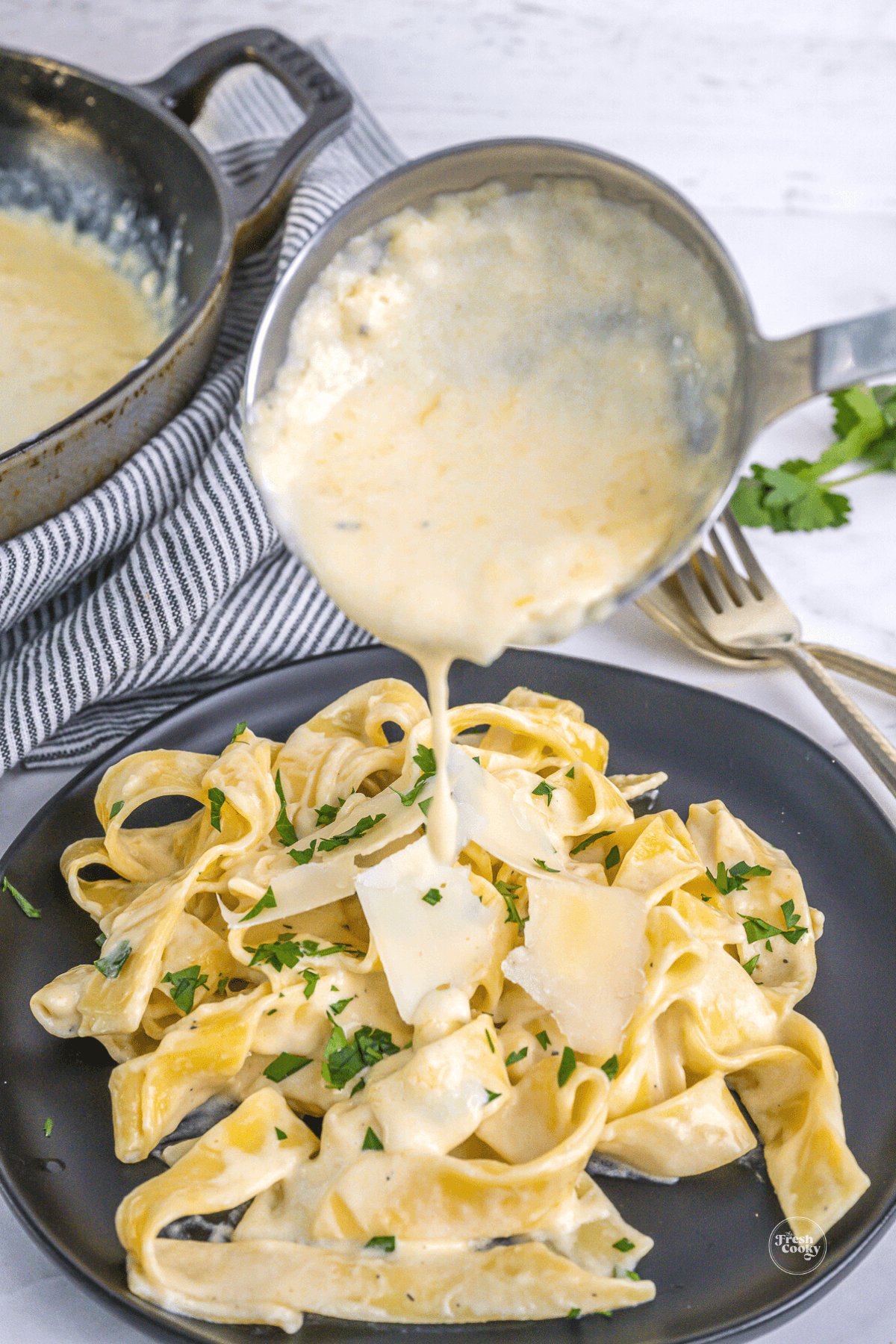 Variations & Substitutions
Gluten-Free Alfredo Sauce: My homemade Alfredo sauce recipe doesn't use flour for a roux. Therefore it is naturally gluten-free. Be sure to grate your own parmesan cheese.
Dairy-Free Vegan Alfredo Sauce: Making this recipe entirely vegan or dairy-free may be challenging, but it can be done! Swap heavy cream for a milk alternative, or try non-dairy cream. Then, substitute the butter with oil or plant-based butter, and substitute the parmesan with vegan parmesan or nutritional yeast for a cheesy flavor.
Spice it Up: Red pepper flakes, cayenne pepper powder, or even a dash of hot sauce are great options for an Alfredo sauce with a hint of heat.
Make it Thicker or Thinner: All you need to do is add a splash of milk or pasta water to thin the sauce. To thicken it up, cook the ingredients on slightly lower heat for longer.
Storage Tips
Fridge – To store your homemade pasta sauce, place it in an airtight container. It'll keep for about three – fourteen days, depending on the ingredients used and storage conditions.
Reheat the Sauce – Re-warm your Alfredo by placing it over medium-low heat on the stove. Be sure to continuously stir the sauce for the best texture! If it starts to separate, add a tablespoon of cream whisking in, if that doesn't fix it, add a little more cheese, stirring until smooth, and heat over the lowest setting possible.
Can You Freeze Alfredo Sauce?
Yes! You can freeze your sauce in freezer bags or an airtight container. However, when you thaw a frozen cream sauce, it can cause splitting and it may become grainy. I recommend you defrost overnight in the fridge.
Once defrosted, heat over low heat, whisking while it reheats, if needed add a splash of milk or cream or a tablespoon of parmesan cheese. It will come back together.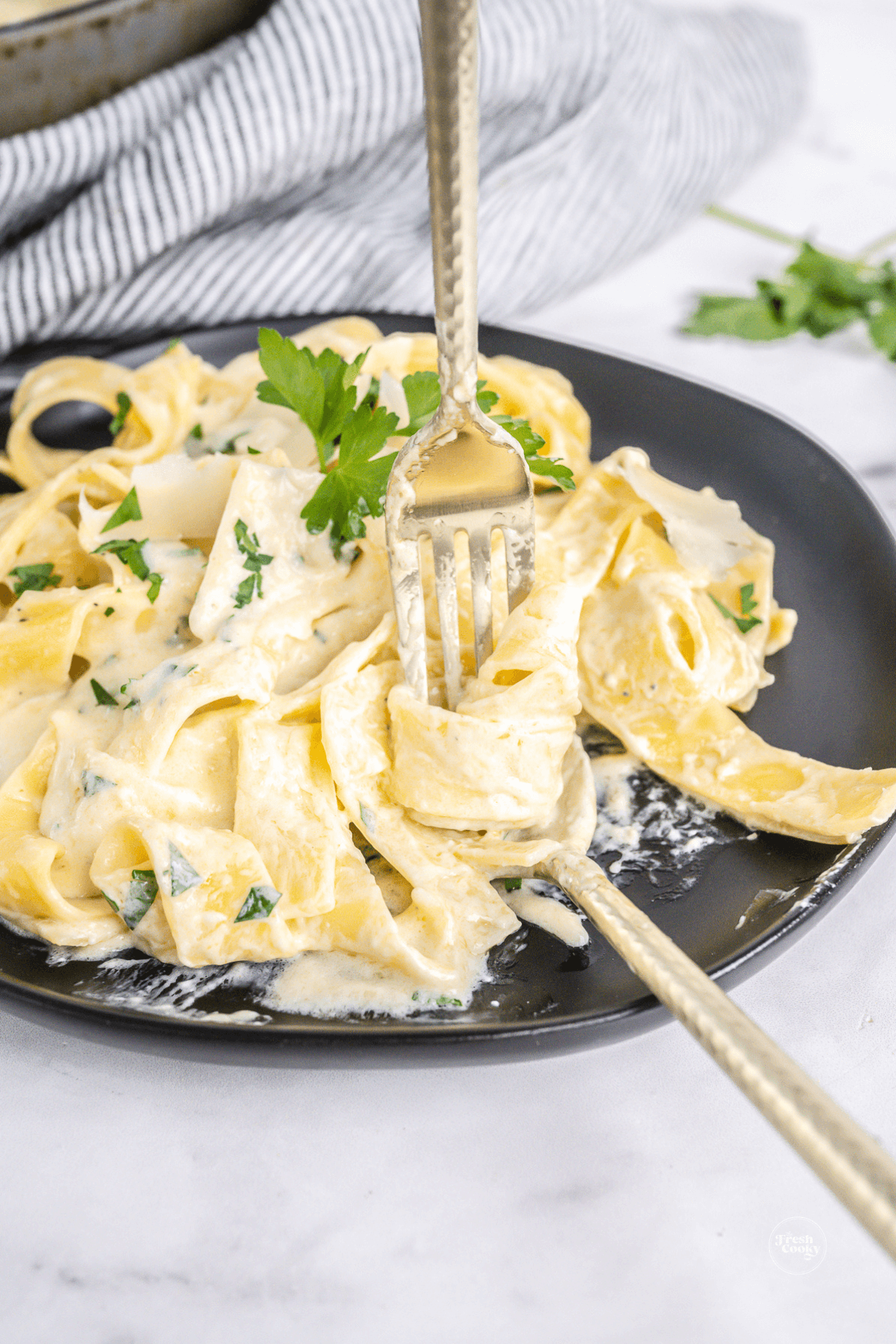 Frequently Asked Questions
How can you make Alfredo sauce healthier?
If you'd like to make a low-fat Alfredo sauce, there are a few ingredients you should substitute with healthier alternatives. First, use Greek yogurt in place of the heavy whipping cream. Next, swap the butter for extra virgin olive oil. And finally, add skim milk for a creamier finish.
While your changes to the recipe may knock off some calories, expect the taste to differ. I have yet to test these alterations, so let me know if you try it out!
Can you make Alfredo sauce with milk instead cream?
To make Alfredo sauce with milk, you can substitute the heavy whipping cream with whole milk if you're in a pinch. The sauce will be thinner and less creamy when you use regular milk. Still, it's an excellent way to reduce the calories or throw the recipe together with what you have.
Is Alfredo sauce keto?
Yes! This recipe is a keto Alfredo sauce recipe, a low-carb and suitable for a keto diet.
Tell me about Alfredo sauce carbs?
Since we don't make our quick Alfredo sauce with a roux (a flour mixture), our sauce is simple and low-carb, with a total of two carbs! Compared to flour-based Alfredo's with about 13 carbs.
8 Best Ways to Use Alfredo Sauce
A rich, easy and decadent Italian sauce is perfect to toss on any cooked pasta, but especially long thin pastas, which is why it's most often served with fettuccine. Below are some other ideas for ways to use Alfredo sauce.
Steak Alfredo, oh so good!
Spoon a drizzle over your stuffed shells, lasagna or tortellini.
Dipping Sauce | Similar to a queso dip with an Italian flair, dip pretzels, toasted ravioli, mozzarella sticks, breadsticks, pretzel bites, or crudites into this creamy sauce.
Veggies | Elevate your vegetables, try it on cauliflower, broccoli, asparagus, peas — it might just make you swoon!
Pizza | Oh yeah, make a white pizza using this amazing alfredo sauce.
Chicken | this delicious recipe will of course be amazing in place of red sauce, or in addition to on Chicken Parmesan, grilled or baked chicken.
Replace Creamed Soups | You could probably use it in place of any creamed soup in a recipe you would have, after all, it has all of the components!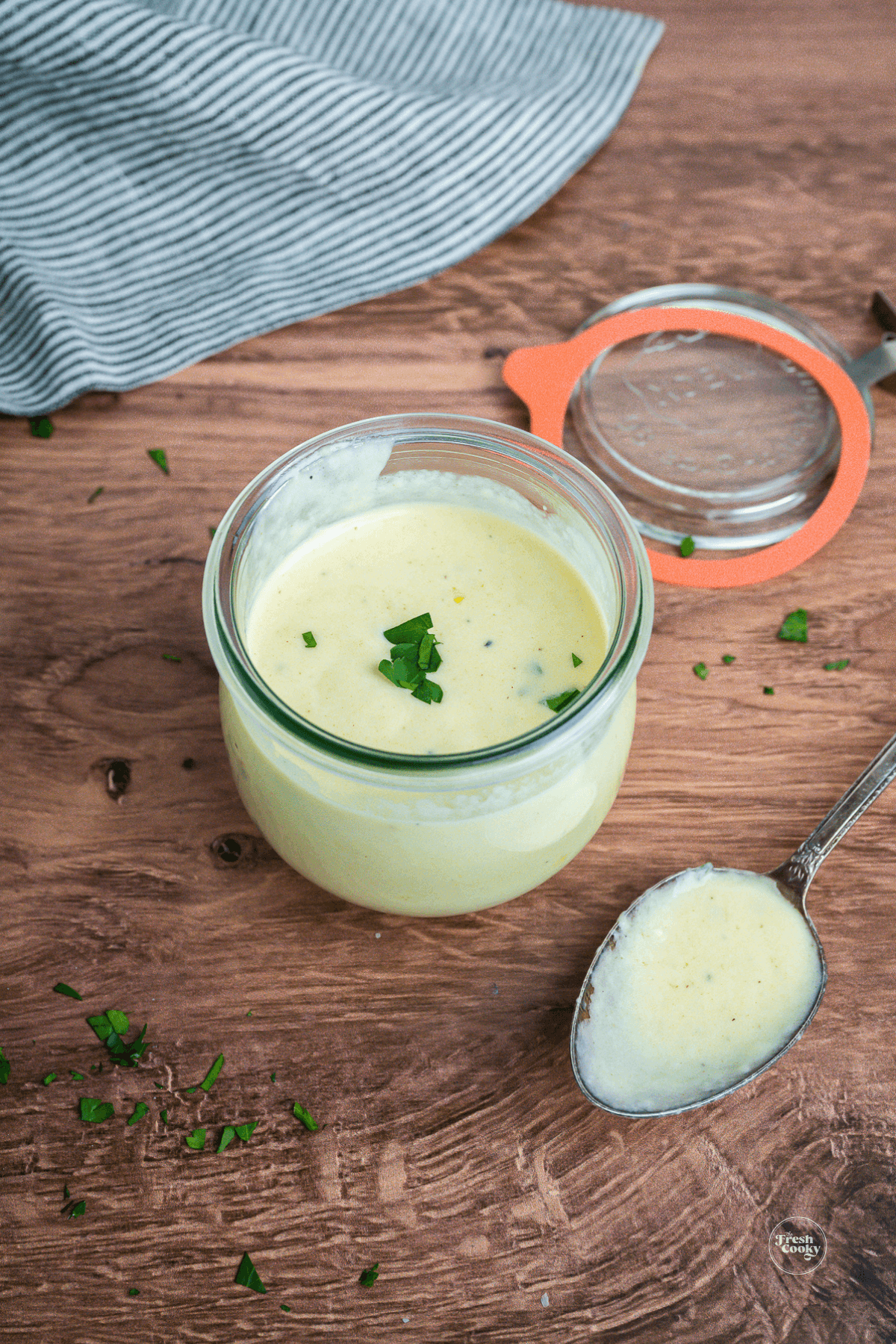 What desserts go well with Alfredo sauce
Let's go a little lighter with Alfredo sauce since it's a heavier main course, these desserts will please any palate and most are made ahead.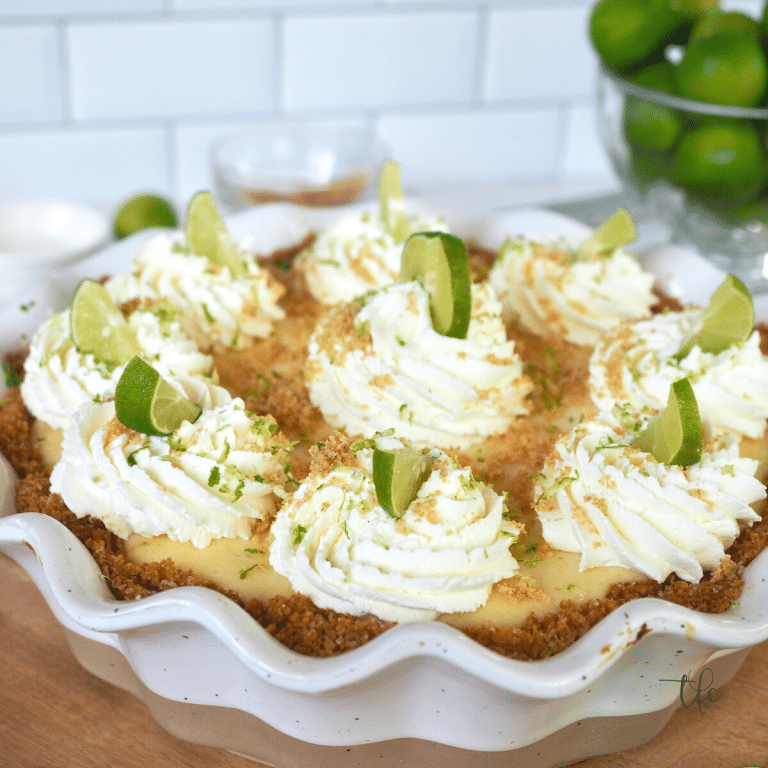 A Traditional Key Lime Pie Recipe
This is the BEST Key Lime Pie, so easy too! A traditional Key Lime pie recipe that is, citrusy, sweet-tart — the perfect sweet to-pucker ratio; light and bright with a crisp not-to-sweet graham cracker crust! Award winning!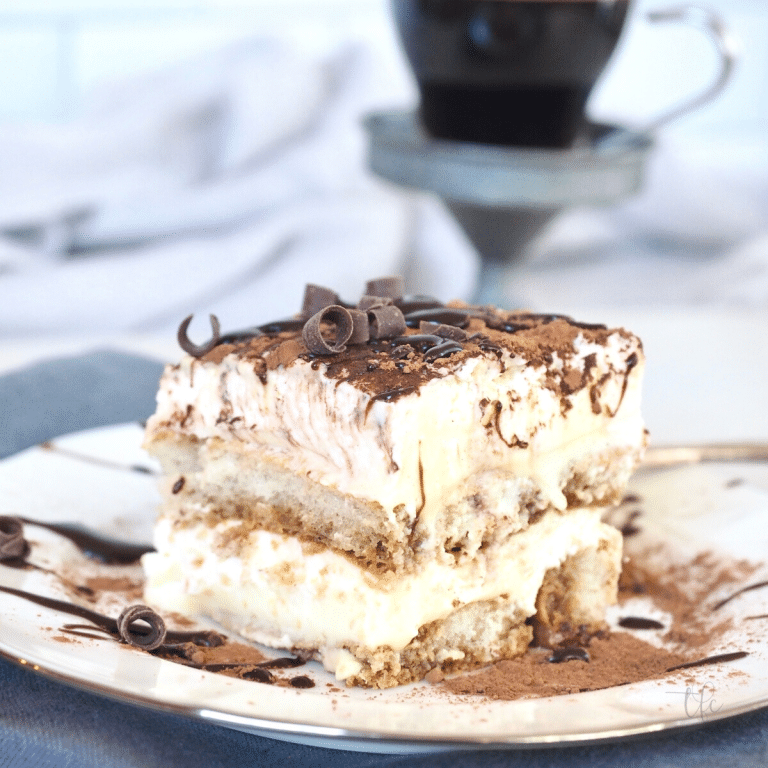 Classic Italian Tiramisu Recipe
Traditional Tiramisu is an Italian dessert recipe with layers of mascarpone custard, whipped cream, layered between rum and espresso soaked ladyfingers.
What Goes with Homemade Alfredo?
Boost your ordinary dinners by topping them with this creamy white sauce! Here are some ideas to get you started:
Bow-Tie Pasta – An easy and delicious dish made in the Instant Pot, a copycat Disney Cruise favorite.
Slow-Roasted Veggie Pasta – Use this recipe and swap the olive oil-butter garlic sauce for creamy traditional Alfredo sauce!
Air Fryer Ravioli – With tasty marinara, serve these delicious fried ravioli bites with a cup of Alfredo for dipping! This is also handy using the leftovers of your homemade Alfredo.
Air Fryer Steak Bites – Drizzle these tender steak bites with freshly made Alfredo. Or, serve them over fettuccine smothered in the Alfredo sauce!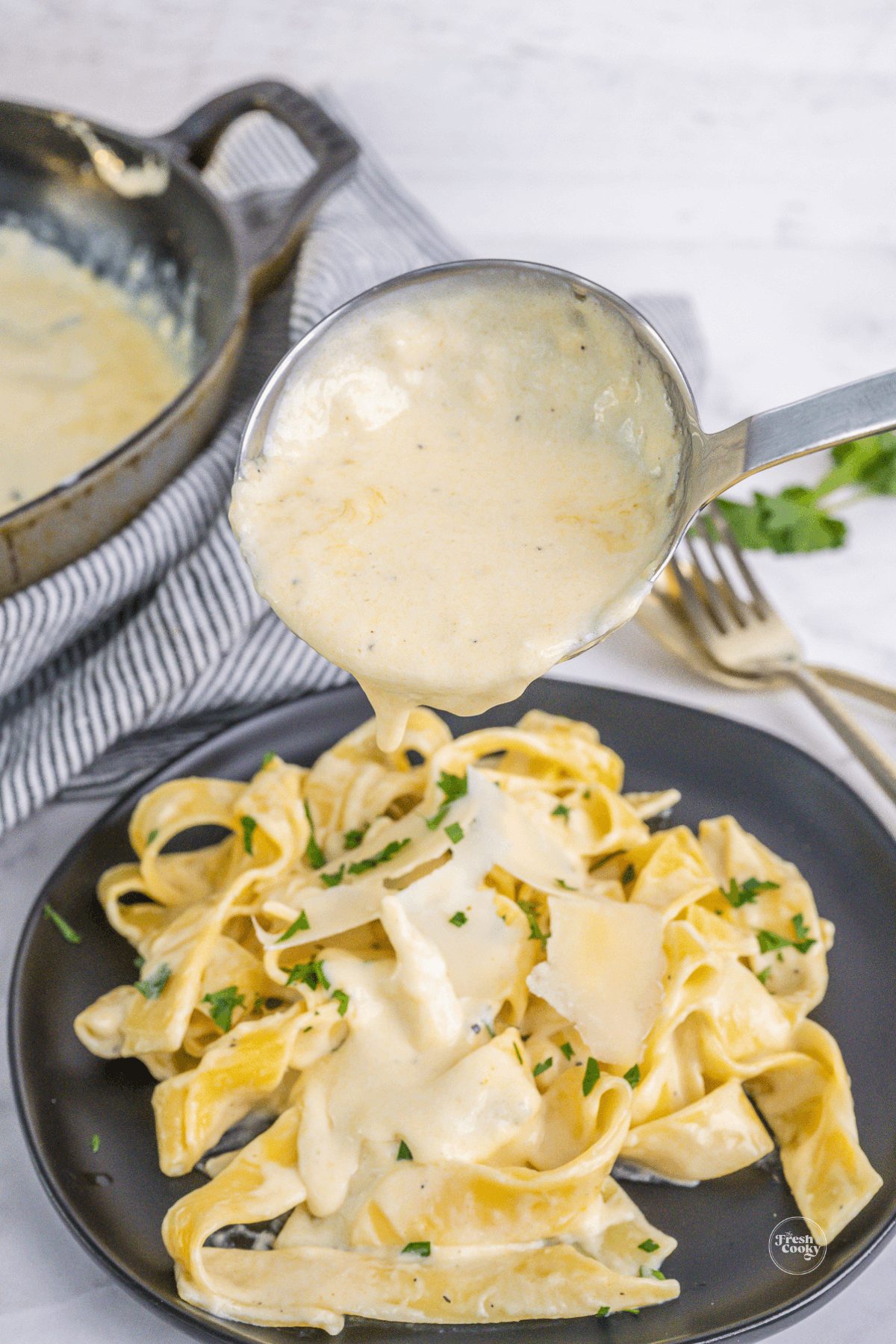 Take your time making this delicious sauce. If you rush the process by cranking up the heat, the texture of your Alfredo might be grainy or clumpy! Produce a silky smooth sauce by closely following the instructions.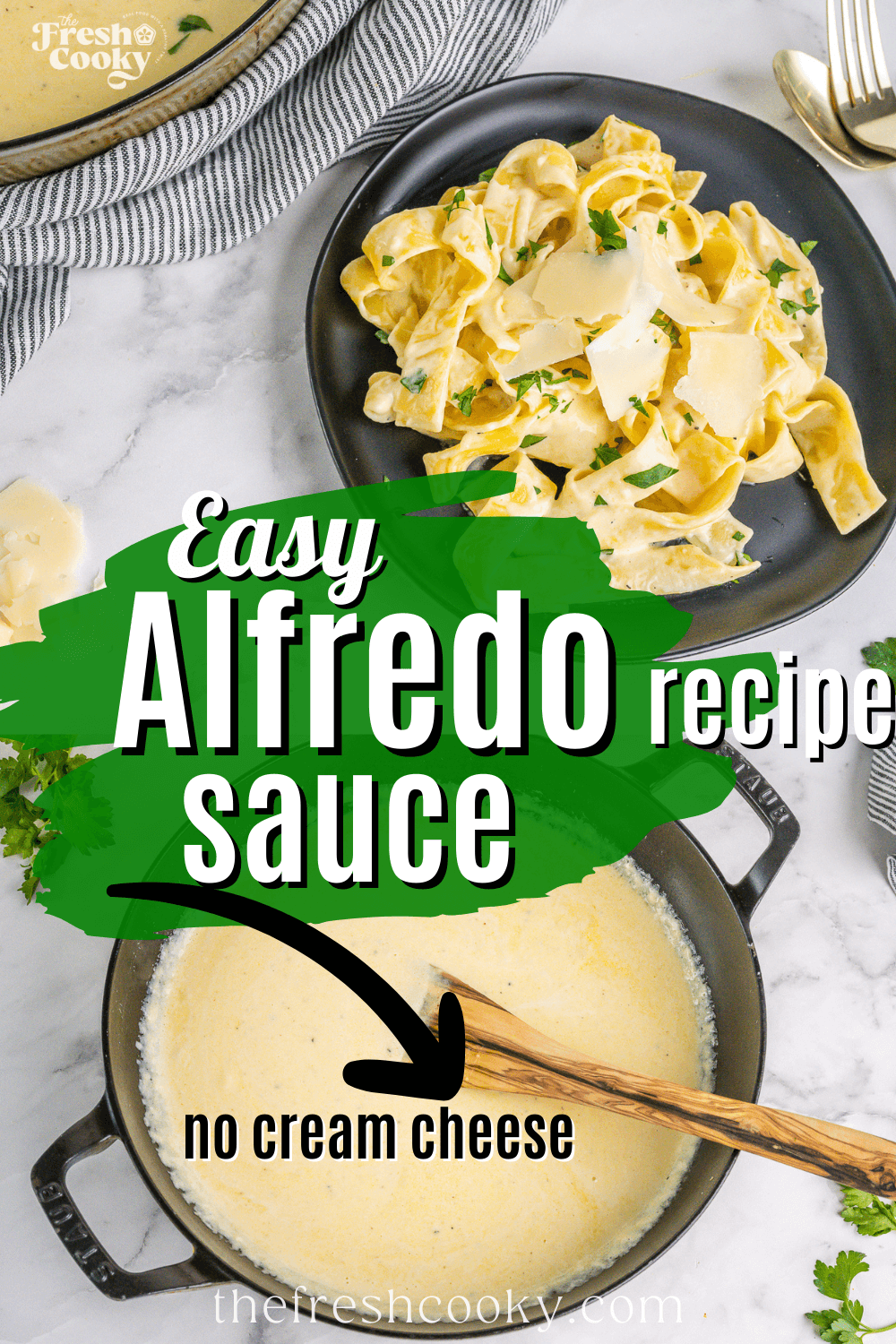 I hope you loved learning how to make homemade Alfredo sauce without cream cheese — if you did, would you share your creation on Instagram, Facebook and Pinterest? And be sure to comment below!
Like this recipe?
Don't forget to give it a ⭐️⭐️⭐️⭐️⭐️ star rating and leave a comment below the recipe!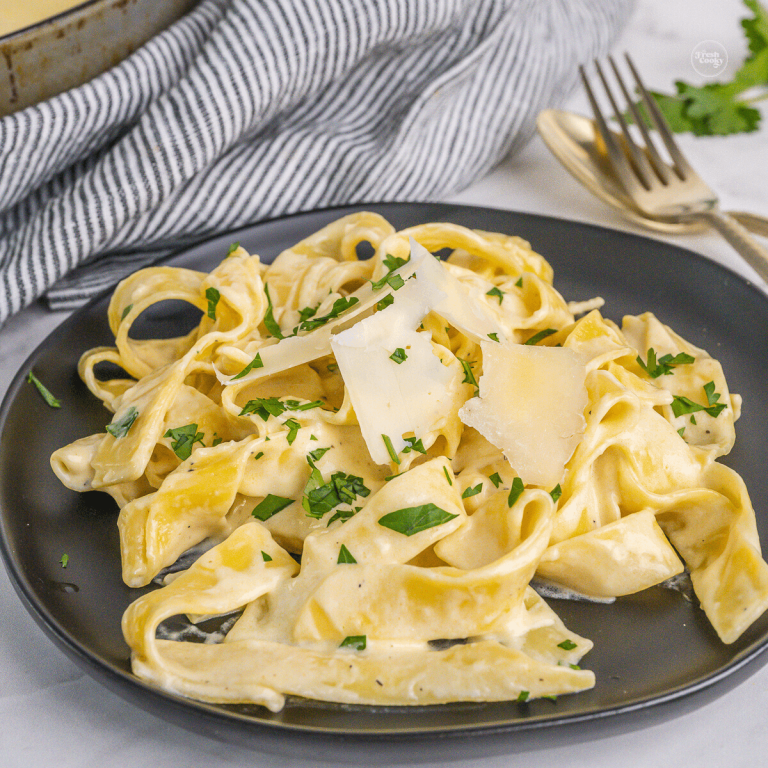 Easy Homemade Alfredo Sauce Recipe
Learn how to make homemade Alfredo Sauce without cream cheese! This homemade Alfredo sauce is creamy, rich, and cheesy, made with simple ingredients, like freshly grated parmesan cheese, minced garlic cloves, and a dash of nutmeg.
Click stars to rate now!
Print
Pin
Save
Saved!
Rate
Ingredients
1

stick

unsalted butter

½ cup butter, if using salted butter, reduce salt by ¼ teaspoon

1 ½

cups

heavy cream

2

cloves

garlic

minced, or replace with ½ teaspoon garlic powder

2

cups

parmesan cheese

freshly grated

¼

teaspoon

nutmeg

fresh grated is best

¼

teaspoon

kosher salt

if desired, wait until the end so you can taste and adjust

¼

teaspoon

black pepper

parsley

fresh, chopped

½

cup

reserved pasta water

to thin sauce, if needed
Instructions
In a large (high-sided) skillet or medium saucepan, add butter and melt, tossing the garlic in at the last minute, stirring constantly until fragrant.

Note: If making pasta, now would be a great time to start your water boiling, be sure to salt it well, and boil pasta according to package directions. Once the sauce gets started, it doesn't take long to make this sauce.

Over medium heat, add the heavy cream to the sauted garlic, stirring to combine, and bring to a low simmer. Reduce heat to medium-low then stir in nutmeg (garlic powder, if not using fresh garlic), salt, and pepper.

Remove pan from heat, and stir in shredded parmesan cheese until melted and the sauce is thickened. Garnish with chopped parsley, take a taste, and if needed stir in a little more salt.

Reserve ½ cup of pasta sauce, then drain pasta and pour sauce over pasta and toss. Or serve individual servings, spooning the desired amount of sauce over top of the pasta.

If the sauce is too thick (it will thicken as it cools), reserve about ½ cup of pasta water and stir in a tablespoon at a time. The starches in the pasta water will help thin the sauce but not too thin.
Notes
Don't skip the nutmeg, it compliments the cheese sauce beautifully!
Storage
Store leftover sauce in an airtight container in the fridge for 3-14 days, and make sure it's cooled before putting it in the fridge.
Alfredo sauce will freeze well, freeze in an airtight container for up to 3 months. Thaw overnight in the fridge, and reheat in a small pan, thinning with a little pasta water if you still have it or with milk or cream.
If the sauce "breaks" or splits separating and becoming clumpy, heat over very low heat, whisking or stirring in a little cream or milk, or parmesan cheese until it comes together.
Nutrition
Serving:
1
serving (about ¼ cup)
|
Calories:
353
kcal
|
Carbohydrates:
2
g
|
Protein:
10
g
|
Fat:
34
g
|
Saturated Fat:
22
g
|
Polyunsaturated Fat:
1
g
|
Monounsaturated Fat:
9
g
|
Trans Fat:
0.5
g
|
Cholesterol:
98
mg
|
Sodium:
487
mg
|
Potassium:
73
mg
|
Fiber:
0.04
g
|
Sugar:
2
g
|
Vitamin A:
1205
IU
|
Vitamin C:
1
mg
|
Calcium:
331
mg
|
Iron:
0.3
mg