As an Amazon Associate, I earn commissions from qualifying purchases (
disclosure policy
).
Make this Giant Chocolate Chip Cookie Heart this Valentine's day! This cookie heart is the best giant cookie cake recipe! Simple and Scrumptious! Chewy, dense, crisp-buttery edges with loads of chocolate!
What do you usually do for Valentine's day? With restaurants being so busy, and most years it typically lands on a busy school night, I usually try and make a fun dinner for our family at home, usually inhaled eaten in 20 minutes because we have to get across town for swimming or some athletic event!
Our favorite Valentine's day treats are these Air Fryer Heart Biscuit Donuts, Best Traditional Shortbread or make these easy Easy 5-Ingredient Raspberry Cheesecake Thumbprint Cookies.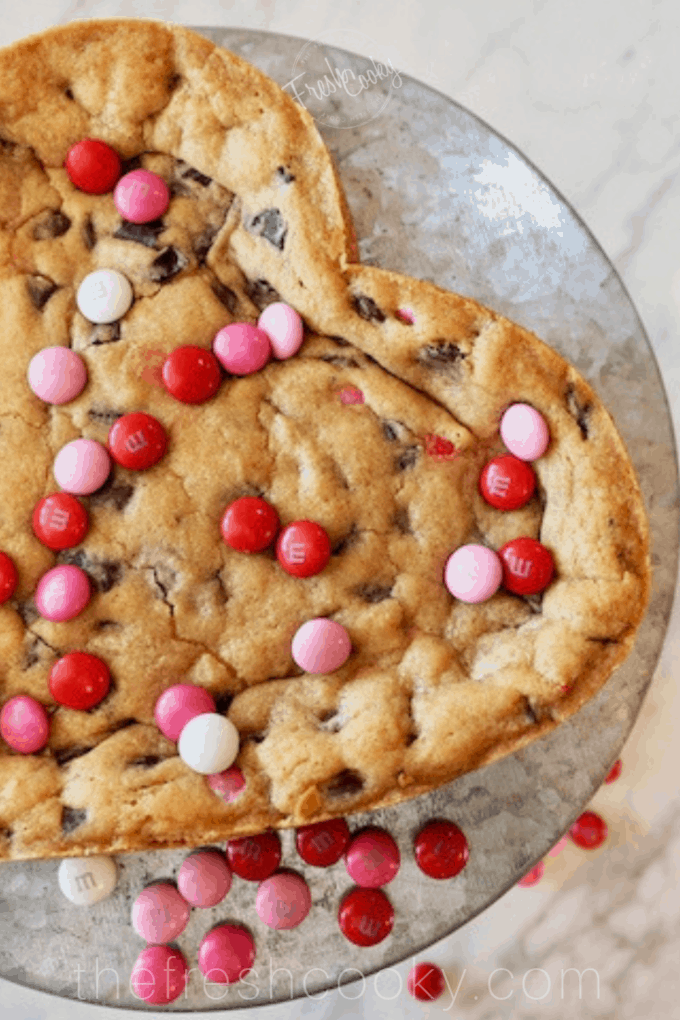 Why You Will Love this Recipe
FUN | You will put a smile on everyone's face when you serve this for dessert!
EASY | Whip up your cookie dough and SHAZAM you have a delicious dessert.
AMAZING | You will wow your family thinking you picked this up from the bakery!
At Home Valentine's Day
Oh sure in the early years, my hubby would take me out to a fancy restaurant, buy me roses and I'd get all dressed up, but I'm really not a make-a-big-fuss kind of girl.
Now I try setting a pretty table using the good dishes and crystal, sometimes I'll even set things up on the coffee table in front of a fire, which is how we did it last year (we did talk, I promise). Changing things up is fun, even for teenage boys!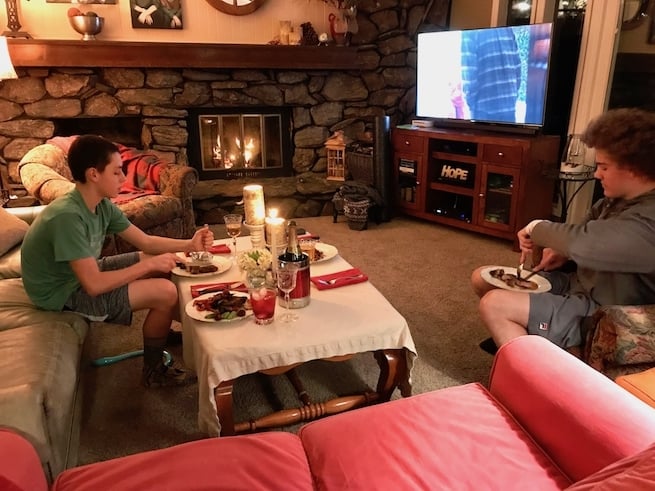 Simple Ingredients
Butter | The real stuff, should be hard straight from fridge, but soften for the recipe.
Sugar | White (I use all-natural cane sugar) and Light Brown Sugar is what we'll use
Eggs | I use large eggs in all of my baking
Vanilla | ever made homemade vanilla, a must try!
All-Purpose Flour | I always use organic, unbleached AP Flour
Chocolate | We'll use Chocolate Cips, Chocolate Chunks and Valentine M&M's
How to make a Giant Chocolate Chip Cookie Heart
I really do prefer to stay home; family dinners are getting harder to come by in these teen years, and I cherish those times together.
So I chill some Martinelli's for the boys and I might make a special cocktail for Brad and me, doesn't really matter what dinner is, it's dessert that counts! I have also made these Valentine's Cake Pops and this oh-so-decadent Death By Chocolate Cake.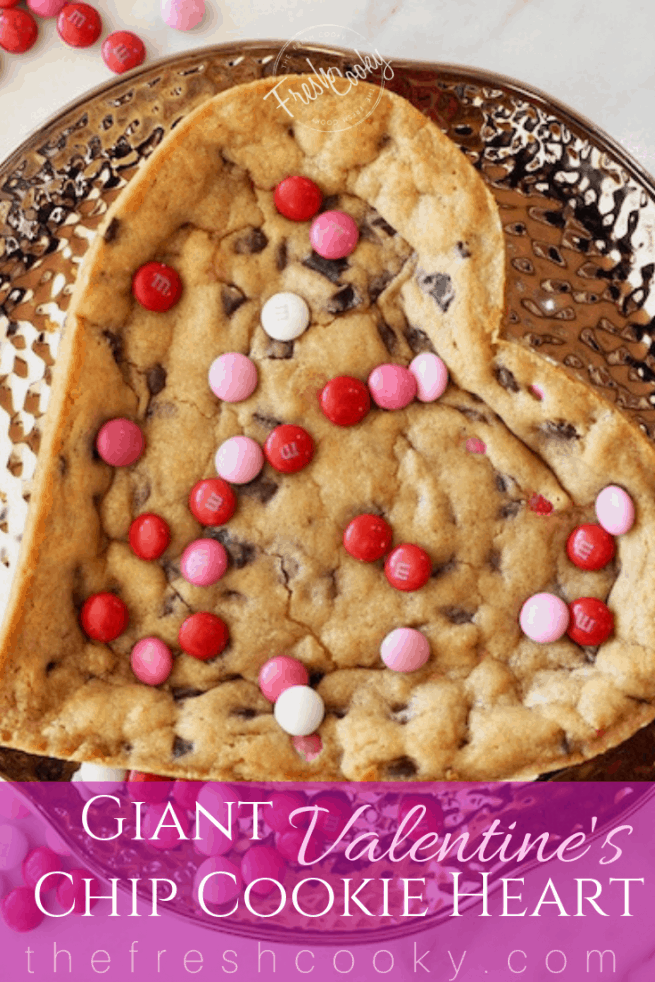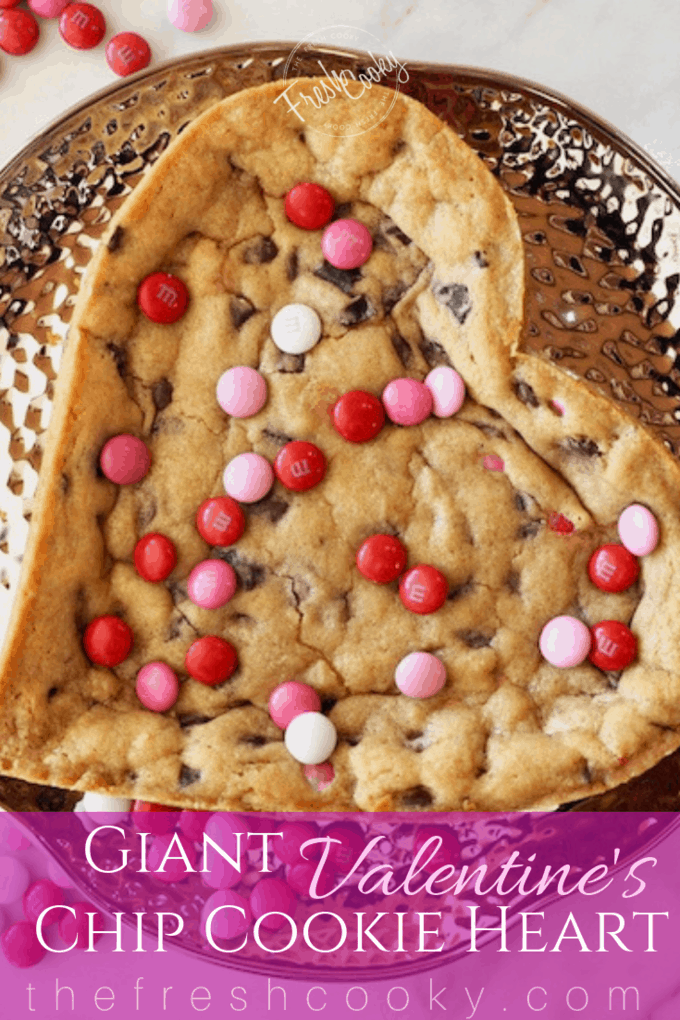 Start with my basic Chewy Chocolate Chip Cookie dough and simply replace the mini-chocolate chips with 1 (heaping) cup of Valentine's M & M's in addition to the regular chocolate chips and chunks. Stir them carefully into the dough, there is not such thing as to chocolatey, is there??
NOTE | You can see the step by step for the cookie dough in the link above, but the complete recipe for the cookie dough is at the end of this post.
Reserve some M & M's for placing on top after baking.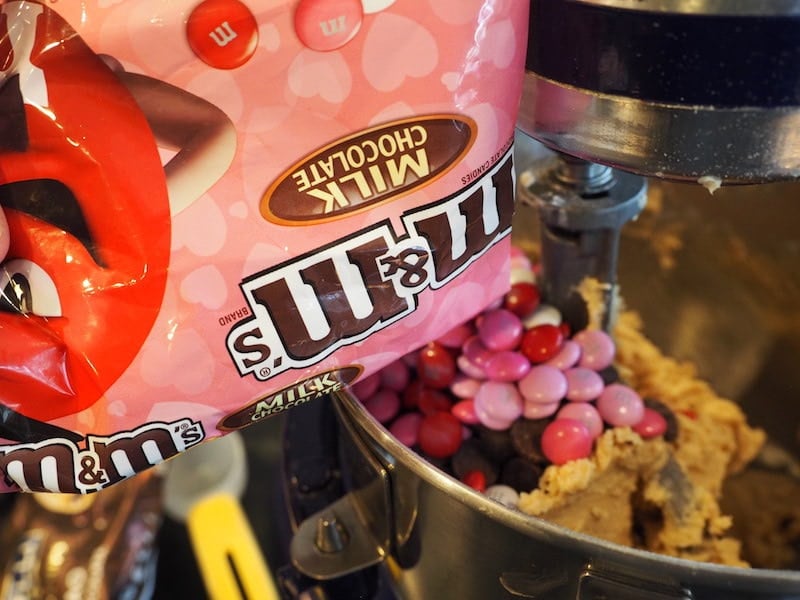 If you happen to have a heart-shaped pan, great! Mine is actually a heart form from a spring-form pan.
OR you can use an 8 or 9″ round cake pan, nothing wrong with a giant round cookie! If you must have it heart-shaped cookie, then check out these options. 10″ heart shaped pan 6″ heart shaped pan (make 2 or three!), these tart pans are darling, or this heart shaped variable size set.
Be sure to liberally grease your pan in preparation, using non-stick cooking spray or spray oil.
Place roughly ⅓ of the dough into the pan/form.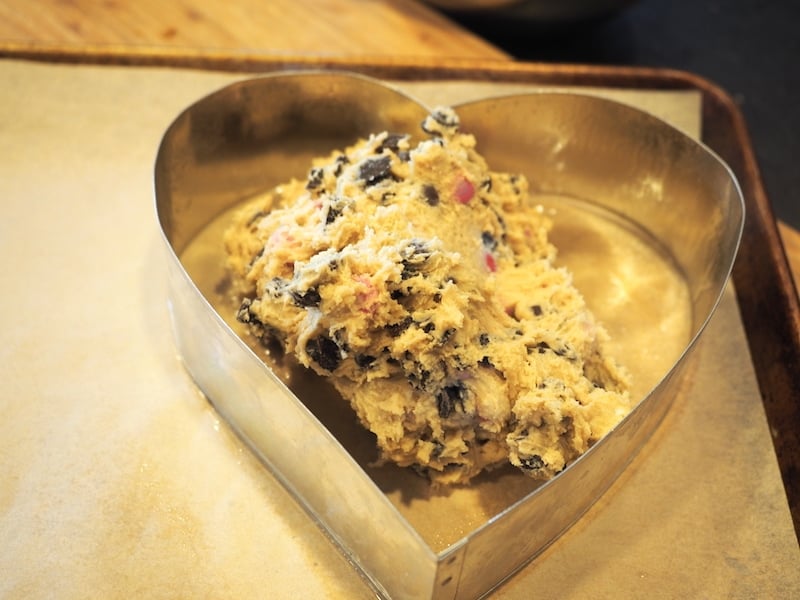 Press the cookie dough into the pan, about ¾ inch thick, adding or removing dough as needed.
Pro Tips
Using a piece of plastic wrap or parchment paper to evenly press the cookie dough throughout the form or pan.
If using a form and not a pan, or free-forming your hearts, be sure to place on a cookie sheet lined with parchment paper, I love these natural, pre-cut sheets.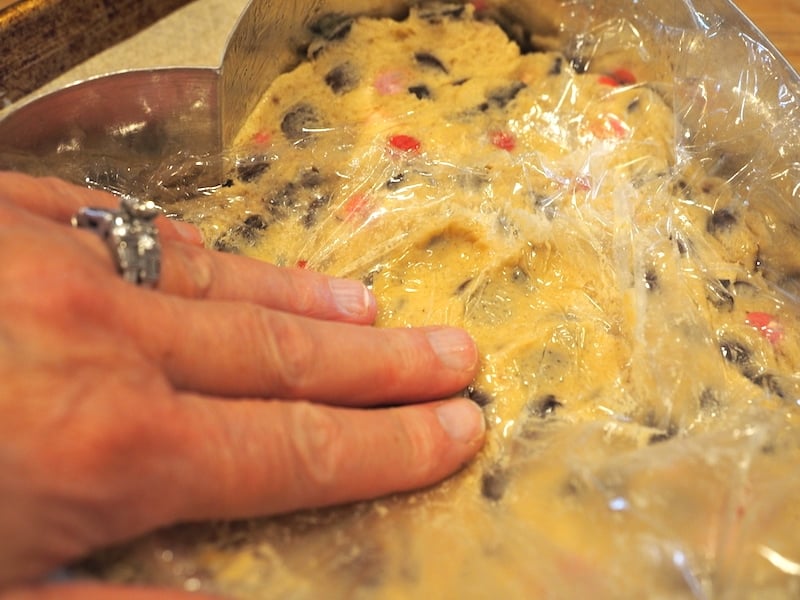 You can attempt to make a free-form heart, I made an extra smaller heart, just by pressing it into a heart shape.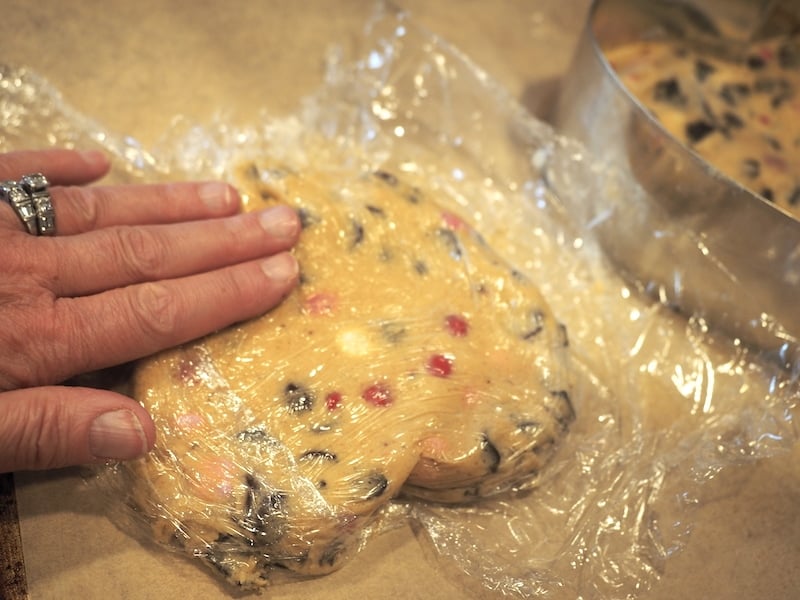 Next, freeze the dough for 30 minutes until firm, don't skip this step!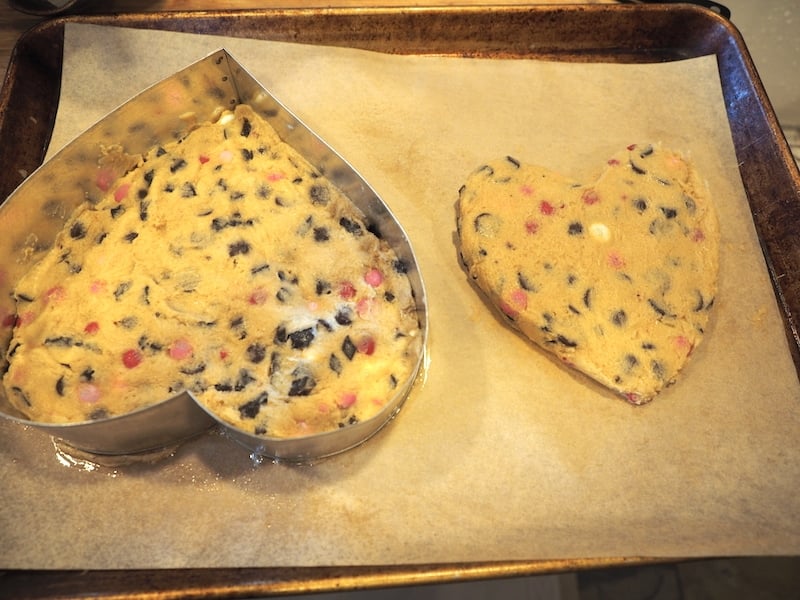 In order to keep the dip in the top of the heart (it probably has a technical name) I used a little folded foil, sprayed with non-stick oil and tucked it in to help it keep from spreading.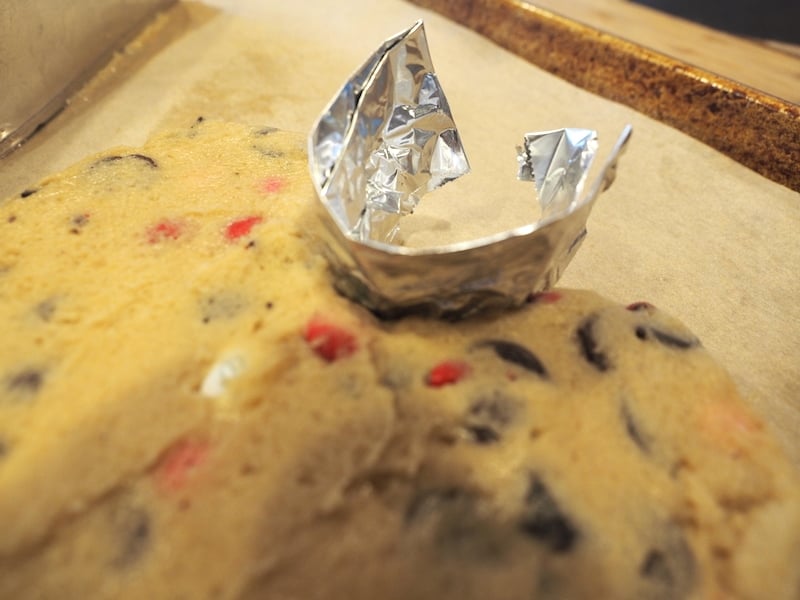 About 15-20 minutes into chilling, preheat your oven to 350°.
Place cookie sheet, or cake pan into oven and bake for 15-20 minutes, watching closely towards the end. Depending on how thick you made the cookie, it will cook quicker or slower.
Remove from oven when edges are lightly browned and crispy, center will still be pretty soft and gooey. Allow to cool completely on cookie sheet, on cooling rack.
PRO BAKERS TIP | Using another handful or two of M & M's, gently sprinkle all over the giant cookie while cookie is still hot and if desired press into cookie.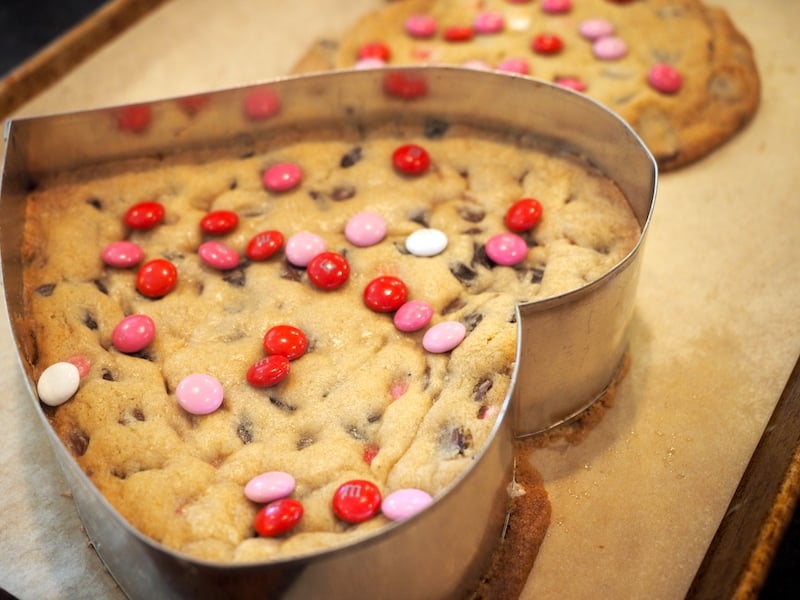 Once cooled, using a table knife, gently insert between sides of cookie and pan and release from mold or pan.
If removing from a pan, allow to cool for 15-25 minutes, use a knife to separate the edges from the pan, carefully turn over onto cooling rack laid on top of pan.
Invert and allow to cool completely. If you prefer not to have cooling rack marks, using the same method, invert back using another cooling rack. Be sure that you greased your pan extremely well before baking!
Bakers Tip
Even as mine cooled, the center was still quite gooey, I wanted to move it to a serving plate, so I placed the cookie sheet back in the freezer for 15 minutes just to harden the center. Then using a large spatula it transferred quite easily to the serving plate.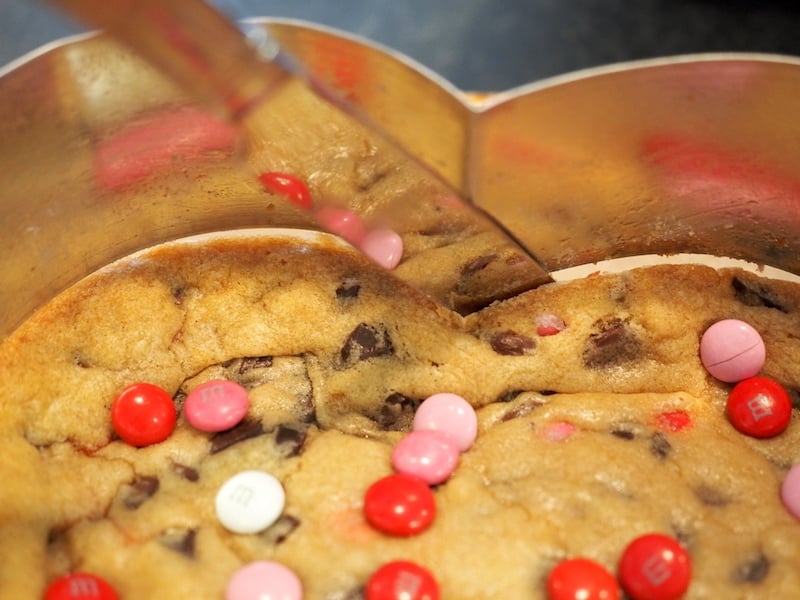 If baking free-form hearts or baking smaller hearts, they will need less baking time, watch them closely. Mine did spread even after freezing, but it didn't stop my family from tearing into the cookie!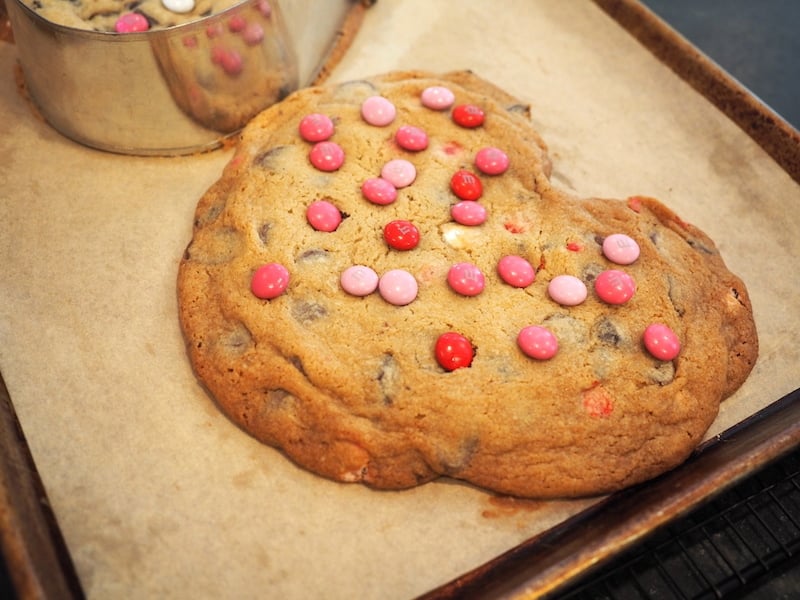 Serve on a pretty plate or pedestal, slice into wedges using a knife or pizza cutter.
Serve cold or warm with a scoop of your favorite ice cream (maybe even homemade?) and chewy hot fudge sauce or bourbon caramel sauce for an extra decadent dessert. Which is kind of the point for Valentine's day right??
TIPs from the Fresh Cooky | To reheat the cookie, place on a cookie sheet into a 250° oven for about 5-10 minutes until warm through.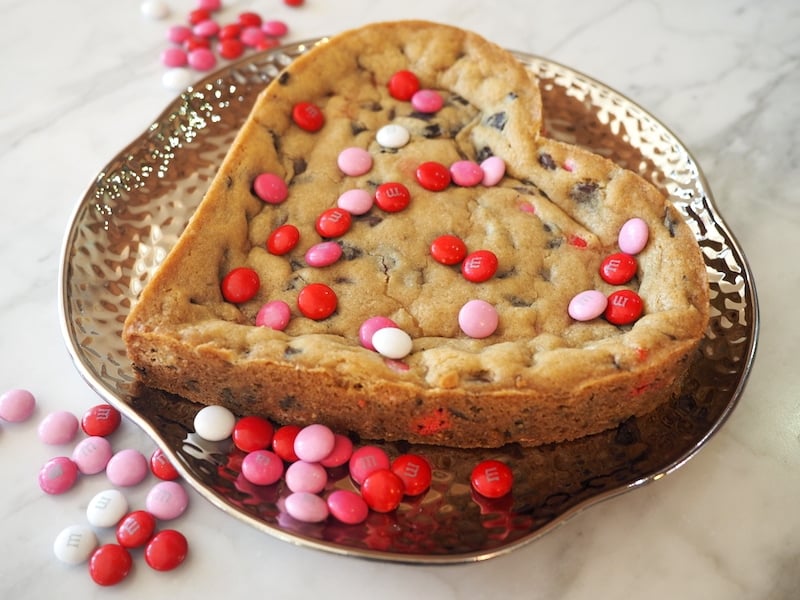 This recipe makes two large cookies, or one large cookie and about 16 regular size cookies!
I scooped my extra dough using a medium cookie scoop. Freeze the dough balls on a small cookie sheet or plate until firm, then transfer to an airtight container or freezer baggie.
When ready to bake, allow to come to room temperature while you are preheating your oven, about 10-15 minutes and bake at 375° for 8-10 minutes.
Want to make Gluten-Free, use my Gluten-Free Chocolate Chip Cookie Dough!
MORE VALENTINE'S DAY RECIPES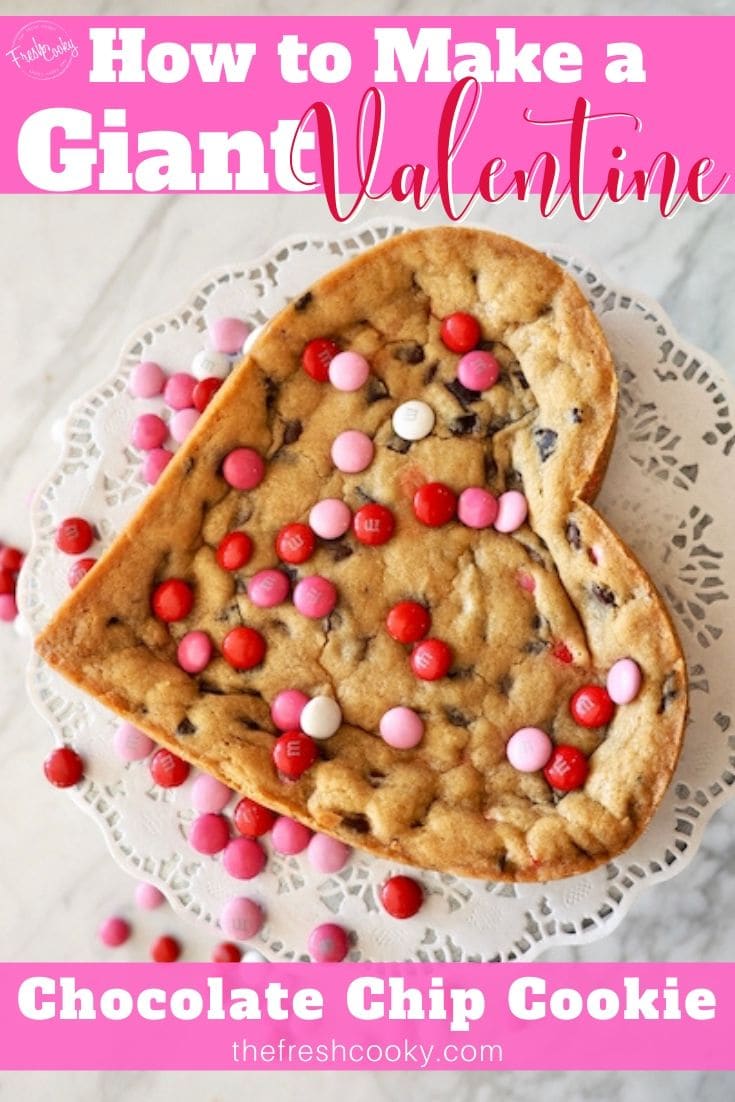 Try these other sweet treats for Valentine's Day!
Like this recipe?
Don't forget to give it a ⭐️⭐️⭐️⭐️⭐️ star rating and leave a comment below the recipe!
Giant Chocolate Chip Cookie Heart
This is the perfect dessert for this Valentine's day! A giant, chewy chocolate chip cookie, with crisp-buttery edges and a soft chewy center.
Click stars to rate now!
Print
Pin
Save
Saved!
Rate
Servings:
32
servings, makes 2 large cookie hearts
Ingredients
1

cup

butter

2 sticks, softened (real butter)

⅔

cup

white sugar

I use, all natural cane sugar [¾ cup if not high altitude]

⅔

cup

brown sugar

packed [¾ cup if not high altitude]

2

large

eggs

room temperature is best

1

teaspoon

vanilla extract

2 ½

cups

unbleached all-purpose flour

2 cups if not high altitude

1

teaspoon

baking soda

1 ¼

teaspoon

salt

2

teaspoon

water

omit if not high altitude

1

cup

chocolate chips

I like Ghirardelli Semi or BitterSweet Chips

1

cup

Valentines M&Ms

heaping cup

⅔

cup

chocolate chunks

Optional for extra chocolate!
Instructions
Cream softened butter in mixer, 1 minute. Add both white and brown sugar and cream well, scraping down sides often for 2 minutes.

Mix in eggs, one at a time, cream 1 minute each and scrape down sides in between. Pour in vanilla and mix well.

While creaming butter and sugar mixture; in a medium bowl, mix together flour, baking soda and salt gently with a whisk. With mixer on low or stir, slowly pour in ½ cup of flour mixture at a time and gently mix, add water in between flour mixing, don't over mix.

Once mixed well, scrape sides of bowl and pour in chocolate chips and chunks, mix on low, until combined. By hand, stir in the M & M's into the batter.

Generously grease a 9-10" heart shaped form or pan and place on cookie sheet lined with parchment paper. May use smaller pans, just reduce baking time.

Measure out enough batter to fill the shaped pan, about ¾" thick, using a sheet of wax paper or plastic wrap, make sure it is spread evenly and to the edges. Freeze for 30 minutes.

About 15 minutes into freezing, preheat oven to 350 degrees. Remove heart shapes from freezer and place in preheated oven.

Bake 15-25 minutes (watch closely, depending on the size of your pan and the amount of dough you placed in the pan will determine how long it will take to bake.) It should be golden at the edges, starting to pull away with the center still looking slightly underdone.

Remove from oven when edges are slightly browned and center is set, but will probably still be pretty gooey. If desired, sprinkle another handful of M & M's over the top of the hot cookie.

Allow to cool on a cooling rack for 15-30 minutes if using a pan or fully on cookie sheet if using a form.

When ready to release from form or pan, take a table knife and gently run around the edges of the cookie, separating from the pan. Lift off form and allow to continue to cool completely.

If using a pan, place a cooling rack over the top of the pan and carefully invert onto cooling rack. Do the same thing again with another cooling rack if you prefer not to have rack marks on the cookie. Cool completely.

If needed to move to a serving plate, freeze for 15 minutes, then use a large spatula to transfer to plate.
Notes
Makes 2 large cookie hearts, if preferred, make one heart and approximately 16 additional chocolate chip cookies.

Scoop into balls using a medium-sized scoop onto a parchment-lined cookie sheet, 2 inches apart.

Place in fridge (or freeze until ready to bake) 10 minutes prior to baking; bake at either 350° F (175° C). (

375° high altitude (190° C)

8-10 minutes until just set and slightly golden.

Cool on pan 2-3 minutes and then remove to a cooling rack to cool completely.

Enjoy warm or room temp. If not enjoying all the cookies at once, freeze dough balls until firm, then place in a freezer Ziplock bag until ready to use.

Once ready to bake, take it out of the freezer and place 2 inches apart on parchment-lined baking sheet. Let soften while the oven preheats. Bake as directed above. Always fresh cookies
Nutrition
Serving:
1
serving
|
Calories:
206
kcal
|
Carbohydrates:
26
g
|
Protein:
2
g
|
Fat:
10
g
|
Saturated Fat:
6
g
|
Polyunsaturated Fat:
0.4
g
|
Monounsaturated Fat:
2
g
|
Trans Fat:
0.3
g
|
Cholesterol:
29
mg
|
Sodium:
185
mg
|
Potassium:
43
mg
|
Fiber:
1
g
|
Sugar:
18
g
|
Vitamin A:
223
IU
|
Vitamin C:
0.1
mg
|
Calcium:
25
mg
|
Iron:
1
mg