Air Fryer Biscuit Donut Recipe (Heart Shaped)
As an Amazon Associate, I earn from qualifying purchases. Please read my disclosure policy.
This Air Fryer Biscuit Donut recipe is quick and easy way to make special heart shaped donuts. Crispy outside, covered in strawberry and chocolate icing, with adorable Valentine's Day sprinkles!
And the best part, these Valentine's Day donuts are easy to make with simple ingredients in about 16 minutes total. All you need is an air fryer and some scrumptious ingredients, like a can of biscuits and jars of tasty icing! No hot oil, deep fryer or paper towels needed.
Hungry for more delicious air fryer recipes? Check out my Air Fryer French Toast Sticks Recipe, this popular (and amazing) air fryer halibut, or even this incredible Fried Ice Cream Recipe!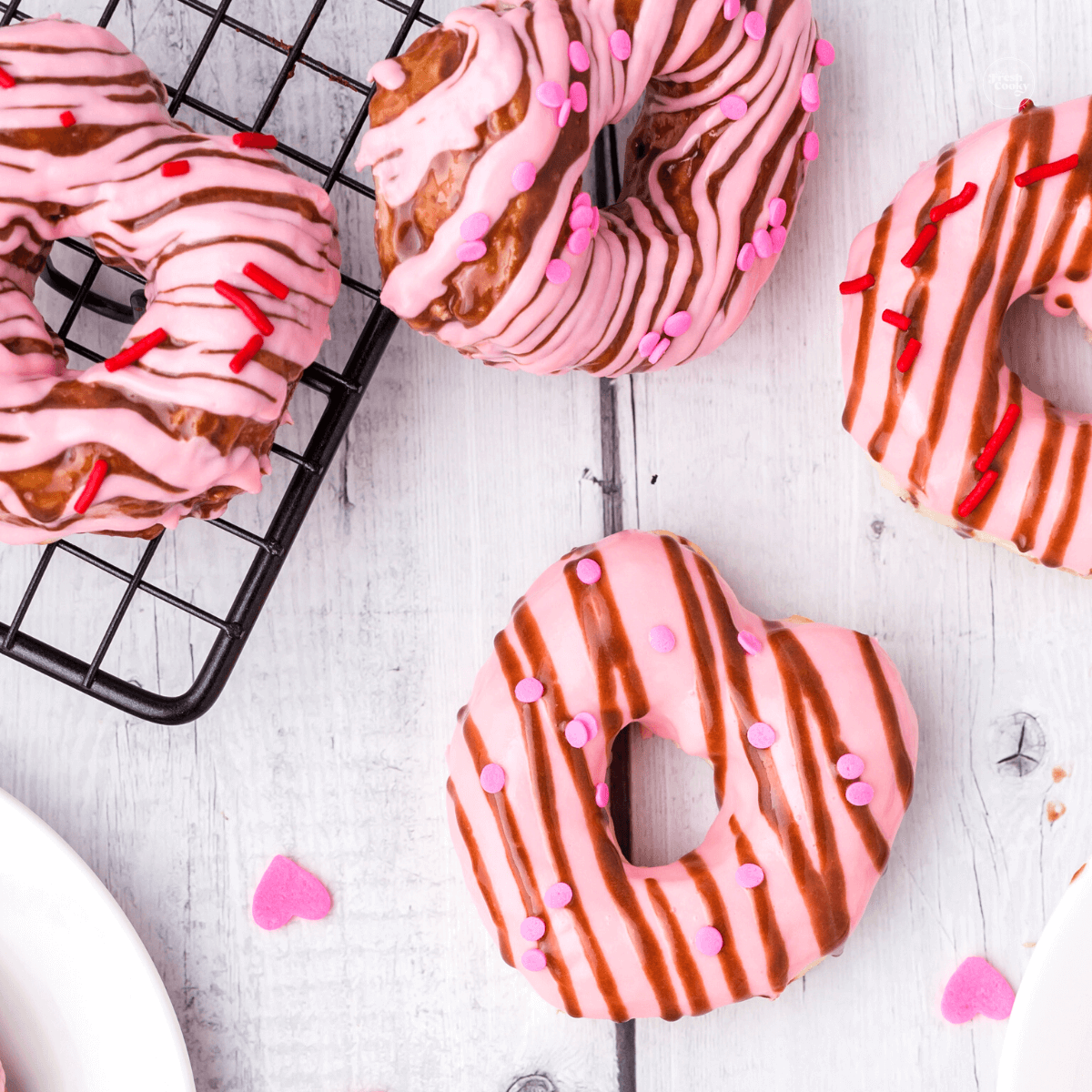 Why You Will Love this Recipe
Adorable Presentation | What's cuter than little heart-shaped donuts with pink icing and Valentine's Day sprinkles?
Great anytime | This easy recipe isn't only for Valentine's Day. Switch up the icing color, flavors, and sprinkles to make it fit any occasion, like Christmas, an anniversary, a baby shower, a bridal event, or even a charity fundraiser!
Versatile- Bite into these delicious biscuits donuts for breakfast, as a dessert or snack, or serve them while hosting a party.
Key Ingredients
Ingredients, directions and nutritional information in the printable recipe card at the end of the post.
Buttermilk biscuits | I used Annie's Organic Biscuits, use your favorite brand of refrigerated canned biscuits.
Butter | Creamy melted butter to brush over the donuts for a nice and crispy outside.
Whole milk | Use whole milk or something similar to thin out the cans of icing. This makes spreading the icing much easier.
Icing | Grab two jars of icing (go organic if you can!)—one strawberry and one chocolate—the perfect flavors for a lovely Valentine's Day treat. Or even better, make my basic buttercream glaze, tint some with a little red dye, keep the other white. Add a tablespoon or two of cocoa powder and stir it in.
Sprinkles | Add the final touch to these sweet treats by covering them with assorted Valentine's Day sprinkles. I used red, pink, and heart-shaped sprinkles.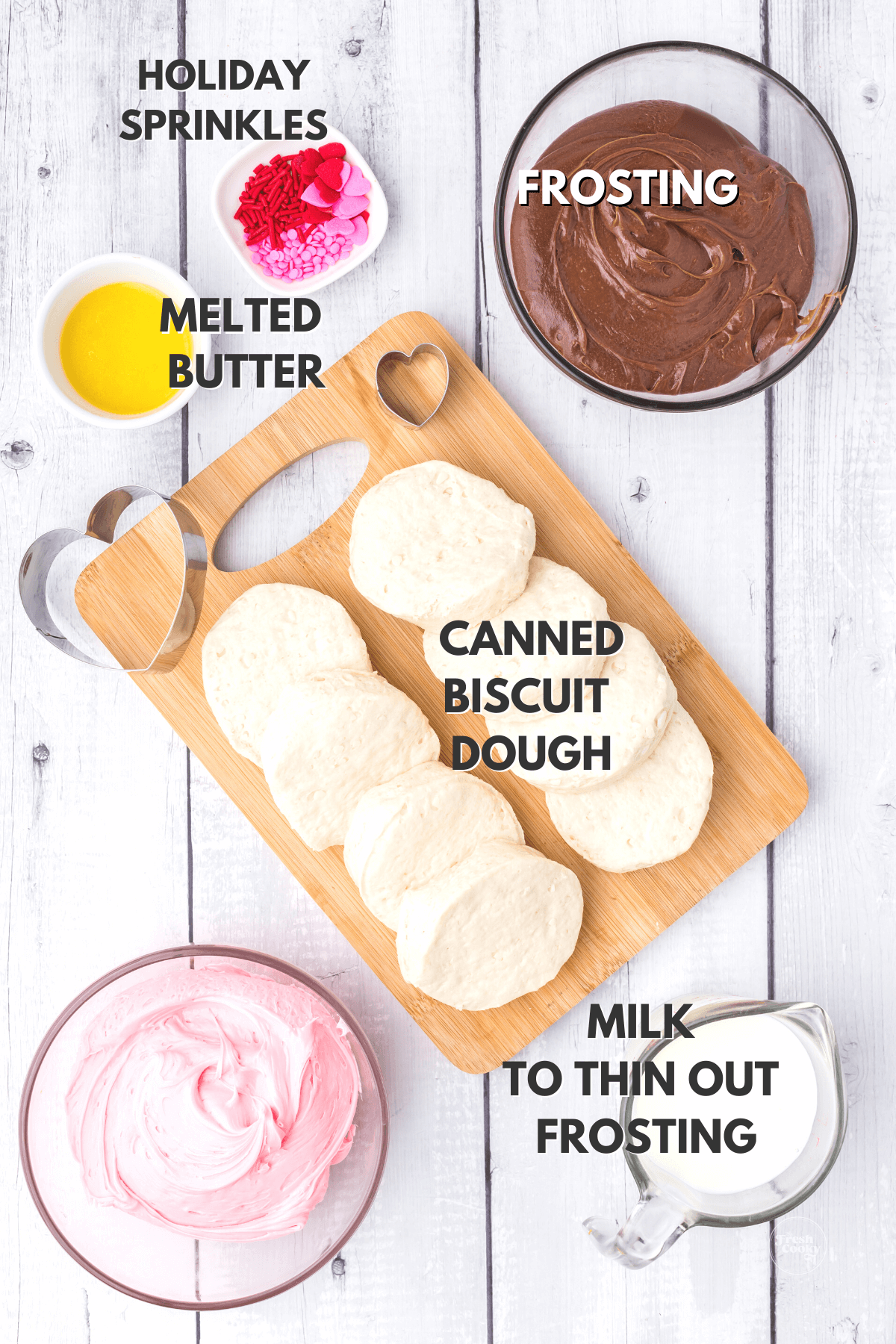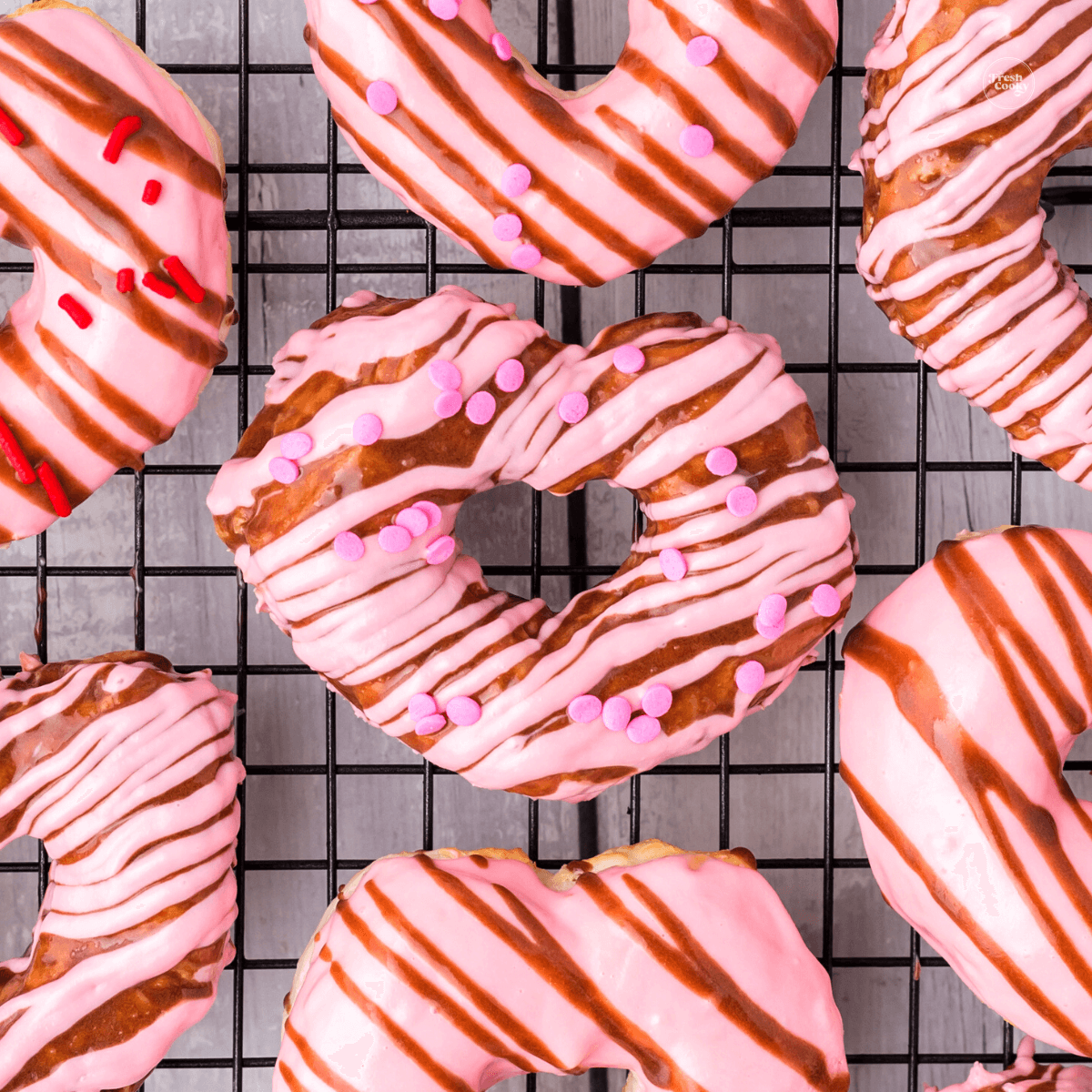 How to Make Air Fryer Donuts
Step 1 | Prepare Biscuits
Begin this simple biscuit donut recipe by removing the biscuits from the can and laying them on a flat surface. Use a large heart cookie cutter to cut the biscuit into the shape of a heart.
Depending on the cookie cutter you use, you may need to stretch the edges of the biscuit or use a rolling pin to make each biscuit a little larger. If you use a rolling pin, just a few gentle rolls should do the trick. You still want the biscuits to be thick.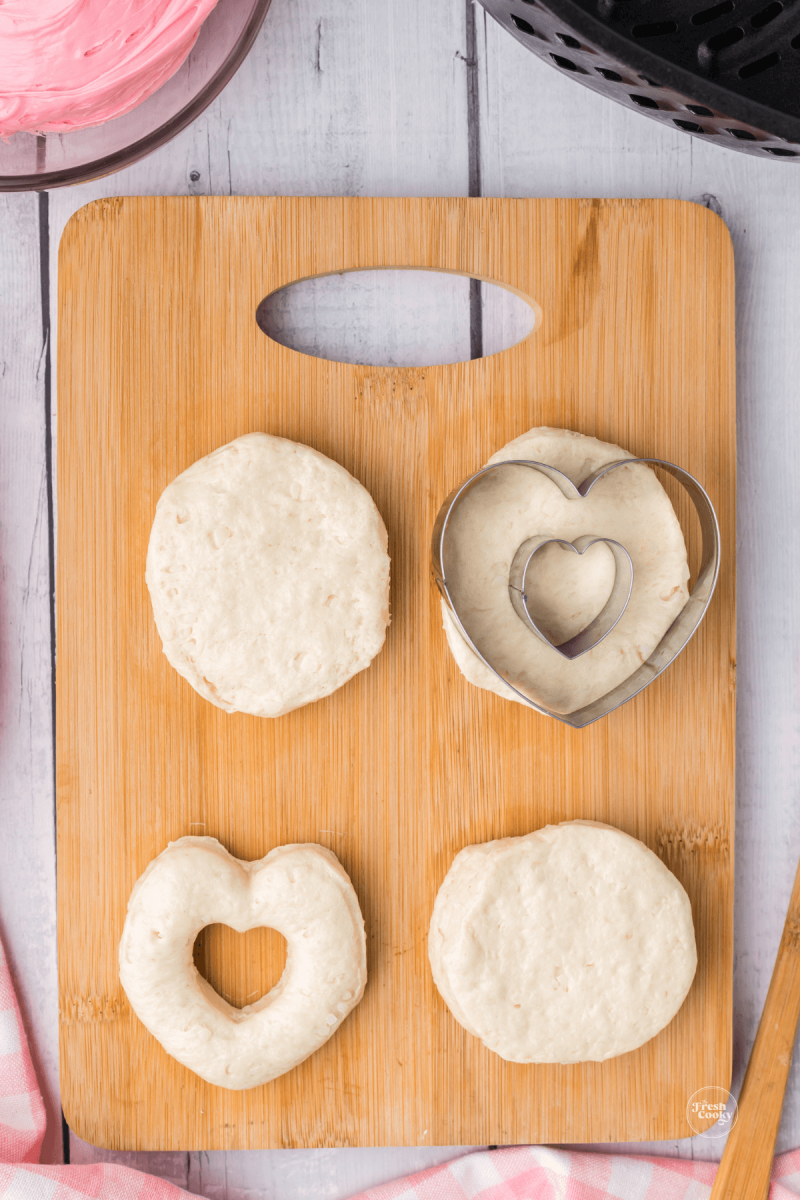 Then, using a smaller heart-shaped cookie cutter, cut out a hole in the center of each biscuit to make the donut holes.
Pro Tip for Biscuit Donut Recipe
If you want to make regular donuts and not heart shaped, use a small round cookie cutter to cut a hole out of the center.
For example, I like this set I use to make my sugar cookie bites and espresso brownie bites — save the donut holes, you can air fry them too!
Step 2 | Prep the Air Fryer & Biscuits
Spray the bottom of your air fryer basket with a little spray oil or line with parchment paper made for air fryers. Place your heart donuts into the basket about 2 inches apart to allow room for rising.
Be sure not to overcrowd the basket and place just a single layer of donuts at the bottom. This will help the recipe to rise and cook evenly.
Now, brush biscuit donut hearts with a bit of melted butter to create a crisp outside.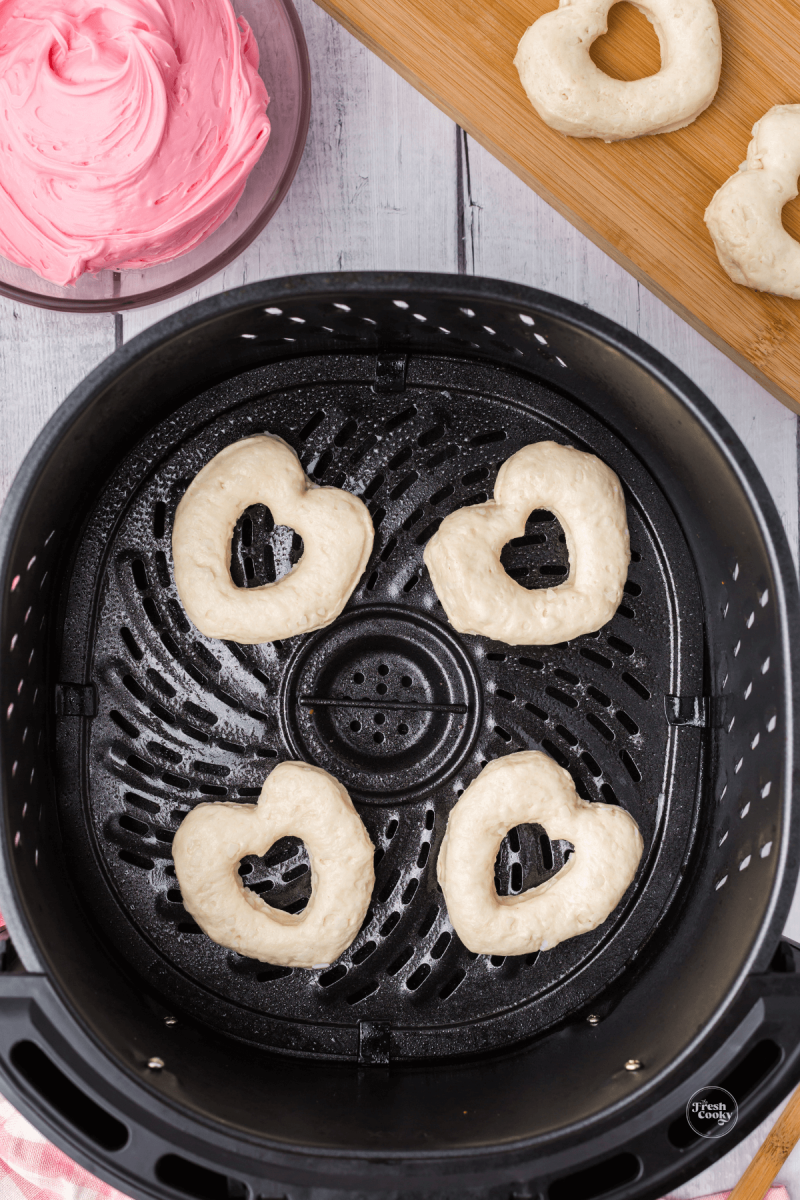 Why you should never spray your air fryer racks or basket with cooking spray
While non-stick sprays like Pam contains oil, it also contains lecithin (an emulsifier), dimethyl silicone (an anti-foaming agent), and a propellant.
It will build up over time on the nonstick surface creating a sticky goo, that can harm the non-stick surface in time and make it hard to clean.
For that matter you shouldn't use cooking spray (like Pam) on any non-stick pan.
Instead use a high smoke point oil spray, such as Avocado oil. (source)
Step 3 | Air Fry Heart Biscuit Donuts
Bake in preheated air fryer for about 6 minutes at 340* degrees f. Remember to flip them halfway through! You'll know the donuts are finished frying when they are golden brown and puffed. Set on a cooling rack and proceed with the rest of the donuts.
*Every air fryer heats a little differently, test out one or two and adjust the temp up or down by a few degrees, or bake less time or more time.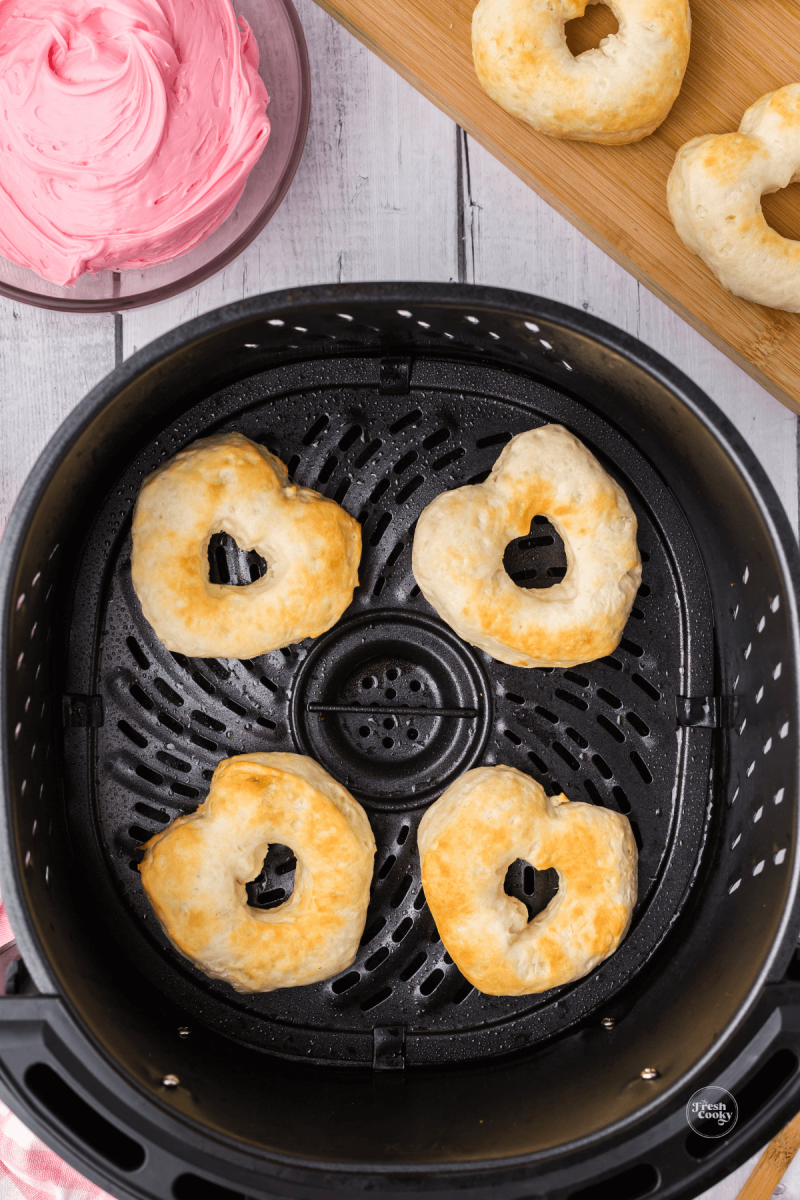 Step 4 | Frost Air Fryer Biscuit Donuts
Allow donuts to cool on a wire rack or baking sheet. If you choose not to cool them, that's fine, just know that much of your glaze will "slip" off the donut when it's hot.
Next, grab two small microwave-safe bowls. Microwave a little (you won't use the whole can) strawberry and chocolate icing separately for 30-second intervals. Stir the icing until it's smooth and silky-soft.
Then, add a little milk at a time to the frosting, stirring until it's still thick, but fluid. If you'd like a thinner icing, add more whole milk, one tablespoon at a time.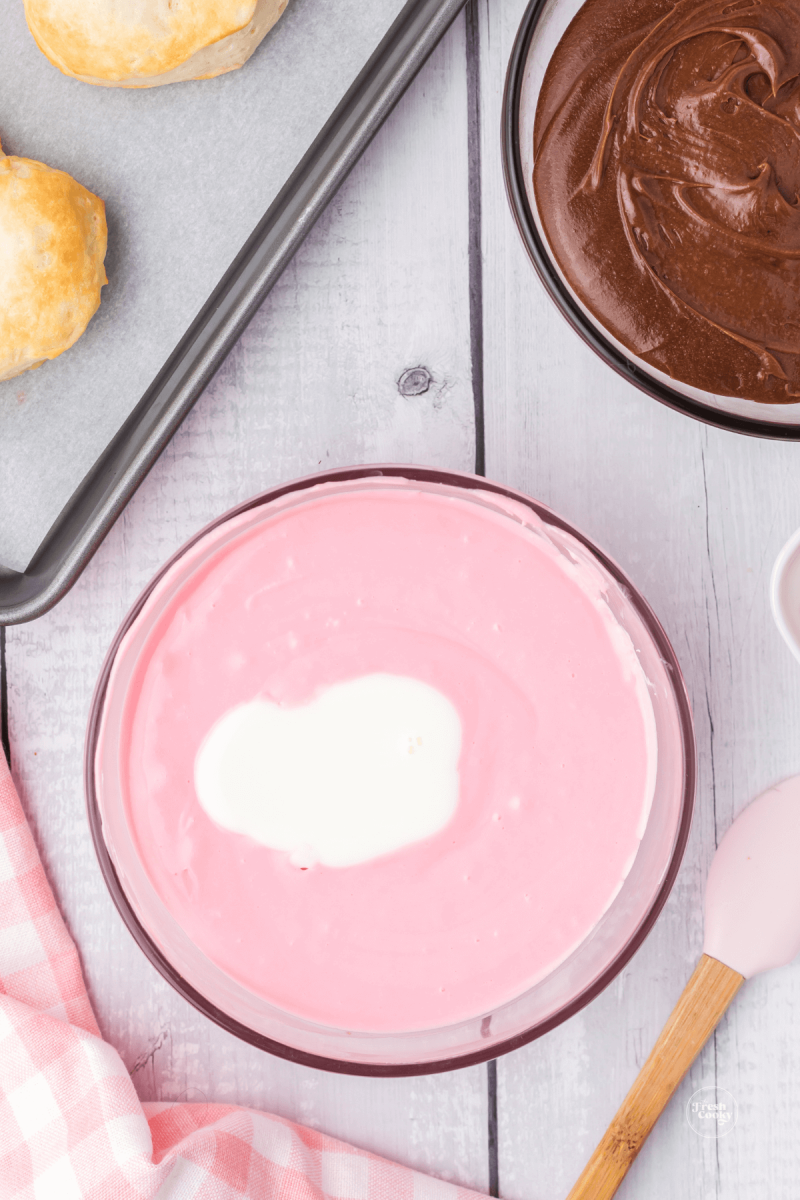 Here's the best part! Line a baking sheet or countertop with a sheet of parchment paper large enough to hold all the donuts, and if desired, place a wire rack on top of sheet. Next, dip the tops into the icing and set them aside on the parchment paper.
Finally, transfer the remaining icing into piping bags or a Ziplock bag. Cut a small hole in one corner and pipe the icing over the donuts in a straight-line design, as seen in the photos.
Before the icing hardens, add the final touch. Decorate the donuts with sprinkles, and they are ready to serve! ENJOY!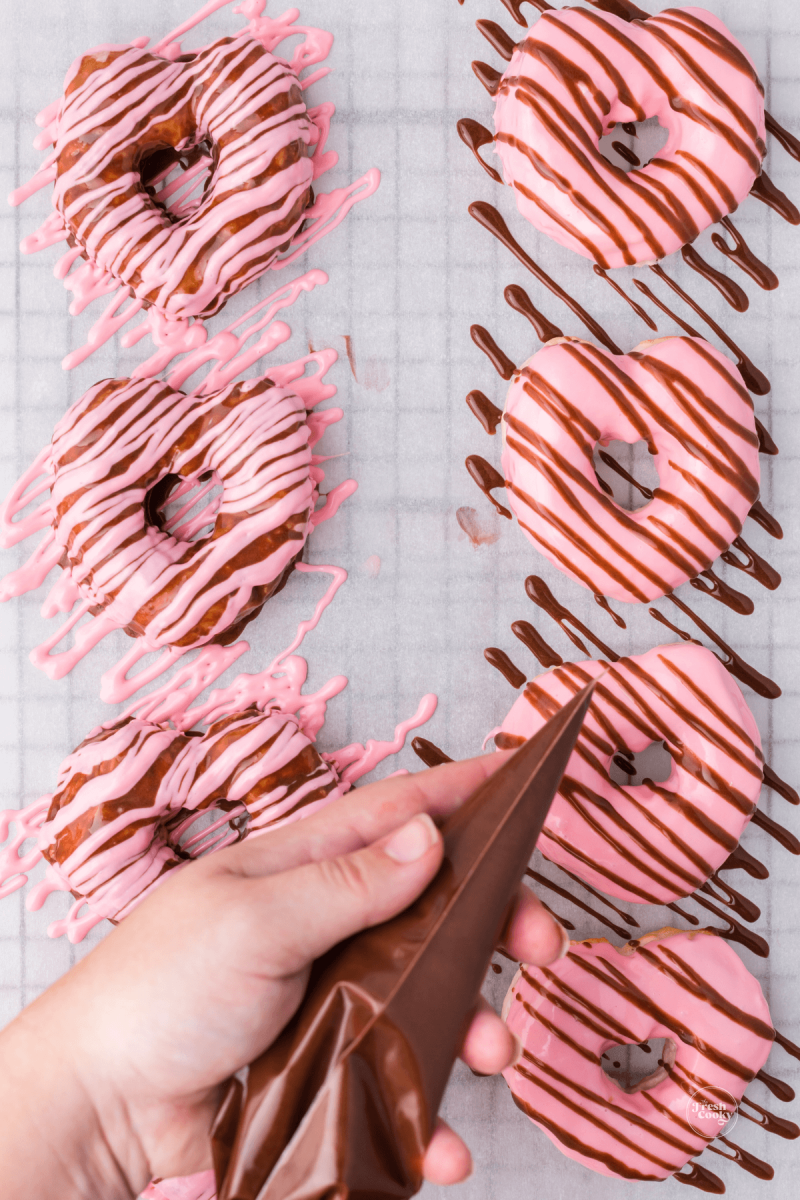 Step 5 | Heart Biscuit Donut Holes
Be sure to also air fry your mini heart shaped donuts (holes) too, watch them on timing, they might not need as long in the air fryer.
I made four chocolate-dipped donuts and four strawberry-dipped donuts. You may, of course, make all strawberry or all chocolate. You can even make some of my easy vanilla buttercream glaze instead. Or make it a chocolate glaze — YUM! Add some color to the glaze using a few drops of food coloring and make blue, green, yellow, or red donut hearts!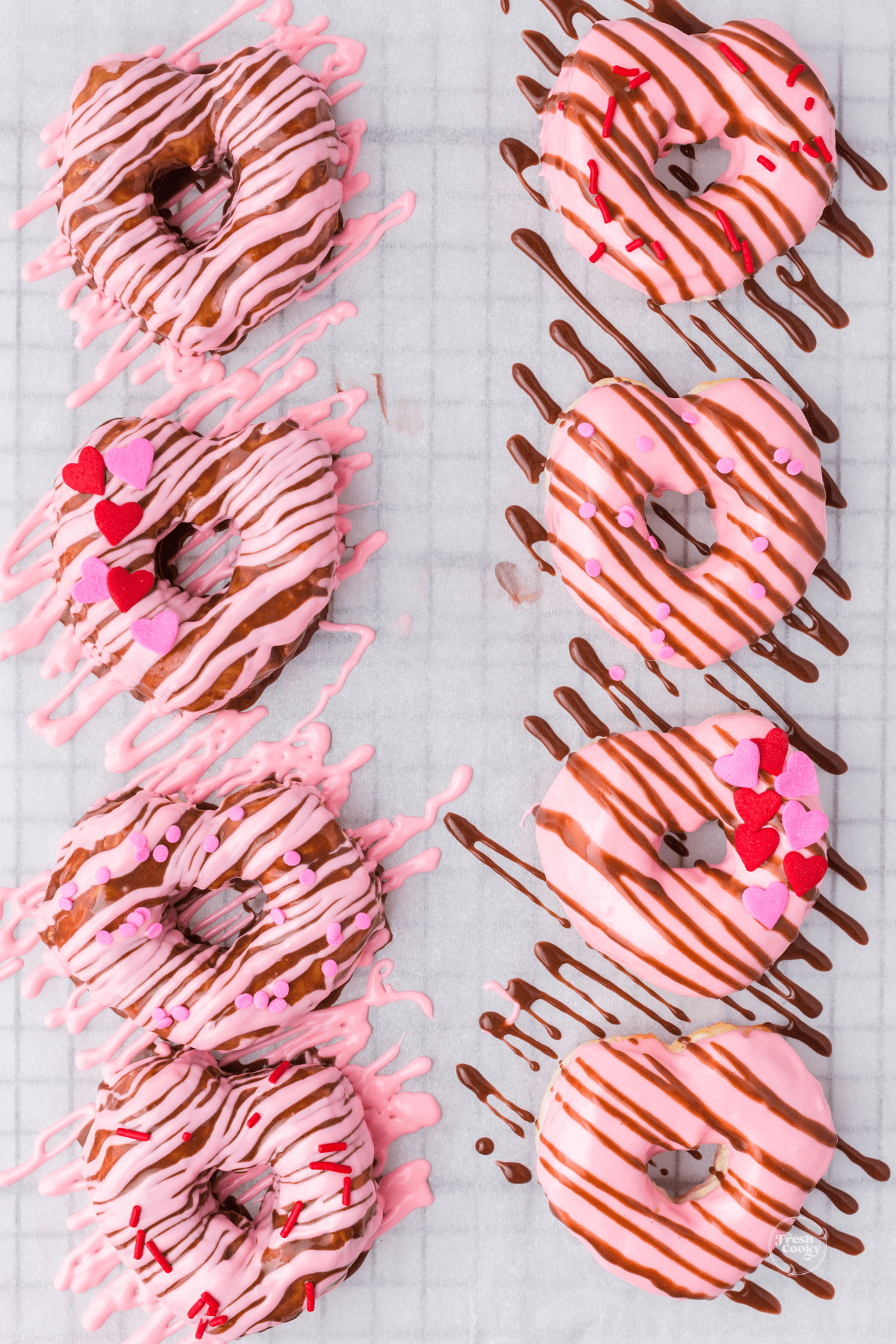 Fresh Tips
Do not overcrowd the air fryer basket. If necessary, cook the heart donuts in batches to ensure they have plenty of space to rise.
For piping, cut a very tiny split in the corner. Then, test the icing on the parchment paper. If it's too small, cut a slightly larger hole in the corner and test it again. Starting with a tiny hole will allow you to adjust it until it is the size desired.
Work quickly adding sprinkles before icing before it dries. Or add the sprinkles right after icing and designing each. If the icing is too dry, the sprinkles will likely roll right off.
Variations & Substitutions
Swap Icing Flavors | Substitute the strawberry icing with any flavor or color icing you like, such as white vanilla icing, buttercream icing, cream cheese frosting or exciting funfetti icing.
No Icing | If you aren't a big icing fan, sprinkle the fried donuts with powdered sugar, drizzle with chocolate sauce, or dip donuts into a shallow bowl of cinnamon-sugar mixture, while warm or before baking and after you've brushed with melted butter.
Use Your Favorite Biscuits | You can substitute the buttermilk biscuits with homestyle biscuits or flakey crust biscuits.
Omit the Butter | Substitute the butter with cooking oil, if preferred.
Switch the Milk Out | Swap the whole milk for half and half for a slightly different taste and texture.
Sprinkles for the Occasion | You can substitute Valentine's sprinkles with any sprinkles. For example, if you make these heart biscuit donuts for a baby shower, sprinkle them with pink and blue sugar sprinkles or whatever color matches the party's theme.
Make Your Own Icing | Not everyone is a fan of canned icing, or perhaps you just want to add more of a from-scratch touch. In that case, use homemade icing, a simple glaze, or a fluffy frosting recipe, like my Browned Butter Icing or Vanilla Buttercream Frosting.
Unique Designs | For the designs of your delicious biscuit donuts, the sky is the limit! Simply pipe stripes onto the donuts, or get creative with zigzags, swirls, polka-dots, or squiggly lines.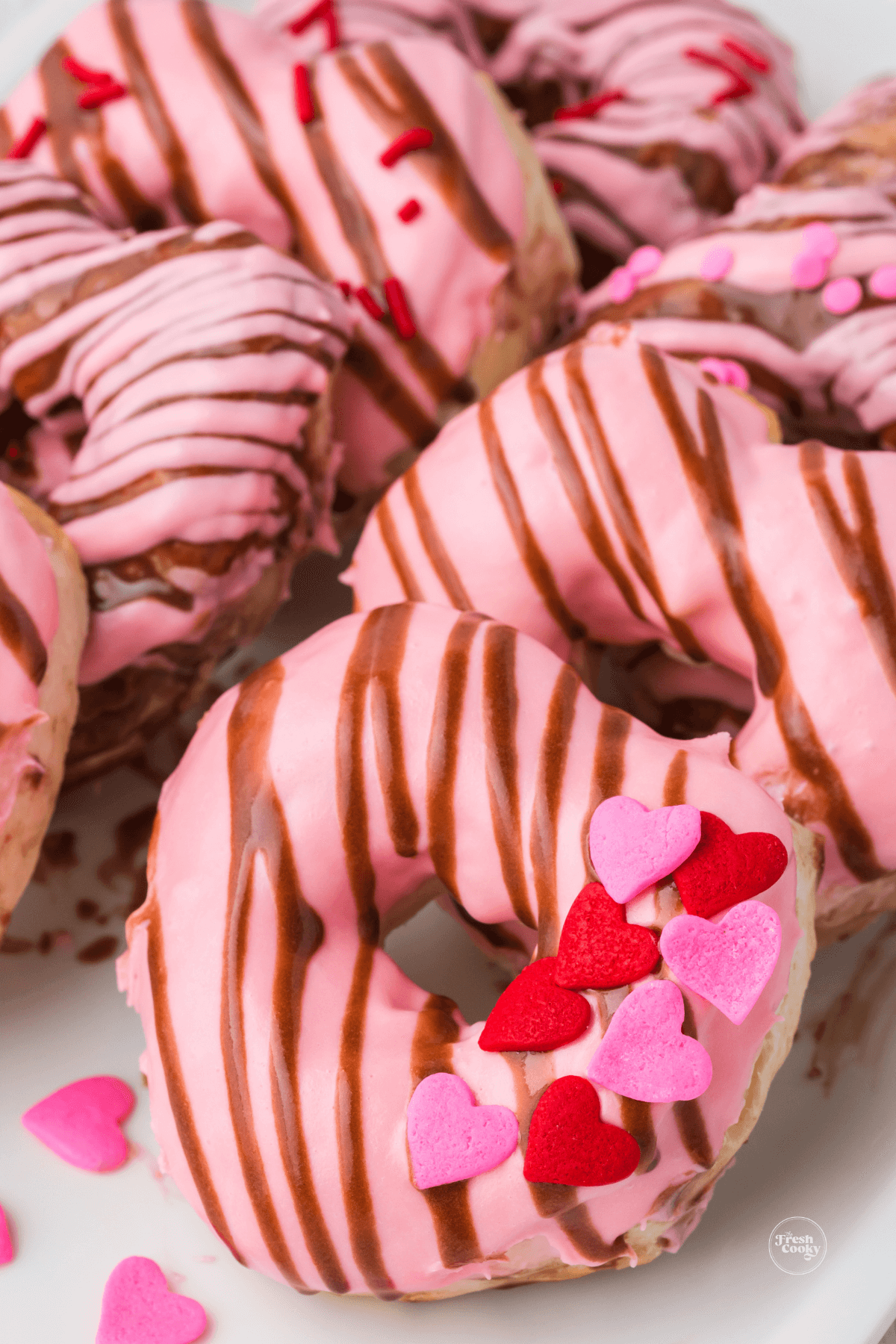 Storage Tips
On the Countertop | These homemade donuts can be stored at room temperature for up to 2 days, in an airtight container.
In the Freezer | Freeze the leftover donuts for up to 3 months in a tightly sealed container or freezer bag. If frozen with frosting, they will get a little mushy when they thaw, if possible, I recommend freezing unfrosted.
In the Refrigerator | The donuts can be stored in your refrigerator in an airtight container for up to 5 days.
Can I eat these warm or cold?
For the tastiest experience, these air fryer heart donuts should be served at room temperature or toasty warm fresh from the fryer. While you can serve them cold, the texture and taste may differ. These easy biscuit donuts are absolutely delicious when enjoyed with a steaming cup of coffee or chai tea!
Do I have to use store-bought dough, or can I make my own?
Absolutely, I am all about whatever makes you happy! For homemade biscuit donuts try my friend Stacey's easy Buttermilk Biscuits! However, cooking times and temperatures may vary depending on the recipe you use for dough.
Can I bake biscuit donuts in the oven?
You bet, no air fryer, no problem! Proceed with donut prep as spelled out above, lay on a half sheet baking sheet (ungreased), brush both sides with butter and bake in preheated 375 degree oven for 10-15 minutes until golden and puffy. Ice if desired.
Can I make this ahead of time and freeze it?
Yes, you can make these easy donuts ahead of time and freeze them for later. I recommend holding off on icing and by icing them once removed from the freezer and after they've thawed. The donuts will keep in your freezer for up to 3 months.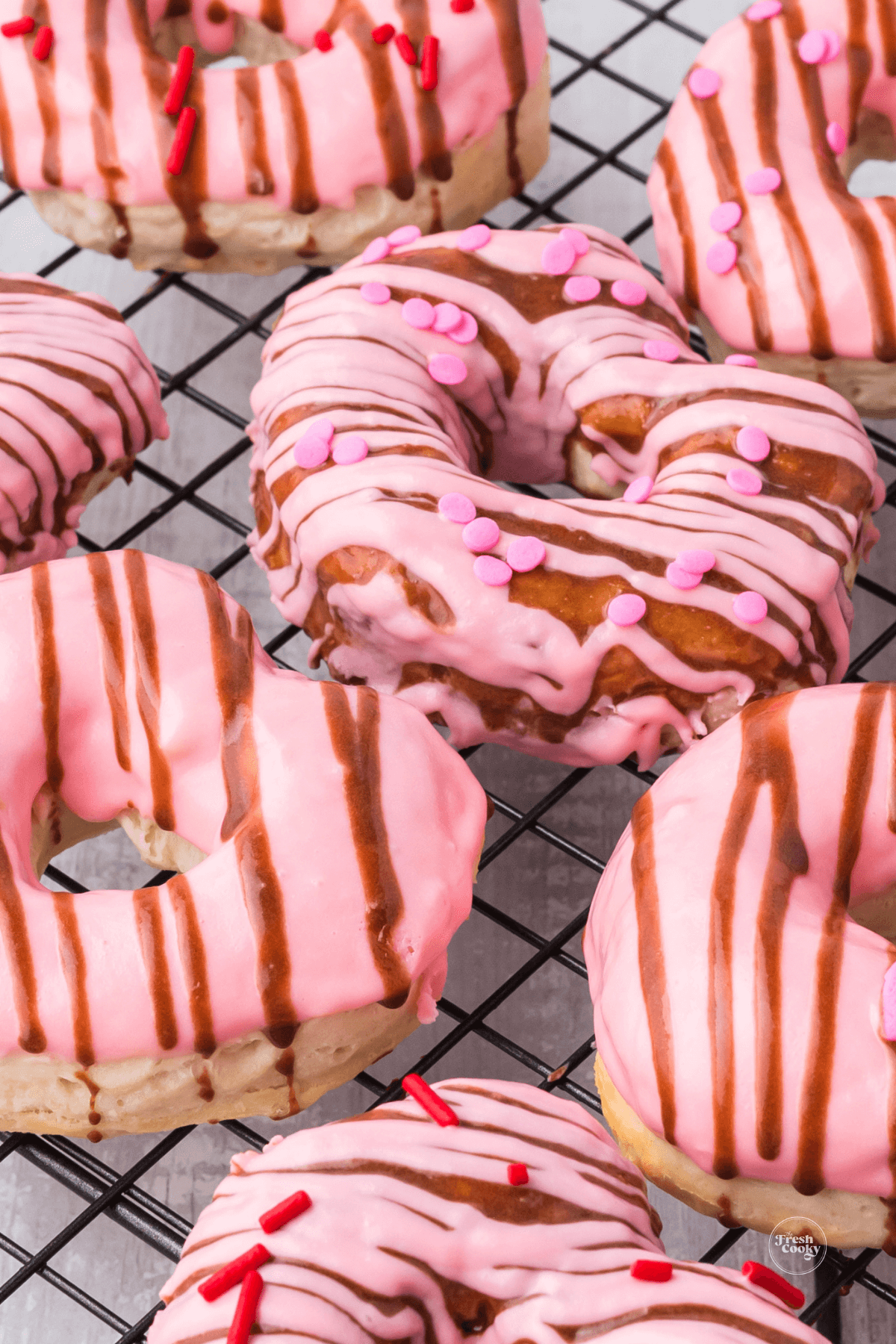 Reheating Frozen Air Fryer Biscuit Donuts
You can reheat them straight from frozen in the air fryer pop them back in at 340 degrees F for 5 minutes or so, checking on them to see how they are doing.
In addition, you may thaw them at room temperature or in your refrigerator before reheating. You can warm them back up in the air fryer as long as you have not iced them yet. Otherwise, you'll be left with a big mess to clean up! Rewarm the thawed biscuit donut recipe in 340 degree air fryer for 2-3 minutes.
Can I use an air fryer liner when making biscuit donuts recipe?
You may as long as it's made for the air fryer, silicone or parchment with holes so that that air is able to circulate. These easy canned biscuit donuts will bake more evenly if the airflow can reach the bottom of the biscuits.
Similar Treats You'll Love
What to serve with Air Fryer Biscuit Donut Recipe
While these are delicious all on their own, they are probably not the most nutritious. For a fun Valentine's day breakfast try serving with some of these recipes.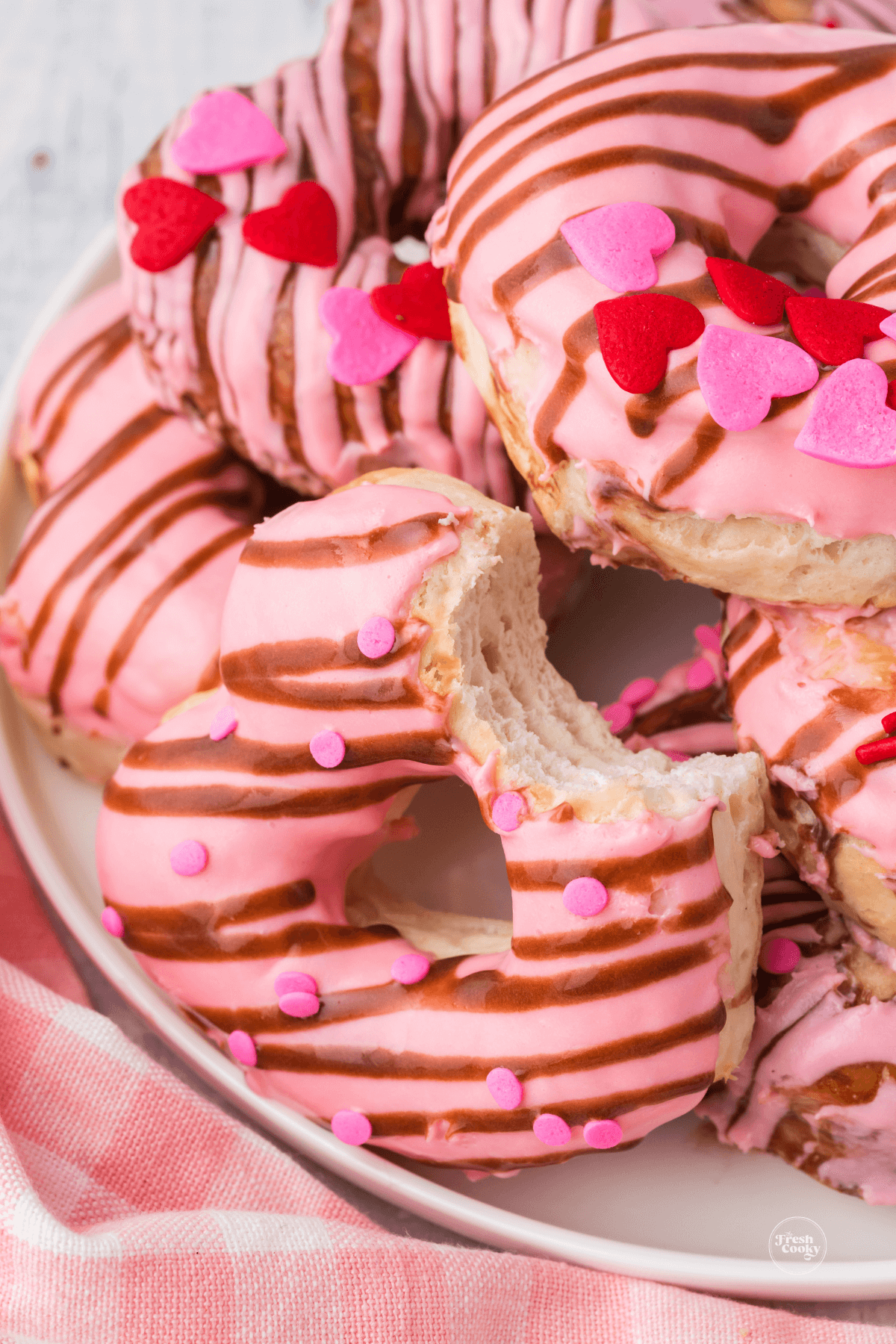 Resist the urge to warm the frosting in the microwave for longer than 30 second intervals! The icing may easily burn or seize, ruining the texture and taste.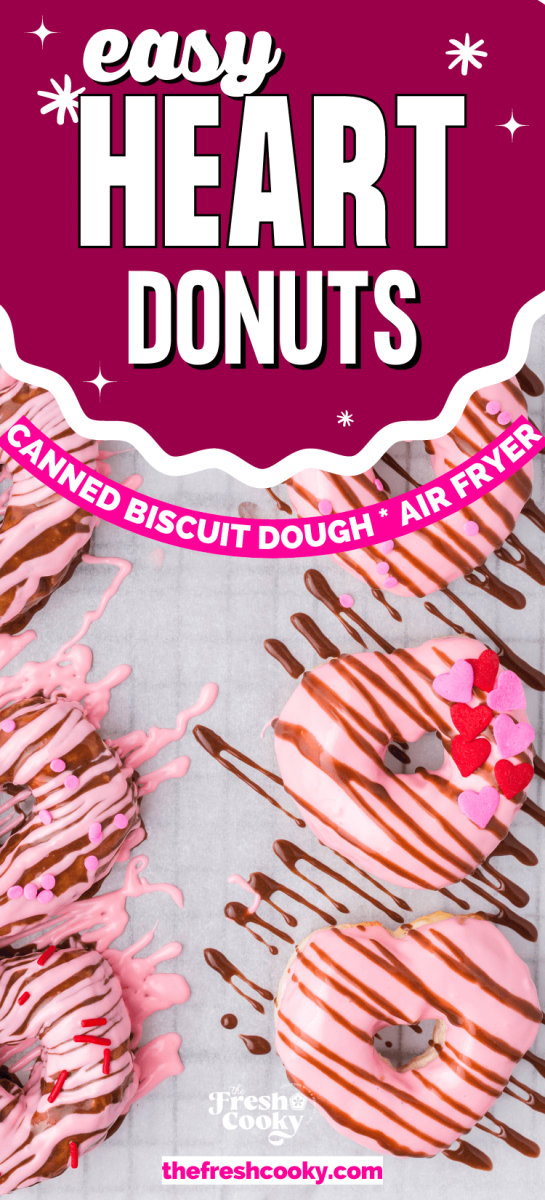 I hope you loved these heart shaped air fryer biscuit donuts — if you did, would you share your creation on Instagram, Facebook & Pinterest? And be sure to comment below!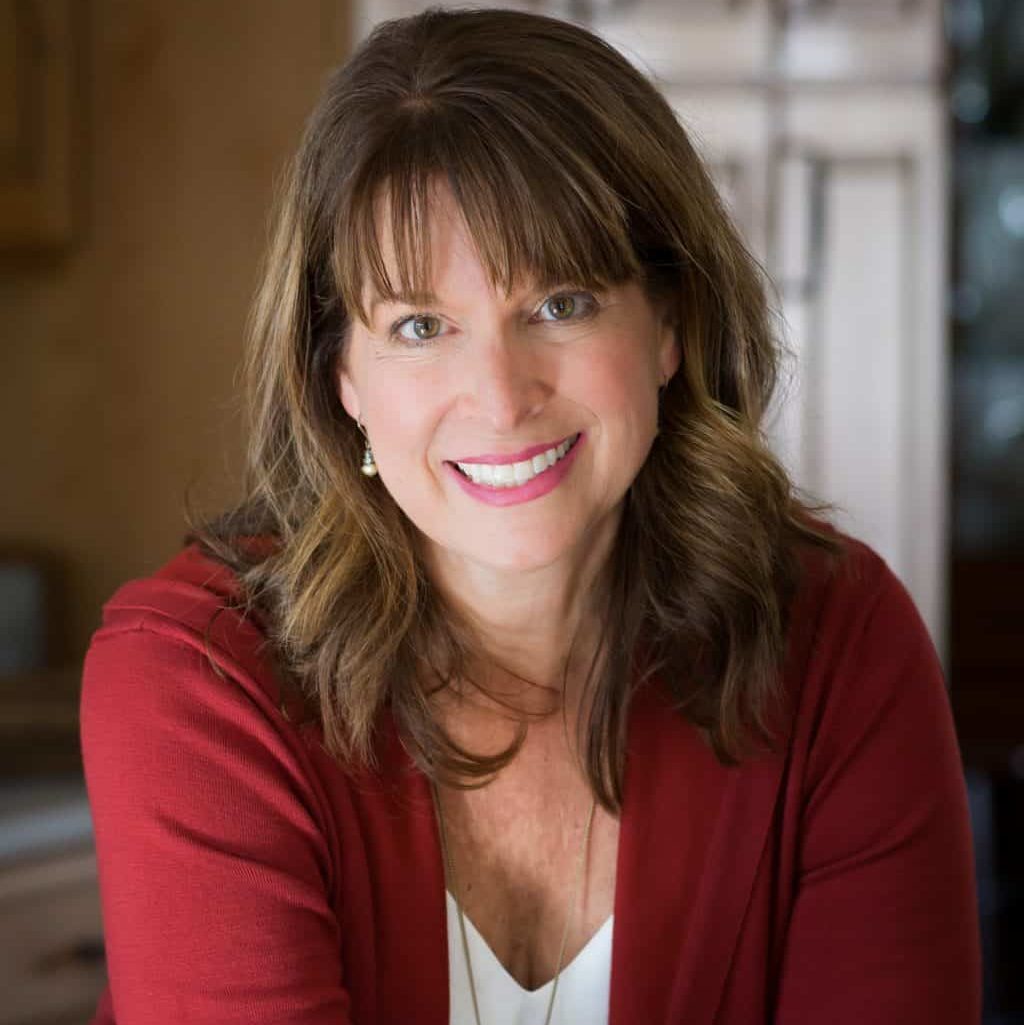 About Kathleen Pope
Recipe Innovator | Food Photographer | Food Writer
Hi, I'm Kathleen Pope. Here at The Fresh Cooky you will find easy, mostly from-scratch, trusted recipes for all occasions. From speedy dinners to tasty desserts, with easy step-by-step instructions. I am here to help teach you how to make mouthwatering recipes without spending hours in the kitchen. Read more about Kathleen here.