As an Amazon Associate, I earn from qualifying purchases. Please read my disclosure policy.
The luscious, velvety texture melds fabulously with delicate hazelnut and rich chocolate in my Ferrero Rocher Ice Cream recipe. It's so indulgent, so creamy, and so easy to make you might agree homemade is better than store bought.
Ferrero Rocher and Raffaello ice cream products came out spring of 2021, perfect timing to develop a copycat version of this gourmet ice cream treat! And Ferrero Rocher chocolates happen to be my high school seniors favorite treat!I
Why you will love Ferrero Rocher Ice Cream
The base for this Ferrero Rocher recipe is the same as my simple, old fashioned chocolate ice cream. Try my vanilla bean ice cream great on chocolate cake, pumpkin dump cake and of course a simple, but amazing hot fudge sundae!
I spent time as an Au Pair in Germany in my early 20's and fell in love with these creamy, crunchy, hazelnut and Nutella filled chocolates! You will too!
Inspired by the decadent, golden-wrapped candies, I mixed rich Nutella with vanilla and chocolate flavors to create a thick and rich, creamy Ferrero Rocher ice cream, I suppose if I was in Italy I would call this Ferrero Rocher Gelato!
Ingredients
It's Chocolate Week and I've joined other bloggers to bring you some amazing chocolate recipes this week! I've featured Starbucks White Hot Chocolate, this amazing chocolate gelato and easy Crockpot Peanut Clusters.
Full measurements and instructions are in the printable recipe card at the end of the post.
Heavy Cream | This makes our Ferrero Rocher ice cream luscious and creamy. Try and use organic, if you can.
Whole Milk | Another ingredient to help make up the base.
Unsweetened Cocoa Powder | Use the good stuff! It's important to use baking cocoa for fudgy, chocolatey dishes.
Sugar | All-natural, organic cane sugar is perfect for baking and combines well with other ingredients. Regular white sugar may also be used.
Vanilla Extract | Did you know that you can also make this popular cooking ingredient right at home? Give it a try!
Nutella | We'll use this to both incorporate hazelnut flavor throughout the mix, as well as to serve on the side.
Hazelnut pieces | When toasted hazelnuts are mild, and sweet. Be sure to chop, toast and cool them well so that they mix in!
Ferrero Rocher Chocolates | All the delicious flavors of hazelnut chocolate in one beautifully wrapped, golden treat with a whole hazelnut wrapped in a creamy hazelnut filling.
HOW TO TOAST HAZELNUTS
Preheat oven to 325 degrees, chop whole hazelnuts as fine or chunky as you like. I actually popped mine in my Ninja Mini Blender and pulsed them a couple of times. Spread on a quarter sheet pan and toast, shaking half way for about 8-10 minutes. Cool completely!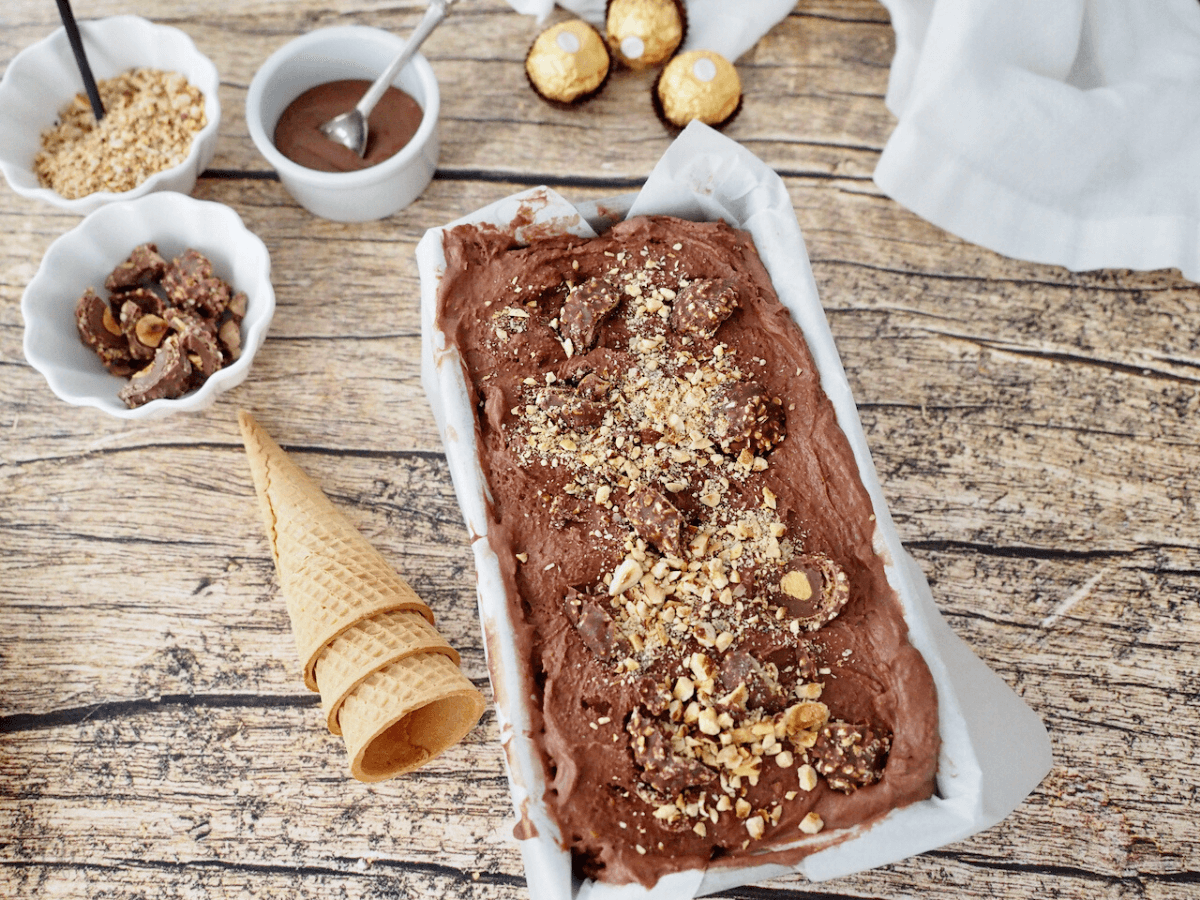 Recommended Equipment
A couple of items I highly recommend to make this recipe.
Ice Cream Machine or Maker | I have a Cuisinart and have used it faithfully for about a decade, it's no frills and does the job!
Storage Container | I typically use a loaf pan or a glass container that has an airtight lid, but I have been wanting to purchase some of these Balci BPA Free 1 quart containers or this low profile slim ice cream container.
Ice Cream Scoop | I have several styles and honestly, this one is the best at going through firm ice cream!
Ferrero Rocher Chocolates | Keep at eye out at your local grocery store, they often have the small packs of these on sale near check out! Add as few or many as you would like!
How to Make Ferrero Rocher Ice Cream
Whisk milk, cocoa powder, and vanilla in a large batter bowl until everything is completely combined and dissolved. I find using a hand mixer with whisk attachment works well.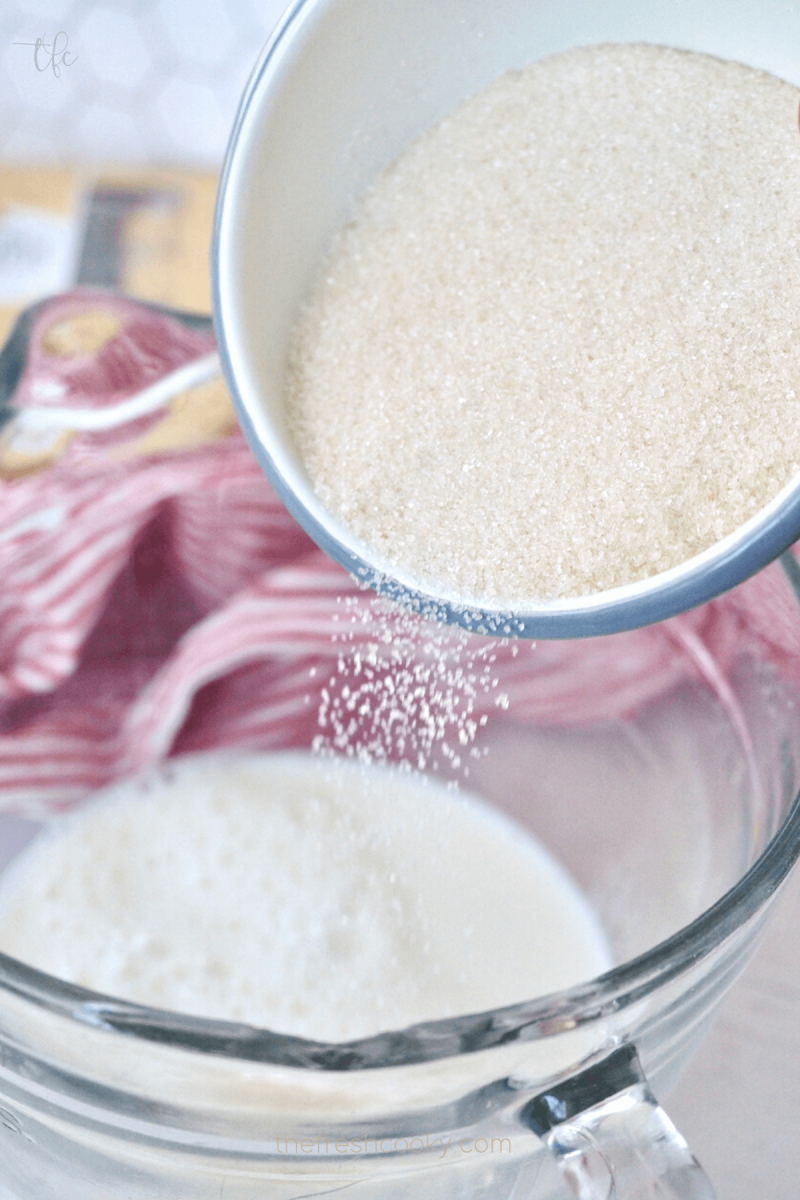 If your Nutella is really thick, you can microwave it for 20 seconds, stir well and let it sit to cool for a minute or two, then whisk into the dairy base.
Pour in the heavy cream and whisk until the mixture has thickened slightly and the sugar is completely dissolved.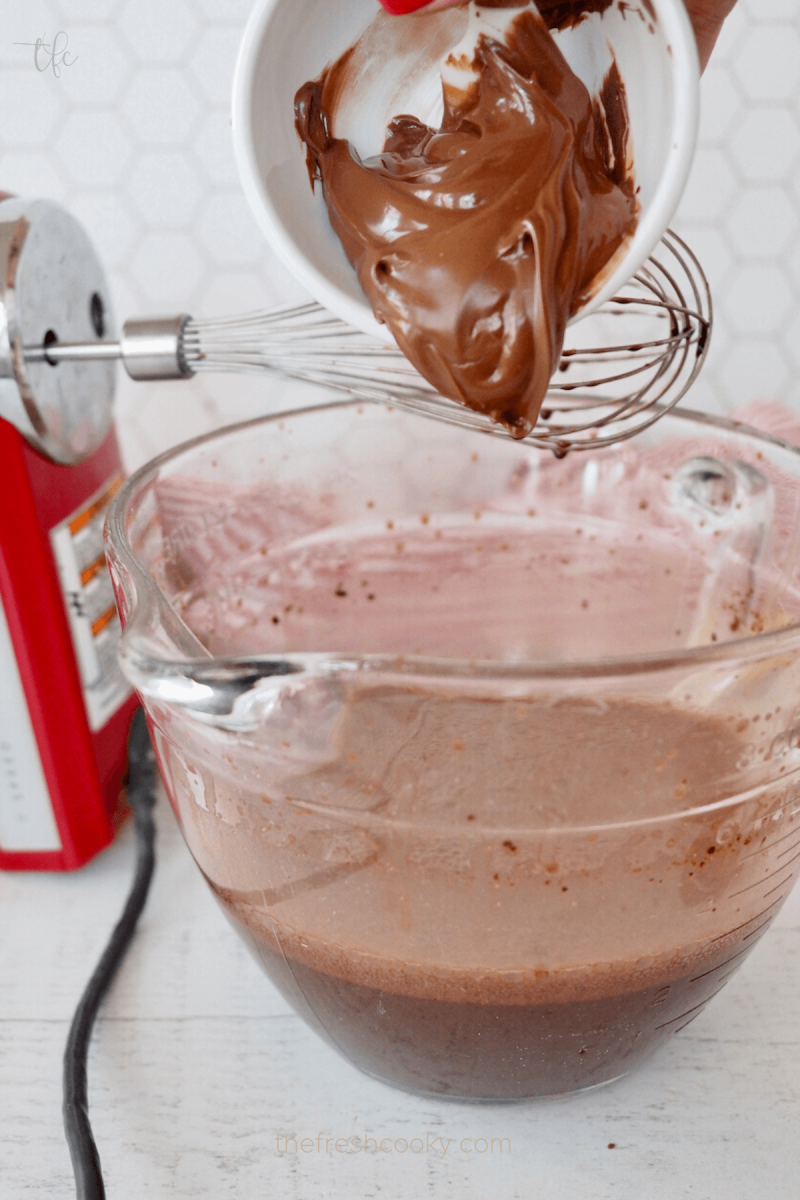 Refrigerate the base for 30 minutes or longer prior to placing in the ice cream machine. Chilling the mix in the fridge will help it to freeze faster — greatly improve the texture — and allow the cocoa powder to meld with the milk and cream.
Just before pouring the base mixture into the machine, gently whisk one last time to ensure that everything is mixed well.
Finally, pour the mixture into your ice cream freezer and follow the directions on the machine. Freezing time will vary — my Cuisinart takes about 20 minutes.
Add the toasted hazelnuts during the last 5 minutes of freezing, or simply stir in afterward.
You can either crush 3-6 Ferrero chocolates (or as many as you like!) and stir them into the soft chocolate Nutella ice cream. Or, crush 2-3 chocolates and sprinkle on top of the soft ice cream, then sprinkle with reserved chopped hazelnuts.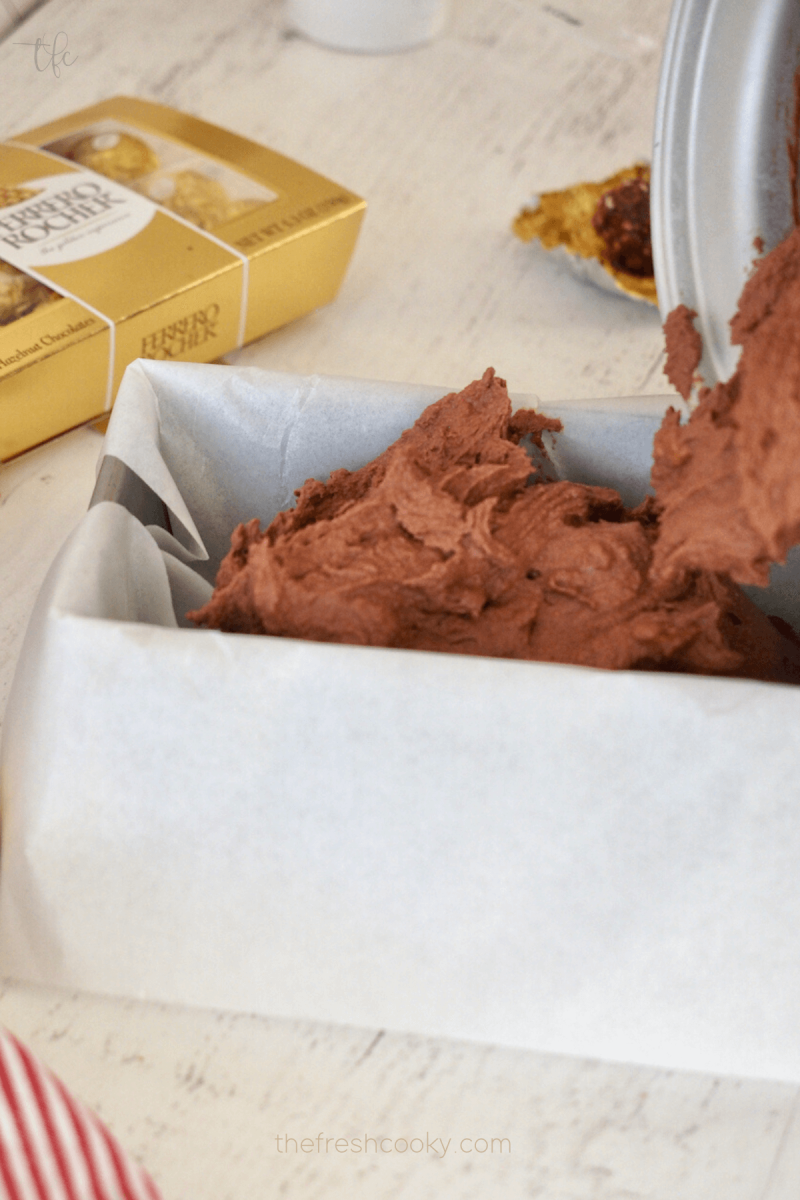 TFC TIP | Before you start your ice cream making make sure your ice cream freezer insert is completely frozen. I like to place it in the freezer at least 24 hours, preferably 48 hours to make sure it's completely frozen.
Variations
Instead of an all-over hazelnut flavor, drizzle well-stirred, cooled Nutella into the machine during the last minute of freezing to create a ribbon throughout. You can also hand-stir the Nutella in just before transferring to a freezer container.
Crushed Ferrero Rocher chocolates can be incorporated into the soft serve as well. Rather than sprinkle on top, stir them into the soft serve before freezing. I prefer serving them on top, as they stay nice and crunchy!
Serve with warm hot fudge or a little swirl of warmed Nutella! I like to top it all off with whole or crushed Ferrero Rocher chocolates and toasted hazelnuts and a spritz of whipped cream.
Top TFC Tips
Pro Tip 1 | Pour your soft serve into a parchment lined chilled loaf pan or glass container with a lid. Freeze for a scoopable consistency. At least a few hours of freezing will give you firm edges and a soft center, and an overnight freezing session will give you a scoopable treat.
Pro Tip 2 | For a stronger Nutella flavor, use a bit less cocoa powder. And to really emphasize the chocolate flavor rather than the hazelnut, use more!
Pro Tip 3 | Freeze the bowl you'll be mixing your base mixture in beforehand. Remember: the more chilled your base is, the more delicious your Ferrero Rocher ice cream will be!
Frequently Asked Questions
Can I use 2% or skim milk when making Ferrero Rocher ice cream?
Yes, absolutely! It won't be as smooth and creamy, but it will still set up.
Homemade vs. Ferrero Rocher
Is homemade Ferrero Rocher ice cream better than store bought Ferrero Rocher ice cream? I certainly think so, and you control the quality of the ingredients that go into the recipe.
Can I make ice cream without an ice cream machine?
Absolutely! Check my delicious, scoopable "no churn" recipe. No churn recipes are so easy to customize and make a fantastic presentation! This particular recipe will freeze up, but will not be as creamy or gelato like, more like ice milk.
Is Ferrero Rocher Gluten-Free?
Unfortunately, Ferrero Rocher are not gluten-free, their product contains a thin wafer shell made out of wheat.

If you are looking for a gluten-free option, leave the chocolates out all-together and just enjoy all of the flavor with the Nutella and hazelnuts. Or you can certainly make your own Gluten-Free Homemade Ferrero Rocher Truffles!
Do I have to use Nutella or Ferrero Rocher Chocolates?
Allergic to hazelnuts? Hazelnuts are one of the few nuts my son with tree nut allergies can actually eat.

If you cannot eat hazelnuts, there are brands like Trader Joe's Cocoa Almond Spread, that use almonds instead. Use toasted, chopped almonds in the ice cream and instead of Ferrero Rocher chocolates, try crushing up some dark or milk chocolate covered almonds for texture and crunch.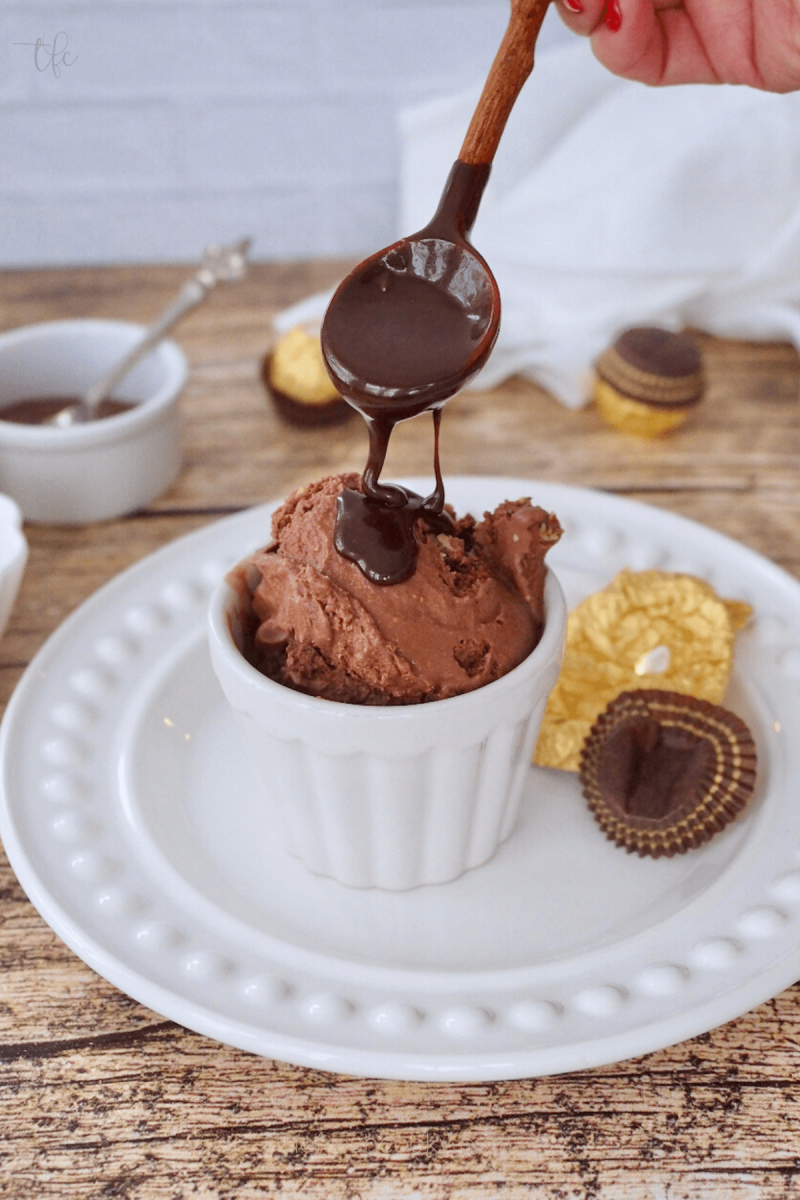 Storage
Ferrero Rocher Gelato will stay fresh for up to 6 weeks in the freezer, when kept in an airtight container. Keep an eye out for when tiny bits of ice form on the surface and on the lid, a tell-tale sign that it's getting freezer burn and can start tasting a bit off. Keeping in a well sealed container will help!
LOVE IT? PIN IT!
Be sure to pop down to the comment section at the end of this post and let me know what you think about this gourmet Ferrero Rocher Gelato!
More amazing Ice Cream & Cool Treat Recipes
More Chocolate Recipes from Chocolate Week
Like this recipe?
Don't forget to give it a ⭐️⭐️⭐️⭐️⭐️ star rating and comment below the recipe!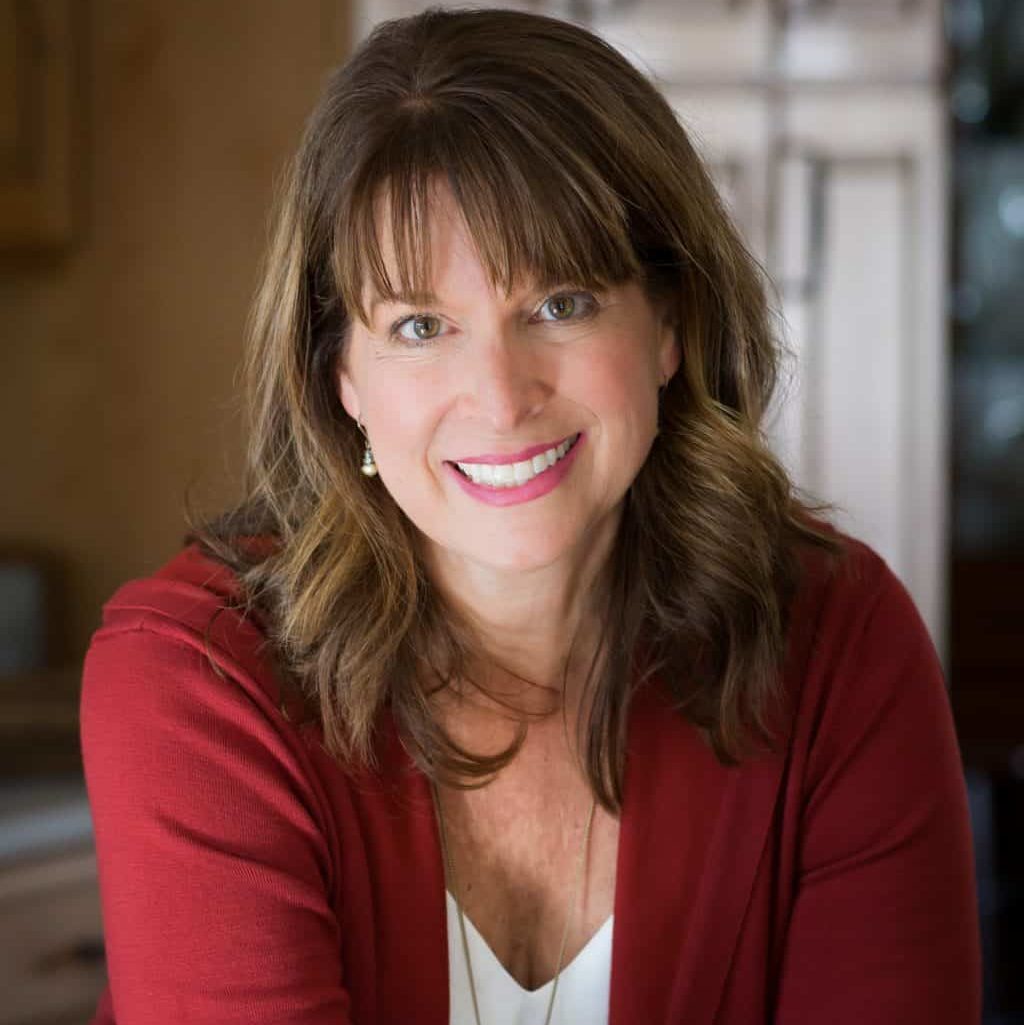 About Kathleen Pope
Recipe Innovator | Food Photographer | Food Writer
Hi, I'm Kathleen Pope. Here at The Fresh Cooky you will find easy, mostly from-scratch, trusted recipes for all occasions. From speedy dinners to tasty desserts, with easy step-by-step instructions. I am here to help teach you how to make mouthwatering recipes without spending hours in the kitchen. Read more about Kathleen here.