Easy Thanksgiving Pies and Sides | Fresh Fridays, November 18
As an Amazon Associate, I earn from qualifying purchases. Please read my disclosure policy.
As I sit down to write this post, snow is falling softly outside; I am reminded that indeed the holiday season is upon us. Thanksgiving for us in the US will be here next Thursday and all my sites are set towards that feast.
In todays newsletter I'm focusing on pies. I love pies and I honestly don't have enough of them on the blog, that will be changing next year! Plus 7 knock-out Thanksgiving sides you don't want to miss! Plus a GIVEAWAY!
Leave a comment at the end of the post on what will you be cooking and baking? Are you traditional with a turkey and all the fixin's? I have a few friends that deeply dislike turkey, so they make lasagna, or a roast and some even do sushi! However you are celebrating, I wish you and your family a day of laughter, deep conversations, warmth and love — and gratitude, for the bounty we have!
Thank you to all of you who commented and wished my husband and I a happy anniversary, we had a marvelous time down at Glen Eyrie, see below for a few pictures from our time in this beautiful castle. Browse the table of contents below for more.
7 Easy Pie Recipes
What is your favorite pie at Thanksgiving? I grew up in a huge family of pie bakers and eaters, all 3 of my brothers are fabulous pie bakers! But my husband and boys, they are all about the chocolate, so if I make a pie for them, it has to be chocolatey.
I hope you enjoy all these pie recipes, with my newest being this Creamy, Dreamy No Bake Eggnog Pie — it is never too early for eggnog, in fact you should try my new eggnog latte recipe too!
Pumpkin Custard Pie Recipe (Costco Copycat)
This pumpkin custard pie recipe is spot-on for a Costco pumpkin pie recipe! With a buttery crust, creamy custard filling; this is the best pumpkin pie, perfect for Thanksgiving dinner!
Apple Pie with Crumb Topping
Crispness in the air, leaves crunching underfoot, what better way to celebrate fall apple season than with a juicy, sweet-tart, delicious apple pie! The recipe is written as gluten-free, but you can make it regular too! With the crust and crumble topping made from the same dough, this is an easy fail-proof pie.
Butterscotch Cinnamon Pie Recipe
The rich buttery brown sugar flavors mixed into a creamy homemade butterscotch pudding nestled in a flaky pastry crust. This Butterscotch Cinnamon pie recipe is Heavenly!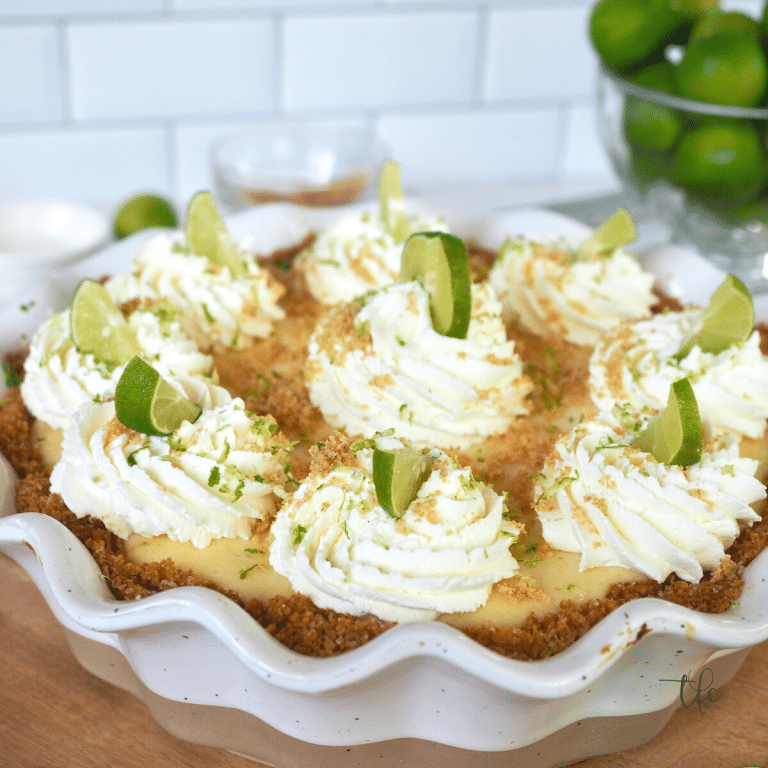 The Best Key Lime Pie
An Award winning Key Lime Pie and while not everyone would think of this for Thanksgiving, this recipe gets thousands of downloads every holiday season and for great reason! It's simple, make-ahead and delish!
No Bake Chocolate Pie
I have the easiest, most scrumptious no bake chocolate pie recipe for you with options for personalization. My mouth waters just thinking about the silky smooth texture and rich flavor in this dessert! Make in this graham cracker crust or using an Oreo cookie crust! Death by chocolate!
Mini Chocolate French Silk Pies
Smooth as silk, Mini Chocolate French Silk Pies are the bomb! Creamy, decadent chocolate French silk pie filling on a toffee graham cracker crust, with a dollop of vanilla bean whipped cream. If desired, make in a standard pie plate or 8×8 square pan.
**GIVEAWAY**
Emile Henry Ceramic Artisan Pie Dish
In honor of all of these fabulous pies and the wonderful readers all of you are, I am giving away one of these stunning Emile Henry Artisan Pie Dishes.
How to Enter the Giveaway
Simply comment at the end of the post with your favorite pie and why! Giveaway is for U.S. residents only and will be open through Sunday at midnight. Winner will be notified via email.
This giveaway is not in partnership with Williams and Sonoma, but paid for by The Fresh Cooky.
7 Slam-Dunk Thanksgiving Side Dishes
I tend to make the same thing year after year, because it's requested and it's delicious. And a couple of my favorite recipes have recently been added to the blog, so now you can make them too!
I started making this Fresh Green Bean, no canned soup, Green Bean Casserole with Bacon several years back and finally wrote it all down so you can enjoy it too! Best part, 20 minutes prep! And you can make it ahead of time and freeze if you need too, or just prep it all and tuck in the fridge until ready to bake! If casseroles aren't your thing, make these stovetop Southern-Style Green Beans instead, ready lickity split!
Besides having the Thanksgiving turkey with gravy and mashed potatoes, here's a sampling of what our holiday table holds.
Easy Cheesy Broccoli Au Gratin Recipe
I've been making this broccoli au gratin for years, super simple and ready in about 30 minutes, this cheesy broccoli dish cannot be beat! A simple low-carb holiday side, made with nutty gruyere cheese!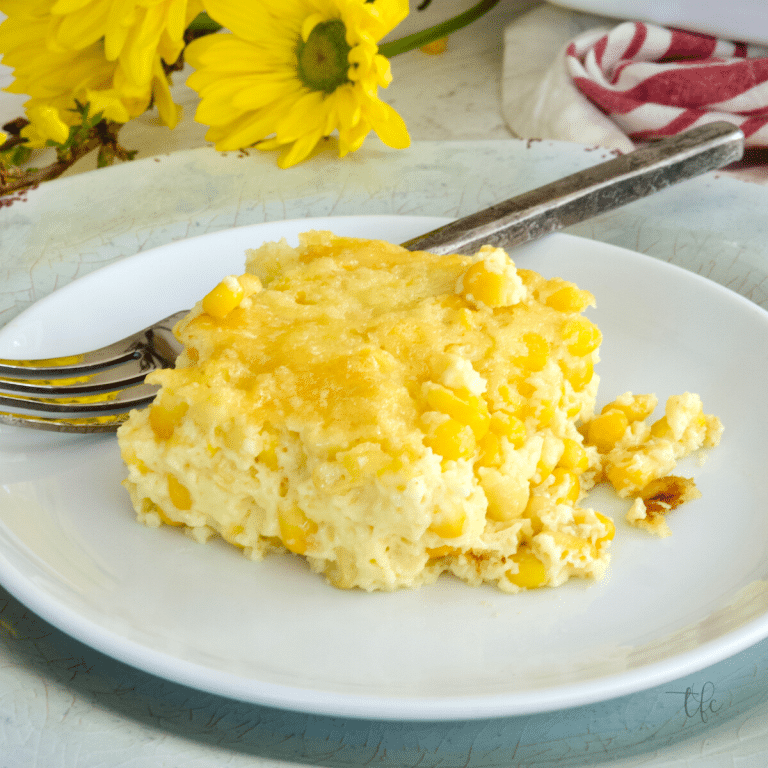 Easy Corn Casserole without Jiffy
Easy corn casserole without Jiffy is so simple, using everyday, all-natural ingredients. This corn pudding recipe, simply put — is the best corn side dish. Plus easily adapt this recipe to be gluten-free.
Cheesy Funeral Potatoes
Cheesy potato casserole topped with buttery corn flakes, creamy, cheesy, easy with no canned soup. The best potluck and holiday dish ever. Make ahead and gluten free option.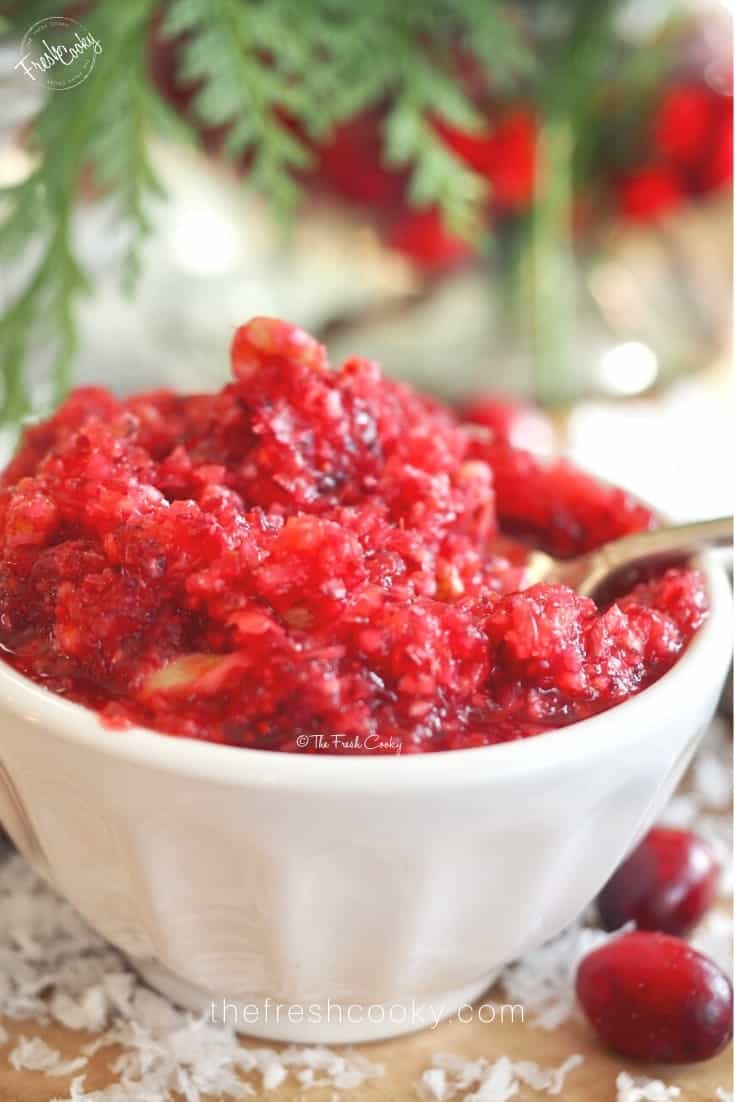 Fresh Cranberry Relish
This has been our family recipe for decades, literally as long as I can remember a holiday I remember this bright jewel of a recipe. Fresh cranberries, oranges, nuts (if you like) and sugar, grind it all up and it is so refreshing and is tremendous served on your leftover Thanksgiving sandwich the next day!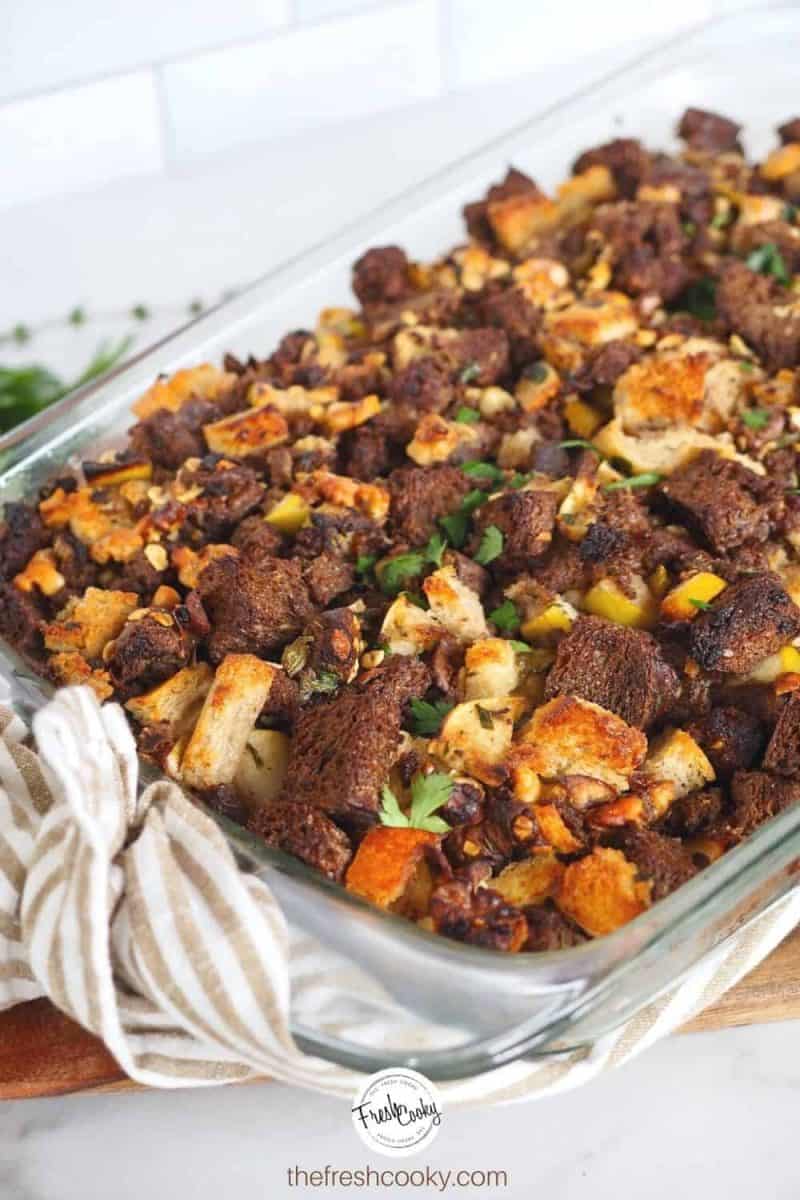 Best Thanksgiving Stuffing Recipe
An easy Thanksgiving Stuffing recipe that is the best, savory sausage, apple, walnut stuffing made with fresh pumpernickel, sourdough and brown bread, a new holiday tradition!
Easy Yeast Rolls for Beginners
A super easy light, buttery and delicious yeast roll; started in your bread machine for fresh, hot rolls in no time! Perfect recipe for beginners! Everyone who tries them loves them!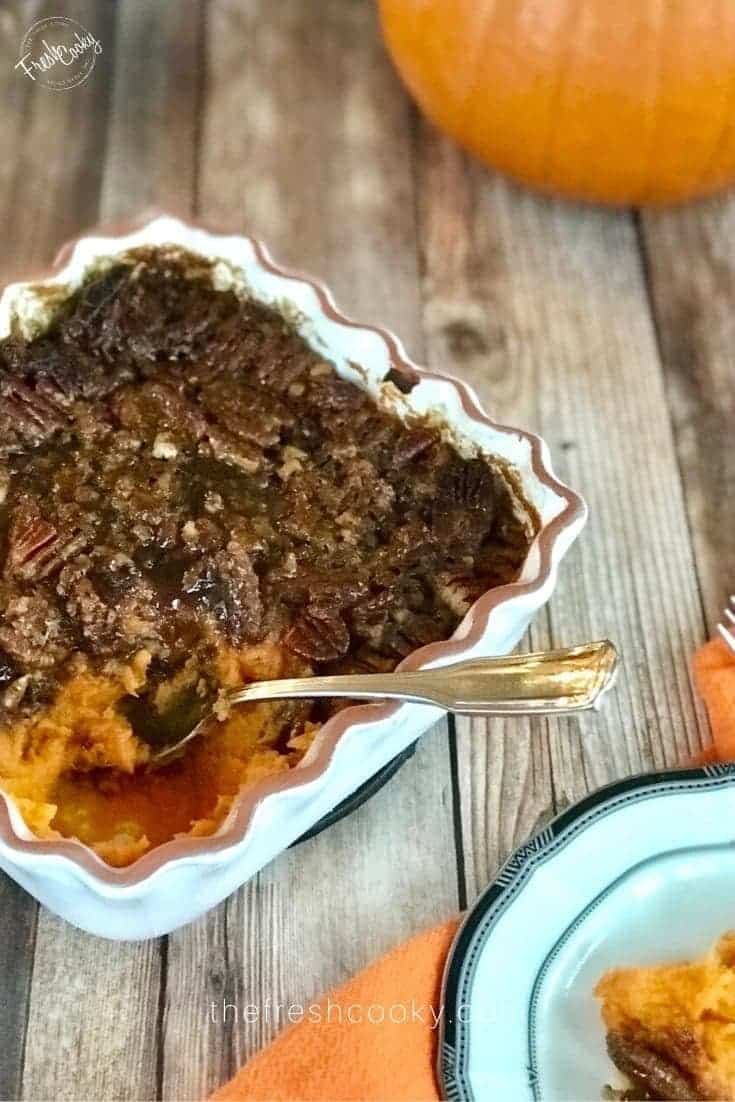 Holiday Praline Yams (Sweet Potatoes)
A simple side that I've been making for the past 30 years. Make it ahead, freeze and then thaw slightly before baking! Light, creamy, complex, with undertones of orange and cinnamon, touched with a hint of whiskey, not to mention the indulgent sweet pecan praline topping.
Photos from our Anniversary Weekend at Glen Eyrie Castle
As promised here are some photos from our weekend stay at the Castle at Glen Eyrie, which translated means, Home of the Eagles Nest.
A beautiful bed and breakfast located in the foothills of Colorado Springs (near Garden of the Gods), this English Tudor-style castle was built in 1871 by General William Jackson Palmer, the founder of Colorado Springs and is currently owned and operated by The Navigators.
Gorgeous rooms, stunning grounds; reasonably priced — I highly recommend you take a tour, reserve a spot for high tea, and stay a night or two. Each Christmas they transform the Great Hall in the Castle into a 1600's Madrigal Banquet. It's sold out for this year, but I'm preparing to get on that list for next year! Check out all of their upcoming events.
These opinions are all my own, I was not compensated in any way by Glen Eyrie.
We saw big horn sheep our first morning there and I was caught without a camera! We saw hawks, I think I spied an eagle and there were wild turkeys all over! Lucky for them they are protected! LOL!
We took little hikes each day, one of them to the grave site honoring Dawson Trotman and his wife, founders of the Navigators. He bought the property in 1953 and died saving the life of a drowning woman in 1956.
"Thank You Delivery Drivers" Free Printable
Well it's just about that time of year, unless you are one of those that buys Christmas presents all year long!
Last year I made this free Delivery Driver Thank You for people to print, it will ask you to sign up for my mailing list again, don't worry it won't add you twice! I am setting up my "Thank you station" this week.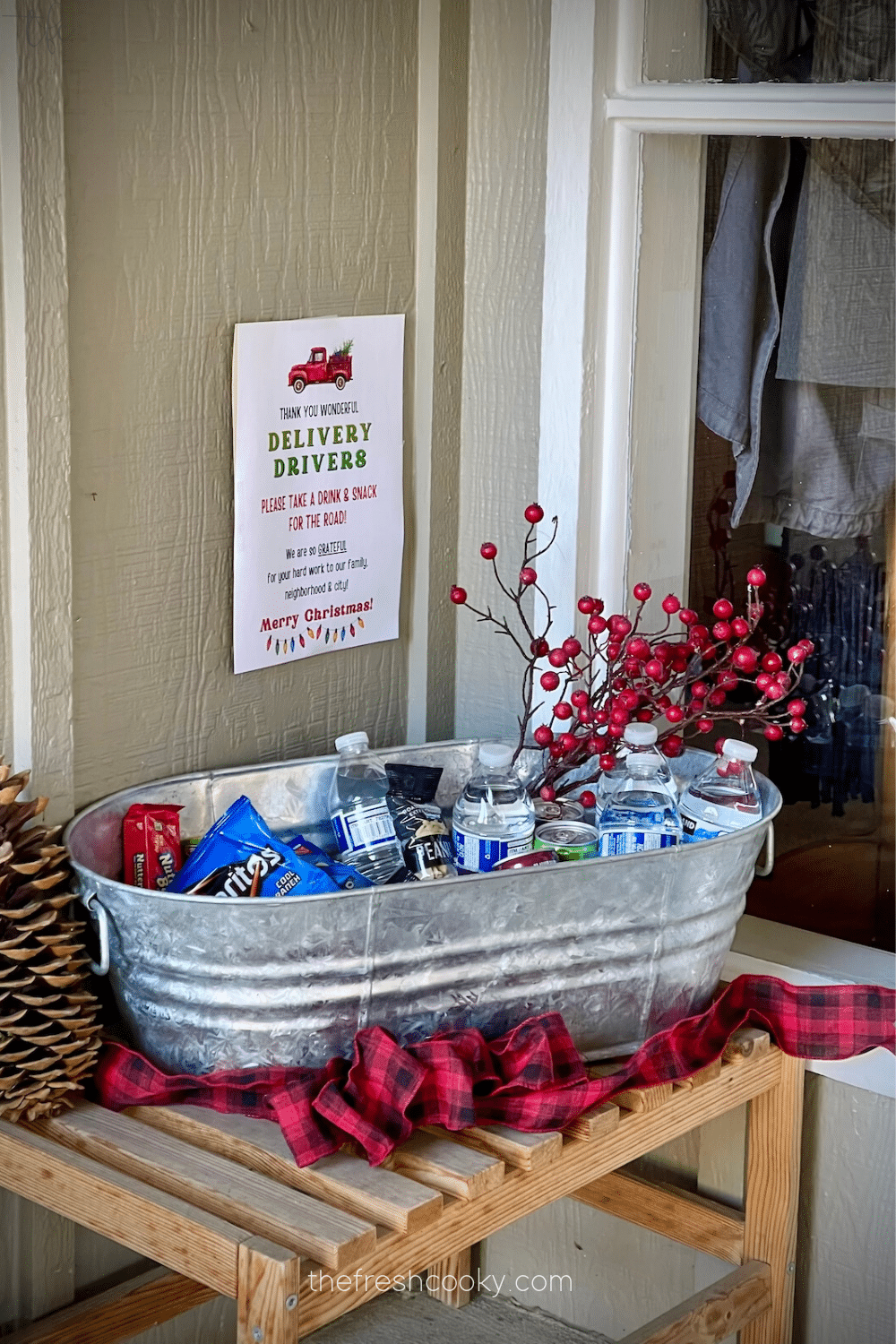 Weekly Inspiration | Whoa! Easiest Way to Find Wonder Again
Below is a beautiful post from Ann Voskamp, with excerpts from her Advent Book The Greatest Gift: Unwrapping the Full Love Story of Christmas — which I highly recommend for Advent (check out my Advent recommendations)!
So this turns out to be the tenderest relief in a wild season: There are just FIVE Mondays from now and Christmas Eve.
And when the holidays hit in a year like this? We're all choosing holy days more than hyped-up days.
"Holy days — over hyped-up holidays. Falling in love — over falling in debt. Wonder — over worry."
When the holidays hit this year, we're all not choosing to fall more in debt because of consumerism, but we're choosing to fall more in love because of Christ.
When the holidays hit this year, we're all not going to be hit by all the worry — we're choosing to be hushed by all His wonder.
Holy days — over hyped-up holidays. Falling in love — over falling in debt. Wonder — over worry.
The wonders of His love are everywhere — if you are in love with the wonder of Him. This is how the brilliant live.
So when she opens it up, I stop everything, and kneel right down.
"Look, Mama!" She laughs like a shower of stars.
Our baby girl's eyes are saucers — awed. (Read the rest of the post here)
Phew, this was a long one, I hope you enjoyed browsing and were inspired to make a recipe, sit with a cup of Christmas Chai and breathe in the wonder of the season.
May your holiday season be filled with less hurry, worry and stress and be filled with more child-like wonder, hope and peace.
With hope, great gratitude and love,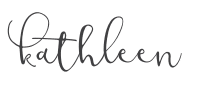 P.S. I have loaded a bunch of my new favorite kitchen gadgets, tools and more into my Amazon shop — some I own, some are on our wish list!
Thanks for visiting The Fresh Cooky's Amazon Shop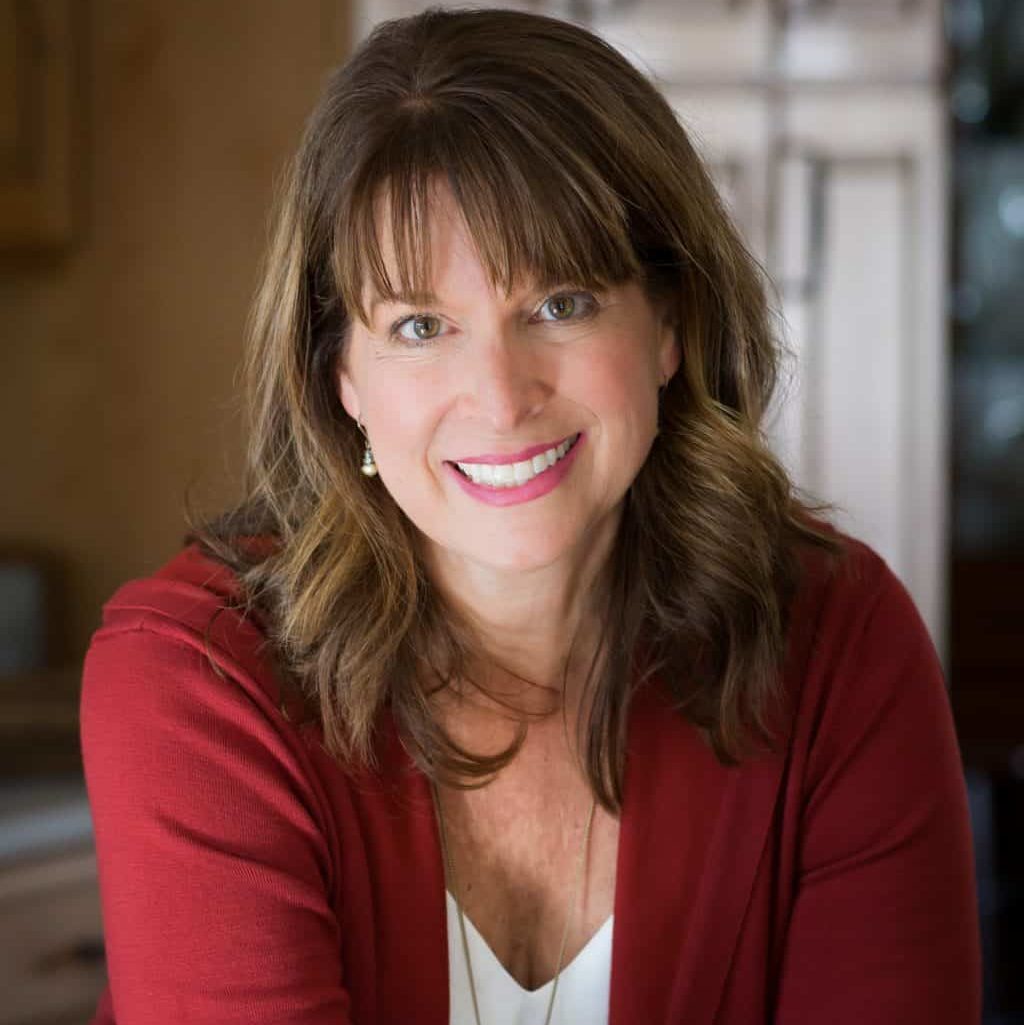 About Kathleen Pope
Recipe Innovator | Food Photographer | Food Writer
Hi, I'm Kathleen Pope. Here at The Fresh Cooky you will find easy, mostly from-scratch, trusted recipes for all occasions. From speedy dinners to tasty desserts, with easy step-by-step instructions. I am here to help teach you how to make mouthwatering recipes without spending hours in the kitchen. Read more about Kathleen here.