Guinness Chocolate Cake with Irish Buttercream
As an Amazon Associate, I earn from qualifying purchases. Please read my disclosure policy.
Do you like dark, deep, rich chocolate? A moist, heavy and delicious cake, with notes of coffee and cocoa topped with a dreamy buttercream. Say hello to Guinness Chocolate Cake with Irish Buttercream.
Obviously, you can make this for St. Patrick's day, but really, do you need an excuse to make a dark, rich chocolate cake? Not in my house! So be bold and brave and make this any ol' time of year!
Love chocolate cake? Try these other reader favorites: Chocolate Lava Cakes, Chocolate Zucchini Cake, and Texas Sheet Cake!
Easy Chocolate Guinness Cake
I wanted to bring you a simple and easy Guinness Chocolate Cake with Irish Buttercream. Hopefully one you won't be shy to try this easy recipe.
I've had this recipe for ages, the one note I should have made on it years ago, was the recipe recommends using a 9″ springform pan, 10″ would be better as the recipe tends to rise quickly, then sink, that extra inch of real estate would allow for it to rise without oozing over the sides of the pan.
How to Prevent Guinness Chocolate Cake from Sinking
Sometimes cakes sink! It's a fact of life, especially for those of us living at high altitude! Here are a few tips to help prevent sinking cake syndrome.
Make sure your oven is at the correct temperature, ovens vary a lot! Mine runs a bit cool, invest in a decent oven thermometer.
Be sure your baking powder is fresh. It should last about 9-12 months covered and stored in a cool cupboard, but can you test freshness? Yes, and it's simple. Stir half a teaspoon of baking powder into a cup of hot water. It should immediately start to fizz and release carbon dioxide gas if it's still fresh enough to use.
For baking soda, if it's past the best by date, it is still good and won't hurt you, though it will lose some potency over time. I write the open date on the lids for my baking powder and baking soda and typically toss it if I haven't used it (or use to clean a drain) within 6 months.
Be sure to scoop and level your dry ingredients properly.
Avoid over-mixing the batter, especially the eggs.
Bake the batter soon after mixing.
Bake in the center of your oven and don't open the oven door unnecessarily.
Lastly, don't underbake the cake. A cake tester or toothpick should come out clean!
How to Fix a Sunken Cake
In fact, this cake DID sink, but instead of re-baking the perfect cake, I wanted to show how easy it is to fix a "sunken" cake.
Honestly, it still tastes great! And to prove you do not have to do everything perfectly!
This is an extremely moist and rich cake recipe, so if your cake does sink slightly in the center don't worry. It's definitely not ruined! Simply use a serrated knife to level off the cake for a flat layer, save those sliced off pieces.
Since I had to slice off the "cratered" edges of the cake to level it for frosting, nobody was sad, they enjoyed noshing on the trimmed edges of the freshly baked and cooled cake while I prepared the buttercream.
Or freeze and crumble over ice cream!
BAKING WITH BEER
Baking with beer starts with flavor and moves into science. Because of its carbonation, it assists with leavening baked goods which is why Beer Bread is so simple and so darned tasty!
When used as the liquid in a recipe, it gives extra lift and tender texture to breads and cakes.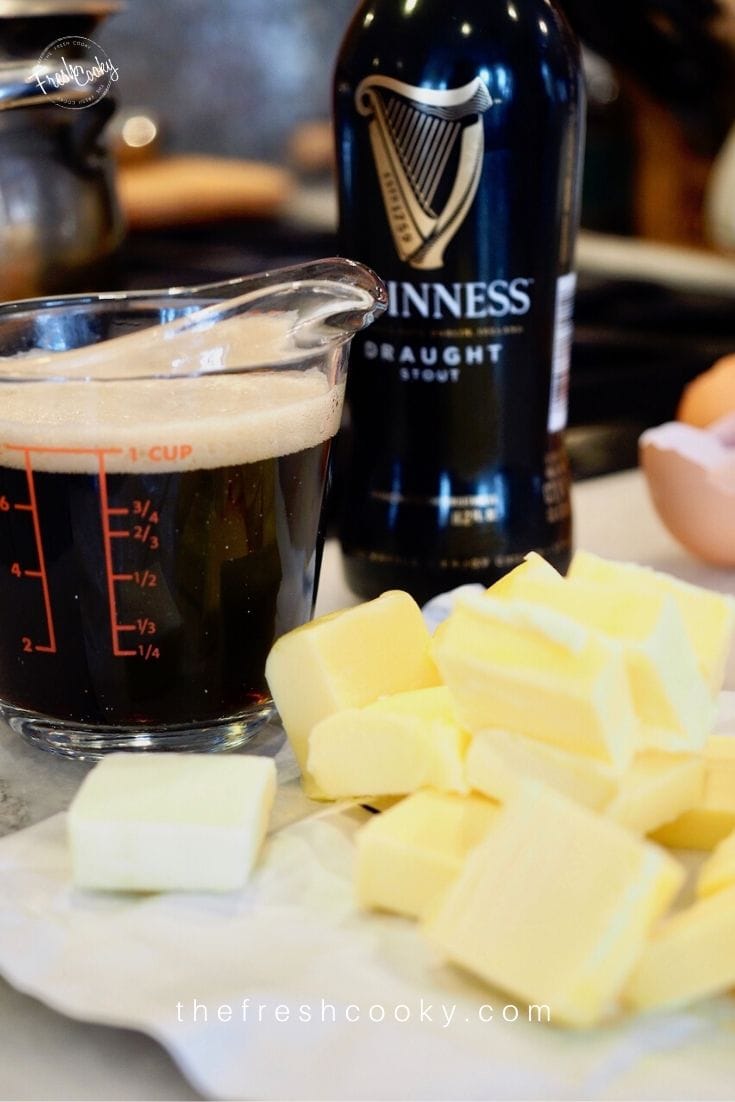 If you're new to baking with beer; porters and stouts are the best place to begin. Because they're brewed with dark roasted malt, they lend flavor notes of cocoa and coffee, ideal for chocolate desserts!
Porters lean more toward chocolate and malted flavors with less bitterness. Stouts offer a more intense bitter coffee flavor and are often higher in alcohol. This is a great post from King Arthur Flour
What Can I Substitute for Guinness
If you are still talking beer, any porter or stout will still work. Try a Vanilla Porter, Chocolate Milk Stout, or your favorite!
If you are looking to replace beer with a non-alcoholic liquid, these are my suggestions, based on some research, though I have never tried them. There are some sites that suggest substituting with cola or Dr. Pepper style of soda, but soda has sooo much more sugar than Guinness does, so please do not substitute with a full sugar soda.
Instead, if you must, use a sugar free darker soda, my suggestion would be a natural soda that is sugar free, such as Zevia or Blue Sky.
You may also use seltzer water or soda water.
Tips for baking with beer
Freshly opened, room-temperature beer is best. Pour it out and let it sit for 5 minutes before adding to the recipe. This lets the foam dissipate and releases some of the carbonation.
Beer works better with full-fat dairy. It's acidic and can curdle lower-fat ingredients.
Beer desserts are best when fresh. Beer can alter the flavors of the baked good over time, so if possible, bake and serve on the same day. Or keep unfrosted baked goods in airtight container for 5 days, refrigerate and bring to room temperature if frosted.
Ingredients for Chocolate Guinness Cake
1 cup Guinness or dark stout or porter, room temperature
17 tablespoons butter (I used Kerrygold Irish butter, that's 2 sticks, plus one tablespoon)
¾ cup unsweetened cocoa powder (I used organic Dutch processed cocoa)
2 cups sugar (I used all natural cane sugar, superfine or regular ok)
⅔ cup sour cream (full fat – see note on baking with beer)
2 large eggs, at room temperature
1 tablespoon vanilla extract (try my bourbon vanilla extract)
2 cups all purpose flour, my flour is always unbleached
2 ½ teaspoons baking soda
One recipe Irish Cream Buttercream
Easy Guinness Chocolate Cake with Irish Buttercream
While this recipe might seem complex, it's really very simple, no creaming of butter; instead it's melting, stirring, a bit of whisking and pouring. We can all do that right?
Making Irish Cream Buttercream
If you choose to frost your Guinness cake, be sure to cool the cake completely in the springform pan before frosting.
You can get all fancy and pipe or frost the entire cake, I chose instead to frost the cake a little more willy-nilly (that's a word, right?) resembling the black and tan look of a pint of Guinness with the foam on top.
We had friends over to enjoy this cake, they gave it a big thumbs up. My girlfriend who isn't a big frosting fan, enjoyed the trimmed bits from the cake, while the rest of us gobbled up the frosted slices.
Recipes Using Beer
If you enjoyed this recipe, you might enjoy these other recipes that use beer in them as well!
Keep in mind, the alcohol mostly cooks or bakes out in the these recipes, the resulting flavor is maximum! If you have never cooked or baked with beer, now is the time to give it a try.
Recipe is below, I'd love to hear what you thought of this recipe for Chocolate Guinness Cake.
For a comprehensive list of St. Patrick's day menu ideas, check out my 35+ St. Patrick's Day Recipes post.
PIN to your Favorite St Patty's Day Board!
Like this recipe?
Don't forget to give it a ⭐️⭐️⭐️⭐️⭐️ star rating and comment below the recipe!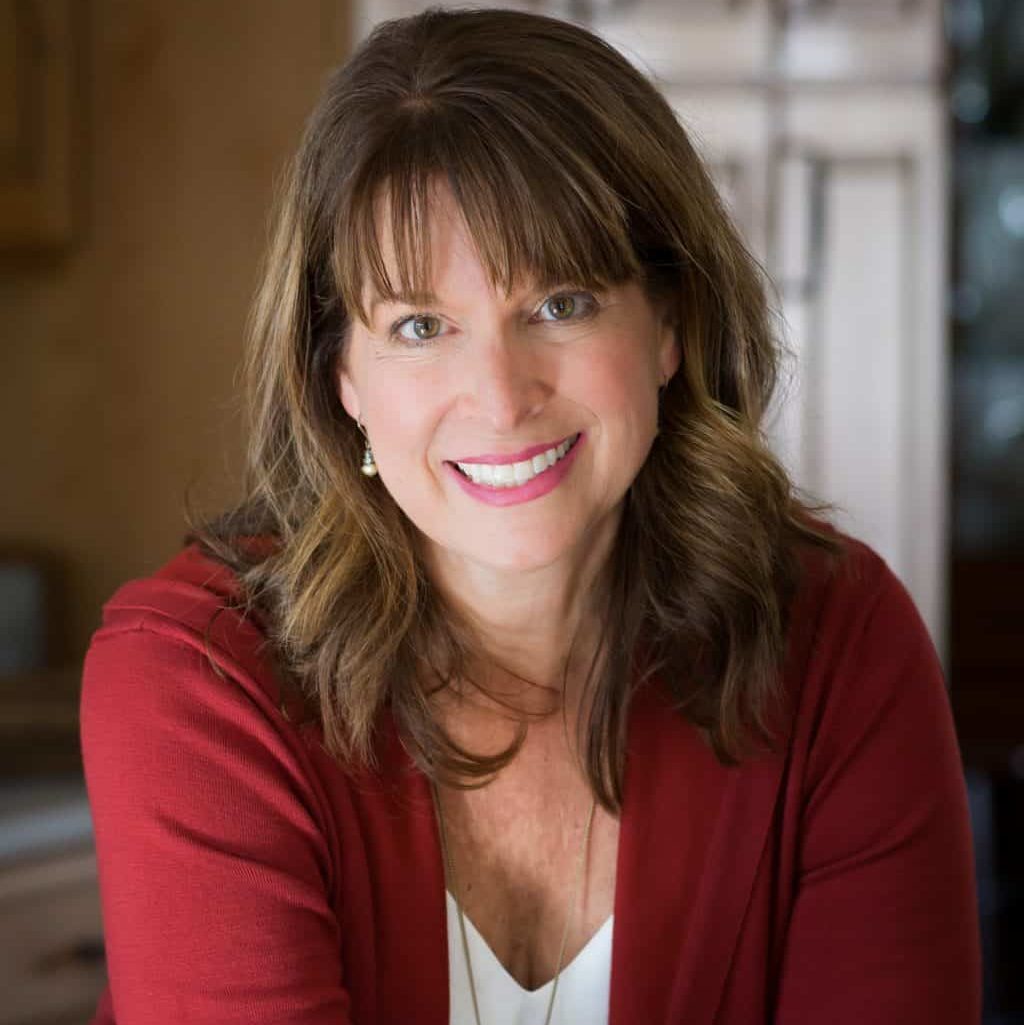 About Kathleen Pope
Recipe Innovator | Food Photographer | Food Writer
Hi, I'm Kathleen Pope. Here at The Fresh Cooky you will find easy, mostly from-scratch, trusted recipes for all occasions. From speedy dinners to tasty desserts, with easy step-by-step instructions. I am here to help teach you how to make mouthwatering recipes without spending hours in the kitchen. Read more about Kathleen here.