Rich Chocolate Zucchini Cake and Cupcakes
As an Amazon Associate, I earn from qualifying purchases. Please read my disclosure policy.
This recipe for Chocolate Zucchini Cake and Cupcakes is SO easy! Super rich and fudgy; studded with chocolate chips, frosted with creamy, chocolate buttercream — nobody will even know there's zucchini hidden inside! It will become a family favorite!
I love tucking veggies in where they seemingly don't belong, like in these recipes: Snickerdoodle Zucchini Bread; Authentic Spaghetti Sauce or Firecracker Chili!
Healthy Chocolate Zucchini Cake?
Well, yes, it's healthy-ish! It's made with all natural ingredients; like greek yogurt, avocado oil, organic cocoa powder AND it has a healthy dose of shredded zucchini in the batter. Seriously, like 3 heaping, nutrient rich, green cups worth!
Don't knock zucchini, I am pretty sure God created zucchini to go into chocolate baked goods, because it adds amazing texture, moisture! I'm not a huge zucchini fan, but I'll eat it all day long in my desserts or quickbreads!
WHAT'S YOUR "WOW" DESSERT?
Do you have a go-to, never fail to WOW 'em dessert recipe?! If your answer is no, then print this recipe right now (sorry, I know I can be bossy, but this is one time you will thank me for being bossy).
If you do, I'd love to hear what it is! But still print this recipe, because can you ever really have too many go-to dessert recipes? Hey, what can I say, I have 3 brothers, being bossy is natural!
I am NOT a chocolate cake fan, in general, I'm not a cake fan; give me cookies, especially Chocolate Chip Cookies all day long, or a good fruit inspired pie, or even brownies, but cakes have never been my thing (except frostings), until I started making this cake! I LOVED IT!
CHOCOLATE ZUCCHINI CUPCAKES
The Easiest, Moistest, Richest Chocolate Cake
Have I mentioned that it's really

moist

,

decadent

, super rich,

fudgy

with amazing flavor and the fact that it was really

easy

to make!

Okay, okay, I'm getting on with the recipe! First things first, take out your butter and eggs and allow them to come to room temperature (takes about 30 minutes on the counter). Oops, you forgot didn't you!? Me too, always!
Cake Baking Hacks
How to Soften Butter Quickly
Dice your butter into small cubes, more surface area will soften quicker. In the meantime gathery our ingredients your butter will probably be ready by the time you have everything out.
Microwave to soften. Unwrap stick of butter, place on a plate. Heat in micro starting at 8 seconds, every microwave is different, slowly add more time if not soft enough. Mine takes exactly 12 seconds for a cold stick of butter.
You can try the hot glass over cold butter

trick to

soften

a stick, but by the time you find a heat proof glass, heat water and let it sit over the cold butter for 15 minutes, you could have let it sit on the counter and it probably would have been just as soft.

Or what I often do, is leave it out overnight, the house is much cooler at night and it will be ready for me the next day.
How to Bring Eggs to Room Temp Quickly
Place your cold eggs in a bowl and run very, very warm (but not hot) tap water over your eggs. Let them sit for 5-7 minutes.
Typically it takes about 30 minutes to bring eggs to room temperature if sitting on the counter.
When I'm baking, I like to grab all of my ingredients and prep them for the recipe, that way it's mostly at my fingertips and assembly goes quickly.
How to Make Chocolate Zucchini Cake
Preheat oven to 350° and grease two 9″ cake pans, line pans, if desired with

parchment

, I love these pre-cut rounds with little "wings". The original recipe by Sally's Baking Addiction calls for two deep dish 9″ pans (at least 2 inches deep).
I only had shallow 9″ pans, and not wanting the cakes to overflow, I reserved some of the batter and filled a jumbo cupcake pan and made 3 jumbo cupcakes. If you are in the same boat, fill your pans until about 1/2-2/3 full, use leftover batter for cupcakes.
Making the Healthy Chocolate Zucchini Cake Batter
In a

large mixing bowl

, add

all-purpose flour

, natural unsweetened cocoa powder, baking soda, baking powder, espresso powder (optional), and sea salt together, whisking well.
I've been using the wrong cocoa powder all my life, there is a big difference between dutch-proces and natural unsweetened cocoa powder, Sally does a great job of explaining it here.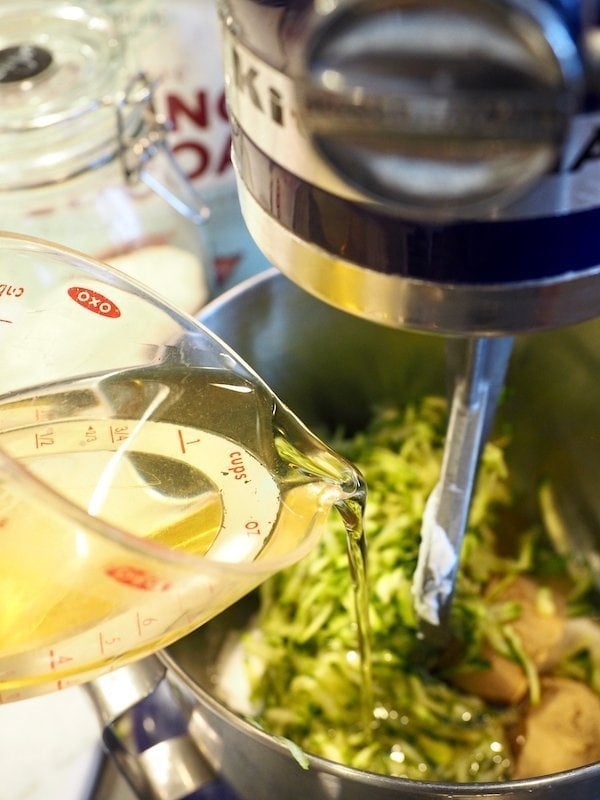 In the bowl of a stand mixer or a large mixing

bowl

; beat the oil,

all natural cane sugar

, brown sugar, eggs, greek yogurt (or sour cream),

vanilla extract

, and shredded zucchini* until combined.
*After you shred your zucchini, take some paper towels and lightly blot the zucchini removing some of the water.
With mixer on low/stir setting, add 1/2 cup of dry ingredients at a time. Once dry ingredients are incorporated increase speed to medium, scraping down sides of bowl until completely combined and no flour can be seen, about 1 minute.
Stir or beat in chocolate chips, on low. Batter will be a bit thick.
Pour batter evenly into deep dish cake pans. If you have regular 9″ pans or are using 8″ pans, fill to about 2/3 full, reserve batter for cupcakes.
Sometimes I pull out my kitchen scale making sure the batter is evenly distributed.
If you end up with extra batter, pour into a lined jumbo

cupcake pan

or regular muffin pan, filled to about 2/3 full. I made 3 jumbo cupcakes. Probably would have made 4-5 regular cupcakes.
Bake for 20-32 minutes, watch closely, check for doneness at 20 minutes. If toothpick inserted in center of cake, comes out clean it's done. If toothpick comes out with batter (not crumbs), return to oven for another 3-4 minutes, retest until clean.
When done, cakes should spring back when lightly touched in middle. For jumbo cupcakes, check at about 15-20 minutes and regular cupcakes, check at about 12-14 minutes.
Remember ovens vary significantly in temperatures, it's okay to check early to make sure they aren't baking too fast.
Cool cakes (cupcakes) completely in pans, on a wire cooling rack. Be sure the cakes or cupcakes are completely cooled before frosting, you don't want your frosting slipping off!
If necessary to speed up process, you may place cakes in fridge or freezer after cooling for 15 minutes and cool completely, 20-30 minutes.
HOW TO MAKE (the best) CHOCOLATE BUTTERCREAM FROSTING
Add softened butter to bowl of stand mixer fit with paddle or whisk attachment or if you own a KitchenAid mixer try this crazy good, sideswipe blade attachment (make sure you get the one that fits your KitchenAid, placing model number in at top).
Beat butter on high speed for 3-4 minutes, until light and fluffy. Add natural unsweetened cocoa powder or dutch-process cocoa powder and mix on low until combined, scrape sides of bowl.
With mixer on low, add vanilla extract, slowly pour in powdered sugar alternating with cream/milk. Once sugar is incorporated, scrape sides of bowl and beater, and add a pinch of sea salt.
Increase speed to high and beat for a full 3-4 minutes, until light and fluffy. If desired, add 1/2 – 1 teaspoon of espresso powder to the frosting.
If frosting too thick, add a few teaspoons of cream/milk until correct consistency, if too thin, add a few tablespoons of powdered sugar mixing in thoroughly.
Assemble and Frost the Chocolate Zucchini Cake
If your cakes dome too high, using a long serrated knife, slice a thin layer off the top of the cakes, creating a flat surface. Give to your husband or kids to eat!
Place 1 cake layer on cake plate or platter. Evenly cover the top with frosting, I like using an offset spatula. Top with second cake layer and spread additional frosting over the top smooth out and covering the sides of the cake.
There will be enough frosting for you to pipe frosting on top (I like this beginner tip set) practice on parchment paper or a cookie sheet first, it's easier than you think! And enough if you had a few extra cupcakes to pipe those as well.
If desired, decorate with chocolate jimmies, mini chocolate chips or chocolate curls. Slice and devour!
Cover any leftover take and store at room temperature for 2-3 days, fridge up to 5-7 and freezer up to 2-3 months — like it will last that long!
These are perfect for Christmas and Valentine's day too! Try them today!
Original recipe slightly adapted from Sally's Baking Addiction.
Like this recipe?
Don't forget to give it a ⭐️⭐️⭐️⭐️⭐️ star rating and comment below the recipe!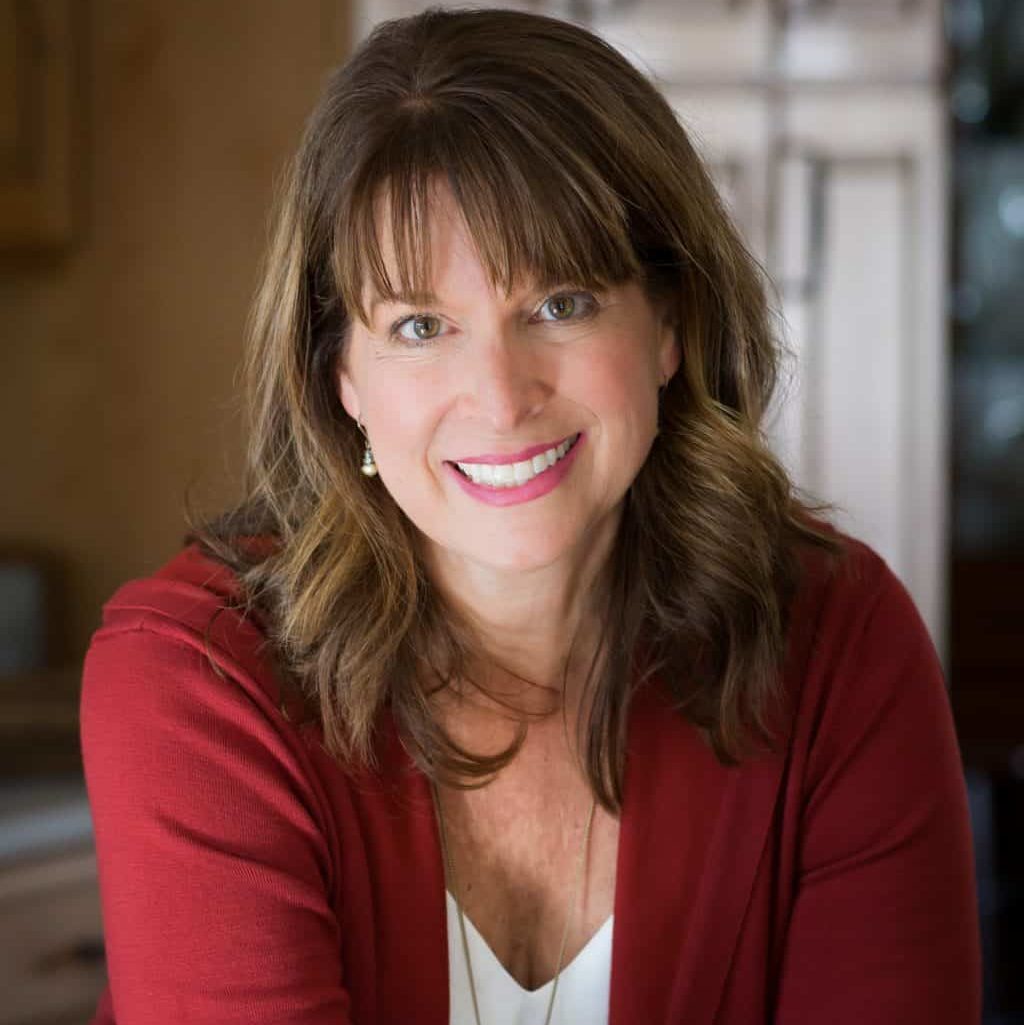 About Kathleen Pope
Recipe Innovator | Food Photographer | Food Writer
Hi, I'm Kathleen Pope. Here at The Fresh Cooky you will find easy, mostly from-scratch, trusted recipes for all occasions. From speedy dinners to tasty desserts, with easy step-by-step instructions. I am here to help teach you how to make mouthwatering recipes without spending hours in the kitchen. Read more about Kathleen here.