Easy Tamale Pie Recipe with Cornmeal Crust
As an Amazon Associate, I earn from qualifying purchases. Please read my disclosure policy.
Easy Tamale Pie Recipe with Cornmeal Crust is cheesy, beefy, tamale tasty – and it is easy too. Made with simple ingredients and tamale spices, this perfect tamale pie recipe is an excellent idea for your Cinco de Mayo meal, a special occasion, or any night of the week.
This beef tamale casserole is topped with sweet cornbread and baked to perfection, you cannot go wrong in serving this dish to the family. And it is so versatile that you can alter the recipe to please even the picky eaters of the household.
Oooh, you can pair this Mexican classic dish with Tropical Mango Fruit Salad for a refreshing side. Then take the night to the next level with Four Ingredient Margaritas and Healthier Fried Ice Cream Pie for dessert. Now my mouth is watering!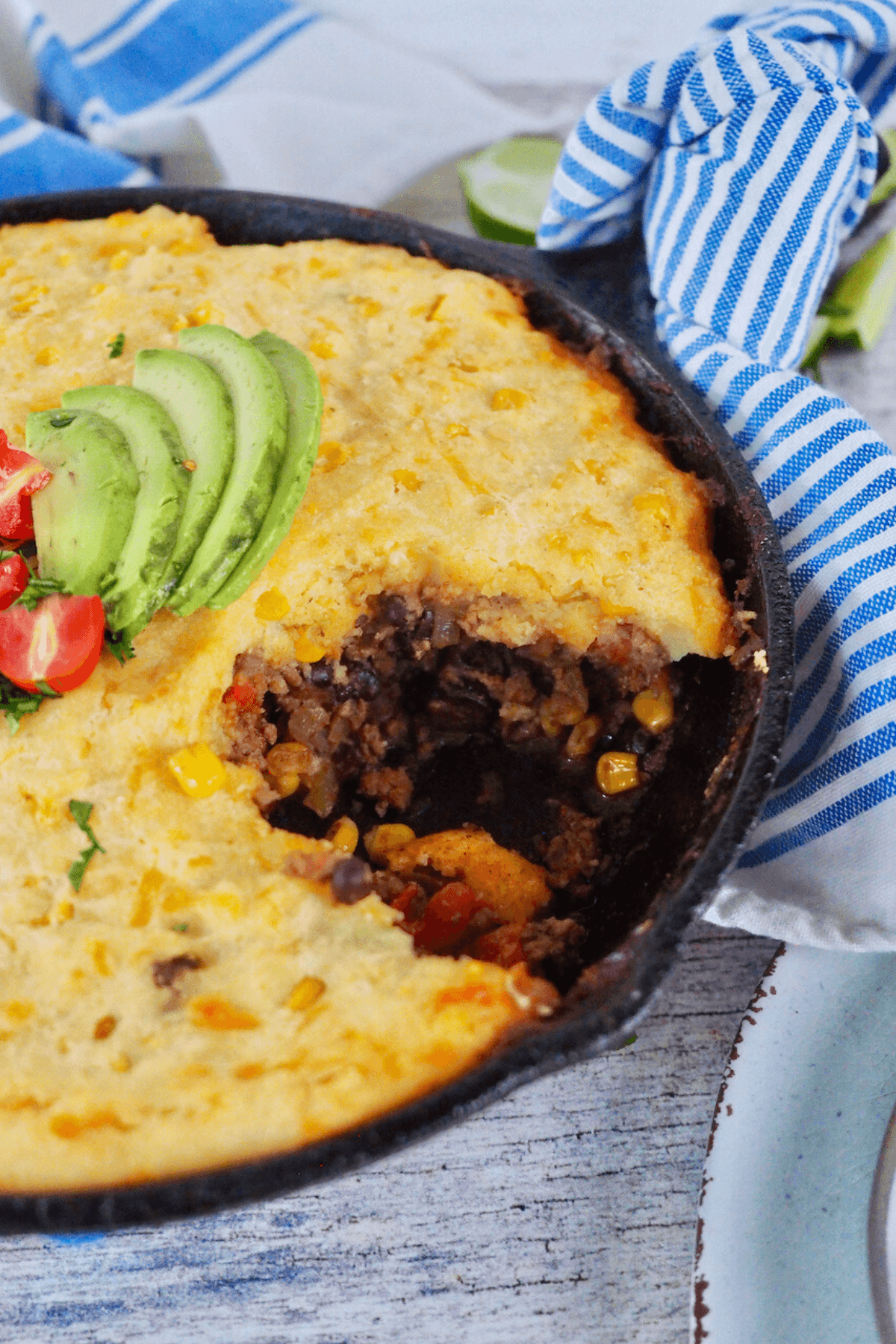 Why you will love this Tamale Pie Recipe with Cornmeal crust
Easy Weeknight Meal | This is one of those easy dinners, that you will come back to time and time again!
One-Skillet Option | I love making everything in one skillet, less mess to clean up!
Healthier | Since we do not use Jiffy Mix in this recipe, this is a healthier option, just like my Easy Corn Casserole without Jiffy Mix.
Simple Ingredients
For the full list of ingredients and directions, print the card at the end of this post.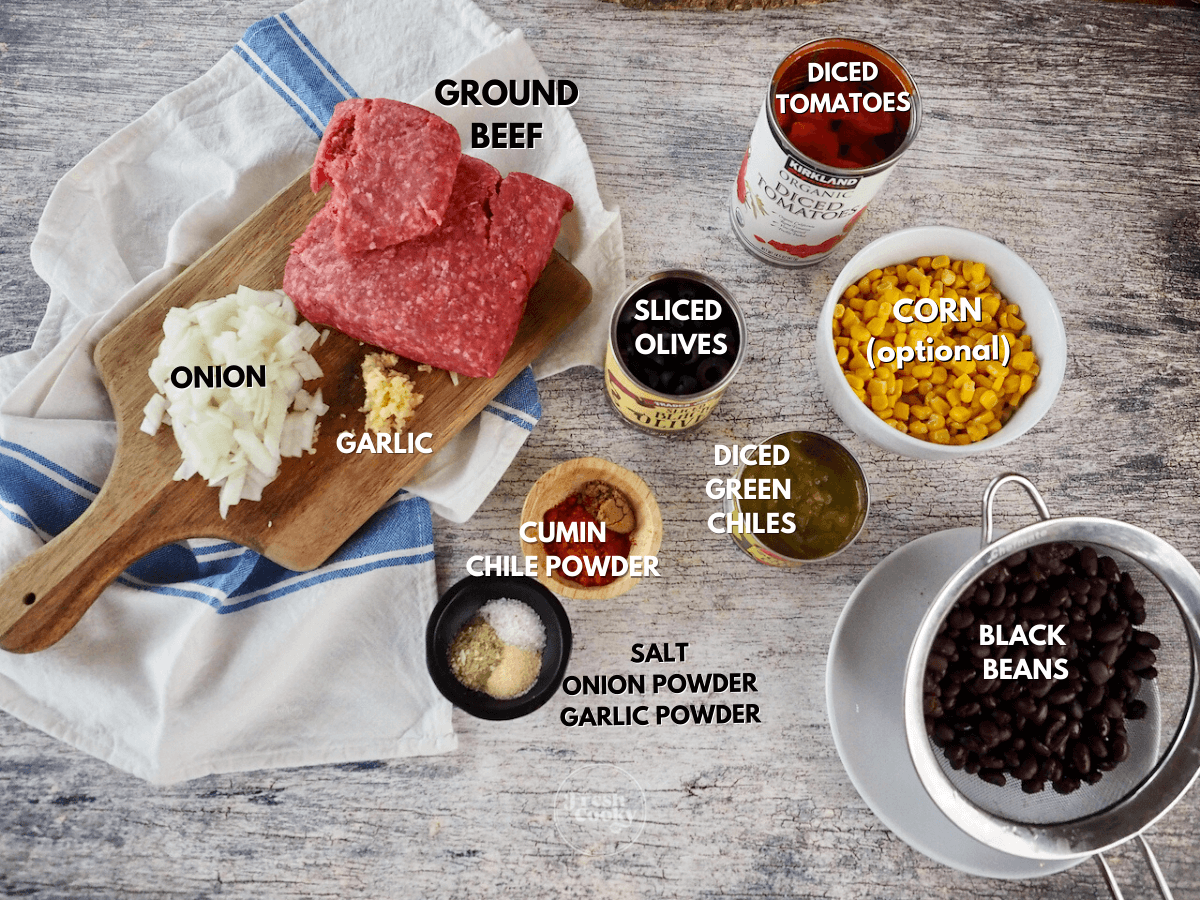 Tamale Pie Filling:
Cornbread Topping Ingredients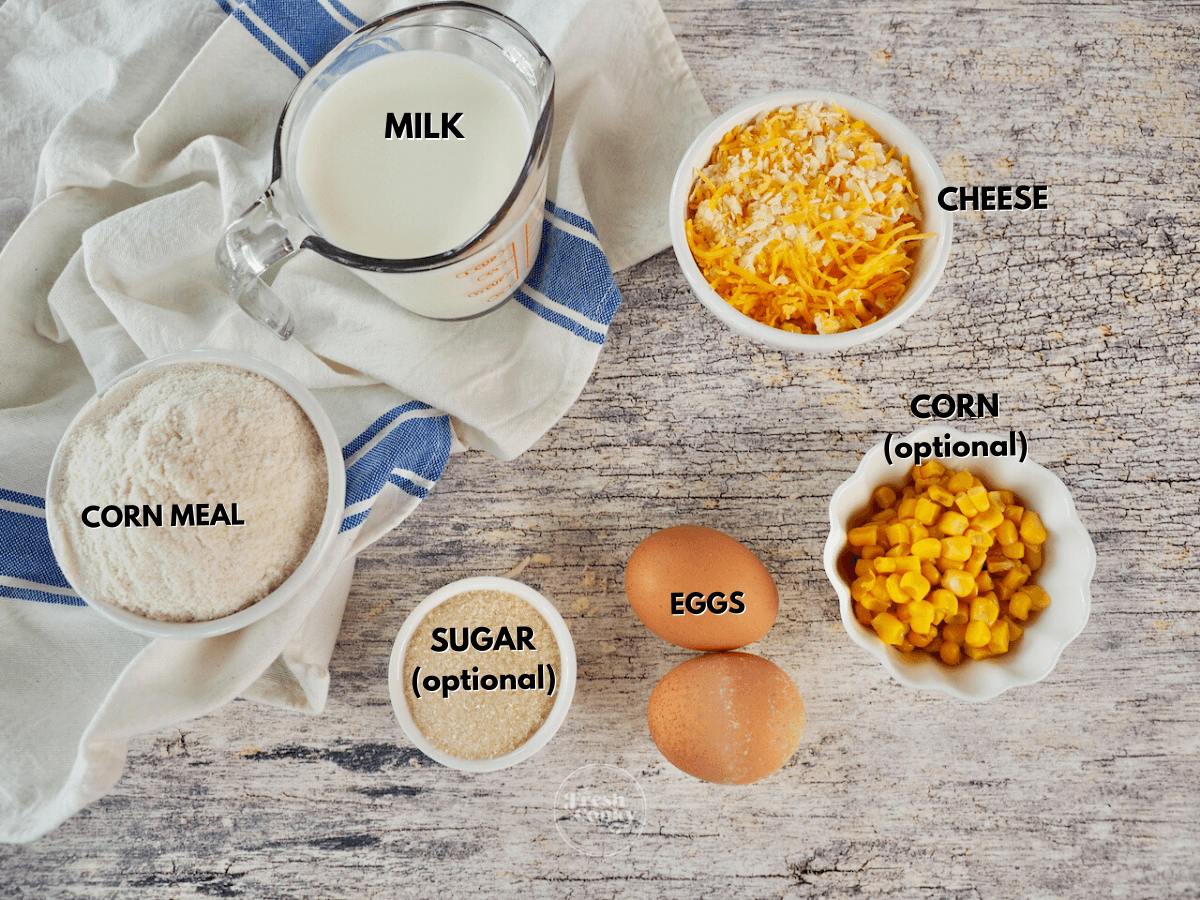 How to Make Easy Tamale Pie
Prepare the Beef Filling
Start by preheating the oven and greasing the baking dish with non-stick spray or vegetable oil.
You can also use an oven-proof skillet to make it a one-skillet meal. I like to use any pan that will go right from the stovetop into the oven – less cleaning for me! My favorite Cast Iron Skillet. Then get ready to make the hearty meat mixture.
Heat your large skillet over medium-high heat and cook the ground beef with the onion until browned. Break it apart into small bits while you stir the beef and onion mixture, and don't forget to drain off the grease when finished cooking.
Now you will add the tomatoes, corn, black beans, olives, green chilies, and seasonings to the beef mixture. They add those yummy tamale flavors!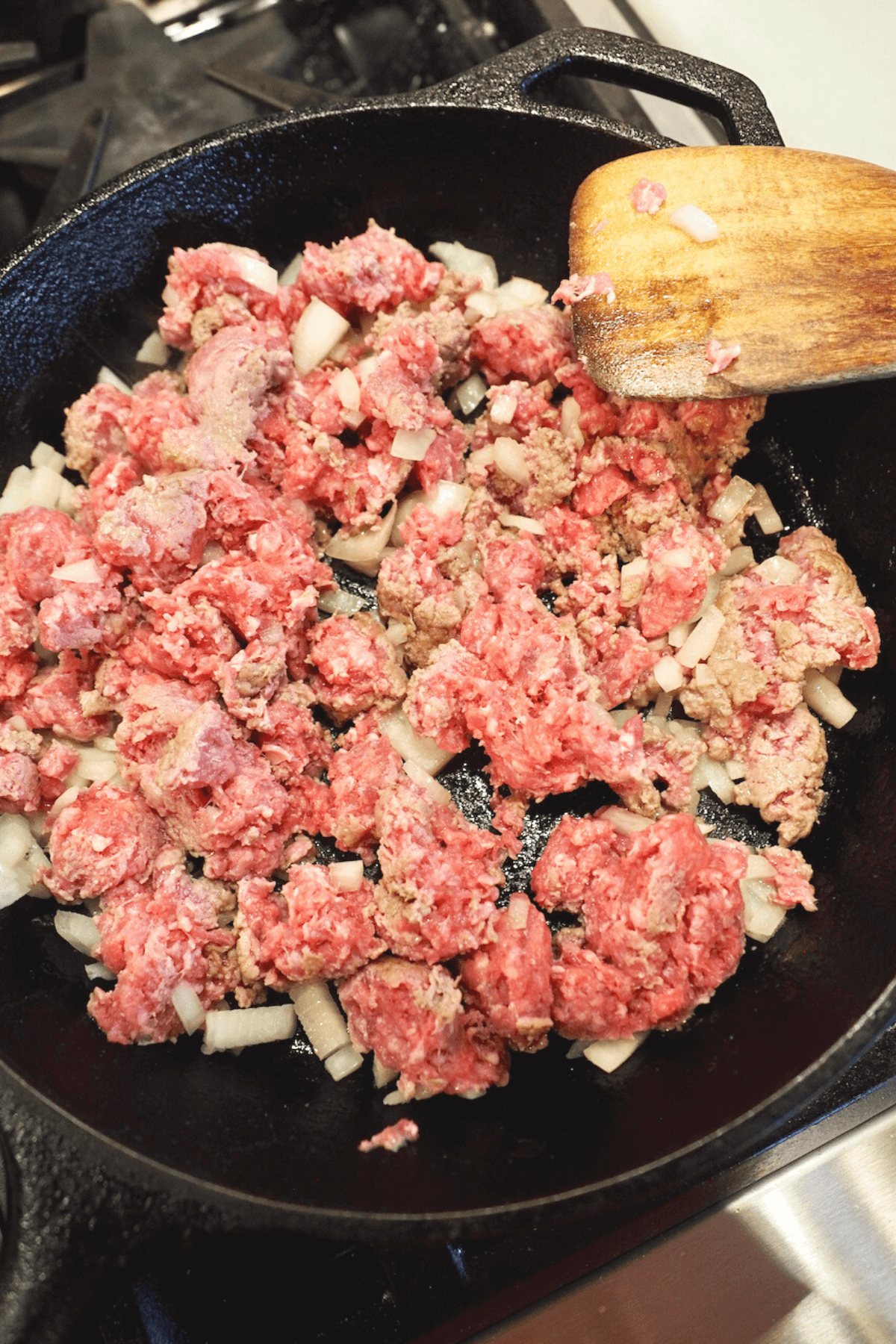 Simmer the pie filling and reduce the heat until it is just thickened. This takes about 10 minutes.
If you are using a baking dish, you can now pour the tamale casserole filling into the prepared dish. If you are using the in-pan method, simply remove it from the heat- you are ready to make the cornmeal mixture.
Make the Cornmeal Topping
You can do this step while the tamale pie mixture simmers away on the stove!
Get out your medium mixing bowl and combine the cornmeal, milk, sugar, corn, and eggs. Stir until just incorporated, then sprinkle cheese in and stir. An Easy Peasy Cornbread Mixture! (No Jiffy required.)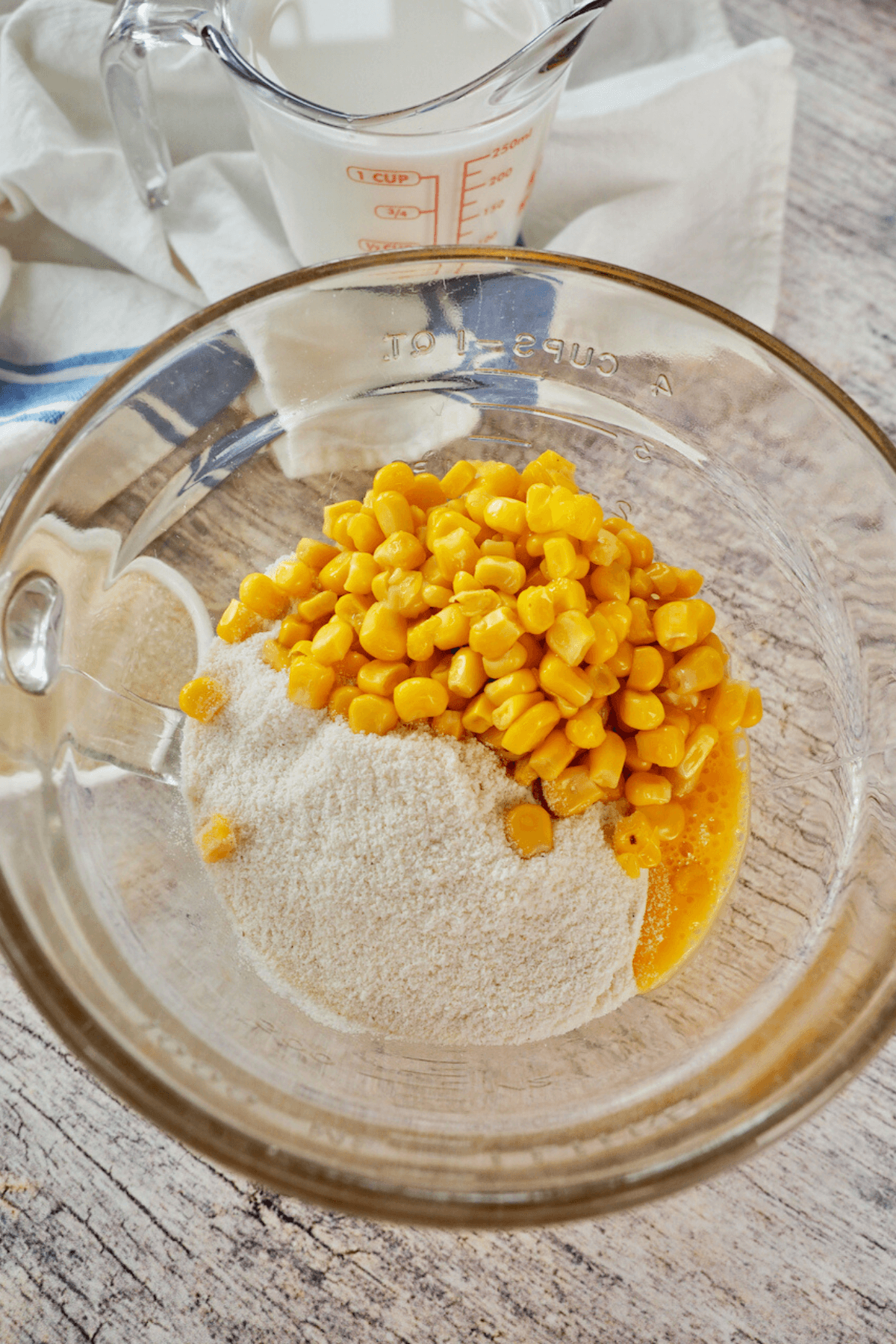 Put it All Together and Bake
Now, this easy tamale pie recipe is starting to come together!
Take your pan of ground meat filling and pour the cornbread batter on top to make a thick layer of cornbread pie crust. Then place the pan in the preheated oven and bake until golden brown and bubbly.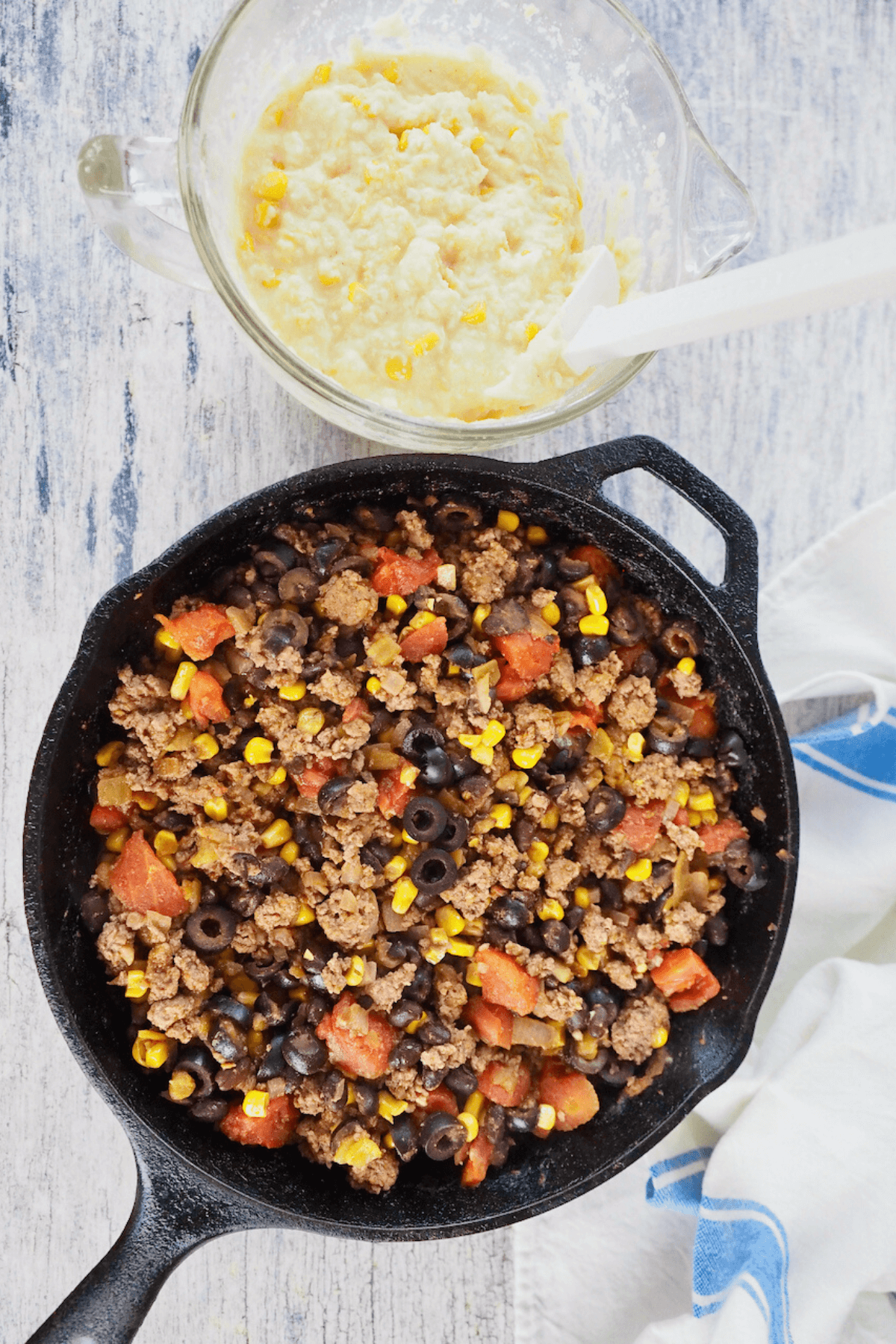 When finished cooking, remove the tamale pie casserole from the oven and allow it to cool for 10 minutes or so.
When you are ready to serve this scrumptious and cheesy cornbread tamale pie, plate it up and top with a dollop of sour cream, avocado slices, green onions, cilantro, or salsa!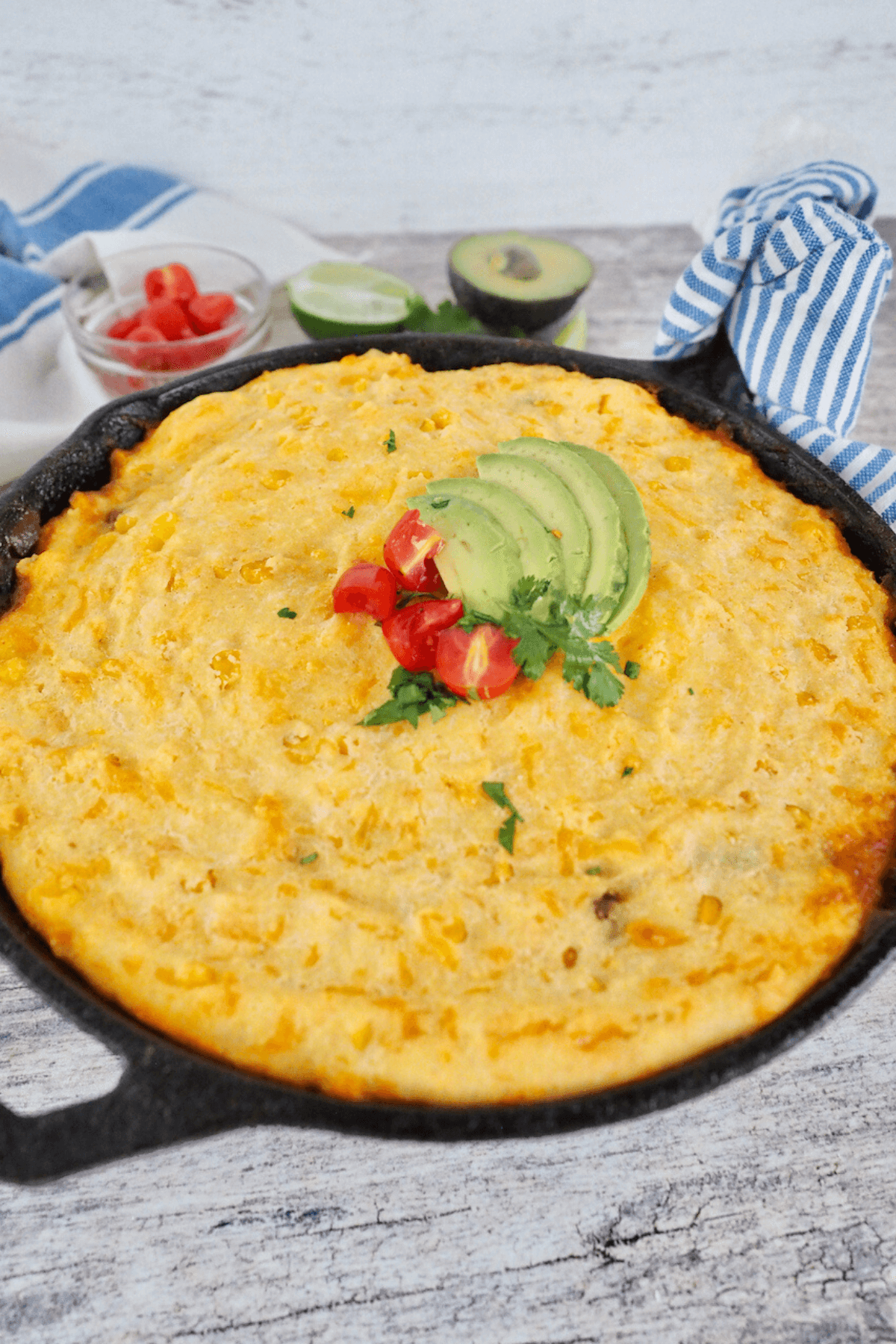 Fresh Tips: I use several frozen and canned items in this easy tamale pie recipe. This makes the process go so much faster! But if you have the time and the desire, you can chop your tomatoes, use fresh corn, and add bell pepper to tomato sauce or tomato paste.
Variations & Substitutions
Like to turn up the spice? Spicy Tamale Pie is made even spicier by adding some hot sauce to the meat mixture, and you can add some jalapenos to the topping list!
Make it vegetarian. Substitute the ground meat for more beans like pinto beans, kidney beans, and black beans.
Try it dairy-free. Nutritional yeast will sub for the cheese, and you can trade the milk for beef or chicken broth or any plant-based milk.
Want more Veggies | Add green pepper, red pepper, to your meat mixture.
You see, there are plenty of great ways to change up this versatile and savory dinner tonight! Make it all yours, and it is sure to be a new family favorite.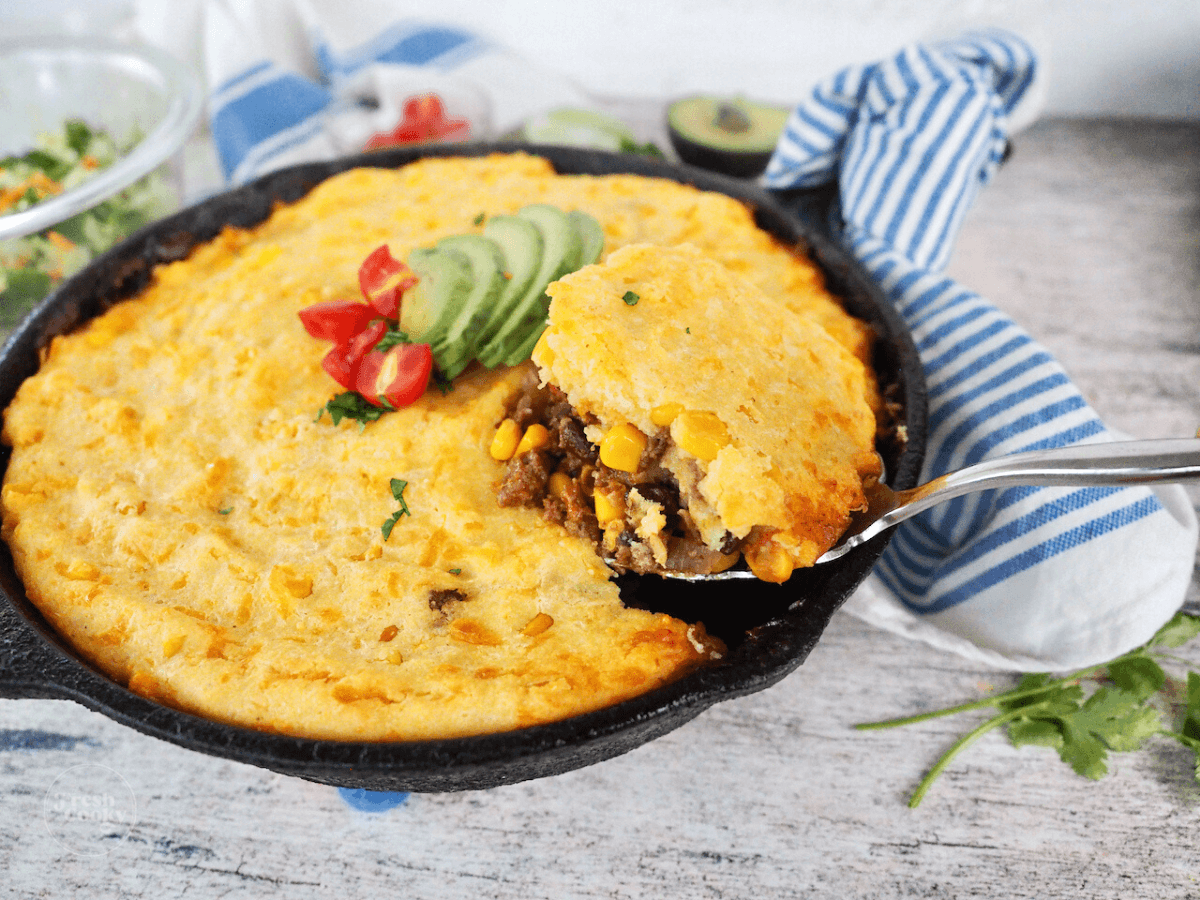 Equipment
Storage
Store leftovers in an airtight container in the fridge for up to 5 days or freeze for up to 3 months.
Reheat | Thaw overnight in the fridge and place in an oven-safe container, covered with foil, reheating at 300 degrees for 25 minutes until warmed through.
You may reheat from frozen by placing the casserole dish in a 325-degree oven, covered with foil for 40-50 minutes. Then remove the foil for the last 10 minutes or so.
You may also reheat it in a microwave-safe dish in the microwave.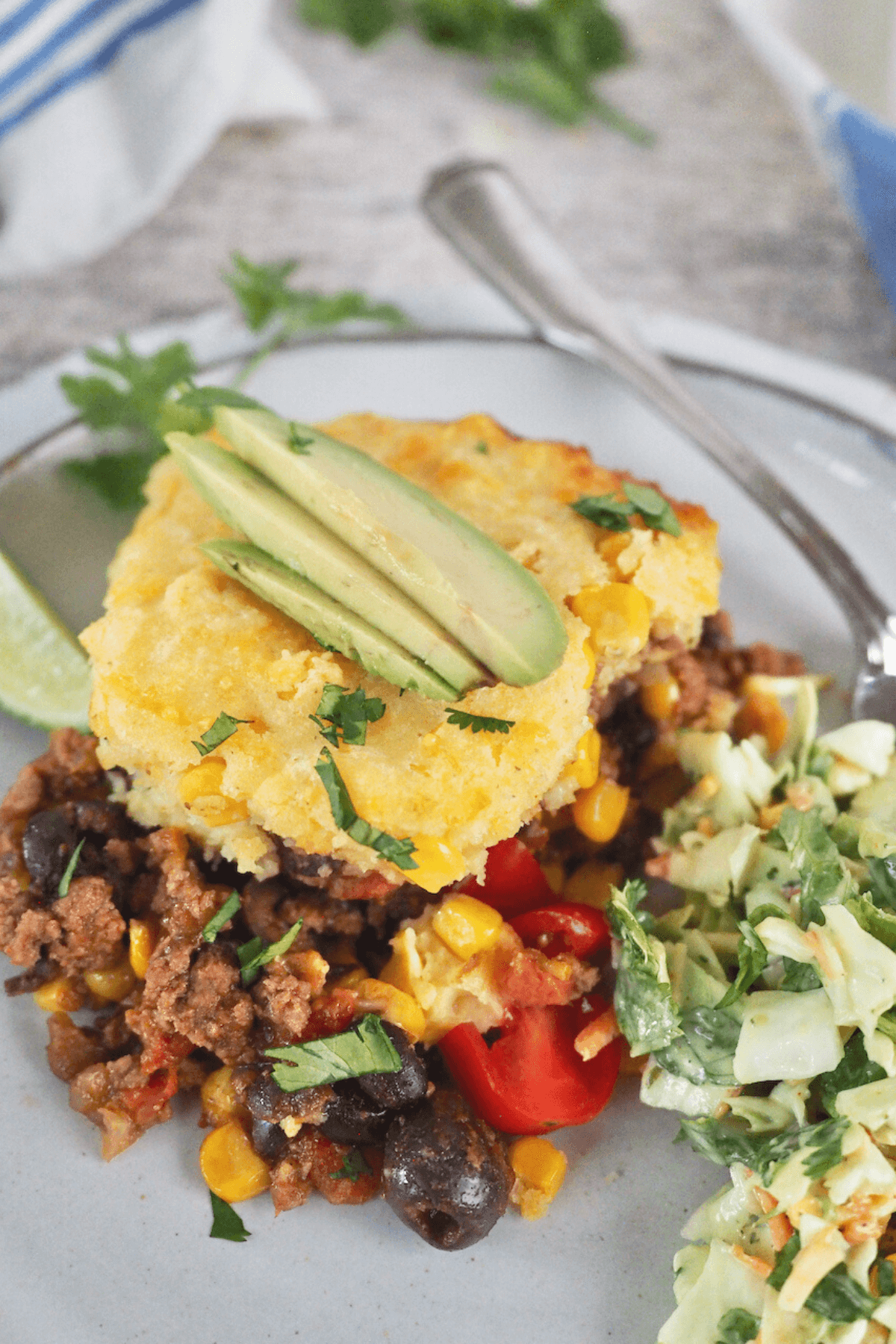 Make-Ahead
This entire dinner may be made ahead of time up to the point of baking.
Allow the meat mixture to cool completely, then place in a disposable foil pan or line skillet with plastic wrap or foil (after entirely cooled), for easy removal and freezing.
Add the meat mixture and cornbread topping, and freeze one-two hours until flash frozen. Then remove from baking pan or skillet and wrap well.
To bake, remove foil or plastic wrap while frozen and place in a baking dish, thaw overnight in the fridge, and bake as directed in the recipe card.
This dish may also be frozen after baking, be sure to cool completely before freezing.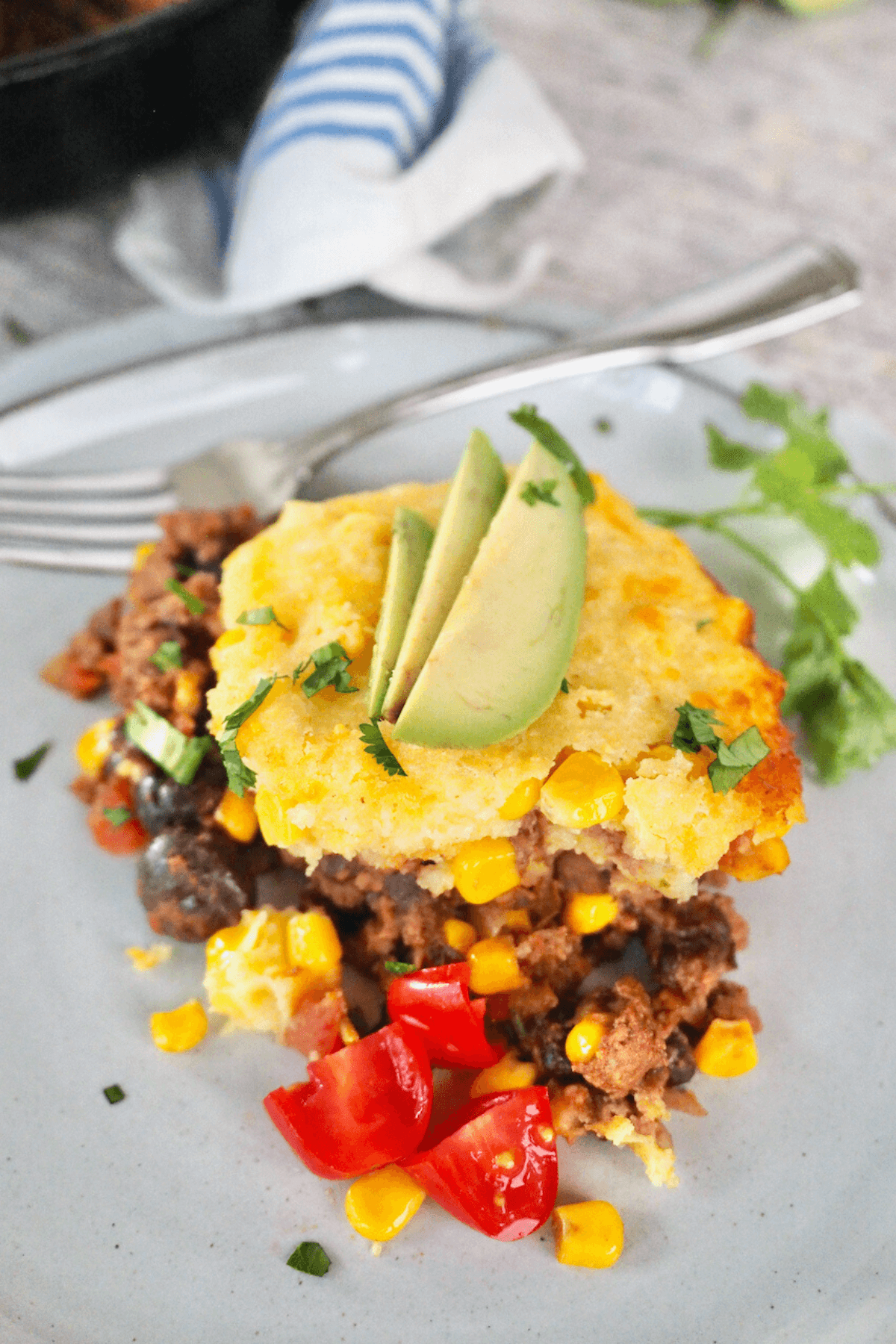 Tip for Two
Make this dish and separate it into small loaf-sized pans. Then you can enjoy one for a great dinner tonight and freeze the others for another meal.
Frequently Asked Questions
Can I use ground turkey instead of ground beef?
Of course, you can. Ground turkey or ground chicken is a great way to avoid eating beef one night of the week.
Is this recipe gluten-free?
This recipe can be GF by simply checking the cornmeal, spice jars, and canned goods to ensure they are certified gluten-free. Then make sure your cheddar cheese is gluten-free, and you are on your way to another of my easy gluten-free recipes!
Can I use Jiffy Mix instead?
Yes you can use Jiffy Mix cornbread instead. I prefer the homemade version thought and other than measuring won't take any longer. And to be clear, when using Jiffy Corn Muffin mix, you are adding wheat, animal lard, and preservatives to the dish. But I get it, it's not like I've never used it!
Healthy Twist
So what's my healthy twist in this recipe? No Jiffy mix! I used organic, grass fed ground beef, along with organic corn meal, organic whole milk, tomatoes, corn and black beans. This is a hearty, comforting meal that you will love!
What to serve with Tamale Pie
While a tamale pie is a complete meal all by itself, there are a few sides to serve with it that would be delicious. I garnished with chopped tomatoes, cilantro and sliced avocado.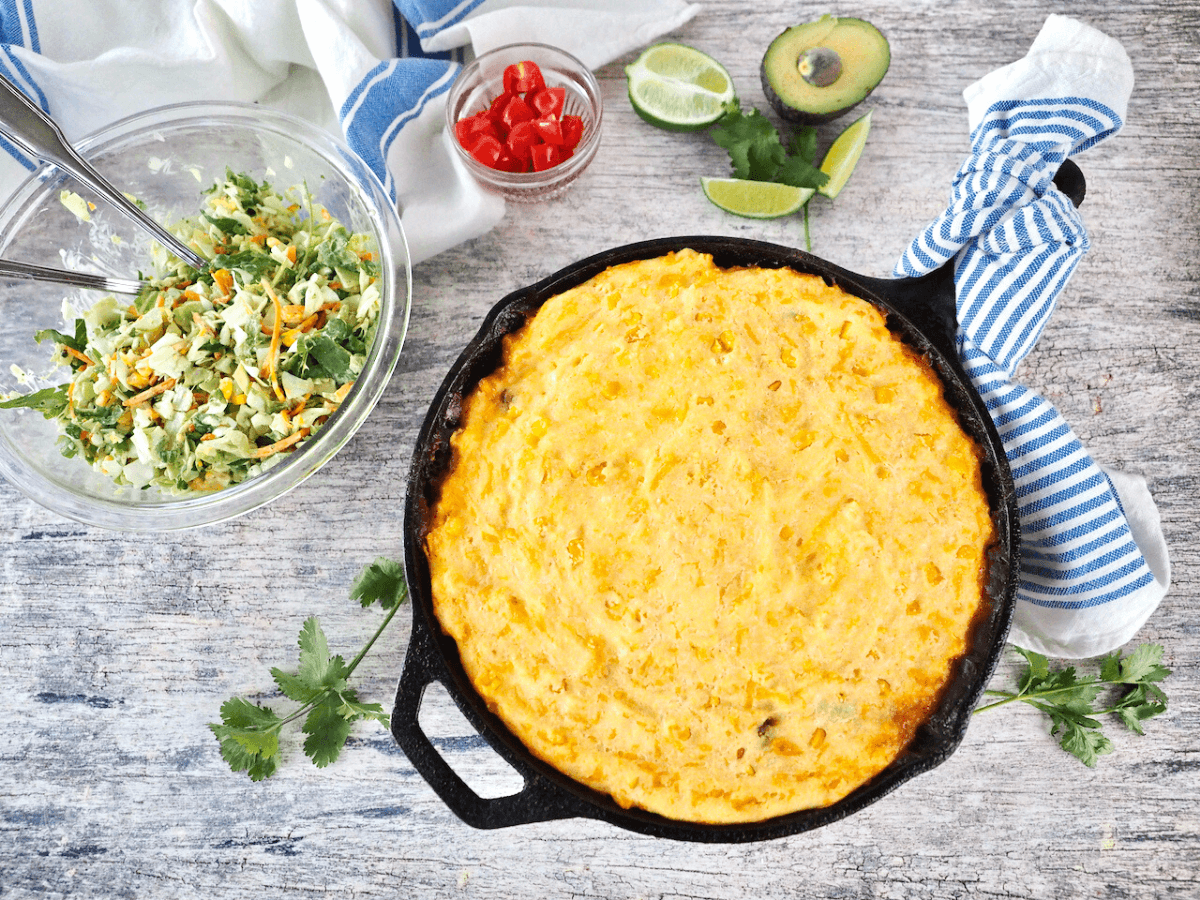 More Meat Pie Recipes
More Easy Dinner Recipes
Love It? Pin It!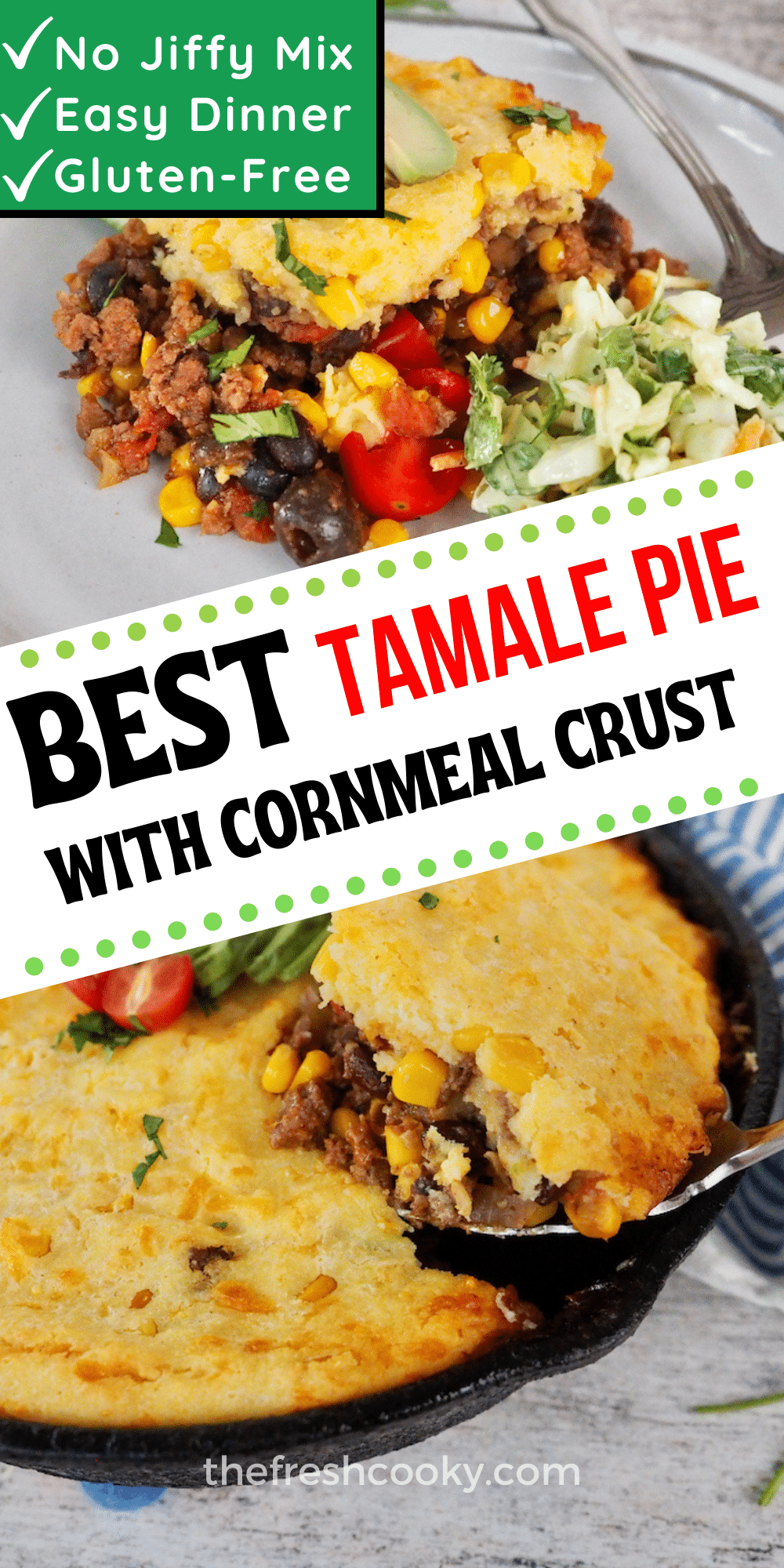 Like this recipe?
Don't forget to give it a ⭐️⭐️⭐️⭐️⭐️ star rating and comment below the recipe!
I hope you loved this easy tamale pie recipe with cornmeal crust! If you did, please pop down and leave me a rating and a comment.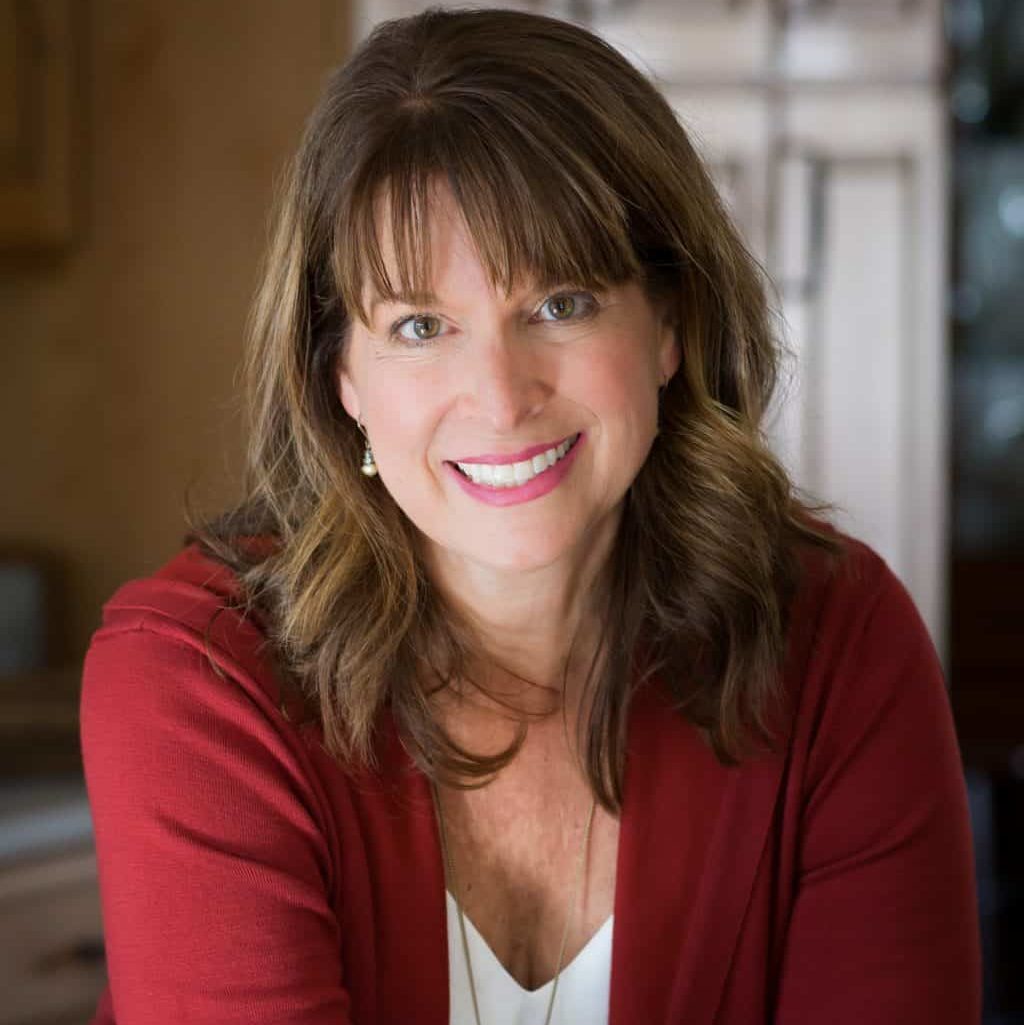 About Kathleen Pope
Recipe Innovator | Food Photographer | Food Writer
Hi, I'm Kathleen Pope. Here at The Fresh Cooky you will find easy, mostly from-scratch, trusted recipes for all occasions. From speedy dinners to tasty desserts, with easy step-by-step instructions. I am here to help teach you how to make mouthwatering recipes without spending hours in the kitchen. Read more about Kathleen here.