Maple Bourbon Candied Pecans
As an Amazon Associate, I earn from qualifying purchases. Please read my disclosure policy.
Candied pecans are amazing and these no refined sugar Maple Bourbon Pecans are even better! Sweet maple syrup, smoky bourbon, rich cinnamon, and a little spicy heat makes these roasted pecans outrageously addictive! A delicious sweet-salty mix.
When I make candied bourbon pecans, the entire house smells like fall! Cinnamon, maple and buttery, bourbon glazed roasted pecans! I could have eaten the whole batch! They are delicious as toppings on ice cream, oatmeal, pancakes, salad, food gifts and more
If you love maple & bourbon, then you might try these fabulous recipes; Maple Bourbon Sour, Maple Pumpkin Scones, Bourbon Caramel Sauce.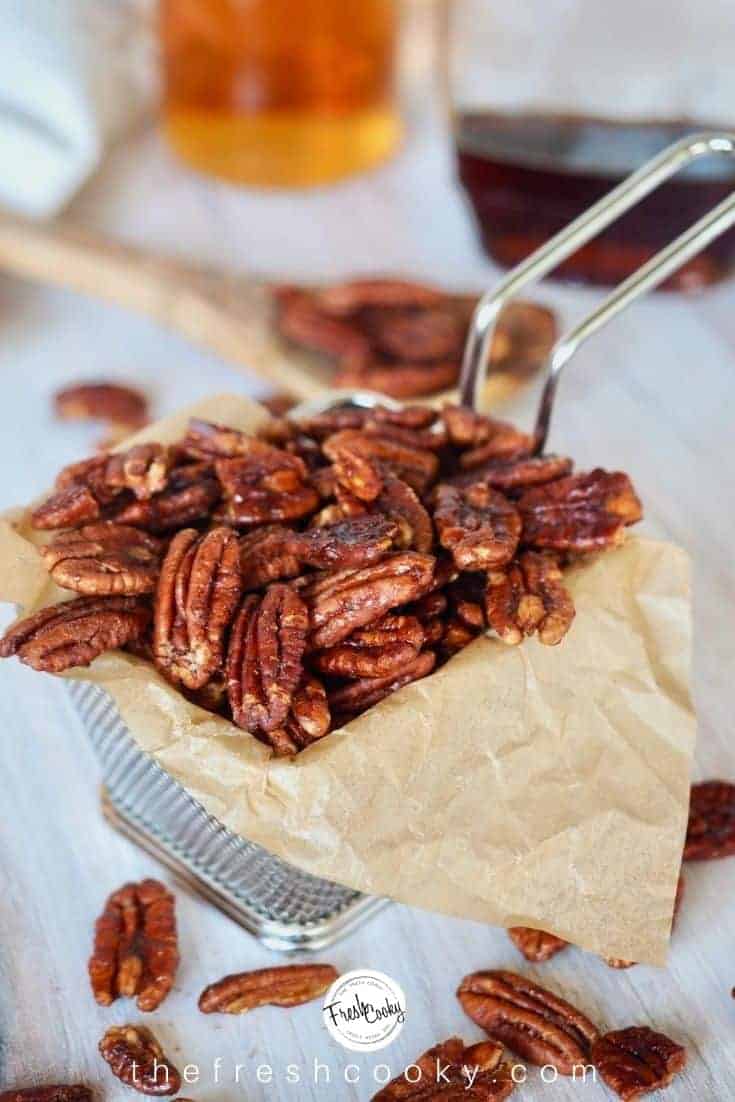 With the Kentucky Derby coming up, I've joined other talented bloggers making bourbon inspired recipes! A bowl of bourbon pecans to nosh on while cheering on your favorite horse would be perfect!
I developed this recipe as part of a Kentucky Derby Party Bourbon inspired recipe collaboration! Check out ALL of the great recipes here!
Speaking of Derby food, you might try this delicious Mint Julep or Blackberry Bourbon Moscow Mule and for dessert, the one and only Kentucky Butter Cake!!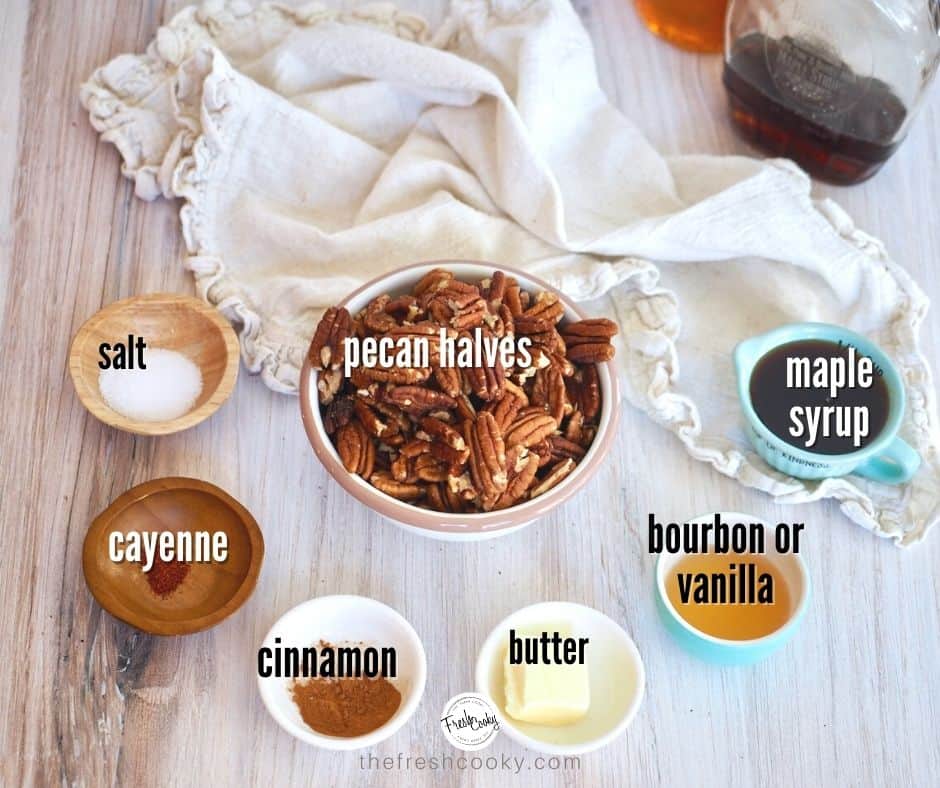 Ingredients for Bourbon Pecans
Raw Pecan Halves | the star of the recipe (psst, try other nuts too or mixed nuts!!)
Real Maple syrup | I used bourbon barrel aged maple syrup, if you haven't tried it, it is fabulous! Pure maple syrup is fine, but if you can find bourbon barrel aged, it's so worth it. I purchase mine at a farmer's market in Vail each year, but have also found seasonally at Trader Joe's.
Butter or Olive Oil | I used butter, because it's only a tablespoon!
Bourbon | Any bourbon of your choice, if you prefer not to use bourbon, may I suggest using a good vanilla extract or Bourbon Vanilla extract.
Kosher Salt | adds salty balance to the sweet and enhances the flavors.
Ground Cinnamon | Use a good quality cinnamon, this one is my favorite.
Cayenne Pepper | Adjust your heat up or down depending on your taste!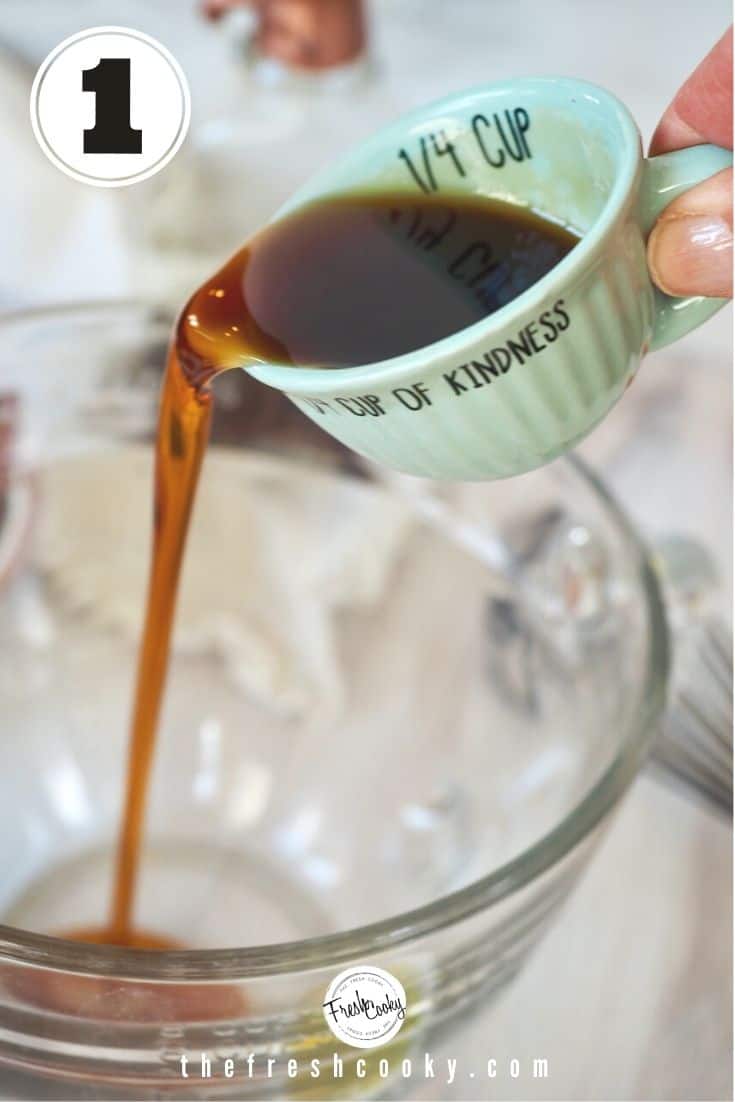 What is Bourbon Maple Syrup
Barrel aged Bourbon maple syrup is simply maple syrup that has been aged a bit in barrels that formerly were used to age, well bourbon.
It is not an alcoholic syrup, but certainly takes on the flavors, taste and nuances of the bourbon that was aged in that barrel.
It's amazing! Use it in drinks, a drizzle over glazed carrots or Brussels, in a brown butter glaze — the sky's the limit!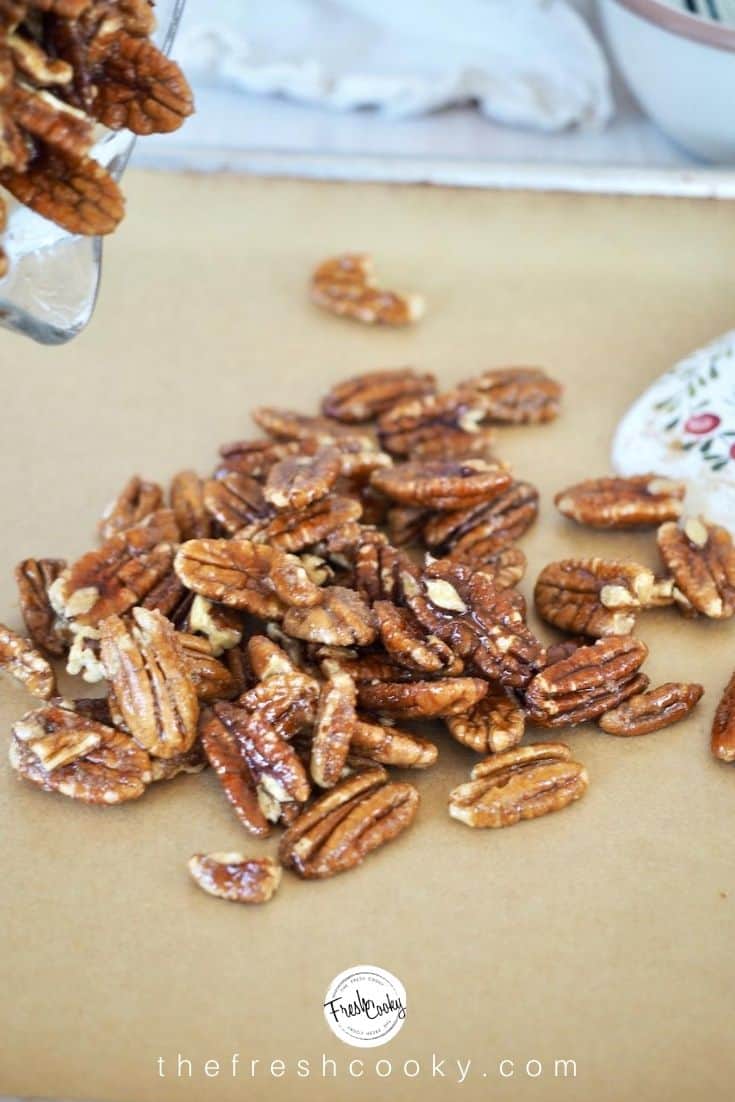 Are Candied Pecans the Same as Praline Pecans?
Pralines originated in France, but the European version differs somewhat from the one in the United States.
The original French confection featured almonds instead of pecans. When French settlers moved to the southern U.S., they found few almonds but plenty of pecan trees.
They substituted pecans in their recipe while adding cream to thicken the mixture, resulting in a fudge-like candy. (Source)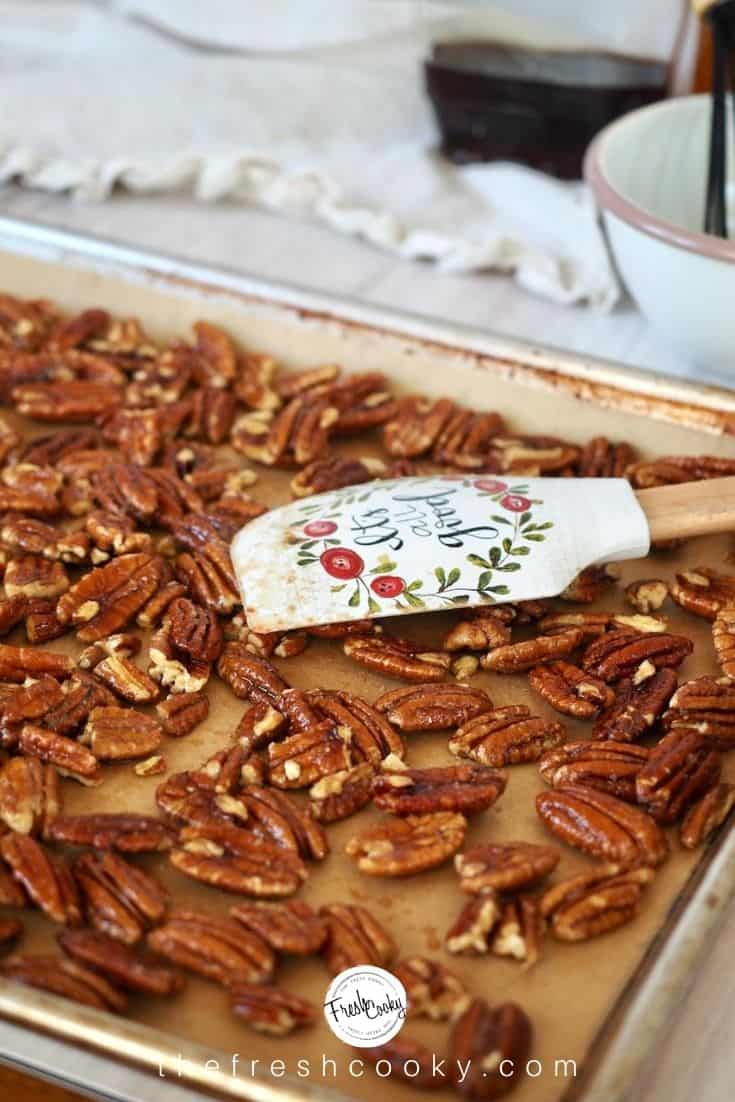 What Are Praline Pecans?
While pecan pralines are more of a candy or confection, praline pecans give you all the deliciousness of pecan pralines, without the additional ingredients.
Typically praline pecans usually use brown sugar, which is why they are sometimes called sugar pecans.
These are slightly different because we don't use refined sugar in this recipe, instead our sweetness comes from pure maple syrup.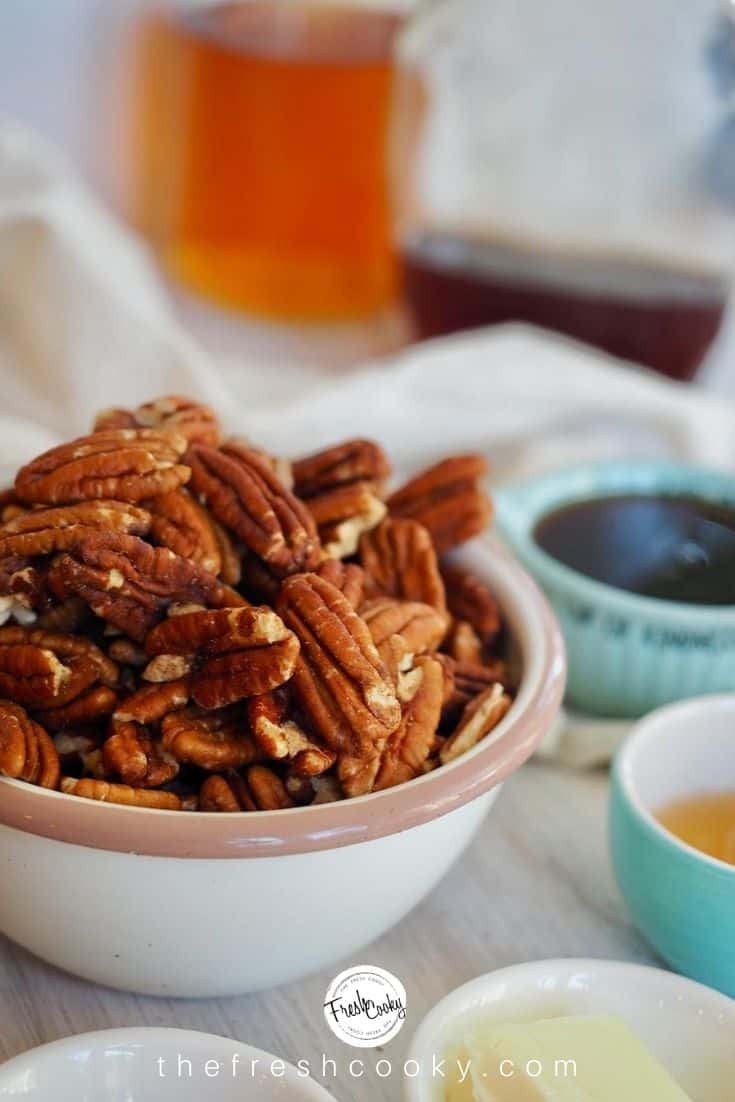 How Do I make Spicy Candied Pecans?
This recipe uses an oven vs. stovetop, nothing wrong with stovetop glazed pecans, but I love the enhanced flavor you get from slow roasting these in the oven; leaving them shiny, crunchy, and perfectly glazed.
Start by simply placing all ingredients (except pecans) in a medium to large bowl, whisk to mix.
Add pecans and stir to coat the nuts evenly with the liquid and spice mixture.
Pour onto parchment lined baking sheet and spread evenly in one layer, the maple bourbon slurry might puddle, but don't worry.
Bake in preheated 325 degree oven for 10 minutes, then stirring every 5 minutes until the liquid is gone for a total of about 25 minutes.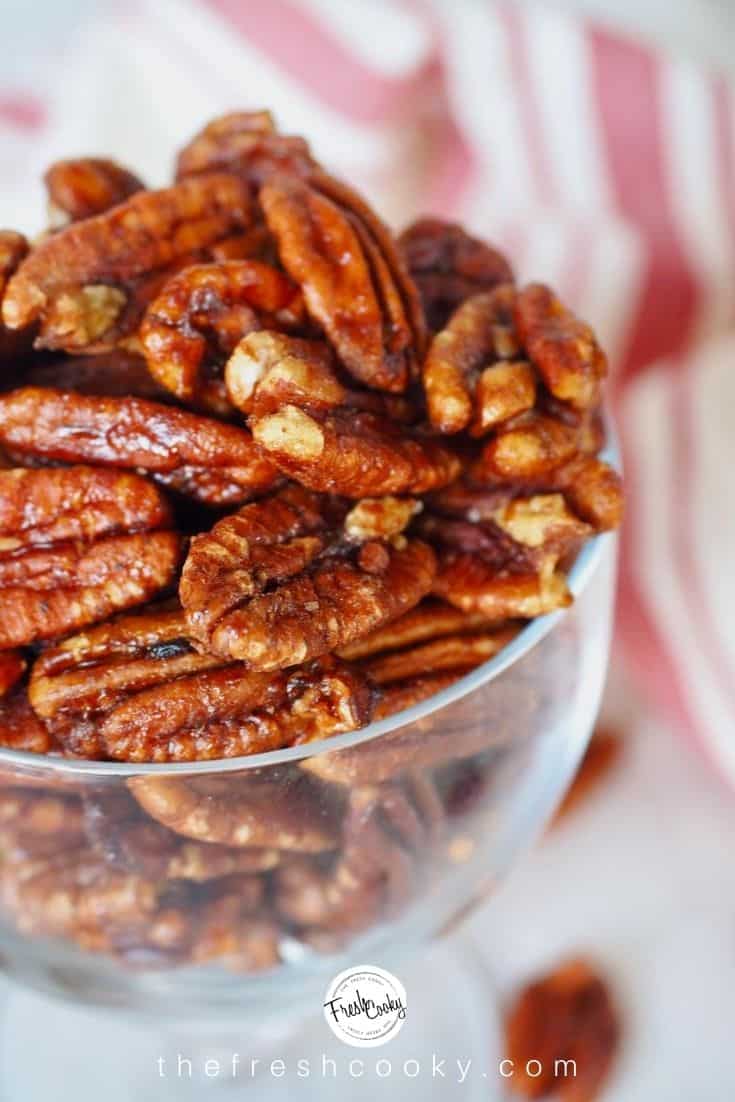 WAYS TO USE BOURBON GLAZED PECANS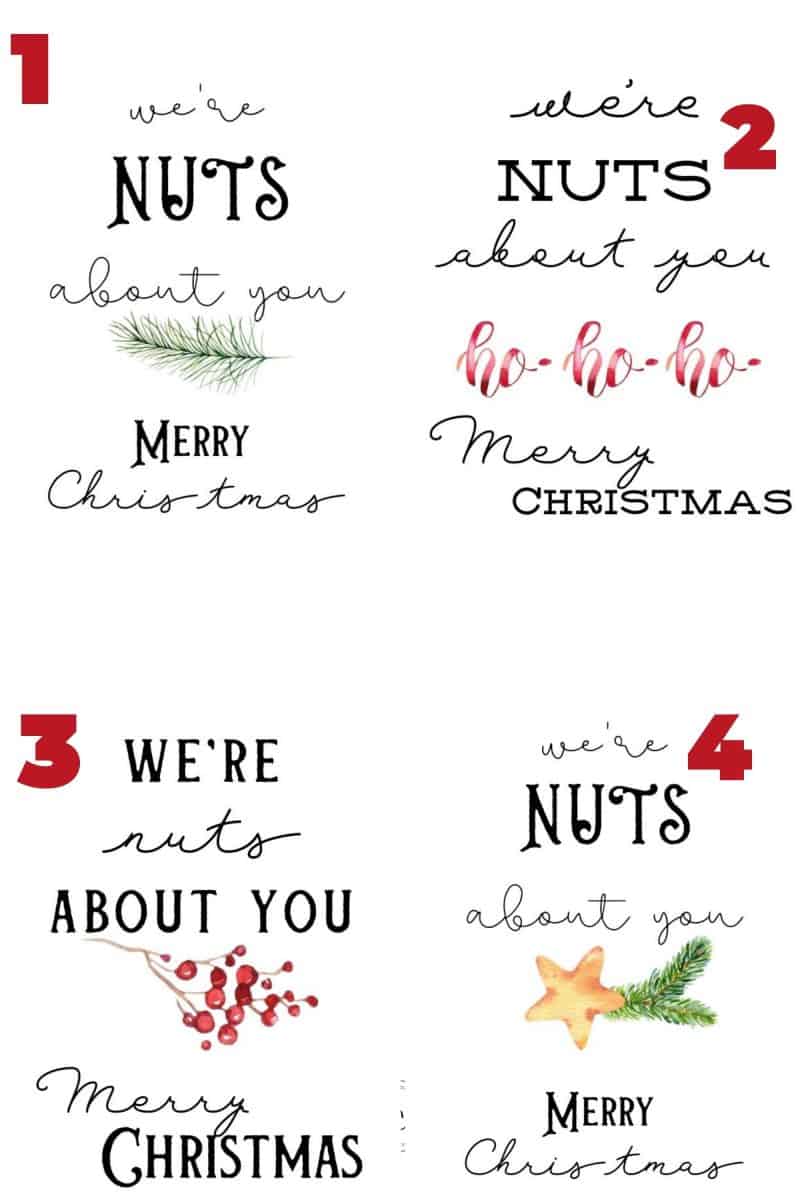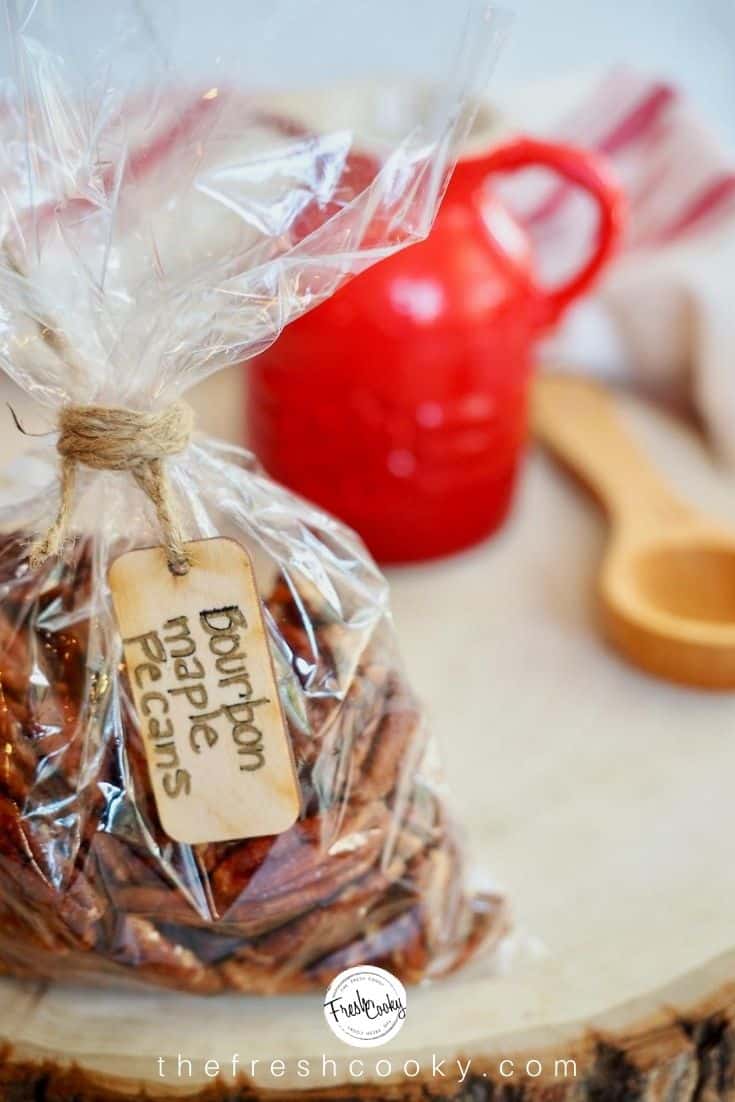 How will you use these delicious roasted cinnamon pecans? Pop a comment below the recipe!
PIN this recipe to your favorite Snacks & Nuts board!
Like this recipe?
Don't forget to give it a ⭐️⭐️⭐️⭐️⭐️ star rating and comment below the recipe!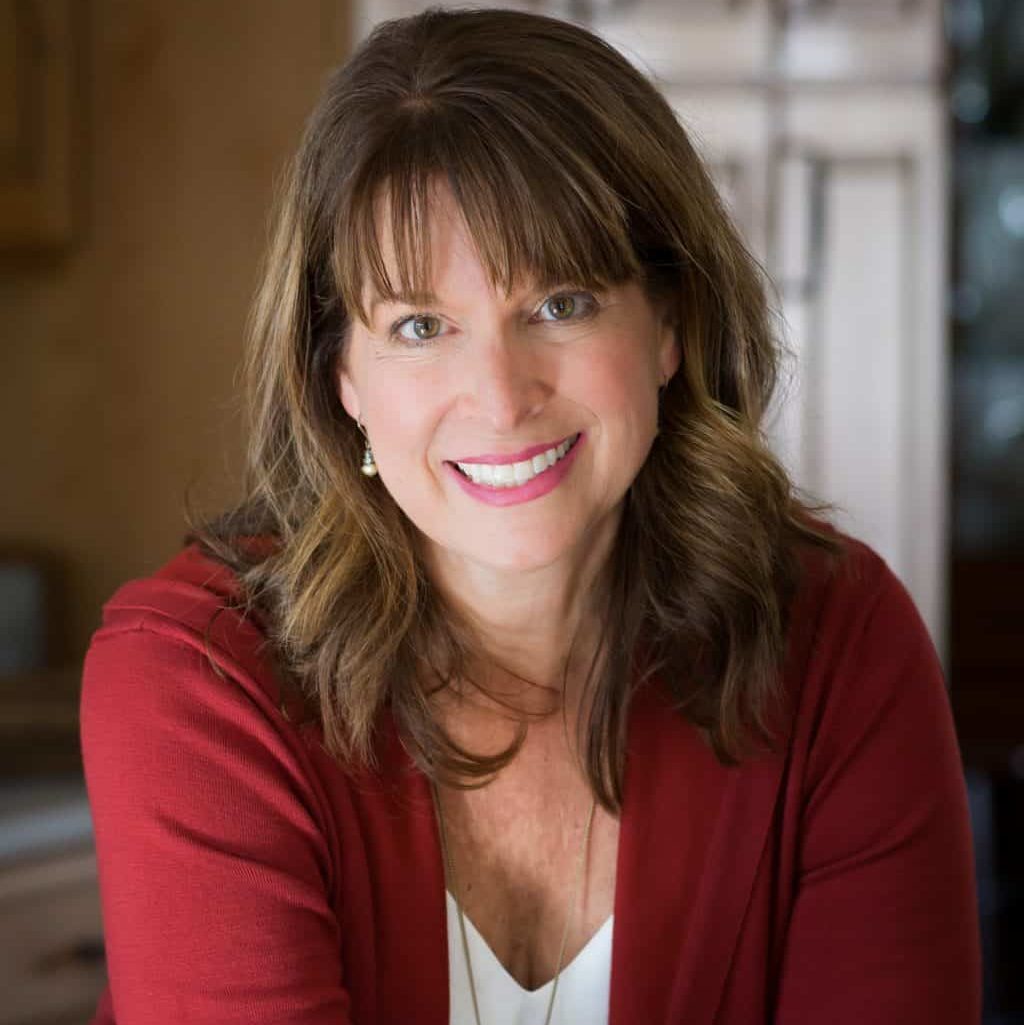 About Kathleen Pope
Recipe Innovator | Food Photographer | Food Writer
Hi, I'm Kathleen Pope. Here at The Fresh Cooky you will find easy, mostly from-scratch, trusted recipes for all occasions. From speedy dinners to tasty desserts, with easy step-by-step instructions. I am here to help teach you how to make mouthwatering recipes without spending hours in the kitchen. Read more about Kathleen here.