Easy Nut Free Basil Pesto Sauce Recipe
As an Amazon Associate, I earn from qualifying purchases. Please read my disclosure policy.
Today you will learn how to make pesto sauce without nuts! This easy nut free basil pesto sauce recipe doesn't include pine nuts, sunflower seeds, or pumpkin seeds! And it's a 100% deliciously versatile sauce that couldn't be any easier to make.
If you have a surplus of basil this summer, with only a handful of ingredients, this delicious pesto recipe will become one of your favorite things to keep on hand. Try it with my Best Italian Pasta Salad with Sun-Dried Tomatoes, drizzle onto this Chicken Parmesan, even place a frozen pesto ice cube into a pot of rich homemade spaghetti sauce!
Family members and friends with nut allergies often miss out on traditional basil pesto. This nut free basil pesto says love more than "going out of your way" to create a beautiful creamy dish just for them. My son who has a severe tree nut allergy loved this nut-free recipe!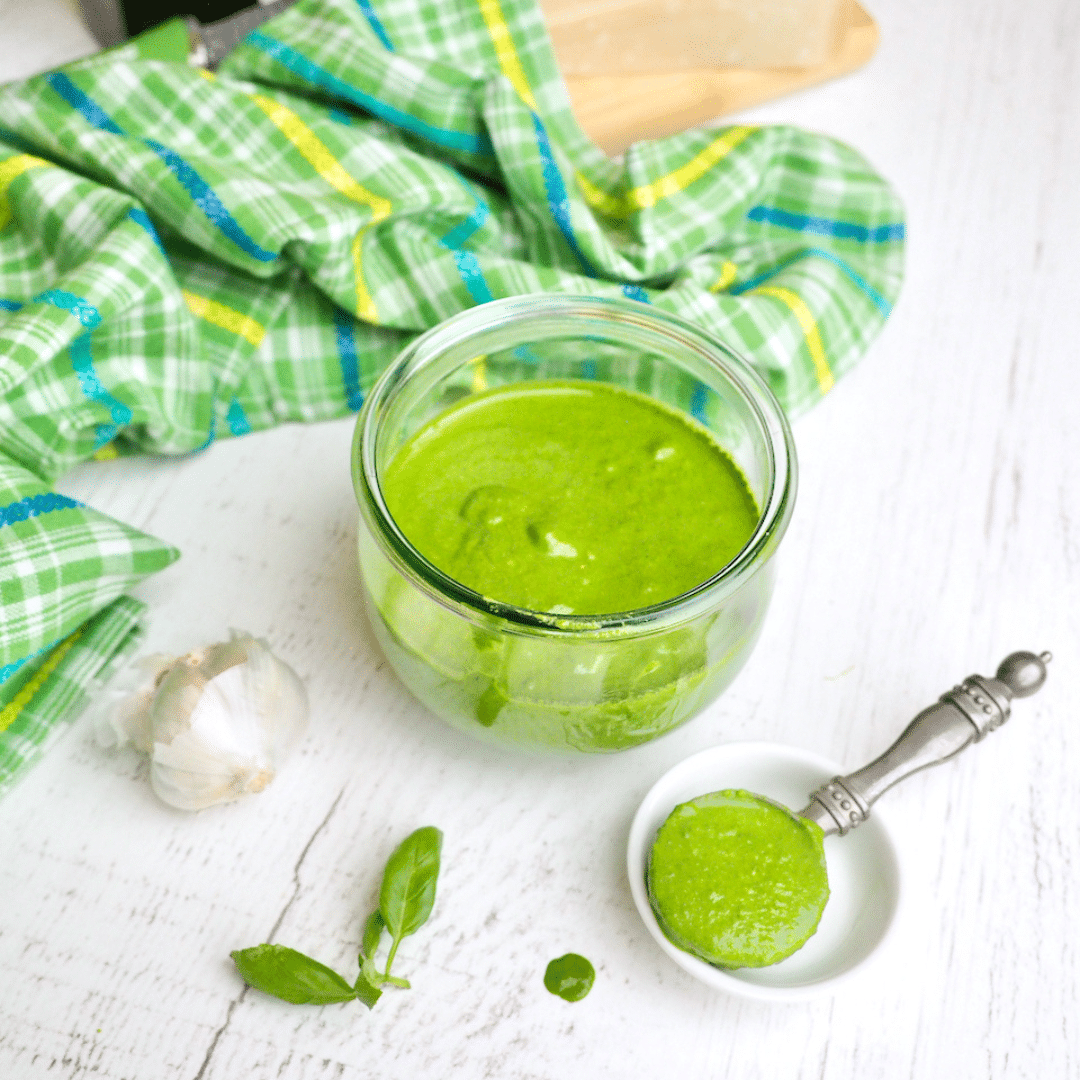 Why You Will Love This Easy Nut Free Pesto Sauce Recipe
Rich Flavor | The fresh herbs and bright lemon juice add so much flavor to any dish!
Versatile | This is the basis for any pesto – change it up to suit your tastes!
Allergy-Friendly | Of course, this recipe is nut-free and gluten-free, but you can also make it dairy-free too! (See notes in FAQs) And it is even considered keto pasta!
About Lovely Pesto Sauces
Pesto is a bright green marinade, topping, or dressing made from pulverizing the ingredients and adding in the base- which is olive oil. Then herbs like basil, sage, oregano, and more are added with other seasonings, and cheeses to round out and balance the sauce. Often pine nuts are included in the recipe, but I needed to make a nut-free pesto version. And it is every bit as good!
Originally made in Italy, the chefs there would use a Mortar and Pestle to crush the fresh herbs and salt together and make a paste. In fact, the word pesto is a Genovese term, which means to pound or to crush. Now, we are lucky to have food processors to speed up the process!
Healthy Twist
This delicious sauce is an easy way to add another healthy choice to your recipe card. The fresh garlic and basil plants bring to life a yummy pesto nut taste and create the perfect pesto right in your home with no extra preservatives! Adding healthy baby spinach reduces the overall cost of pesto too!
Pesto Sauce Ingredients
The full list of ingredients and instructions is in the printable recipe card at the end of this post.
Baby Spinach Leaves | Baby spinach is what you want here because smaller leaves are more tender and have a sweeter flavor than regular spinach.
Fresh Basil Leaves | Fresh is best here, which is why during summer harvest this is a great recipe!
Olive Oil | This recipe calls for regular olive oil; the full flavor works well here.
Garlic Cloves | If you're sensitive to garlic, use half and add as your taste desires.
Lemon Juice | Like when we pour lemon juice over fruits to keep them fresh, the same applies here. Fresh lemon juice will keep that pesto bright and brighten up the flavor.
Parmesan Cheese | In a parmesan pesto, the cheese serves as a thickener and gives it a salty, nutty bite.
Salt and Pepper | Start small, and you can always add as needed- to taste!
How to Make Pesto Sauce without Nuts
First, wash and clean the baby spinach and fresh basil leaves. Make sure you pat them dry so you do not add excess water to the pesto.
Except for the olive oil, throw all the ingredients into the blender or food processor (love this mini one, perfect for this skinny basil pesto!)
Then carefully drizzle the olive oil over the ingredients to keep them from clumping together and blend again.
That's all! Easy, right?
Fresh Tips
Wash the greens very well in cold water to keep them from wilting. Then pat dry with a paper towel.
Stop and scrape the sides to make sure all those flavorful tastes don't get left out. I bet you can smell that sweet basil for sure! Blend again just until smooth.
Be careful not to over process when using the food processor. Basil and spinach can become bitter when overprocessed.
Feel free to add more salt and pepper that suits your tastebuds. Serve immediately or store in the refrigerator or freezer. (See Storage Tips.)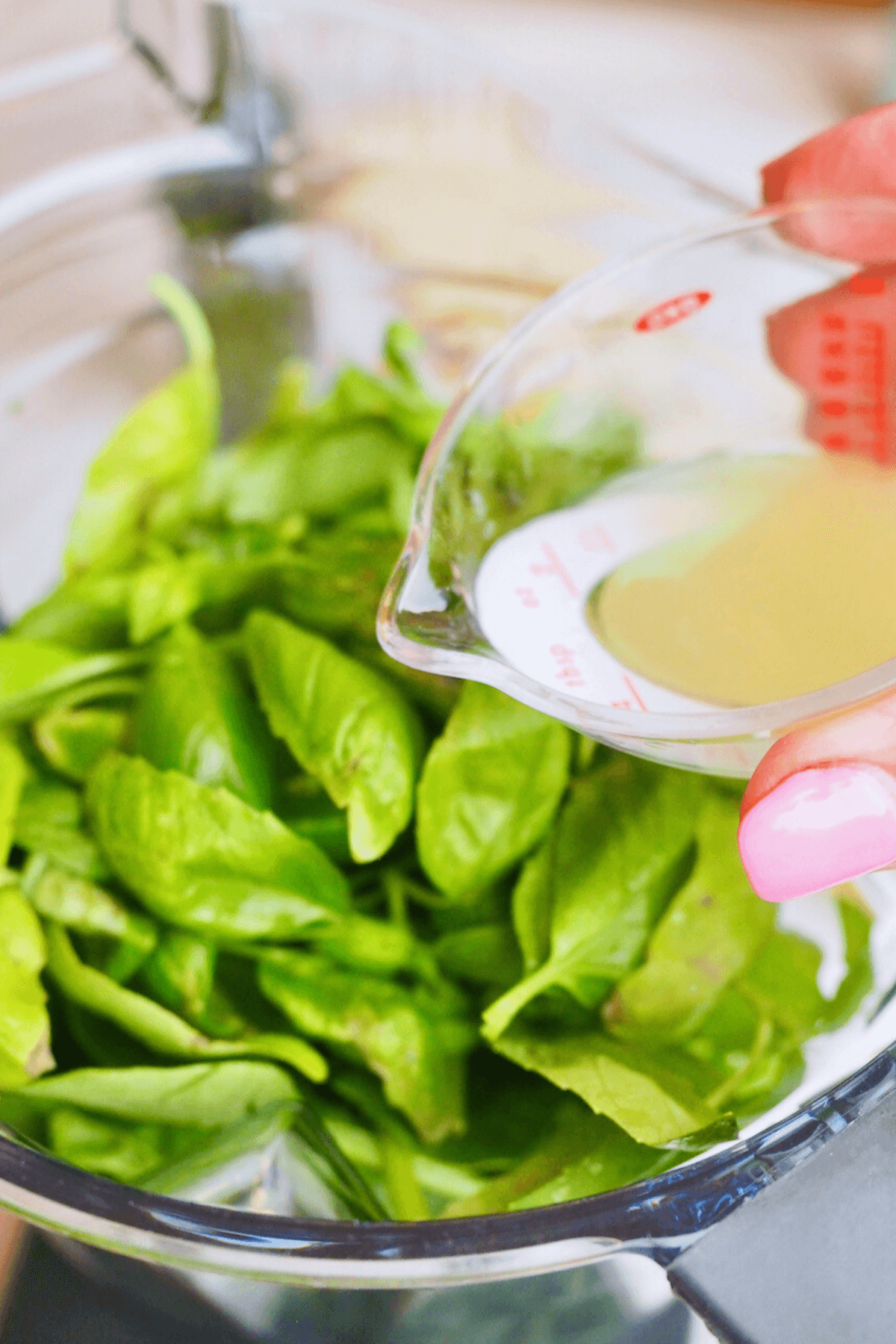 Substitutions
Leafy Greens | Use kale, cress, or any leafy greens you have on hand.
Basil Leaves | Other alternatives are spinach, parsley, cilantro, or mint.
Olive Oil | Extra virgin olive oil can be substituted if you prefer a more robust flavor, such as walnut or truffle oil.
Parmesan Cheese | Nutritional yeast is very similar and a great sub. It's considered a "complete protein," meaning it provides all nine of the essential amino acids our bodies can't make on their own. Also, pecorino Romano cheese is a choice often used as well.
Garlic Cloves | Oregano is a common and easy replacement here.
Lemon Juice | There are lots of options to choose from, like lime juice, orange juice, vinegar, lemon zest, or citric acid.
Variations
Roasted Red Peppers and Almonds | Cut up some red peppers and roast them in the oven with a little olive oil. Then add sliced almond for a little crunch.
Pine Nuts | Traditional pesto uses pine nuts or pinyon nuts, if desired, add a small handful to the food processor. Also common are using walnuts or almonds in pesto.
Red Pepper Flakes | Turn up the heat for those with spicy tastebuds and add these babies.
Sun-Dried Tomatoes | Everything is better with beautiful sun-dried tomatoes.
Honey | Tone it down a bit and add some sweetness with a little bit of honey.
Thai Basil Pesto | Unlike its cousin, Italian basil (aka Genovese basil), Thai basil has sturdy, resilient leaves that stand up well to extended cooking times and prolonged heat. Italian basil is sweet and smooth and does not hold up well under heat.
Basil Mint Pesto | Omit the spinach, add additional basil and a handful of fresh mint.
Cilantro Basil Pesto | Do the same as above, only using fresh cilantro instead of mint!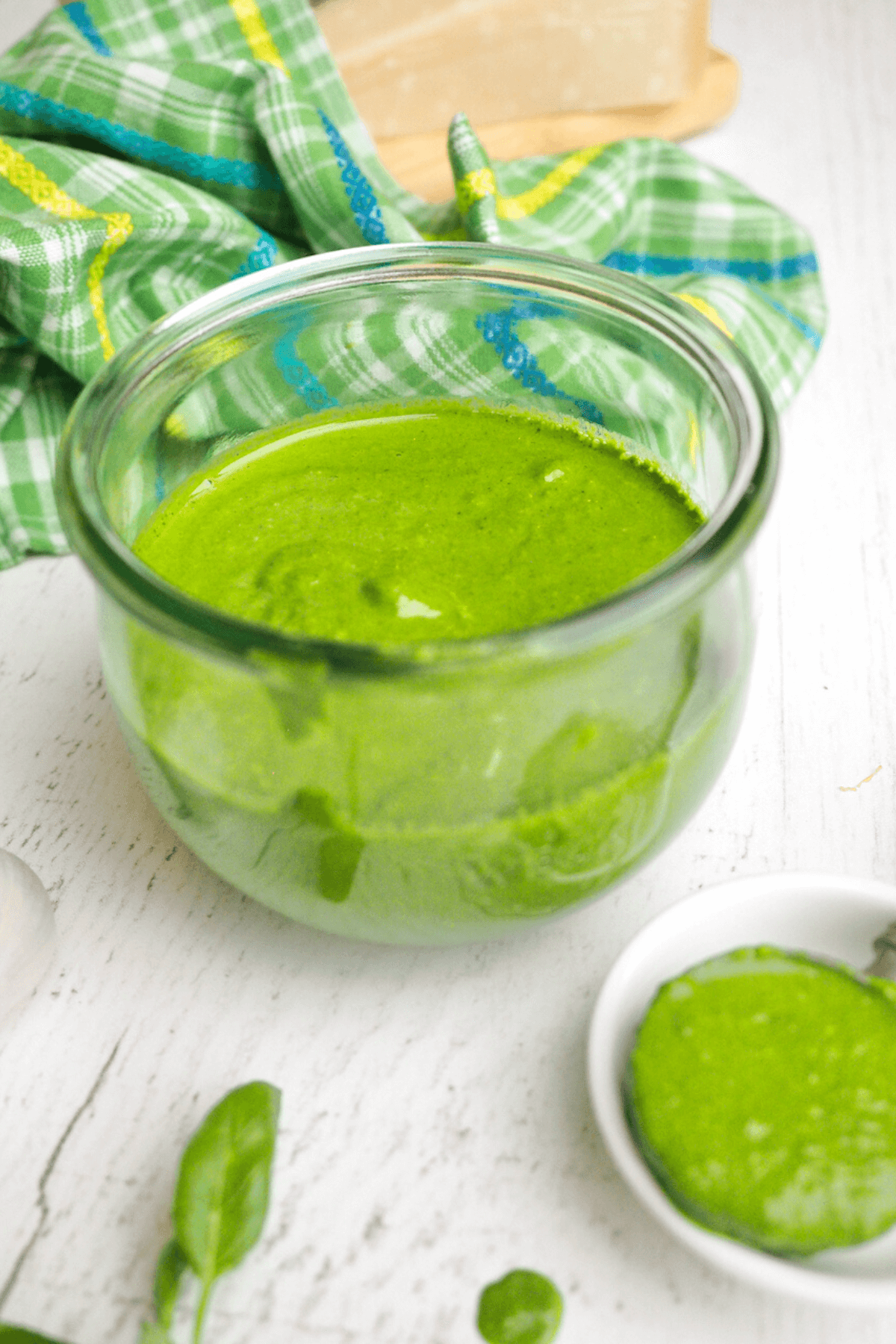 Storage Tips
Store in the fridge in an airtight container or jar for up to 2 weeks. To avoid the pesto oxidizing and turning brown when the air hits it, press plastic wrap directly onto the pesto and refrigerate, or pour a little olive oil over the top to seal.
Storage times are in dispute, but if sealed in an airtight container I've had it last longer than 7 days, as always smell it — if it smells funny or has any fuzz growing on it, you should probably toss it.
This nut-free pesto also freezes for up to 4-6 months. Ice cube trays make it quick and handy to just pop out when you need one. Simply place them in a Zip-lock freezer bag and freeze. Then thaw overnight in the fridge, stir and use as desired. Or just spoon into a zip-lock bag and freeze, preserving the bright green color.
Frequently Asked Questions
What causes pesto to turn brown?
The reason that pesto and guacamole for that matter turn brown is a chemical reaction, once it is exposed to air, oxidation takes place and turns it brown.
How do you keep pesto from turning brown?
My trick is to press plastic wrap snugly onto the top of the pesto, removing as many air pockets as possible. You may also pour a thick layer of olive oil over the top, this will essentially "seal" the pesto from any contact with air.
Is it safe to eat pesto if it's brown?
If it is within it's 7-14 days and has been refrigerated the whole time, stir in the brown, it won't hurt you. But take a sniff first if it smells off, toss it.
Is it okay to heat pesto?
NEVER, never heat your pesto! It will destroy the beautiful aroma and flavor, not to mention the color and texture.
Can I use this recipe for Vegan Pesto?
Yes you sure can. All you need to do is change the cheese to nutritional yeast or use plant-based parmesan cheese and -voila – Vegan Pesto.
Why is my homemade pesto bitter? And how do I fix bitter pesto?
The typical reason is over processing in the food processor or blender, when basil and olive oil are blended too much, they can release polyphenols which are bitter. So have a care and only process until blended.

To remedy if not using nuts, but are okay with nuts, add a handful of nuts, or add a little extra cheese if making the no nuts recipe.
What ingredient is in traditional pesto sauce?
There is more than just one ingredient; traditional pesto sauce ingredients are basil, olive oil, parmesan cheese and pine nuts.
10 Ways to Use Easy Fresh Pesto Recipe
Baked Potatoes | Yummy goodness topped on a piping hot potato turns this staple into an elevated dish.
Pasta Dishes | Stir in this nut-free pesto in a hot pasta dish or a favorite recipe like this One-Pot Lemon Pasta or this Slow-Roasted Veggie Pasta, and this Bow Tie Pasta. Thinner spaghettini and fettuccine are both great ways to use this delicious sauce too. We've always called it pesto pasta and it's the best thing!
Veggies | Sautéed zucchini noodles with pesto make for a healthy side dish. Roasted or raw veggies are always a perfect pair for a quick snack or entertaining.
Chicken, Fish, and Steak | Pick your protein to kick up the flavors like with my Maple Balsamic Chicken Breasts and Veggies or the Panko Parmesan Baked Cod Recipe.
Burrata | Make this incredible Pesto appetizer recipe with burrata and roasted tomatoes.
Salads | Use it as a salad dressing to add a burst of flavor to your greens.
Rice & Grains | Stir into cooked rice or other grains like Quinoa, Farro for delicious flavor!
A drizzle of this fresh spinach pesto would be amazing on this Caprese Sandwich.
I love tossing a frozen pesto cube into my favorite Italian Soup or homemade spaghetti sauce.
Entrees To Go With Your Nut-Free Pesto Recipe
Love It? Pin It!
Like this recipe?
Don't forget to give it a ⭐️⭐️⭐️⭐️⭐️ star rating and comment below the recipe!
Spinach Basil Pesto without Nuts
Today you will learn how to make pesto sauce without nuts! This easy nut free basil pesto sauce recipe doesn't include pine nuts, sunflower seeds, or pumpkin seeds! And it's a 100% deliciously versatile sauce that couldn't be any easier to make.
Ingredients
4

cups

baby spinach

,

washed, dried, packed

2

cups

fresh basil

,

washed, patted dry, packed

½

cup

olive oil

,

regular or extra virgin

3

cloves

garlic

,

rough chopped or whole

2

tablespoons

lemon juice

,

fresh

zest from ½ lemon

,

optional

1/4-1/3

cup

parmesan cheese

,

good quality, shredded or grated

1/2

teaspoon

kosher salt

1/4

teaspoon

black pepper
Instructions
Place all ingredients in a food processor or high speed blender. Blend for 30 seconds, stop and scrape the sides, blend again a few seconds. Do not over process.

Taste, if bitter, you over processed a bit, add a little more cheese or if not allergic to nuts, a handful to nuts. Salt & pepper to taste.

Store in airtight container in fridge up to 2 weeks, freeze in ice cube portions and store in ziplock baggie up to 6 months. Remove from freezer and thaw overnight or toss into soup or spaghetti sauce.
✱ Kathleen's Tips
Ways to Serve Pesto
Serve over baked potatoes, pasta, pizza, veggies, chicken, fish, steak, burrata and so much more. Stir into soup or pasta sauce for an extra delicious kick.
Vegan Pesto
Replace parmesan cheese with nutritional yeast or use plant-based parmesan cheese and -voila – Vegan Pesto.
How to Keep Spinach Basil Pesto from Turning Brown
My trick is to press plastic wrap snugly onto the top of the pesto, removing as many air pockets as possible. You may also pour a layer of olive oil over the top, this will essentially "seal" the pesto from any contact with air.
Nutrition
Serving:
2
tablespoons
Calories:
139
kcal
Carbohydrates:
1
g
Protein:
2
g
Fat:
14
g
Saturated Fat:
2
g
Polyunsaturated Fat:
1
g
Monounsaturated Fat:
10
g
Cholesterol:
2
mg
Sodium:
208
mg
Potassium:
114
mg
Fiber:
0.5
g
Sugar:
0.2
g
Vitamin A:
1748
IU
Vitamin C:
7
mg
Calcium:
65
mg
Iron:
1
mg
Nutrition Disclaimer
The Fresh Cooky is not a dietician or nutritionist, and any nutritional information shared is only an estimate. We recommend running the ingredients through an online nutritional calculator if you need to verify any information.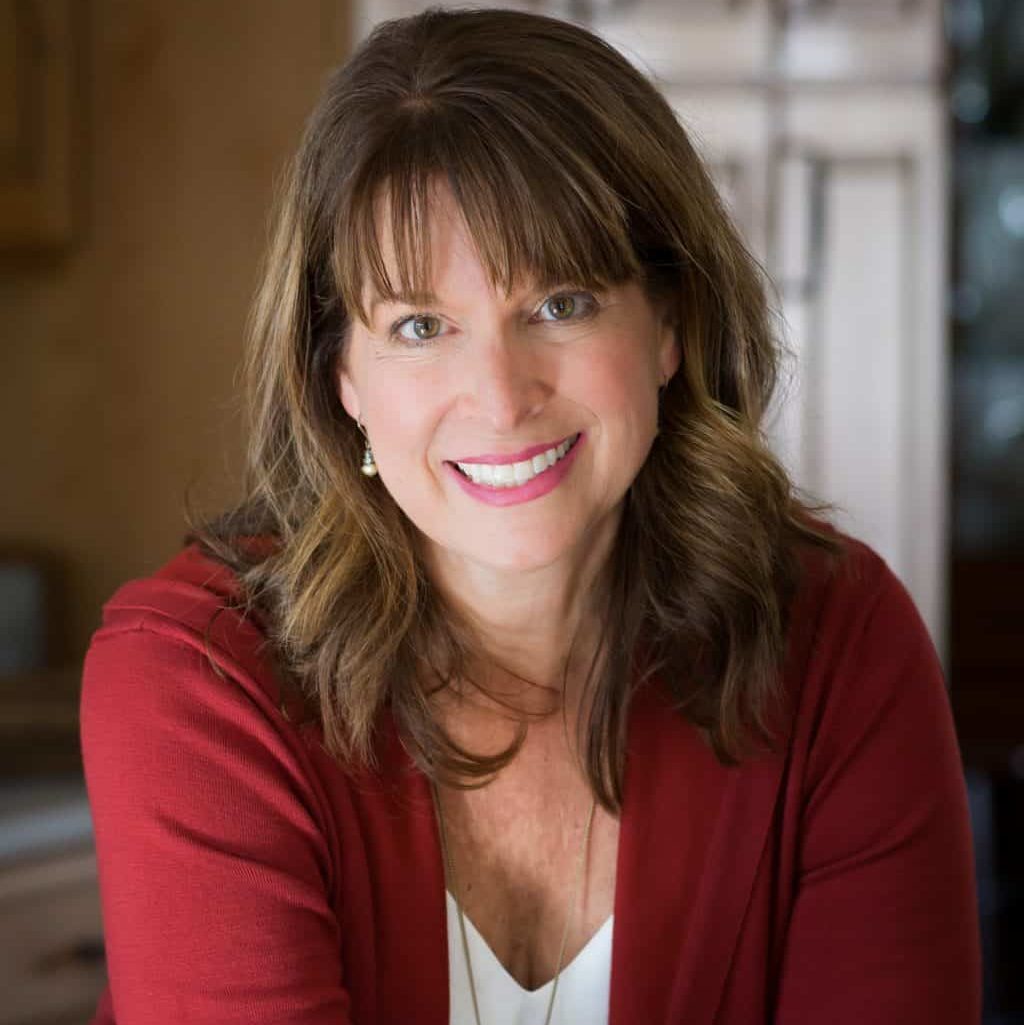 About Kathleen Pope
Recipe Innovator | Food Photographer | Food Writer
Hi, I'm Kathleen Pope. Here at The Fresh Cooky you will find easy, mostly from-scratch, trusted recipes for all occasions. From speedy dinners to tasty desserts, with easy step-by-step instructions. I am here to help teach you how to make mouthwatering recipes without spending hours in the kitchen. Read more about Kathleen here.