Panko Parmesan Baked Cod Recipe
As an Amazon Associate, I earn from qualifying purchases. Please read my disclosure policy.
Crunchy panko and parmesan top, tender and flaky underneath, this Panko Parmesan Baked Cod recipe, deliver a craveable combo of bright flavors, crunch and tender, flaky fish. Drizzle a little browned-butter lemon sauce on top to finish, and oh yes!
The golden crispiness of parmesan-seasoned crunchy panko topping and bright lemon zest, over delicate, buttery cod, collide to bring an explosion of flavor the whole family will love.
If you love fish recipes, you might want to try my healthy 3 ingredient raspberry salmon, or try this similar version of Panko Crusted Salmon and this Air Fryer Halibut with no breading!
Plate it next to my Roasted Rosemary Red Potatoes or Roasted Brussels Sprouts with Honey Balsamic Glaze. Hey, why not do both?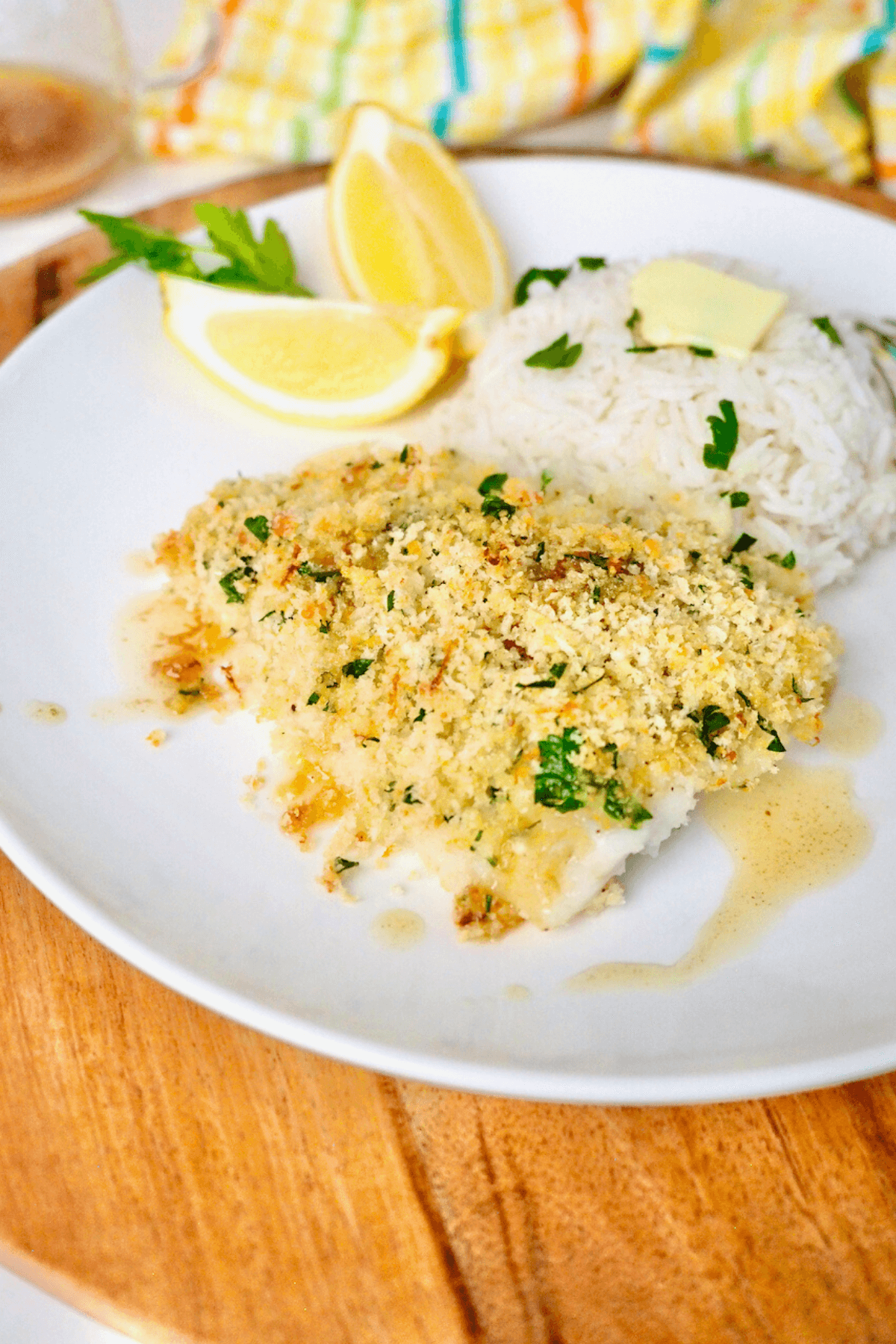 Recipe for busy weeknights or for guests
A recipe that's easy to toss together on a busy evening is always a huge plus and even better when it's a healthy recipe. This yummy dish takes only 20 minutes to prepare!
Panko breadcrumbs do the magic here. Okay, not actual magic, but pretty darned close. These Japanese-style breadcrumbs are made by lightly baking coarse breadcrumbs for extra crunch. Extra crunch! Who can resist that?
You could make your own but I say, just buy them. It's faster and not expensive. Traditionally used in deep-fried foods, panko breadcrumbs do exceptional things for baked foods too, for example, this Panko Parmesan Baked Cod. Crunch!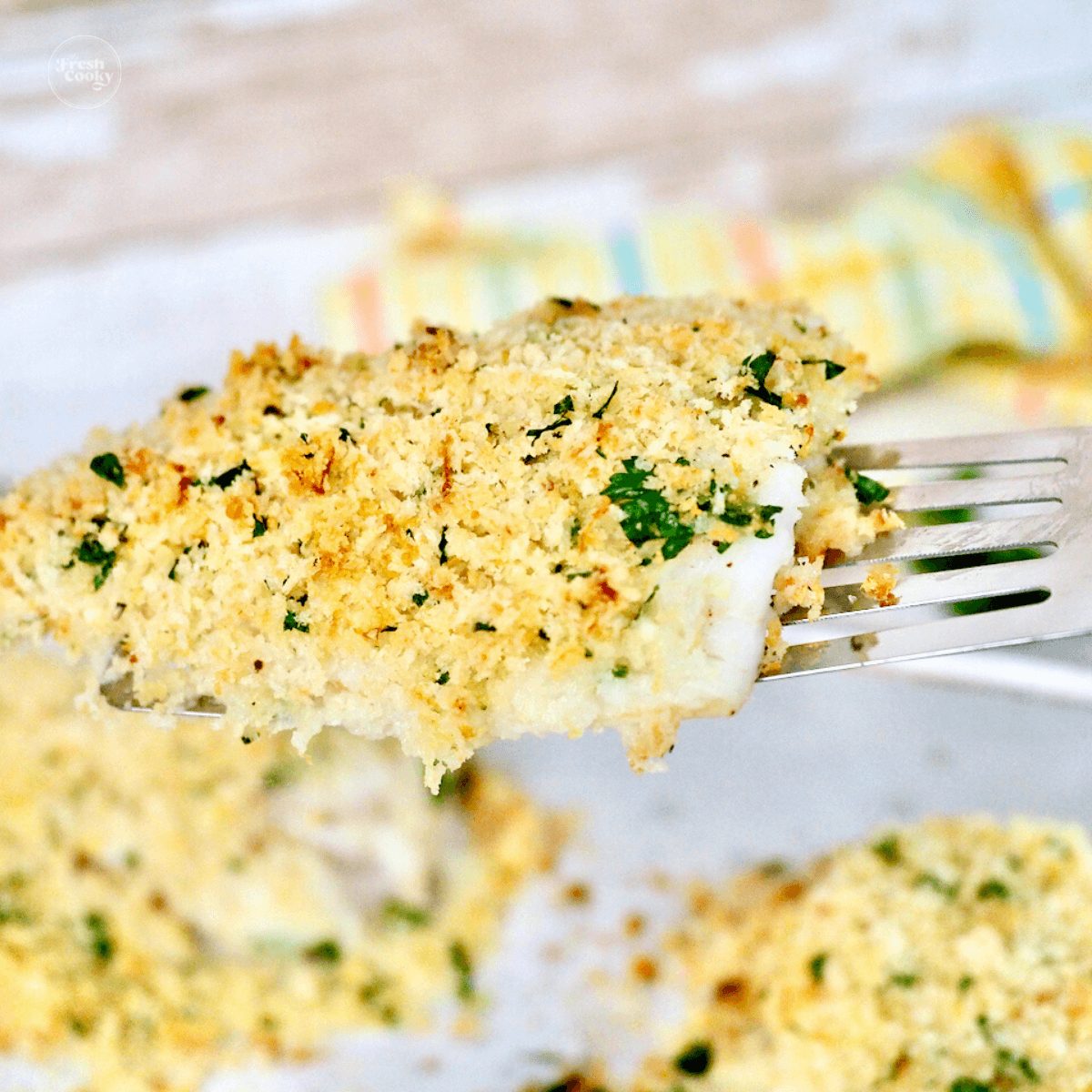 Why You Will Love this Panko Parmesan Baked Cod Recipe
Fast and simple to prepare
Crispy and loaded with tasty goodness
Great for family meals
A healthier alternative to fried fish
It pairs well with so many vegetable sides
Fresh Simple Ingredients
The full list and measurements are in the printable recipe card at the end of this post.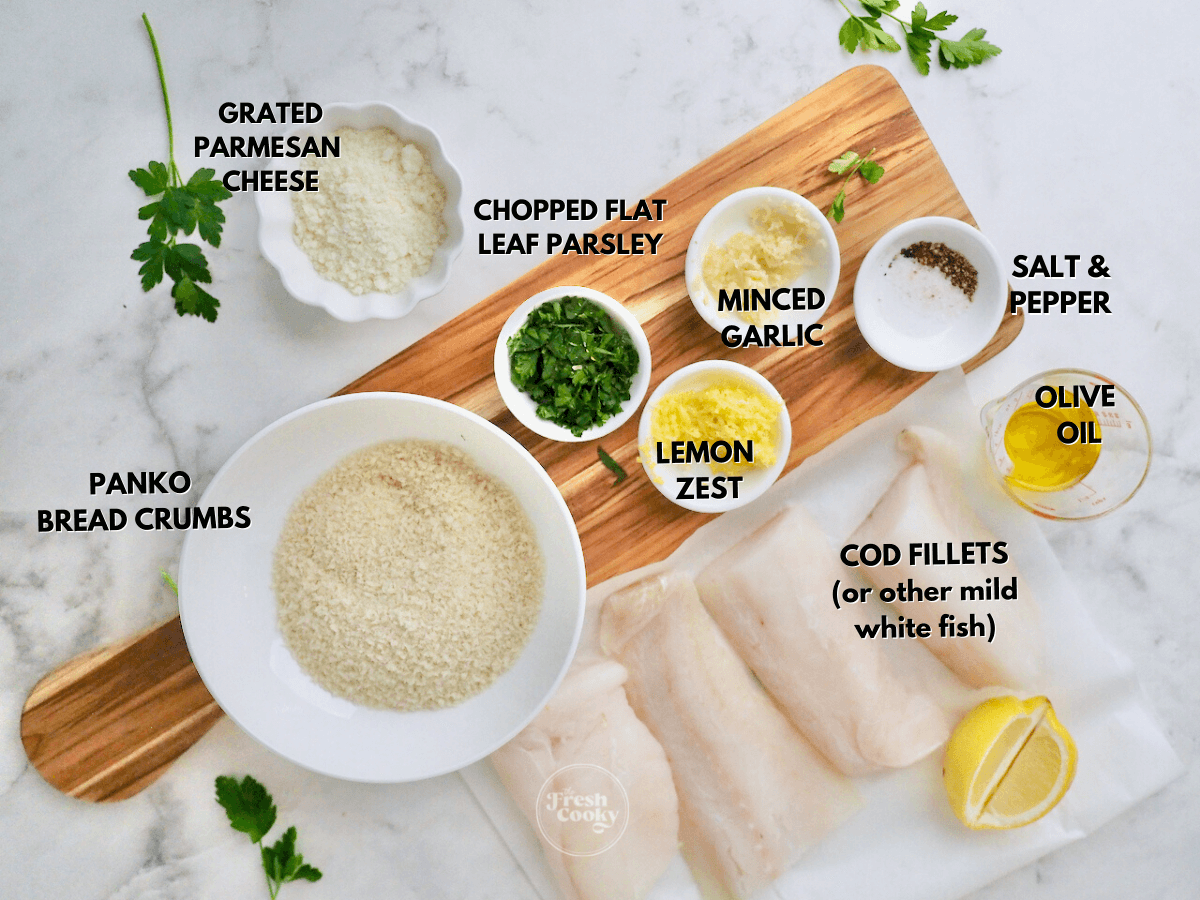 Panko Bread Crumbs | Lighter, more crispy than regular breadcrumbs, but you could use them if that's all you have.
Parmesan Cheese | Fresh grated is best here
Lemon Zest | Don't skip this step, zest adds zing and brightness to the fish fillets
Garlic | Use fresh is possible, but garlic powder may be substituted
Parsley | I used Italian flat leaf fresh parsley, curly may also be used
Salt & Black Pepper | to taste
Olive Oil | or use butter for a bit more flavor
Cod Fillets | Fresh or frozen and thawed works great. Other types of fish like Mahi Mahi, Tilapia or any other mild white fish work too.
Lemon Garlic Butter Sauce (optional)
Butter | salted or unsalted is fine, I prefer salted
Fresh Lemon Juice | Fresh squeezed please
Salt & Pepper to taste
Garlic | This is optional but adds great flavor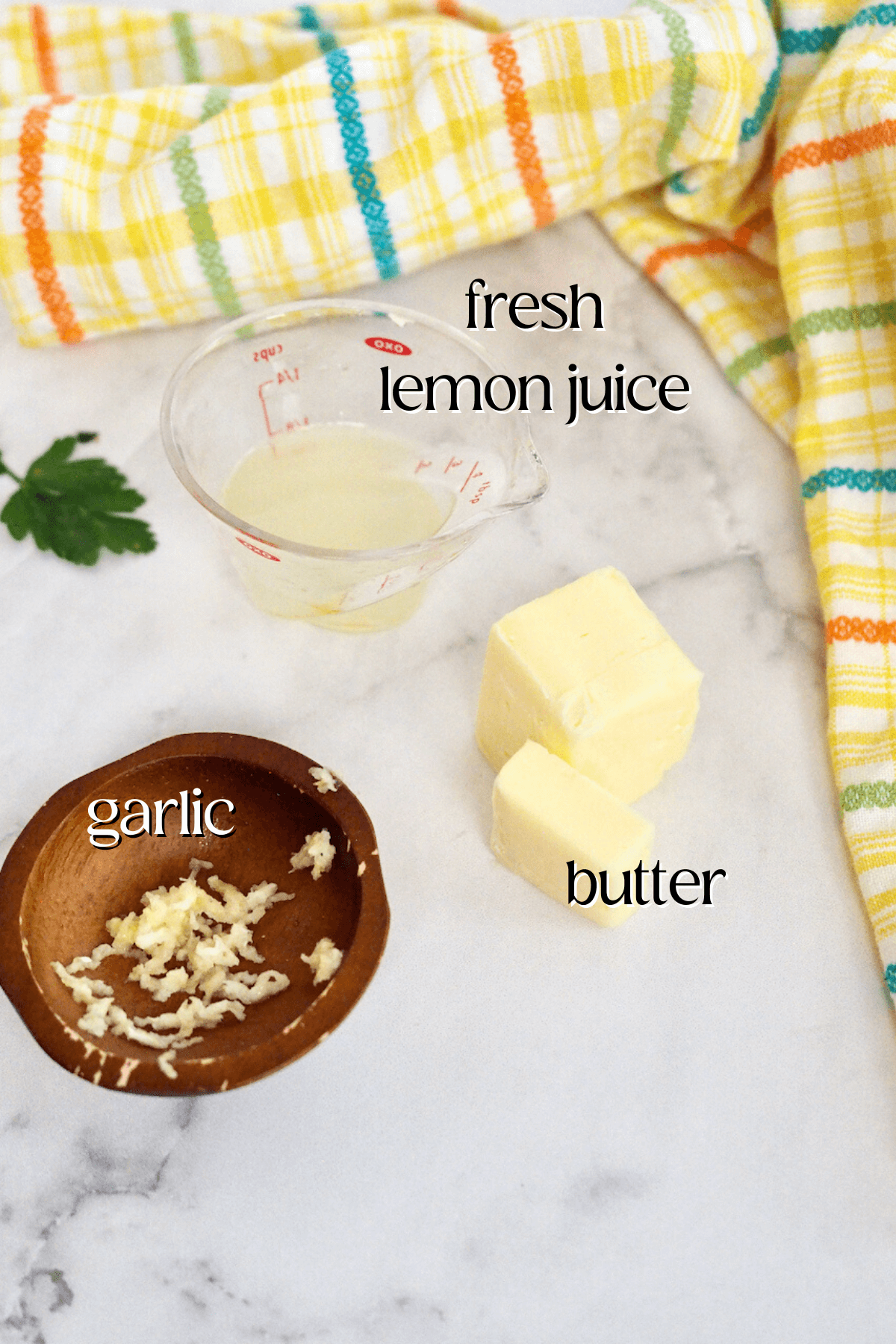 How to make Panko Parmesan Baked Cod Recipe
Preheat the oven to 425 degrees and line a rimmed baking sheet with parchment paper for easiest clean up.
In a small bowl combine the Panko crumbs, parmesan cheese, lemon zest, garlic or garlic powder, parsley, salt and pepper. Combine the breadcrumb mixture, then add olive oil (or melted butter) using a fork to combine and moisten the Panko mixture.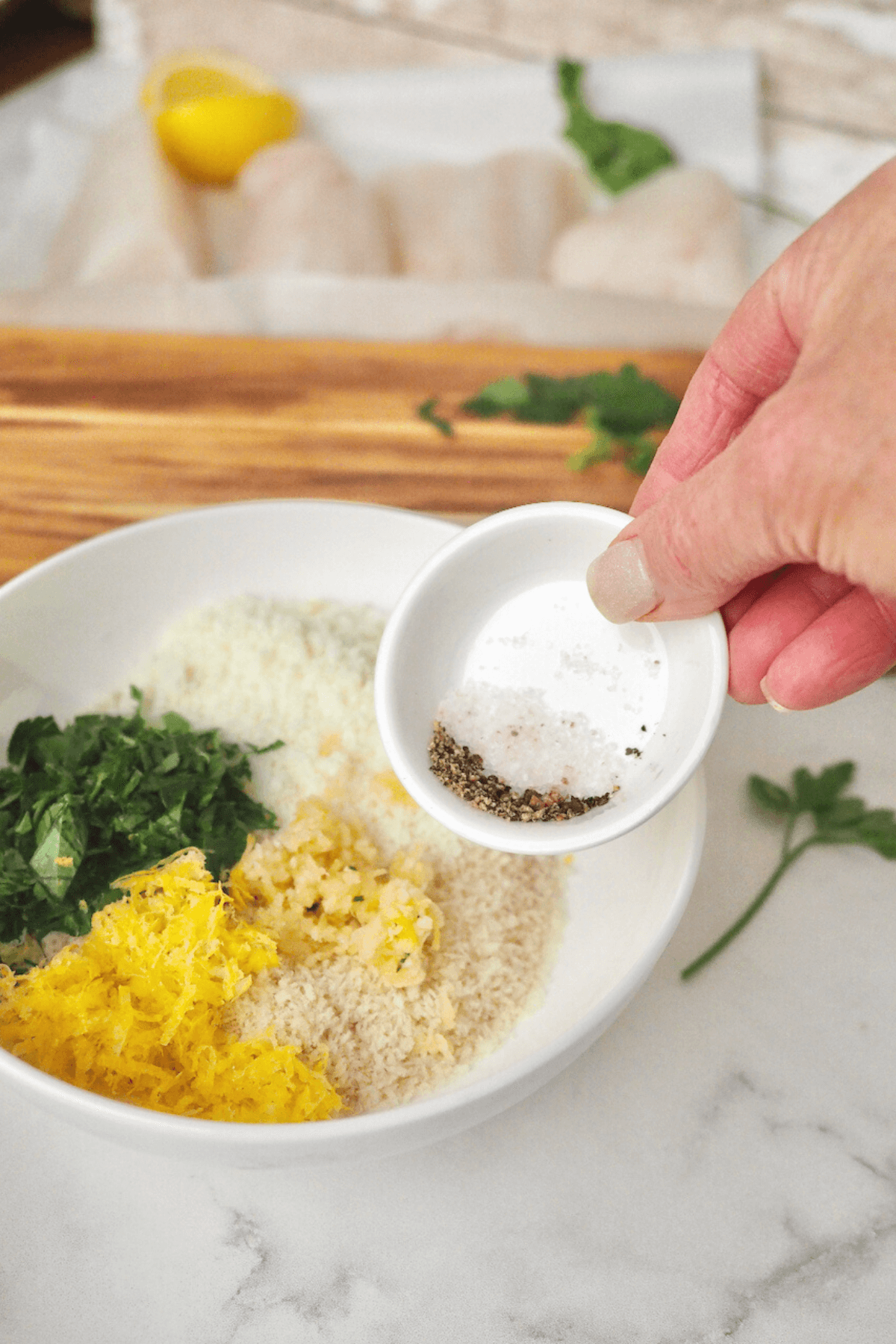 Place cod filets on the prepared baking sheet, pat both sides dry with paper towels, then season with salt and pepper. Divide the parmesan topping evenly onto the filets, pressing into the top of the fish, hence it is called parmesan crusted cod.
Bake for 12-16 minutes or until the fish is just cooked through and the fish flakes easily. The internal temperature should be 145 degrees F. and the topping should be golden brown. Cooking time will depend on the thickness of the fish filets. Be careful not to overcook. Serve immediately.
Make Browned Butter Lemon Butter Sauce (optional)
Place butter in a small saucepan and over medium heat, melt until butter foams up, turns a light brown with a nutty smell, stir in the lemon juice, salt and pepper, set aside.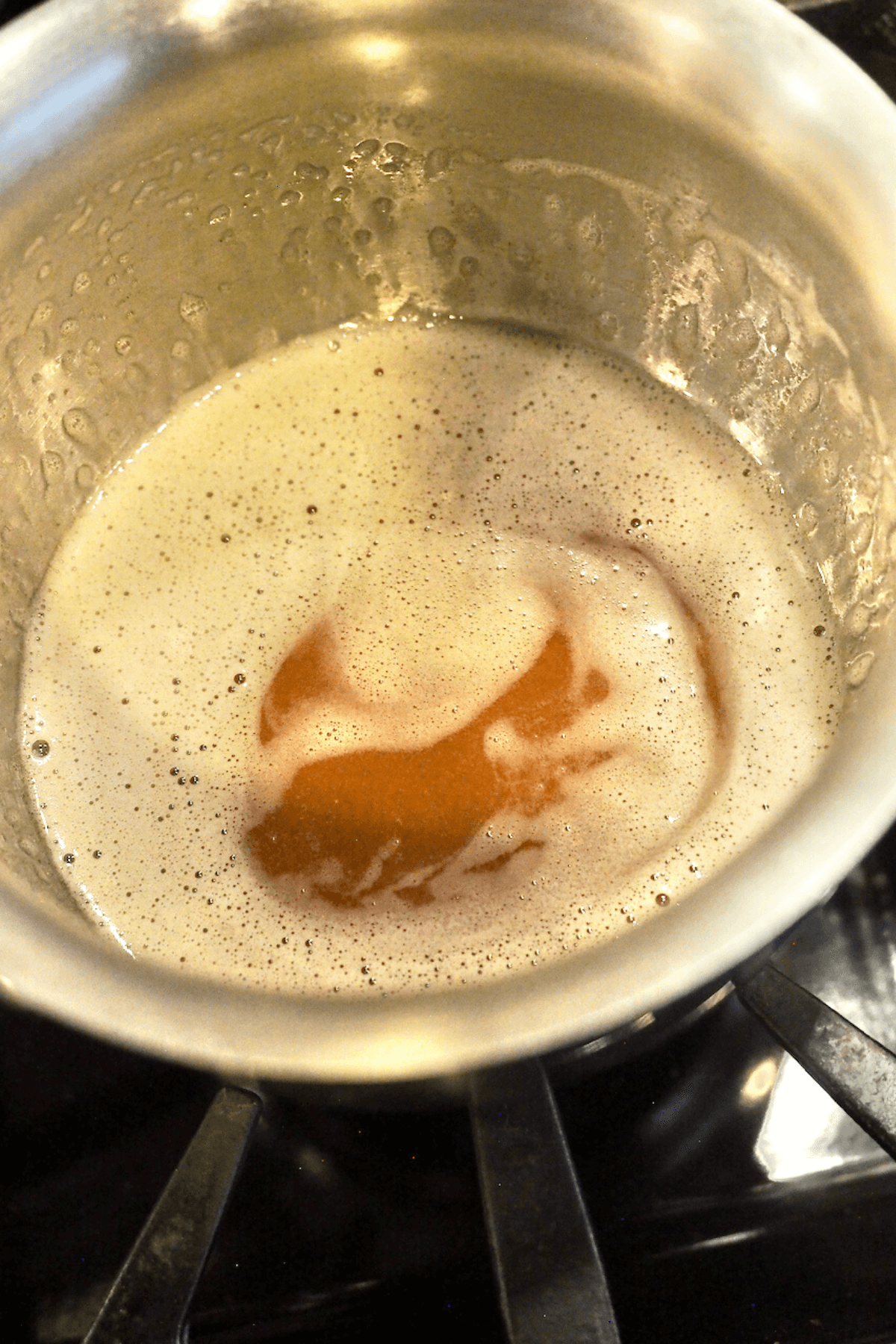 To serve, carefully remove fish from the baking pan to a plate, drizzle with a little browned butter lemon sauce, if desired and sprinkle with a little fresh chopped parsley.
Serve with rice pilaf, rice, mashed potatoes or even french fries.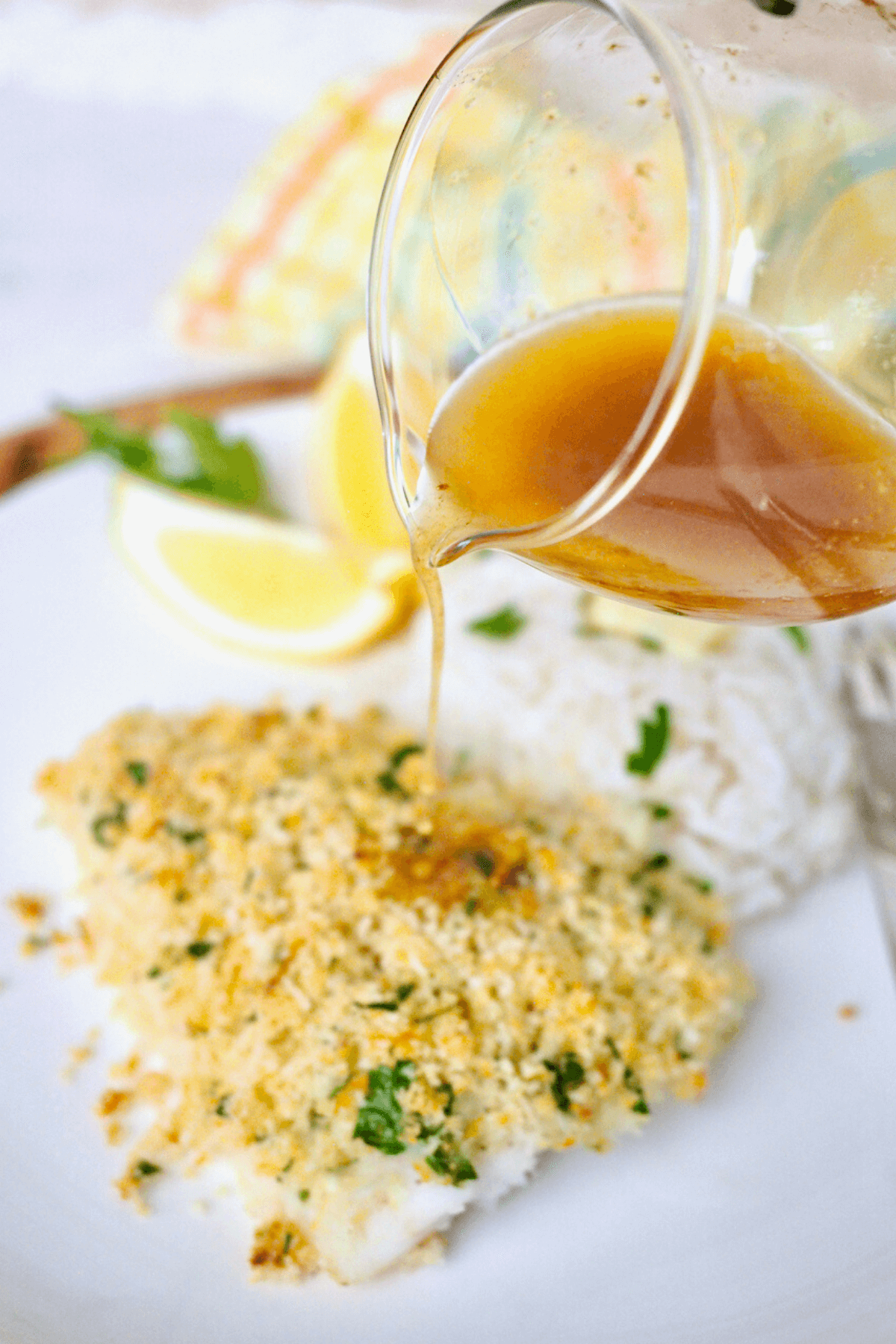 You really do not need tartar sauce for this flavorful baked fish, but you certainly can use it. If you do try my friend Sheila's homemade tartar sauce. Don't forget the lemon wedges to squeeze on top. Delicious with asparagus, broccoli, brussels sprouts or carrots.
Variations & Substitutions
If dairy is a no for you, the parmesan can be replaced with a purchased vegan alternative or quickly make your own faux parm with a mix of half almond flour, half nutritional yeast and a little all-purpose seasoning like Dash.
Olive oil can replace the butter in the lemon sauce.
Mahi mahi, tilapia or other white fish can be used instead of cod, if you choose. Salmon also works very nicely.
Sesame seeds add a nice richness if you want to include them in the topping.
Chef's Tips
Remember that fish fillets cook best for a short amount of time in a hot oven (425 in this case). It may be tempting to leave your fish in for longer than the recommended time. It doesn't take much extra heat to turn your lovely cod with parmesan crust, into a dry, tough and unappetizing cod recipe.
If you buy fresh cod for this recipe, it's best to cook it in 1 or 2 days. If you aren't able to get it cooked in that amount of time, pop it in the freezer until you're ready. Thaw in refrigerator overnight.
Worried your kitchen will smell like fish long after your delicious meal is finished? The solution is simple. Leave a shallow bowl of white vinegar on the countertop overnight. This will absorb lingering fishy smells. If any odors persist, try my fall simmering spices!
Gluten-Free Parmesan Crusted Baked Cod
This recipe is easily adapted to be gluten-free, simply replace the Panko breadcrumbs with gluten-free panko bread crumbs!
Frequently Asked Questions
Can I cook this fish in my air fryer instead of the oven?
Heck yes, you can! Your air fryer will give you a great result for some crispy topping and juicy, flakey fish. Every air fryer brand and model is different, so please refer to your operating guide for the recommended cooking time and temperature.
Do I need to buy fresh fish or can I use frozen filets?
Frozen fish is just fine to use for this recipe. Thaw it first, either in the fridge overnight or on your kitchen counter before using. You'll be surprised how quickly it thaws out.
Can I store Panko Parmesan Baked Cod for leftovers?
You can store your leftovers in the refrigerator for 2-3 days in an airtight container. To reheat, bring your oven to 425 degrees again and pop it in, uncovered for 5-6 minutes at first. Check often to see if it needs more time. Be careful not to overdo it or you'll end up with a tough, dry candidate for the trash can. You can use the microwave, but be prepared for soggy panko on top.
Is it okay to use regular bread crumbs if I don't have panko?
You can do this, but you won't get the signature crunch that panko breadcrumbs deliver.
Fun Fact
Is it filet or fillet? And how do you pronounce it, well the "t" is silent for American English.
Fillet is actually both a noun and a verb. The process of cutting meat or fish off of the bone is actually filleting. While the resulting piece of boneless meat or fish was historically called a fillet, it is now often used only in reference to fish.
Filet is the alternative French spelling of fillet. The confusing part of it is that filet can also refer to boneless meat or fish. However, its most common usage in the US is for a piece of steak cut from the beef tenderloin or other expensive cut of meat. Read more about it on The Kitchn.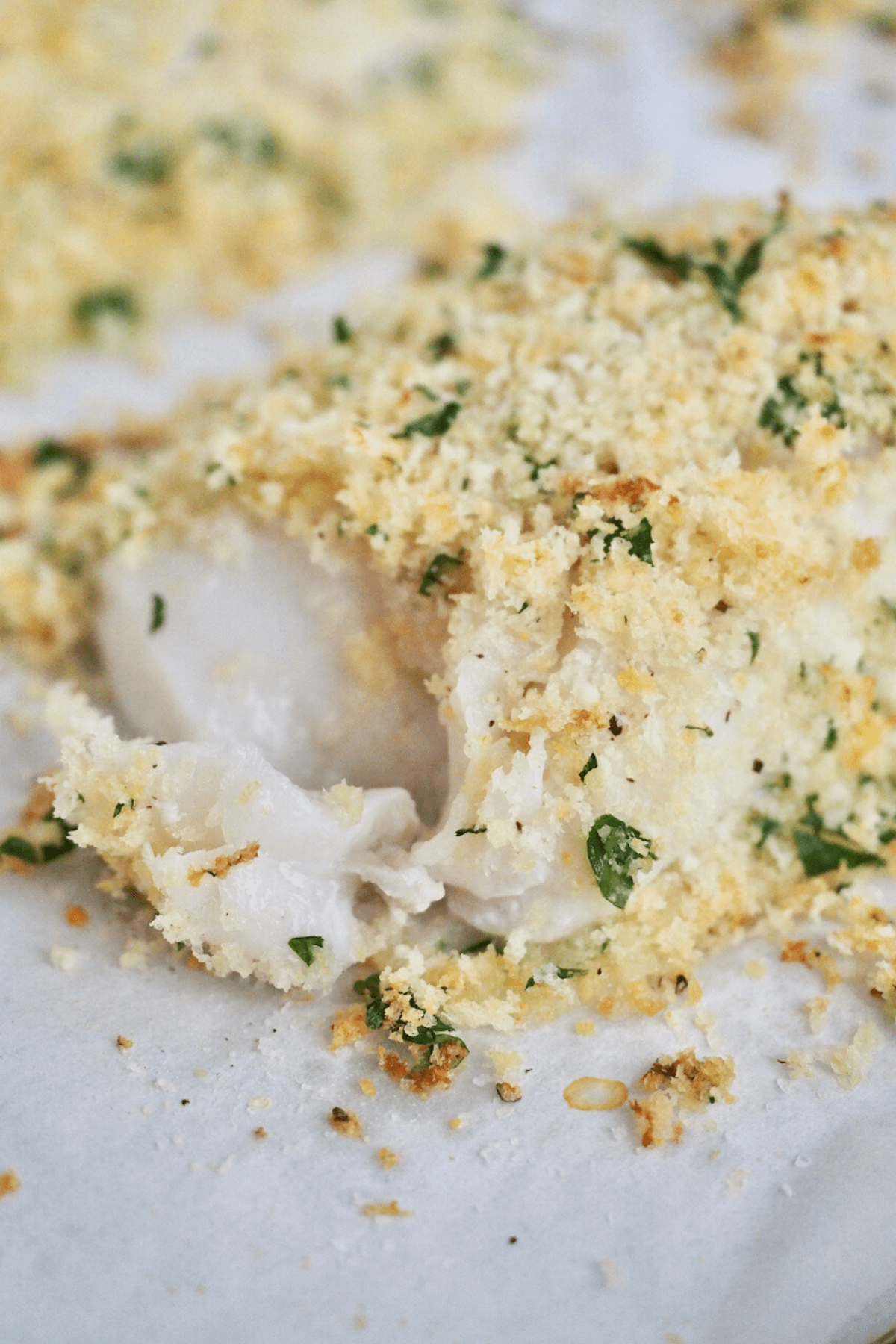 What to serve with Baked Cod
I hope you enjoyed this healthy meal, loaded with Omega3 fatty acids. If you do, be sure to pop down below the recipe and leave a rating and a comment!
More Quick & Delicious Recipes
Whether you are looking for a great Fish Fridays recipe, Lent fish recipe, or you just want to eat a bit lighter, you will love this baked cod recipe with panko parmesan.
Like this recipe?
Don't forget to give it a ⭐️⭐️⭐️⭐️⭐️ star rating and comment below the recipe!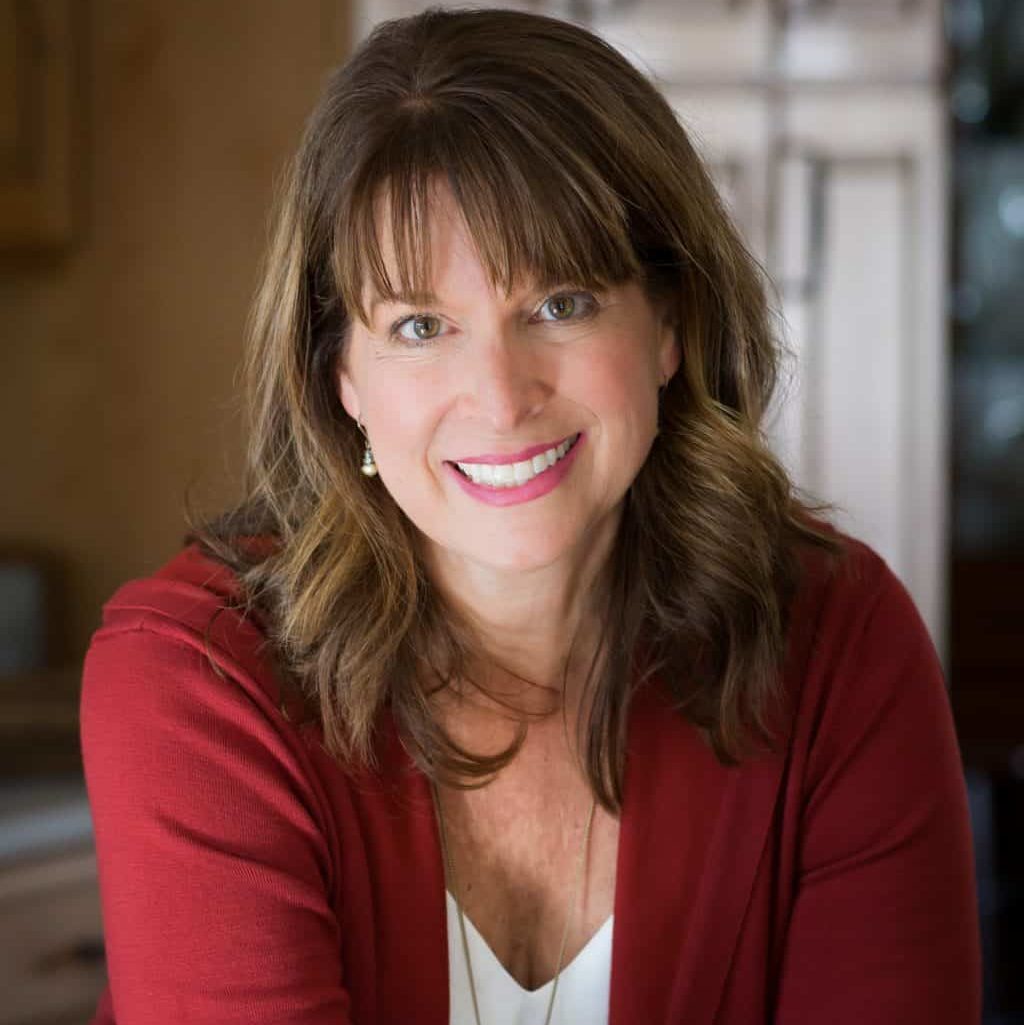 About Kathleen Pope
Recipe Innovator | Food Photographer | Food Writer
Hi, I'm Kathleen Pope. Here at The Fresh Cooky you will find easy, mostly from-scratch, trusted recipes for all occasions. From speedy dinners to tasty desserts, with easy step-by-step instructions. I am here to help teach you how to make mouthwatering recipes without spending hours in the kitchen. Read more about Kathleen here.