Easy Zucchini Casserole with Ground Beef (Low-Carb)
As an Amazon Associate, I earn from qualifying purchases. Please read my disclosure policy.
This easy zucchini casserole with ground beef is full of nutritious veggies and packed with incredible flavor — the perfect low-carb casserole! A quick one-skillet meal that kids love! Giddy-up!
Serve a heaping scoop of this cheesy goodness to your dinner guests, and I promise not a bit will be left behind. A zucchini hamburger casserole worth putting on repeat!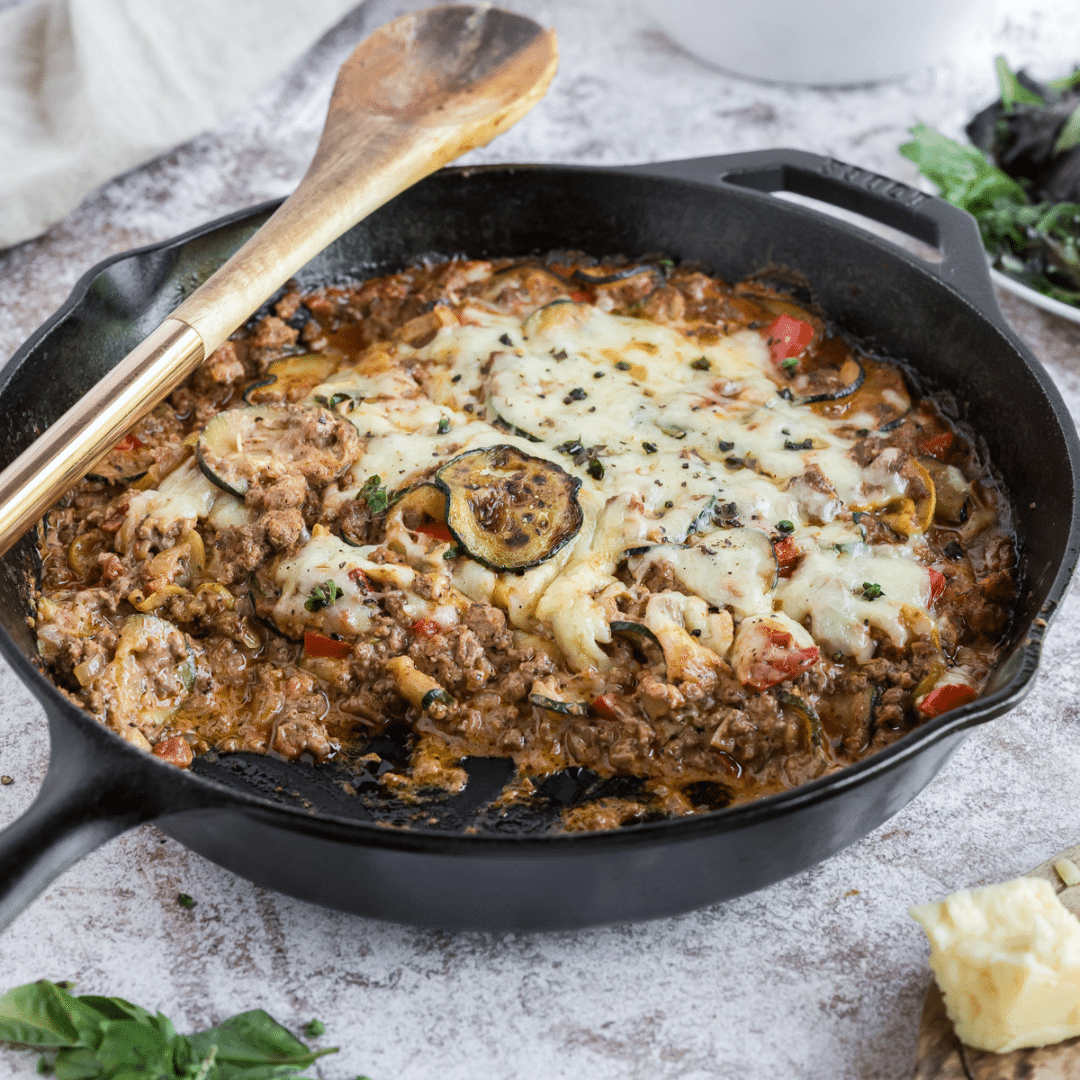 If you are a zucchini fan and love finding easy dinner recipes, this is the one! After you have made this zucchini hamburger casserole, you'll have to try my Zucchini Corn Fritters, this Bacon Beef Minestrone Soup, or even my Rich Chocolate Zucchini Cake.
I enjoy giving precise details in my recipe posts to lead my readers through any questions. If you're just here for the printable recipe, feel free to click "Jump to Recipe" right under the title of this post, and you'll head straight there!
Why You Will Love this Recipe
Just One Dish | If you use an oven-safe cast iron skillet, you'll only need one dish to make this entire recipe! Who doesn't love delicious recipes with fewer dishes to wash?
Quick and Simple | In just over 30 minutes, you have a tasty and filling meal for the whole family!
Crowd-pleaser | Even if you have picky eaters at the dinner table, no one can resist this cheesy beef and creamy delicious casserole, easy dinners rock.
This is the best casserole when you are short on time, but don't want to compromise on nutrition or flavor! Even better, it's a little on the healthier side and kid-friendly too!
We devoured this! So good! Even my kids that don't love zucchini. 🙂
Chellie
Reader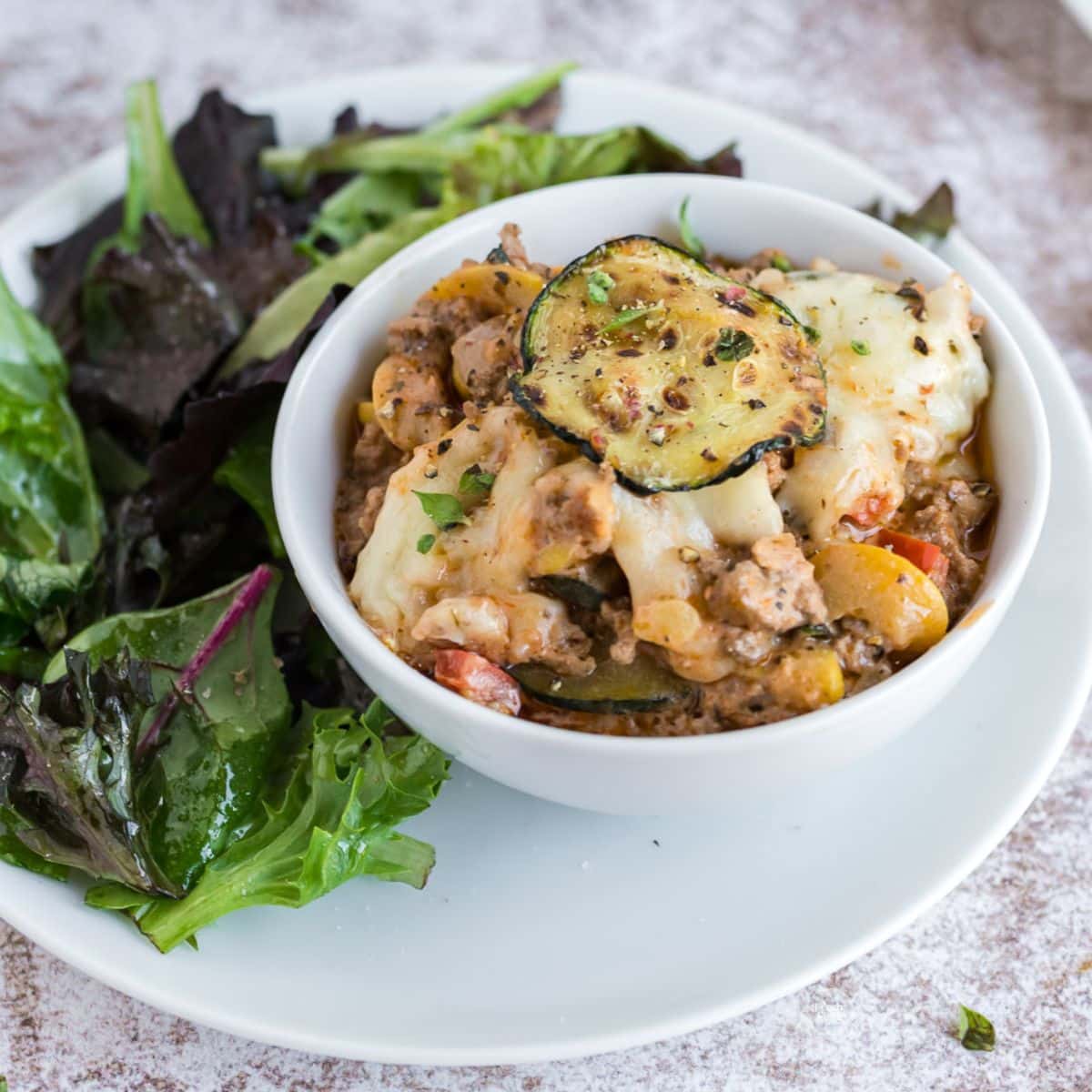 Healthy Twist on Zucchini Hamburger Casserole
Packed with Veggies | This recipe includes all kinds of veggies—onion, squash, bell peppers, and, of course, zucchini. A great way to sneak veggies into our diets.
Low Carb Alternative | Using zucchini provides the texture of a noodle in the dinner casserole! Plus it's keto and gluten-free to boot!
Simple Ingredients for Zucchini Casserole with Ground Beef
Ingredients, directions and nutritional information in the printable recipe card at the end of the post.
Ground Beef | For the fullest flavor, use ground beef that has some fat. Or you can make this dish a little healthier by choosing lean ground beef, leaner ground beef will have less fat, but also less flavor, so adjust your seasonings. Ground turkey or chicken is an excellent substitute for making this recipe as healthy as can be.
Butter and Oil | You'll use one tablespoon each of butter and olive oil for sautéing the vegetables. You may use double the oil and omit the butter if you prefer.
Zucchini | Zucchini is the star vegetable full of nutritional value and tender zucchini noodles add texture without carbs.
Garlic & Onions | Garlic makes a meh recipe into a great recipe, fresh is best, but use garlic powder if you need too! And onion are a must have!
Yellow Squash | This ingredient is optional, but I love how it adds a subtle nutty taste.
Bell Pepper | Green pepper is excellent for enhancing the mild flavors of the zucchini, squash, and onion. You may use whatever color variation of bell pepper you prefer.
Sour Cream and Cream Cheese | Adding a tangy, cheesy, and silky texture.
Kosher Salt and Black Pepper | Sprinkle in a dash of kosher salt and black pepper for taste.
Tomato Paste & Tomato Sauce | For a robust tomato flavor, you'll only need a spoonful of tomato paste, but about half a jar of spaghetti or pasta sauce. Try homemade spaghetti sauce too!
Worcestershire Sauce & Italian Seasoning | Worcestershire sauce adds umami notes in the casserole. A touch adds great flavor!
Shredded Cheese | I like to use sharp cheddar cheese or white cheddar. However, if you prefer, you may use regular cheddar, mozzarella, pepper jack, parmesan cheese or any other type. For fewer carbs, shred the cheese yourself. Packaged shredded cheese has added starches to keep the pieces from sticking together.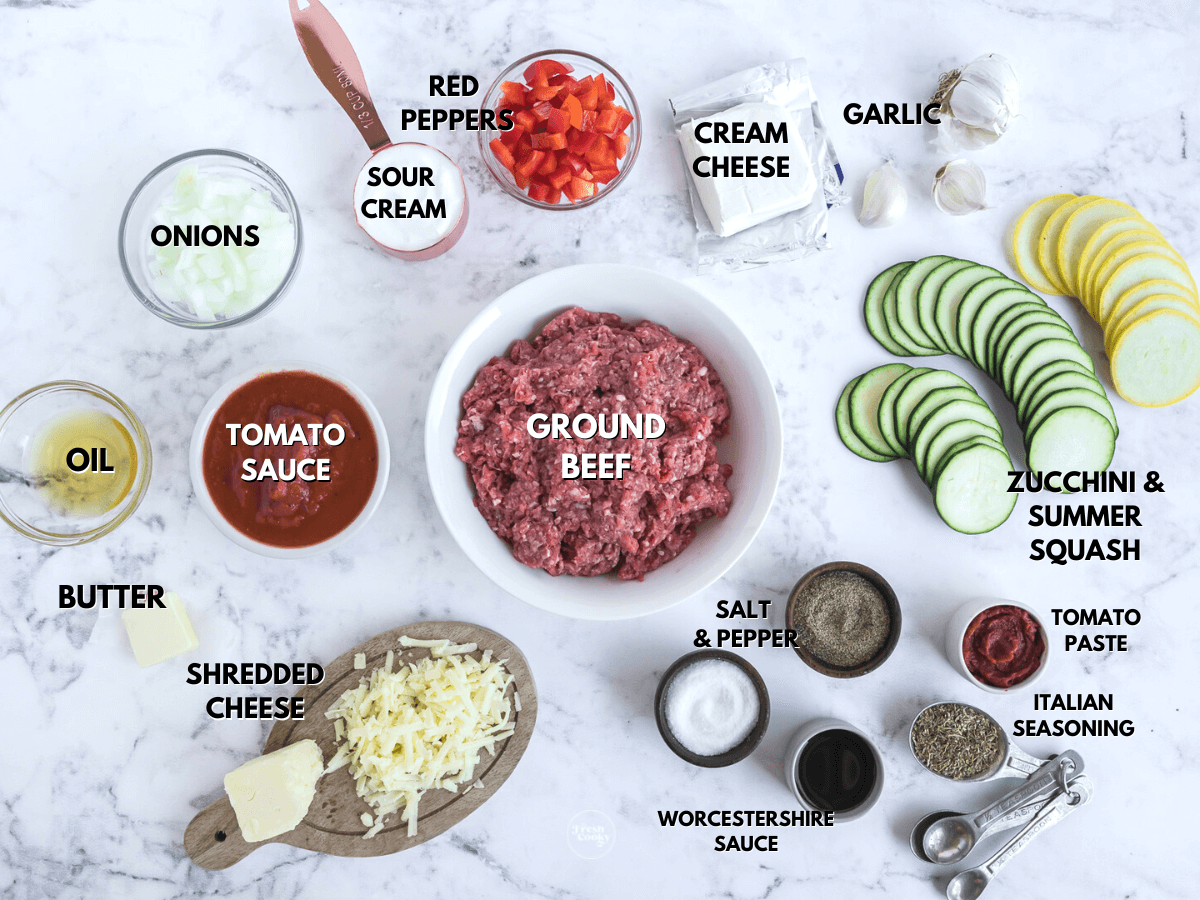 How to Make Ground Beef and Zucchini Casserole Recipes
Step 1 | Prep and Preheat
To begin this delicious and flavorful casserole, prepare your veggies by chopping the onion and slicing lots of zucchini and squash. You'll also want to dice the bell peppers and mince the fresh garlic cloves.
Next, preheat the oven to 350° F (175° C) and lightly spray a 9×13 inch casserole dish with spray oil, or even better, use a large skillet; cast iron is best since it can go from oven to table, and heats evenly.
Step 2 | Saute Veggies & Hamburger
In a large cast iron skillet, heat the oil and butter over medium heat and sauté the diced onions for about 5 minutes. Then, add the bell peppers and sauté for a couple more minutes. Finally, add the minced garlic and sauté for about 1 minute or until fragrant.
Next, push the veggies to the side. Or, you may remove them to a plate for now. Brown ground beef until just browned and crumbled.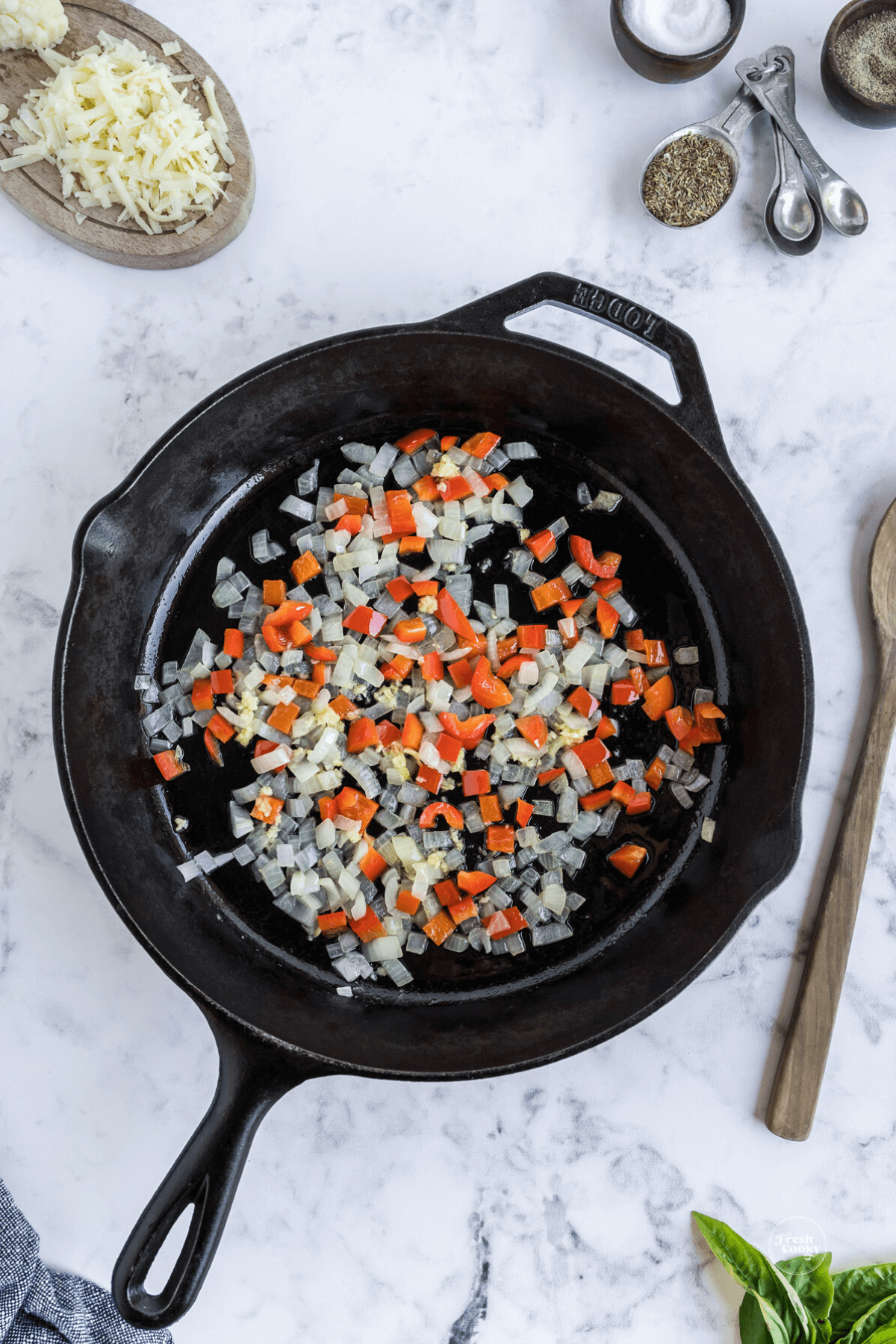 Step 3 | Saute Zucchini & Squash
Then, move the ground beef to the side of the pan and sauté the sliced (or shredded) fresh zucchini and yellow squash for 4 to 5 minutes until they become tender and soft. Combine zucchini back with the onions and peppers and stir the ingredients to combine.
Kid-Friendly Tip
Shredding your zucchini and squash will literally make it melt or disappear into the recipe, making it kid-friendly so they aren't suspicious of you sneaking veggies into their food.
Step 4 | Add Seasonings, Sauce and Cheese
Now, for the seasoning and cheese! Reduce the heat to medium-low and stir in your favorite tomato sauce, the tomato paste, some Worcestershire sauce, a dash of Italian seasoning, salt, and pepper, mixing into the zucchini mixture until thoroughly combined.
Then, mix in the cream cheese and sour cream until they are melted and fully incorporated into the meat mixture.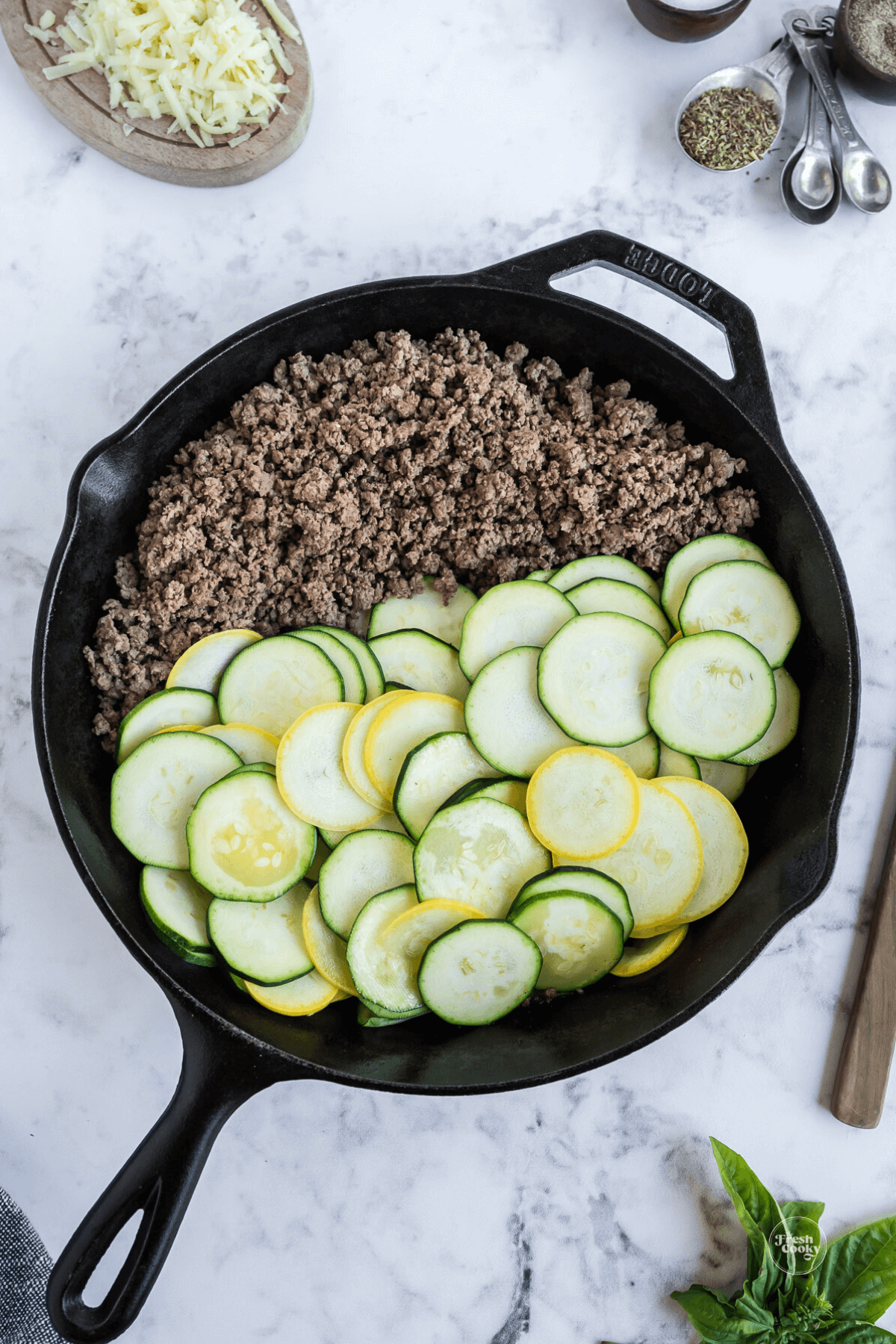 Step 5 | Bake Zucchini Hamburger Casserole
You may keep the freshly cooked ingredients in an oven-safe skillet or transfer the mixture to a 9×13 inch baking dish.
Sprinkle with shredded cheese and bake in preheated 350° F (175° C) 20-25 minutes uncovered. Remove from the oven and let the dish sit for 10 minutes before diving in!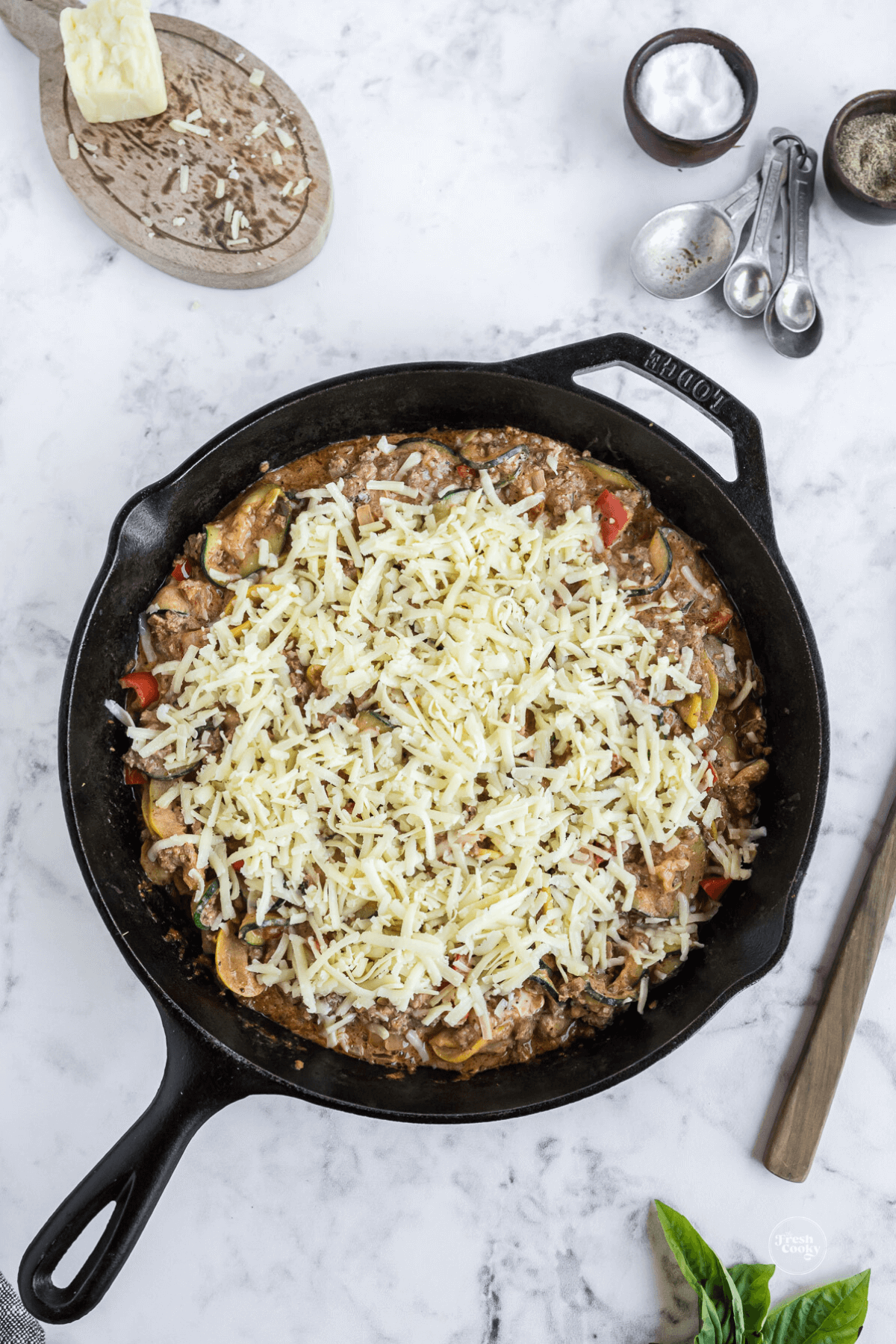 If you choose to shred the zucchini rather than slice it, be sure to squeeze out the excess moisture. You may use a paper towel to absorb the juices or a clean tea towel. Otherwise, your easy zucchini casserole may be more of a soggy casserole.
Topping Ideas for Ground Beef and Zucchini Casserole Recipes
For a garnish, save two to four zucchini slices to fry and top the cooked dish. Just heat some oil in a pan and sear the slices, flipping them halfway through.
Remove the zucchini from the pan and place them on top of the zucchini ground beef casserole for a picture-perfect meal!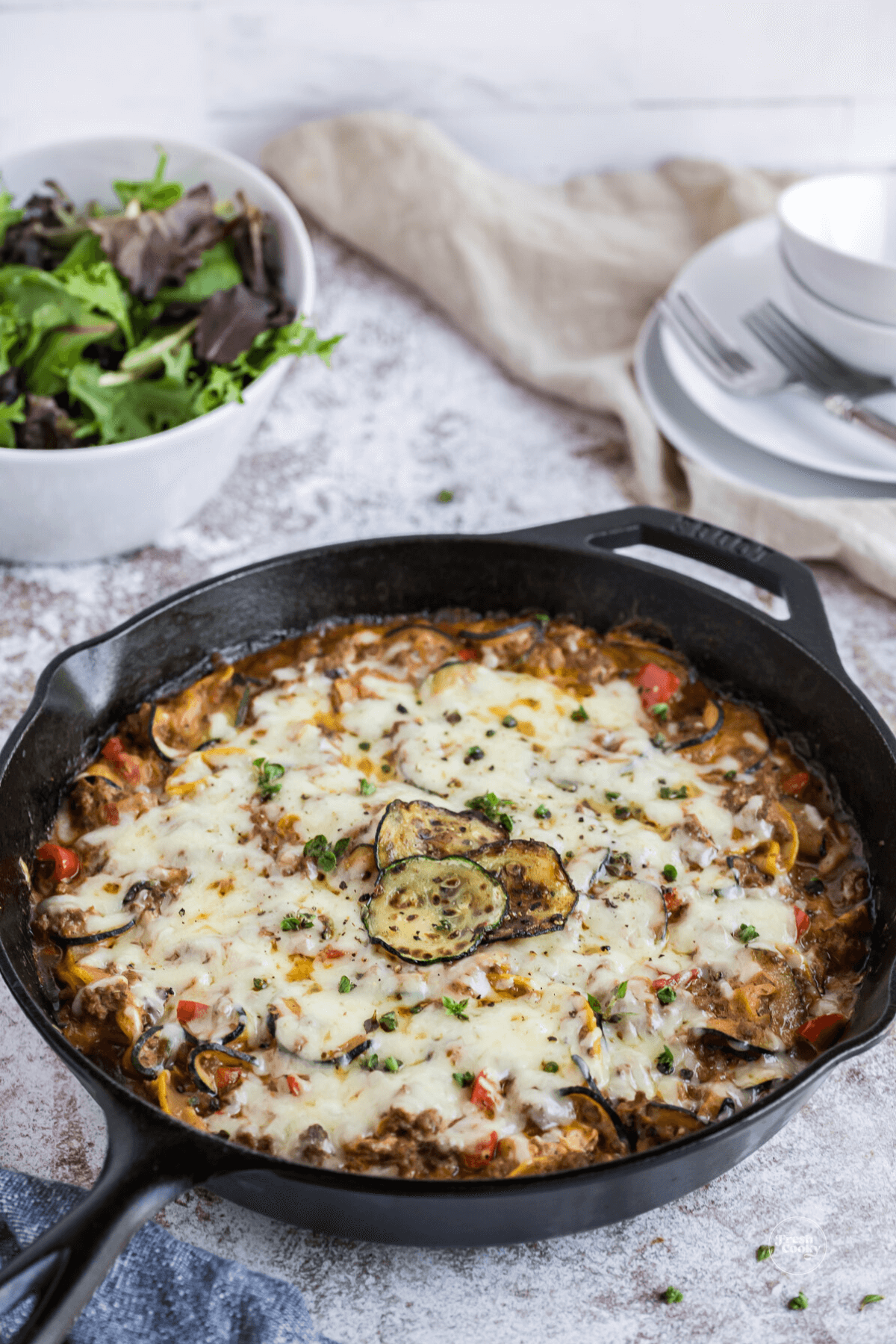 Variations & Substitutions
What's great about this simple recipe is that you can change it up to make it even more scrumptious for yourself, your family, or those you are serving. Here are some excellent ideas:
While sautéing the onions, add 1 cup of savory sliced mushrooms.
Add 1 teaspoon of cumin, 1 teaspoon of smoked paprika, and a shake of red pepper flakes for a Mexican ground beef casserole—YUM!
To make a more hearty meat sauce casserole, add up to 1 pound of cooked and drained pasta and increase the tomato sauce to a whole jar.
Or, you may add up to 1 ½ cups cooked and cooled white or brown rice or another favorite grain. You should also increase the jar of spaghetti sauce to a full jar if you're adding a grain.
You can use full-fat, low-fat, or whatever variation you prefer for the sour cream and cream cheese. Additionally, you may replace the sour cream with plain Greek yogurt.
Recommended Equipment
We love our Lodge Cast Iron Skillet, these skillets are workhorses, when properly cared for will last for decades and are non-stick.
Ground Beef Chopper | make ground beef easier and evenly cook with this simple tool.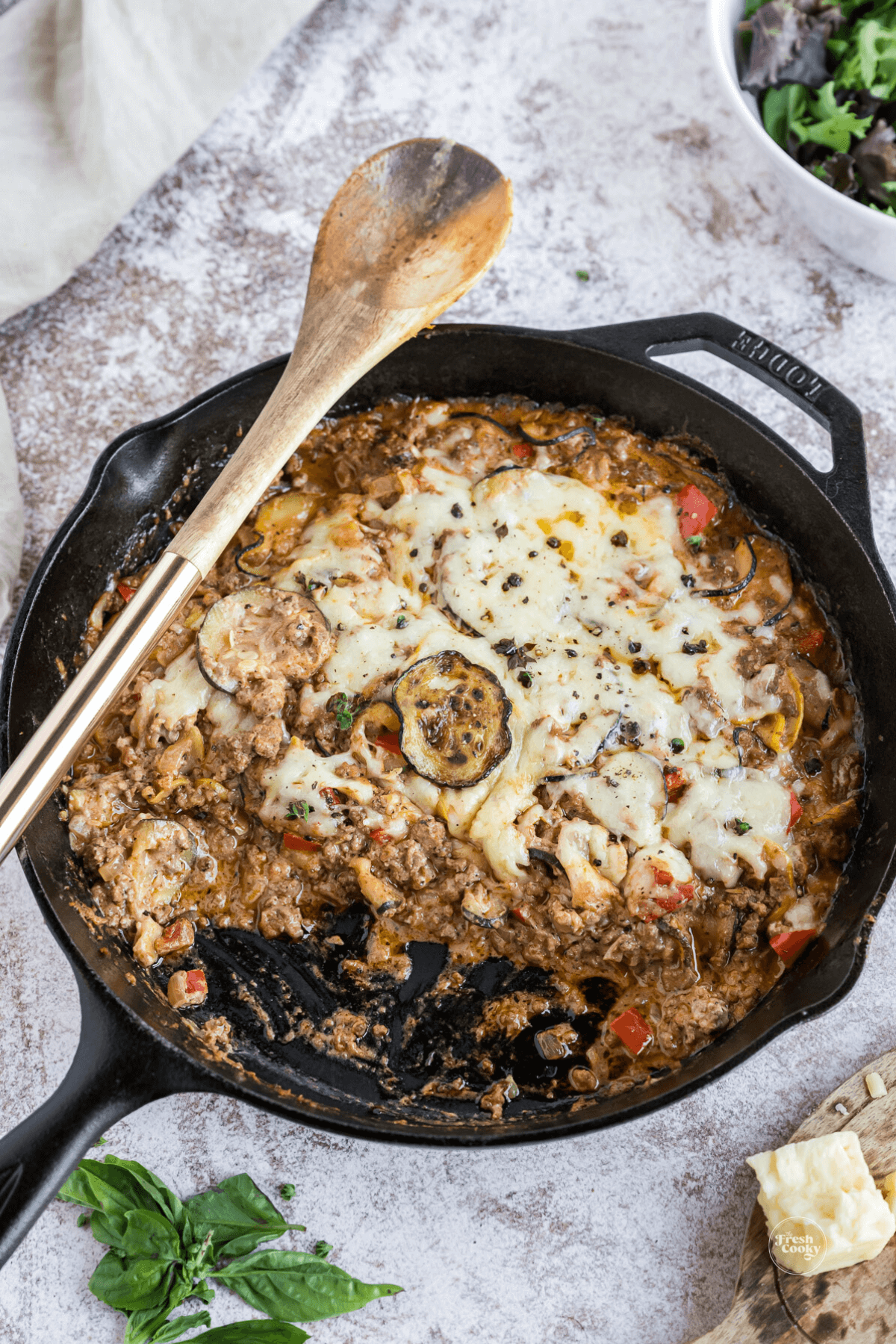 Storage Tips
Refrigerate – If you happen to have some leftovers of this delicious dish, you can store them in an air-tight container in fridge for up to 5 days.
Freeze – This zucchini and ground beef casserole also freezes well. You can store the dish in a freezer-safe container for about 3 months.
Tips for Two
Cut this recipe in half, eat a few servings, then place individual servings in airtight containers in the fridge or freezer, pop out when you need a quick, nutritious meal!
Easy Meal Prep for Zucchini Hamburger Casserole
You can make this casserole ahead of time if preferred and freeze or store in fridge until ready to bake.
Make the recipe up until adding shredded cheese to the top and baking. Let the meat and vegetable mixture cool completely, then top with shredded cheese. If desired, split the recipe into individual servings.
Cover casserole or airtight storage container with plastic wrap or aluminum foil and seal tightly. Place in fridge up 5 days before baking. Or freeze up to three months.
When ready to enjoy, remove the dish from the freezer thawing overnight in the fridge. Transfer contents to oven-safe dish and allow to sit on counter while oven preheats. Then bake according to directions.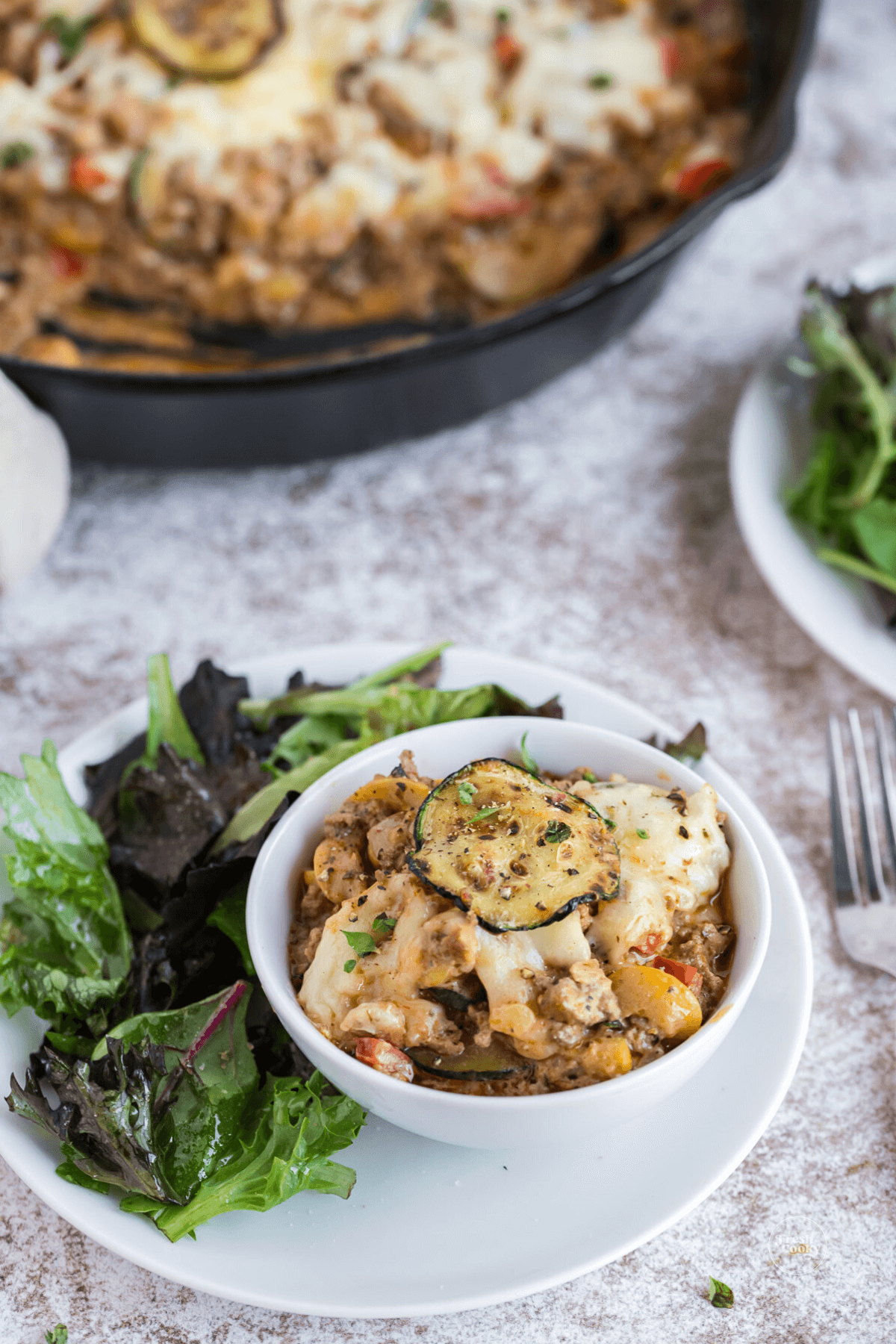 Frequently Asked Questions
Can you make this recipe ahead of time?
This easy zucchini and ground beef casserole are perfect for making ahead and storing away to bake later.

All you need to do is make the entire casserole and stop before adding the cheese to the top. First, allow the meat mixture to completely cool, and then you may sprinkle on the shredded cheese. Next, tightly wrap the dish in aluminum foil and place it in the refrigerator for up to two days. Or freeze in an airtight container up to 3 months.

Just be sure to thaw it overnight in the refrigerator, then remove it for 30 minutes before you slip it into the oven. Bake as directed, and you're good to go!
Can I made this zucchini casserole as a side dish?
Yes! Keep the ground beef in it for a heartier side dish or omit it and add up to 4 cups of additional veggies of choice.
What qualifies as a casserole?
A casserole by definition is a kind of stew or side dish that is cooked slowly in an oven. It has come to mean any dish that is baked in the oven in a deep dish, such as a cast iron skillet or casserole dish.

Casseroles can have layers like a lasagna, even a deep dish pizza is considered a casserole (who knew!), but typically anything baked in the oven with a starchy binder (like these Potatoes Dauphinoise) and a combination of a protein and veggies is considered a casserole. (source)
More Delish Casseroles
If you're craving more easy and oh-so-delicious casseroles, here are a few of our favorites: Chicken and Wild Rice Casserole, Corn Casserole and the kid favorite Baked Spaghetti Pie. Check out these other popular recipes below: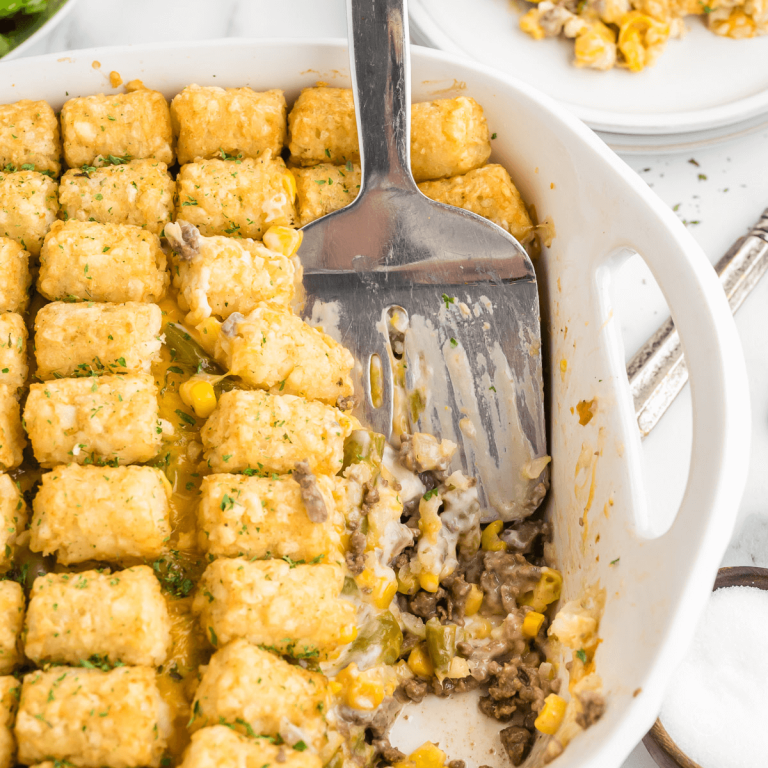 Best Cheesy Hamburger Tater Tot Casserole Recipe
The whole family will love this cheesy hamburger tater tot casserole! Your kids will clean their plates, the picky teens will ask for more, and the adults will beg for the recipe.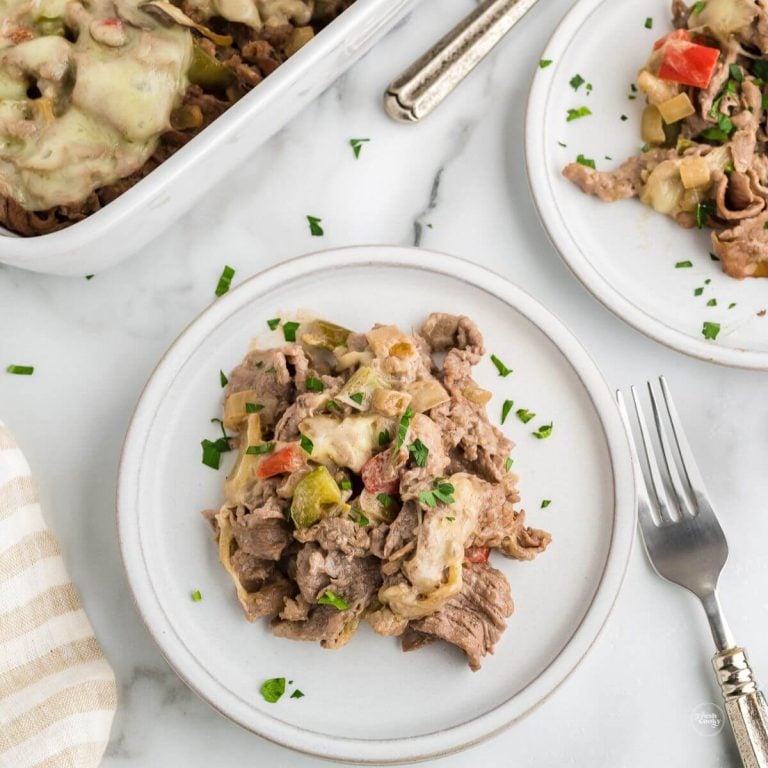 Best Philly Cheesesteak Casserole Recipe (Low-Carb)
Creamy, cheesy, and full of classic flavors, this is the Best Philly Cheesesteak Casserole! It's a low-carb and easy recipe that uses this tasty sandwich's traditional ingredients but in an oven-baked dish.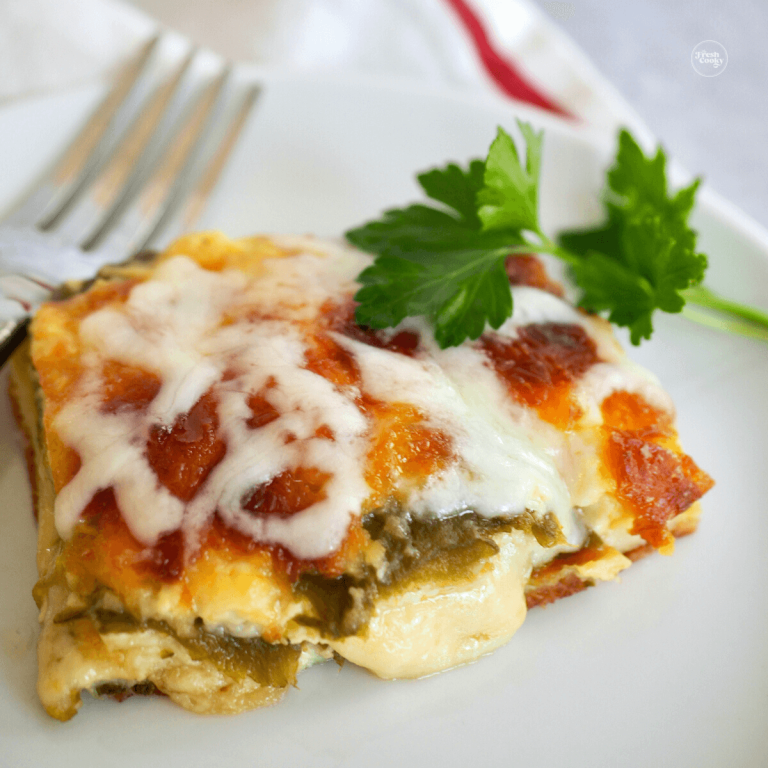 Easy Hatch Green Chile Relleno Casserole Recipe
Best Chile Relleno Casserole is an easy, delicious vegetarian dish made with Monterey Jack cheese stuffed whole roasted chiles, topped with an egg, milk batter, topped with more cheese, then baked to fluffy perfection. Easily adapted to be gluten free.
What to serve with your ground beef and zucchini casserole
Great vegetable recipes to make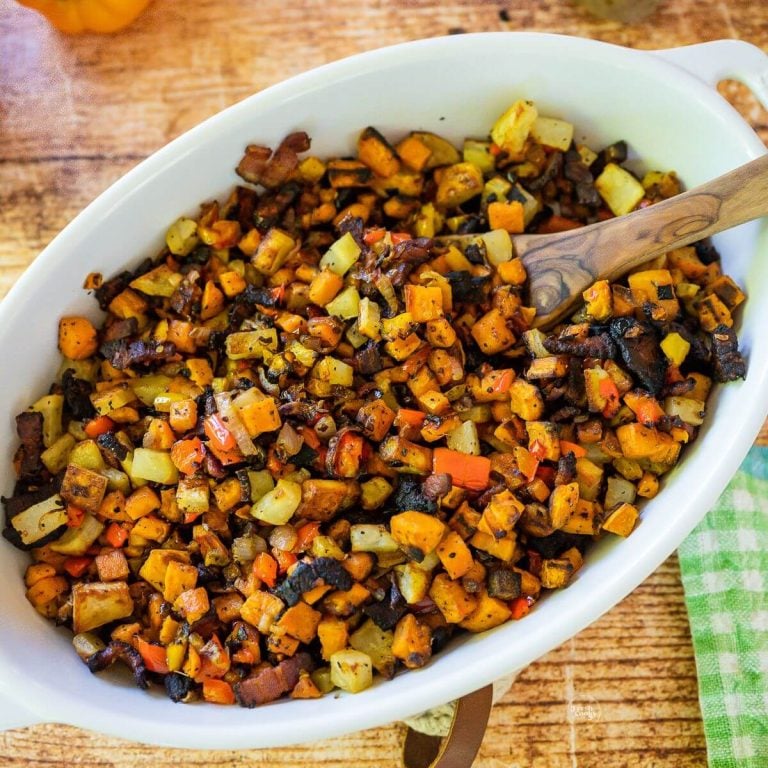 Crispy Diced Potatoes Hash Browns Recipe with Bacon
Today I'm sharing my top tips for the most flavorful, crispy diced hash browns recipe. My testers raved about the amazing flavors and simplicity of this sweet potato breakfast hash!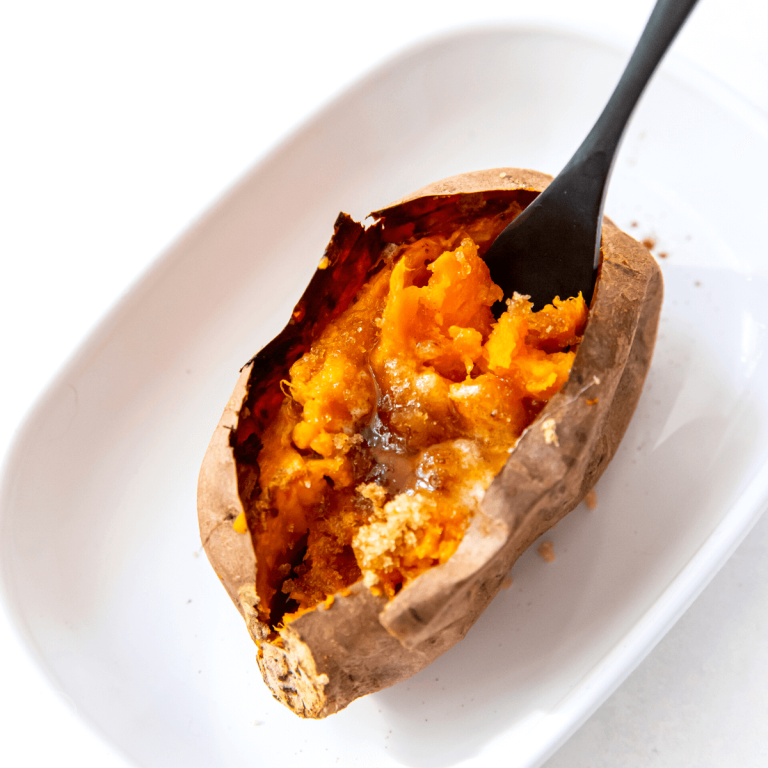 Easy & Healthy Air Fryer Baked Sweet Potato
In minutes you will be serving hot, fluffy Air Fryer Baked Sweet Potatoes. They are incredibly healthy and easy to make, and they turn out perfectly soft inside with a delicious crispy skin.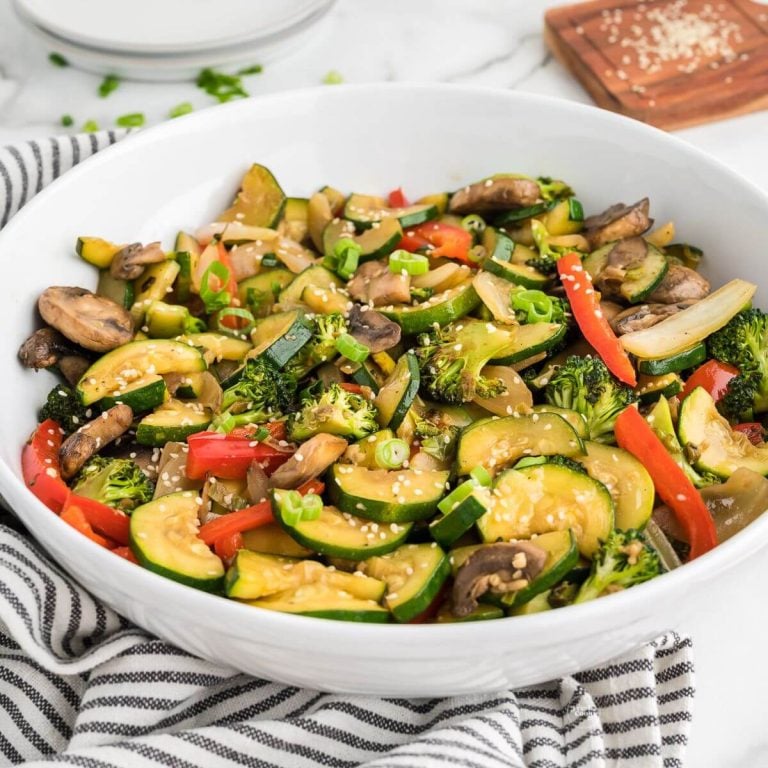 Perfect Hibachi Vegetables Recipe (Benihana Copycat)
Experience the flavors of your favorite Hibachi restaurant with Benihana Hibachi Vegetables recipe. Loaded with tender zucchini, broccoli, bell peppers, onions, and mushrooms, it's a quick and delicious dish to make on your flat top griddle or stovetop.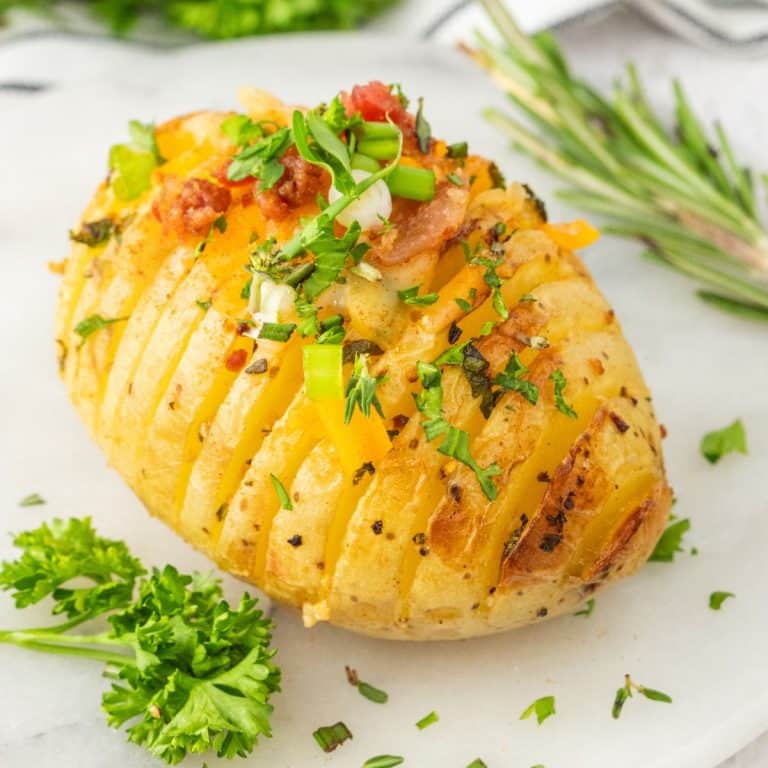 Crispy Garlic Butter Hasselback Potatoes in Air Fryer
Today I'll show you how to quickly make the perfect garlic butter Hasselback potatoes in the Air Fryer! Crisp and golden brown outside, soft and tender on the inside splashed with fresh herb butter and simple seasonings.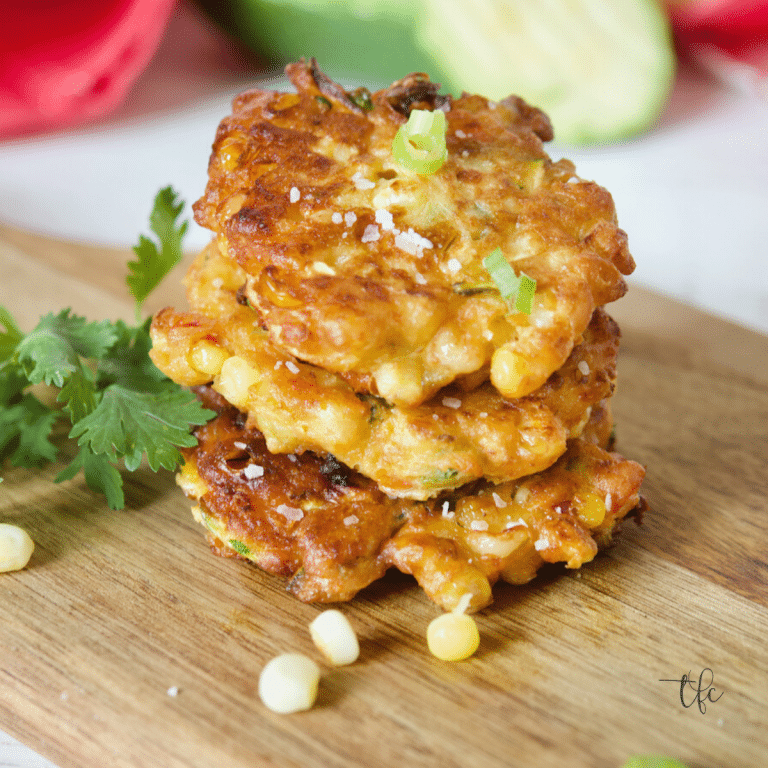 Zucchini Corn Fritters
Enjoy the bounty of summer veggies with this scrumptious appetizer for Zucchini Corn Fritters. These sweet corn fritters are loaded with healthy, fresh vegetables, in a simple buttermilk batter, briefly fried and finished in the oven. They are light, easy and you can make them gluten free. These Zucchini Corn Fritters are chock full of
Best sides to serve with zucchini casserole with ground beef
While this is easily a meal in itself, sometimes you want a little something extra to go with your meal. Since this is so low-carb I will often make my family some bread to go with it. Or a simple fruit salad works great too! Below are a few of our favorites: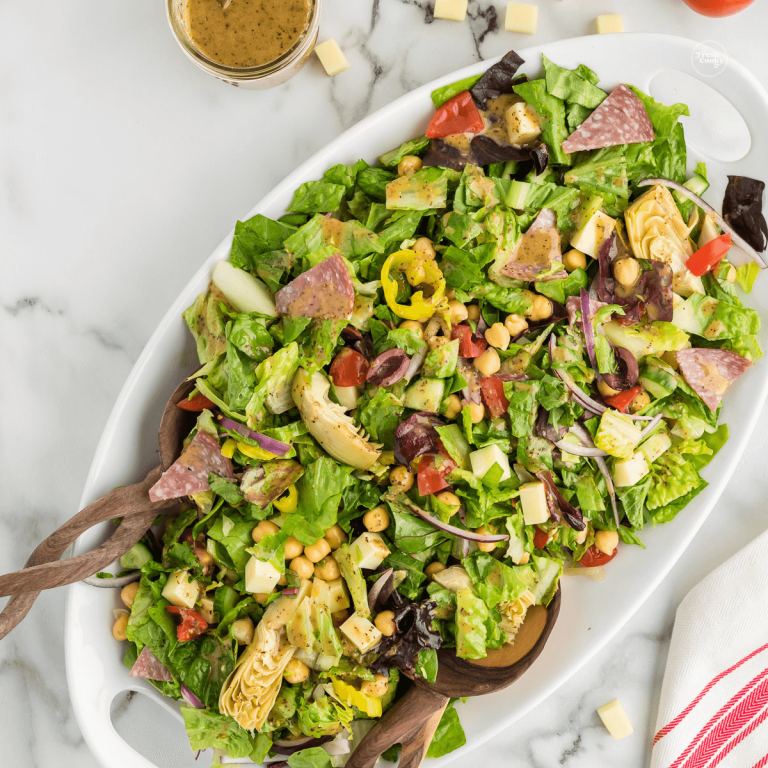 Best Easy Italian Chopped Salad Recipe
Loaded Italian chopped salad with fresh veggies, salami, provolone, kalamata olives, and homemade Italian vinaigrette. A light and delicious meal that will make you love salads!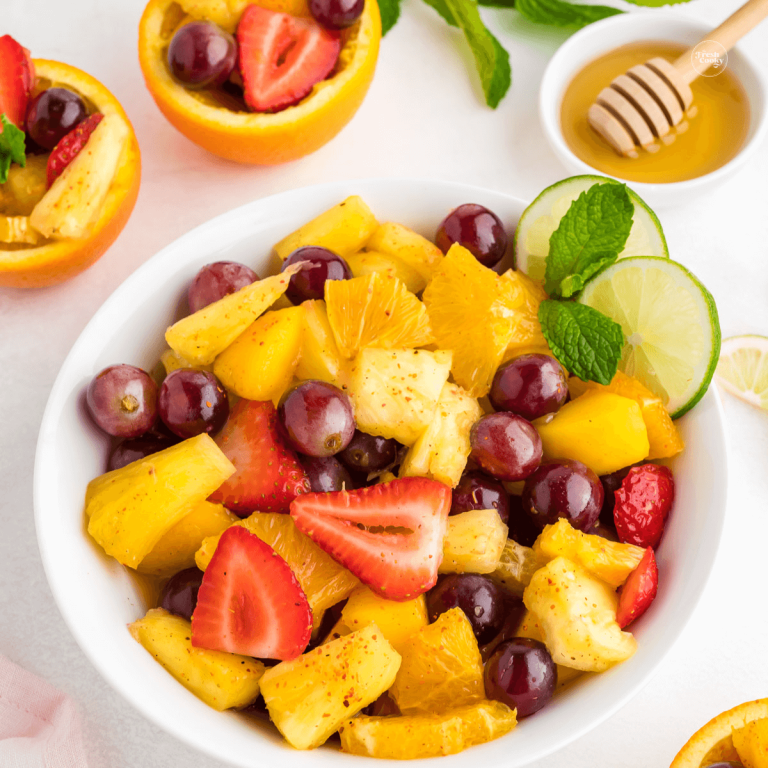 Best Mexican Fruit Salad Recipe
This Mexican fruit salad recipe is refreshing, and bursting with juicy and sweet fruits that will make your taste buds salsa dance! Tropical fruits paired with citrus, strawberries, and grapes in a light honey-lime Tajin dressing.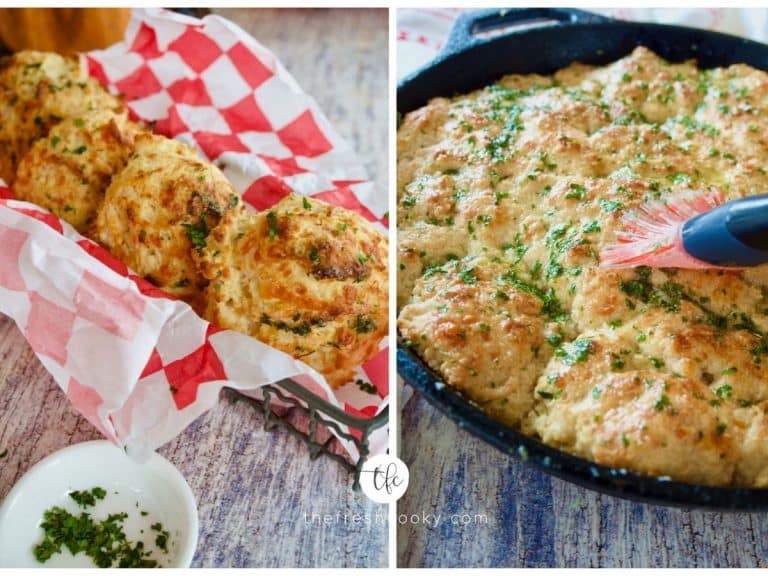 Red Lobster Cheddar Biscuits (biscuits & skillet bread)
A better than Red Lobster Cheddar Biscuits recipe, this copycat recipe is so easy to make, ready in about 20 minutes! Make them as biscuits or bread in a cast iron skillet. Cheesy, tender, great flavor!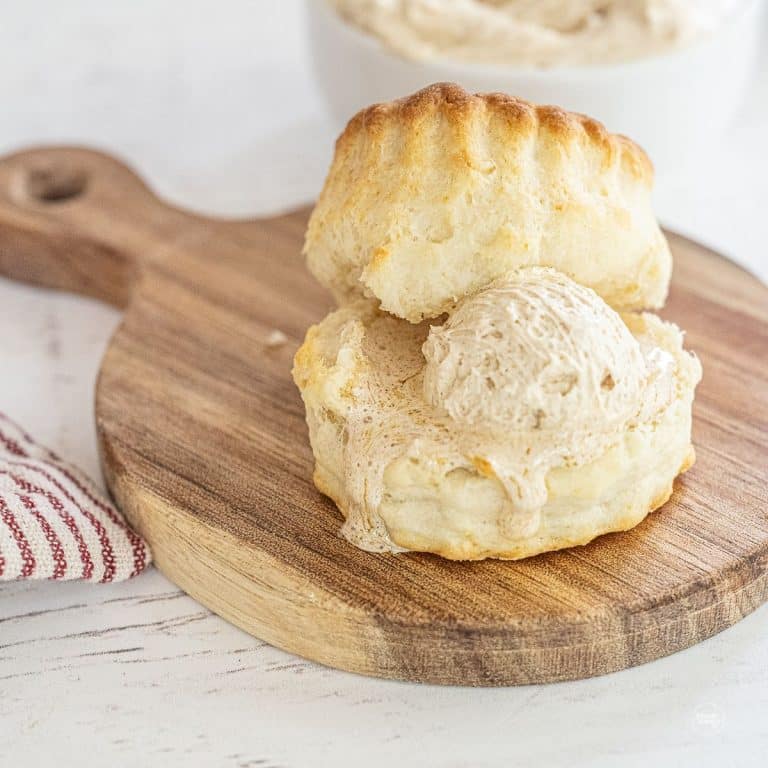 Easy Homemade Cream Biscuits Recipe (2-Ingredient)
Easy Homemade Biscuits. This easy 2 ingredient biscuit recipe without baking powder produces flaky biscuits that turn out tender, moist, and flaky with just TWO ingredients.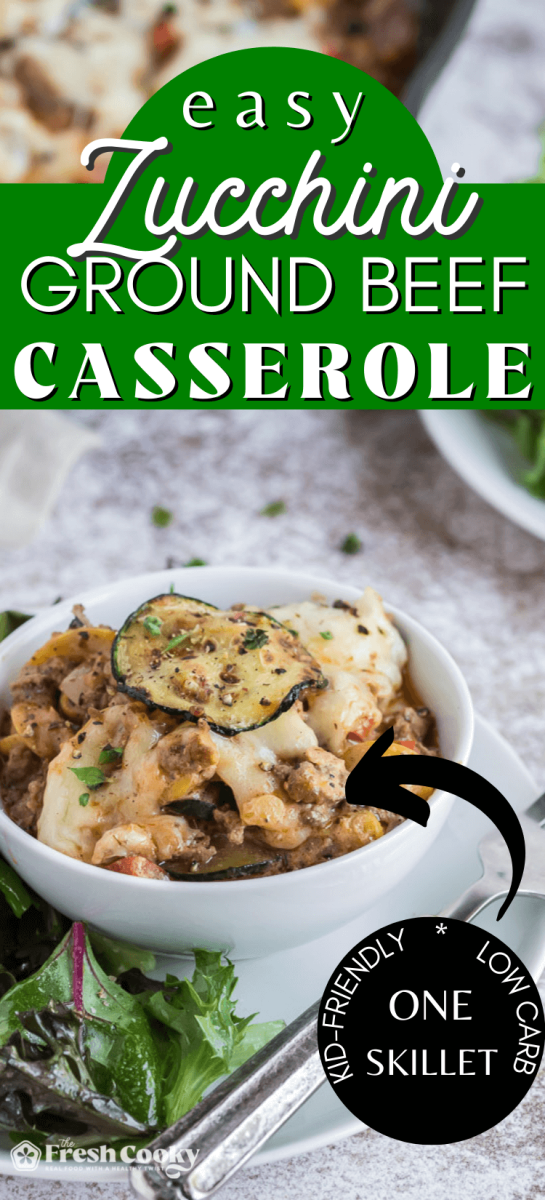 I hope you loved this Ground Beef and Zucchini Casserole recipes — if you did, would you share your creation on Instagram, Facebook and Pinterest? And be sure to comment below!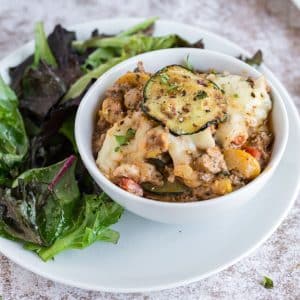 Easy Zucchini and Ground Beef Casserole Recipe
This easy zucchini and ground beef casserole is full of nutritious veggies and packed with incredible flavor– the perfect low-carb casserole! A one-skillet meal that kids love! Giddy-up!
Ingredients
1-1 ½

pounds

ground beef

,

use your favorite blend, I used 80/20 for more flavor

1-2

tablespoons

oil

1

tablespoon

butter

2

cloves

garlic

,

minced

1

medium

onion

,

diced

3

cups

zucchini

,

sliced or shredded

1

cup

yellow squash

,

sliced (or increase zucchini)

1/2

cup

bell pepper

,

red, green, yellow or orange, diced

1/3

cup

sour cream

,

or Greek yogurt (plain)

4

ounces

cream cheese

,

regular or neufchatel

½-1

teaspoon

kosher salt

1/2

teaspoon

black pepper

1

tablespoon

tomato paste

½-1

tablespoon

Worcestershire sauce

,

make sure Gluten-free if GF

1

tablespoon

Italian seasoning

½

26 ounce jar

pasta sauce

,

tomato sauce, spaghetti sauce; use more if using more ground beef

1 ½

cups

sharp white cheddar cheese

,

shredded (or try cheddar, jack, pepper jack, Mexican cheese and mozzarella)
Instructions
Preheat the oven to 350° F (175° C) and if not, using a cast iron skillet for baking, then prepare a 9×13 inch casserole dish by spraying lightly with spray oil.

In a large (cast iron skillet) heat oil and butter over medium heat and saute onions for 5 minutes. Add peppers and saute 2 more minutes, add garlic saute until fragrant, about 1 minute.

Scoot veggies to the side or remove to plate. Brown ground beef until just browned and crumbled, scoot ground beef to the side of the pan and saute sliced (or shredded) zucchini and yellow squash 4-5 minutes until tender. Then add back onions and peppers, stirring to combine.

Reduce heat to medium-low stirring in tomato sauce, tomato paste, Worcestershire sauce, Italian seasoning, salt, pepper mixing until combined. Stir in cream cheese and sour cream, until melted and incorporated into the meat mixture.

May keep in an oven safe skillet if desired or transfer to a 9×13 inch baking dish, sprinkle with shredded cheese and bake, uncovered for 20-25 minutes. Remove from oven and let sit for 10 minutes before serving.

See notes for how to garnish with more crispy zucchini!
✱ Kathleen's Tips
Make Ahead Tips
Make the entire casserole up to the point of baking, but leave cheese off until the meat mixture is cooled completely. Wrap tightly in aluminum foil and refrigerate up to 2 days, freeze for up to 3 months.
When ready to bake, thaw overnight in the fridge, then remove for 30 minutes before baking. Add shredded cheese and bake as directed.
Storage
Store leftovers in the refrigerator for up to 5 days or freeze for up to 3 months.
Variations
Optional add 1 cup sliced mushrooms during sautéing of onions

Optional add 1 teaspoon cumin, 1 teaspoon smoked paprika and a shake of red pepper flakes for a Mexican ground beef casserole.

Add up to 1 pound cooked and drained pasta (increase tomato sauce to full jar)

Add up to 1 ½ cups cooked (and cooled) white or brown rice or other favorite grain; increase jar of spaghetti sauce to full jar)

Make larger portions for a crowd | use up to 2 pounds of meat, increase tomato sauce and veggies and adjust seasonings to taste. Bake in 9×13 inch casserole dish.
I added 2 'fried' zucchini slices to the top of the casserole as a garnish. I added it after it was fully cooked. All I did was heat some oil in a pan, add the slices and let them sear/pan-fry, flipped, and then topped it off.
Stovetop Method – if you prefer not to heat your oven, before adding the cheese, cover the pan and reduce heat to low, simmer for 15-20 minutes until veggies are tender, top with cheese, cover, and serve once melted.
Nutrition
Serving:
1
serving
Calories:
468
kcal
Carbohydrates:
9
g
Protein:
23
g
Fat:
38
g
Saturated Fat:
18
g
Polyunsaturated Fat:
2
g
Monounsaturated Fat:
13
g
Trans Fat:
1
g
Cholesterol:
114
mg
Sodium:
554
mg
Potassium:
587
mg
Fiber:
2
g
Sugar:
5
g
Vitamin A:
1283
IU
Vitamin C:
33
mg
Calcium:
281
mg
Iron:
2
mg
Nutrition Disclaimer
The Fresh Cooky is not a dietician or nutritionist, and any nutritional information shared is only an estimate. We recommend running the ingredients through an online nutritional calculator if you need to verify any information.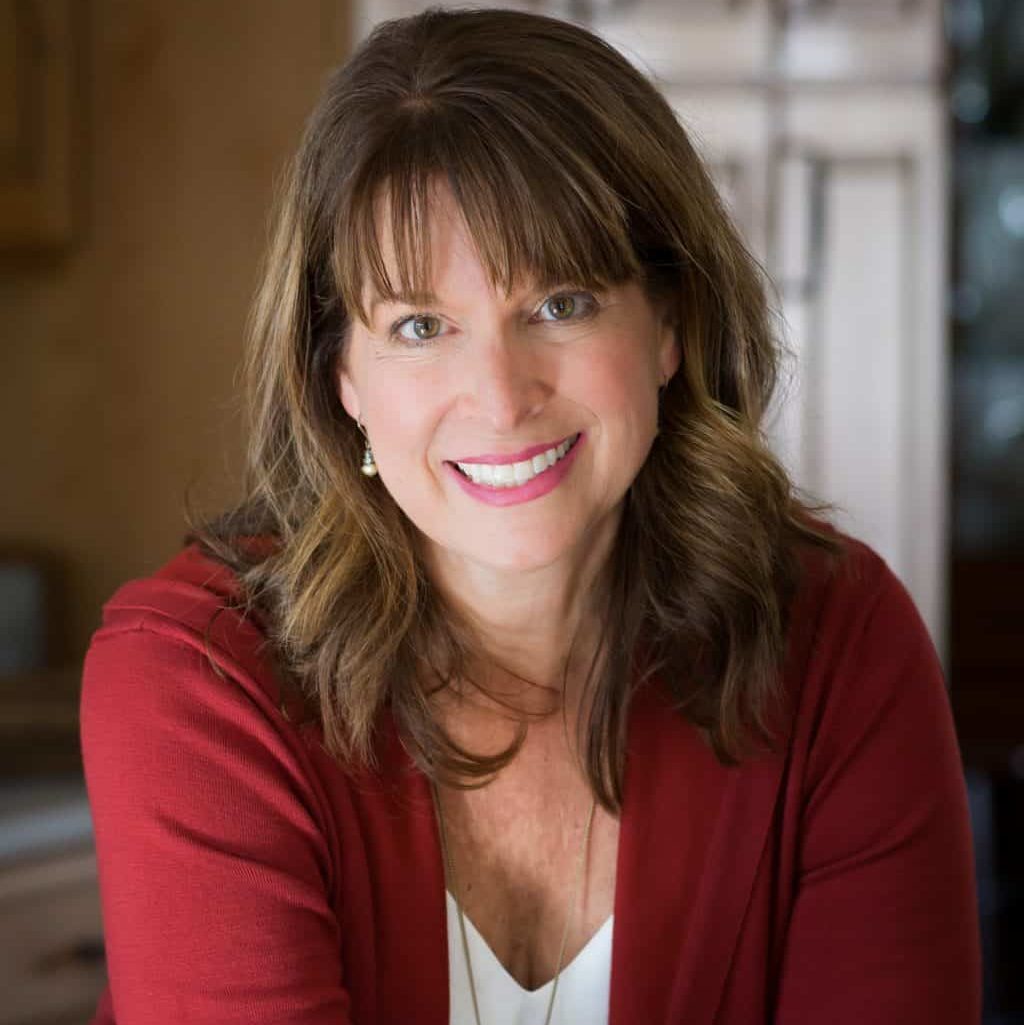 About Kathleen Pope
Recipe Innovator | Food Photographer | Food Writer
Hi, I'm Kathleen Pope. Here at The Fresh Cooky you will find easy, mostly from-scratch, trusted recipes for all occasions. From speedy dinners to tasty desserts, with easy step-by-step instructions. I am here to help teach you how to make mouthwatering recipes without spending hours in the kitchen. Read more about Kathleen here.