Cookie Dough Ice Cream Sandwiches
As an Amazon Associate, I earn from qualifying purchases. Please read my disclosure policy.
Edible cookie dough? Ice Cream? Sandwich them together and you have this delectable recipe for Cookie Dough Ice Cream Sandwiches in one EASY, no-bake, creamy and sweet dessert!
I love this cookie ice cream sandwich recipe because it doesn't make a ton, and you can cut the bars as large or small as you like, plus you can use jimmies or m&m's or regular chocolate chips!
If you are into no bake desserts, you might also love these reader favorites: Fried Ice Cream Cake, Mile High Mud Pie and Magnolia Famous Banana Pudding.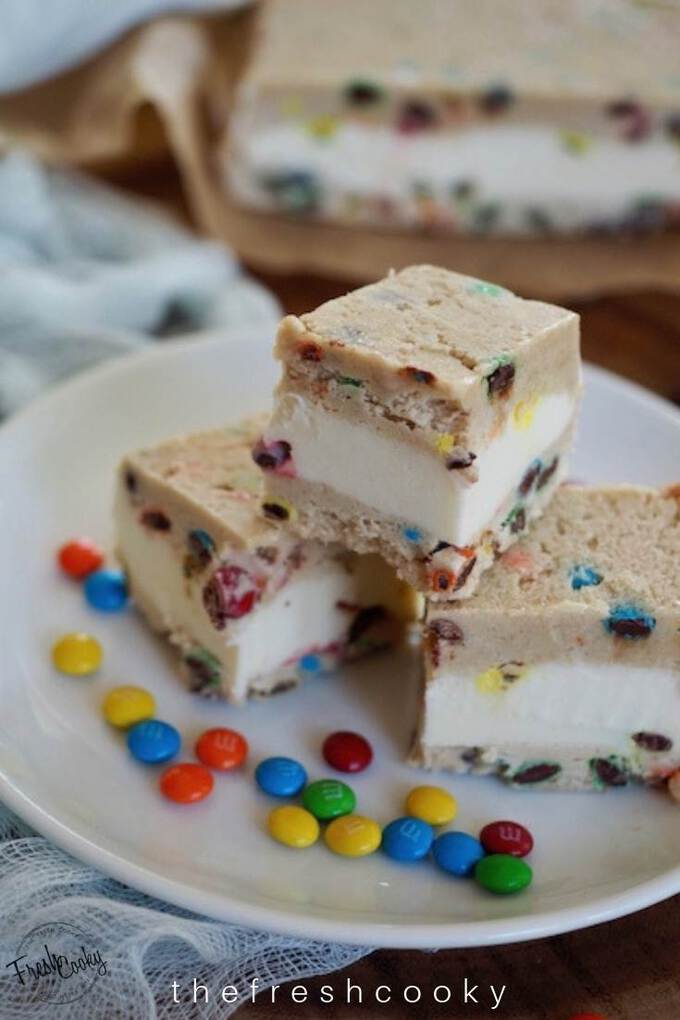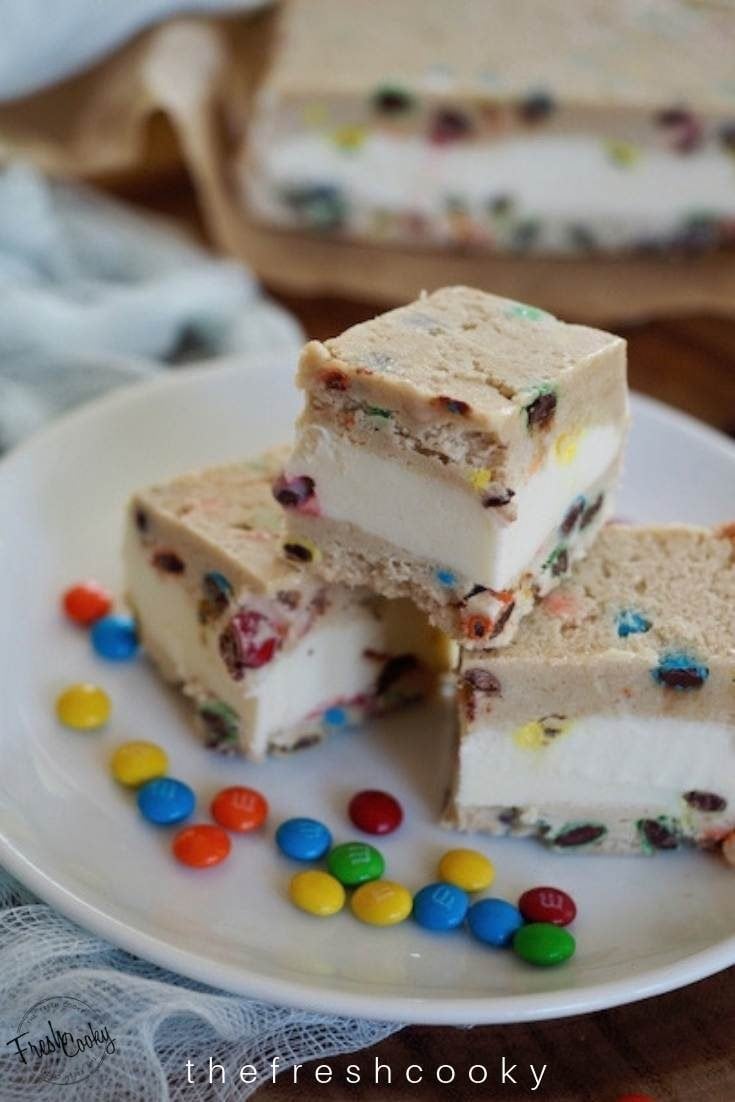 I have had a long, sweet relationship with cookie dough. As long as I can remember, I would sneak a spoonful cookie dough when my mom made cookies.
Confession time; I still eat cookie dough (I'm a daredevil, I know), I don't even sneak it! I still smack hands that try and dig in, but all in good fun now. I know it's not in vogue to eat raw cookie dough, which is why I decided to make some "legal" raw cookie dough, no danger or risk taking involved!
In fact, I love cookie dough so much, I've made it into a frosting — serve it individually as little frosting "shooters" or top your favorite cupcake or sandwich between your favorite cookie, like these.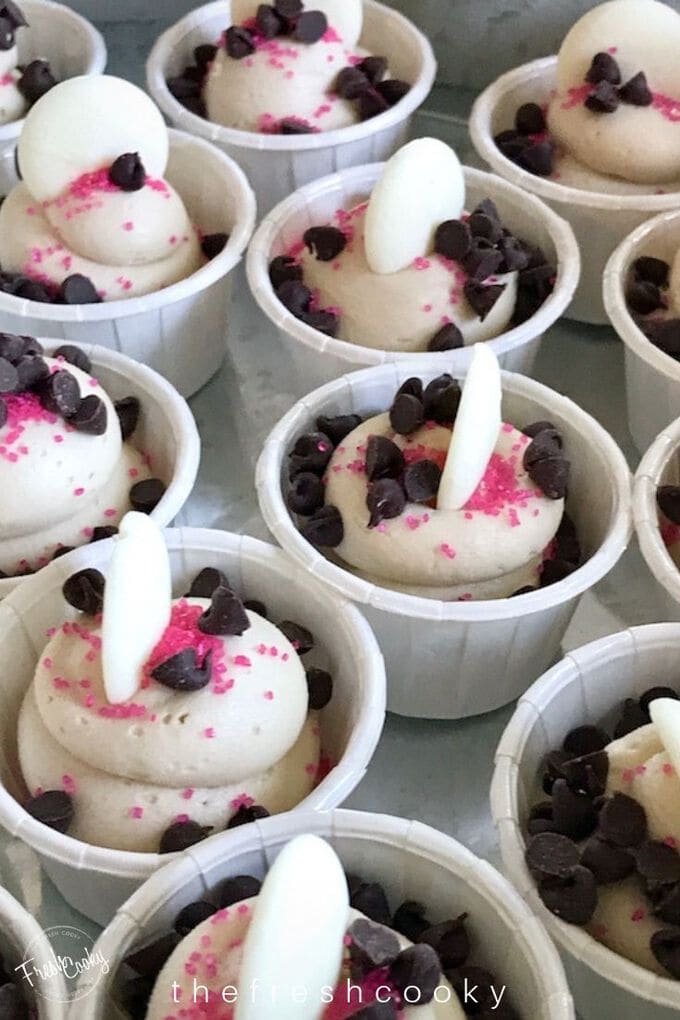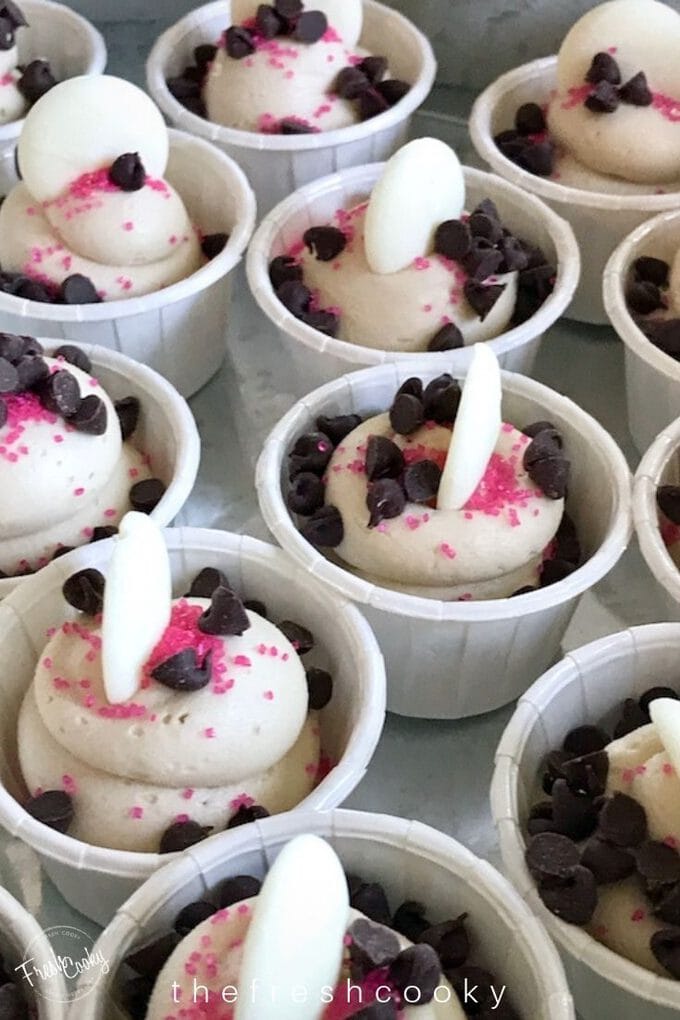 Ingredients
With a few simple ingredients you can make your own safe to eat cookie dough and make these great cookie ice cream sandwiches!
Edible Cookie Dough Ingredients
Butter
Light Brown Sugar & regular cane or white sugar | I use organic all natural cane sugar
All purpose Flour | heat treated (see the recipe for how to do if concerned)
Milk | I use whole milk, but you can use others
Chocolate Chips | or see the original post with loads of mix-in ideas
Cookie Dough Ice Cream Sandwich Ingredients
1 Recipe Edible Cooke Dough
Favorite ice cream or even try making homemade ice cream, like this no churn favorite Patriotic Ice Cream
How to Make Edible Cookie Dough for Ice Cream Sandwiches
To get started, make up a batch of my chocolate chip edible cookie dough.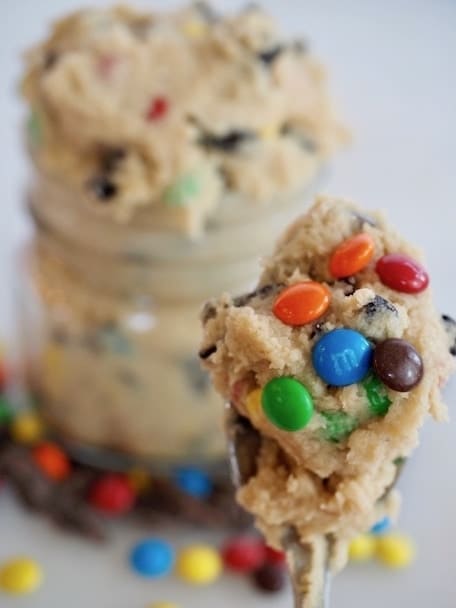 Press dough into a quarter sheet pan lined with parchment paper or a rectangular tart pan and freeze for 30 minutes. Once firm, remove carefully from the pan using the parchment paper and cut in half.
Spread softened ice cream on top of one of the halves of cookie dough, carefully place the other half on top, pressing gently.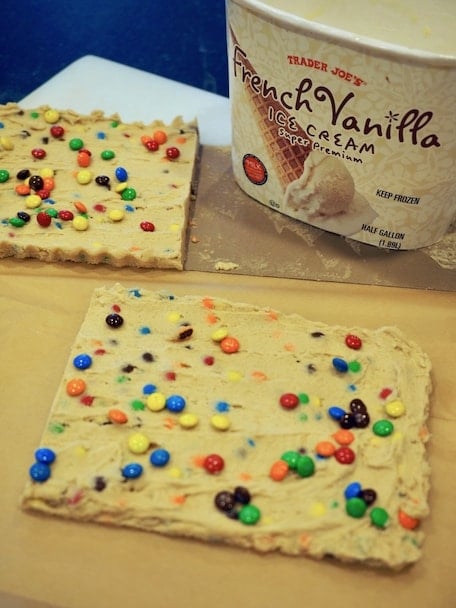 Freeze another 30 minutes, yielding soft sandwiches or 60-90 minutes for firmer sandwiches. To slice, remove from freezer and using a knife dipped in hot water, slice into squares.
Enjoy these cookie dough ice cream sandwiches immediately or wrap individually and store in freezer.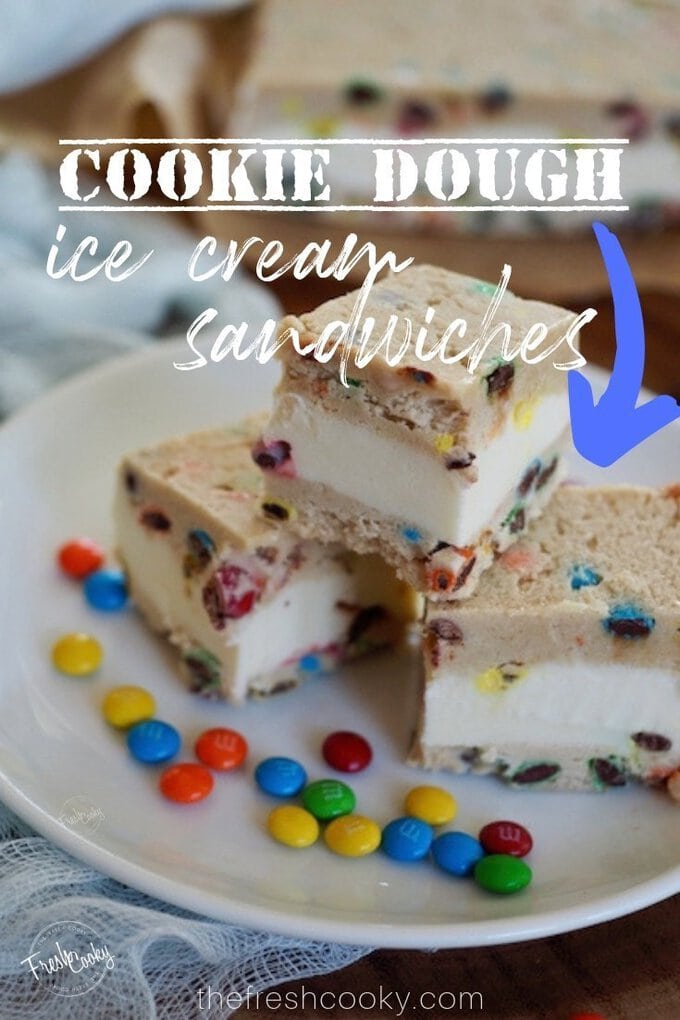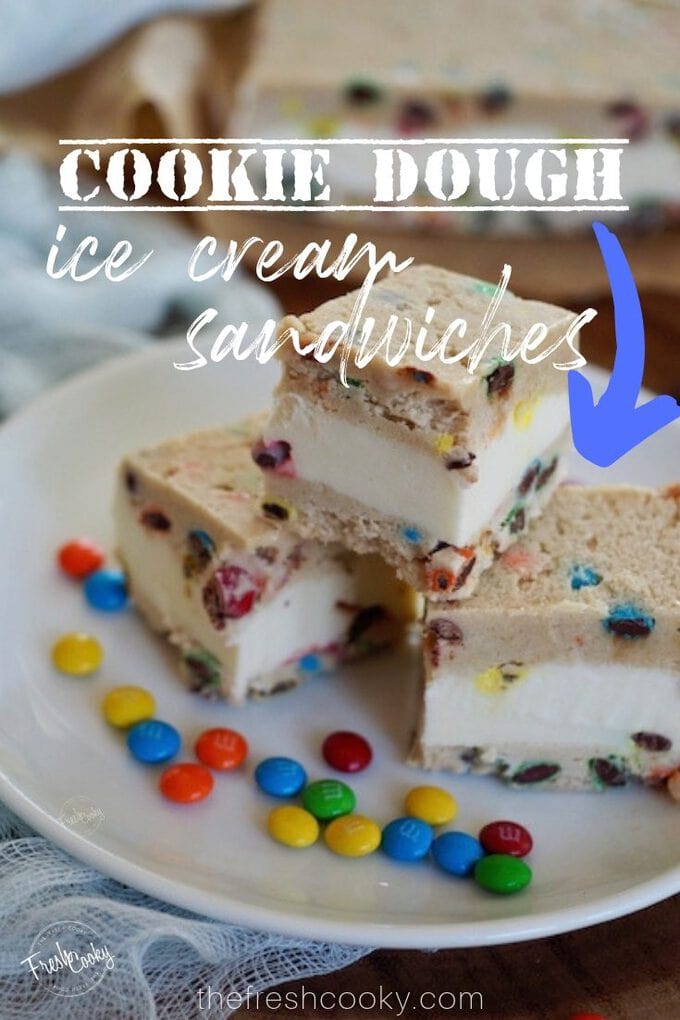 Simple, straight forward, delicious! Our family loved these treats, cool and creamy and and a small square was so very satisfying!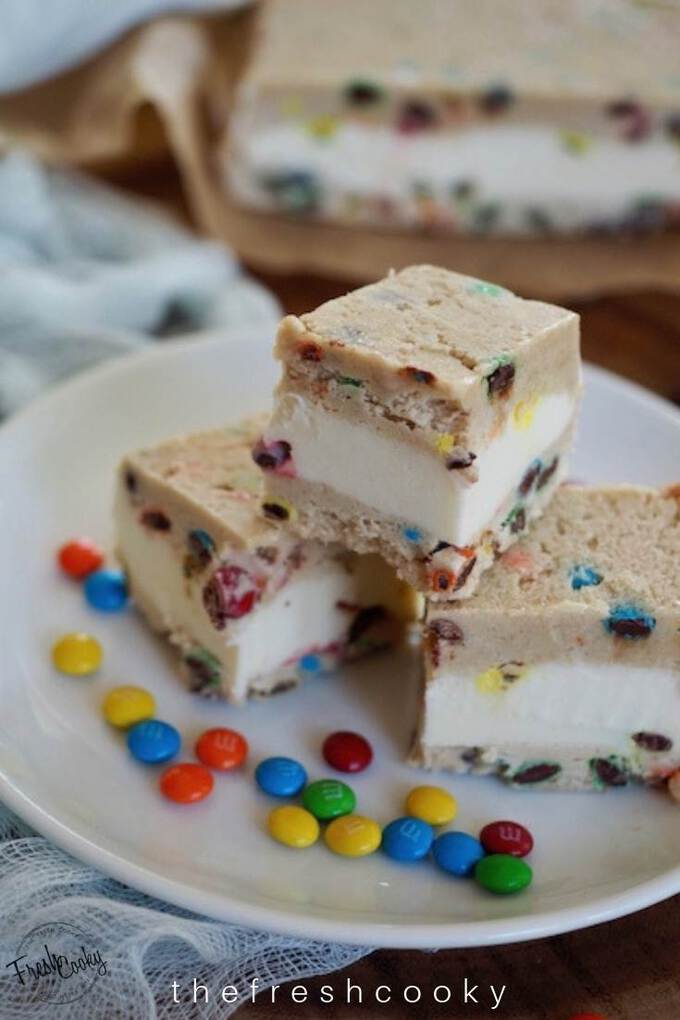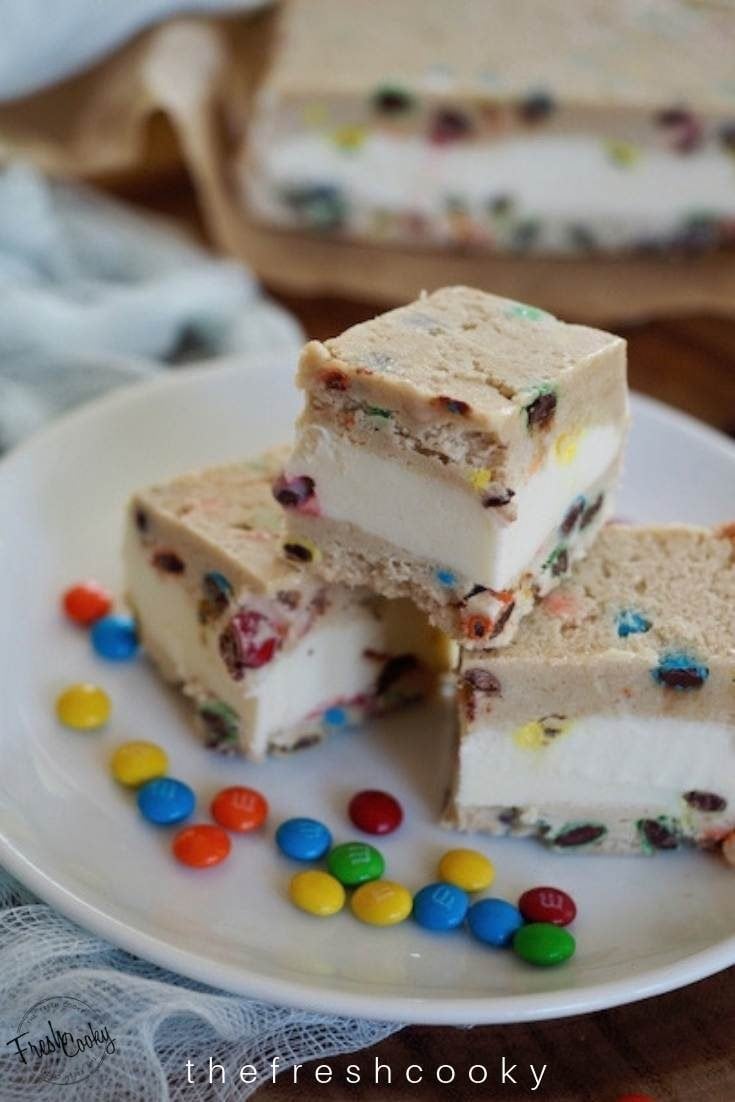 Give these other cool treats a try!
Like this recipe?
Don't forget to give it a ⭐️⭐️⭐️⭐️⭐️ star rating and comment below the recipe!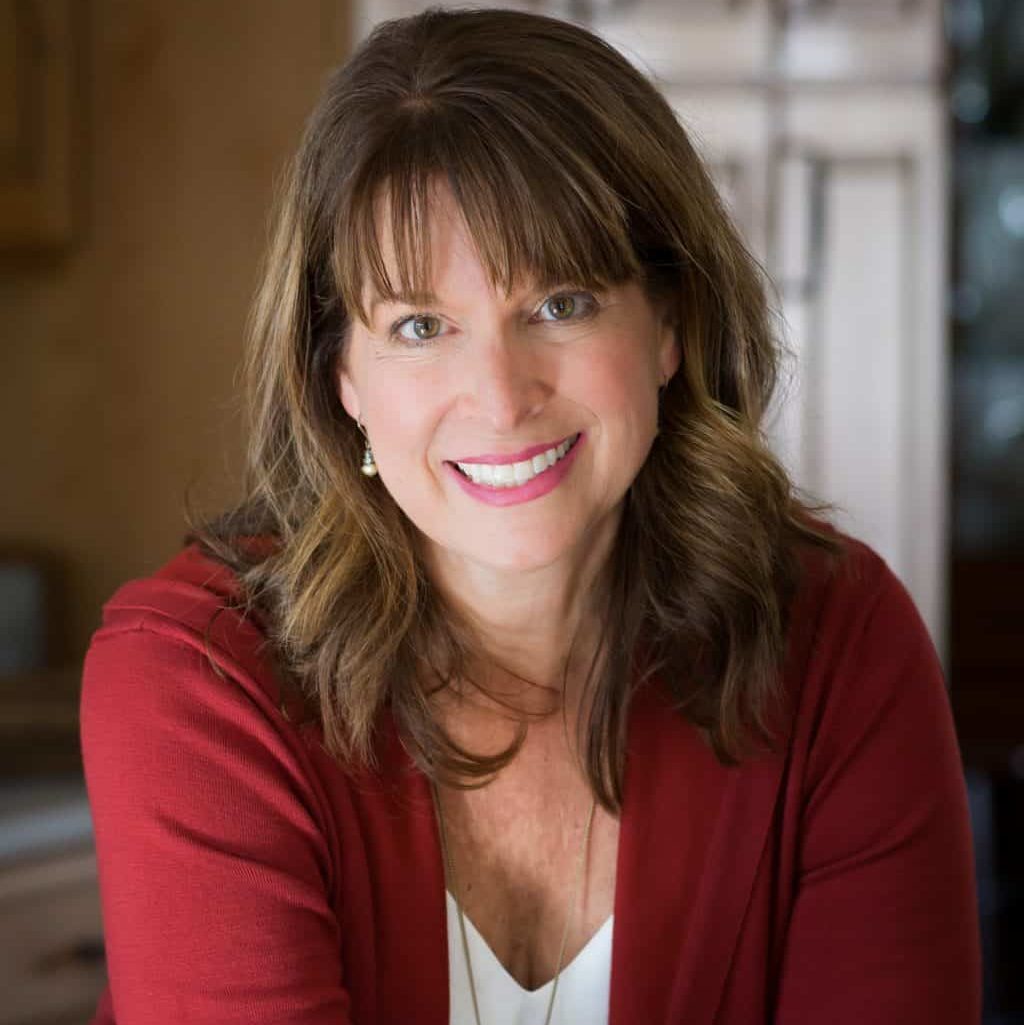 About Kathleen Pope
Recipe Innovator | Food Photographer | Food Writer
Hi, I'm Kathleen Pope. Here at The Fresh Cooky you will find easy, mostly from-scratch, trusted recipes for all occasions. From speedy dinners to tasty desserts, with easy step-by-step instructions. I am here to help teach you how to make mouthwatering recipes without spending hours in the kitchen. Read more about Kathleen here.