As an Amazon Associate, I earn from qualifying purchases. Please read my disclosure policy.
Red Velvet Donuts are flavorful and tender, topped with an incredible Irish Cream Cream Cheese Glaze. These cake donuts are baked, not fried, making them healthier and easier, perfect for Christmas or Valentine's day or anytime you are craving a delicious donut!
Who doesn't love something a wee bit chocolatey, like this Chocolate Chocolate Chip Nothing Bundt Cake (or mini bundts), or maybe this Healthy Chocolate Chip Banana Bread, or this No Bake Chocolate Pie! Like air fryer recipes? Try my Heart Shaped Biscuit Donuts!
What is it about all things red velvet? I think there are two camps, the "I'm totally grossed out" camp and the "I'm in love with all Red Velvet baked goods" camp. Where do you fall?
I'm somewhere in the middle, since I try and make things a bit healthier, I just cannot make myself pour tablespoons of artificial red dye or gel food coloring into a recipe. Which is why I developed an original red velvet cake recipe without food coloring (or plant-based food coloring).
A reddish tint, but old-fashioned enough to make it appealing and entirely edible, without dying your insides red.
I made these baked Red Velvet Donuts the other day and since they are a small batch donut recipe, I used a few drops of red food coloring and it worked brilliantly.
Why You Will Love Red Velvet Doughnuts
Easy!! The batter whips up in a few minutes, especially if you remember to bring your egg and buttermilk to room temperature ahead of time.
A quick recipe for a Christmas breakfast or brunch or a sweet surprise for Valentine's breakfast!
These baked donuts are not loaded with red food coloring! Just a few tiny drops does the trick.
Soft, tender with a teensy bit of chew and that frosting, oh my!
Simple Ingredients
The full recipe and measurements are in the printable card at the end of this post.
Unbleached All-Purpose Flour | I use organic flour, I think baked goods bake up better with unbleached flour, but use the flour you have.
Natural Cocoa Powder | Typical cocoa powder is Dutch Processed, here we want regular Natural Cocoa powder, not Dutch-processed cocoa. See the FAQ below.
Brown Sugar | This adds a lovely caramel flavor and a bit of the chewiness to the red velvet donuts.
Buttermilk | For traditional red velvet, you need the acidity in the buttermilk, you can make your own though, see below for the how to!
Vanilla Extract | Use the good stuff, and if you have never made homemade vanilla you should try it!
Butter | Just a little bit adds flavor and richness to the donuts.
Egg | I always use large eggs in my baking, always best to bring to room temp. If you forget; place an egg in a glass of warm (not hot) water for 5 minutes.
Red Food Coloring | You can use all natural red food coloring, I ended up using regular for this recipe since it was just a few drops. You may also omit it all together.
Espresso Powder | This is optional, you won't taste it, but espresso will enhance the chocolate flavor, amping up the overall taste!
BUTTERMILK SUBSTITUTE | For ½ cup of buttermilk, add ½ tablespoon of lemon juice OR white vinegar to a liquid measuring cup, add milk to the ½ cup mark, stir and let sit 5-10 minutes to thicken. To make a cup, double up!
Irish Cream Cream Cheese Glaze Ingredients
Take these red velvet doughnuts over the top with this amazing glaze. Tangy cream cheese compliments the flavor of the chocolate donuts like nothing else.
Cream Cheese | Regular or Neufchatel Cream cheese will work!
Butter | I used salted butter, if you use unsalted add a tiny pinch of salt
Powdered Sugar | also known as confectioners sugar or icing sugar
Bailey's Irish Cream* or substitute with cream, half and half or milk
Note: I originally wanted to use Bailey's Red Velvet, described as a drinkable red velvet chocolate cupcake, but I couldn't find any – and I have a hunch they use a lot of red dye, which well, yuck! If you want your frosting to be pink, add a drop of food coloring, this is where a natural food dye would shine.
Recommended Equipment
How to Make Red Velvet Donuts
Preheat the oven to 350 degrees (see below for High Altitude Donut adjustments) and spray a donut pan with a good baking spray, I like La Tourangelle or this one.
In a mixing bowl whisk together the flour, cocoa powder, brown sugar, kosher salt, and baking powder. Set aside.
In a 1-2 cup measuring cup or bowl, mix together buttermilk and egg, then add vanilla to melted and slightly cooled butter, slowly whisk into the buttermilk and egg mixture until smooth.
Make a well in the center of the dry ingredients and pour the liquid ingredients in, using a rubber spatula, fold in the liquid until the mixture is combined and no dry ingredients remain, careful to not over mix.
Add red food coloring if desired. Use a spatula to gently mix together. Natural food coloring will add some color, but not very vibrant.
Fill the donut pan with batter, but don't overfill. You might have a little extra if using smaller donut pans or you might not have quite enough for 12 if you have a large donut pan.
Bake for 8-10 minutes (high altitude start checking at the 8 minute mark), donuts are done when tops spring back when lightly touched or toothpick inserted comes out clean.
Immediately place a cooling rack on top of the donut pan and invert donuts, allowing to cool completely.
Make Irish Cream, Cream Cheese Glaze
While the donuts cool, make the glaze. Beat the butter and cream cheese until light and fluffy, add the powdered sugar and Irish Cream or milk if using until desired consistency.
You might also like my Basic Vanilla Buttercream Glaze.
Dip cooled donuts in the glaze, laying out on a wire rack to allow drips to collect below.
If desired, crumble one donut to use as a crumb decoration for the top of the donuts. I ate half and crumbled half — one must test right!
Storage
Frosted red velvet donuts are best eaten the same day, but nobody complained about eating leftovers that were a few days old. Keep in an airtight container on the counter for up to 4 days, refrigerate after that. Unglazed donuts may be frozen up to 3 months until ready to glaze, bring to room temperature, then glaze as directed.
Frequently Asked Questions
What is the difference between regular cocoa powder and Dutch-Processed cocoa powder?
Natural cocoa powder, also called regular cocoa powder is more acidic, with a more bold flavor, while Dutch processed is more mellow and not as acidic and tends to yield a darker cocoa powder. (Source)
What flavor is red velvet cake?
Traditionally a vanilla cake, with some cocoa powder, and red food coloring. So not really a chocolate cake, not really a vanilla cake, somewhere in between. Most red velvet cakes are made with cocoa powder, vinegar and buttermilk, which gives you that "velvety" texture commonly known and loved.
What's the difference between a doughnut and a donut?
Officially according to Websters, doughnut is the correct spelling, but as Americans are prone to do, we abbreviate things, and thus the "donut" was born.
My doughnuts are sticking to the pan?
Make sure to generously grease the donut pan ahead of time and as soon as you remove them from the oven, immediately invert onto a wire cooling rack.
I don't have a donut pan, can I still make baked donuts?
Yes, use a muffin tin and roll up some tinfoil and set in center of each muffin tin, pipe the donut batter around the center piece. Watch this video, Matt shows how to make one.
High Altitude Red Velvet Donuts
If baking above 3000 feet, I recommend using these adjustments for your red velvet doughnuts. I bake at mile high, 5280 to be exact and these turned out beautifully!
Increase flour by ½ – 1 tablespoon
Decrease brown sugar to ⅔ cup
Decrease baking powder to ¾ teaspoon
Bake in a preheated 375 degree oven for and start checking at 8 minutes for doneness.
Variations
All-natural Red Velvet Donuts | Omit the red dye all together, you have more of an all-natural reddish brown color, which is not necessarily unappealing and there is no red food coloring involved.

Try using 1 teaspoon beet powder or hibiscus powder, giving it a red hue, but won't make it vibrant red.

Drizzle on the frosting instead of dunking the baked donuts in the cream cheese frosting.
St. Patrick's Day Green Velvet Donuts | Swap out green food coloring for the red.
Mini Red Velvet Doughnuts | I have not tried these in a mini doughnut pan, but it should work fine, check them at about 5-6 minutes, they should spring back when lightly touched.
Fresh Tips
Don't overfill the pan!
Don't overmix or overwork your batter
Generously grease the donut pan for easy release
Cool donuts completely before frosting (if not, the frosting will all slip off!)
I hope you enjoyed this recipe, be sure to comment and rate the recipe below.
More Valentine's Day treats
It's time to start planning our Valentine and Galentine events, you'll need some lovely recipes to serve! Check out these delightful Valentine Sweets and Cocktails, all part of the #ValentineSweets blogging event hosted by Michaela from An Affair from the Heart: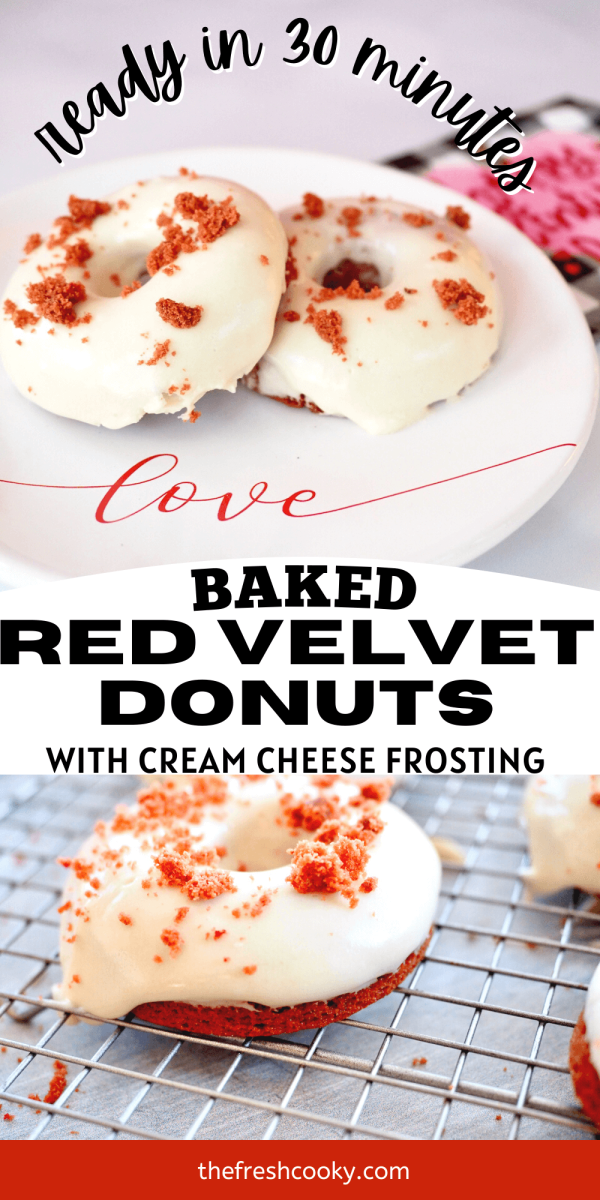 Like this recipe?
Don't forget to give it a ⭐️⭐️⭐️⭐️⭐️ star rating and comment below the recipe!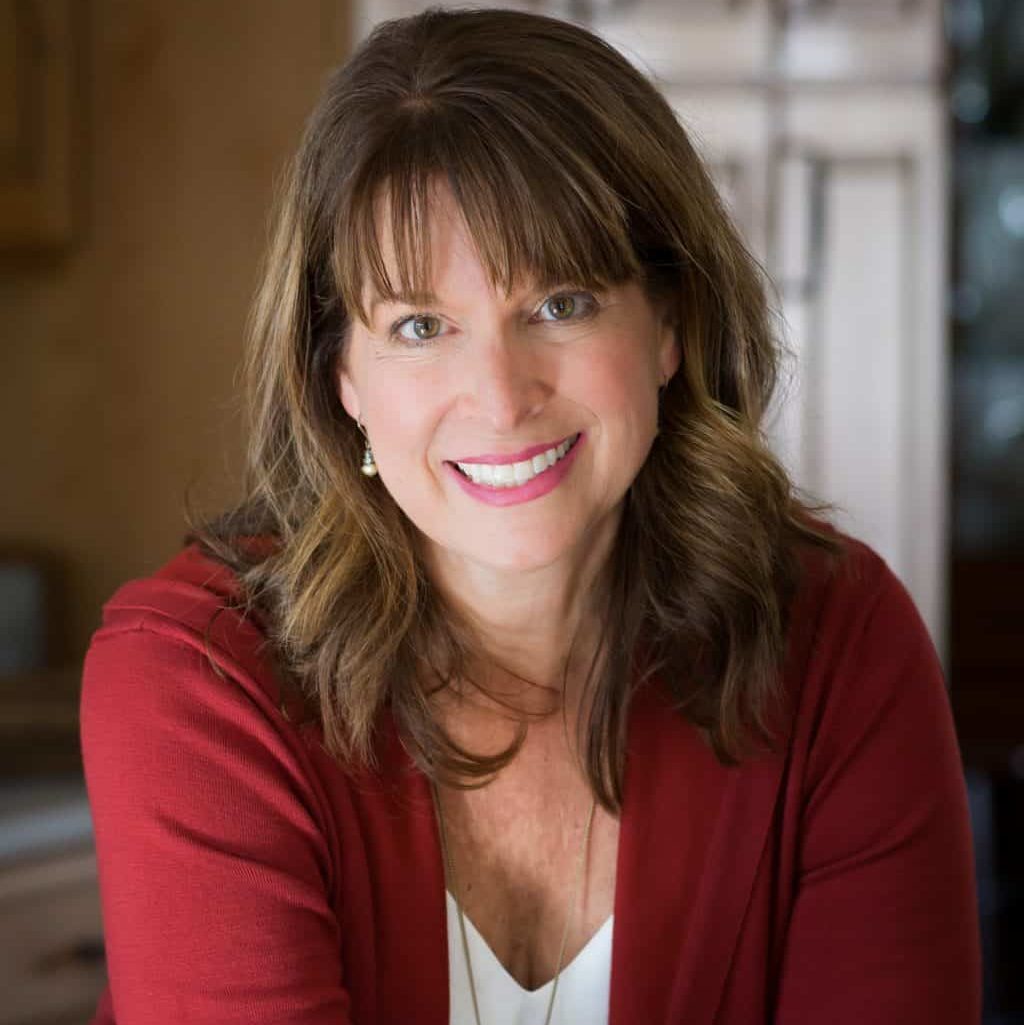 About Kathleen Pope
Recipe Innovator | Food Photographer | Food Writer
Hi, I'm Kathleen Pope. Here at The Fresh Cooky you will find easy, mostly from-scratch, trusted recipes for all occasions. From speedy dinners to tasty desserts, with easy step-by-step instructions. I am here to help teach you how to make mouthwatering recipes without spending hours in the kitchen. Read more about Kathleen here.