One Pot Creamy Italian Sausage Pasta Recipe
As an Amazon Associate, I earn from qualifying purchases. Please read my disclosure policy.
This One Pot Creamy Italian Sausage Pasta Recipe is an irresistibly easy dinner and packed with incredible flavor! Al dente pasta and Italian sausage are smothered in a creamy tomato sauce. It's a hearty one pot dinner the whole family will love, even the picky eaters.
The best part is that this Italian Sausage Pasta requires simple ingredients, there is no cream cheese AND is ready in under an hour! A family favorite!
For more Italian classics, try my Grandpa Frank's Spaghetti Sauce, this Classic Italian Tiramisu Recipe, or my Easy Italian Wedding Soup.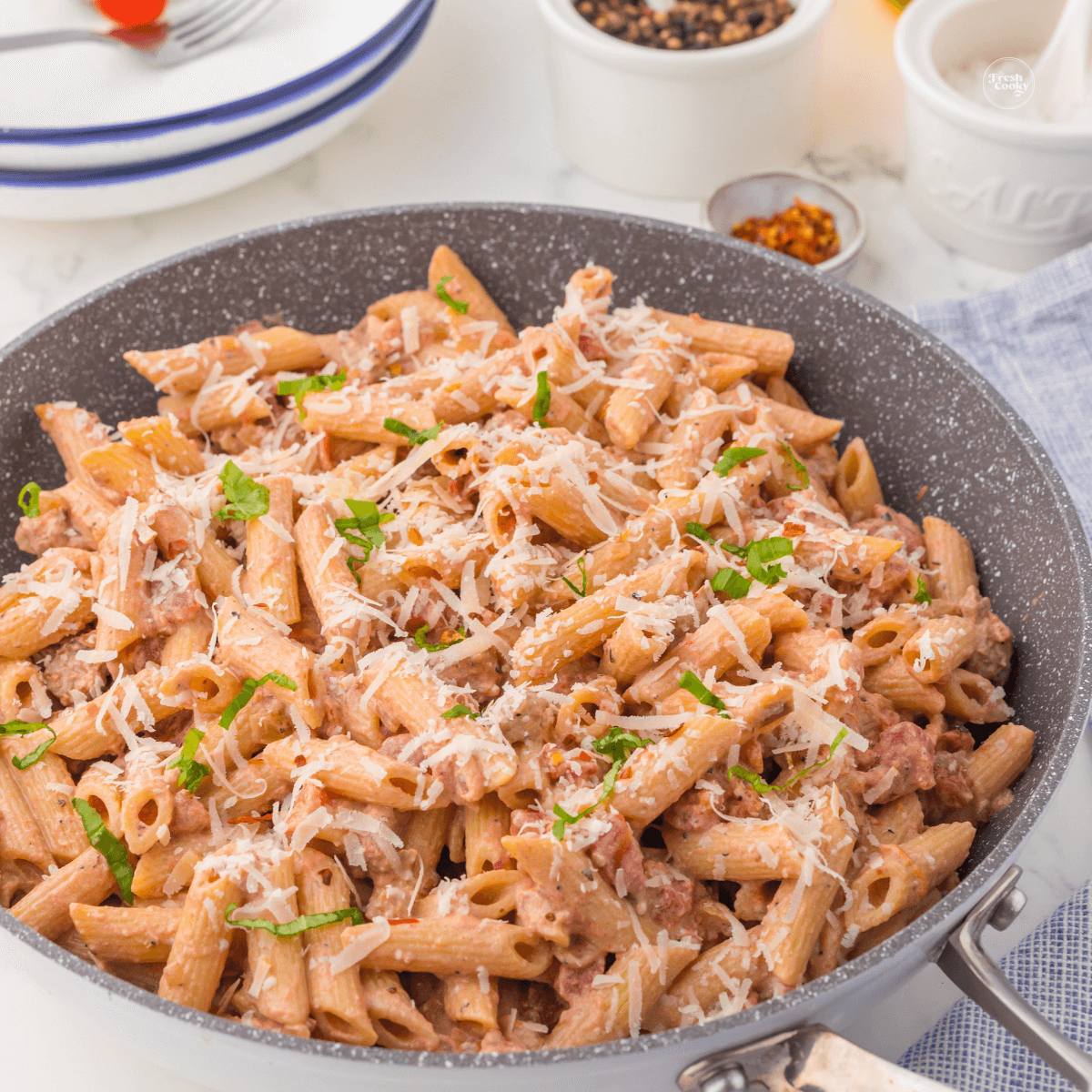 Why You Will Love this One Pot Creamy Sausage Pasta
Creamy and Flavorful – Transport your family to Italy with these authentic ingredients, like freshly grated parmesan cheese, oregano, and red pepper flakes, all tied together with a creamy tomato sauce.
Comforting – Sometimes, we can all use a little comfort. This dish is oh-so-cozy!
One-Pot Pasta Recipe – The perfect recipe for busy weeknights. One-pot meals are the best, with fewer dishes, makes me think about this Tamale Pie!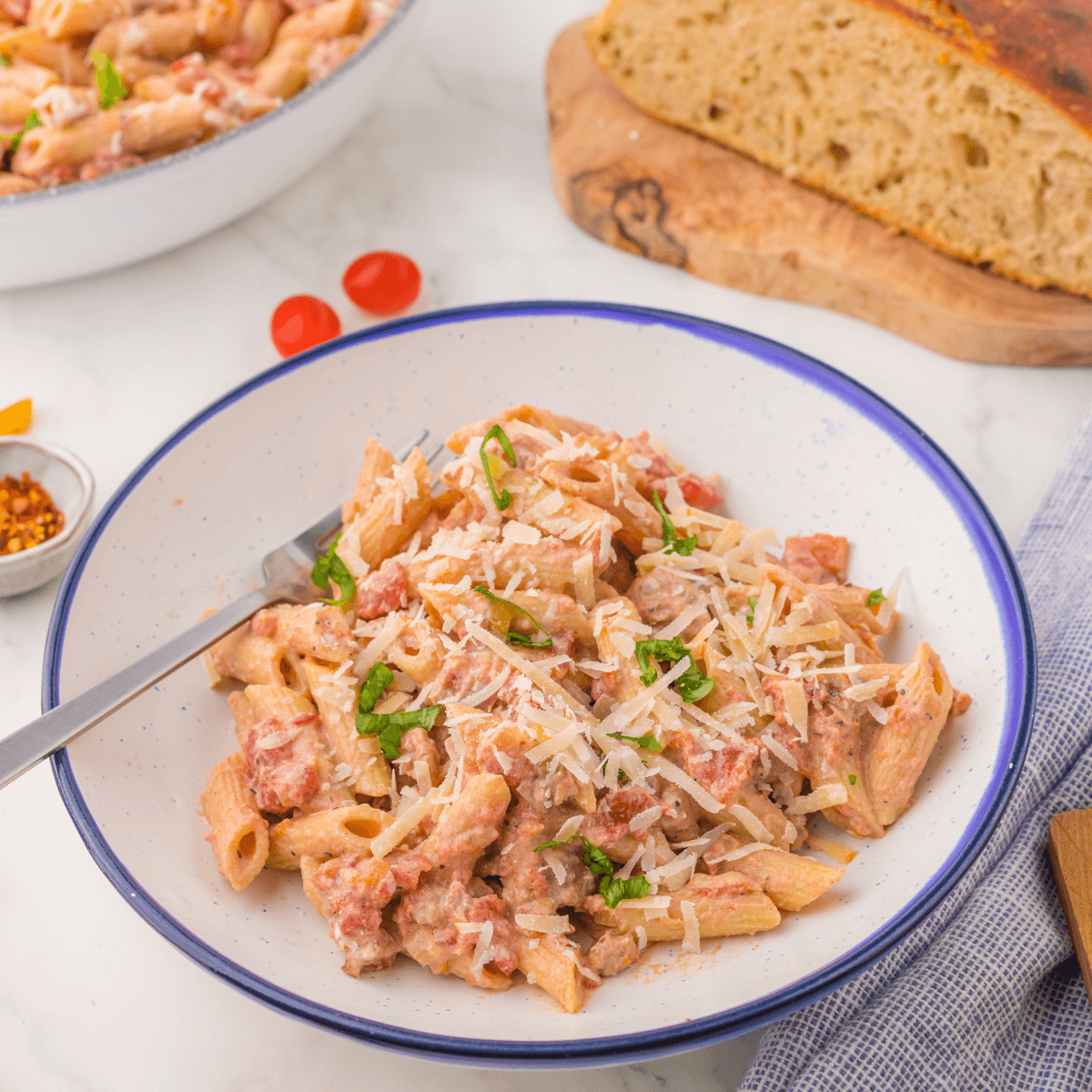 This recipe easily has 6-8 servings. However, you can alter it to serve just two. All you need to do is reduce the recipe by ¼. Make the whole recipe and freeze leftovers in individual servings (love these freezer cubes) as pasta reheats exceptionally well.
Key Ingredients
Ingredients, directions and nutritional information in the printable recipe card at the end of the post.
Penne pasta – The ridges and large center of penne pasta make it ideal for holding more creamy sauce.
Olive oil – You'll use a dash of olive oil to cook the sausage for this recipe.
Italian sausage – Use bulk sausage or sausage links. Use mild Italian sausage or make a spicy sausage pasta.
Shallots – Shallots – If you've never tried shallots, now is the time, they have a delicate and sweet flavor, but you may use white or yellow onions if desired.
Diced tomatoes – Canned diced or crushed tomatoes are a classic addition to the creamy ingredients. Use regular or fire-roasted tomatoes.
Seasoning – You will season the pasta recipe with garlic powder, dried oregano, and red pepper flakes. At the end of cooking, you will also sprinkle in kosher salt and black pepper to taste. Don't be afraid to adjust the seasonings to your taste. For instance, add more red pepper flakes if you prefer a higher spice level. Or omit this ingredient if you aren't a fan of heat.
Half and half – Half and half create the creamy sauce in which your pasta and sausage are smothered. If necessary, use Greek yogurt, heavy cream, or even coconut milk as a substitute.
Grated parmesan – Grated parmesan is mixed into the pasta which adds to the creaminess, much like Alfredo sauce. I recommend grating a good quality Parmesan cheese for the most authentic taste.
Basil – Garnish the Italian pasta with fresh basil leaves. If you don't have fresh basil, use one teaspoon of dried basil instead.
Water or chicken broth – Pour in some water to add to the sauce to thin if needed. Use chicken broth, instead, if you want a more robust flavor.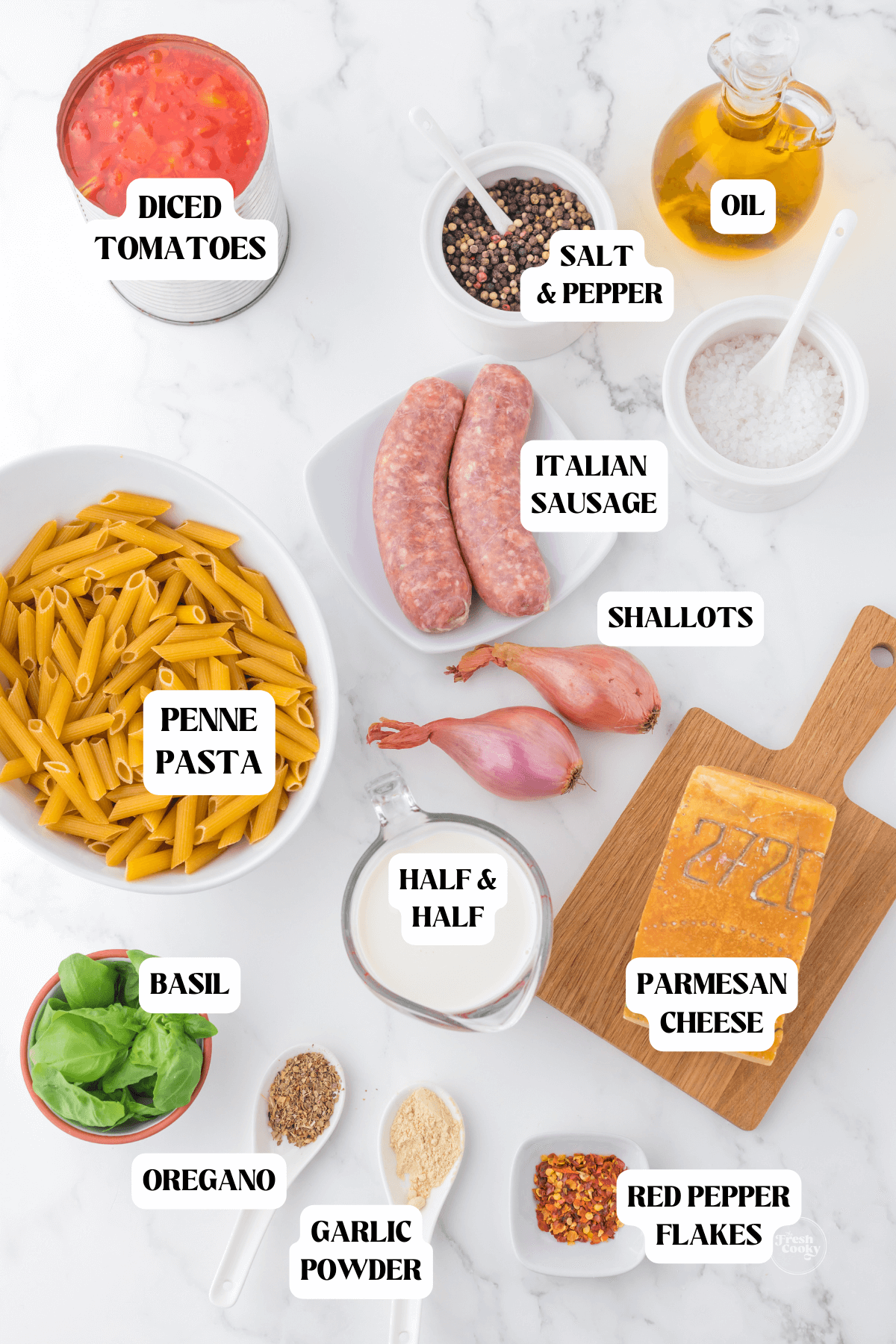 How to Make Creamy Sausage Pasta
Option 1 | One-Pot Method
How could you turn down the chance to use just one pot for an entire family dinner, like this easy One-Pot Lemon Garlic Pasta Recipe.
Step 1 – Saute veggies and sausage
Add olive oil, shallot (or chopped onion), and savory sausage to a large pot. Next, cook the meat over medium-high heat and crumble it as you go. After about 10 minutes or less, the meat should be cooked through.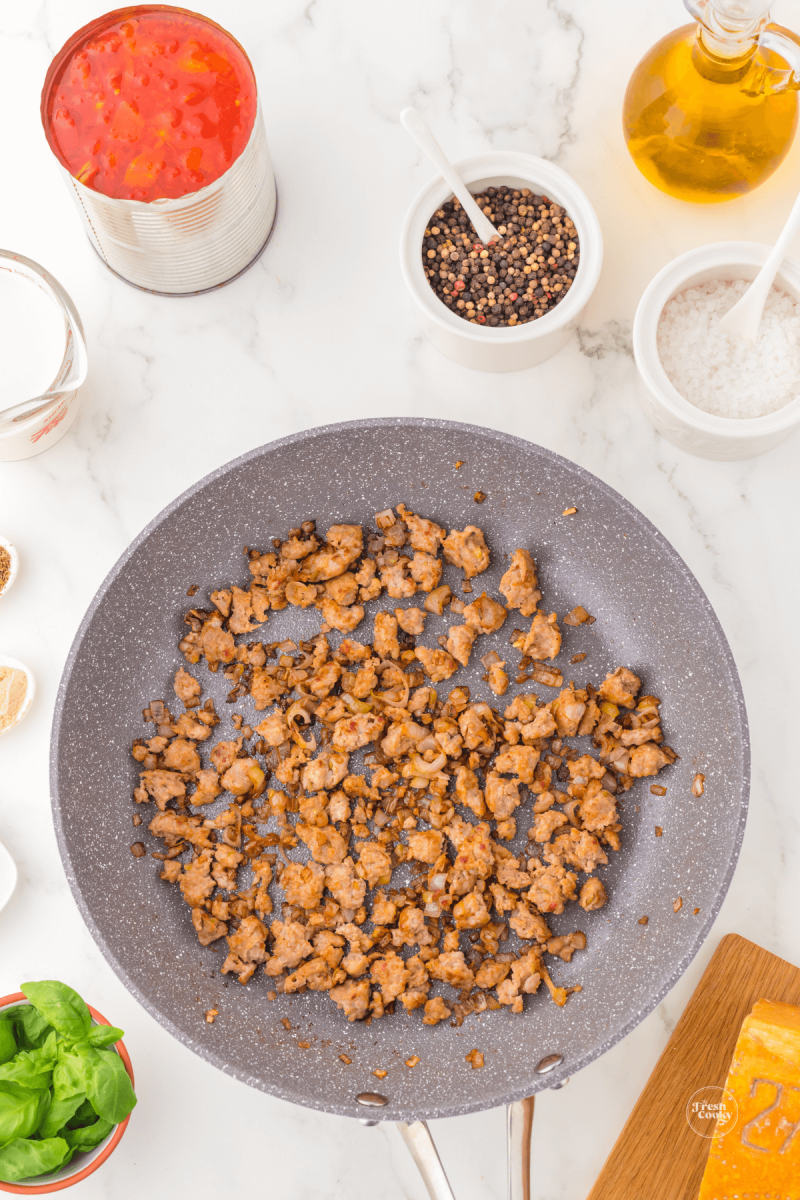 Then, pour the can of tomatoes, garlic powder, and dried oregano into the same pot. Reduce to medium heat and simmer for about 15 minutes.
Step 2 – Cook the pasta
Next, pour in about three cups of water, chicken broth, or a combination. Toss in the pasta, pushing it down into the liquid. Bring to a boil, reduce heat to simmer, cover, and allow it to simmer for 15 minutes or less.
Be sure to stir the recipe every few minutes to prevent the pasta and other ingredients from sticking to the bottom of the pan. Adding more water or broth as needed. The goal is to keep the pasta covered with liquid so it boils evenly and entirely.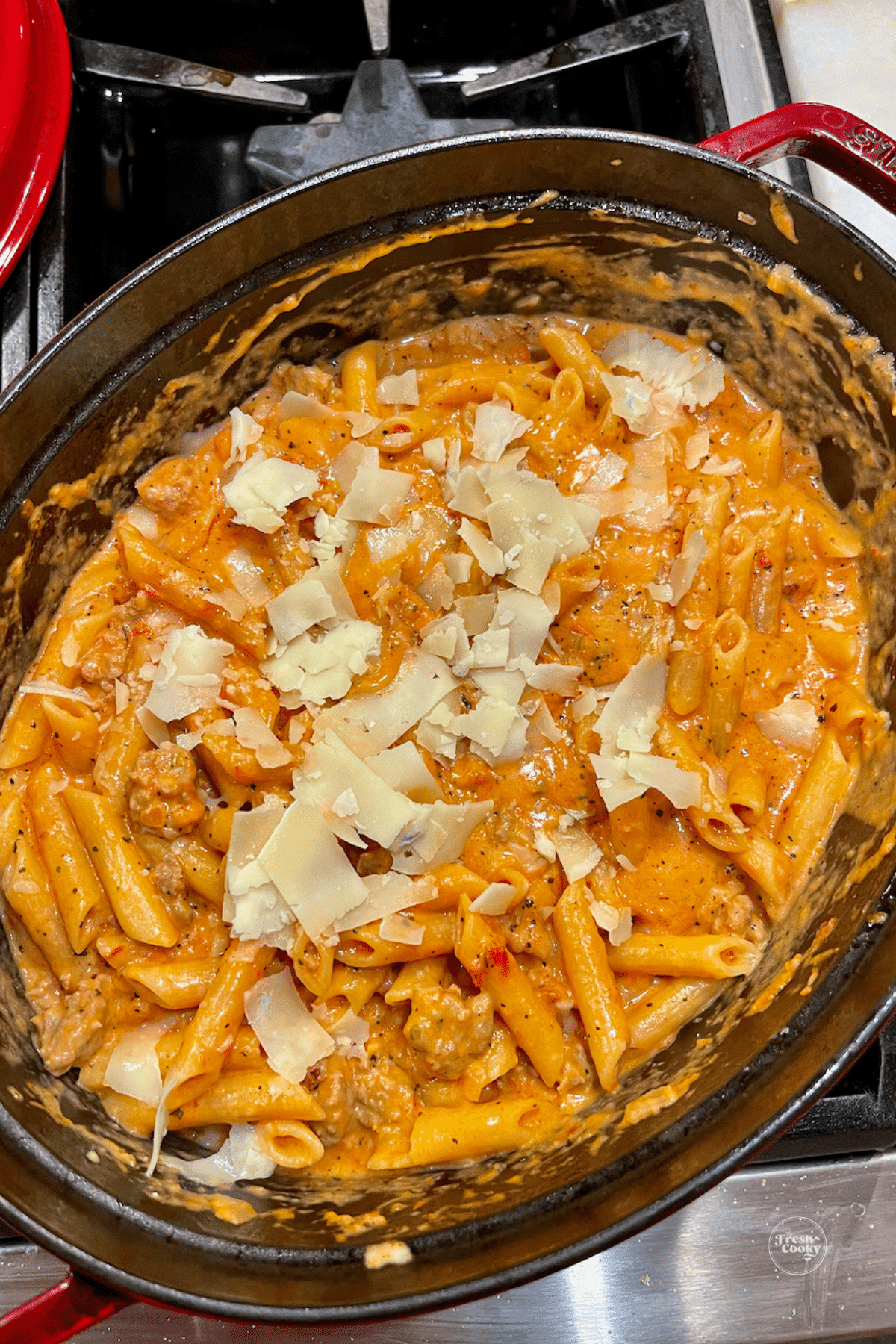 Once the noodles are al dente, add the half and half and some freshly grated parmesan cheese. Cook for another five minutes, then it's ready to be served! Add your finishing touches with basil leaves and a sprinkle of parmesan cheese.
Option 2 | Cook Pasta Separate
Start your delicious dish by cooking the pasta noodles, al dente according to package directions.
If you're using sausage links, remove the casings, then add the meat to a large saucepan or large skillet. Set the burner to medium-high heat and add olive oil and the shallot.
Cook while crumbling the mild or hot Italian sausage, using a flat wooden spoon or meat chopper. The sausage will take around 7 to 10 minutes to be fully cooked.
Then, toss in the can of diced tomatoes, dried oregano, and garlic powder. Lower the temperature and simmer the meat in the seasonings for about 15 minutes.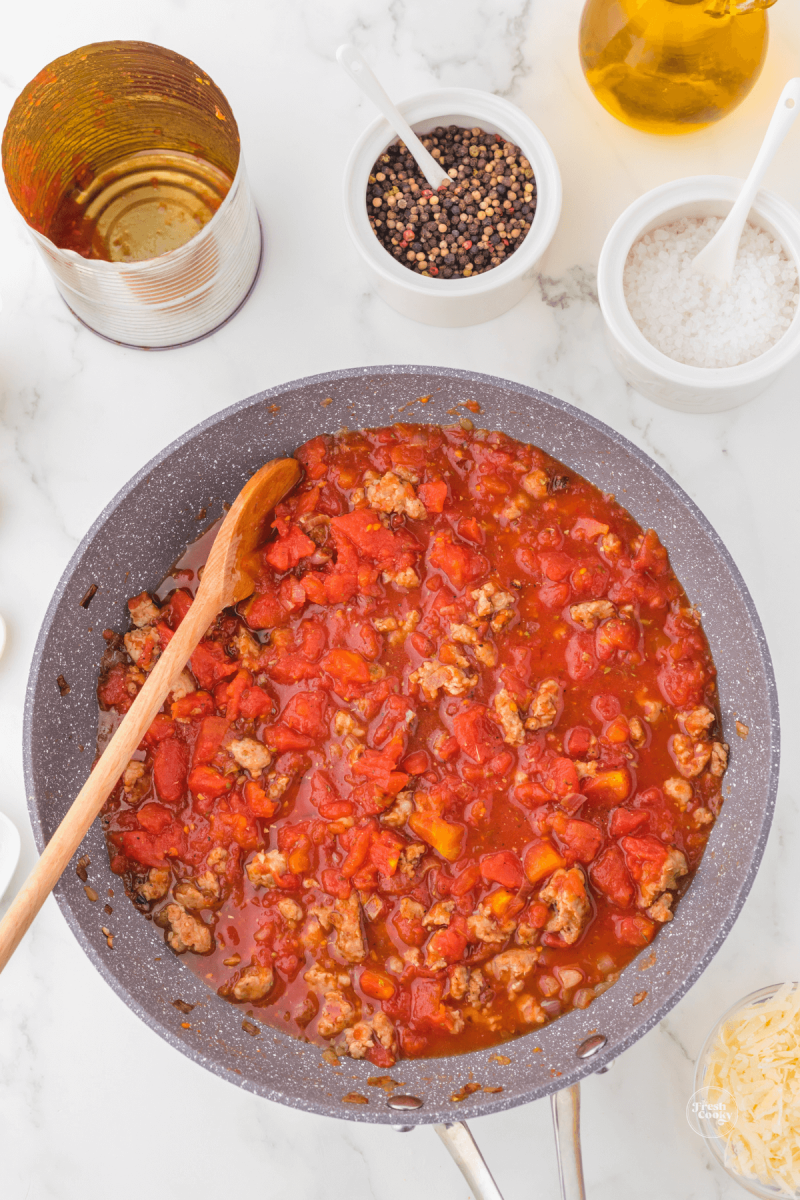 Once the flavors have melded together, pour your half-and-half into the saucepan or skillet. Sprinkle on some grated parmesan cheese, add the cooked pasta and sauce, then cook for another five minutes. Be sure to stir the final recipe well so the pasta is smothered in the creamy Italian sauce.
Lastly, garnish with fresh basil leaves and extra parmesan cheese. ENJOY!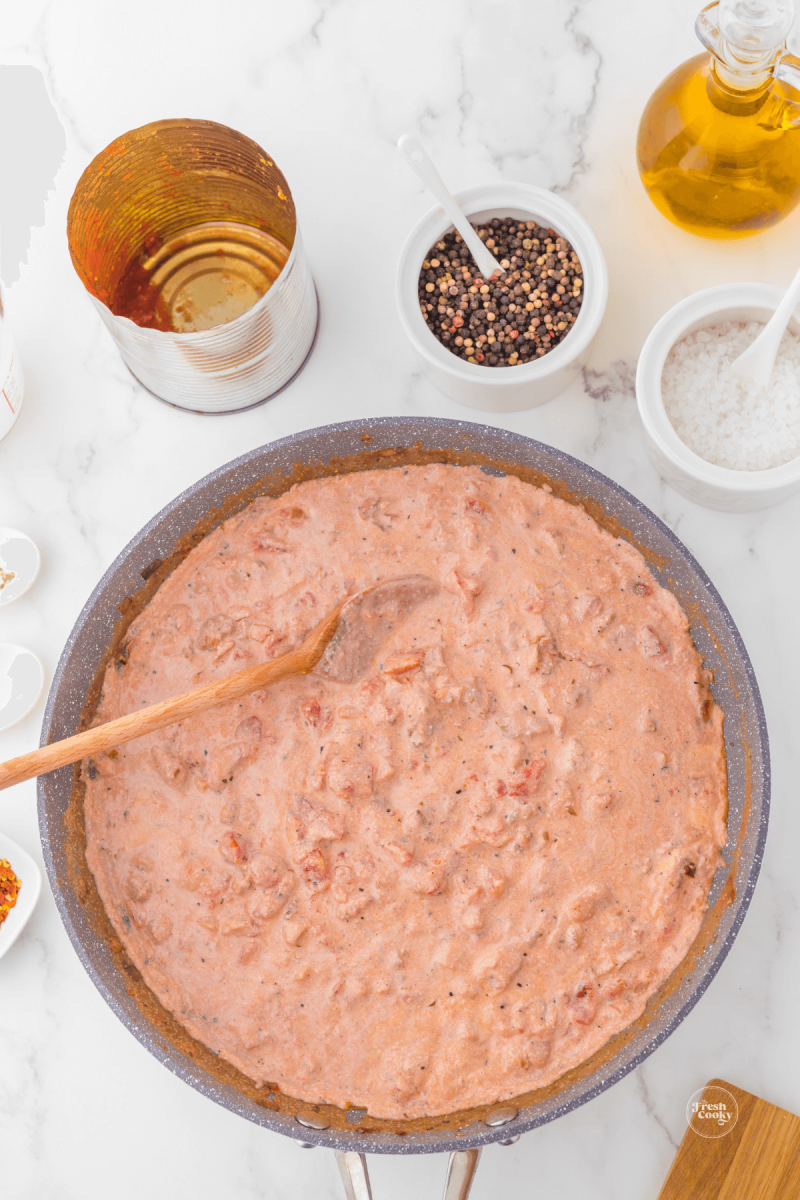 Fresh Tips
For the most authentic and tastiest Italian dish, avoid overcooking the pasta. You want to stop once it is al dente so the pasta won't be too mushy.
Al dente pasta is always more delicious when you use quality noodles rather than a budget brand. Because they are cooked a little less, the flavor holds, making a big difference when you use high-quality pasta vs. cheaper brands.
Variations & Substitutions
Swap the Pasta – If preferred, you can switch the type of pasta by using bowties, spirals, or another variation. Just be sure to cook it according to the instructions on the packaging.
Use Different Sausage – Give this recipe a personal twist using your favorite sausage, like chicken, kielbasa, or Andouille sausage and maybe even replace the Italian seasoning for Cajun seasoning, like my Instant Pot Jambalaya (so good!)
Add More Veggies – Toss in shredded or diced zucchini, red bell pepper, fresh spinach, or mushrooms for a boost of flavor and nutrients.
Make it Creamier – Swap the half and half for heavy cream if you'd like an extra creamy pasta that further enhances the Italian seasoning.
Add more tomato flavor – After sautéing the shallots and sausage, remove sausage, stir in a small can of tomato paste. Don't forget to return the sausage to the pot.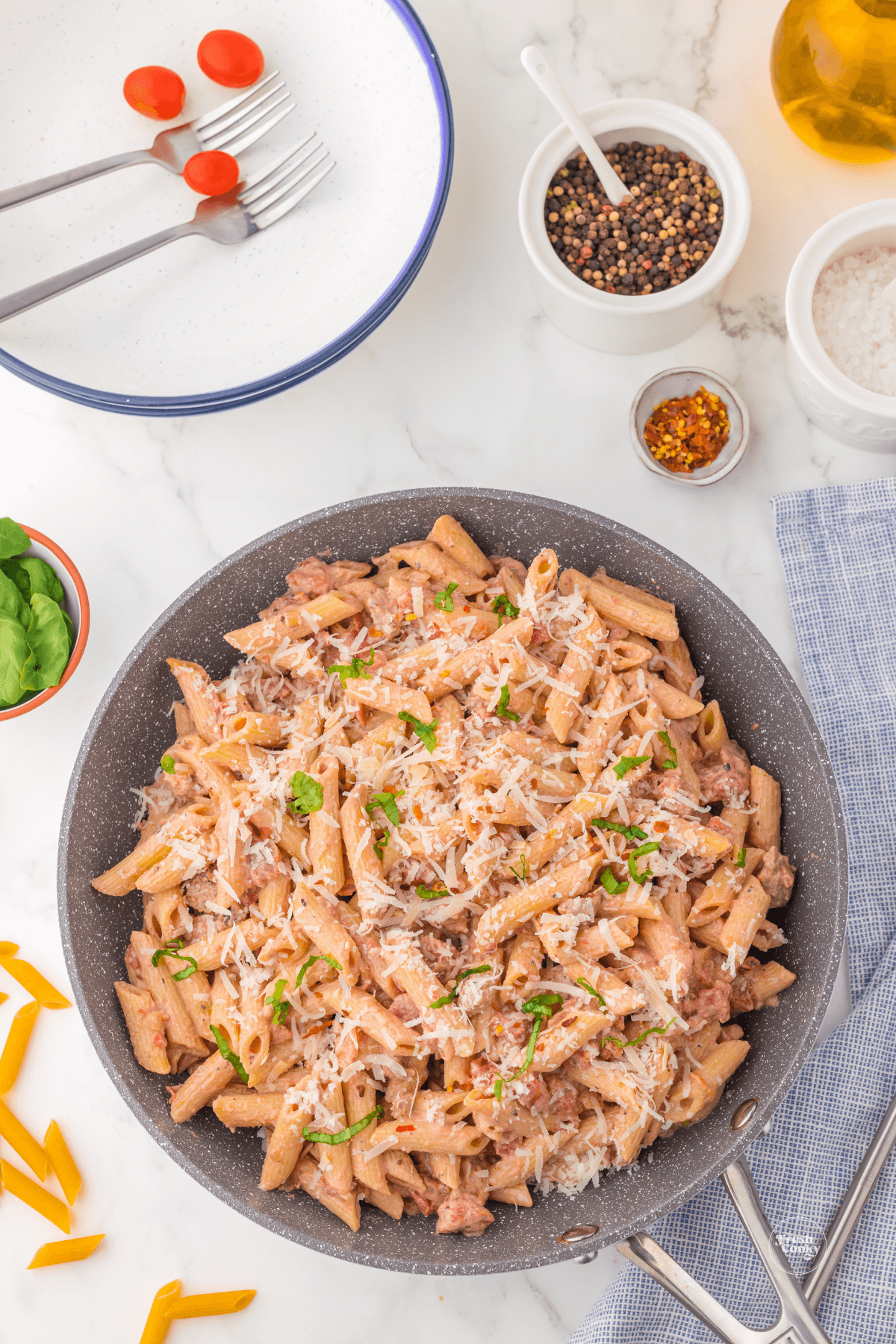 Storage Tips
Freeze after cooling in an airtight container up to 3 months. While the cream may get a curdled appearance after freezing, it doesn't impact the flavor and taste. When reheating, follow make-ahead instructions.
Transfer cooled pasta to an airtight container and store it in the fridge for 3-5 days. Then, reheat it in the microwave on the stove when you're ready to serve it again! Add a splash of cream, water or chicken broth
Frequently Asked Questions
What are the taste and the texture of the Italian sausage pasta?
This Italian sausage pasta is savory with a subtle spice and a creamy texture. When you cook the pasta al dente, it makes for a firm bite, while the spicy Italian sausage gives it a hearty taste. The red pepper flakes and other seasonings give the recipe a slight kick of spice and that signature Italian flavor.
Can you substitute the Italian sausage for another meat?
If you're not a fan of classic Italian sausage, substitute it with another kind of sausage or an entirely different meat. Try ground pork, fresh chicken, rotisserie chicken, ground turkey, ground beef, or even a plant-based meat alternative.
Can you make creamy Italian sausage pasta dairy-free?
Yes, you can! Swap the half and half for unsweetened coconut milk. EASY!
What does al dente mean?
In Italian, it literally means "to the tooth." Simply put, the pasta should still be a little firm when you take a bite.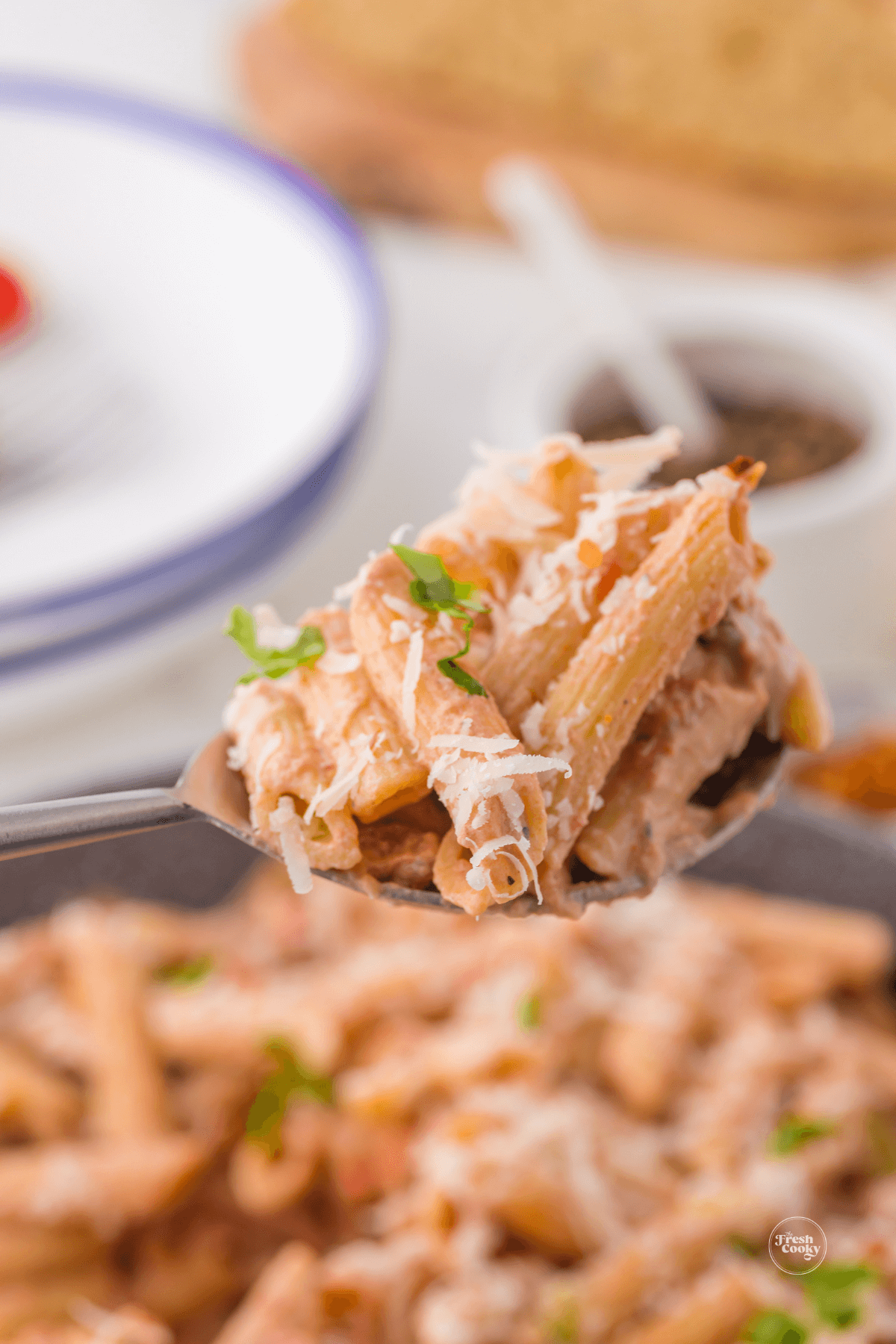 Gluten-Free One Pot Creamy Sausage Pasta
Substitute gluten-free pasta for regular pasta, my favorite brand is Tinkyada (no mushy gluten-free pasta for me) or Trader Joe's GF pasta's. Make sure your sausage and seasonings are gluten-free.
What to Serve with One Pot Creamy Sausage Pasta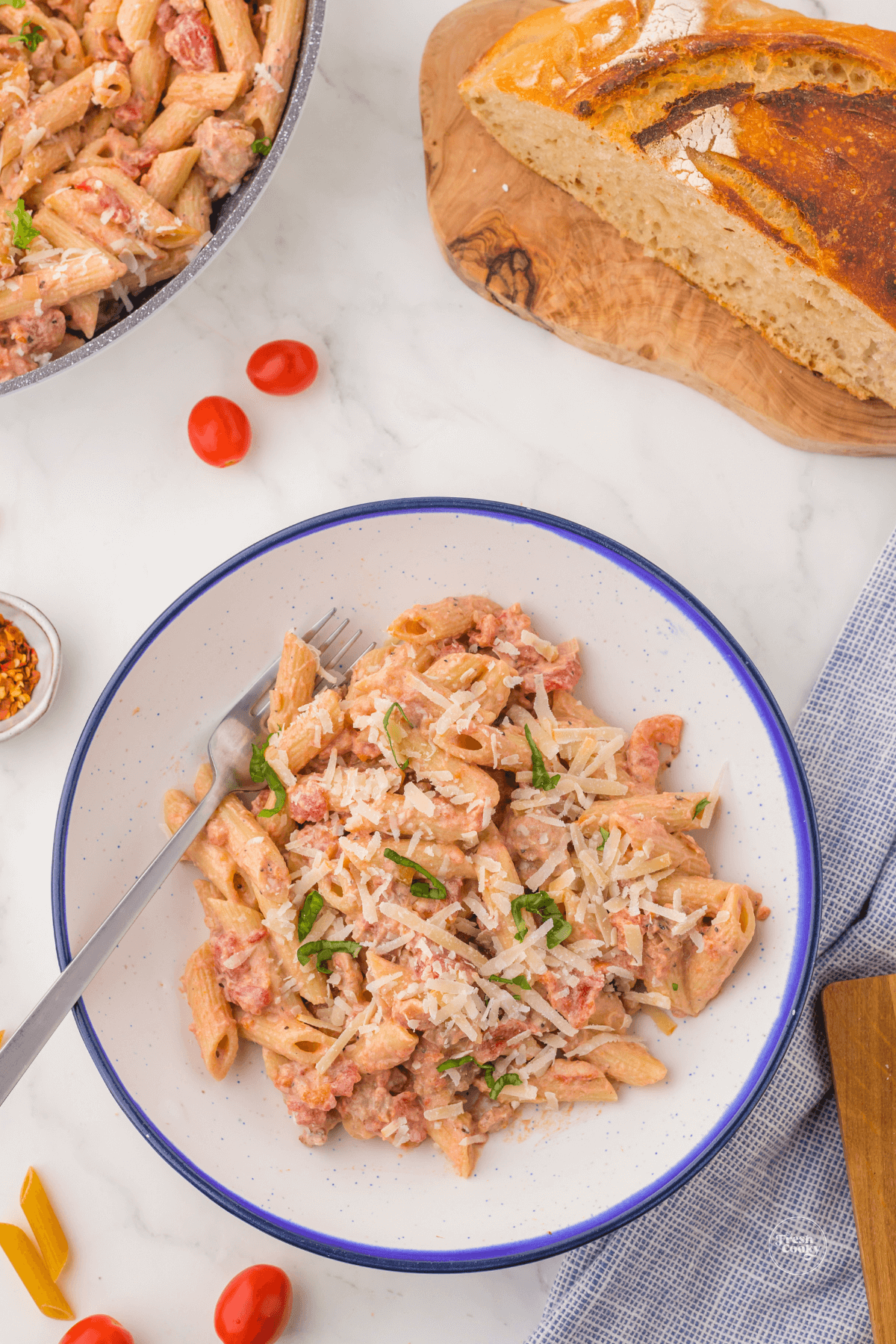 Be sure to salt your water well if boiling the pasta separately, read the package, it will typically tell you how much salt to add to the water. And do not overcook the pasta, you want a bit of "bite" still in the pasta, it's called al dente.
More Easy Weeknight Meal Recipes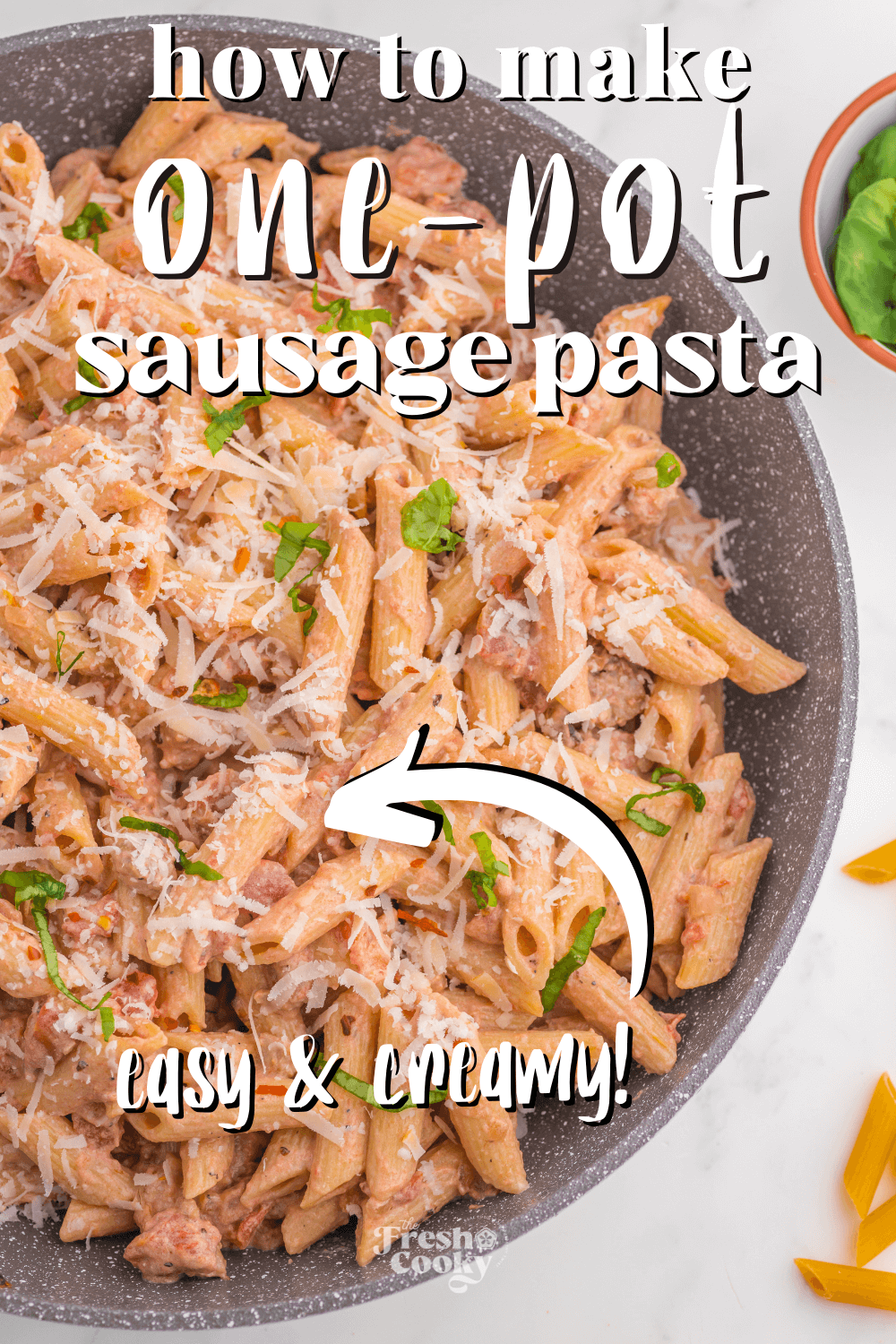 I hope you loved this one pot Italian Sausage Pasta — if you did, would you share your creation on Instagram, Facebook and Pinterest? And be sure to comment below!
Like this recipe?
Don't forget to give it a ⭐️⭐️⭐️⭐️⭐️ star rating and comment below the recipe!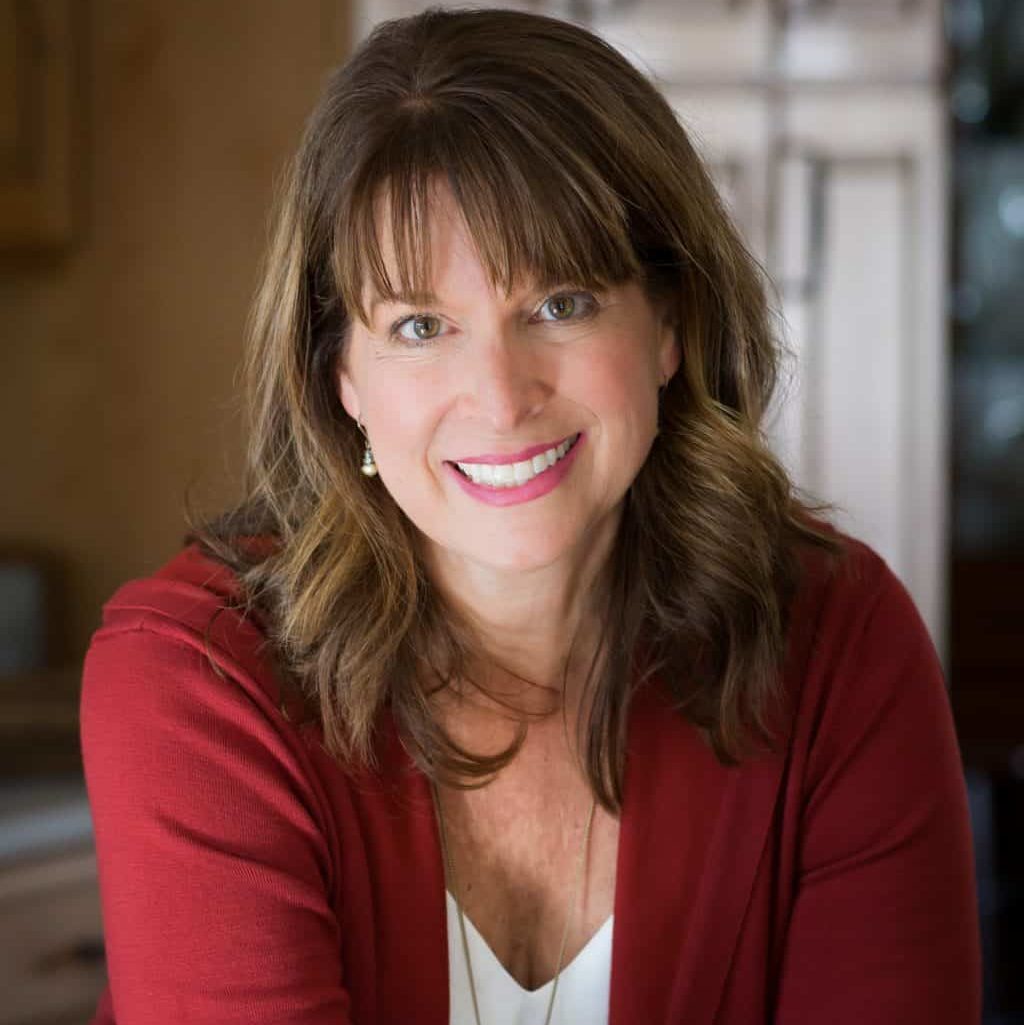 About Kathleen Pope
Recipe Innovator | Food Photographer | Food Writer
Hi, I'm Kathleen Pope. Here at The Fresh Cooky you will find easy, mostly from-scratch, trusted recipes for all occasions. From speedy dinners to tasty desserts, with easy step-by-step instructions. I am here to help teach you how to make mouthwatering recipes without spending hours in the kitchen. Read more about Kathleen here.