As an Amazon Associate, I earn from qualifying purchases. Please read my disclosure policy.
Juicy, ripe red watermelon, frozen and blended into this refreshing, delicious and healthy watermelon slush! With just 3 main ingredients, this all natural, no sugar slushie recipe is the essential cool summer drink – low calorie too!
Surprise your kids with a yummy non-alcoholic watermelon slushie; this drink is cool, refreshing, slurp-able and so darn easy! Or make into a special, fun cocktail for a party!
If you love refreshing summer drinks, please run and make these fan favorites: Cherry Bomb Cocktail, Hibiscus Dark & Stormy, Frosted Lemonade, Blueberry Limeade, or this Passion Tea Lemonade (copycat Starbucks).
The inspiration for this drink came from my physical therapist; during a session we were chatting about what we were doing for the 4th of July and she mentioned that she always makes this drink. I needed no other prodding, I bought a watermelon and went to work!
Farmer's Market Week
I am excited to join many other talented blogging friends this week as we highlight fresh recipes you can make using finds from your local Farmer's Market. These ladies have created delicious and beautiful recipes that are linked at the bottom of this post.
My contributions to Farmer's Market Week are this Watermelon Slushie, Zucchini Corn Fritters and this juicy Heirloom Tomato Pie, I hope you try them all!
Ingredients
Talk about easy, the hardest thing about this recipe is remembering to slice and freeze the watermelon!
Instructions
Don't forget to FREEZE the watermelon into bite size chunks ahead of time, at least 18-24 hours.
Remove frozen watermelon from freezer and allow to "thaw" for 5-10 minutes before starting the watermelon slush process.
Place all of the ingredients, EXCEPT the water, into a high speed blender*, add half of the water and pulse to break up the watermelon.
No High Speed Blender? Add all of the ingredients to a food processor and pulse to combine, a blender just makes this recipe easier for pouring.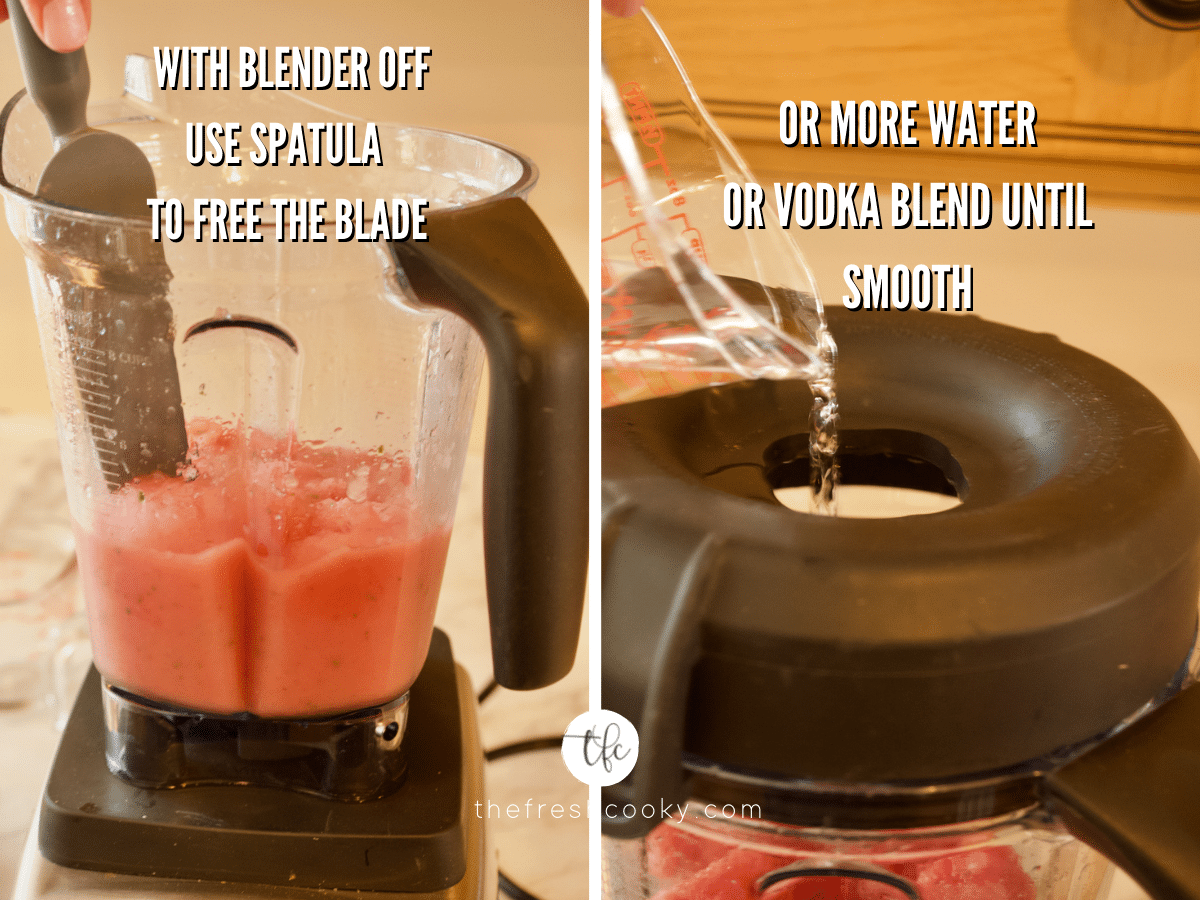 You will probably have to stop the blender several times and use a long spatula to dislodge frozen chunks from the blender blades — BE SURE TO TURN OFF BLENDER before doing this step.
Add more water (or add vodka) to achieve your desired smooth, slushie blend.
If the mixture is too thick, simply add a little extra water and blend until desired consistency. Immediately pour into glass and serve.
Garnish | Optional, add wheel of lime, wedge of watermelon (or watermelon balls on a cocktail stick), and a sprig of mint.
TFC TIP | Whirring the watermelon in a high speed blender will add air, muting the colors of the drink into a lighter pink; as it sits, the watermelon red will start to pop back out, but it's delicious any color!
How to Rim a Glass With Sugar
If you want to rim your glass with sugar, you can do it one of several ways.
Substitutions
This recipe is naturally LOW CALORIE and SUGAR FREE and tastes delicious, if you want to switch it up:
Variations
Here are all of the fun and favorite ways we've enjoyed this drink since first trying it!
Recommended Equipment
Storage
If you have leftover frozen watermelon slushies, pour into plastic freezer container and freeze. When ready to drink again, allow to sit on counter to soften slightly for 10-15 minute, then re-blend to smooth.
Since these blend up so quickly, I do not recommend blending ahead of time, unless you have room in your freezer to safely place filled glasses or the blender with the slushie in side of it.
TFC Top Tip
Be sure to freeze your watermelon at least 18 hours before making this drink, this will yield the best watermelon slush.

The Fresh Cooky
Farmer's Market Week is always the first week in August. Whether you have a great local farm stand or market, are a member of a CSA or purchase your fruits and vegetables at the supermarket, follow our
Pinterest board
, for great recipes including those for appetizers, drinks, breakfast, lunch, dinner, dessert and more.
Pairing Ideas
This recipe goes great with any meal!
Please follow me and share on Pinterest, Instagram, Facebook and Twitter!
Like this recipe?
Don't forget to give it a ⭐️⭐️⭐️⭐️⭐️ star rating and comment below the recipe!
Here's more Farmer's Market Week Recipes
Starters and Drinks Recipes
Side Dishes Recipes
Main Dish Recipes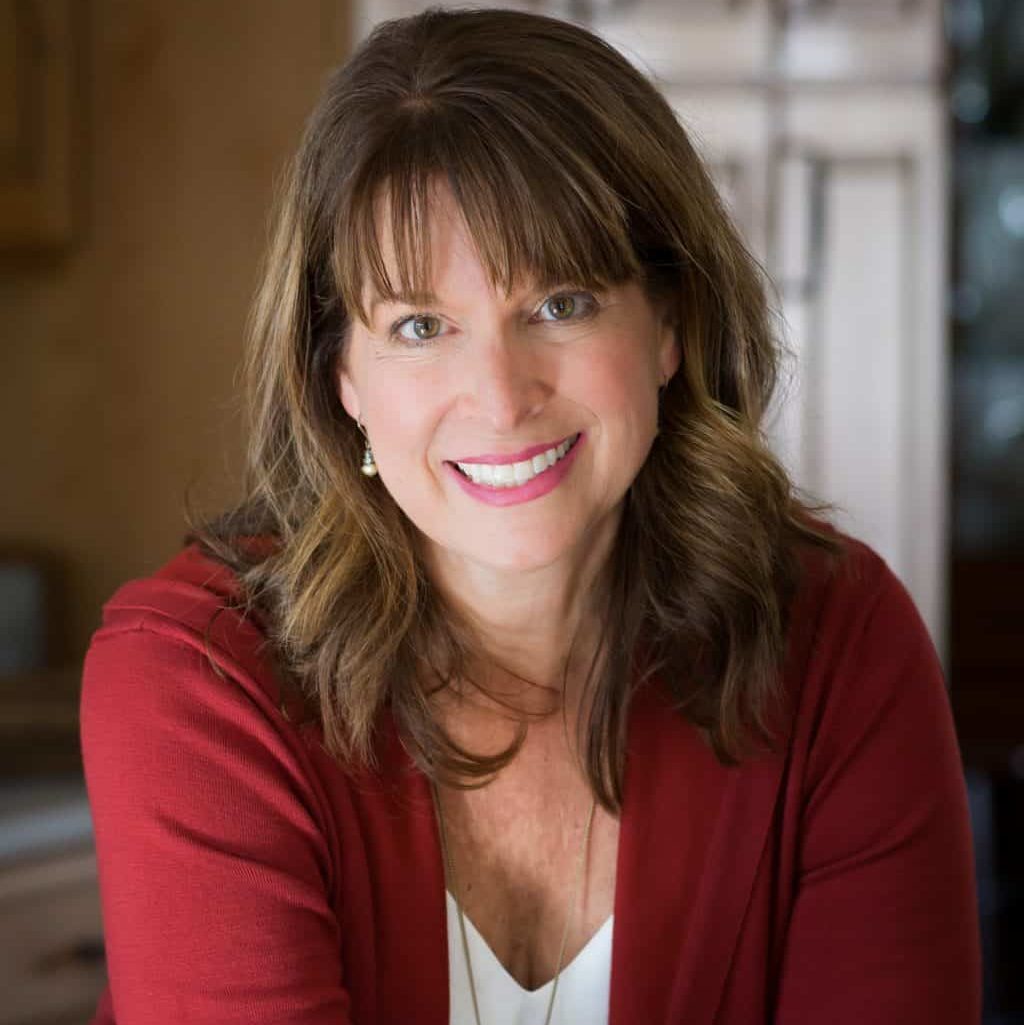 About Kathleen Pope
Recipe Innovator | Food Photographer | Food Writer
Hi, I'm Kathleen Pope. Here at The Fresh Cooky you will find easy, mostly from-scratch, trusted recipes for all occasions. From speedy dinners to tasty desserts, with easy step-by-step instructions. I am here to help teach you how to make mouthwatering recipes without spending hours in the kitchen. Read more about Kathleen here.