The Best Southern Tuna Salad Recipe
As an Amazon Associate, I earn from qualifying purchases. Please read my disclosure policy.
Are you ready for the Best Southern Tuna Salad Recipe? Made with canned tuna, hard-boiled eggs, silky mayo, pickle relish, and a dash of smoked paprika, my classic recipe is great for meal prep, low-carb, sandwiches and making an open face tuna melt.
This tuna salad is great for a quick and simple snack, a low-carb meal, and just in time for Lent and fish Friday's! I love having healthier and easy-to-make recipes on our dinner or lunch rotation. Elevating a regular ho-hum tuna sandwich into a great tuna salad sandwich.
For more fresh and tasty salads, try my Sherried Chicken Salad, Tarragon Chicken Salad or this Italian Pasta Salad with Sun-Dried Tomatoes.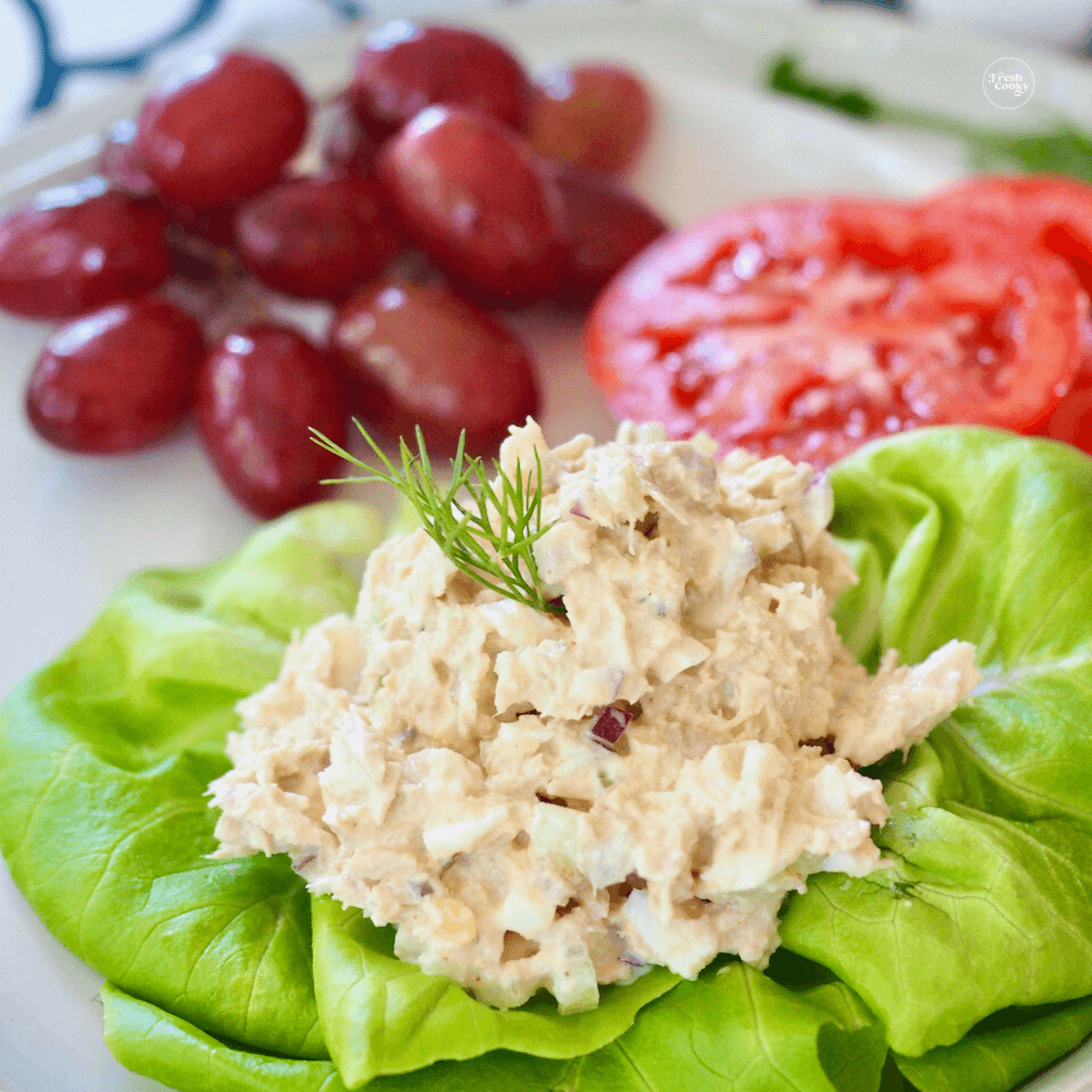 Why You Will Love this Easy Recipe
Easy to Double – This recipe serves four to five people. However, it can easily be doubled to serve a crowd.
Versatile – Use this southern tuna salad recipe in a wrap, sandwich, bed of lettuce, open face tuna melt or as a side dish or entree for lunch or dinner.
Nostalgic – If your mother or grandmother used to serve you a tasty tuna salad sandwich regularly, this recipe is sure to give you those warm nostalgic feelings!
What is Southern Tuna Salad?
I love the twists that our Southern friends put on the classics, that's what makes our country so great! Who doesn't love Cracker Barrel Hashbrown Casserole!
It's debated, even amongst Southerner's as to whether or not you use dill pickle relish or sweet pickle relish, but my family recipe includes a bit of both! The truly unique part is adding chopped hard boiled eggs – a Southern tradition! The best-tasting tuna salad sandwiches you'll make.
Healthy Twist
Low-Carb Meal or Snack – Serving the tuna salad on a bed of lettuce with tomatoes or in a lettuce wrap, or inside a scooped out tomato or an avocado. A keto wonder!
Tuna with Greek Yogurt – Swap out the mayo for plain Greek yogurt, adjust your spices to taste and enjoy a little tangier, but still delicious tuna salad.
Simple Ingredients
Ingredients, directions and nutritional information in the printable recipe card at the end of the post.
Tuna | I like to use white tuna packed in water for this recipe. You may use tuna in oil if you prefer.
Eggs | Just like with potato salad, adding hard-boiled and peeled eggs provide more protein and texture to the salad recipe.
Celery | Fresh celery adds a subtle crunch to the texture of the tuna salad.
Red Onion | Chopped red onion gives the salad a deeper flavor and vibrant pops of color.
Pickle Relish | Use dill relish or sweet pickle relish, depending on your taste, or both!
Mayonnaise | I recommend using high-quality mayo to attain the best flavor, personally I like avocado mayo.
Dijon Mustard | A little Dijon mustard adds some spice to the salad recipe.
Salt and Pepper | Sprinkle in kosher salt and freshly ground black pepper to meld the flavors together.
Celery Salt | Celery salt is mixed with celery seeds to add a slightly bitter and earthy flavor to the tuna salad.
Smoked Paprika | Adding smoked paprika, gives a subtle but unique flavor, like in this 10 Vegetable soup.
Recommended Equipment
An egg slicer makes quick work of mincing your hard boiled eggs. Lay the hard-boiled egg one direction, slice, carefully move the egg 90 degrees and slice the other direction. Perfect little egg pieces, great for tuna salad or egg salad.
Mixing Bowl – I love this small mixing with a lid, this smaller one is the perfect size, to make and then store your tuna salad in the fridge.
How to Make this Tuna Salad Recipe with Egg and Relish
Before getting started, boil the eggs, then plunge into an ice bath of cold water and allow them to cool. You can make these up to 3-4 days ahead.
Finely chop the celery and red onion with a sharp knife.
How to take the "bite" out of raw onions
Take the "bite" out of raw red onions (or any onions) by soaking chopped or sliced onions in ice water, for about 10 minutes. I used the ice bath my hard-boiled eggs were chilling in to soak the red onion. Drain and use.
And once the eggs are peeled, chop them into tiny bits or use an egg salad chopper like this one.
Then, begin this delicious tuna salad recipe by mixing the creamy dressing. Grab a medium or large mixing bowl and add the mayonnaise, spices, and pickle relish. Stir the ingredients to combine.
Pro Tip
When making a creamy dressing; add all of the ingredients into the bowl you will add your protein to, mix well, then add your protein to coat evenly.
Next, drain the tuna and add it to the mixed dressing. Then drop in the chopped eggs, celery, and red onions and mix well to combine.
Serve this classic southern tuna salad recipe immediately. However, you may also make it ahead of time. Just store the recipe in an airtight container and refrigerate for up to 3 days.
Fresh Tips
The finer you chop the veggies for this recipe, the more the flavors really blend and the less likely your picky eaters will turn up their noses to it!
You must drain the canned tuna, or the salad will be runny with the excess liquid.
Variations & Substitutions
If you prefer your tuna salad on the sweeter side, use all chopped bread and butter pickles or sweet relish.
Add more bulk to the recipe without doubling it by using an extra hard-boiled egg.
Sprinkle in finely chopped dill to heighten the dill pickle flavor. Or add in some fresh chives or parsley.
Toss in a dash of Old Bay Seasoning.
If you like your tuna salad more moist than dry, add one tablespoon of mayo at a time until the texture is as desired.
Squeeze in some lemon juice for a citrus kick.
Include chopped red bell peppers for extra flavor.
Use green onion instead of red onion or a combination of the two.
Tips for Two
Split the measurements in half or make the recipe as is and save the leftovers in the refrigerator for another day. This recipe lasts in the fridge for about three to five days.
Make it a Tuna Macaroni Salad (Tuna Pasta Salad)
Add up to ½ box of cooked elbow macaroni to the salad mixture and up to 1 cup of fresh or frozen peas. You might need to add up to an additional 1/3 cup of mayo. Stir to combine and refrigerate for an hour or more before serving.
Storage Tips
Refrigerator: You might ask, how long is tuna salad good for? Store this southern-style tuna salad in the fridge for three to five days in an airtight container.
Freezer: For longer storage time, freeze the tuna salad in a freezer-safe bag or container. It helps to freeze the salad in portions, I love these silicone freezer cubes. Plus, it makes thawing a lot quicker. Place in the fridge overnight to thaw for a snack or meal the next day.
Traveling with Tuna Salad: Transport the salad in an airtight container or sealed Ziplock bag. Use an insulated container, like a small cooler or lunch box, place it on an ice pack.
Frequently Asked Questions
How can you peel hard-boiled eggs without making a mess?
Peeling hard-boiled eggs can be a real headache. Avoid making a mess by first carefully dropping the eggs into the pot of water only after it has come to a boil. This helps the shell's membrane not to stick to the egg's protein.

Secondly, some people sprinkle a little salt into the boiling water, which is known to help with the peeling. And finally, make peeling the hard-boiled eggs a little easier by submerging them in an ice bath for 5 to 15 minutes after boiling
What tuna is best for tuna salad?
White tuna in water has a milder flavor, while light tuna typically sourced with Yellowfin and Skipjack tuna, is a bit stronger, but a softer tuna. Use tuna packed in oil or water, just drain well. Bottom line, use the tuna you normally would use!
What can I use instead of mayo in southern tuna salad?
If you'd like to swap the mayo for another similar ingredient, such as Miracle Whip, or plain Greek yogurt for a healthier alternative.
Can you freeze tuna salad?
Yes! You sure can and it's so easy! Place in an airtight freezer container or baggie and freeze up to 3 months. Thaw overnight in the fridge, give it a good stir and enjoy!
Ways to Serve Southern Tuna Salad
One of the best things about this recipe is its versatility. Use the following ideas to inspire your use of this delicious southern tuna salad:
Low-Carb Option – Top a bed of romaine or butter lettuce leaves with the tuna salad and a juicy ripe tomato wedge. Or make tuna salad lettuce wraps for the whole family to enjoy a tasty light dinner.
Classic Tuna Salad Sandwich – Dress a sandwich with this incredible tuna salad. Lightly toast the bread to avoid it getting soggy. Try it with lettuce, fresh tomatoes, and a homemade bread recipe, like some brioche or Russian Black Bread.
Keep it Simple – Serve this simple tuna salad recipe with buttery crackers, crispy potato chips, or Easy Air Fryer Steak Fries.
Southern-Style – This southern tuna salad is perfect for serving with more of your favorite southern recipes, like a refreshing Mint Julep Cocktail, Southern-Style Green Beans, and Sweet Cornbread.
How to Make an Open Face Tuna Melt
Little known fact about me, I dislike making lunch! Not because I don't like eating lunch, but it's just a thing with me! Let's not get into the psychology of why! 🙂
So an open face tuna melt is one of my go-to lunches! Because I can make this southern tuna salad recipe ahead of time, enjoy it on some lettuce, then for a light lunch or dinner, make open face tuna melts!
Split an English muffin or your favorite bread (lightly toasting first so as not to get soggy). On a baking sheet, place toasted muffin halves or toast slices, then spoon ¼-⅓ of a cup of tuna salad onto each muffin half, spreading to cover the muffin.
Preheat the broiler, then top the tuna with a slice of your favorite cheese—try pepper jack, cheddar, Swiss, Havarti, or Muenster.
Broil for 1-3 minutes until cheese is melted and bubbly – watch closely!
What to serve with Southern Tuna Salad
This is a great recipe for meal prep – make ahead and assemble as desired!
Achieve the texture you prefer by adding more mayonnaise, just a bit at a time, until the tuna salad is as moist as you like, taste and season with extra salt and pepper if needed.
I hope you loved this Southern Tuna Salad Recipe — if you did, would you share your creation on Instagram, Facebook and Pinterest? And be sure to comment below!
Like this recipe?
Don't forget to give it a ⭐️⭐️⭐️⭐️⭐️ star rating and comment below the recipe!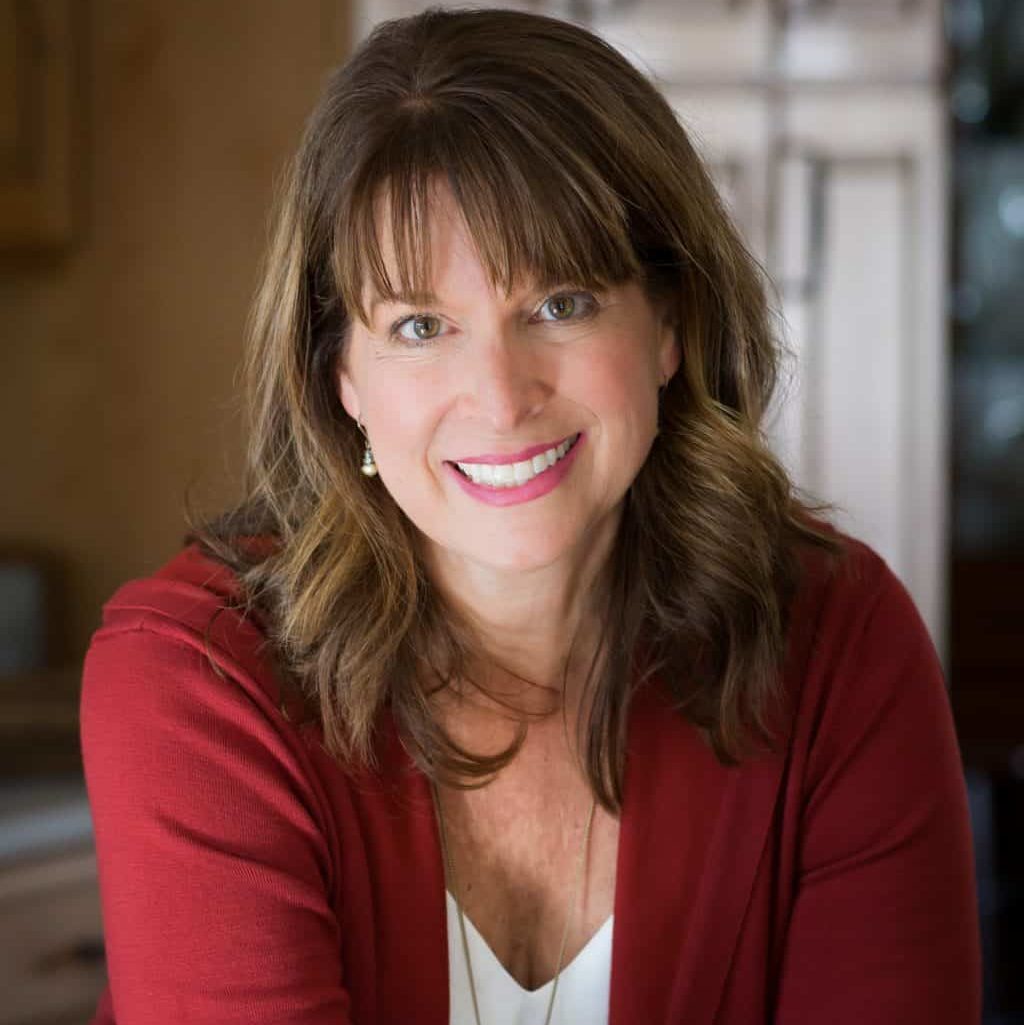 About Kathleen Pope
Recipe Innovator | Food Photographer | Food Writer
Hi, I'm Kathleen Pope. Here at The Fresh Cooky you will find easy, mostly from-scratch, trusted recipes for all occasions. From speedy dinners to tasty desserts, with easy step-by-step instructions. I am here to help teach you how to make mouthwatering recipes without spending hours in the kitchen. Read more about Kathleen here.