While we have still had a few H.O.T. days this week, the mornings and evenings are delightfully crisp and cool. I have been telling Summer, it has had it's 3 months (and then some), it is now Autumns turn!
Which is good, because this week it has been all about all the FALL FLAVORS!
I had so much fun joining 25 other food bloggers as we shared recipes all week long; inspired by all of the delicious fall flavors. You know; pumpkin, spice, butternut squash, apples, maple, the list goes on!
** GIVEAWAY **
Be sure to head to one (or all) of the 5 posts below to enter for a chance to win one of 6 prizes from our sponsors.
The giveaway closes on Saturday morning, so don't waste any time.
I would love for one of my readers (or more) to win one of the prizes! The place to enter is either just before or after the recipe in any or all of the following posts.
My husband called me the other day shortly after he left for his commute, which is quite long a couple days a week. Our older car had broken down (to the tune of $1000+), thank God he was able to safely get to an off ramp at least.
While he was waiting for AAA, he had no less than 3 good Samaritan's stop to make sure he was okay and see if he needed help. He told me, "it restored my hope in the goodness of humanity" he was very touched by their kindness!
Which leads me to this sweet letter I read in my devotional this week, I hope it encourages you too!
I am loving this devotional, Seeing Beautiful Again, if you are not familiar with Lysa Terkeurst of Proverbs 31 Ministries, you should check it out. She has been through a storm to say the least; may we all be encouraged to leave traces of beauty wherever we go!
It's been a hard year for most of us, read these encouraging words and allow them to soak into your soul.
So many fabulous tools used in the recipes this week, trying to pick just one is like trying to choose a favorite child!
But, I think I am going to choose an item that can be argued that it's not quite a kitchen tool. The jar! I am asked all the time what jars I use, these beautiful jars are made by a German company, called WeckJarshttps://weckjars.com/.
Weck jars are sturdy enough to hold up to high-heat canning, pretty enough to be used for a hand scrub, and versatile enough to be used as a drinking glass. I have all sorts of sizes and shapes of these jars. I just love them! But then again I have a bit of a jar fettish.

Popular TFC recipes on the blog and on Pinterest, these are tried and true with many reviews!
P.S. Did you know that clicking the links to the recipes on the blog is what ultimately provides the means for me to bring you fresh, new recipes each week! FREE TO YOU!
Browse through my recipe index, you will see morning sweet treats, 30 Minute Meals and Dinners of all sorts, sensational sides and of course drinks and desserts!
Visit The Fresh Cooky's Amazon Shop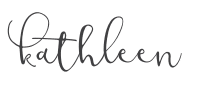 P.S. Be sure to browse through last weeks Fresh Fridays for more great recipes!
ABOUT KATHLEEN
I enjoy sharing easy recipes that are wholesome and delicious. I am fed by my faith, family, friends & food! Welcome to my kitchen! Read more...