As an Amazon Associate, I earn from qualifying purchases. Please read my disclosure policy.
Creamy, crunchy and packed with cheese and beautiful golden chunks of artichoke hearts, this recipe for Artichoke Cheese Wontons is the perfect make-ahead party snack!
What is it about finger foods? I'll tell you what it is, it's their ability to be made ahead of time, their pop in your mouth-ability and the variety they bring to a meal, I could eat appetizers for dinner every night!
You might also try these other make-ahead appetizers that are perfect for casual entertaining: Chicken Quesadillas with Caramelized Peppers & Onions, Easy Tomato Bruschetta, or Hammy Sammies (a family favorite)!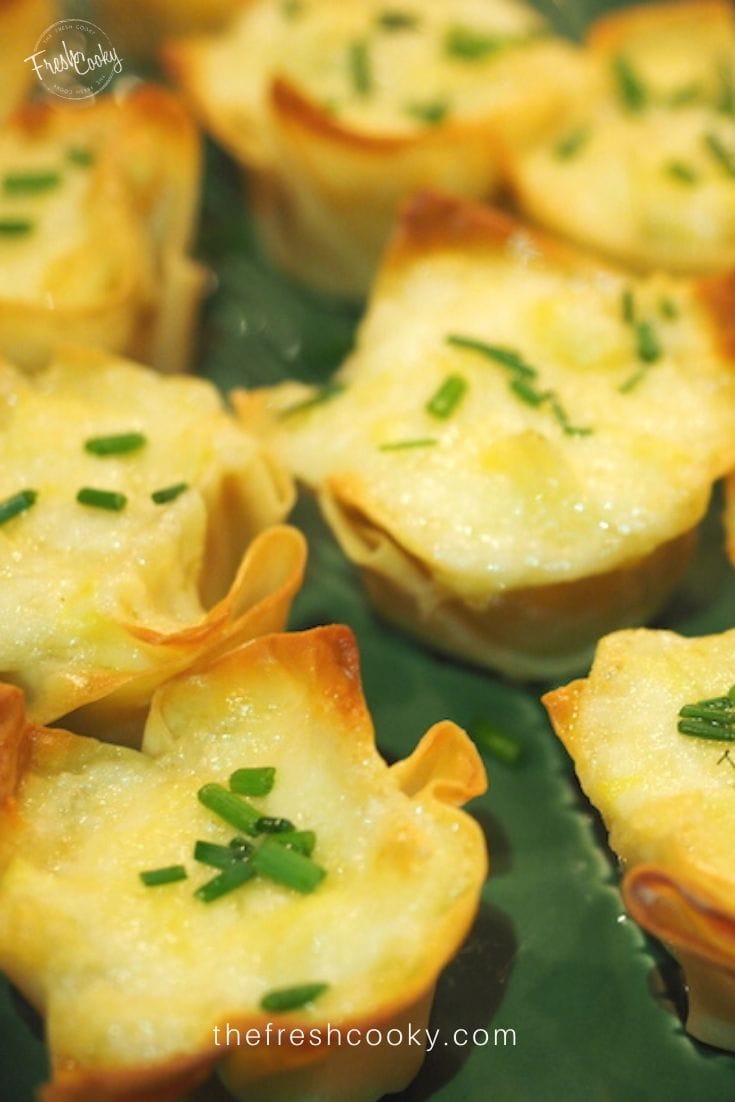 This simple, fresh recipe is from my friend Eliza's newest and beautifully presented cookbook; Small Bites: Skewers, Sliders and Other Party Eats.
How to make Artichoke Cheese Wontons
Grated Parmesan cheese, mayo, garlic powder, Monterey Jack cheese, water-packed artichoke hearts, wonton wrappers (typically found in the produce section near herbs and such) and fresh chives.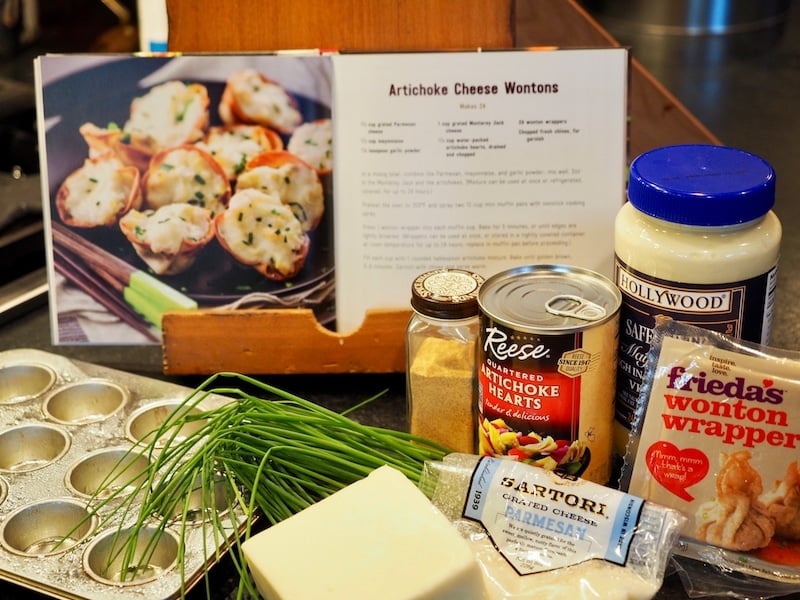 First, measure out your Parmesan cheese into a small mixing bowl…
…then your mayonnaise (the real stuff)…
then your garlic powder, mix well.
Next add your grated Monterey Jack cheese, I eyeballed the measurement, a cups worth is about a full barrel in my small grater.
Chop up your drained, artichoke hearts into bite size pieces and add to the mixture.
Gently mix to combine all ingredients, at this point the mixture may be stored in the refrigerator for up to 24 hours, covered.
Preheat your oven to 350°.
Spray one or two 12-cup mini-muffin tin(s) with non-stick or oil spray and gently press your wonton wrapper into the tin, gently pushing and folding down the edges of the wonton wrappers onto themselves, but allowing for a nice pocket.
Bake, unfilled for 5 minutes until edges are lightly browned, about 7 minutes.
Wrappers may be used and filled at once or if making ahead, wrappers may be stored once cooled in a tightly covered container at room temperature for up to 24 hours; just return them to the muffin tin(s) before proceeding with filling.
ASSEMBLE YOUR WONTONS
When ready to assemble; preheat oven (if you made ahead) to 350°. Fill each cup with a heaping teaspoon of the artichoke mixture.
Bake at 350° until golden brown, about 5-8 minutes.
If desired, garnish with chopped chives and serve warm.
This recipe is used with permission from Eliza Cross and is in the Small Bites cookbook. One of several fabulous cookbooks Eliza has authored! Another favorite of mine is Bacon, Beans and Beer!
Like this recipe?
Don't forget to give it a ⭐️⭐️⭐️⭐️⭐️ star rating and comment below the recipe!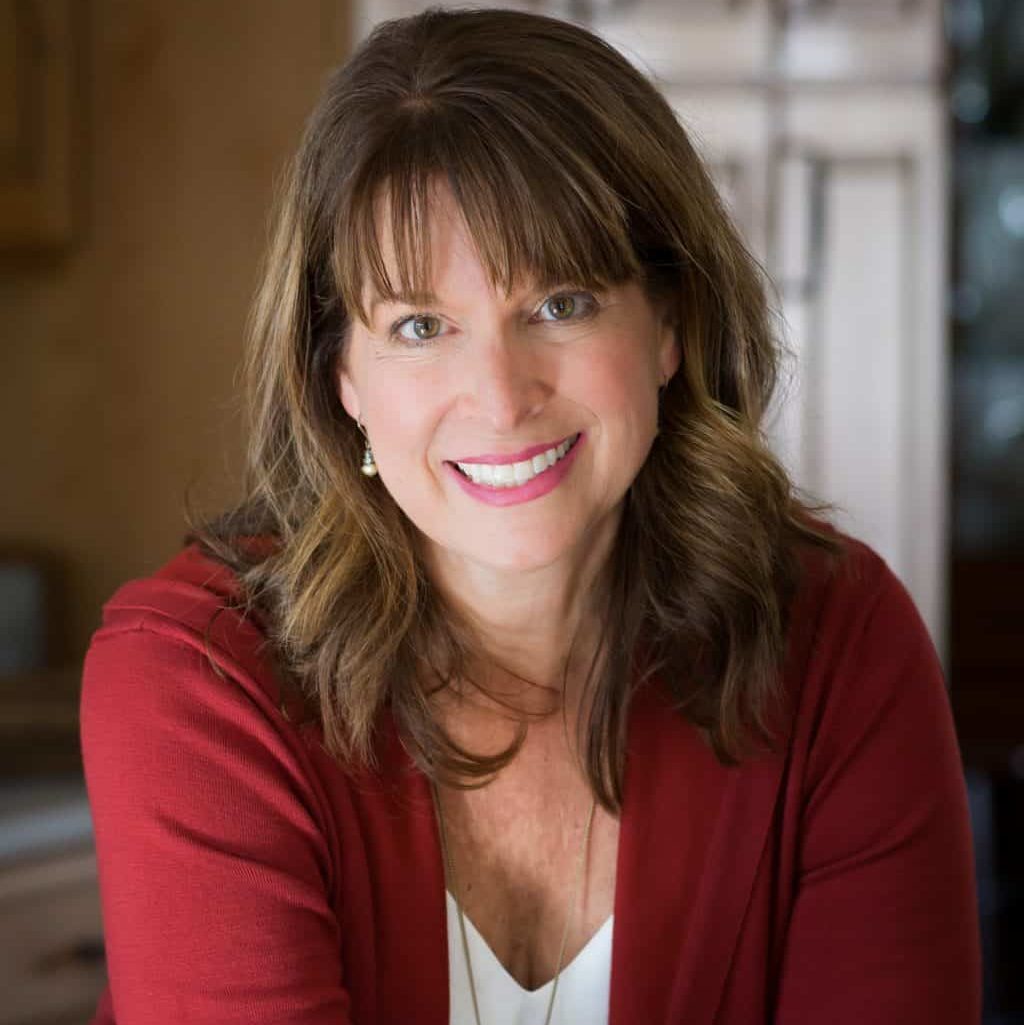 About Kathleen Pope
Recipe Innovator | Food Photographer | Food Writer
Hi, I'm Kathleen Pope. Here at The Fresh Cooky you will find easy, mostly from-scratch, trusted recipes for all occasions. From speedy dinners to tasty desserts, with easy step-by-step instructions. I am here to help teach you how to make mouthwatering recipes without spending hours in the kitchen. Read more about Kathleen here.