Homemade Elderberry Syrup
As an Amazon Associate, I earn from qualifying purchases. Please read my disclosure policy.
A spoonful of Homemade Elderberry Syrup every day will help boost your immune system, preventing and treating flu and colds. Make it in your Instant Pot or on your Stove Top using a few, simple and healthy ingredients. Save money this flu season and DIY your own?
Each year the cold and flu season sneaks up on us; as soon as the kids go back to school it seems, so I get out my supplies to make Elderberry Syrup.
Our family has used Elderberry Syrup for years to prevent and shorten the duration of colds (only one instance of flu in 18 years!); I used to purchase the syrup, but it's expensive and I discovered that it's so easy to make.
PIN NOW FOR IMMUNE BOOSTING LATER
Cold and Flu Fighter!? Yes, please! Immune Booster!? You BET!
How Does Elderberry Syrup Prevent Colds & Flu?
Simply, it prevents an enzyme used by the virus to spread infection from attaching to cells in our body. If the virus can't travel through your cells, then it's toast. (There's a bit more science behind it than my explanation, but these berries really are a natural way to stay healthy.)
Why is Elderberry Syrup effective?
Elderberries can reduce inflammation and give a boost to the immune system, it has anti-viral, anti-inflammatory, and antibacterial properties and is high in antioxidants!
It can soothe a sore throat, help digestive issues and is filled with phytonutrients. Because it's all-natural, Elderberry Syrup does not have any side effects ~ unlike Tamiflu which can have severe side effects.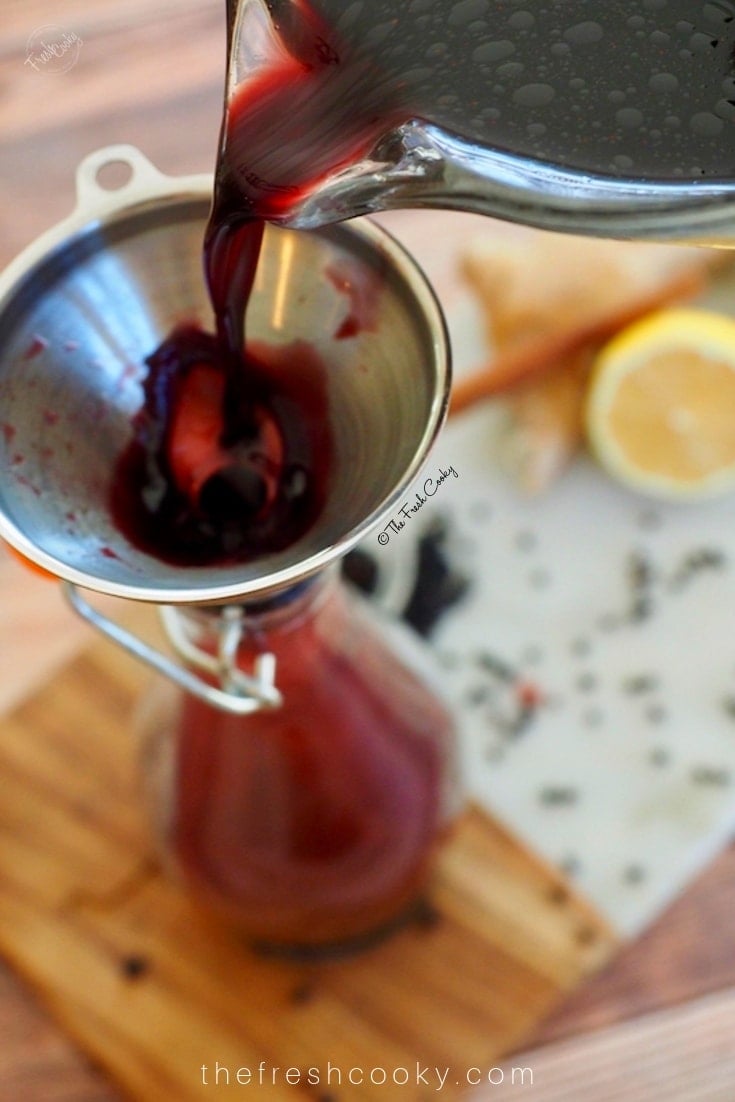 "Elderberries (Sambucus) have been a folk remedy for centuries in North America, Europe, Western Asia, and North Africa, hence the medicinal benefits of elderberries are being investigated and rediscovered. Elderberry is used for its antioxidant activity, to lower cholesterol, to improve vision, to boost the immune system, to improve heart health and for coughs, colds, flu, bacterial and viral infections and tonsillitis. Bioflavonoids and other proteins in the juice destroy the ability of cold and flu viruses to infect a cell. People with the flu who took elderberry juice reported less severe symptoms and felt better much faster than those who did not."
Herb Wisdom
How to Make Elderberry Syrup in your Instant Pot or Stovetop
Start by purchasing quality ingredients. I order my elderberries from Amazon as they are a bit cheaper, but you can purchase from your local health food store as well.
For taste and additional immune boosting, flu and cold fighting factors, I added some dried Hibiscus flowers (antioxidants and anti inflammatory) as well, optional, but adds a delicious sweet-tart flavor. Check out my recipe for Hibiscus Syrup.
Fresh Ginger
Whole Lemon
Whole Orange (optional)
Hibiscus Flowers (optional)
Add a sliced apple (optional)
Using your stovetop or Instant Pot pour in your filtered water and all of your ingredients. For the lemon, I wash, cut in half, squeeze (using my hand) and drop in the pot. See recipes (below) for detailed instructions on each method.
Strain using a fine mesh strainer over a large glass mixing bowl preferably with a spout..
Once you have boiled down your elderberry syrup, cool to 115° before adding your honey.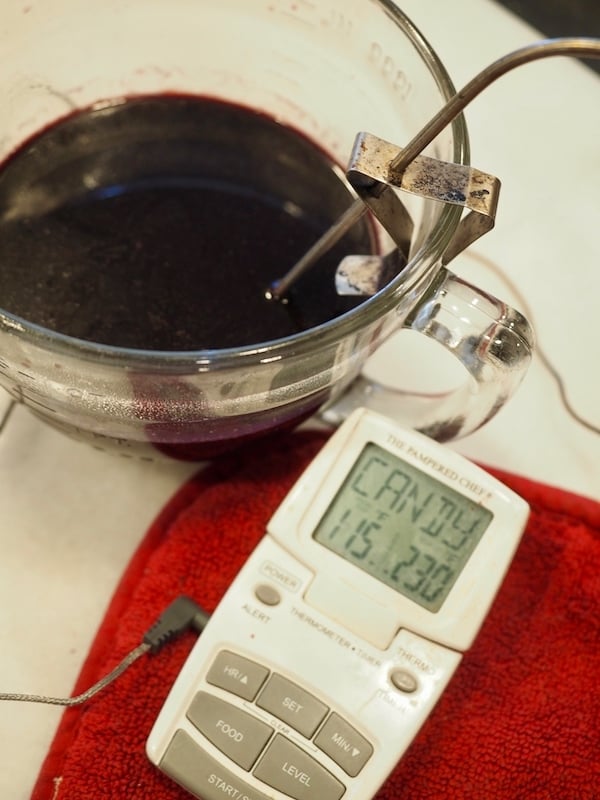 My husband, who grew up in New England laughs when I make this syrup, he says, "No wonder we were never sick growing up, every summer my mom had us pick all of the wild elderberries around us and would make elderberry jam that we would eat all winter long!" And yes, starting about September, I make my family take a tablespoon every morning.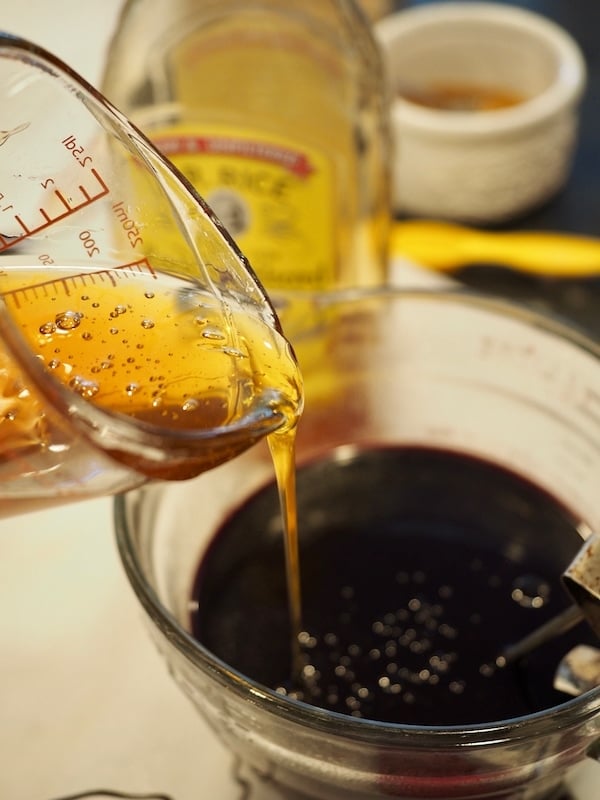 Stir in your honey ~ spray or swirl your measuring cup with a little oil and your honey will slip right out.
Once mixed well, pour the syrup into a jar, using a funnel. I like to use pourable jars, easier for daily dispensing and sealing. It should make about 16 oz, give or take a couple ounces.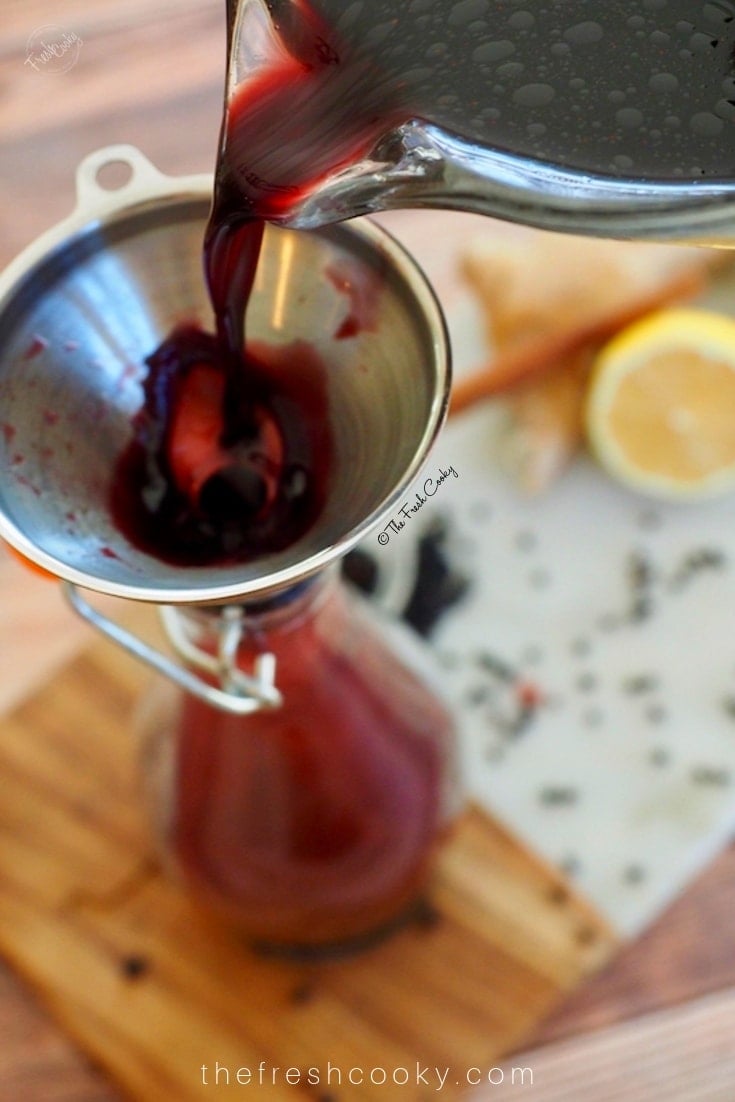 Can I Make a Double Batch?
You bet, in fact I do everytime I make it. If you do, you can reduce the amount of elderberries, but about half per recipe (double batch, use 1 cup elderberries)
JOIN THE FRESH COOKY ON PINTEREST
Dosing Suggestions and Storage for Elderberry Syrup
Store in the fridge and take daily! Standard dosing is ½ – 1 teaspoon for kids (1-12 yr) and ½ – 1 TBL for adults. If the flu or a cold does strike, take the normal dose every 2-3 hours until symptoms lessen. *If giving to babies under one year, do NOT put honey in it, use another sweetener such as coconut sugar or no sweetener at all.
Use as you would any syrup; pour in smoothies, top pancakes, stir into yogurt; you don't have to take it straight.
So fun to package these up to give to family, friends, neighbors and co-workers, I love these 5 oz bottles with shrink wrap covers. Simply tie on a cute tag with instructions to refrigerate and shake well before use along with usage info.
May your family stay healthy and whole this season!
*This post was updated to include Instant Pot instructions 9/15/18
MORE IMMUNE BOOSTING RECIPES!
Sharing this week on Weekend Potluck and Meal Plan Monday.
Like this recipe?
Don't forget to give it a ⭐️⭐️⭐️⭐️⭐️ star rating and comment below the recipe!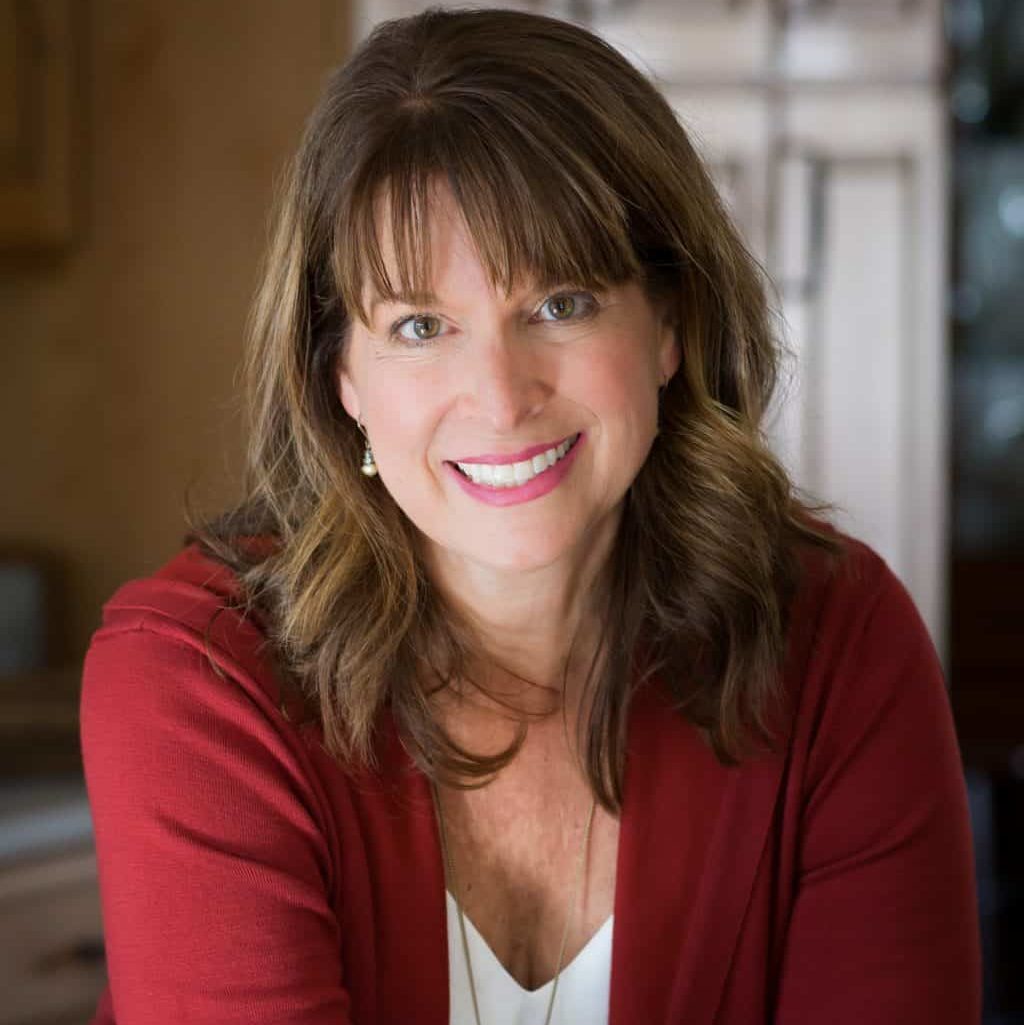 About Kathleen Pope
Recipe Innovator | Food Photographer | Food Writer
Hi, I'm Kathleen Pope. Here at The Fresh Cooky you will find easy, mostly from-scratch, trusted recipes for all occasions. From speedy dinners to tasty desserts, with easy step-by-step instructions. I am here to help teach you how to make mouthwatering recipes without spending hours in the kitchen. Read more about Kathleen here.