Brownie Sandwich Cookies with Cookie Dough Frosting
As an Amazon Associate, I earn from qualifying purchases. Please read my disclosure policy.
What is it about the chewy bite of a brownie, and the yummy, creamy richness of chocolate chip cookie dough? Put it together and you have these fabulous and the oh-so-portable Brownie Sandwich Cookies with Cookie Dough Frosting!! Oh my! I'm drooling, are you?
BROWNIE SANDWICH COOKIES WITH COOKIE DOUGH FROSTING
My high schooler snatched one as he got home from school and as he was walking upstairs, yelled, "OH MY GOSH, this is the BEST THING…EVER!" Be still my heart. These are fantastic to make ahead, freeze individually and pop in a lunch box!

MAKING BROWNIE COOKIES
Pull out a stick of butter and put in a microwave safe bowl along with your chocolate chips.
Microwave 30-45 seconds, stir well, don't overheat; if additional melting needs to be done, do it in 30 second increments, this only took 45 total, keep stirring for a bit as it will keep melting.
Set aside for 10-15 minutes to cool.
While the chocolate mixture cools; in the bowl of a stand mixer; toss in all-purpose flour, sugars, cocoa, baking powder, baking soda, sea salt and mix together using the lowest setting.
Gently mix in the cooled chocolate mixture.
Once mixed; add eggs one at a time, mixing on medium for about 1 minute per egg, it should get nice and thick and doughy.
Lastly, add your vanilla and mix well.
Cool in the refrigerator for 30-45 minutes, then preheat your oven to 325°F.
Once cooled and dough has firmed up enough to hold it's shape, using a medium scoop, scoop into 1 inch balls press down slightly and place 2 inches apart on a greased or parchment lined cookie sheet.
Or if you are like me and you kept them in the fridge too long, allow to sit at room temperature, then chip away at the dough and roll into walnut sized balls, follow the rest of the steps above.
Bake for 10-12 minutes at 325°F, allowing to cool on baking sheet 4-5 minutes before transferring to rack to cool completely.
While your cookies are baking and cooling, start the frosting.
TIP | You can always make the cookies ahead of time, place in ziplock or plastic container until ready to use (may be frozen if desired).
HOW TO MAKE COOKIE DOUGH FROSTING
Place softened butter* into the bowl of a mixer. Add your brown sugar and whip well until the butter and sugar mixture is pale and fluffy, about 4 minutes. *Salted butter is fine, if using unsalted, just add a large pinch of sea salt at the end.
Next add flour…(omit or use gluten free all-purpose flour if making gluten free frosting)
Add vanilla and 2 tablespoons of cream and mix until combined. May use whipping (heavy) cream, half and half or milk, I split the difference.
Add powdered sugar and whip until smooth, light and fluffy. If needed add a bit more cream.
Next, stir in your chocolate chips. You may use mini's (as I did here) or regular sized, it doesn't matter.
GLUTEN FREE FROSTING "SHOOTERS"
See below for how to make incredible Frosting Shooters great for gluten free folks, just omit the flour or replace with all-purpose GF flour. Make sure your chocolate chips are also GF.
Make sure you cookies are cooled, if not your frosting will melt right off the cookies! Using a medium scoop, plop a generous scoop on the bottom of a cookie, then gently press on a matching cookie on top.
Heavenly!
In my dreams, I can eat these all day long and not gain an ounce!
These freeze beautifully! Wrap individually in plastic wrap. On a diet? Trying to watch your sugar intake? Pop these in the freezer, you won't be as tempted and at least if you are, you won't be greeted with instant gratification if you decide to consume one!
GET FREE RECIPES

FROM THE FRESH COOKY DELIVERED RIGHT TO YOUR INBOX!
This recipe was inspired by Just Putzing Around the Kitchen.
HOW TO MAKE FROSTING SHOTS
Want a quick, amazing, bite-sized desserts? Use this frosting and make up a bunch of crowd-pleasing Cookie Dough Frosting Shots. Simply scoop the cookie dough frosting into a piping bag with a large round piping tip and gently squeeze into small candy or treat cups. If desired, sprinkle with some sprinkles to match your event (I took these to a baby shower) and garnish with additional mini chocolate chips and maybe a white chocolate disc.
Try these other sweet treats: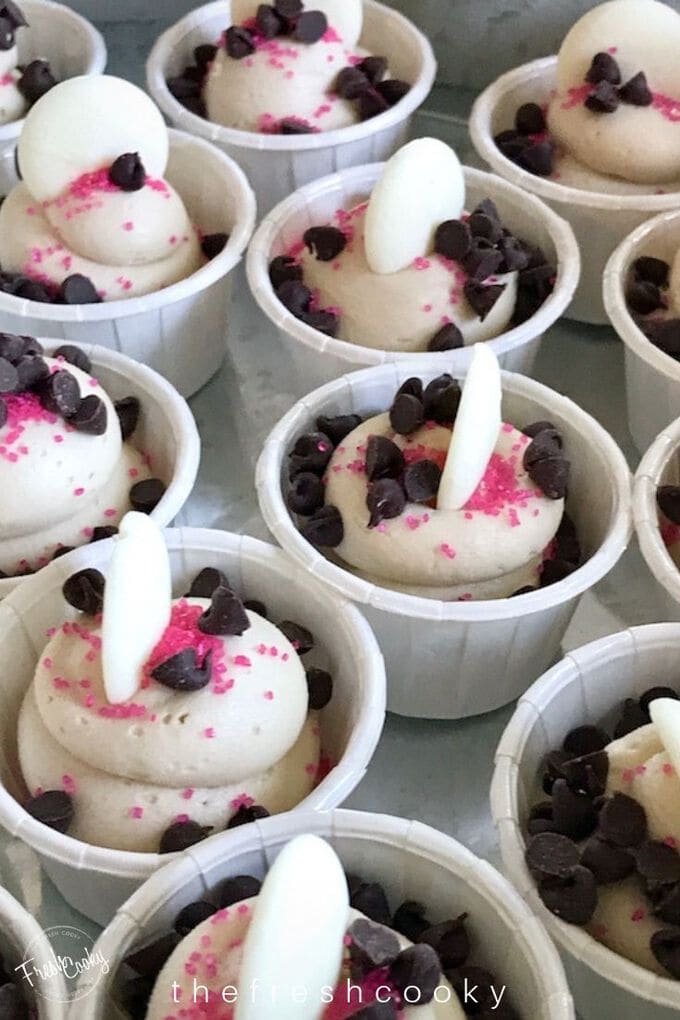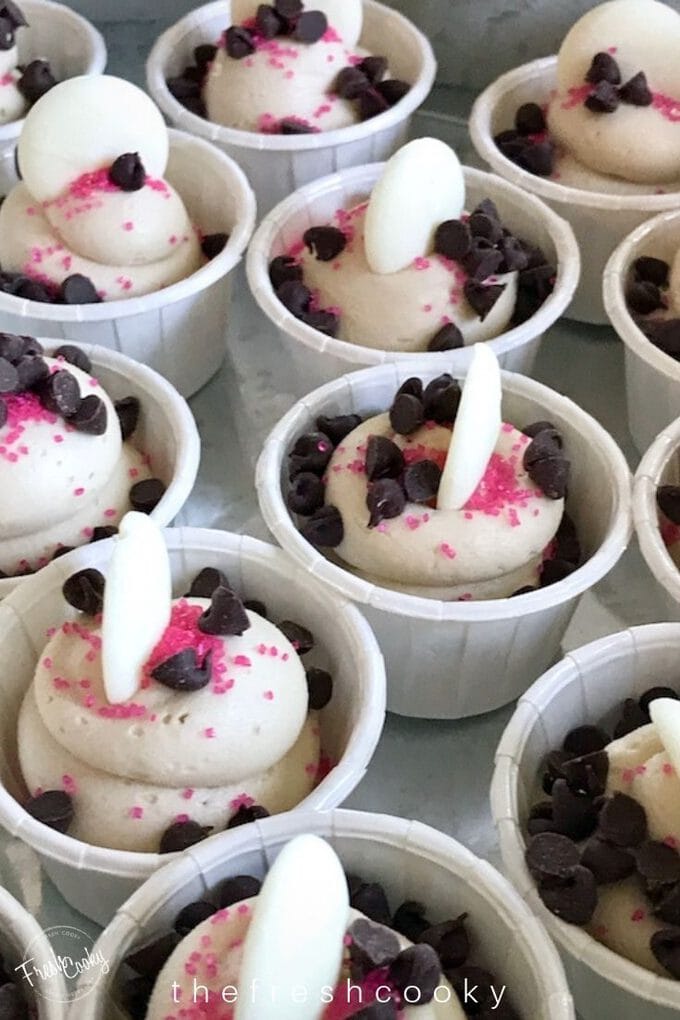 I'd love it if you enjoy this recipe if you'd comment and rate the recipe in the recipe card.
Hashtag any recipes you make from The Fresh Cooky #thefreshcooky or tag me @thefreshcooky on
Instagram to be featured on our stories!
LOVE WHOLESOME DELICIOUS RECIPES? COME FOLLOW ALONG!
If you share a picture of something you make from our blog, tag it #TheFreshCooky so we can see it. We might feature it on Instagram!
GET FREE RECIPES

FROM THE FRESH COOKY DELIVERED RIGHT TO YOUR INBOX!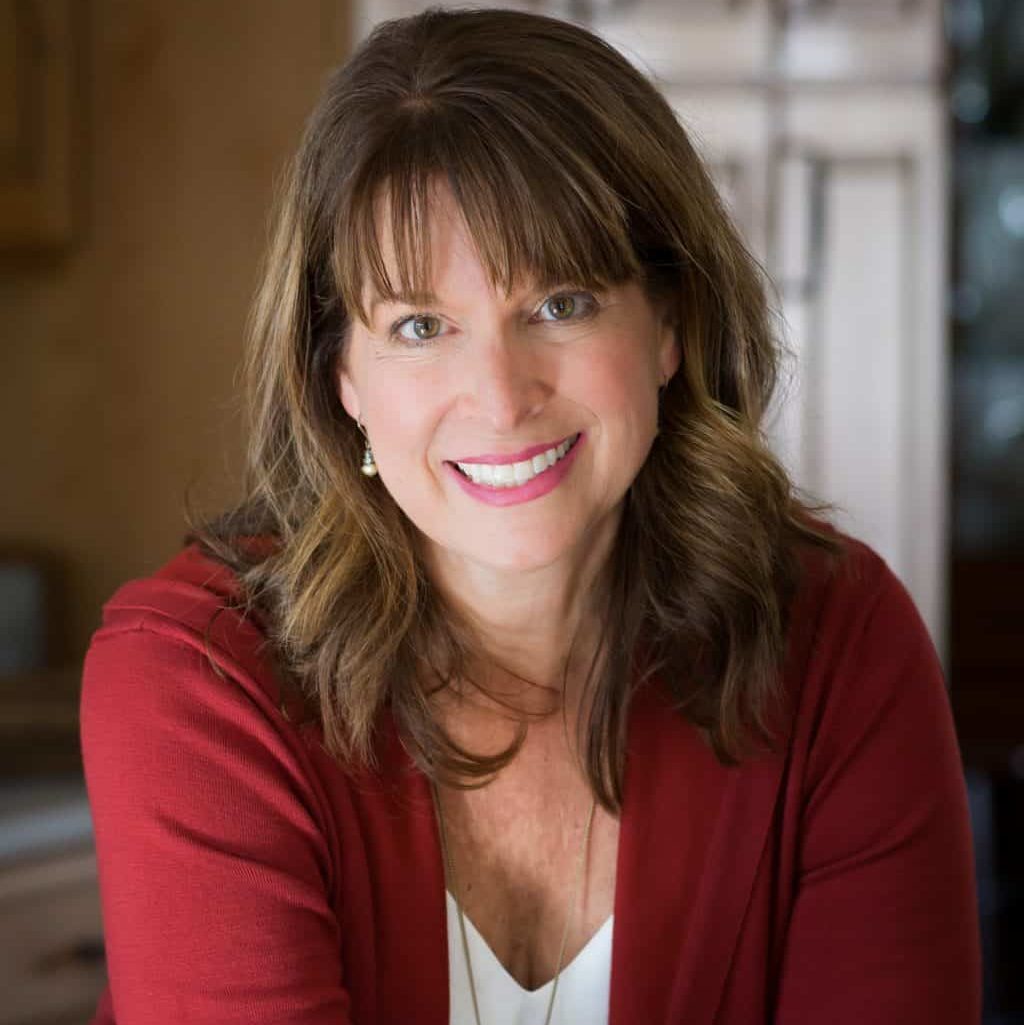 About Kathleen Pope
Recipe Innovator | Food Photographer | Food Writer
Hi, I'm Kathleen Pope. Here at The Fresh Cooky you will find easy, mostly from-scratch, trusted recipes for all occasions. From speedy dinners to tasty desserts, with easy step-by-step instructions. I am here to help teach you how to make mouthwatering recipes without spending hours in the kitchen. Read more about Kathleen here.