Rich Chocolate Cupcakes with a Raspberry Buttercream and they are filled with a dreamy, fudgy ganache filling!
I actually made these beautiful cupcakes for a friends baby shower this past fall, but they are so perfect for Valentine's Day, I waited until now to show them to you. Deep, dark rich chocolate cupcakes, filled with fudgy chocolate ganache and topped with a beautiful, light fresh raspberry buttercream.
My husband does not believe that chocolate and fruit should in the same sentence let alone in his chocolate! He's a chocolate purist! So for him, I'll scrape off the buttercream (into my mouth) and he'll enjoy the fudgy, chocolatey cupcake! We're a perfect fit; I LOVE frosting and he LOVES cake!
Let's Make Rich Chocolate Cupcakes
Preheat oven to 350° and place cupcake liners in regular size cupcake pan. I like to use two liners per cupcake, spraying lightly with spray oil, then if you wish, you can place a contrastingLets liner around the cupcakes after they've been baked to add a festive flair.
This makes between 12-18 regular sized cupcakes, I found that I generously can fill 12 regular cupcakes as well as have 12 mini cupcakes, sometimes a mini cupcake is just right, ya' know!?
Start by mixing all of your dry ingredients in a large mixing bowl. Measure the flour, cocoa (I used Dark Cocoa, but regular cocoa is just fine too).
Next add your all natural sugar, baking soda and baking powder to the flour and cocoa mixture. Whisk together to mix all dry ingredients.
If desired, pour dry ingredients into the bowl of a mixer and begin adding wet ingredients (or keep in bowl and add wet ingredients to this bowl, mixing with hand mixer). I started with my egg and egg white along with the butter, buried under the dry ingredients.
Add vanilla, sour cream and milk, add to dry mixture.
Mix on medium speed until semi-smooth, there will be lumps and bits of butter in the batter, that's okay. Do not over mix. Scrape down the sides and bottom to make sure all is incorporated into the batter.
Using a large scoop or spoon; scoop your batter into your prepared muffin tins. Filling to a smidge more than half way. I made 12 regular sized cupcakes and another 12 mini cupcakes.
See those delicious bits of butter, don't worry about them, they will melt as they bake and create little pockets of deliciousness.
Place in preheated oven and bake at 350° until the tops just spring back when lightly touched, about 18-20 minutes. 12-15 minutes for the mini-muffins. Allow to cool for a couple of minutes in the muffin tin, then carefully remove to a cooling rack and cool completely! Very important they are completely cooled if not, your icing will melt and slide right off.
Next, using an apple corer or if you are fancy, a cupcake corer; remove a small plug from the center of the cupcake.
TIP | No corer, no problem; using a small spoon (a grapefruit spoon might come in handy here) scoop out a small portion out of the middle of the cupcake. I only "cored" my larger cupcakes, instead for the mini's I just dipped the entire top of the cupcake in the ganache. Reserve cores, if you can keep them away from your people.
Gather your ganache ingredients…
Pop over to this link for the recipe for Chocolate Ganache!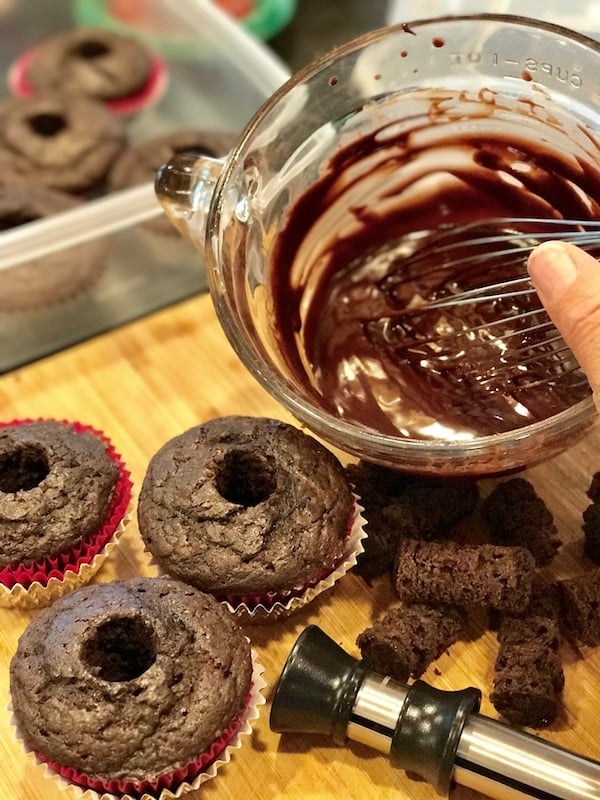 Using a piping bag or a spoon, fill the holes in the cupcakes with the ganache.
If you made mini cupcakes, dip the tops of your mini cupcakes in the ganache and allow to cool completely.
Lastly, using just the tippy-top of the reserved chocolate plugs, replace on top of the cupcake, not necessary, but makes for an even frosting surface.
TIP | At this point, the cupcakes may be stored in an airtight container and refrigerated or even frozen until ready to frost.
Fresh Raspberry Buttercream
Ready to make some decadent raspberry buttercream? This is the real deal, no raspberry flavoring or food coloring here; just pure, beautiful raspberry flavor and color!
Start by placing washed and patted dry raspberries into a blender and puree until smooth.
Pour pureed raspberries through a sieve (to remove the seeds) into a small saucepan.
See, more seeds than you would think! Using a rubber spatula, scrape the bottom of the sieve, you don't want to miss any of that delicious raspberry puree. Discard seeds.
Over low heat, slowly bring the raspberry puree to simmer, stirring occasionally.
Allow to simmer for 10-20 minutes, or until it has been reduced to about 1/4 – 1/3 of it's original volume. Eyeball it, it should be thick, like jam. Place in refrigerator to cool completely! May even be put in the freezer if you are in a hurry. Stir it occasionally to keep from freezing.
BAKERS TIP | If you don't have time or desire to go through all those steps for the fresh puree, you may replace the raspberry puree with a good quality raspberry jam. Reduce your sugar slightly to adjust for the sugar in the jam. You will have seeds in your frosting, oh well!
Once fully cooled, prepare your buttercream ingredients.
In the bowl of a mixer, on medium-high, beat the butter until fluffy. About 2-3 minutes, scraping the sides once.
Turn the mixer to stir or the lowest setting and beat in 2 cups the powdered sugar into the whipped butter.
Add the raspberry puree*…
*Please make sure it's completely cooled, if not it will begin to melt your butter and sugar, making your buttercream into a tasty, but gloopy mess!
Beat until puree is incorporated, scrape down the sides and add the rest of the powdered sugar.
Continue to beat another 1-2 minutes until light, whipped and smooth. Scrape down the sides.
Don't forget to add your salt (yes, salt), just a titch will brighten all of your flavors.
While mixer is on low, slowly drizzle in your heavy cream.
Whip until completely blended, light and airy.
Spoon into piping bag, using a round tip if desired, I used the Wilton 1A.
Pipe frosting using steady pressure, starting on the outside and swirling upwards towards the middle into a nice cloud of frosting on top of the cooled cupcakes.
If desired, frost the mini cupcakes with a small "kiss" of frosting.
OPTIONAL | Garnish the cupcake with a single washed and dried fresh raspberry, sprinkles and/or silver dragees.
To make the hearts and "A's" I melted a few chocolate chips until smooth in the microwave, poured the chocolate into a baggie, snipping the tiniest bit of the corner, piped little hearts and A's (the baby we honored is Addie) onto wax paper on a cookie sheet and allowed to cool completely, you can quick harden them by placing the cookie sheet with piped shapes in freezer for a few minutes.
Place them on top of the frosting if you wish, they are optional.
These may be placed in airtight containers until ready to serve, they should be just fine at room temperature for a few hours. Refrigerate* if not serving within a few hours. Bring to room temperature before serving.
If making ahead, place garnish on just prior to serving. (Pictures aren't awesome, I was rushing to get them done for the shower, should have taken a few more seconds to get a good shot.)
What will you make for Valentine's day? Generally, in our house it's ALL chocolate, I am always out voted when it comes to dessert, they are all chocoholics. But that's okay, they are all my Valentine's.
MORE CHOCOLATE VALENTINES DESSERTS
These Rich Chocolate Cupcakes are perfect for Valentine's day, a baby or bridal shower, luncheon or any occasion!
Nothing shows a man's character more than what he laughs at.

GOETHE
Like this recipe?
Don't forget to give it a ⭐️⭐️⭐️⭐️⭐️star rating in the recipe below!
Yield:

12-18 cupcakes or 12 regular + 12 mini cupcakes
Rich Chocolate Cupcakes with Raspberry Buttercream and Ganache Filling
Total Time:
1 hour
30 minutes
Deep, rich, dark chocolate cupcakes, filled with fudgy chocolate ganache and topped with this beautiful, light fresh raspberry buttercream.
Ingredients
1 1/3 cups all purpose flour
1/4 cup cocoa powder (dark or regular)
1 cup granulated sugar (I use natural, unbleached cane sugar)
1/4 teaspoon baking soda
1 teaspoon baking powder
Add Wet Ingredients to Dry Ingredients Mixing on low
3/4 cup butter, room temperature (salted, if using unsalted, add additional 1/4 teaspoon salt)
1 egg white
1 egg, whole
1 teaspoon vanilla extract
1/2 cup sour cream
1/2 cup milk (I use whole milk)
GANACHE FILLING
1 cup semi-sweet or bittersweet chocolate chips
1/4 cup heavy whipping cream
3 tablespoons salted butter
RASPBERRY BUTTERCREAM
1 1/2 cups raspberries*, fresh or frozen (washed and patted dry)
1 cup unsalted* butter, room temperature
3 1/2 - 4 1/2 cups powdered sugar
1 tablespoon whipping cream or milk
1/2 teaspoon salt *omit, if using salted butter)
GARNISH (optional)
Fresh Raspberry
Sprinkles
Silver Dragees
Chocolate piped hearts, letters or shapes
Instructions
Preheat oven to 350° and prepare cupcake pan. Place 1-2 liners in each cupcake tin, spray with non-stick or spray oil. (May use one regular cupcake and one mini-cupcake pan if desired; makes 12-18 regular sized cupcakes or 12 regular, 12 mini)
In a large mixing bowl, mix together dry ingredients with a whisk. Flour, cocoa, sugar, baking soda, baking powder. Add to the dry mixture all wet ingredients; butter, egg white, egg, vanilla, sour cream and milk, mix on low until blended and semi-smooth, but don't over mix, there will be some lumps (mostly bits of butter). May mix using a stand mixer or hand mixer.
Using a scoop, pour cupcake batter into prepared liners, filling slightly more than half way. Baking 18-20 minutes until tops spring back when lightly touched, 14-18 minutes for mini-cupcakes.
Allow to cool for 1-2 minutes in the pan on a rack, then carefully remove from pan to a cooling rack. Cool completely. While cooling, prepare your chocolate ganache.
In a medium-sized microwave safe bowl, place in your chocolate chips, butter and whipping cream. Microwave on high in 30 second intervals, stirring or whisking well after each 30 second heating. It should only take a few 30 second heatings to melt. If in doubt, whisk a bit longer and it will continue melting as you whisk. Set aside to cool for a few minutes to thicken slightly, or in fridge will thicken more.
Meanwhile, using an apple corer or cupcake corer, or a narrow spoon (a grapefruit spoon might work here), remove a small core from the center of the cupcakes, reserve cores. Using a spoon or pour ganache into a sandwich baggie and snip off end, squeeze or pour ganache into the center hole of the cupcakes. If desired, using the tip of the reserved cores, replace on top of the hole, not necessary, but makes a smooth surface.
At this point, the cupcakes may be refrigerated or frozen in airtight containers until ready to frost. When ready to frost, remove from freezer while making frosting.
RASPBERRY BUTTERCREAM
In blender, puree the raspberries until smooth, pour through sieve, into a small saucepan. Using a spatula, press the puree through the sieve, capturing the seeds in the sieve. Be sure to scrape off any puree hanging to the bottom of the sieve. Discard seeds. Heat raspberry puree over low heat, stirring occasionally and bring to a simmer. Allow to simmer until reduced about 10-20 minutes. It should reduce to about 1/4 - 1/3 of original volume, it should be thick, like jam when finished.
Place puree in fridge or freezer to chill completely. If placing in freezer, stir occasionally. In a large bowl of a mixer, beat the butter until light and fluffy on medium-high, about 2-3 minutes. Scrape down sides. With the mixer on low, add 2 cups of the powdered sugar, increase the speed and mix on medium-high for 1 minute. Beat in 2-3 tablespoons of the chilled* raspberry puree and the salt (if not using salted butter). *Be sure the puree is completely chilled before adding so you don't melt your frosting.
Once raspberry puree is mixed in, scrape down sides and add additional powdered sugar, 1 cup at a time to desired sweetness and texture. Mixing on low to incorporate sugar, then increasing to medium-high. Lastly, add the whipping cream and beat on medium-high for an additional 1-2 minutes until the frosting, is light, fluffy and all ingredients are incorporated. Transfer frosting into piping bag with round tip (I used a Wilton 1A). When ready to frost cupcakes, using steady pressure, pipe on frosting in a swirl motion, starting from the outside in and upward.
Cupcakes may again be refrigerated at this point in an airtight container for up to a day. Just prior to serving if desired, garnish with a fresh raspberry (washed and dried), some sprinkles, silver dragees and/or a chocolate heart or letter.* (See Notes)
Notes
Please be sure to follow all instructions on cooling, if not your frosting will melt and slip right off your beautiful cupcakes!
TIP | If you don't have time or desire to go through all those steps for the fresh puree, you may replace the raspberry puree with a good quality raspberry jam. Reduce your sugar slightly to adjust for the sugar in the jam.
Chocolate Shapes: Melt 1/4 cup semi-sweet chocolate chips or discs in microwave safe bowl 20-30 second intervals stirring between until melted. Pour melted chocolate into baggie, snip off a teensie bit of the corner and pipe desired shapes on a wax paper or parchment paper lined cookie sheet. Allow to harden completely before carefully peeling off paper. May be refrigerated or frozen to speed up the process.
Recommended Products
As an Amazon Associate and member of other affiliate programs, I earn from qualifying purchases.
Nutrition Information:
Yield:
18
Serving Size:
1
Amount Per Serving:
Calories:

738
Total Fat:

28g
Saturated Fat:

17g
Trans Fat:

0g
Unsaturated Fat:

9g
Cholesterol:

73mg
Sodium:

214mg
Carbohydrates:

121g
Fiber:

2g
Sugar:

107g
Protein:

4g
The nutritional information is estimated and may not be entirely accurate, at times it pulls information for suggestions and options which may increase calories, etc.