This healthier Snickerdoodle zucchini bread recipe is the perfectly balanced, moist zucchini bread! With browned butter, healthy vegetable oil, whole grain flour, reduced sugar a crunchy, sweet sprinkle of cinnamon sugar on top that sinks creating a lovely ribbon of cinnamon goodness in the bread!
What is it about zucchini or banana quick breads? Why are they so darned delicious? The moisture that zucchini or bananas impart is amazing, they don't really change the flavor and heck, don't you just FEEL healthier eating things with zucchini and bananas in it?
Looking for other ways to use bumper crop zucchini this summer and fall? These are some of our families favorite ways to use zucchini… Lemon Zucchini Bread or Italian Spaghetti Sauce, and even Chili!!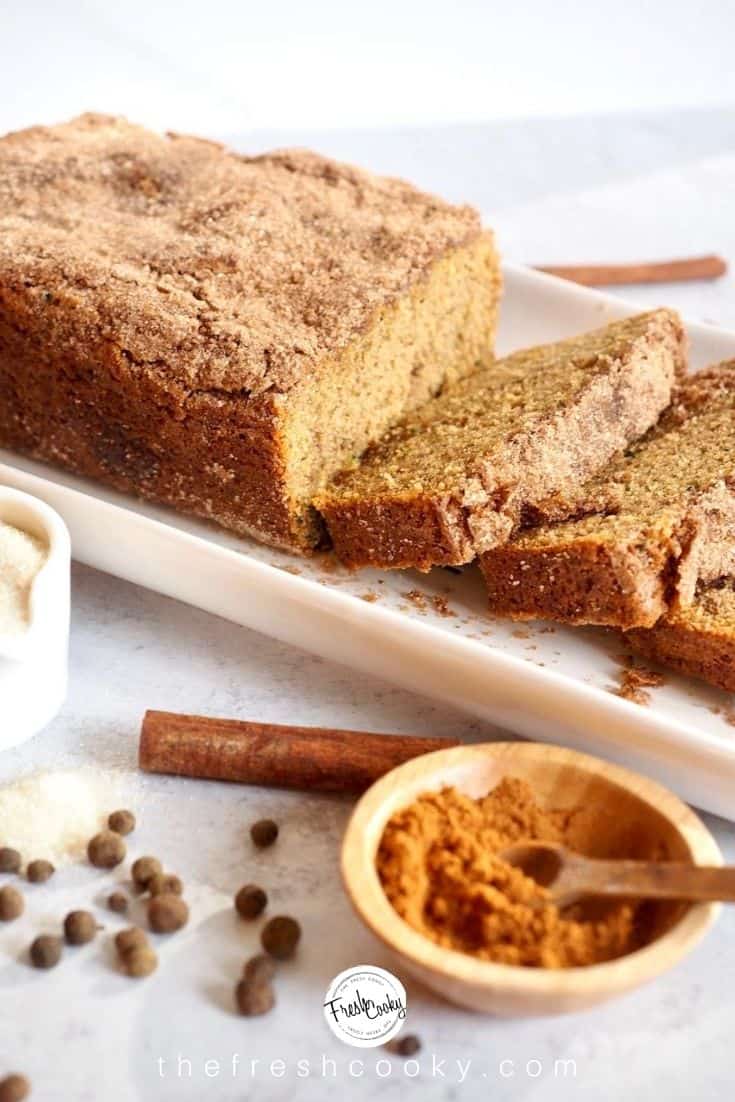 I have adapted this recipe from Southern Plate, probably because I love Snickerdoodles, I mean, what's not to love; a buttery sugar cookie, rolled in crunchy cinnamon sugar and baked to chewy perfection. But I did want to make it a smidge healthier!
JOIN THE FRESH COOKY ON PINTEREST
I changed up my favorite Snickerdoodle recipe slightly — give it a try! Cookie Butter Snickerdoodles.
I always try to add a bit more whole grains where I am able, maybe reduce sugar, if I can!
Snickerdoodle Zucchini Bread Ingredients
unsalted butter (the real deal)
avocado or grapeseed oil (try coconut oil orother vegetable oil)
eggs
light or dark brown sugar, dark brown will lend a bit more of a molasses flavor
pure vanilla extract
all purpose unbleached flour
light whole wheat flour (like a light whole wheat, whole wheat pastry flour or regular whole wheat)
oat flour
baking soda, baking powder and sea salt
zucchini, grated
Do You Peel Zucchini for Bread?
Not at all, in fact, I love when I can keep the skins on veggies and fruit, it brings added nutrients and fiber to the recipe.
⭐️ FREE, DELICIOUS RECIPES? YES, PLEASE! ⭐️
My first thought with this was to use all butter for this recipe in place of the oil, from what I have read using oil allows a little longer "shelf life" in baked goods, but butter imparts that amazing, buttery flavor and crumb.
I decided to compromise with the health benefits of avocado oil and the amazing nutty depth of browned butter. And was I happy I did!
Then instead of all granulated sugar, I subbed out brown sugar, I used light because I had run out of dark brown sugar, but either would be delicious in this healthy zucchini bread recipe.
⭐️ FREE, DELICIOUS RECIPES? YES, PLEASE! ⭐️
Substitutions for even healthier bread
use all butter, browning or melting it (you could try creaming softened butter with the sugar as well, giving you a lighter, "muffin-like" texture
use all vegetable or coconut oil in place of butter
omit brown sugar and use all granulated sugar
reduce the sugar by ½-¾ cup and add 1/2 applesauce or 1 mashed banana for sweetness
change up flours; try all whole wheat, all oat, all unbleached, a combination of almond, oat and whole wheat…you might even get away with using a good Gluten Free All-Purpose flour and some oat flour. Quickbreads are pretty forgiving! You can see how easy it is to change flours in my Gluten Free (or gluten full) "Ugly" Coffee Cake recipe.
Baking Snickerdoodle Bread at High Altitude vs. Sea Level
I bake at high altitude, Mile High actually, so I typically adjust my baked goods by increasing the temperature by 25 degrees and baking a little less time. But always, stick a toothpick or knife in to see if your quickbread is finished!

If baking at sea level, bake at 350 until a knife or toothpick inserted comes out clean, about 45-55 minutes.
TWO LOAF ZUCCHINI BREAD RECIPE
This may seem like it has a lot of sugar, until you realize that you are getting two large loaves from the recipe. And see above under Substitutions for ideas to reduce the sugar.
I like quick bread recipes that yield two loaves so I can surprise a friend with a fresh baked loaf of quick bread, or freeze one for a chilly day when we need a little snack.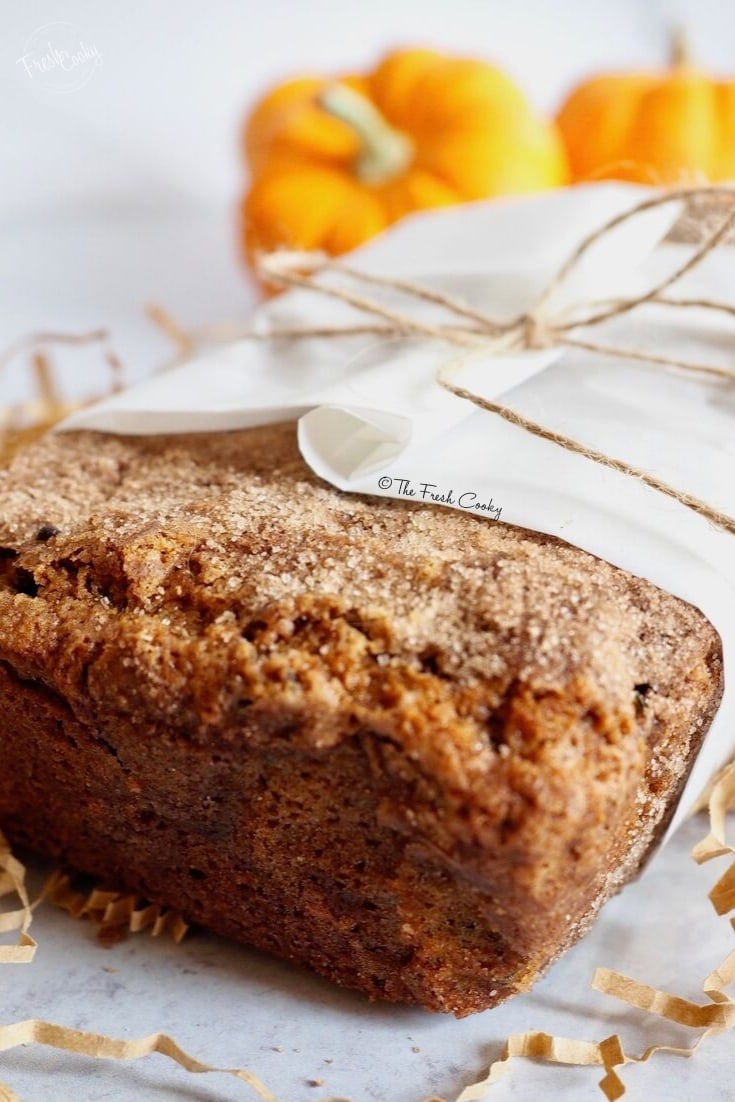 Make your Snickerdoodle bread go further by slicing the loaf in half, wrap with a piece of parchment paper, tie with a string or ribbon and adorn with something from your garden or pantry.
Here I used cinnamon sticks, garland, fresh thyme and plain twine, be creative. A daisy, black-eyed Susan, rosemary, lavender, or colored ribbon would have been pretty too!
If you Like gifting food, check these out!
Great Homemade Food Gifts
If you like quick breads, check out even more delicious quick bread recipes below the recipe card!
⭐️ FREE, DELICIOUS RECIPES? YES, PLEASE! ⭐️
Like this recipe?
Don't forget to give it a ⭐️⭐️⭐️⭐️⭐️star rating in the recipe below!
Healthier Snickerdoodle Zucchini Bread
Total Time:
1 hour
20 minutes
This healthier Snickerdoodle zucchini bread recipe is the perfectly balanced, moist zucchini bread! With browned butter, healthy vegetable oil, whole grain flour and sprinkle of cinnamon sugar on top that sinks to create a delicious ribbon of cinnamon sugar goodness!
Ingredients
1/2 cup unsalted butter, browned (the real deal, no substitutions other than you may use salted butter)
1/2 cup avocado or grapeseed oil (try coconut oil orother vegetable oil)
3 eggs, large
1 cup light or dark brown sugar, dark brown will lend a bit more of a molasses flavor
1 1/2 cups all purpose unbleached flour*
1 cup light whole wheat flour, sometimes called white whole wheat, or may use regular whole wheat (I used Bob's Red Mill Ivory Whole Wheat Flour)
1/2 cup oat flour
1 teaspoon baking soda
3/4 teaspoon baking powder
1 teaspoon sea salt
2 cups zucchini, grated (about 1 large zucchini)
Topping and Cinnamon Sugar Layer
⅓ cup granulated sugar (up to ½ cup)
2 teaspoons cinnamon
Instructions
Preheat oven to 350° (375° for high altitude or reduce by 25 degrees for dark loaf pans). Grease and flour two standard sized loaf pans OR spray lightly with oil, and press in parchment paper (much easier cleanup)
Beat the following in a large mixing bowl; oil, browned butter, eggs, sugar and vanilla until combined. Careful you have cooled your butter slightly, so you don't scramble your eggs.
In a medium mixing bowl, whisk together flours, cinnamon, baking soda, baking powder, and salt. Pour the flour mixture into the the liquid mixture, stirring or beating until combined. Batter will be very thick and sticky, add zucchini and beat or stir to combine.
In a small bowl, stir together cinnamon and sugar topping ingredients and set aside.
Scoop half the batter into prepared loaf pans and sprinkle with half the cinnamon sugar to great your "ribbon". Then spread the rest of the batter evenly between the two pans sprinkling with balance of cinnamon sugar.
Bake at for 45-55 minutes (longer for sea level or less for higher altitudes). Remove from oven when knife inserted comes out clean. Allow to cool in pan for 15 minutes, then invert or use parchment paper to lift out and cool completely.
Store in baggie or on counter for 2-3 days, fridge for up to 10 days or freezer up to 3 months.
Notes
*if preferred you may make this with all purpose flour, the texture and flavor will be a bit lighter, but still good. I haven't tried, but Gluten Free All-purpose flour typically can be substituted with good success.
Recommended Products
As an Amazon Associate and member of other affiliate programs, I earn from qualifying purchases.
Nutrition Information:
Yield:

32 slices
Serving Size:

1
Amount Per Serving:
Calories:

140
Total Fat:

4g
Saturated Fat:

2g
Trans Fat:

0g
Unsaturated Fat:

2g
Cholesterol:

13mg
Sodium:

126mg
Carbohydrates:

25g
Fiber:

1g
Sugar:

16g
Protein:

2g
The nutritional information is estimated and may not be entirely accurate, at times it pulls information for suggestions and options which may increase calories, etc.
JOIN THE FRESH COOKY ON PINTEREST
GET FREE RECIPES DELIVERED RIGHT TO YOUR INBOX!
Love Wholesome & Delicious Recipes?
Follow along on Pinterest ★ Instagram ★ Facebook ★