Authentic German Goulash Soup Recipe (Gulaschsuppe)
As an Amazon Associate, I earn from qualifying purchases. Please read my disclosure policy.
This Authentic German Goulash Soup recipe is so stinking good! It's comforting and has complex flavors that balance out one another, like sweet, savory, sour, and subtle spices. Warm and meaty, it's the perfect comfort food for the chilly months.
My husband can't stop raving about this recipe. He kept saying that he hoped I wrote it down since I'm famous for adding things here and there. The good news is I did write it down!
If you're looking for more German recipes, I've got you covered—check out my Beer and Cheese Soup and other traditional Oktoberfest recipes. Or, for a sweet treat, see my German grandmother's Pfeffernusse Cookies recipe.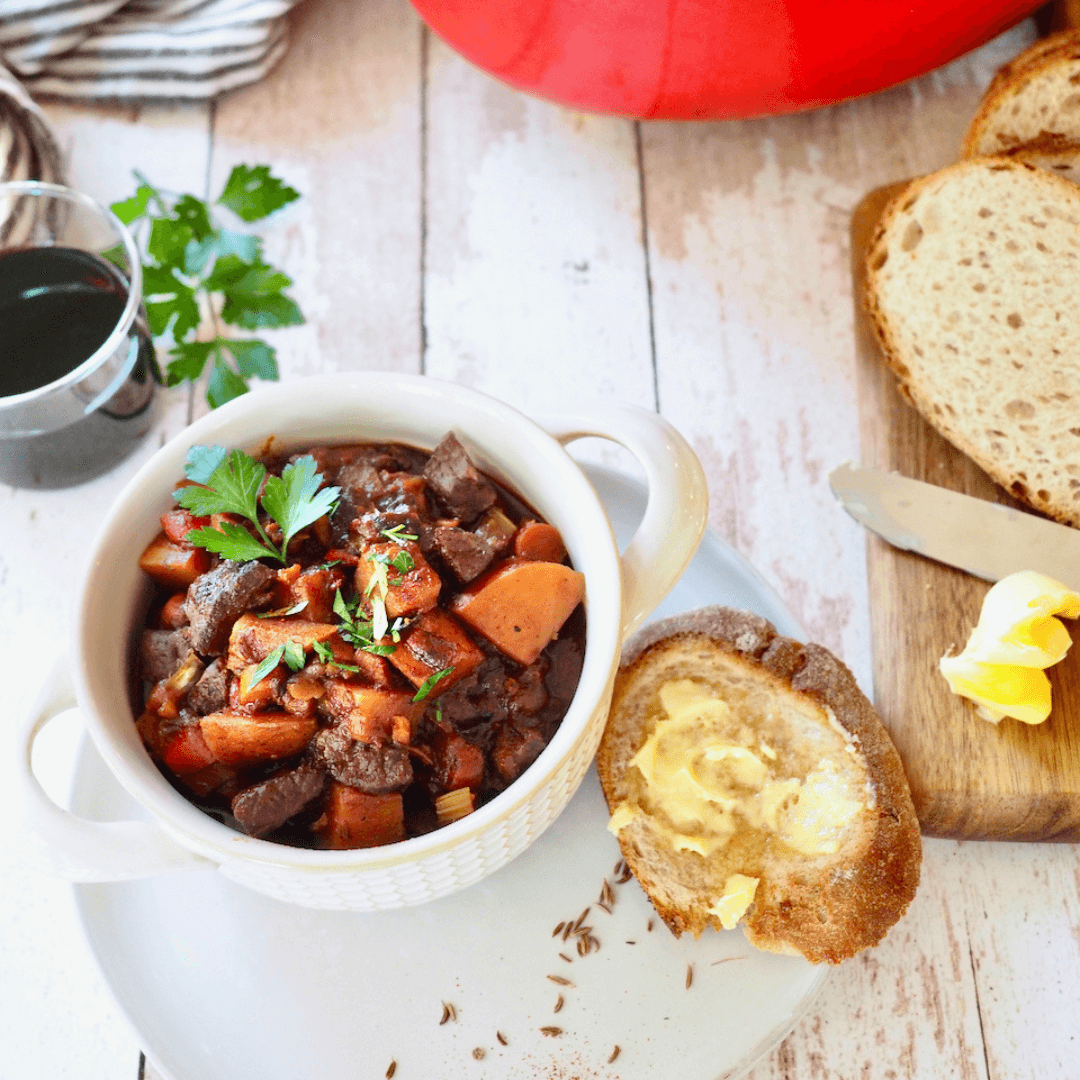 Back in 1987, I was an au pair in West Berlin, Germany, living with a dear family. The wife was a fantastic cook and baker, and she taught me how to make many German dishes, including this traditional German Goulash Soup.
Speaking of Oktoberfest, we are right in the middle of the celebration! This year, the German Bavarian autumn festival began on September 17th and will conclude on October 3rd. It's the perfect time to share with you this authentic Gulaschsuppe recipe rooted in German culture!
Why You Will Love this Recipe
Easy to Make | The steps for making this German Goulash soup are super simple and practically effortless. All you basically do is chop your ingredients, brown the meat, and toss everything into one large pot to simmer on the stove.
Feed a Crowd | Sometimes, goulash soup is referred to as Mitternachtssuppe (midnight soup) because it is often served on New Year's Eve, feeding many hungry mouths at a family gathering. This recipe easily doubles for a crowd!
Delicious Aroma | While making this traditional soup, your kitchen will be filled with the sweet and savory scents of the simmering fresh vegetables and seasonings.
Warm and Comforting | With warm, rich, and savory flavors, this hearty beef stew is oh-so comforting and cozy—especially for the fall and winter months ahead.
Key Ingredients
Ingredients, directions and nutritional information in the printable recipe card at the end of the post.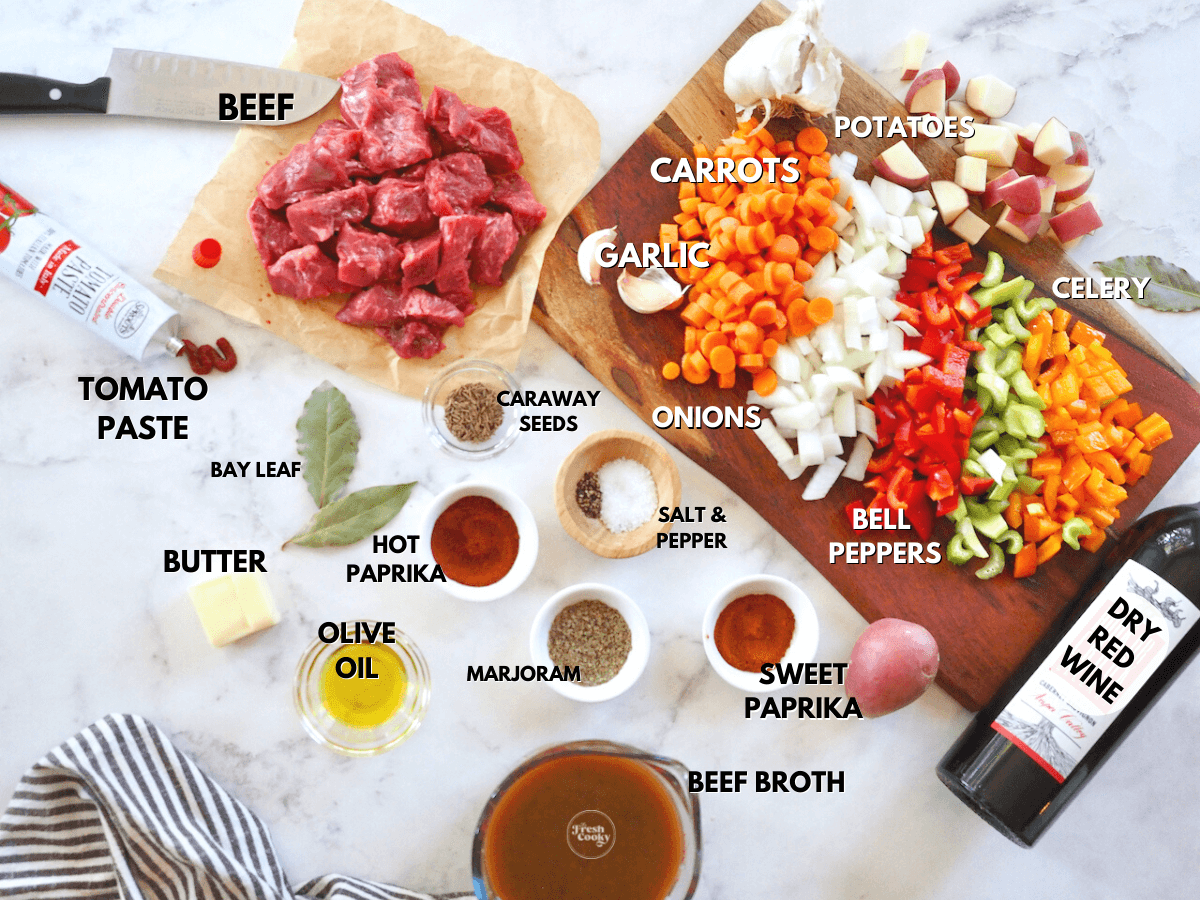 Butter and olive oil | Butter and olive oil are used to caramelize the vegetables and brown the meat for this traditional German soup.
Beef | Savory and tender beef brings a heartiness to this recipe. I like to use steak tips from ButcherBox, I love this company-ethical, clean, sustainable meat! However, you can also use stew meat or chuck roast, cut up.
Onion, Carrots & Celery | Freshly diced veggies are classic, adding subtle sweetness and additional flavor to the soup.
Bell peppers | If you can't tell yet, this soup is very well-rounded with all sorts of flavors, a little savory and sweet. You can use whatever combination of yellow, green, or red bell pepper you prefer.
Red potatoes | Making this soup with red potatoes makes it more of a complete meal. It also adds a little bit of starchy texture and doubles as a thickener.
Garlic cloves | Freshly minced garlic cloves lend subtle, spicy, and nutty notes to this German Goulash recipe.
Tomato paste | Tomato paste brings a burst of acidic tomato flavor and helps to thicken the stew-like soup.
Sweet paprika and Hot paprika | Further balancing out the complex flavors, both sweet and hot paprika powder are added to the recipe. They bring a subtle heat and rich smokiness to the overall taste. Hot paprika is optional if you prefer to keep the recipe mild without a kick of spice, but doesn't make it too spicy.
Marjoram & Caraway seeds | This herb tastes like oregano but is a little sweeter and more complex in flavor. Caraway brings a hint of nuttiness – and an authentic German flavor.
Dry red wine | Most Goulash soups call for sour ingredients, like lemon juice or, in this case, dry red wine.
Beef broth | Savory beef broth is the perfect fluid base for this traditional soup. While simmering, the broth seeps into the beef and vegetables, blending the flavors. If you have it, use homemade bone broth for deeper, richer flavor!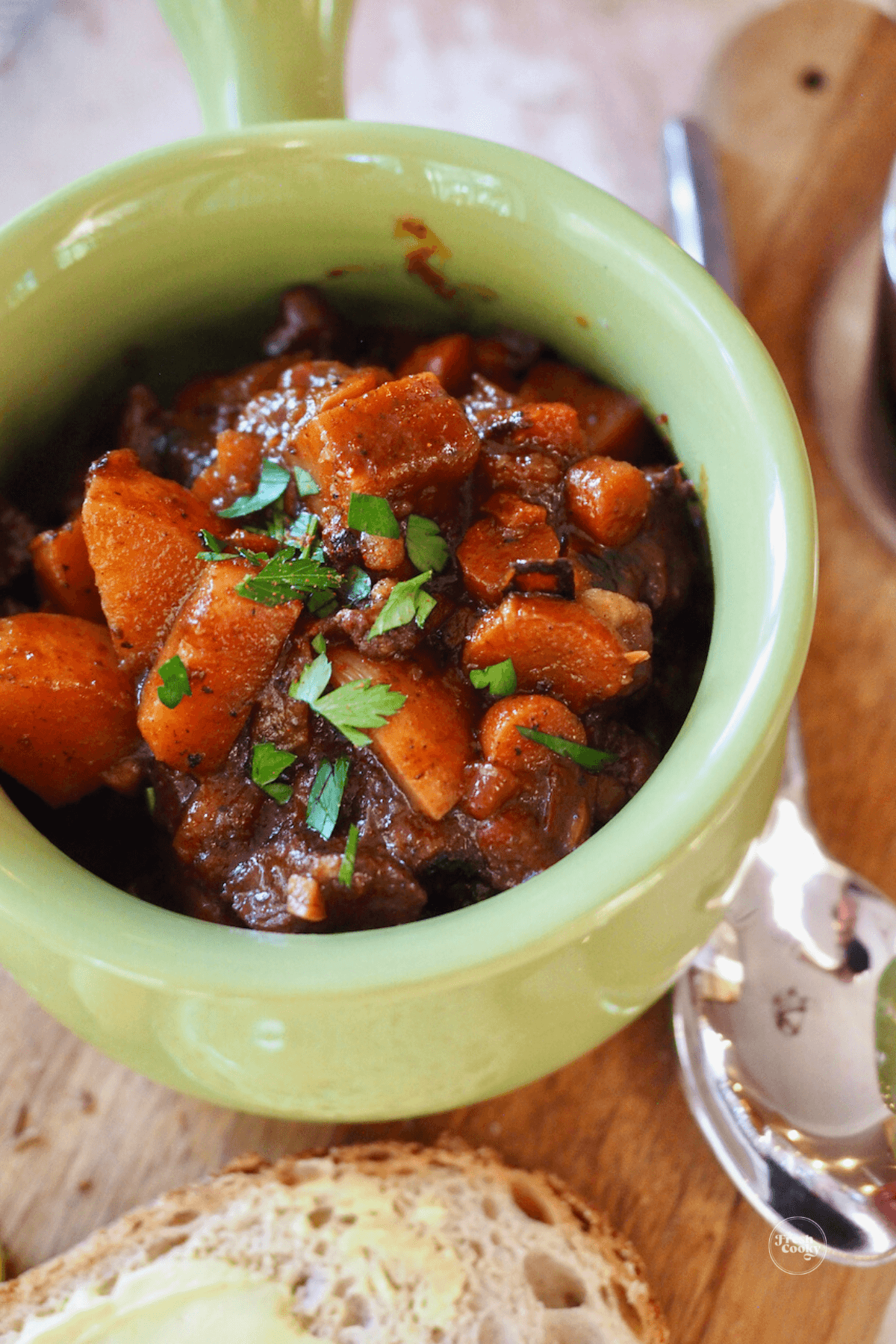 How to Make This Authentic German Goulash Soup Recipe
Step 1 | Gather and Chop
To start, get everything prepped and ready to go—this recipe will come together quickly. So, it helps to have the meat cut into 1-inch cubes, and the vegetables washed and diced. Also, measure out the rest of the ingredients.
Now take out a large soup pot or Dutch oven and melt the butter over medium heat and then add the oil.
Step 2 | Putting the Veggies In
Toss your onions, carrots, peppers, celery, and a little bit of kosher salt and black pepper into the pot. Stir the veggies frequently, turning down the heat if needed, as you sauté.
Once the veggies are soft and caramelized, stir in the paprikas, garlic, tomato paste, marjoram, and caraway. Then, remove the cooked vegetable mixture to a medium bowl and set it aside for later.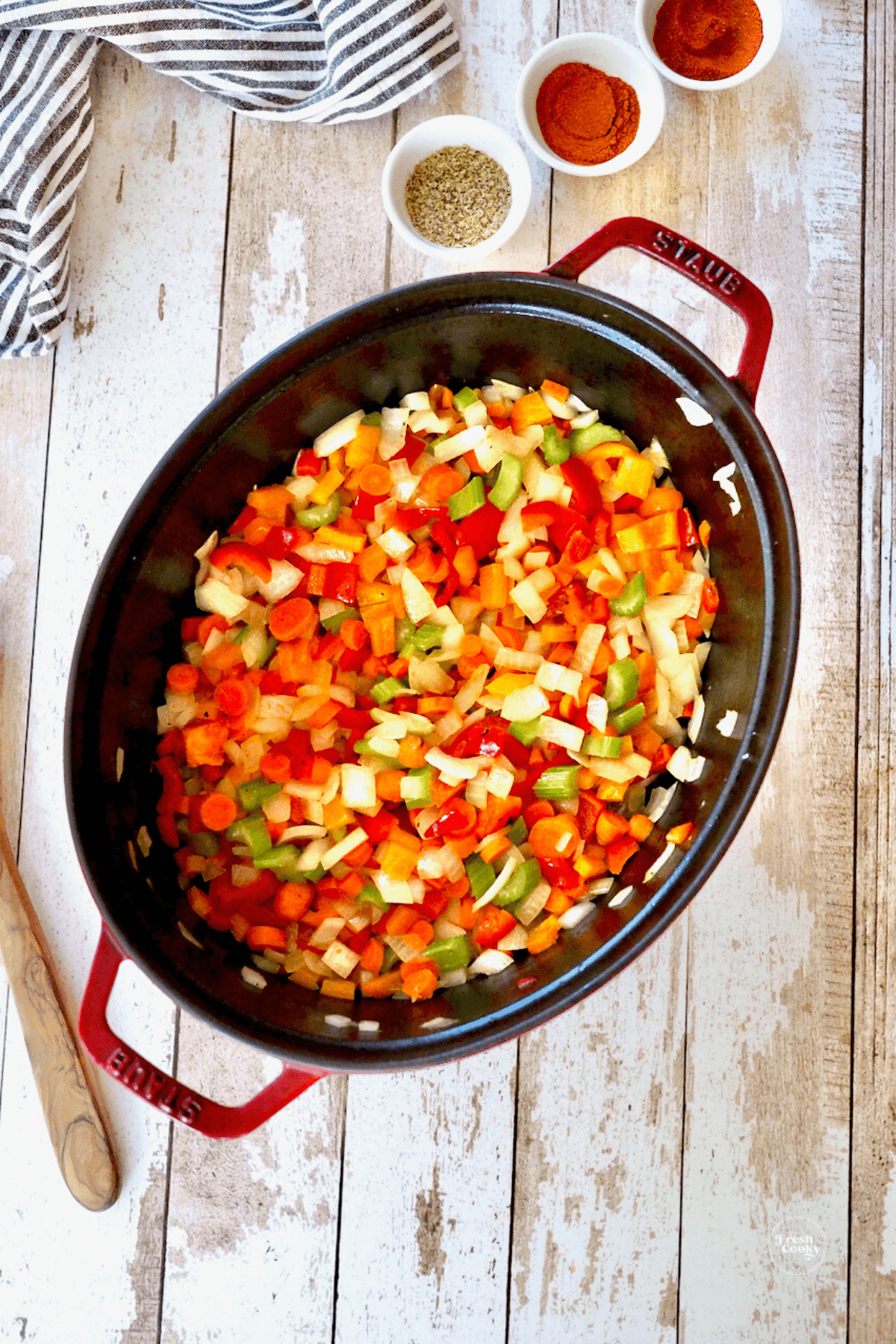 Step 3 | Brown the Meat
Next, increase to medium-high heat and add a small pat of butter or a little swirl of olive oil, if necessary. This next step may be most successful in batches.
Without crowding the meat, brown both sides quickly. Remove that batch and do the second batch of meat. Then, remove the browned meat to a plate.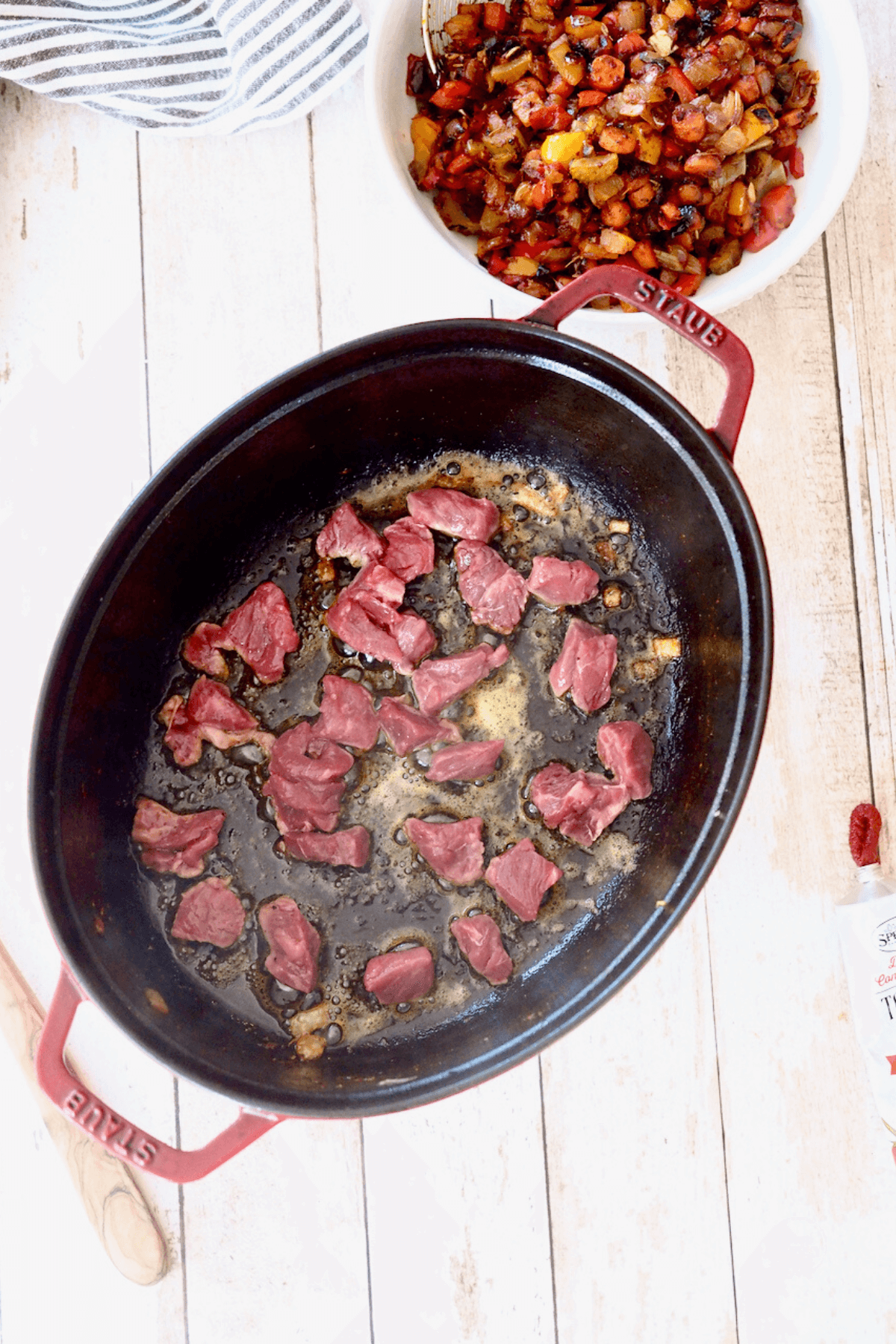 Step 4 | Deglazing the Pan
With the juices and all those bits of tender veggies and meat sticking to the bottom of the pan, it is time to deglaze. Add the 2 cups of wine to the pot and scrape the brown bits from the bottom of the pot with a wooden spoon.
If you prefer not to use wine, use additional beef broth and 2-4 tablespoons of dill pickle juice or try a little red wine vinegar.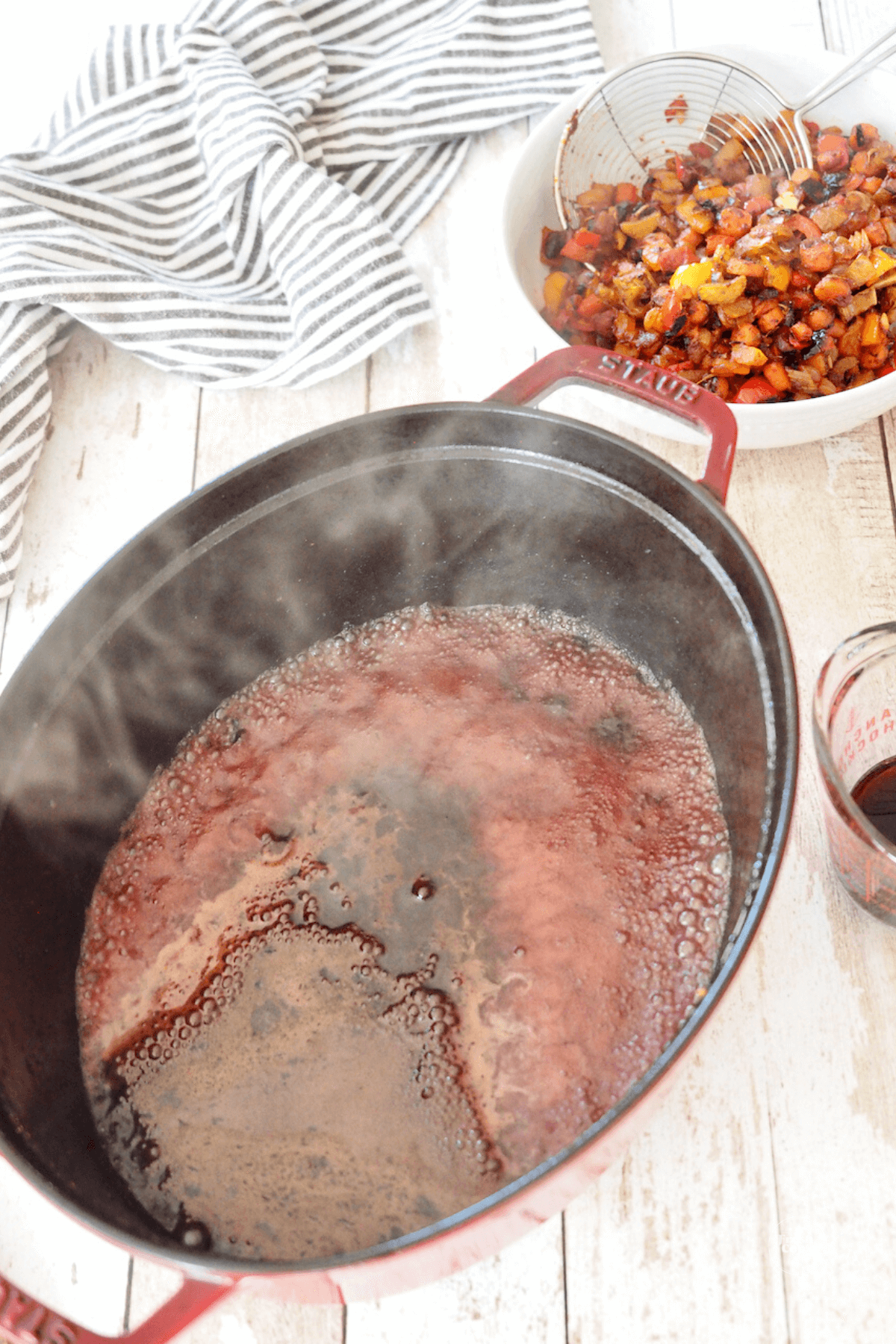 Step 5 | Make Gulaschsuppe
Pour in the beef broth and return the vegetables and beef to the pot.
Next, carefully drop in the potatoes and bay leaves and bring to a simmer.
Now you are going to let that simmer covered for 2-2 ½ hours. Be sure to stir it occasionally. If even thicker goulash is desired, smash a few potatoes on the side of the pot, stirring in and remove lid from pot and simmer 15-20 minutes longer.
Finally, serve with a sprinkle of paprika, a little chopped parsley, some rustic bread, rye bread, or even these traditional Bavarian pretzels. Come to think of it, Sweet Molasses Brown Bread Rolls might be nice too!
It's so delicious!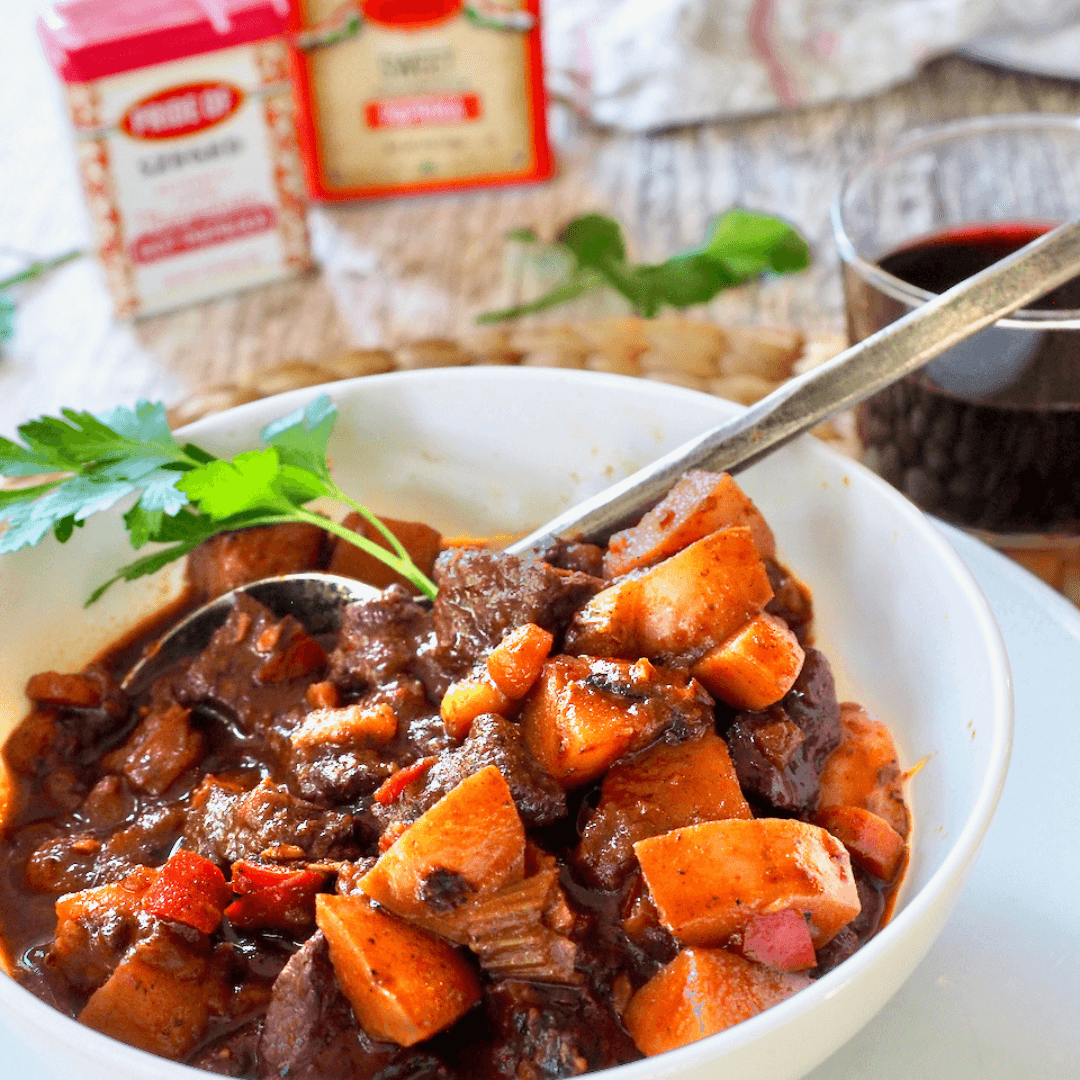 Chefs Tips
This thick soup is more like a stew than a traditional soup. However, if you want it to be more soup-like, add up to 3 cups of more beef broth and adjust the seasonings as needed.
On the other hand, if you prefer a thicker consistency, remove the lid for the last 15-20 minutes and smash some of the potatoes into the broth—YUM!
Toppings
As mentioned, I like to serve this traditional soup with a sprinkle of paprika and some chopped parsley. You can add a dollop of sour cream or red pepper flakes.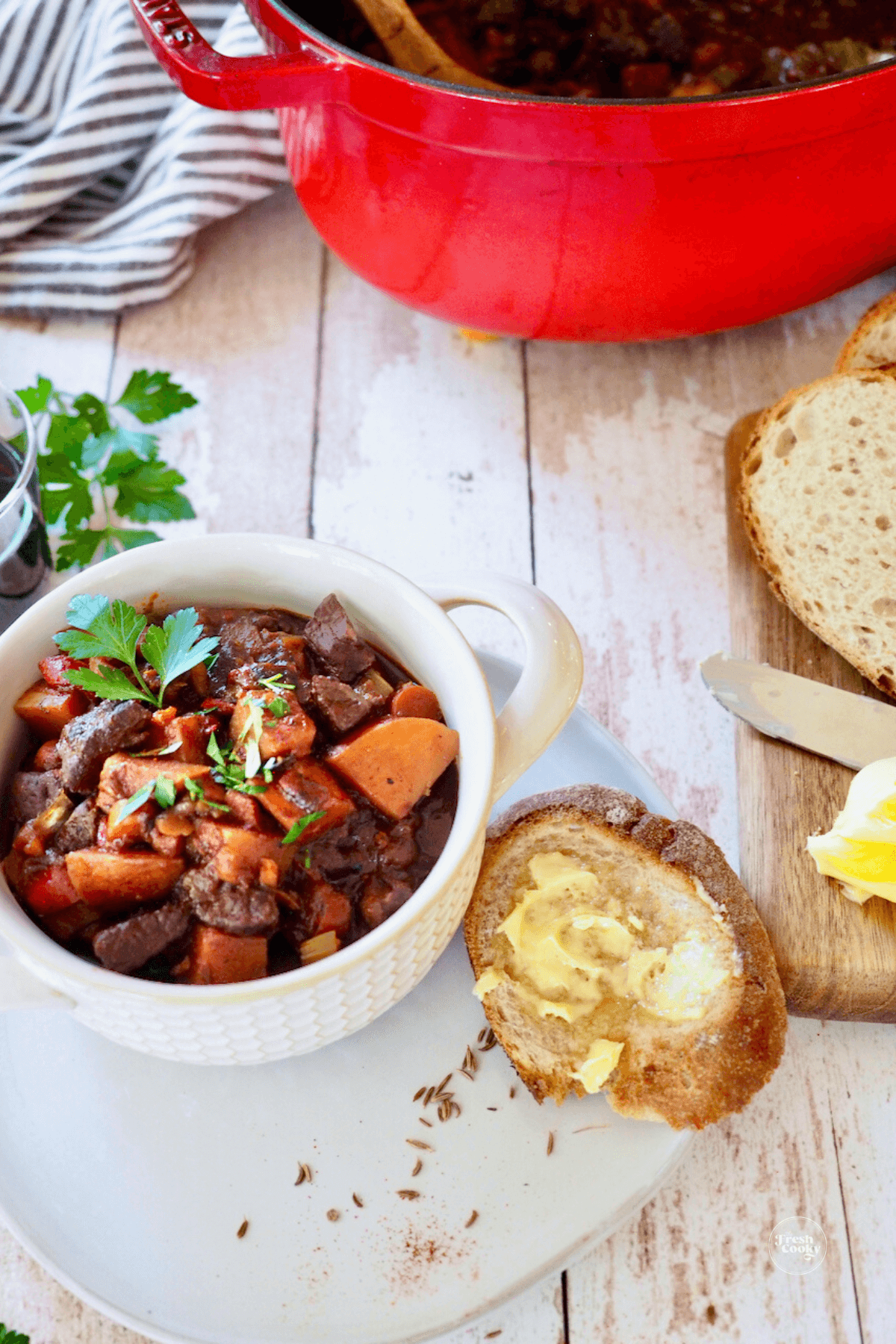 Tips for Two
This is the perfect meal to make for two! It doesn't make a huge amount and it chills or freezes beautifully so you get two-three meals out of one!
Store or freeze leftovers in individual servings for easy meal prep!
Variations & Substitutions
Most traditional goulash soup recipes include an ingredient that will add some sour flavor. In my recipe, I use dry red wine for this purpose. However, other variations use lemon juice, red wine vinegar, or other vinegars.
If you can't get your hands on marjoram, you can substitute it with another herb, like sage, bay leaves, or oregano.
Hot paprika isn't always easy to locate. In this case, you can add cayenne pepper instead.
Add egg noodles, elbow macaroni noodles, or another type of pasta to make the extra soup filling.
No beef broth? No problem—use water and a beef bouillon cube (one cube/teaspoon per cup of water) or beef stock in its place
Some Germans like to add ¼ cup of heavy whipping cream as a final ingredient to make the soup creamier and even more comforting.
Use tomato sauce instead of tomato paste for a milder tomato flavor and less thick consistency. You can also use tomato puree if you prefer.
Recommended Equipment & Ingredients
Soup pot or Dutch Oven | I love my Staub dutch oven, it's perfect for this soup!
Wusthof Knife | A solid, sharp knife is essential to every recipe.
Paprika | It's worth the splurge to purchase some good, authentic sweet paprika and hot paprika. Check your local World Market or Amazon has some too!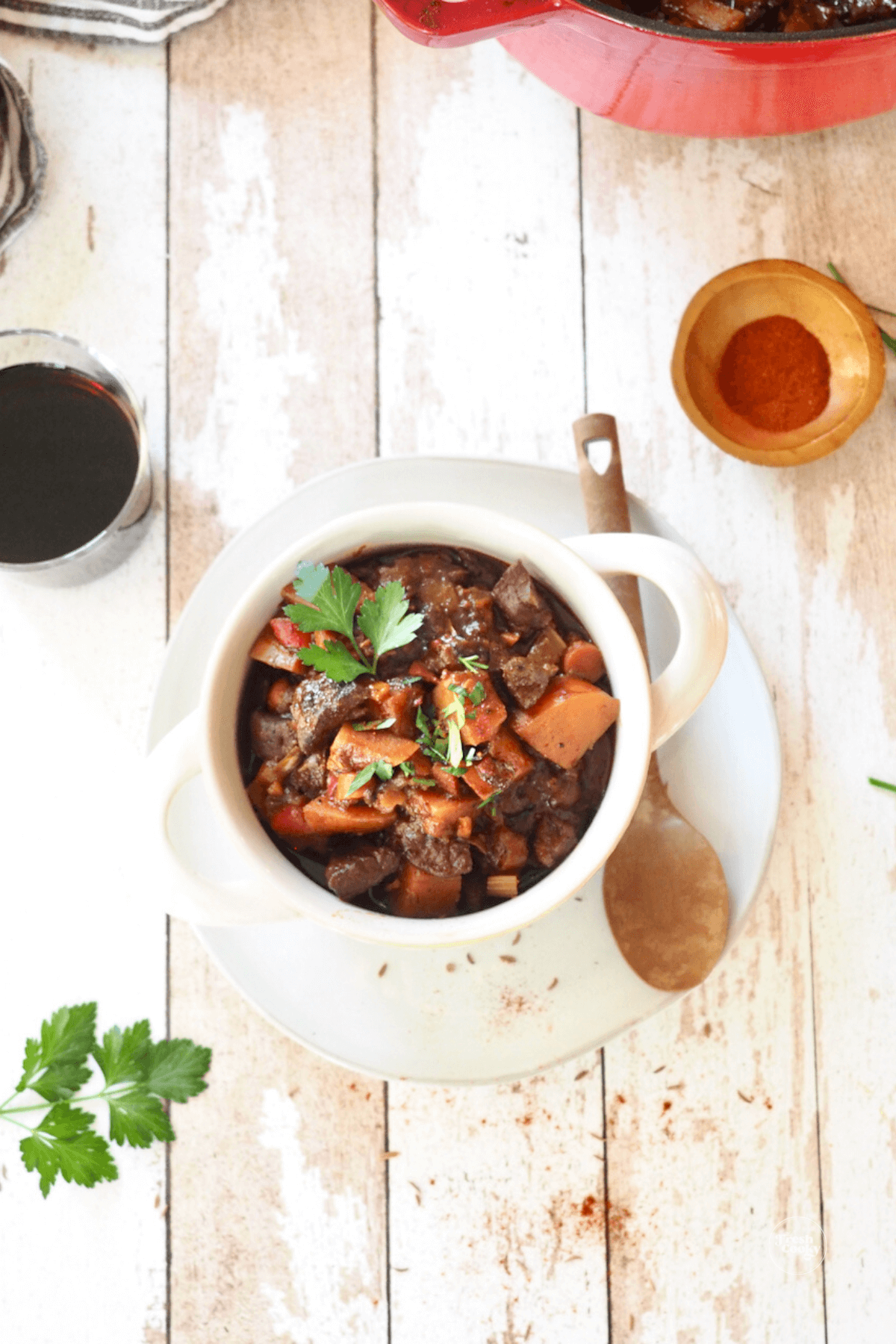 Storage Tips
Refrigerate for Later | While this traditional Hungarian Goulash soup can be served immediately, it may be wise to refrigerate it for a day or two before serving. When the soup sits, the flavors continue melding and become further incorporated with one another, making a delicious taste. In an airtight container, the soup should last up to four days in the refrigerator.
Store in the Freezer | German Goulash soup is an excellent meal to store away in the freezer for a later date. Plus, it is easy to reheat on the stovetop, making for a quick and hassle-free weeknight dinner.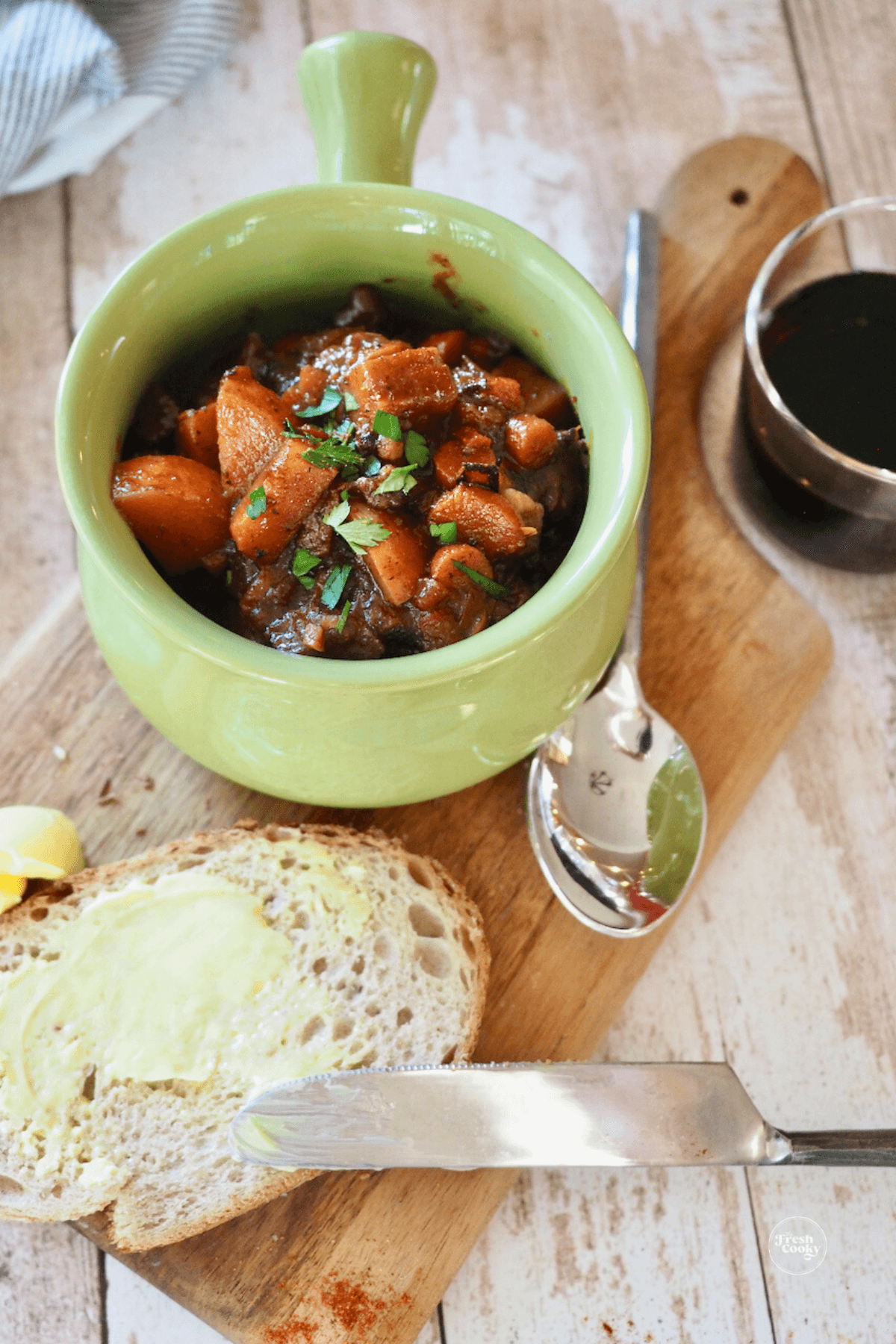 Frequently Asked Questions
Is goulash soup German, Russian or Hungarian?
This rich stew-like soup originated in Hungary, but as families immigrated to other Central and Eastern European countries it took on local flavors and seasonings.
What is German goulash made of?
German Goulash Soup is a rich, savory stew made of beef or other meat and loads of vegetables that include onions, garlic, carrots, loads of bell peppers and potatoes. Rich in red wine, tomatoes, and bell peppers, this gulaschsuppe is generously seasoned with paprika and caraway seeds.
Can you prepare German Goulash Soup in a Slow Cooker or Pressure Cooker?
Yes, and yes! To make this soup a little easier to prepare, you can use a slow cooker or pressure cooker.
Slow Cooker | Brown beef and saute veggies in a skillet, add to slow cooker. Deglaze the pan with red wine and pour into crock pot. Add seasonings, potatoes, beef broth and rest of ingredients. Cover and cook on LOW for 7-8 hours. If thicker soup is desired, turn to high during last hour of cooking and leave lid propped open with a spoon.
Pressure Cooker | Preparing this recipe in a pressure cooker is pretty similar to the process using a slow cooker. Start by browning the beef, (hint) brown some beef on and the veggies in the Instant pot for flavor, then place it in the pressure cooker with the red wine, broth, and seasonings. Close the lid and pressure cook on high for 25 minutes. Allow to naturally release for 10 minutes. Remove lid and turn on saute function for about 20 minutes, until thickened.
This authentic German goulash soup recipe has many variations, like the American goulash! It differs from the German recipe by using ground beef, elbow macaroni, Worcestershire sauce, or soy sauce.
American goulash is typically topped with cheddar or parmesan cheese. Perhaps I'll try out some of the other types of goulash later this year.
What to serve with Authentic German Beef Goulash Soup Recipe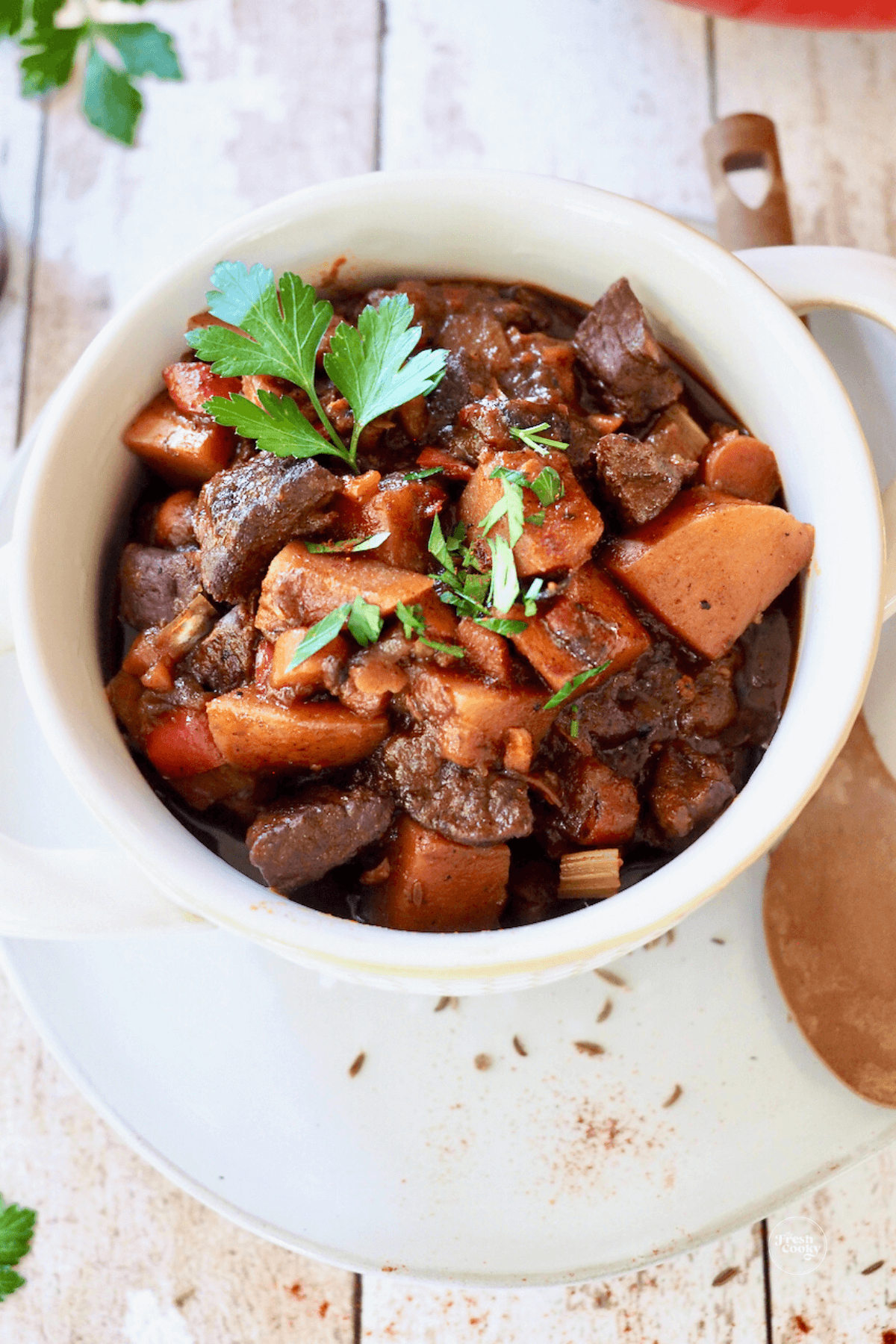 Before diving into this recipe, remember to have all your ingredients chopped and measured. It will make the whole process take less time and run much smoother.
More delicious dinner recipes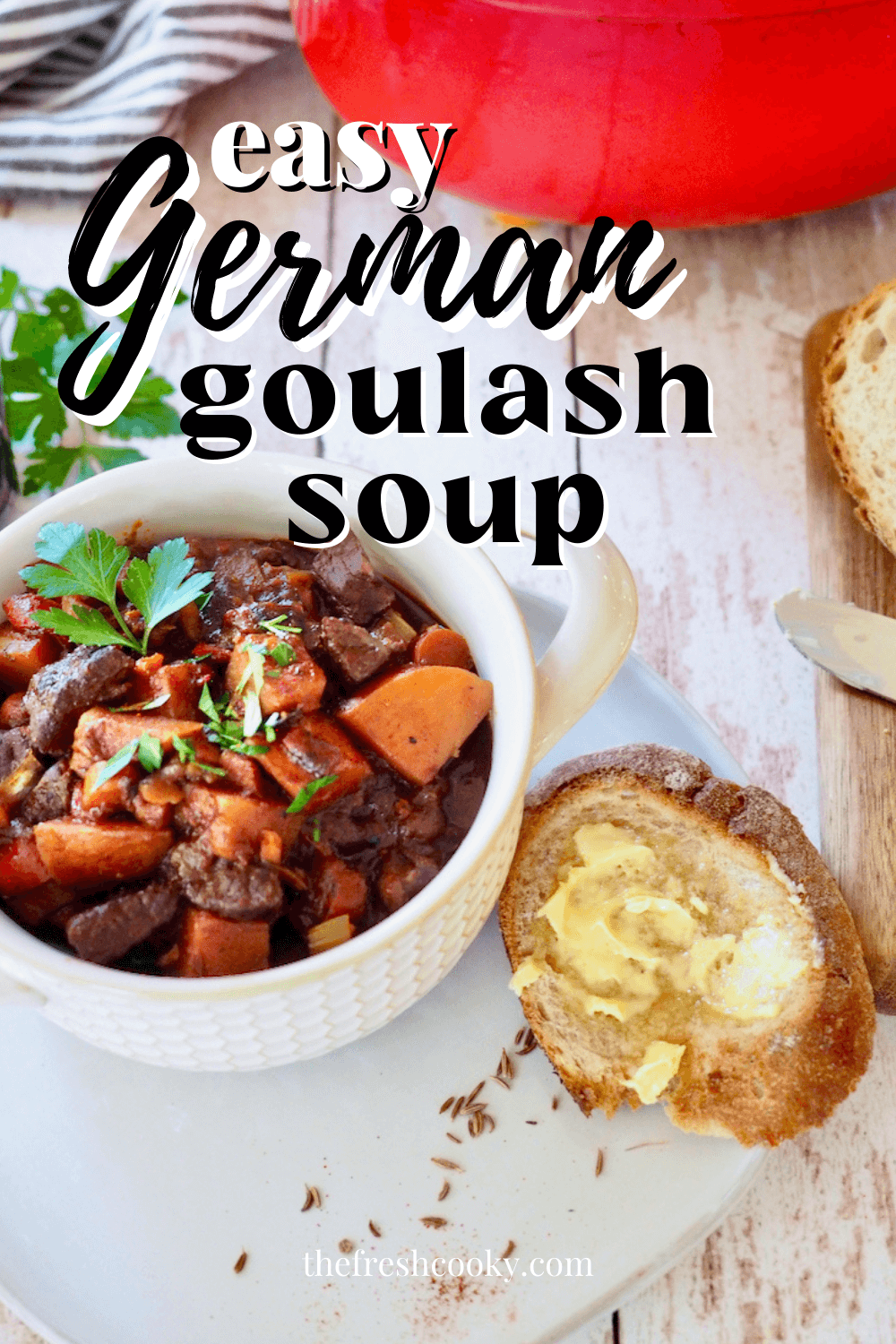 I hope you loved this authentic German Goulash soup recipe — if you did, would you share your creation on Instagram, Facebook and Pinterest? And be sure to comment below!
Like this recipe?
Don't forget to give it a ⭐️⭐️⭐️⭐️⭐️ star rating and comment below the recipe!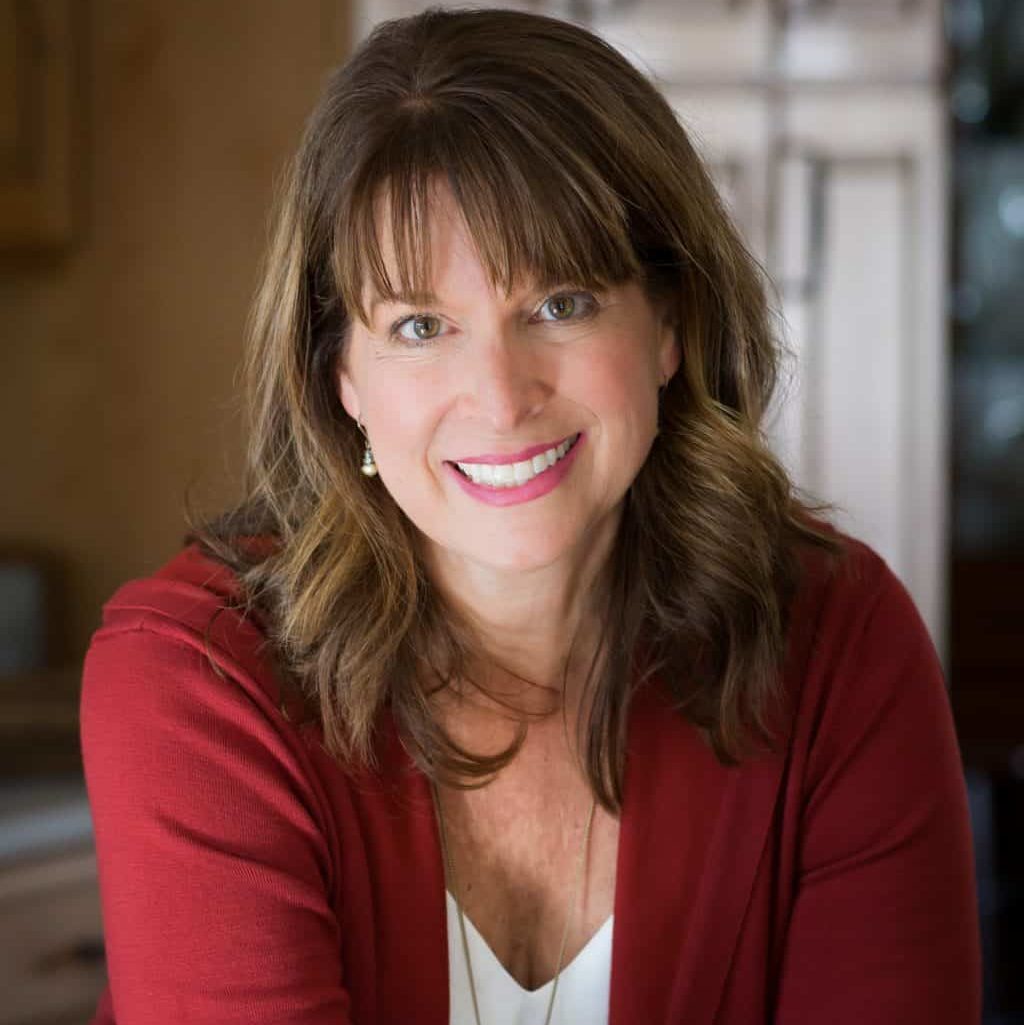 About Kathleen Pope
Recipe Innovator | Food Photographer | Food Writer
Hi, I'm Kathleen Pope. Here at The Fresh Cooky you will find easy, mostly from-scratch, trusted recipes for all occasions. From speedy dinners to tasty desserts, with easy step-by-step instructions. I am here to help teach you how to make mouthwatering recipes without spending hours in the kitchen. Read more about Kathleen here.