Key Lime Torte with Graham Cracker Crust
As an Amazon Associate, I earn from qualifying purchases. Please read my disclosure policy.
This Key Lime Torte is a fresh, light and fancy (but not difficult) dessert, it's packed full of fresh lime with a light graham cracker crust, garnished with pillows of fresh whipped cream finished with bright green lime zest sprinkled on top.
This is a fabulous, light make ahead lime dessert, that will wow your guests or family. Full of flavor, lime, and lighter than air thanks to the whipping!
If you are a key lime or citrus lover, you may also love these desserts: Traditional Key Lime Pie, and Fresh Orange Scones!
How to Make a Graham Cracker Crust (+Gluten Free Option)
Pulse your graham crackers in a food processor into fine crumbs. Alternately, you can place your grahams in a zip lock baggie and smash with a rolling pin (which can be quite satisfying sometimes, especially on those heavy bickering days), then roll (on top of the baggie) until you get fine crumbs.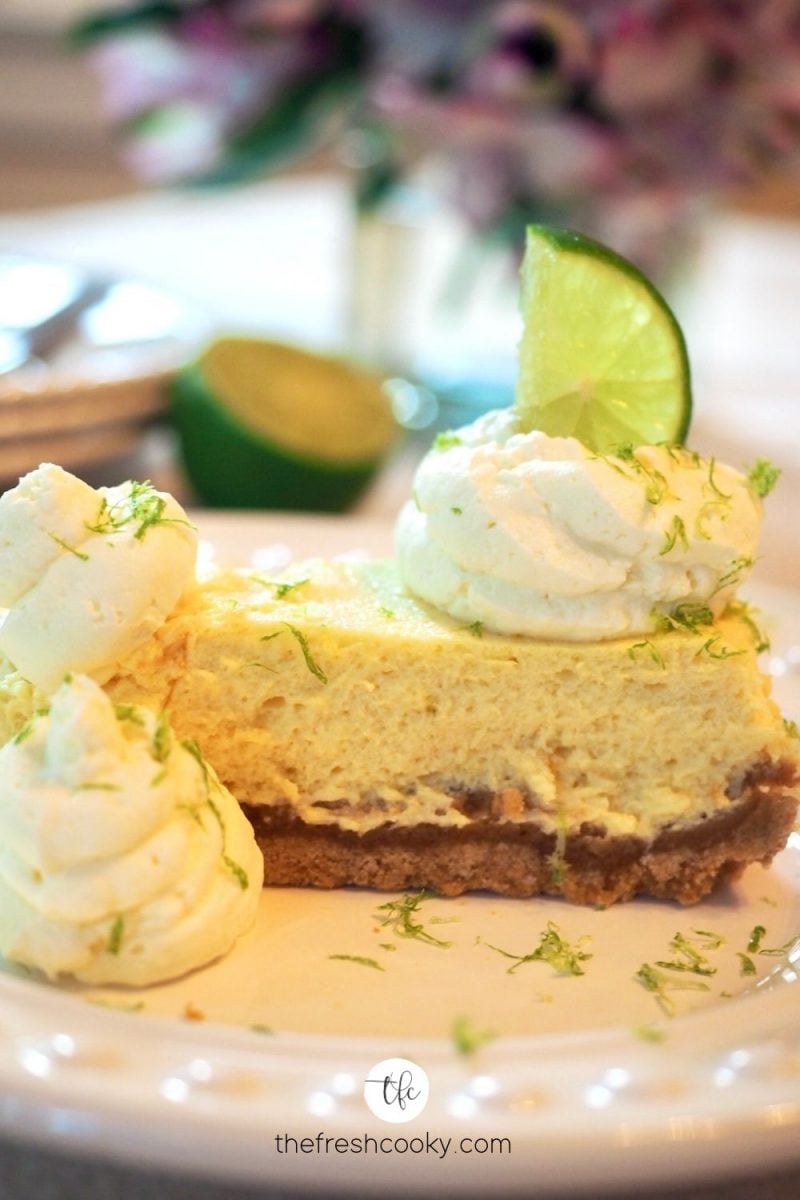 NOTE | Transform this torte easily into a gluten free dessert, simply replace regular graham crackers with GF grahams.
Add sugar and pulse to combine.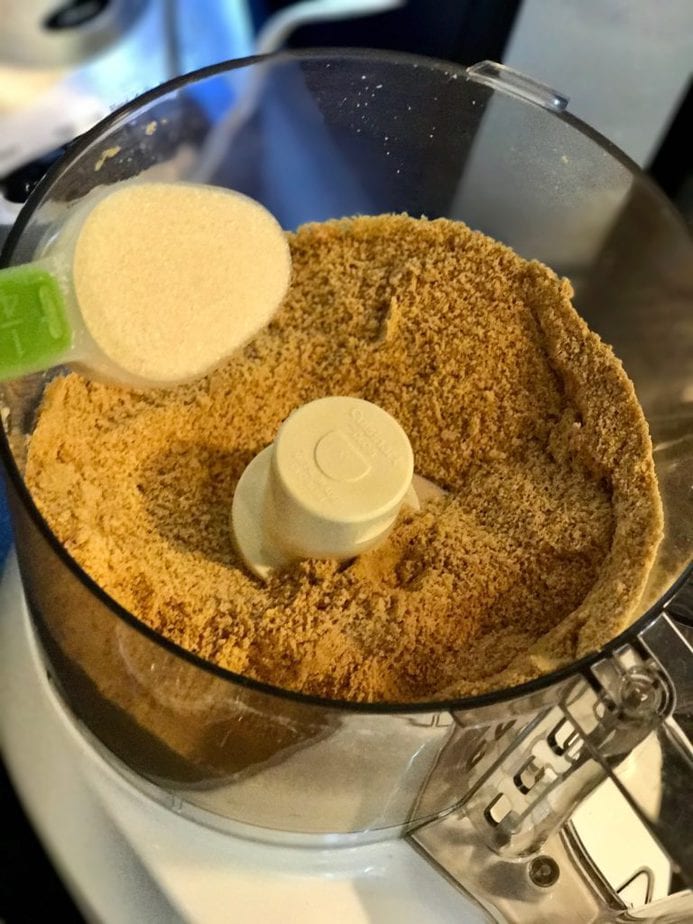 Slowly drizzle in melted butter while pulsing on low to combine. Pat crumbs evenly into a 9 or 10″ springform pan.
CHILL in the refrigerator for at least an hour before adding your batter.
Kathleen's Pro TIP: Use a piece of wax paper or plastic wrap to press crumbs evenly and firmly.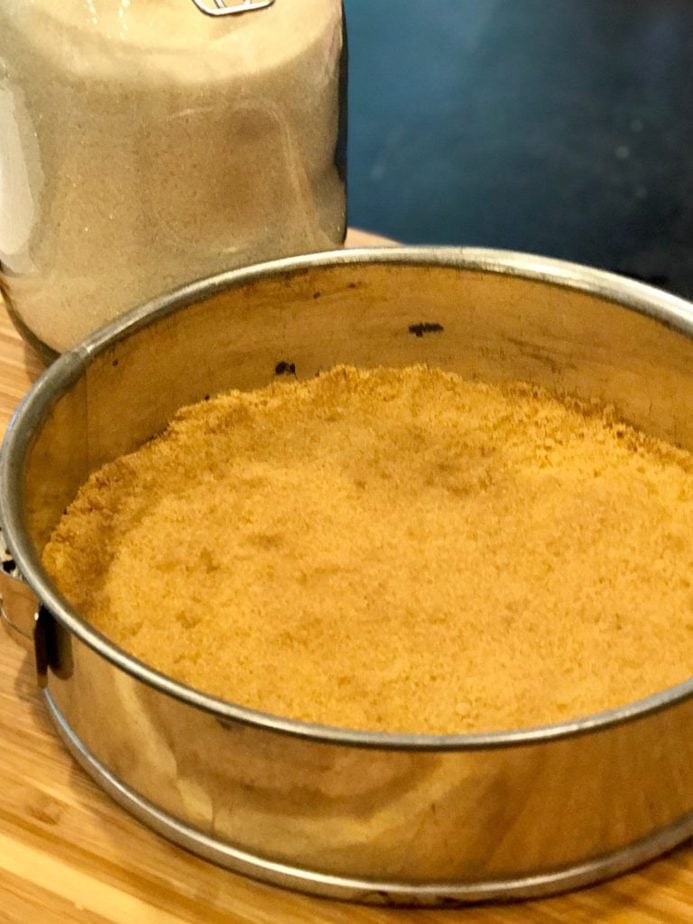 Next you'll make the "fluffy-limey part" of the torte.
How to make key lime tart filling
Separate the eggs, I still do it the old fashioned way, back and forth between the shells. Don't throw those whites or yolks out though, you'll need them both.
Add yolks to large mixing bowl, whisk until they lighten slightly in color. Pour in sweetened condensed milk and whisk until combined with egg yolks.
Next pour in lime and lemon juice…whisking well.
Then add lime zest, whisking it all together. Oh how I love lime zest, it's so bright and pretty and packed with flavor.
If your crust is done chilling, now would be a great time to preheat your oven to 325°.
Kathleen's Pro TIP | Zest your limes BEFORE you juice them!
In a separate, clean bowl; using a hand mixer, whip the egg whites until they are frothy. Then add your sugar and continue whipping until stiff peaks form.
You'll know they are ready when you lift your mixers beaters; if ready there will literally be little peaks that stay standing and don't floomp over. If they sag or droop too much, just whip a bit longer. They should get nice and glossy and grow in volume.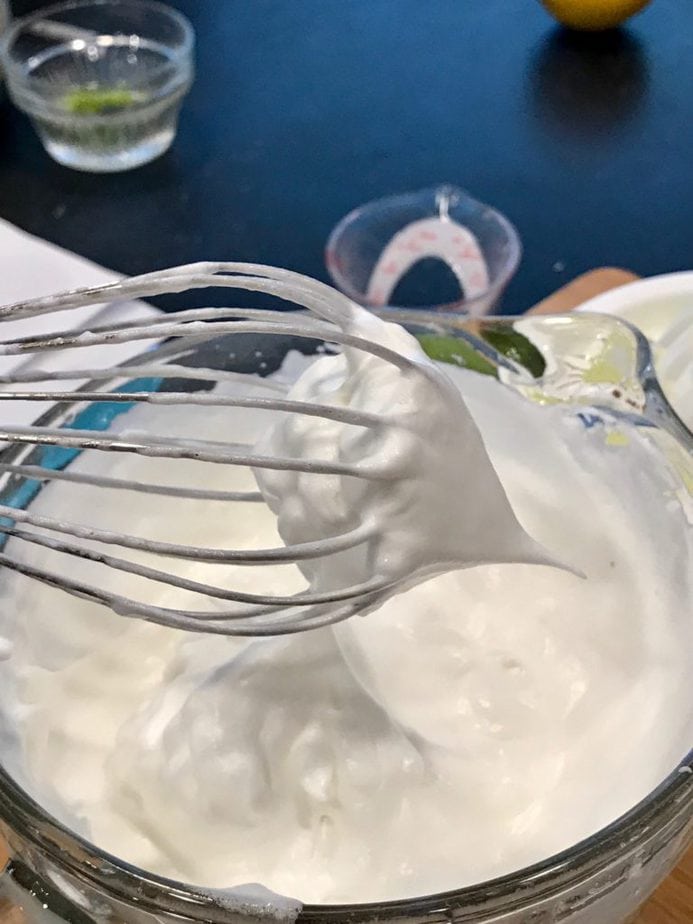 Fold the egg whites into the lime batter using a large spatula literally "fold" the mixtures together. Don't stir! Gently, scoop to the bottom, pull the batter up and turn over onto the egg whites, continue doing so until the egg whites are incorporated into the batter.
Be patient, this part takes a bit of time, but resist from stirring to get it done, it doesn't take longer than a couple of minutes and this will leave you with a lighter than air filling.
When it's all incorporated, pour it onto the chilled graham cracker crust.
Bake at 325° for 15-20 minutes until edges start to brown ever so slightly and the middle looks a bit dry. It might even crack as it cools. That's okay, you'll cover up those cracks with whipped cream!
Cool completely on a cooling rack, refrigerate for 6-8 hours. I only chilled this one 4, I rushed it, it's better if it goes a bit longer, this is a great make ahead dessert.
When ready to serve, using a butter knife, run it between the edge of the pan and the torte, then carefully "spring" your pan and gently lift off the collar from the pan. Slice into pie sized servings.
HOW TO MAKE STABLE WHIPPING CREAM
Purchase real heavy whipping cream and pour into bowl and whip until thickened slightly.
About half way through whipping, add powdered sugar and a touch of vanilla, continue whipping until you have stiff peaks and the whipping cream is firm. Be careful you don't accidentally make make sweet butter! It's easy to do.
Spoon whipped cream into a baggie or a piping bag, if desired, snip off about ¾ – 1 " of the baggie corner and "pipe" onto the torte slice. Garnish with a little more lime zest and a slice of lime if desired. Or, just scoop a dollop onto each piece.
If you are a lime desserts fan, you are going to love this recipe! Light, filled with fresh lime juice and zest!
Sharing this week on Weekend Potluck, check it out!
Like this recipe?
Don't forget to give it a ⭐️⭐️⭐️⭐️⭐️ star rating and comment below the recipe!
Key Lime Torte
This torte is a fresh, light and fancy (but not difficult) dessert, it's packed full of lime flavor with a lovely light graham cracker crust garnished with pillows of fresh whipped cream, and fresh lime zest.
Ingredients
GRAHAM CRACKER CRUST
2

cups

crushed graham crackers*

,

about 1 ½ packages, 2 pkgs for thicker crust or if you are using 10″

¼

cup

sugar

,

less if desired

8

TBL

,

1 stick butter, melted
KEY LIME FILLING
3

large eggs

,

separated (save both whites and yolks)

1

(14 oz can sweetened condensed milk

½

cup

fresh Key lime juice

,

Persian Limes may be substituted

1

Tablespoon

fresh lemon juice

1

Tablespoon

lime zest

2

Tablespoons

sugar
Instructions
Place graham crackers crushed loosely with hand into bowl of food processor and pulse until crushed. Or place in gallon sized ziplock bag and using rolling pin, smash grahams, then roll until all grahams resemble fine crumbs. Add sugar and melted butter, pulse until combined.

Press into bottom of 9 or 10" springform pan, evenly and firmly. Refrigerate for 1 hour.

In medium sized bowl, whisk egg yolks until slightly lighter in color. Add condensed milk, lime juice, lemon juice and lime zest. Whisk until smooth

In separate bowl, pour in reserved egg whites, using whisk or beater attachment beat until frothy. Add sugar to egg whites and whip until stiff peaks form. Egg whites will increase in size, and get stiff and glossy. Fold whipped egg whites into the egg and milk mixture, gently until combined. Spread evenly on cooled prepared crust.

Bake at 325° for 15-20 minutes or until set and lightly browned. May crack as it cools. Cool on a wire rack, cover and chill for a minimum of 4 hours, 8 hours or more preferred.

Serving: Beat whipping cream at high speed until slightly thickened, then add powdered sugar and vanilla beating until soft peaks form.

Remove collar from torte (gently run a nice around the edge to lose from collar) and slice into desired sized slices. Garnish with a dollop or two of whipped cream, a sprinkle of lime zest and a wedge of lime if desired.

If you'd prefer to pipe the whipped cream, scoop desired amount into sandwich baggie and snip off a corner about ¾ of an inch up, Squeeze onto torte, serve immediately. Refrigerate any leftovers.
✱ Kathleen's Tips
* Gluten Free Graham Crackers may be used cup for cup, the rest of the ingredients should be GF, but always check your packaging labels.
Nutrition
Serving:
1
Calories:
188
kcal
Carbohydrates:
22
g
Protein:
3
g
Fat:
10
g
Saturated Fat:
5
g
Polyunsaturated Fat:
4
g
Cholesterol:
70
mg
Sodium:
92
mg
Fiber:
1
g
Sugar:
14
g
Nutrition Disclaimer
The Fresh Cooky is not a dietician or nutritionist, and any nutritional information shared is only an estimate. We recommend running the ingredients through an online nutritional calculator if you need to verify any information.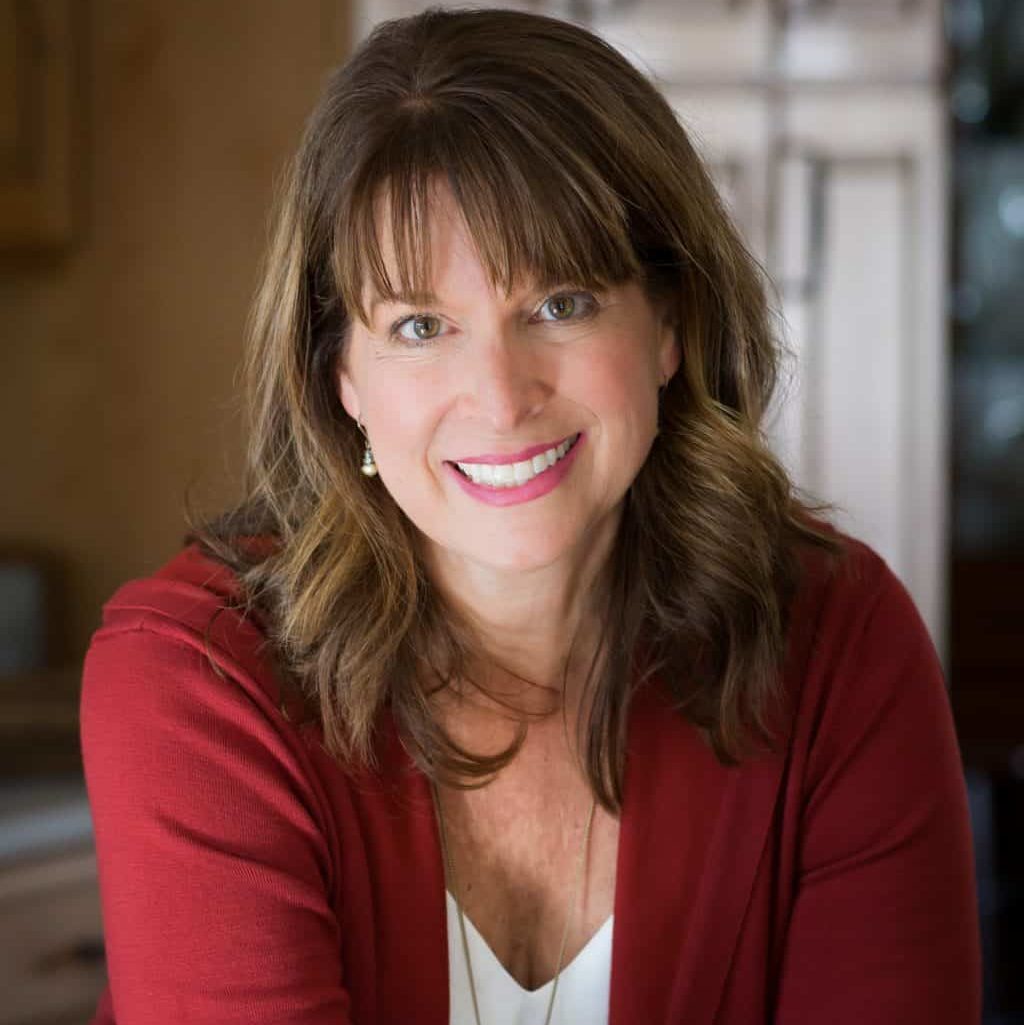 About Kathleen Pope
Recipe Innovator | Food Photographer | Food Writer
Hi, I'm Kathleen Pope. Here at The Fresh Cooky you will find easy, mostly from-scratch, trusted recipes for all occasions. From speedy dinners to tasty desserts, with easy step-by-step instructions. I am here to help teach you how to make mouthwatering recipes without spending hours in the kitchen. Read more about Kathleen here.