Best DIY Gnat Trap for Getting Rid of Fruit Flies
As an Amazon Associate, I earn from qualifying purchases. Please read my disclosure policy.
In this post, I will show you how to make a DIY gnat trap that works using a few household items in just minutes! This solution easily traps pesky gnats and fruit flies with or without apple cider vinegar!
Summer brings delicious, juicy, ripe summer fruits and veggies and with them a fruit fly family reunion! But who needs them, use this gnat trap recipe and be rid of them; easy and all-natural without any chemicals.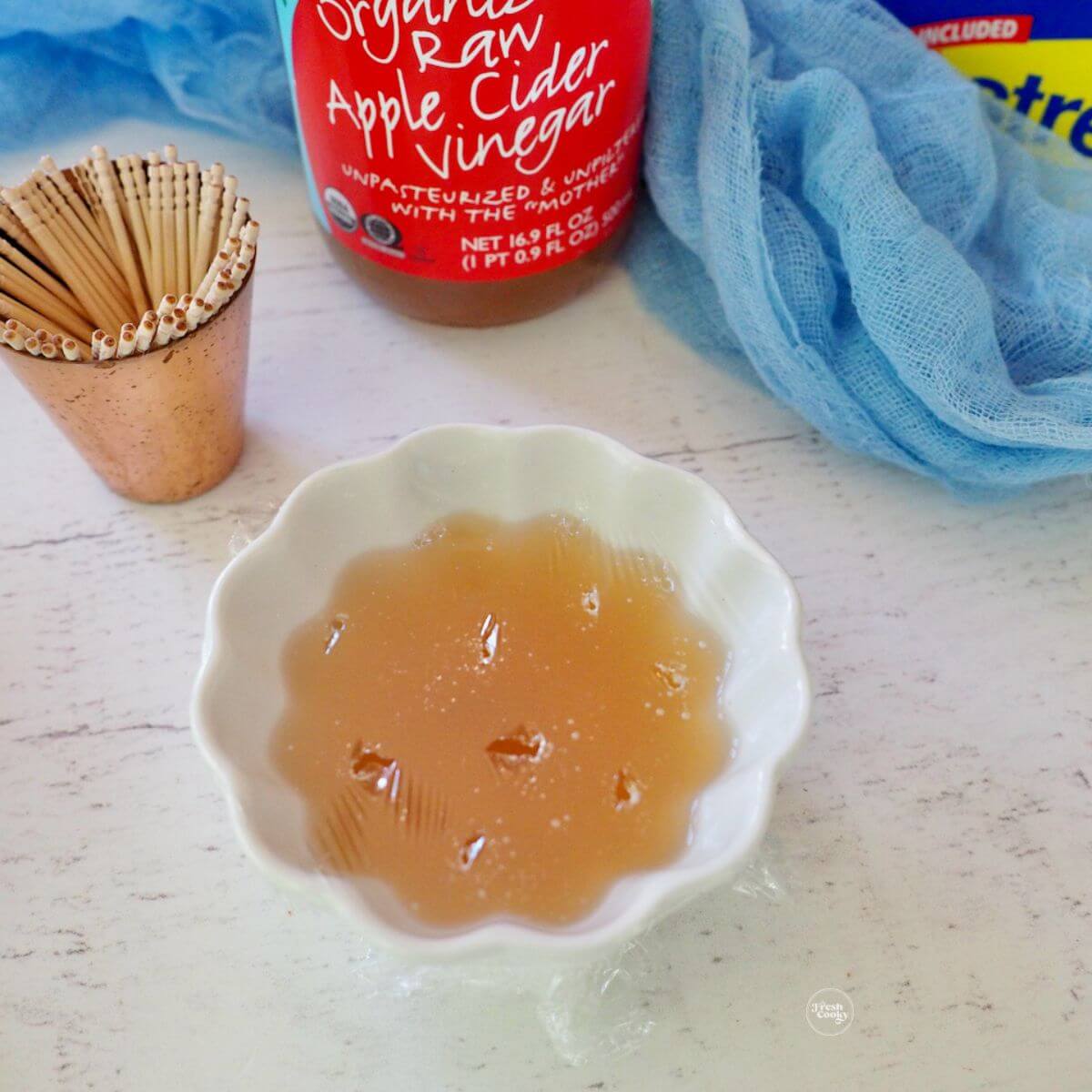 I love DIY'ing easy recipes that are much cheaper than store bought; you too? Try this Carrabba's Grill Seasoning, or this healthy Lemon & Peppermint Antibacterial Hand Scrub.
You'll learn how to make your own cheap and effective homemade gnat trap recipe using everyday household items. Let's get rid of those pesky "guests" naturally and cheap!
Equipment & Ingredients for a Gnat Trap Recipe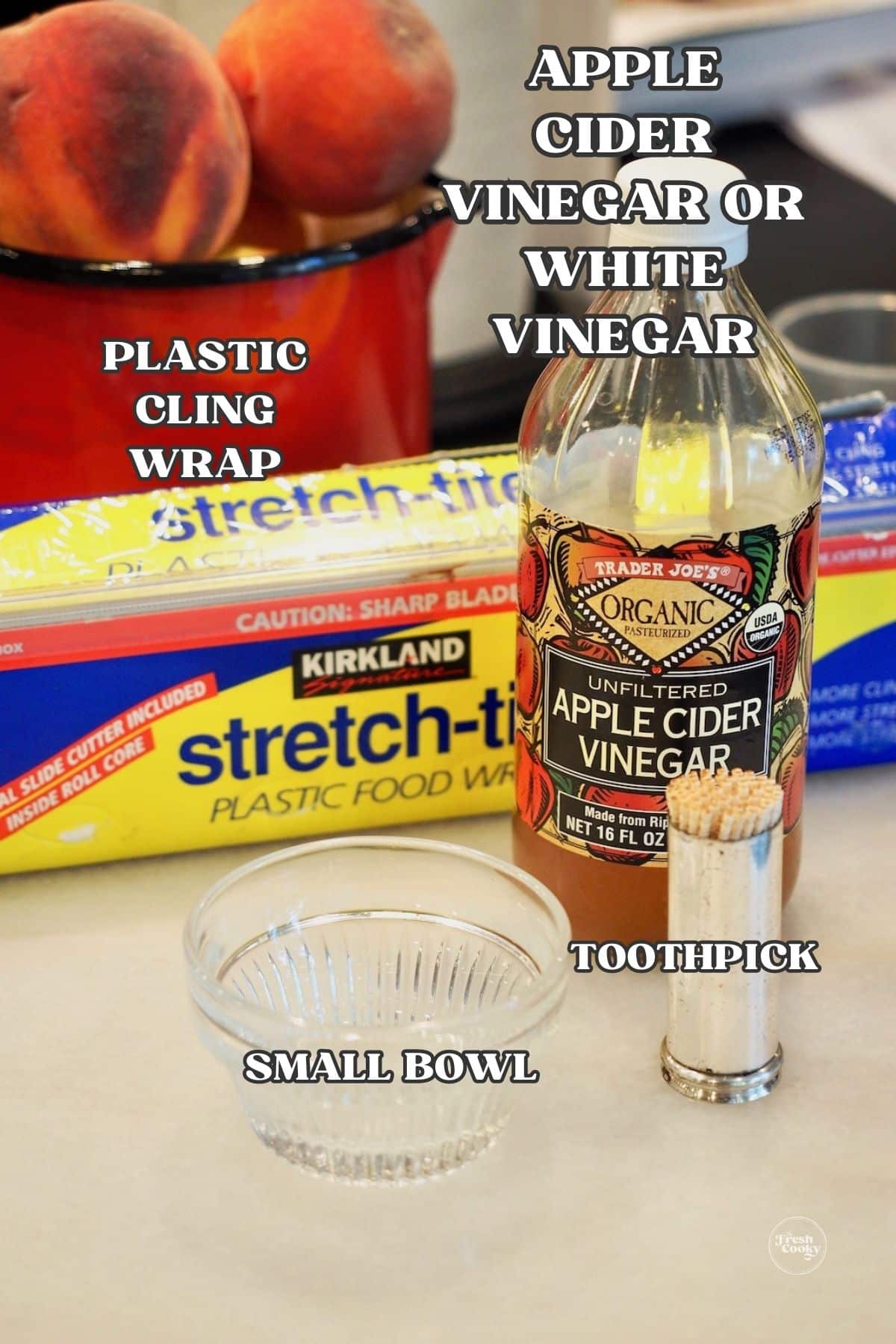 Some produce is best when kept at room temperature; tomatoes, bananas, stone fruits like peaches, nectarines, and plums are so much more flavorful, juicy and did I say flavorful when they hang out on the counter.
But do you see itsy-bitsy black insects flying around, fruit flies and gnats dive-bombing your face? You look like one of those clapping monkeys as you try to smack the darn things; looking like a fool? Just me?
How to make a Gnat Trap that will catch fruit flies
This fruit fly trap is so simple, I am sure you have the ingredients at home. So how do you make a fruit fly trap with vinegar?
Simply pour apple cider vinegar or white vinegar* into a ramekin, leaving about 1/2 inch at the top. If using white vinegar, stir in a teaspoon of sugar before covering.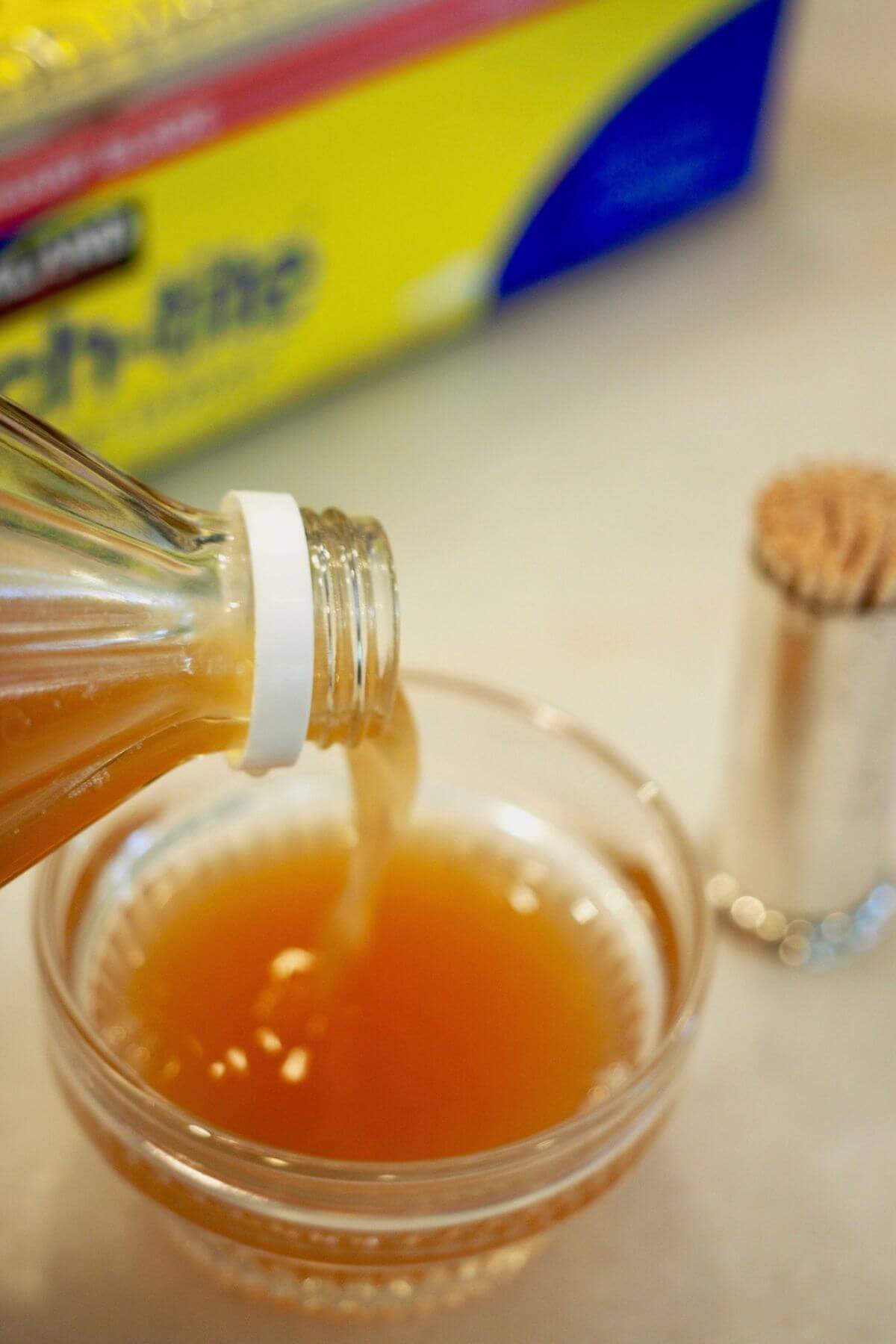 Cover snugly with plastic wrap, pull taught, and seal tightly around the ramekin.
Using a toothpick or an ice pick, puncture holes in the top of the plastic wrap, swirling slightly to enlarge the hole a bit larger than the toothpick makes by itself.
Set out as many gnat traps as you need, concentrating them especially near your fruit or where you have kept your fruit.
Pro Gnat Trap Recipe Tip
If the fruit flies (or gnats) are attracted to the trap but are not going in (walking all over the top of the plastic wrap), it means your holes aren't big enough.
Without making the holes too big, use a toothpick to slighly swirl and enlarge your holes, remember you don't want them flying back out, warning their fly friends. Make it easy for them to get in and never get out. 🙂
After a few days the vinegar loses it's drawing power, toss out, wash the bowl and start over again. You'll be surprised at how many you catch!
Our infestor's visitors are not too prolific at the moment, but typically I've got 2-3 traps going, and they each catch 15-20 flies a day! EW!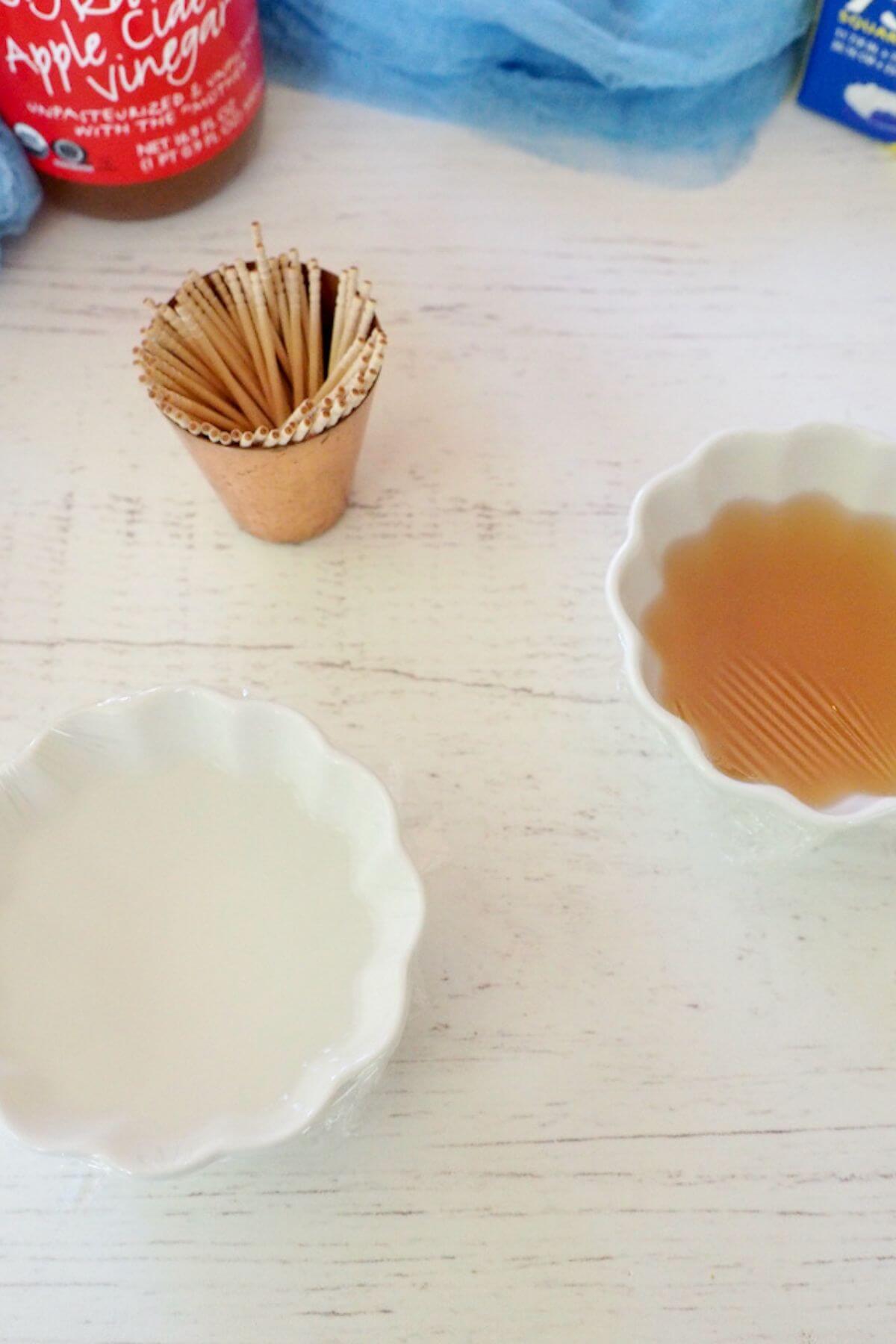 How to Get Rid of Fruit Flies Without Apple Cider Vinegar
I like using Apple Cider Vinegar for my gnat traps, however; regular white vinegar will work too! Stir in a teaspoon of sugar into the white vinegar, the sweetness is what attracts the fruit flies.
You can also use red wine vinegar and balsamic vinegar, but they are more expensive vinegar, so I prefer to use the lesser expensive kinds of vinegar for my traps.
You should know quickly if it works, and if it doesn't then move on to apple cider vinegar, balsamic, red wine, or anything that is naturally a bit sweeter.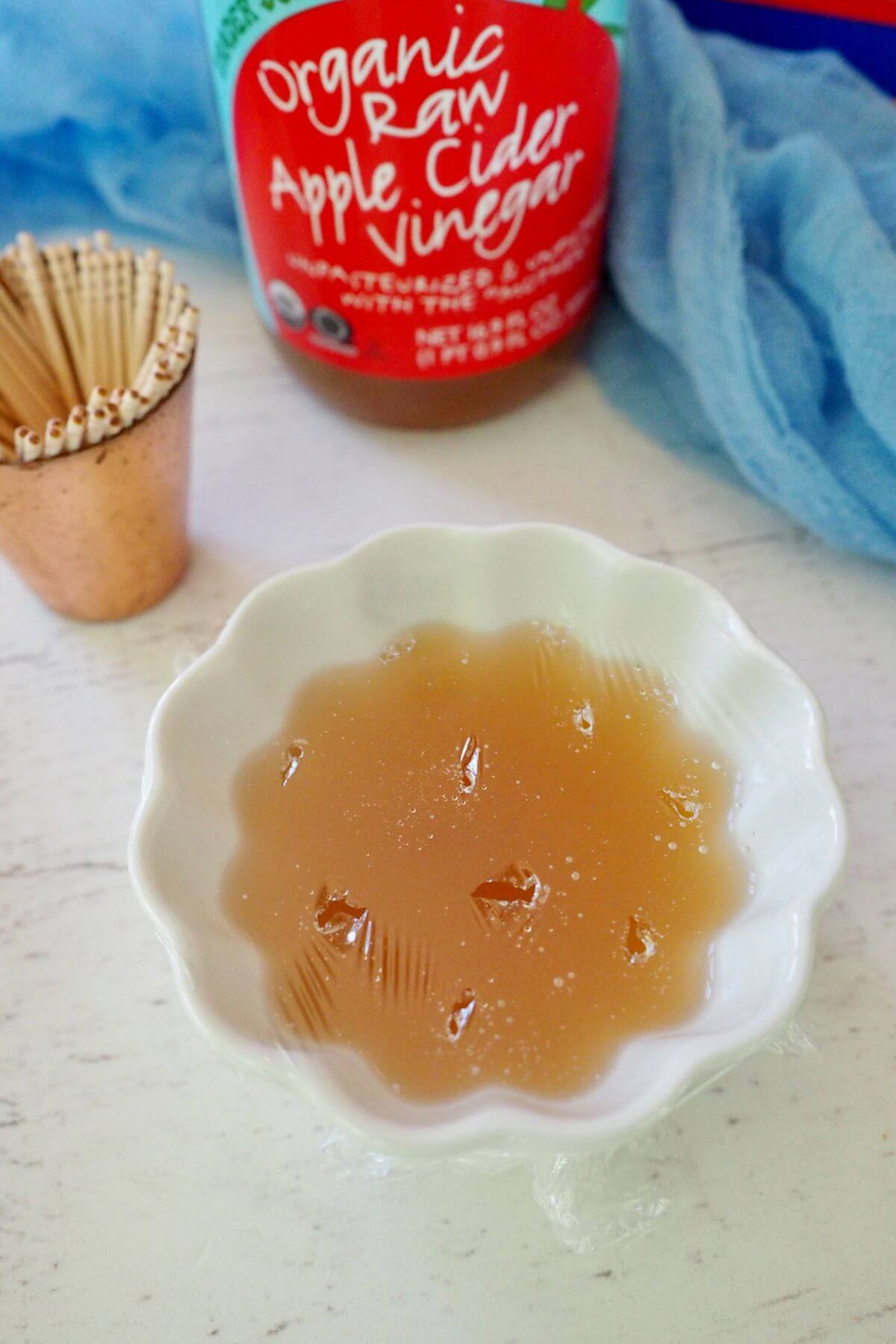 4 More Methods to Trap Fruit Flies and Gnats
There are so many theories and ideas out there, knowing that I've been successfully using the above method for decades to catch fruit flies, I stick with this. But here are a few other ideas:
Adding dish soap to the apple cider vinegar
The idea behind adding a few drops of dish soap is that it will coat their wings once they hit the vinegar, however; the same thing happens once they dive the vinegar itself. I leave off this step.
Use a parchment-made paper cone
Place a cone of paper or parchment paper into a mason jar with ¼ cup ACV. The idea is that they fly down through the tunnel of parchment into the jar of apple cider vinegar and cannot figure out how to get back out.
Setting out a wine bottle with a little leftover wine
While this might seem the easiest way, I suppose it is, I have had much better success using a small ramekin. But if you want to try, simply leave a little wine (the sweeter the better) in the bottle and place it near your gnat problem.
Mason Jar with Holes in Lid to catch fruit flies
Place the top of a mason jar (without the screw top) on top of a cutting board or scrap piece of wood; using a hammer, pound tiny holes into the top of a mason jar lid. Then screw on the holey lid on a mason jar filled with ¼ cup of apple cider vinegar and set near your fruit fly infestation.
I feel all of the above are a bit more unsightly than my tiny bowls of death that sit around my kitchen catching and killing fruit flies.
Fruit Fly Traps that Work from Amazon
Amazon Fruit Fly Traps
Sometimes it's easier to purchase something than put things out on your counter. I get that!
I purchased this Safer Home UV LED Fly trap from Amazon, and it has worked really well. I keep herbs and live plants on my windowsill near my kitchen sink and they attract loads of flying insects and aphids. Plugged it in near that area and successfully caught all sorts of flying insects.
Pros for Safer Home UV Led Light
Non-toxic,
No Batteries needed, it plugs in to attract the bugs
Attracts moths, flies, fruit flies and gnats
Covers a large room
Clean look, the bugs are hidden on the backside of the trap
Cons for Safer Home UV LED light
Requires purchase of replacement sticky sheets
The light is pretty bright, if using in a sleeping area it might be too bright.
I have also used these yellow sticky gnat traps. They trap fruit flies, moths, gnats, and aphids from Amazon. They also work great; I don't love the look of them in my pots with oodles of insects stuck to them!
Bottom line, use what works best for you, this is certainly the most natural and economical way to catch fruit flies. Check out all of my DIY projects here!
Print
DIY Gnat Trap (that really works!)
How to DIY your own Homemade Fruit Fly Trap (or gnat trap) using apple cider vinegar and a few household items.
Instructions
Pour vinegar into small shallow bowl or ramekin, leaving about 1/2 inch space at top.

Stretch a piece of plastic wrap tightly across the top, making sure there are no gaps.

Insert toothpick (or icepick) through plastic wrap and swirl slightly to enlarge the hole abit.

Set on counter and watch the fruit flies gather for a pool party.
Notes
The vinegar loses its efficacy after a few days. Simple wash out the container, and repeat the above steps.
If the flies are attracted to your trap, but aren't going it, chances are your holes are too small (or too large), increase the size of the holes. Or if too large, replace the plastic wrap and try again. Happy catching!
Nutrition
Serving:
1
|
Calories:
235
kcal
|
Carbohydrates:
40
g
|
Protein:
6
g
|
Fat:
5
g
|
Saturated Fat:
1
g
|
Polyunsaturated Fat:
3
g
|
Sodium:
344
mg
|
Fiber:
2
g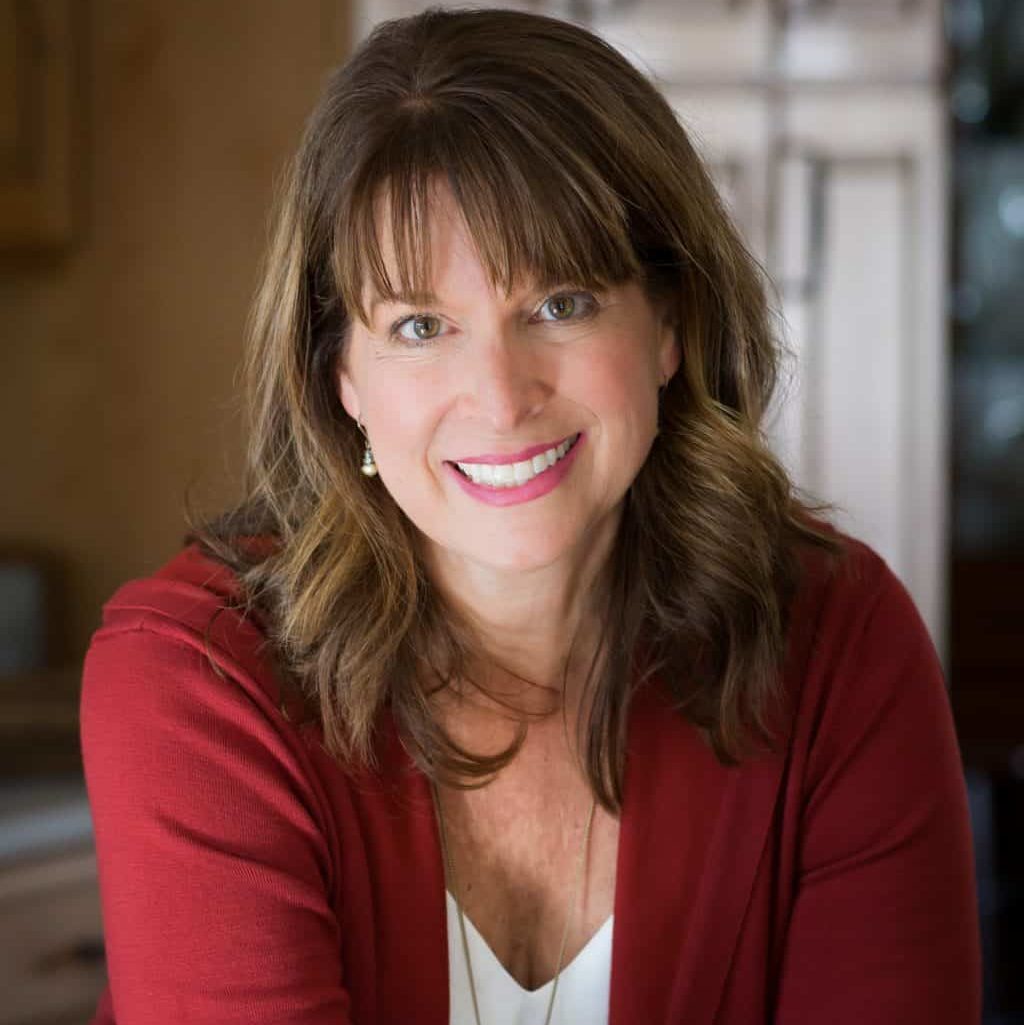 About Kathleen Pope
Recipe Innovator | Food Photographer | Food Writer
Hi, I'm Kathleen Pope. Here at The Fresh Cooky you will find easy, mostly from-scratch, trusted recipes for all occasions. From speedy dinners to tasty desserts, with easy step-by-step instructions. I am here to help teach you how to make mouthwatering recipes without spending hours in the kitchen. Read more about Kathleen here.