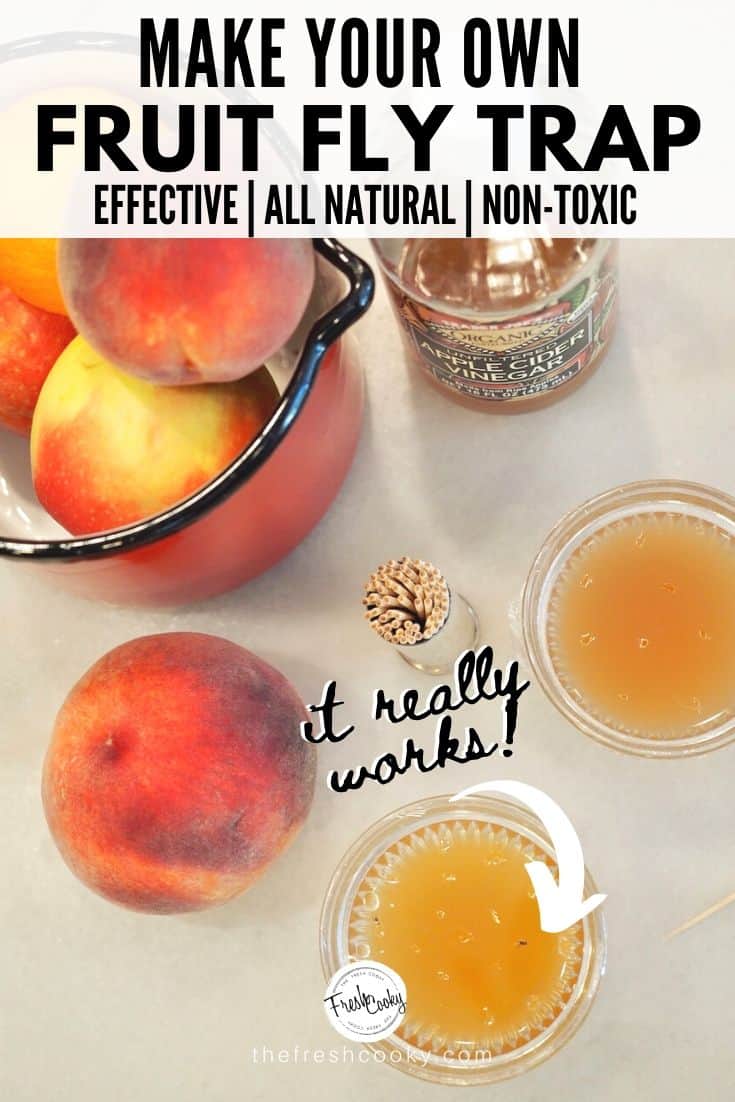 Tis the season, no, not that season — fruit fly season! End of summer brings delicious, juicy, ripe summer fruits and veggies and with them a fruit fly family reunion! Using everyday household items, you'll learn how to make your own cheap and effective Homemade Fruit Fly Trap, that really works!
FRUIT FLY TRAP DIY
JOIN THE FRESH COOKY ON PINTEREST
A few simple items is all you need; most you probably already have!
Homemade Fruit Fly Trap Essentials
If you are like me, you enjoy keeping a few produce items un-refrigerated; tomatoes especially are so much more flavorful, juicy and did I say flavorful when they hang out on the counter. But do you find yourself seeing itsy-bitsy things flying around, dive bombing your face? You end up looking like one of those clapping monkey's as you try to smack the darn things; looking like a fool? Just me?
Ready? Let's get trappin'! Simply pour in the apple cider vinegar, leaving about 1/2 inch at the top of your ramekin.
Cover snugly with plastic wrap, pull tight, sealing tightly and taught, all the way around the ramekin.
Using a toothpick or an ice pick, puncture holes in the top of the plastic wrap, swirling slightly to enlarge the hole a bit larger than the toothpick makes by itself.
Set out as many traps as you need, concentrating them especially near your fruit or where you have kept your fruit.
PRO FRUIT FLY CATCHER TIP
If the flies are attracted to the trap (walking all over the top but not going in), it typically means your holes aren't big enough. Without making the holes too big (you don't want them flying back out, warning their fly friends), make it easy for them to get in and never get out. 🙂
After a few days the vinegar loses it's drawing power, toss out, wash the bowl and start over again. You'll be surprised at how many you catch! Our infestors visitors are not too prolific at the moment, but typically I've got 2-3 traps going and they each catch 15-20 flies a day! EW!
CAN YOU USE WHITE VINEGAR TO CATCH FRUIT FLIES?
I've never tried it, but my understanding is sweeter vinegars attracts the fruit fly. Still want to try it, let me know if it works!! You should know quickly if it works and if it doesn't then move on to apple cider vinegar, balsamic, red wine, anything that is naturally a bit sweeter.
⭐️ FREE, DELICIOUS RECIPES? YES, PLEASE! ⭐️
Like this recipe?
Don't forget to give it a ⭐️⭐️⭐️⭐️⭐️star rating in the recipe below!
Yield: 1 trap
Homemade Fruit Fly Trap (that really works!)
How to DIY your own Homemade Fruit Fly Trap using apple cider vinegar and a few household items.
Ingredients
Instructions
Pour vinegar into small shallow bowl or ramekin, leaving about 1/2 inch space at top.
Stretch a piece of plastic wrap tightly across the top, making sure there are no gaps.
Insert toothpick (or icepick) through plastic wrap and swirl slightly to enlarge the hole abit.
Set on counter and watch the fruit flies gather for a pool party.
Notes
The vinegar loses its efficacy after a few days. Simple wash out the container, and repeat the above steps.
If the flies are attracted to your trap, but aren't going it, chances are your holes are too small (or too large), increase the size of the holes. Or if too large, replace the plastic wrap and try again. Happy catching!
Recommended Products
As an Amazon Associate and member of other affiliate programs, I earn from qualifying purchases.
Nutrition Information:
Yield:
1
Serving Size:
1
Amount Per Serving:
Calories:

235
Total Fat:

5g
Saturated Fat:

1g
Trans Fat:

0g
Unsaturated Fat:

3g
Cholesterol:

0mg
Sodium:

344mg
Carbohydrates:

40g
Fiber:

2g
Sugar:

0g
Protein:

6g
The nutritional information is estimated and may not be entirely accurate.

GET FREE RECIPES DELIVERED RIGHT TO YOUR INBOX!
Love Wholesome & Delicious Recipes?
Follow along on Pinterest ★ Instagram ★ Facebook ★