As an Amazon Associate, I earn commissions from qualifying purchases (
disclosure policy
).
Welcome to the weekend! I hope wherever you live you soak in a few minutes of downtime, look at the beauty all around you, and just, breathe! After all, Saturday is the first official day of fall!
Football season is in full swing and I've been working on some scrumptious sliders for you! You are going to love them, I know you will! So grab your favorite drink and let's jump in….
What I'm Makin' | Game Day Sliders
NEW! Cheeseburger Sliders on King's Hawaiian Rolls & Easy Meatball Sliders
We love sliders, not as big as a whole sandwich, but still plenty along with a few snacks, dips, and sides. And these are just a 30-minute meal or snack!
And if you are eating low-carb, I understand that Aldi's has killer Keto Slider buns that work great for all my sliders. Jealous we don't have an Aldi's in our state.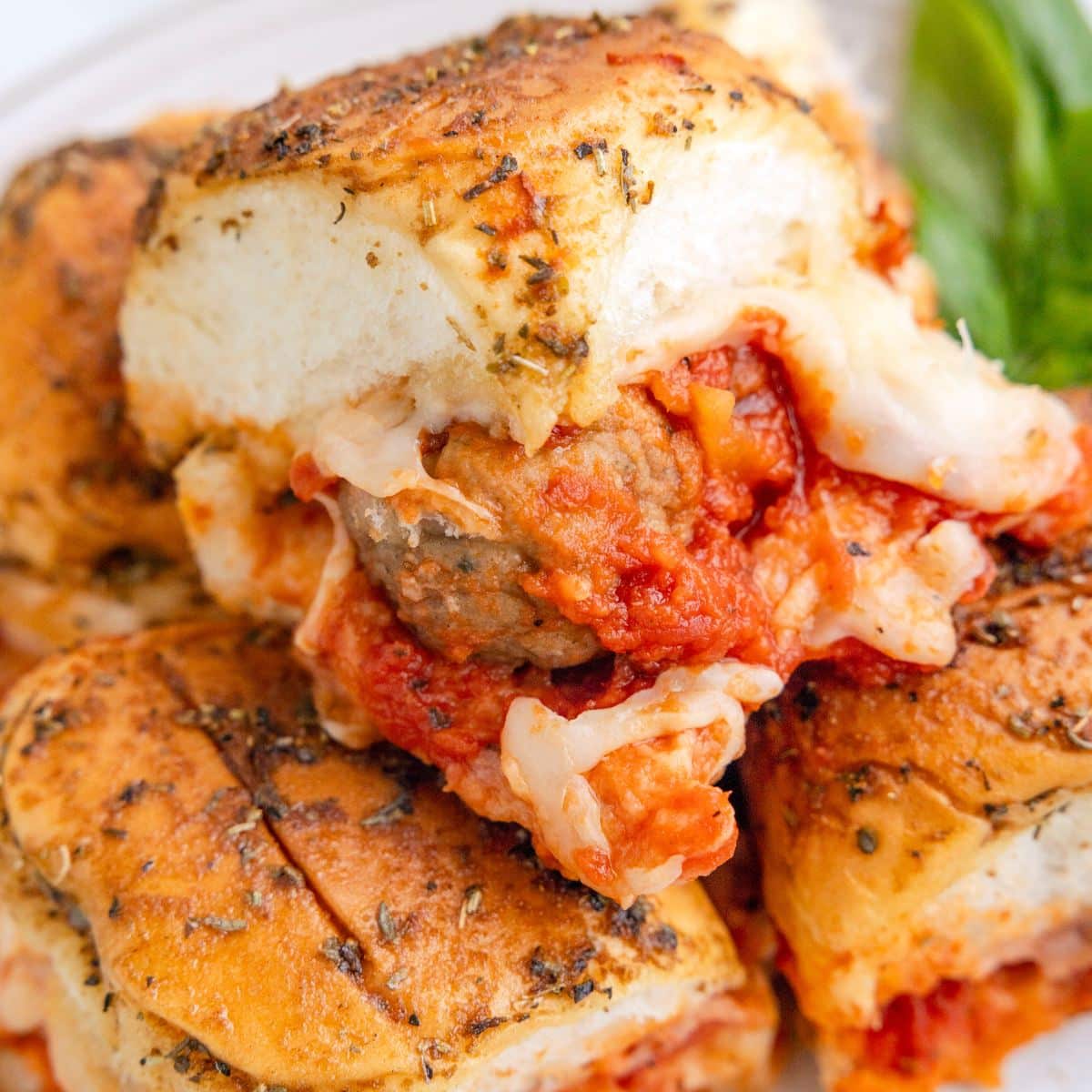 Easy Baked Meatball Sliders on Hawaiian Rolls
In just 35 minutes, make the best Meatball Sliders with Hawaiian Rolls using homemade or frozen meatballs. These Meatball Sliders are perfect for game day, a potluck, or an easy weeknight dinner!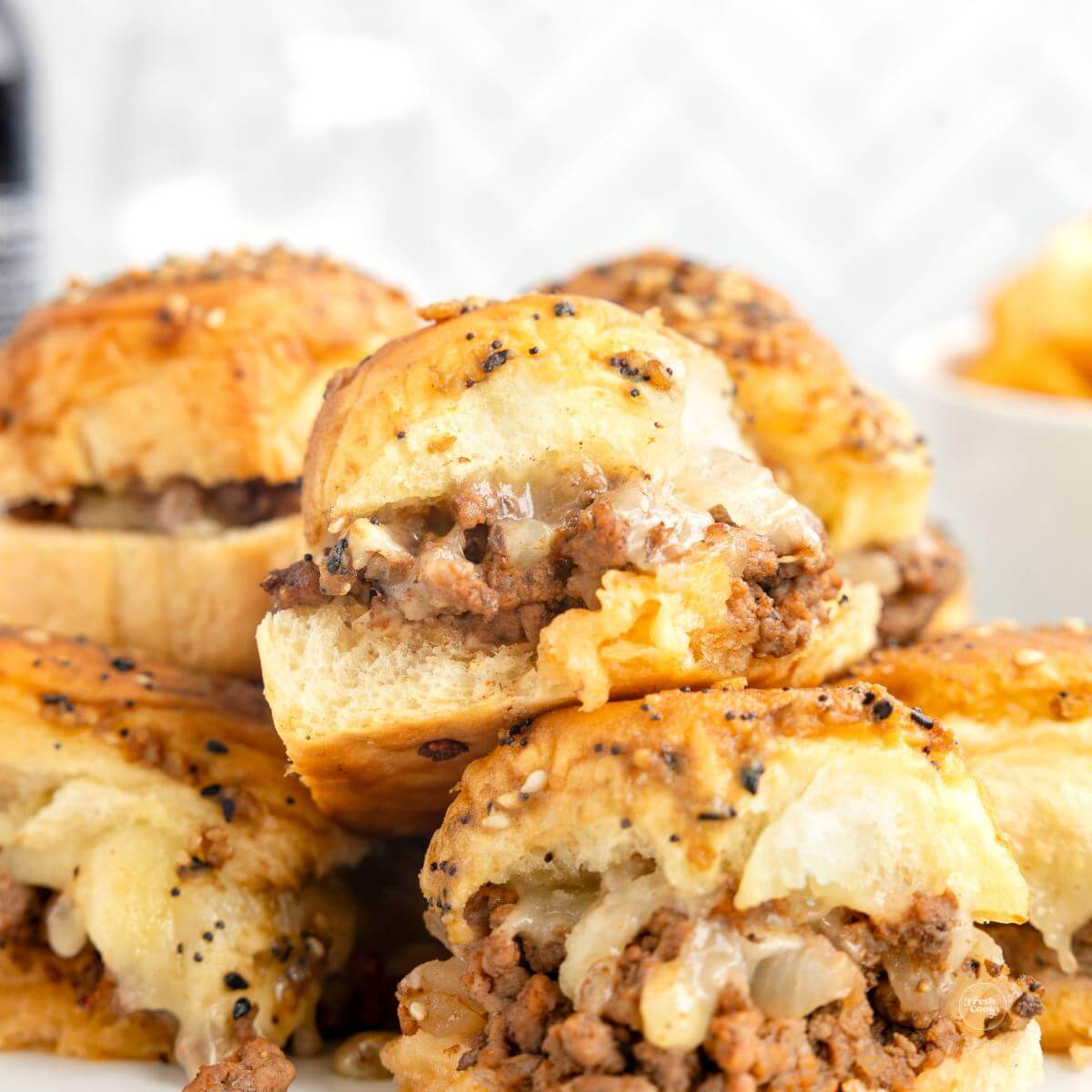 Easy Cheeseburger Sliders with Hawaiian Rolls (30 Minute Meal)
Make a dozen easy Cheeseburger Sliders with Hawaiian Rolls in about 30 minutes! These cheese sliders are fantastic for a hungry crowd on game day!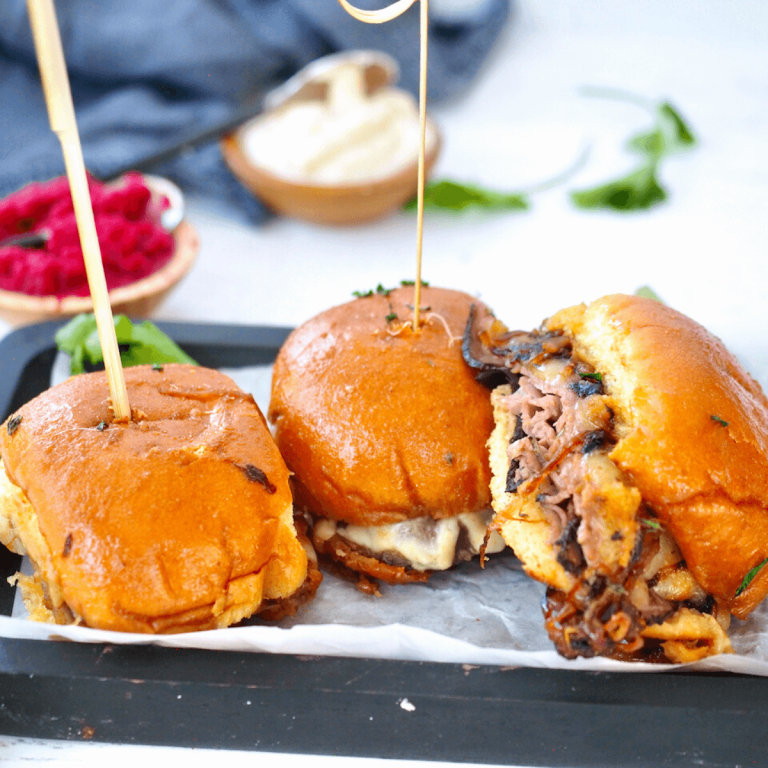 Easy Roast Beef Sliders
With layers of thinly sliced roast beef, melty cheese and caramelized onions, sandwiched between Hawaiian bread rolls. These Roast Beef Sliders will become your favorite appetizer, tailgating snack or easy dinner!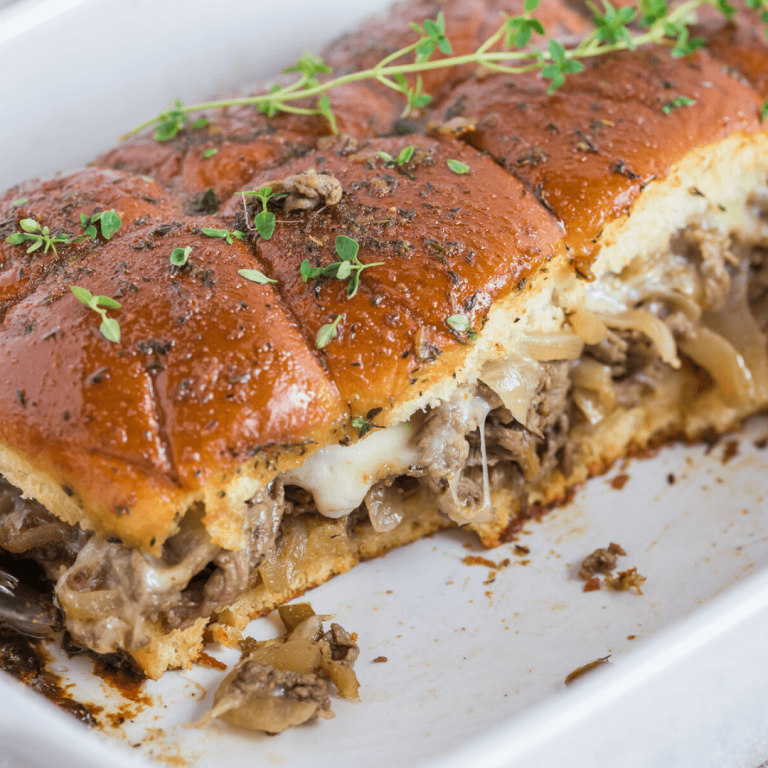 Philly Cheesesteak Sliders Recipe
A sensational twist on a much-loved classic, this Philly Cheesesteak Sliders recipe packs all the savory and cheesy flavors of a traditional Philly sandwich into just a couple of bites! Kick up your game day menu with these easy shaved steak sliders.
Easy Oven Baked Turkey and Cheese Sliders Recipe
One of the best thing about the holidays are the amazing leftovers and these Turkey and Cheese Sliders are one of our favorites! Leftover turkey, gooey, rich cheese makes the most amazing quick dinner, appetizer or lunch!
Hammy Sammies (Funeral Sandwiches)
Make ahead ham and Swiss sandwiches that never fail to please. Delicious! We call them Hammie Sammies or others call them Funeral Sandwiches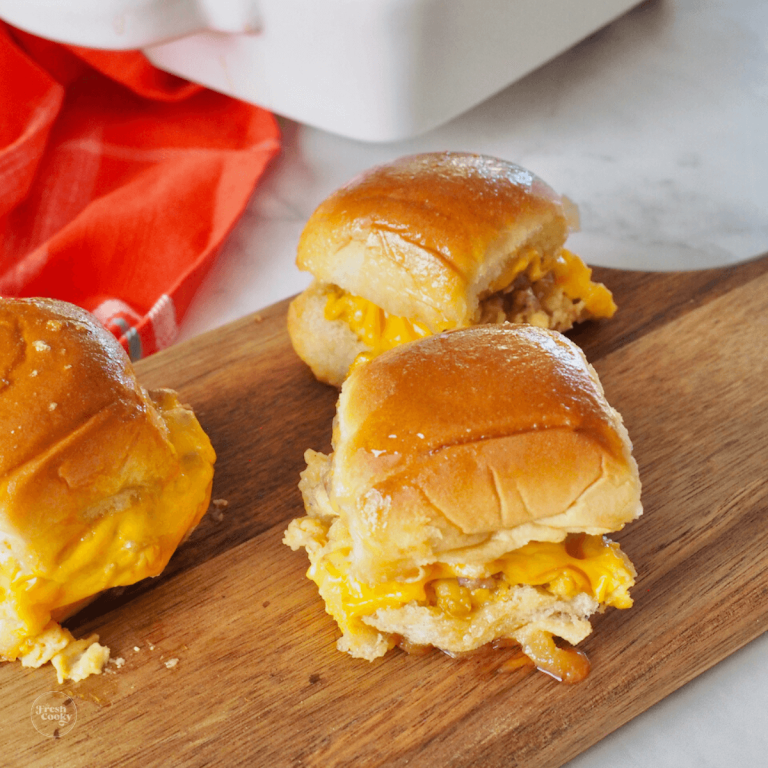 Easy Breakfast Egg Sandwich Recipe (Breakfast Sliders)
This easy Breakfast Egg Sandwich recipe is like no other—feed a crowd with amazing Hawaiian roll breakfast sliders! Soft scrambled eggs, sausage and cheese with a fantastic sauce! Perfect for those morning games!
In the here and now | Real-life stories
We are closing in our remodel (more about that below) and this week I had to head downtown to pick out a stone remnant for our utility sink area, that's always fun — not, Denver traffic has gotten so bad, I feel like I am back So Cal at times!
Each week, I Zoom with my MasterMind Bloggers Group. How I love and appreciate these women. I'm highlighting one below, so be sure to check it out! Wild horses couldn't keep from those 8 a.m. meetings – okay, maybe, because I love horses and grew up reading all of the Misty of Chincoteague books (remember those? Maybe I'm dating myself!)
Anyway, back to our meeting; we share our wins and our whines, things we've learned. We're currently challenging one another on new content and cleaning up old posts as we head into 4th quarter. And then I spent the afternoon at the library with my friend Eliza, who is also in our group – I love Tuesdays!
Main Floor Remodel Update | Week 11
This past weekend was a big one! He finished off our pantry (except the doors), and the laundry area, started work on the coat/broom closet and built the cabinet for our utility sink and cubbies.
Pictures speak louder than words, so updated pictures are below.
The small cubbies are for baskets to store winter gloves, hats, etc. as well as for my larger appliances (think KitchenAid, Crock Pot, etc.)
Have you tried….
These recipes are currently trending on the blog! #1 is a stunning bundt cake, #3 is a meal on repeat in our house and #4 is my favorite ice cream topping!
Meet Nikki from Soulfully Made
Nikki was one of the first food bloggers I connected with on Instagram over six years ago. She is an amazing woman of deep faith and as dear as a sister to me. She is creative, talented, a gifted cook and baker, and has a keen eye for style, decor, and design!
Soulfully Made is a food blog dedicated to sharing the love of Southern cooking and homey recipes. The blog is a delightful blend of her passion for traditional Southern flavors and her creative culinary twists.
Nikki welcomes readers into her kitchen to explore various delicious dishes, from classic comfort foods to innovative recipes. Her love for family, food, and fun shines through in every post. Soulfully Made is a go-to resource for anyone seeking flavorful inspiration and a taste of Southern hospitality.
My favorites from her blog are these Mexican Stuffed Shells, of course, her Sausage and Gravy (a Southern classic), this flavorful Columbia 1905 Salad and for dessert, drooling over this no-bake Peanut Butter Cup pie.
Please do yourself a favor and check out her blog with all her scrumptious and easy recipes!
What Readers Are Saying about…
It's not too early to start thinking about those holiday sides, but so you know, this was a reader review just this week! We love this recipe! And I love how she made it her own!
"Brought this for a potluck and it was great. I used smoked gruyere, added bacon and used garlic salt. I also added lemon zest to cut through the richness. It was so good that I made it again the next day to take for lunches during the week. You can take this recipe in so many different directions. Thank you so much."

Regina
What Caught My Eye | Sales and Deals
Check out all of my Amazon, etc. finds HERE! Plus, previous week's finds!
What I'm Loving
Are familiar with ButcherBox? Fresh and delicious meat is delivered right to your door! I've been using them for several years. A grand sale for NEW CUSTOMERS! $100 off your five months. Offer valid September 22 – 24th.
Why you will love ButcherBox
High-Quality Meat: Delicious 100% grass-fed beef, free-range organic chicken, pork raised crate-free, and wild-caught seafood. A refresher on all our claims can be found, here.
Unbeatable Value: Average cost = Less than $6 per meal. Please read more about our values here.
Flexibility: Box options and delivery frequencies to fit your needs, cancel any time with no penalty.
Convenience: Great-tasting, high-quality meat you can feel good about, delivered right to your doorstep (FREE shipping).
The Fresh Cooky partners with affiliates, where commission may be earned if you purchase using this link. Affiliate links help bloggers like me to fund the free content provided.
A few Fall Faves
Weekly Inspiration | God Gives Strength in the Waiting
Some encouragement from my favorite devotional book right now; this week, this one spoke so much to me, I hope it encourages you, too!
Breathe Deep and Know: God is growing your strength and courage as you wait on Him.
What are you waiting for today?
A job? A relationship? An answer to prayer?
Are you waiting for healing? For change? For some kind of rescue?
Are you waiting for the pain to diminish or the storm to life or the situation you're in to get easier?
We spend a lot of our lives in seasons of waiting. Waiting is hard. Sometimes it seems like it will never end. We get impatient and just want things to work out already. But miracles happen in the waiting. Time spent waiting is never wasted. God is always working, always forming us and transforming us as we wait. And as we often see only in hindsight, some things grow best in the patient seasons of pausing and waiting.
If you are waiting today, ask God to give your heart courage and strengthen your soul as you wait patiently for Him.
Inhale: I will wait for you, Lord.
Exhale: Give me strength and courage.
From Breath As Prayer
I pray you have a beautiful weekend! Thank you for supporting The Fresh Cooky today! God bless you!

P.S. If you missed last week's Fresh Fridays, recipes, sales, tips, ideas, and more!
Visit our Updated Amazon Shop