As an Amazon Associate, I earn commissions from qualifying purchases (
disclosure policy
).

The Baking Bug, Eggnog Gooey Butter Cookies & A Whole Lotta Hope
I am totally getting the baking bug! How about you?
Besides the Mint Fudge Brownies I showed you last week, I've made these ooey-gooey, so seasonally delicious Eggnog Gooey Butter Cookies! And this easy Copycat Starbucks Coffee Cake, plus it makes two, one to freeze or give away and one to keep!
Eggnog Gooey Butter Cookies — It's a mouthful, but you won't mind filling your mouth full of these Christmas cookies! Loaded with seasonal spices and flavor!
TAKE ME TO THE NEW RECIPE ALREADY!
I did a quick Instagram story this week showing our first Charlie Brown Christmas tree and had several comment that they get one every year (it's my new favorite) and where did I find my tiny twinkle lights.
As I started adding lights to our Colorado fresh cut Christmas tree, I quickly realized the standard twinkle LED lights would be way too heavy for this wispy tree, weighing down the light branches.
I had just purchased plugin fairy lights for my mantle, one caution, order way more than you think you need. This package is 66 feet, which barely covered the top of the tree, but was actually a lot for my mantle.
I ordered two more strands and that easily covered this 8′ tree with a little extra. There are 200 foot strands out there, but these tangle easily, the 66′ was plenty to work with. They worked beautifully!! Hard to tell, but to fill in some bare spots, I twisted on branches of red berries, plus the lights and ribbons add a little "bulk"
This style in particular has 8 different modes, my favorite are solid and twinkle (a very subtle twinkle). They come with remotes, when I plugged all three strands into an extension cord, one remote worked for all three! WHOOP!
I also love that you can easily manipulate these wire lights into some decorations, "lighting them up" as well. Our tree is very simple this year, the simplicity seems to go with the year we are having!
What I've been cooking this week
Homemade Christmas Gift Tags FREE!
These Christmas gift tags have been a HUGE HIT this week! And I am so excited that so many are downloading them, making Christmas that much easier!
These are all perfect for gifting ANYTHING HOMEMADE! Like spiced or candied nuts, any handmade or homemade item and definitely gifts from the kitchen, click here to see all of the cute designs! (more than what you see below)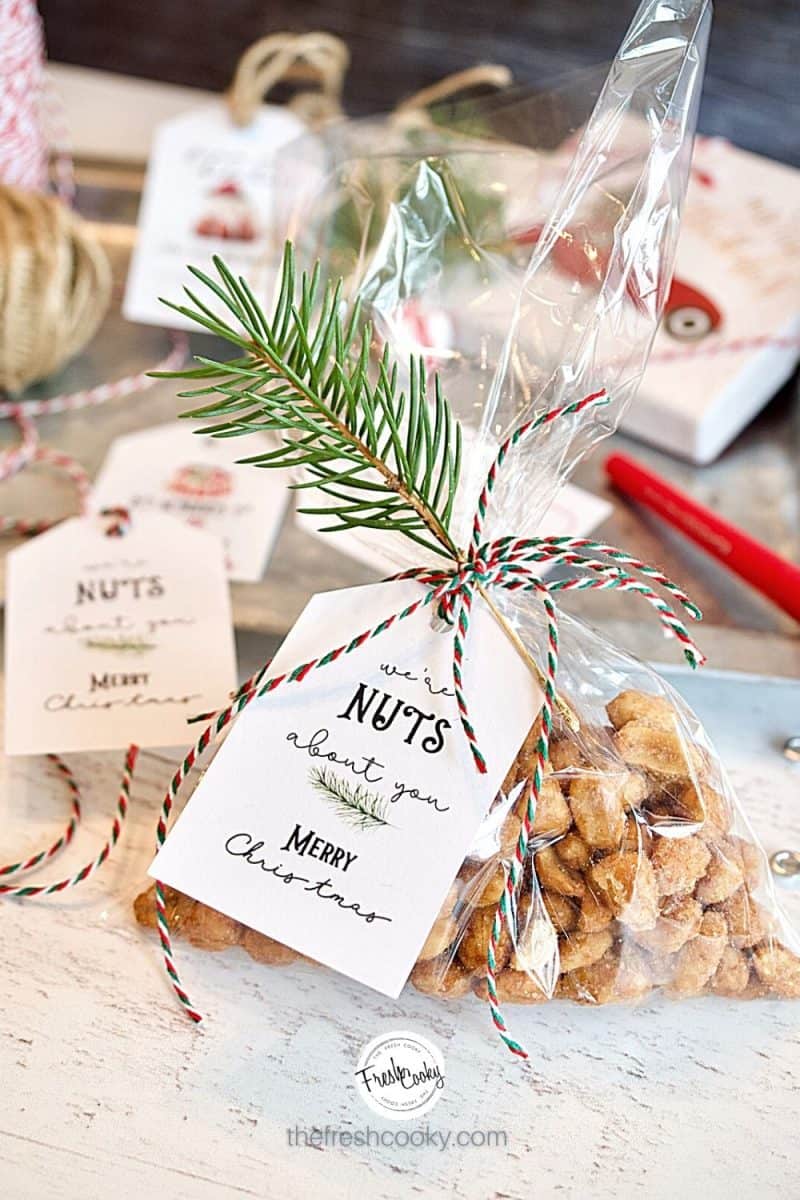 TAKE ME TO THE CHRISTMAS GIFT TAGS
Hope Came Down at Christmastime
I feel as though I'm coming out of a long hibernation; emotionally speaking. It's been a hard couple of years for our family, nothing earth shattering, nothing compared to many.
But this year, I feel like a bulb, struggling through the cold, hard dirt and snow, defying the odds emerging with tiny little sprout of green. I am ready to set my face to the sun, grow, bloom and flourish.
This year, more than ever I am sensitive to Christmas being a difficult time of year for so many. My dear friend lost her husband, many of our friends are saying good-bye to parents, I know way too many young adults diagnosed with cancer, not to mention the many battling mental health and legal issues. It's enough to make one want to crawl back under the covers.
This song by Francesca Battistelli has been especially soul-healing for me this Christmas… "In your Silent Night, when you're not alright, Behold Him." I hope you will take a listen!
I cling to the HOPE we have in the baby we are celebrating this month; Jesus – Immanuel; means God with Us! Who was born, lived and gave His life for you and me, so that we might LIVE!
If you need hope this Christmas, I encourage you to reach out to a local church, or spend some time reading the Gospel of John; if you don't own a Bible, there are many ways to receive one, These Advent Resources have many super simple, encouraging books as well.
And I personally recommend one of my all-time favorite pastors; Chuck Swindoll's ministry. His radio ministry has touched my soul since the early 80's. This is a tiny encouraging snippet from his email today.
If 2020 has knocked you to your knees, read my next words carefully:

God is in that long, dark alley. He's not oblivious. He's not far removed. He's there. He cares. And He's working.

Chuck Swindoll, Insight for Living Ministries
If you are looking for a church to "attend" they stream their service weekly. Don't do this season alone, you are not alone!

Thanks for hanging out with me today, you my dear reader are a HUGE gift to me and my family!

P.S. Check out last weeks Fresh Fridays, for more great ideas and recipes!