Maple Apple Sausage Stuffing Recipe
As an Amazon Associate, I earn from qualifying purchases. Please read my disclosure policy.
Oh my, this recipe for Maple Apple Sausage Stuffing is AMAZING! Tart cranberries, sweet apples, crunchy pecans and savory sausage, brought to life with the subtle flavors of whiskey, maple syrup and browned butter! You may not have any left for leftovers!
I was trying to figure out what to call this stuffing, and finally settled on "Maple Apple Sausage Stuffing" because "Amazing Browned Butter, Apple, Cranberry, Pecan, Maple, Sausage with Whiskey Stuffing/Dressing" sounded a bit long-winded. HA! I'm open to suggestions.
I'm forever playing around with my stuffings/dressings, but the one I made this past week was worth writing down so I can repeat the process. My husband thanks you all, normally I don't write down my new creations, but now because of the blog, I need to and now I can indeed repeat a recipe! Yippee!
LET'S MAKE MAPLE APPLE SAUSAGE STUFFING
Start by browning your breakfast sausage, about a pound worth. The friends we had over for this Friendsgiving meal, don't eat pork or beef, so I used chicken sausage, worked just as well, but feel free to use your favorite breakfast sausage. Spicy or mild, your choice! If using this style, remove the casings and chop it up while browning.
Remove to a large bowl once browned, leaving any fat in the pan if any left. Pour your dry stuffing (one bag works for a 10-15 lb turkey) use two bags and double rest of ingredients if stuffing a larger bird or feeding a larger crowd.
I found this organic, non-GMO Mrs. Cubbison's cubed stuffing at Costco! Can you make your own! Absolutely!! But as much as I like to make home, the holidays can be times I cut a few corners!
HOW TO BROWN BUTTER
In the same pan you browned your sausage, add your butter over medium-high heat and melt, stirring and watching closely while it browns until it is a beautiful nutty brown color and smells nutty too!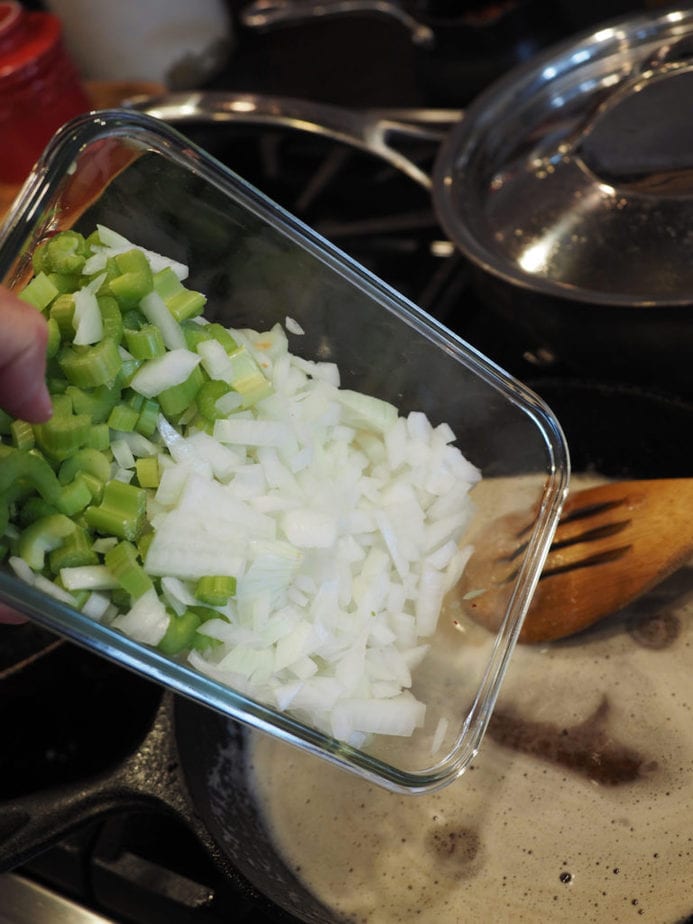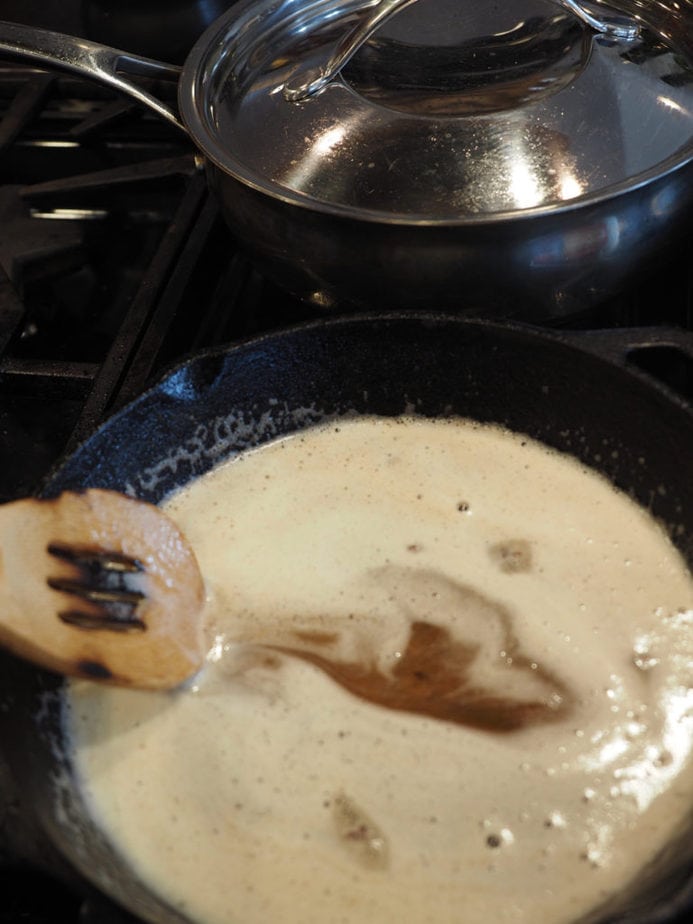 Next chop your onions and celery and toss those into the browned butter. I had chopped mine ahead of time, while I was prepping my Giblet Gravy and kept in the fridge until ready to use.
Saute them until translucent about 3-4 minutes. That's my giblet gravy right behind, just waiting to be finished up!
While sautéing, preheat another pan and toss in your chopped pecans to slightly toast.
Shake them all around in the pan. Once toasted (they should start to smell like a nut!) pour them into the bowl with the sausage and stuffing. (optional)
Add your cranberries and apples to the celery and onion mixture.
Rough chop some fresh cranberries (fresher is better, but you could substitute dried cranberries too).
Toss into celery/onion mixture and stir around sautéing for a minute.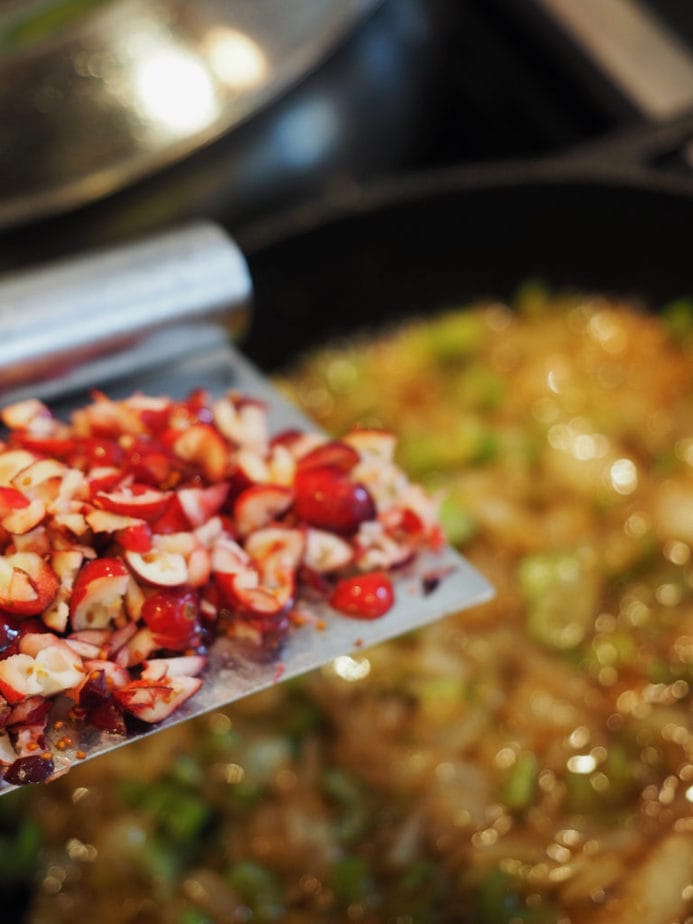 And rough chop ½ of an apple, peel or leave the skin on your choice! Toss into the onion/celery mixture and sauté for a minute or so.
Turn up the heat to medium and carefully pour in your whiskey or bourbon, or if you prefer, use apple juice.
Stir around until fragrant and liquid has boiled down.
Next add your maple syrup, the real deal, I love this little 2 oz measuring cup, I use it all the time!
Stir it well and add to your bowl of sausage, pecans and bread cubes.
Stir it all about…makes me think of the hokey pokey. Put your left turkey leg in, put your left turkey leg out…
Add your cup of chicken stock and gently turn it all over with a spoon several times, making sure all of those goodies are mixed in along with the stock evenly distributed. If you like your baked dressing really moist, then just before baking, add ½ – 1 cup additional chicken stock.
Ready to place in turkey or in buttered casserole dish for baking!
Once your turkey is ready to go in the oven; loosely stuff it with dressing/stuffing in both cavities. Careful not to overstuff, stuffing will expand upon cooking. Need a super easy and yummy turkey recipe? Try this one, Simple Tender Tasty Turkey.
You won't get much in (a smaller turkey at least) so place the balance of the stuffing, now called dressing, into a well buttered casserole dish.
Did you know that? I've always heard the terms stuffing and dressing used interchangeably and they are, but when you "stuff" a turkey or chicken, what you stuff it with is called stuffing and when you bake it, it's called dressing! The things you learn!
Cover with plastic wrap and place in refrigerator (or other cold place*) until ready to bake.
*Since I live in Colorado many of our holidays are chilly, I have been known to place things in a cooler in the garage or on our back patio, with a brick on it, so critters can't get in.
Once ready to bake, remove from fridge 30-60 minutes before baking to allow to come to room temperature. Bake at 350° for 30-45 minutes, uncovered if a crisper dressing is desired, covered with foil if a moister dressing is desired. I like to slather my stuffing/dressing with giblet gravy, so I actually like it a bit crispy.
Need oven space? Make the stuffing in a slow cooker! This is on the Mrs. Cubbison's package…
"Butter or grease the crock well, pour the wet stuffing into the crock, cover and cook on high for 1 hour 25 minutes, stirring once halfway through. Once the full-time has passed, turn off the slow cooker and lightly toss stuffing. Cover again and let it sit for 5 minutes before serving."
Enjoy!
Now for the recipe; may God richly bless your holidays and all the labor you have placed into each dish!
Like this recipe?
Don't forget to give it a ⭐️⭐️⭐️⭐️⭐️ star rating and comment below the recipe!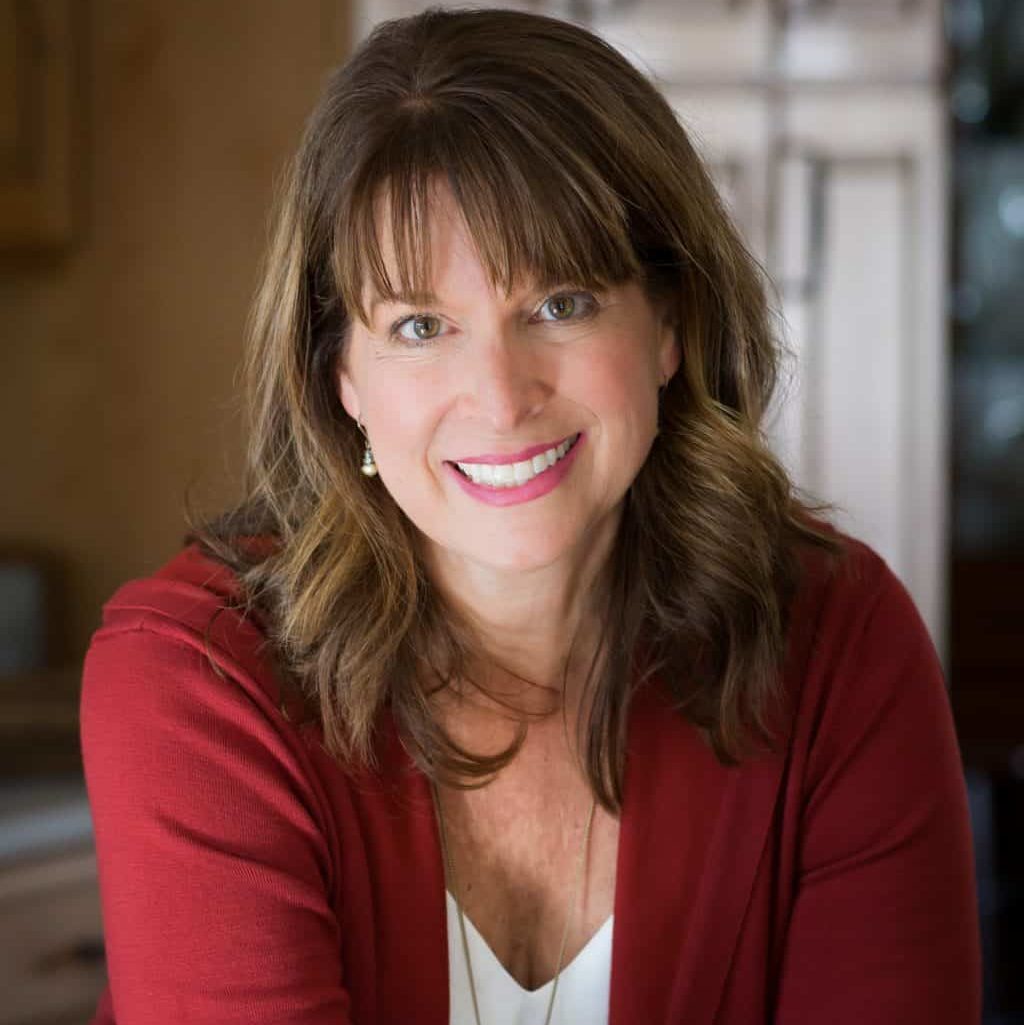 About Kathleen Pope
Recipe Innovator | Food Photographer | Food Writer
Hi, I'm Kathleen Pope. Here at The Fresh Cooky you will find easy, mostly from-scratch, trusted recipes for all occasions. From speedy dinners to tasty desserts, with easy step-by-step instructions. I am here to help teach you how to make mouthwatering recipes without spending hours in the kitchen. Read more about Kathleen here.