How to Package Cookie Dough for Gift Giving
As an Amazon Associate, I earn from qualifying purchases. Please read my disclosure policy.
Cookie Dough as a GIFT? YES! It's one of my very favorite things to gift someone. A new mom, a sick friend, after a surgery, teacher, neighbor or co-worker gift, a Christmas surprise, your imagination is your only limit.
I'll show you through simple step-by-step instructions how to package cookie dough for gifting!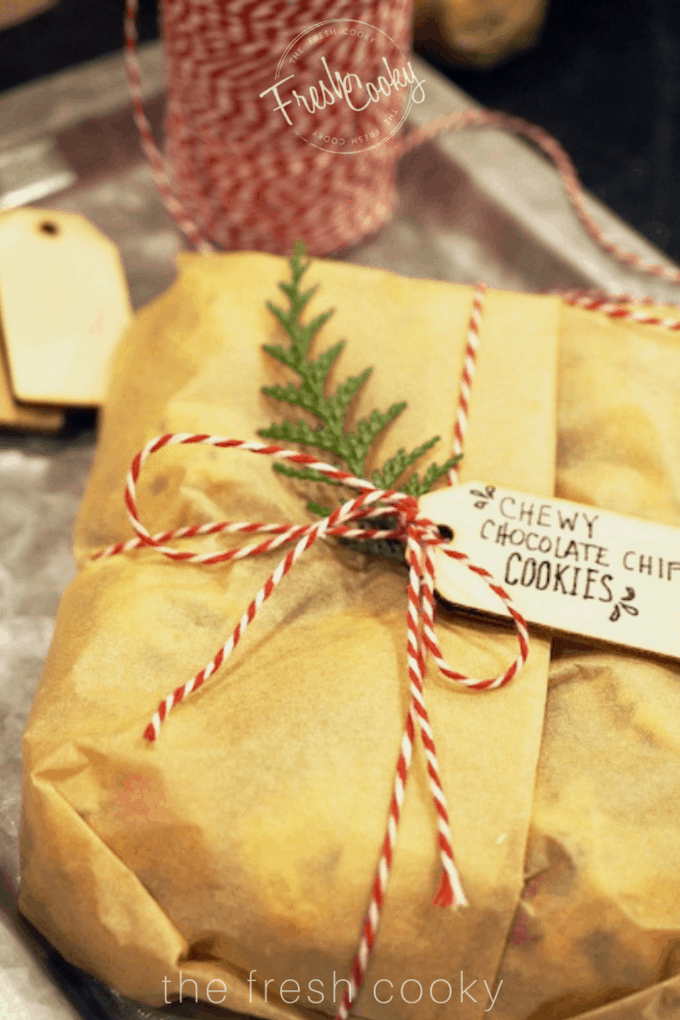 Start off by making a batch of my Chewy Chocolate Chip Cookies through the dough ball stage or these wildly popular Copycat Crumbl Chocolate Chip Cookies!
To make them a bit more festive, I added some Christmas colored M & M's to the dough (you could do the same with Valentine's, Easter and Fall M&M's)
Or make your favorite cookie recipe or try one of these AMAZING cookie recipes Pan Banging Sugar Cookies | Triple Chocolate Pudding Cookies or Cake Batter Cookies
Line a cookie sheet with parchment paper, then using a medium cookie scoop or large cookie scoop, scoop dough into balls, placing them snug next to each other on the cookie sheet. Freeze until ready to assemble, a minimum of about 30 minutes so they handle easily.
Once ready to "gift", place them in a container of your choice, there are so many creative options!
Don't forget to download these FREE printable Christmas Gift from the Kitchen Gift Tags.
The easiest way to both store and present these dough balls are simply wrapping them in parchment paper, the receiver of the gift can easily smooth it out and use it to line their cookie sheet for baking!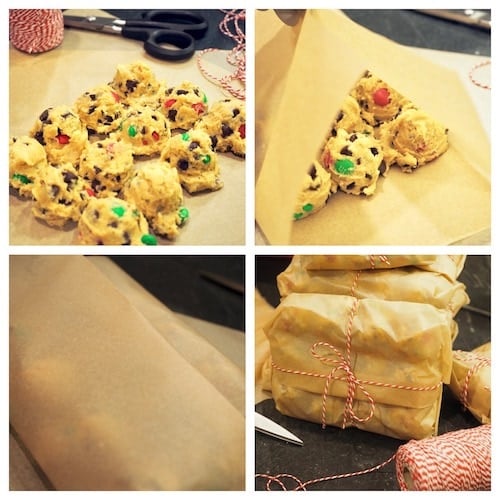 Simply lay the number of dough balls tightly on the parchment (I did 3 rows of 4), bring up the ends of the parchment, then fold over about a 1/2 inch, keep folding until you have the parchment snug to the dough. Fold in the ends of the parchment like you would a gift and tuck underneath. Using some kitchen twine, wrap starting longway from the top and the under, then back around to the front and tie a bow.
If desired, place a cute tag (I love these wood tags) and maybe a sprig of evergreen, berries or rosemary with the following instructions:
Keep frozen or refrigerated until ready to bake
Preheat oven to 375°
Remove dough from freezer while oven preheats
Smooth out parchment paper used to wrap the cookies and place on cookie sheet
Place cookie dough balls on lined cookie sheet about 2-3 inches apart, let sit for about 15-20 minutes
Bake for 8-10 minutes for soft, gooey centered cookies or 10-11 for crisper, cake like cookies.
Next, place the parchment package in a gallon or quart sized baggie, removing as much air as possible and seal, return to freezer.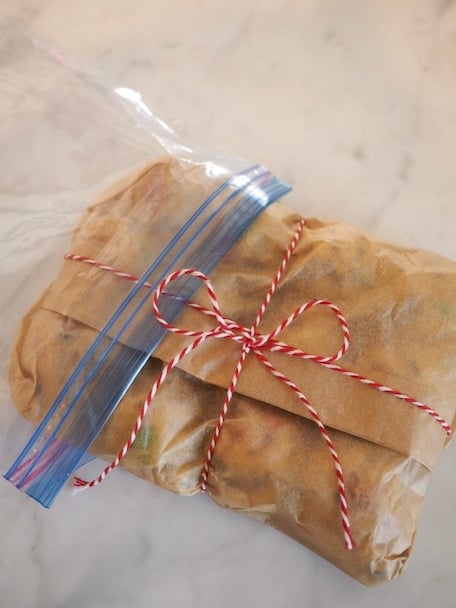 So simple and WHO doesn't enjoy warm, gooey, fresh-out-of-the-oven cookies!!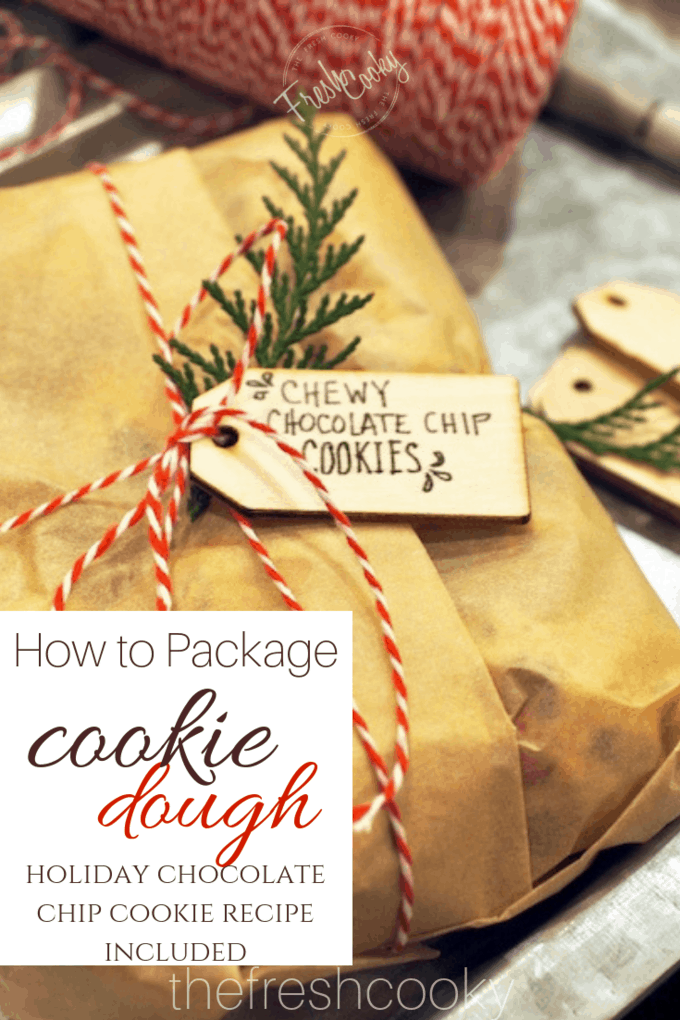 OPTION 2 Cookie Dough Packaging
Below I've placed dough balls in a cute seasonal plasticware container, typically available at your local grocery store during the holiday season.
Place as many frozen dough balls in a single layer as desired, put a piece of wax or parchment paper in between and if desired, add an additional layer of dough balls.
Replace lid, or if using a ziplock, remove as much air as possible.
Purchase some inexpensive flour sack towels to wrap your containers; it makes for both cute and useful wrapping.
Fold lengthwise into thirds and lay under the container.
Pull up the long ends and using a length of ribbon gather at top and wrap ribbon around.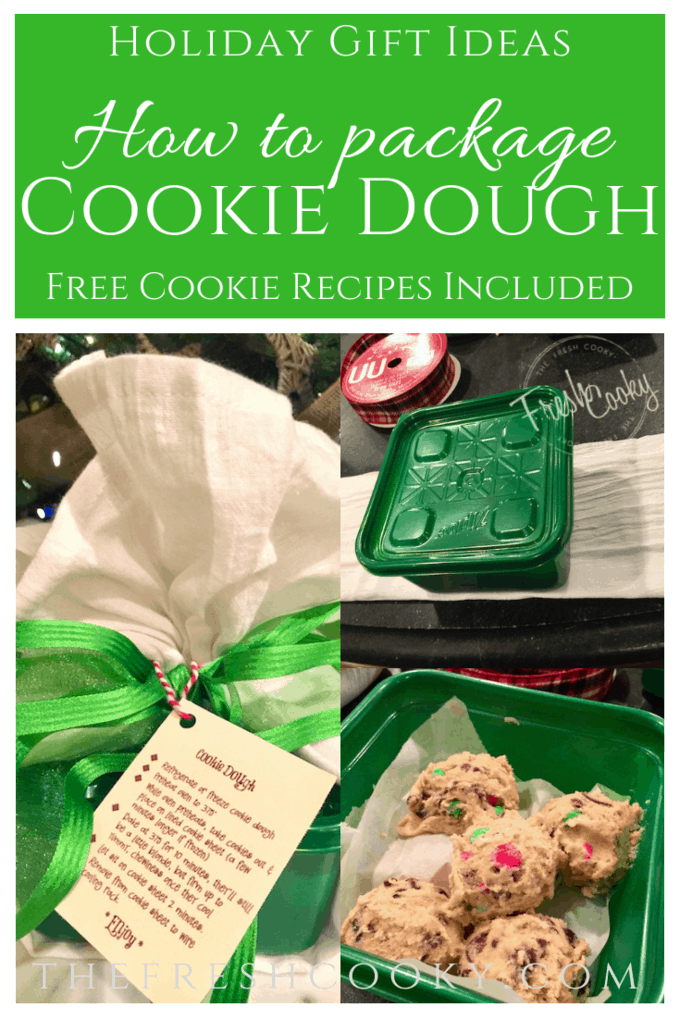 Tie a pretty bow! Be sure to include some quick instructions on how to store and bake.
Keep in fridge or freezer until ready to deliver.
Suggested Items for Easy Cookie Dough Gifting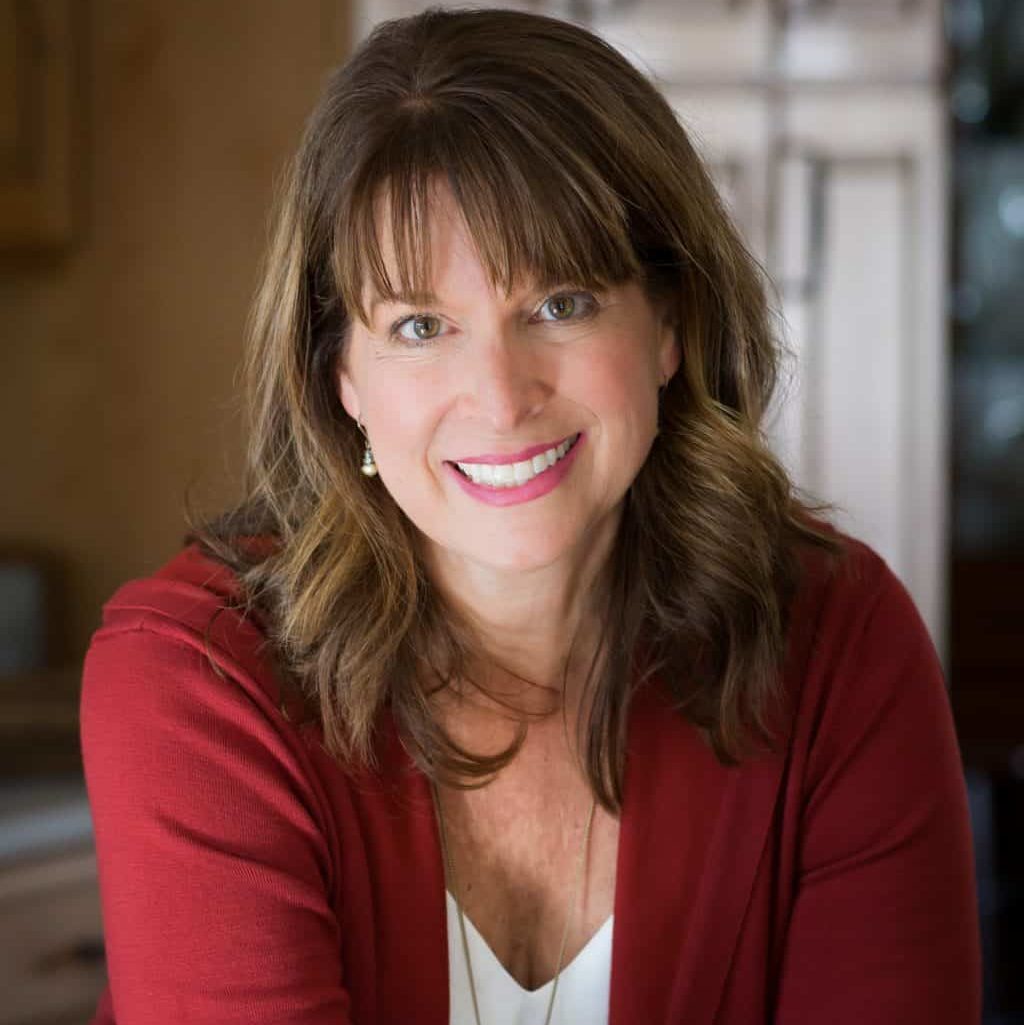 About Kathleen Pope
Recipe Innovator | Food Photographer | Food Writer
Hi, I'm Kathleen Pope. Here at The Fresh Cooky you will find easy, mostly from-scratch, trusted recipes for all occasions. From speedy dinners to tasty desserts, with easy step-by-step instructions. I am here to help teach you how to make mouthwatering recipes without spending hours in the kitchen. Read more about Kathleen here.