Refrigerators, Cinco de Mayo, Leftovers & Graduates | Fresh Fridays, April 29
As an Amazon Associate, I earn from qualifying purchases. Please read my disclosure policy.
And boom, here we are at the end of April! Somedays I wish someone would slow the world down, other days I wish it would speed up!
Today we are talking about refrigerators, Cinco de Mayo, leftovers and a graduates! Stick with me, I promise there is something for everyone in today's Fresh Fridays post!
Last week I mentioned our refrigerator had died the week before Easter, learning to live with limited and inconvenient fridge space has taught me patience and gratitude — but oh how happy I was on Monday at 4:12 pm when the repairman turned it back on and said, "well, give it a few hours to get cold, but you are all set!" I could have hugged him! Instead I gave him a warm chocolate chip cookie! 🙂
The Upside of a Broken Fridge
Clean | I've had over 2 ½ weeks to really, really clean it — I mean really clean it! It's sparkling!
Purging | I went through every sauce, dressing and condiment stuffed in there and cleaned out some really old ones!
More Steps | As I forgot to bring in all the ingredients needed on my first run out to the garage fridge, I had to return (sigh) several times.
Simplification — realizing I really am a fridge food hoarder, I am determined to waste less! Check out my friend Lynn's posts on reducing food waste & how to keep produce fresh longer.
It's rather bare, I am slowly filling it back up again, trying to be intentional about what goes in it, but clearly, I need some fresh fruit and veggies!
So Ya Don't Like Leftovers
Yeah, neither do I, but I am really trying to not waste as much food. I have heard from several of you that you want recipes that use leftovers! I have a few, but am hoping to put together a few more in the coming months.
Leftover Ham Pot Pie
I realize not everyone hangs onto their leftover ham as long as I do, but in case you did, or just have a ham hankering you have got to try this amazing Ham Pot Pie Recipe!
All of the greatest of a chicken or beef pot pie, but with ham — plus I used leftover scalloped potatoes and leftover green bean casserole too! Tips for all sorts of things you can add in! No ham, use rotisserie chicken or leftover chicken, the basics are all there and it's a delicious pot pie!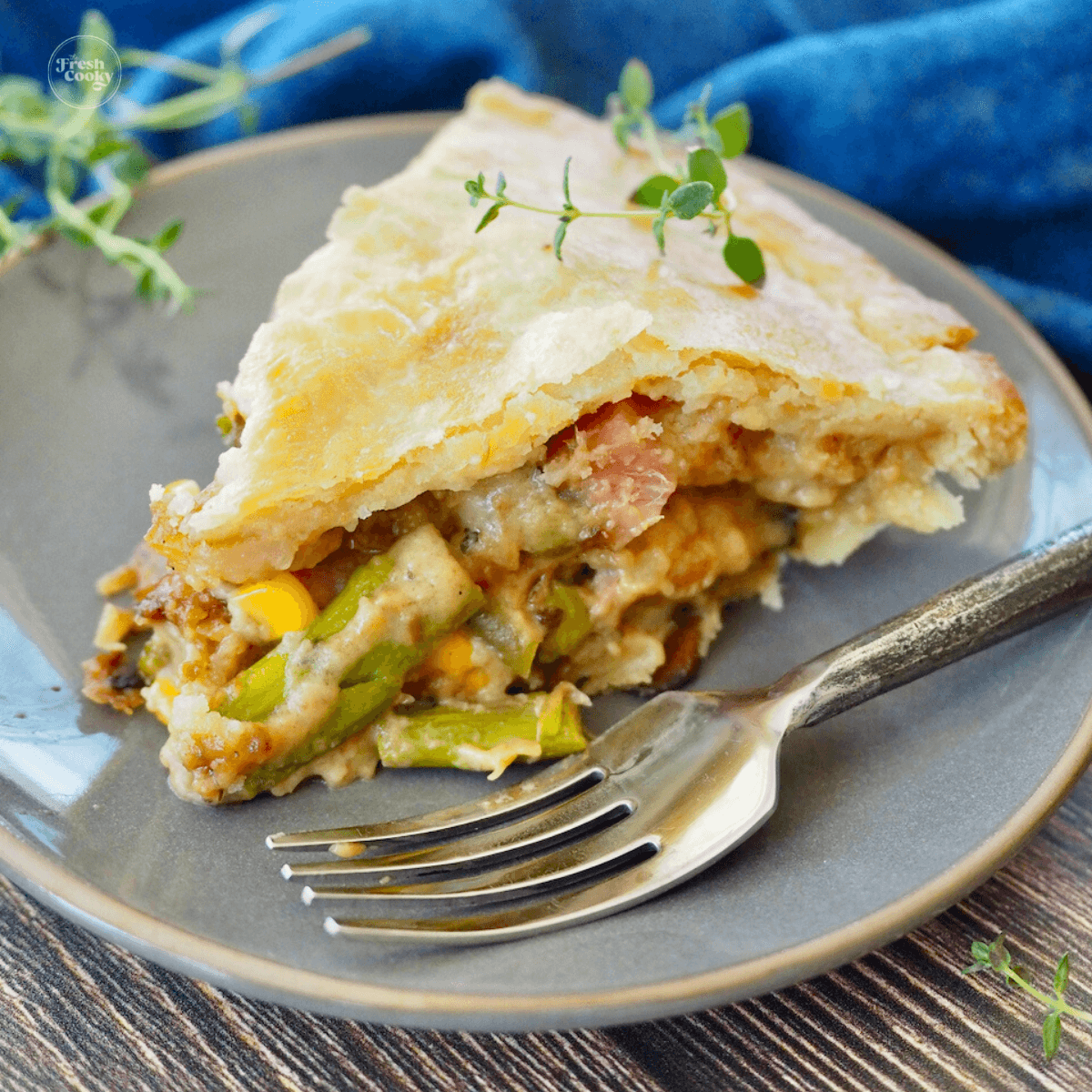 Another must try is this chicken or turkey divan recipe, it's great anytime of the year! And this Chicken Wild Rice Supreme, I ran into a reader that said it's on a regular rotation at their home!
What leftovers do you have most often?
Pop down to the comments and let me know, this will help me plan my future posts. I probably most often have chicken left over, but maybe you have pork, beef or even veggies. Inquiring minds wanna know!
Stir Fry Leftover Extravaganza
One of my favorite ways to use leftovers is to make a big ol' stir fry! Use leftover chicken, pork, beef or whatever you have, add a little sesame oil along with some avocado oil and fry it up in a hot skillet.
Then I just chop up a little of whatever I have in my crisper drawer; red pepper, zucchini, beets (yes!), onions, mushrooms, artichoke hearts, water chestnuts, diced carrots, broccoli, cauliflower, some green onions, maybe a little garlic. Stir it all around until crisp, but tender. Add some leftover rice or toss in leftover pasta.
Toss in a little soy sauce or our favorite Bragg's Liquid Aminos (similar to coconut aminos). Before you serve it, scoot everything to the side and add a beaten egg or two, scramble and then stir into the stir fry.
If you have some teriyaki sauce, fish sauce, sriracha or chili sauce; add as much or as little as you like! Viola, lunch or dinner using up all sorts of ingredients! You can even toss on a handful of cashews or almonds and sprinkle with some sesame seeds!
If you love a super easy stir fry style meal, try my Easy Steak Sandwich recip or this Healthier Mongolian Beef.
Cinco de Mayo
I won't be in your inbox again until after Cinco de Mayo so I wanted to give you some ideas! This is not a complete list of all of my amazing Mexican inspired recipes, so be sure to pop over to my Cinco de Mayo page and browse it all.
Hover over the image and it will tell you the name and take you to the recipe post.
Graduation Ideas
In a few short weeks our baby, I mean our youngest son is graduating from high school! Since our older son graduated in 2020 and didn't get an actual graduation, I am excited to go through all the pomp and circumstance with our son.
Do you have or know a graduate? High school or college? Check out my gift guides!
I am always looking for more great, new, hip, sweet, sentimental, meaningful, creative gift ideas! If you have great ideas I would love to hear them, pop down and comment below!
Finals & Mother's Day
Speaking of graduates, finals are starting to get close, and Mother's day is Sunday, May 8th (that's next week) check out my favorite surprise gift to send family and friends!
Check out Spoonful of Comfort
Mother's Day & College Finals!
Whether you are looking for a fun gift to send Mom, or maybe a new Mom, or are looking for something a little different; like this Mini Sick Day Kit or this Tea & Cookies Kit.

College Finals are around the corner, send your student a Feels like Home Care Package. Check out all they have to offer! You will be supporting a woman owned business! BROWSE ALL
The Fresh Cooky partners with affiliate platforms where commission may be earned based on clicks and or purchases, and I would love it if you decided to use the links above! Affiliate links help bloggers like me to fund the free content that we provide on our blogs.
Weekly Inspiration
Well, that is about it my friends. As always I am forever grateful for you allowing me in your inbox, for your support of a small business and for always making my day!
Have you heard this song before? I Speak Jesus, it really brings me hope, especially with so many battling anxiety and depression, all of our lives have been touched by someone who has battled mental illness. I hope it encourages you as well!
May your week be filled with joy and delight!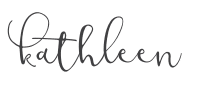 P.S. Be sure to browse through last weeks Fresh Fridays for more great recipes!
Visit The Fresh Cooky's Amazon Shop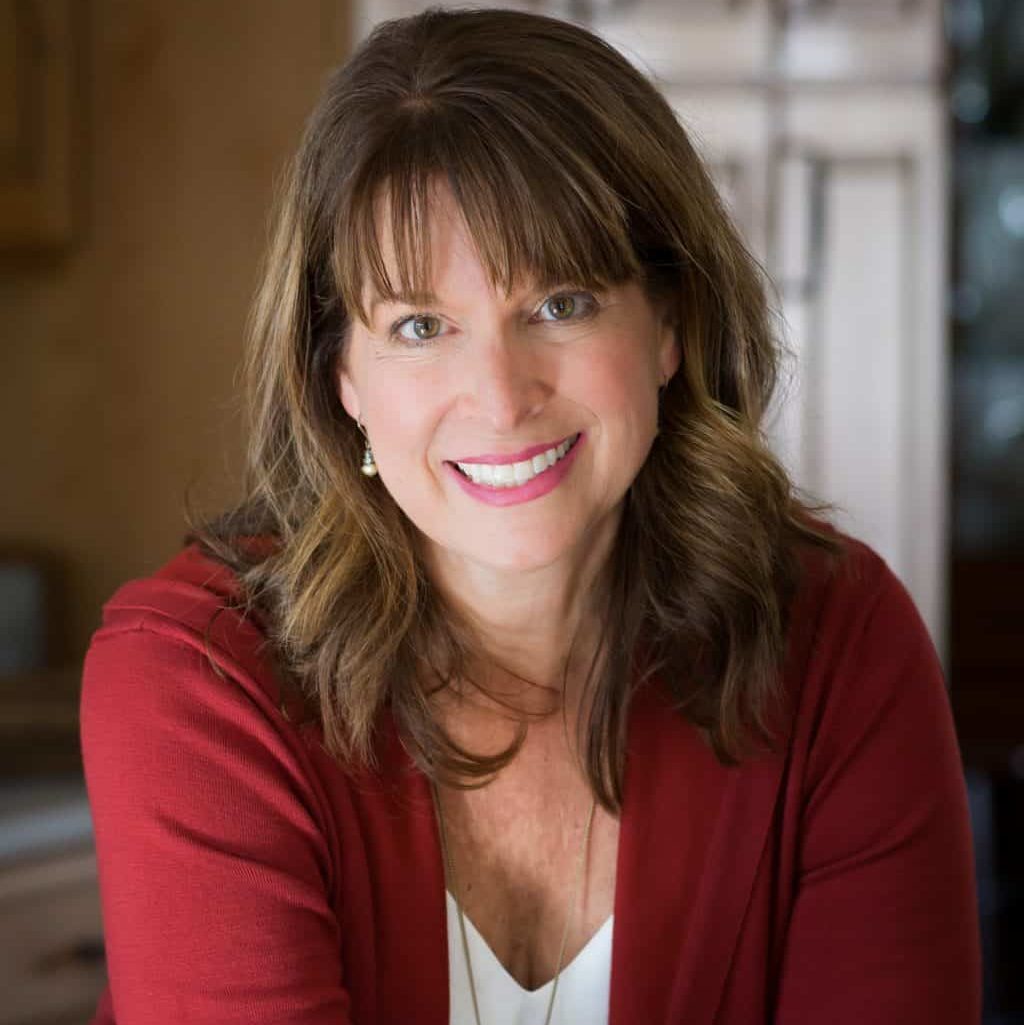 About Kathleen Pope
Recipe Innovator | Food Photographer | Food Writer
Hi, I'm Kathleen Pope. Here at The Fresh Cooky you will find easy, mostly from-scratch, trusted recipes for all occasions. From speedy dinners to tasty desserts, with easy step-by-step instructions. I am here to help teach you how to make mouthwatering recipes without spending hours in the kitchen. Read more about Kathleen here.