Peeps Rice Krispie Treat Recipe
As an Amazon Associate, I earn from qualifying purchases. Please read my disclosure policy.
As if we need another way to enjoy the marshmallow sweetness of Easter Peeps this year, why not try my Peeps Rice Krispie Treat Recipe! That is right, the taste of marshmallow peeps combined with all you love about the classic treat. It is a great way to incorporate more of the colorful Easter treats into your Easter celebration or even use up the leftover peeps marshmallows after the holidays.
Peeps Rice Krispie Treats are the classic Rice Krispie treats with a colorful twist! Not only are they bright, fun colors, but they are even easier to make than traditional cereal bars. They are similar to my Brown Butter Rice Crispy Treats and my Lucky Charms Bars.
You can eat them warm and ooey, gooey, or press them in the pan and allow them to cool into bars. The choice is yours, HAVE FUN WITH IT!
Wondering why "peeps" are an Easter tradition? Easter is the oldest Christian holiday, celebrating the resurrection of Christ. And bunnies, chicks (Peeps), and eggs symbolize new life! So why not show your love for this most important Christian holiday and go all out on the foods and traditions!
Why You Will Love Peeps Rice Krispie Treats Recipe!
These Easter treats are so colorful and fun!
They are a perfect way to involve the kids in the kitchen.
Easter Peep Treats are so easy to make, and they are made in one dish too!
Simple Ingredients
For the full recipe, see the printable recipe card at the end of the post.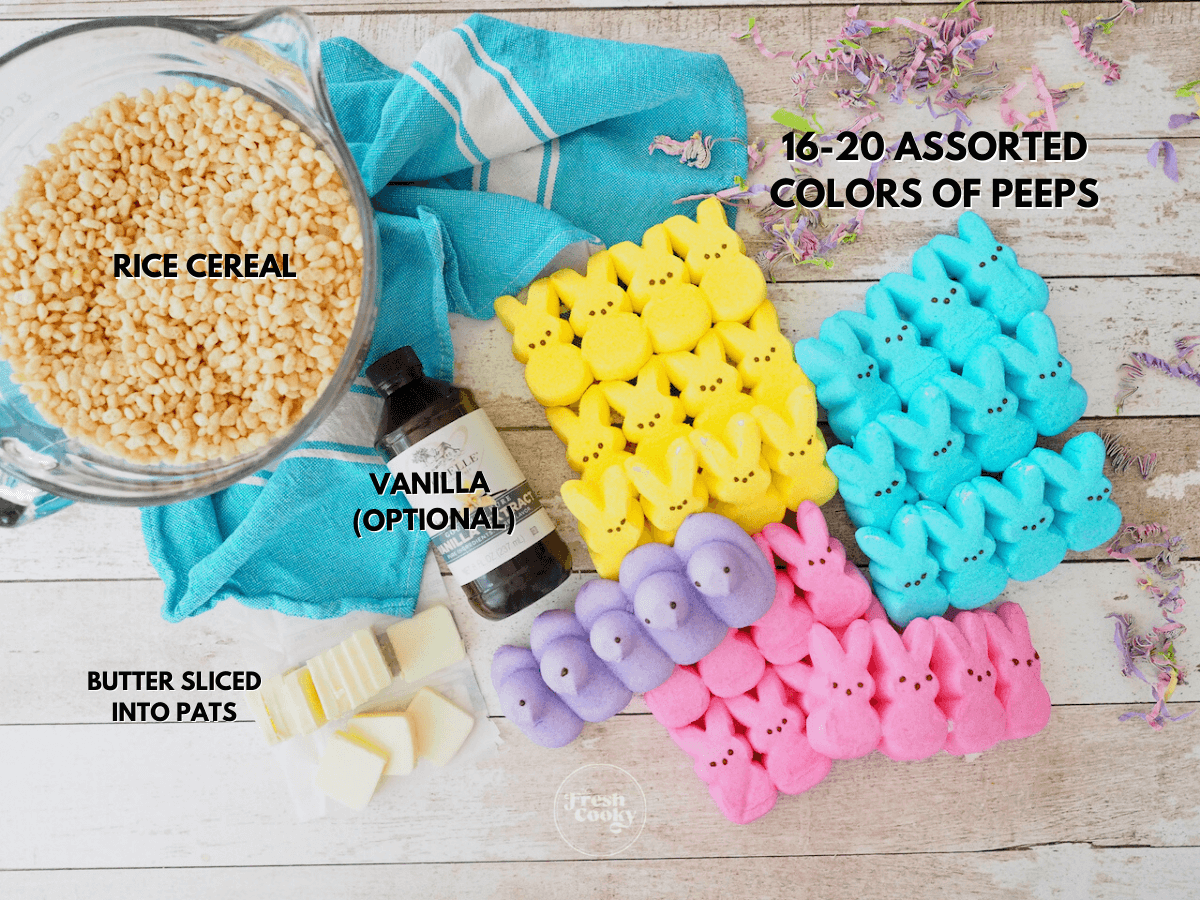 Rice Krispies Cereal | Or other rice cereal, if making for anyone with Celiac, be sure to use certified gluten-free rice cereal!
Peeps Colorful Easter Marshmallows | Between 16-20 is all you need, use a variety of colors. No mini marshmallows here!
Butter | I used salted, but you may also use unsalted butter, room temperature! Just a few tablespoons of butter is all that is needed
Vanilla Extract | This is optional, but adds a more rounded flavor.
How to Make This Peeps Rice Krispie Treat Recipe
Making this colorful Easter treat with all the vibrant color of peeps is the perfect way to involve the family and celebrate happiness and life. Not to mention, you make these in the oven making it a really easy and is one of those fun recipes!
Step 1 | Peeps Rice Krispie Treats in Oven
First, preheat the oven to 375 degrees F and line a 13×9 inch pan with parchment paper or spray the inside of an aluminum baking pan with cooking spray or butter a baking dish lightly. No large pot to clean up here!
Step 2 | Pop peeps treats in the oven
Now open the packages of peeps and line them in whatever combination you would like in the bottom of the pan. Then just pour the crispy cereal over the peeps, give the pan a little shake to even them out.
Layer the top of the peeps treats and cereal with thin slices of butter and pop into the oven.
Bake the treats long enough to melt the peeps and butter, about 8 minutes.
Step 3 | Stir together to combine
Remove the pan from the oven and stir the cereal mixture with a sprayed rubber spatular or spoon right in the pan to combine all the ingredients. Oh, and sprinkle the vanilla over the top while stirring, if adding.
Peeps Rice Krispie Treats are extra soft and delicious warm out of the oven. Just be careful the little ones don't burn their hands in excitement. Or you can cut the classic rice Krispie treat into squares in an even layer or use a cookie cutter while still warm and allow them to cool. If thicker squares are desired, push the Rice Krispie Treats into one side of the pan.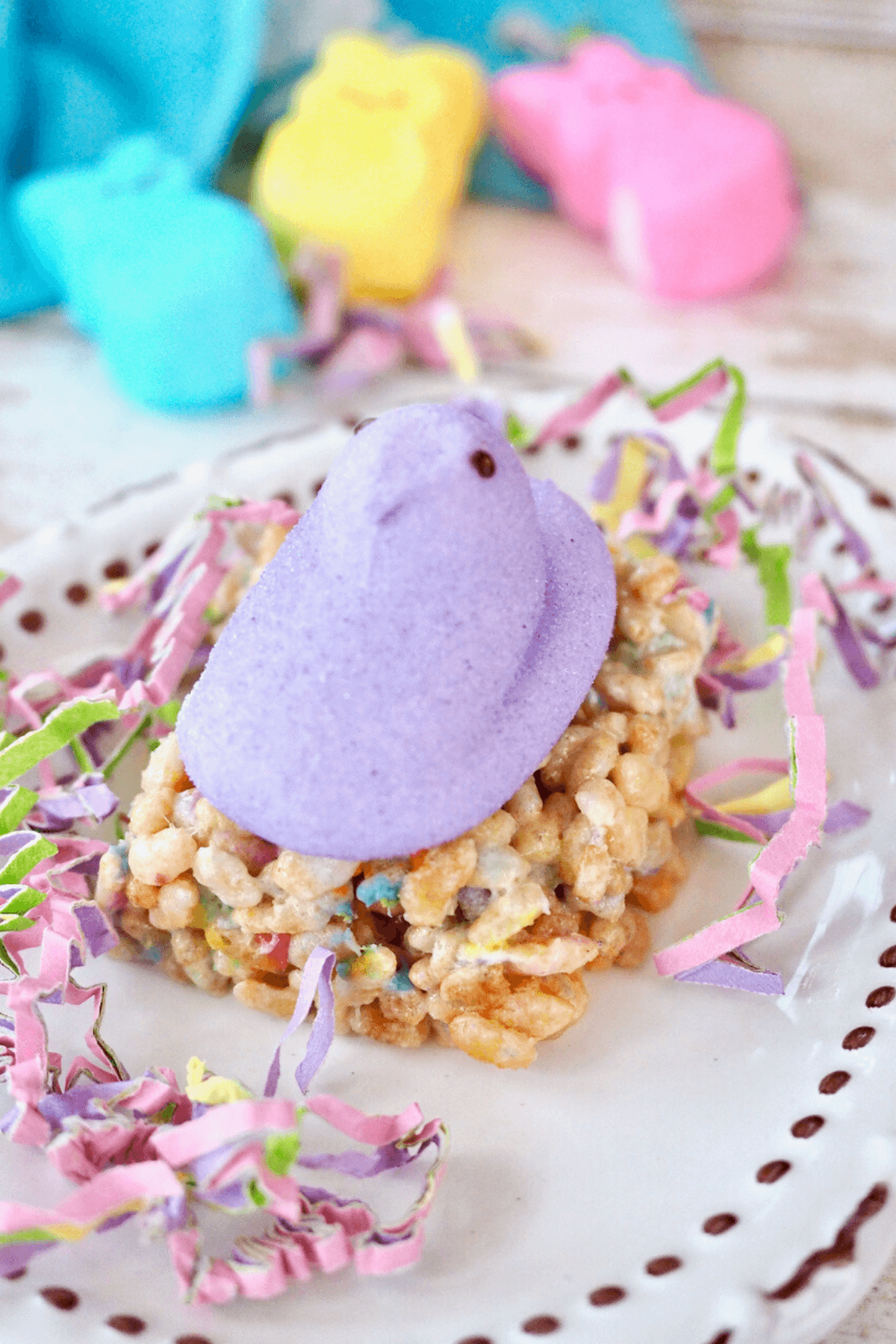 Variations & Substitutions
Change these Easter Peep Cereal Treats for the different colors of Valentine's Day Heart Peeps, Christmas Tree Peeps, Chocolate Pudding Peeps, or even Party Cake Peeps for any 'ole time of the year!
Make them Gluten-Free! While Rice Krispie Brand cereal treats are not certified as gluten-free, there are crispy cereals that are! So, change the cereal brand and use gluten-free vanilla because Peeps are gluten-free! – Voila!
Add colored jimmies to the mixture for an even more vibrant and perfect Easter treat.
Cut Easter Rice Krispie treats into desired shapes (cookie cutters work great for this), then insert a popsicle stick and maybe a drizzle of white or dark chocolate.
Package them in a cello bag with a piece of wax paper between each treat and then top with leftover Peeps. I sent these to my college son for Easter!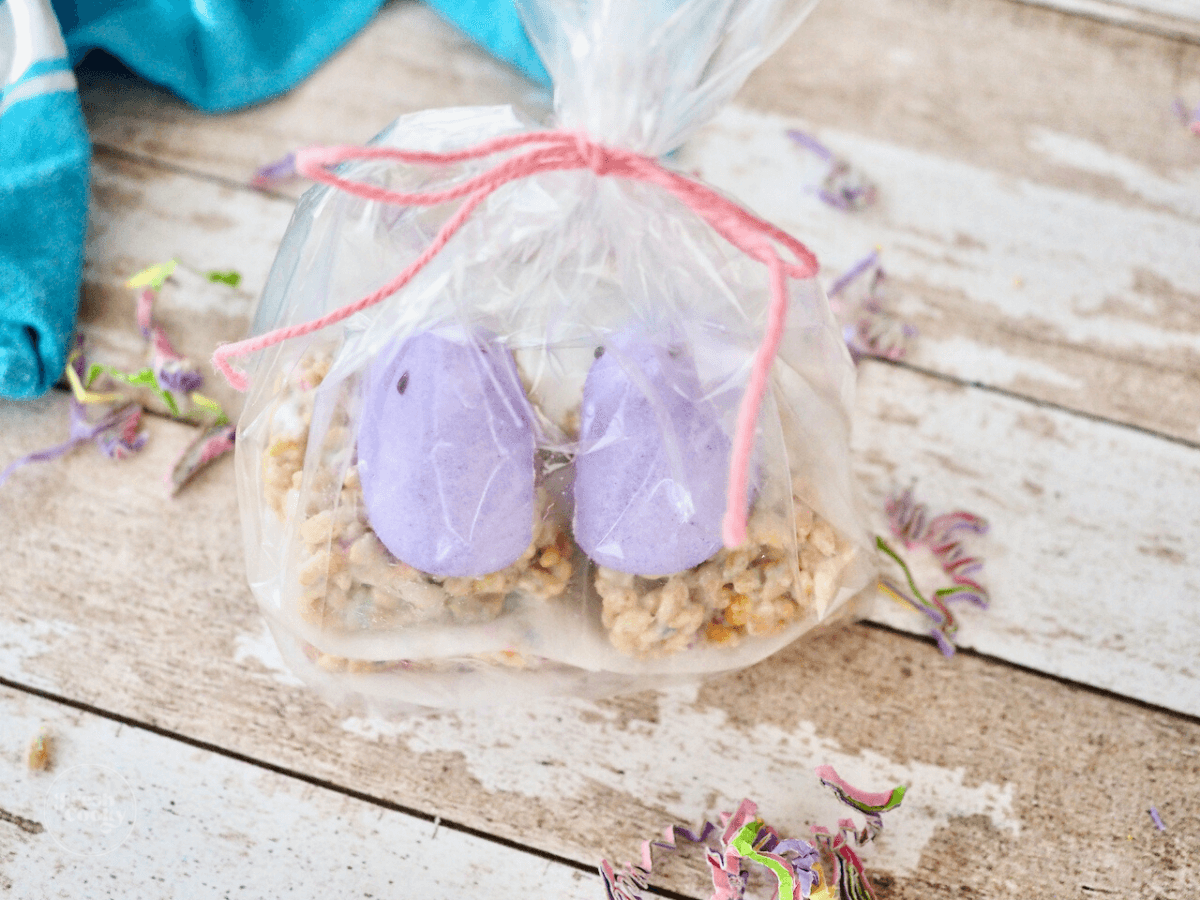 Equipment
You really do not need any special equipment for these Peeps Rice Krispies Treats! Though A solid silicone spatula is a must, this is my favorite!
Frequently Asked Questions
How do you keep your spoon and spatula from getting too sticky?
Simple, just butter your spoon or use cooking spray before stirring! Then reapply as needed. You may also press the mixture with your hands, I sometimes use a piece of plastic wrap or parchment paper.
Can I make these ahead?
Sure, you can. Just cover the pan or platter tightly with plastic wrap. Or you can place them all cut into squares in an airtight container.
Is Easter Peep Rice Krispie Treats a healthy snack?
While I would not call them a "health" snack, they are made of cereal and are only 86 calories. The peeps do add a lot of sugar, along with their gooey marshmallow flavor though!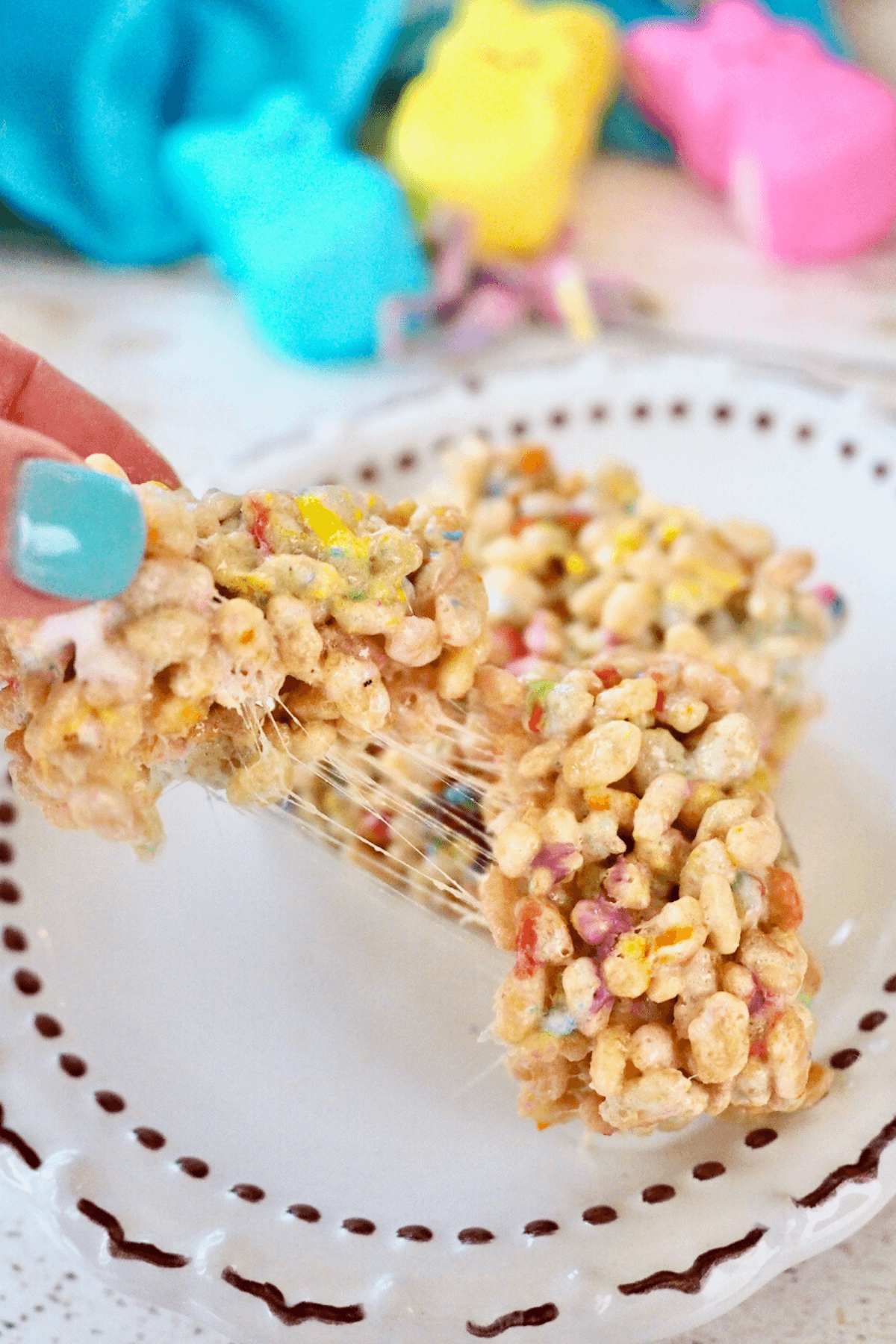 More Yummy Easter Goodies
TOP TIP
The best part about this recipe is that it is all made in one pan in the oven! For an even simpler clean-up, use a disposable aluminum pan and just toss it when the treats are out and cut!
I hope you loved this Peeps Rice Krispie Treat recipe, be sure to leave a comment below and a 5 star rating!
Love It? Pin It!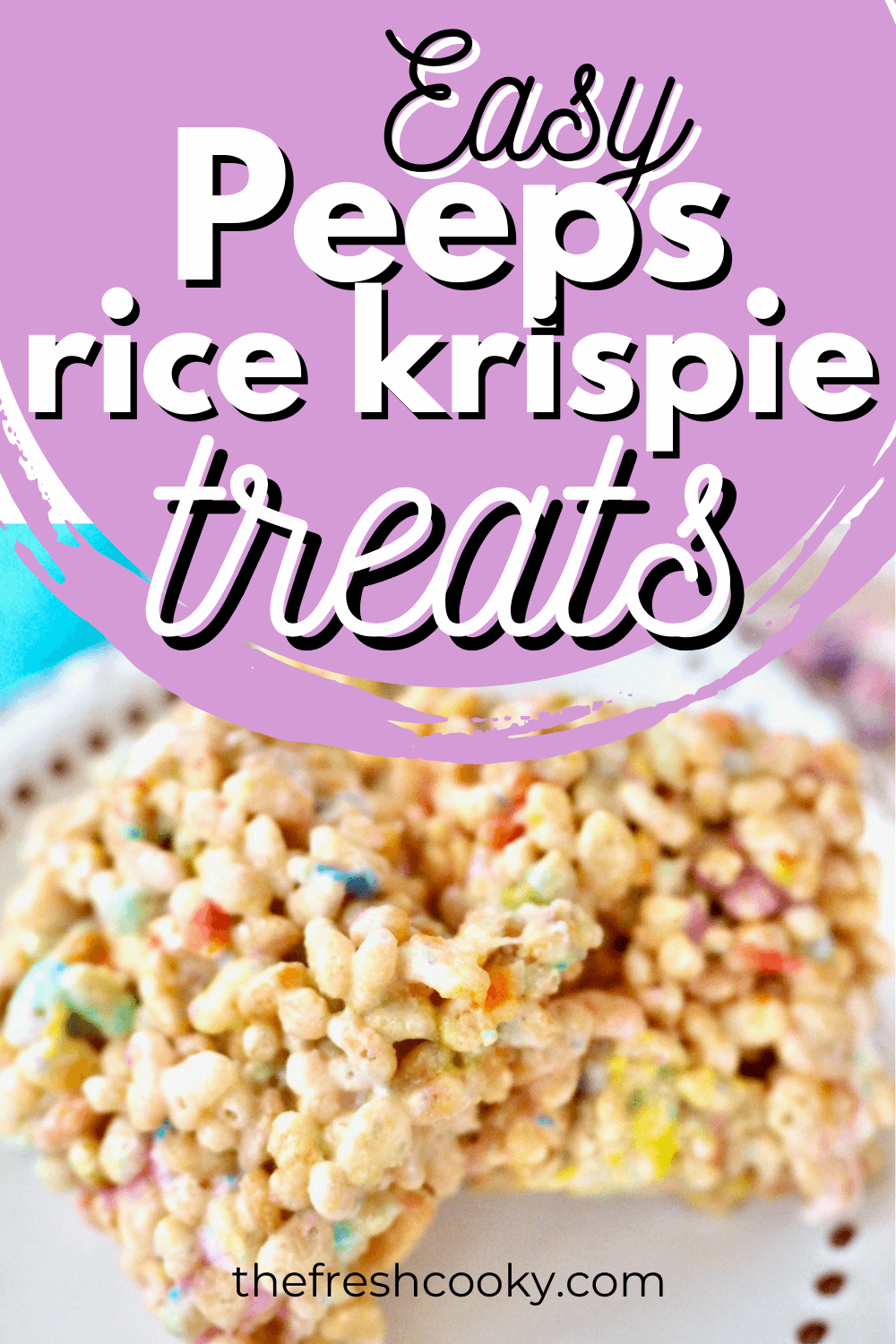 Like this recipe?
Don't forget to give it a ⭐️⭐️⭐️⭐️⭐️ star rating and comment below the recipe!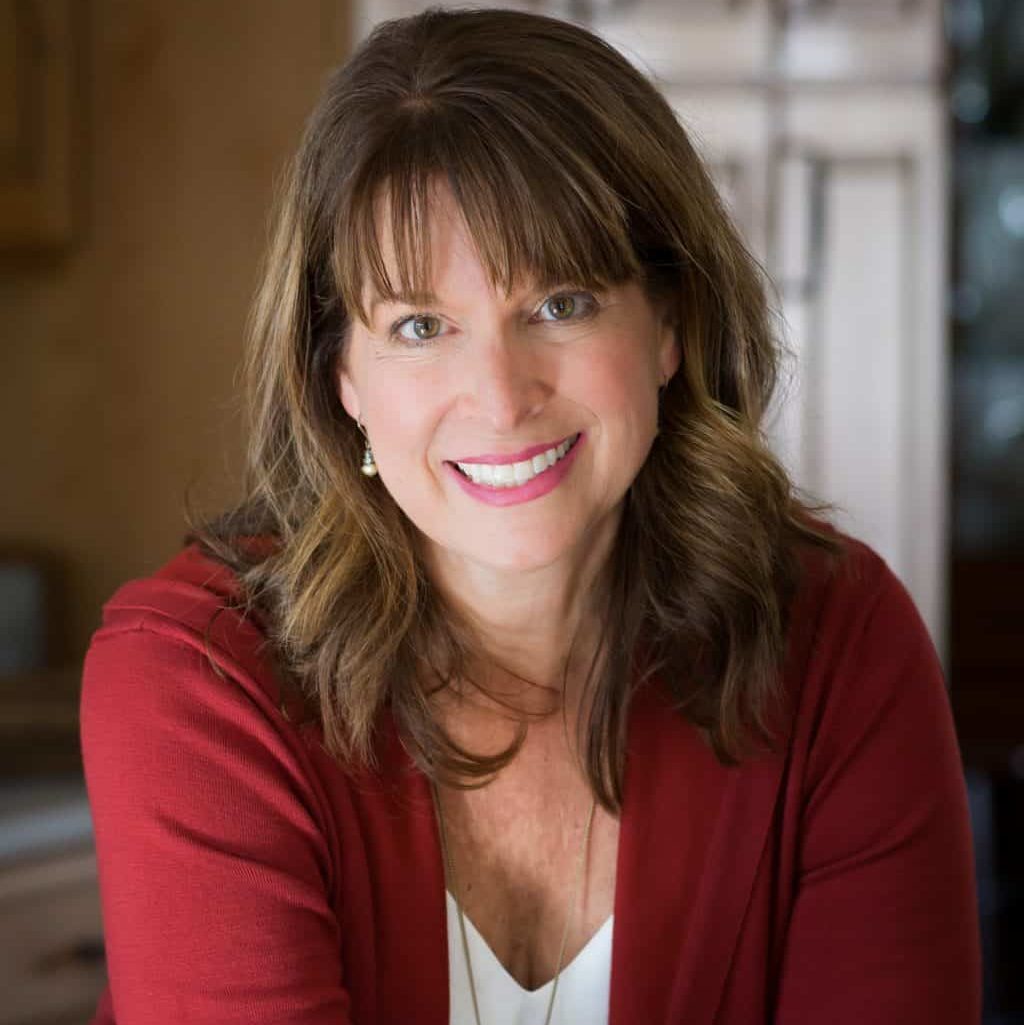 About Kathleen Pope
Recipe Innovator | Food Photographer | Food Writer
Hi, I'm Kathleen Pope. Here at The Fresh Cooky you will find easy, mostly from-scratch, trusted recipes for all occasions. From speedy dinners to tasty desserts, with easy step-by-step instructions. I am here to help teach you how to make mouthwatering recipes without spending hours in the kitchen. Read more about Kathleen here.