Homemade Golden Milk Spice Mix + Free Label
As an Amazon Associate, I earn from qualifying purchases. Please read my disclosure policy.
I showed you how to make your own Golden Milk also known as Turmeric Tea; now I want to show you how to make your own 4-ingredient, 5-minute Homemade Golden Milk Spice Mix to make it even easier to enjoy this warm, healthy, antioxidant, immune boosting tea!
This Golden Milk Spice Mix recipe makes a fabulous gift, read to the bottom for a Wellness Gift Basket idea along with pretty printable labels free to print. Make Turmeric Tea, or Turmeric Coffee with this delicious spice mix.
If you enjoy packaging up pretty things for your kitchen, try these other reader favorites: Elderberry Syrup, Lemon & Peppermint Antibacterial Hand Scrub, Homemade Vanilla Extract or Carrabba's Grill Seasoning.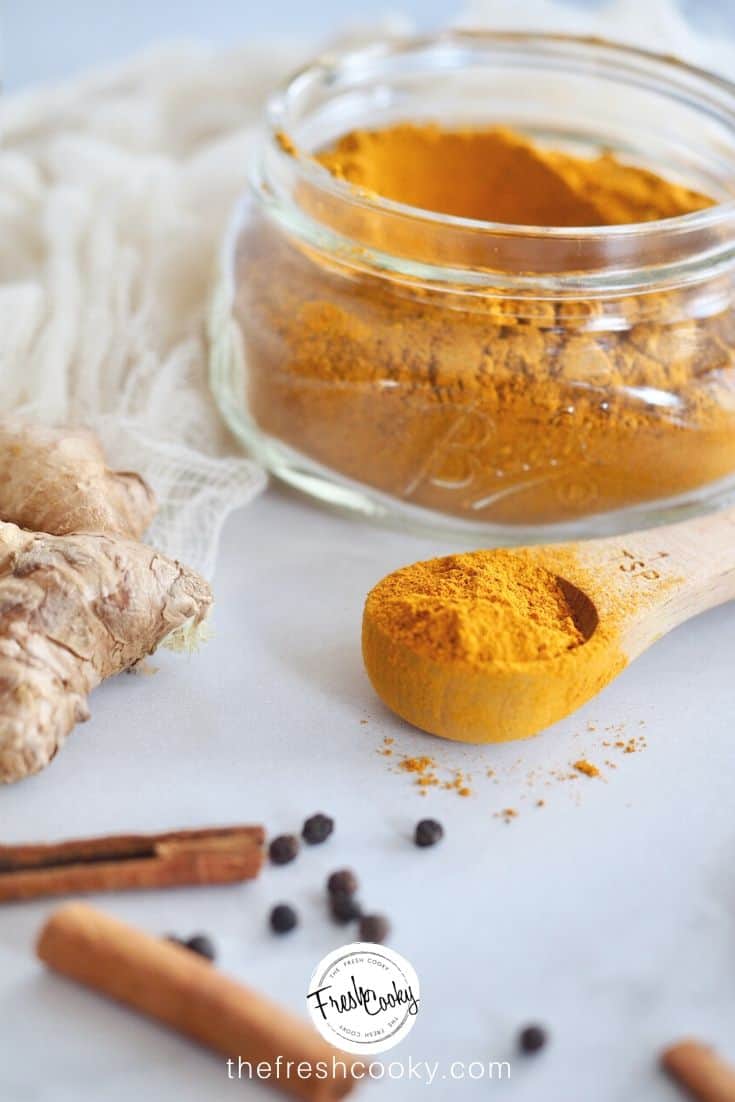 Golden Milk Spice Mix Recipe
Once you make your spice mix, add a few fresh ingredients, warm it all up and spazooly, you are drinking one of the healthiest drinks for you during times of stress and anxiety.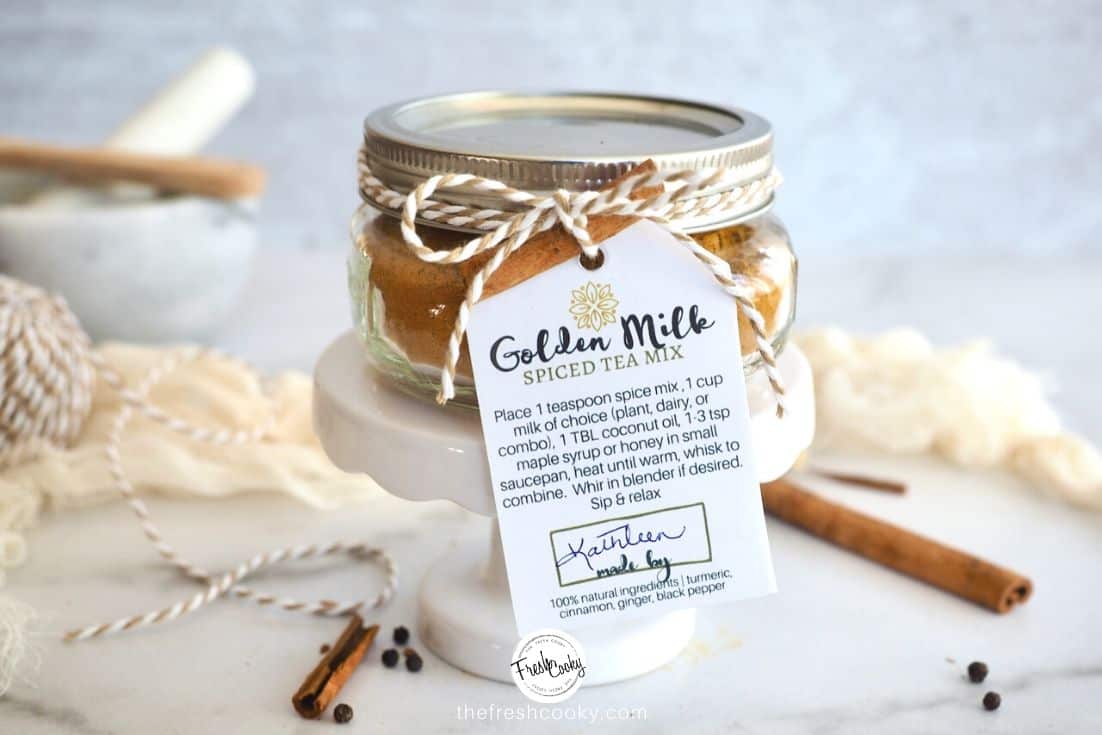 Raise your hand if you need some of this calming tea right now! Both of my hands are raised!
In fact, you might also enjoy my calming screensavers created for your phone, I did it for me, but wanted to share with you!
And yes, if you are wondering if spazooly is a made up word, YUP! On the spot, that's how I roll, if I can't think of a word, I just make one up. It might also be called getting older…I'm going with creativity.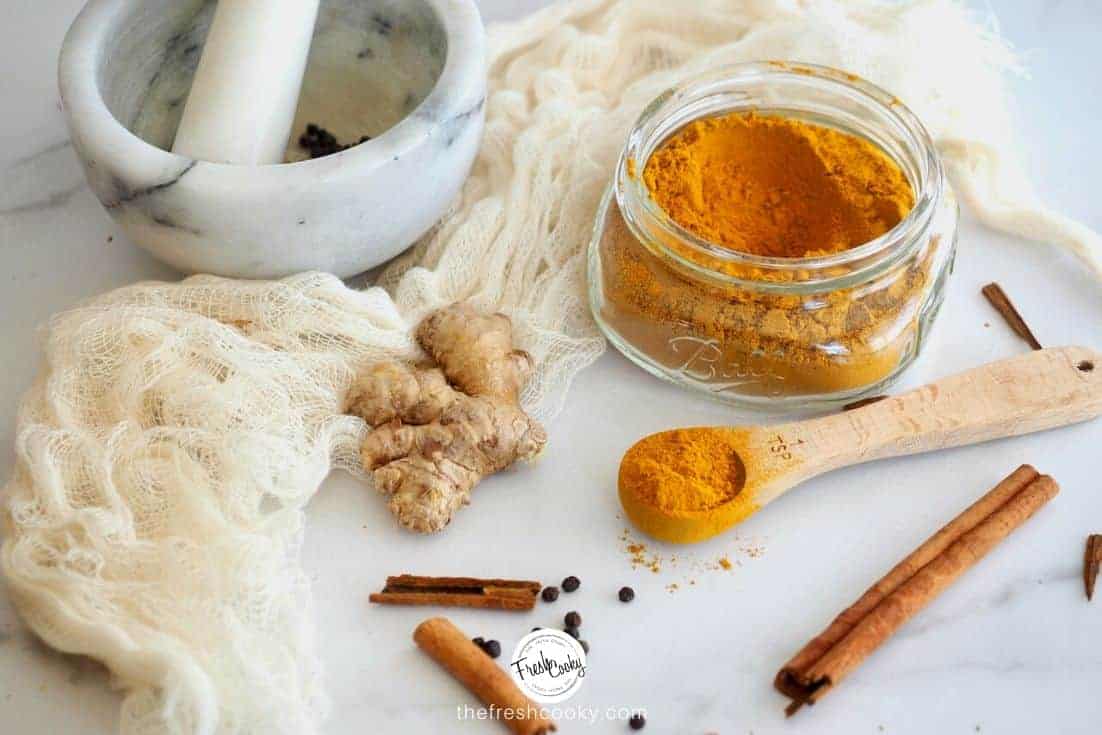 Anyhoo, I want you to be able to share this beautiful, golden, healthy, sleep aid tea with others, so I wanted to give you the instructions on how to make the spice mix along with provide you with some free pretty labels to print.
What Spices Do You Need for Golden Milk Spice Mix
All you need are these 4 basic and simple ingredients to make this Golden Milk Spice Mix. In 5-minutes with these 4-ingredients, plus a little dairy or plant based milk, a touch of coconut oil and a little maple syrup or honey for sweetening and you have a cuppa this relaxing tea.
P.S. I am not a fan of black pepper, I think I have a slight allergy to it, so I do not like "biting or sipping" into larger chunks of black pepper. So really mix the spice up, I poured the entire spice mixture into my blender, whirring it for a few seconds to blend all of those spices.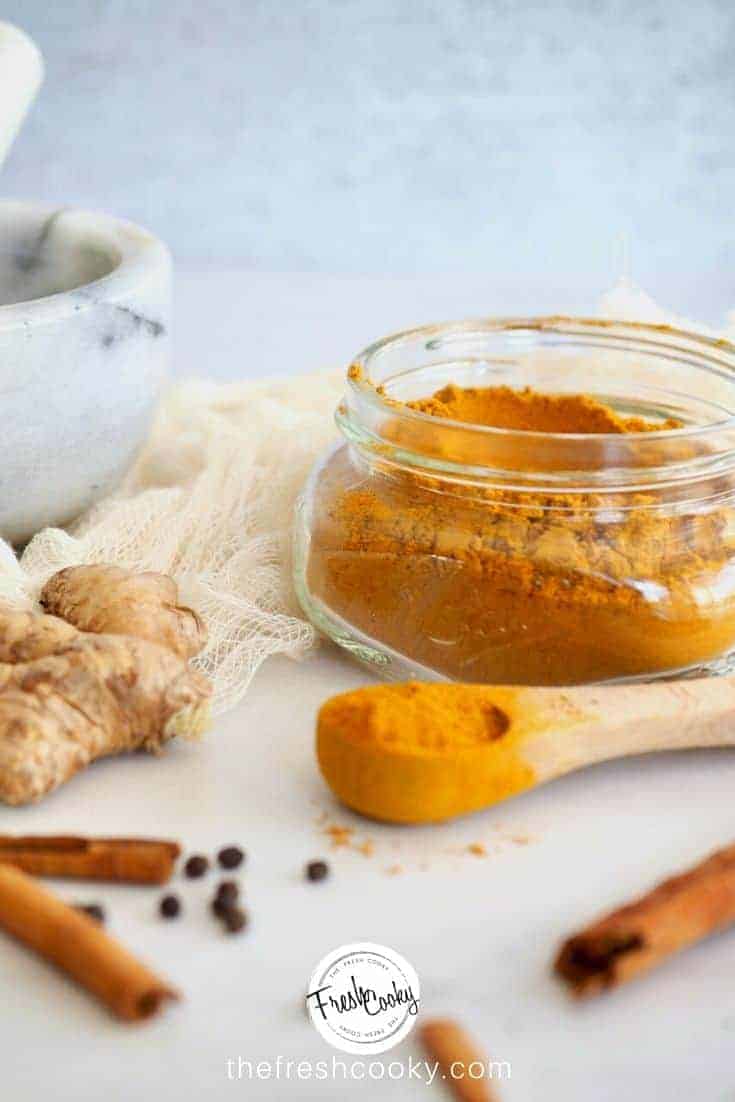 How Do I make Golden Milk Using Spice Mix Recipe
Glad you asked, well, that's why you are here right!
In a small saucepan, warm a cup of your favorite "milk" dairy, plant based or a combo (easily becomes vegan), whisking in a teaspoon of the Golden Milk Spice Mix, and a tablespoon coconut oil and desired sweetener (honey, maple syrup, stevia, coconut sugar, etc).

For a creamier Golden Milk Latte, whir in a blender before or after heating*, or use your favorite frother <<- my favorite!. Pour into your favorite mug and enjoy.
*WARNING!!! –>>If blending AFTER HEATING, be careful when removing blender lid, slowly opening away from you. The heat will cause pressure to build in the blender, causing it to spit and spurt, but it does make for a beautiful creamy, golden milk latte. Or simply heat in a pan or use a frother.
Free Printable Labels and Gift Tags for Golden Milk Spice Mix
This is a beautiful spice mix to gift someone, think hostess gifts, Christmas, holiday, neighbor gifts or just because! I thought I'd make some pretty (FREE) labels to go with the mix.
Check out these other great hostess and holiday food gift ideas:
I have 2 inch label for smaller diameter jar lids and 3 inch round labels for wide mouth jars, like the one shown here in the picture below. Punch or cut out and affix to jar lid with a little glue, or punch a hole and tie to the front.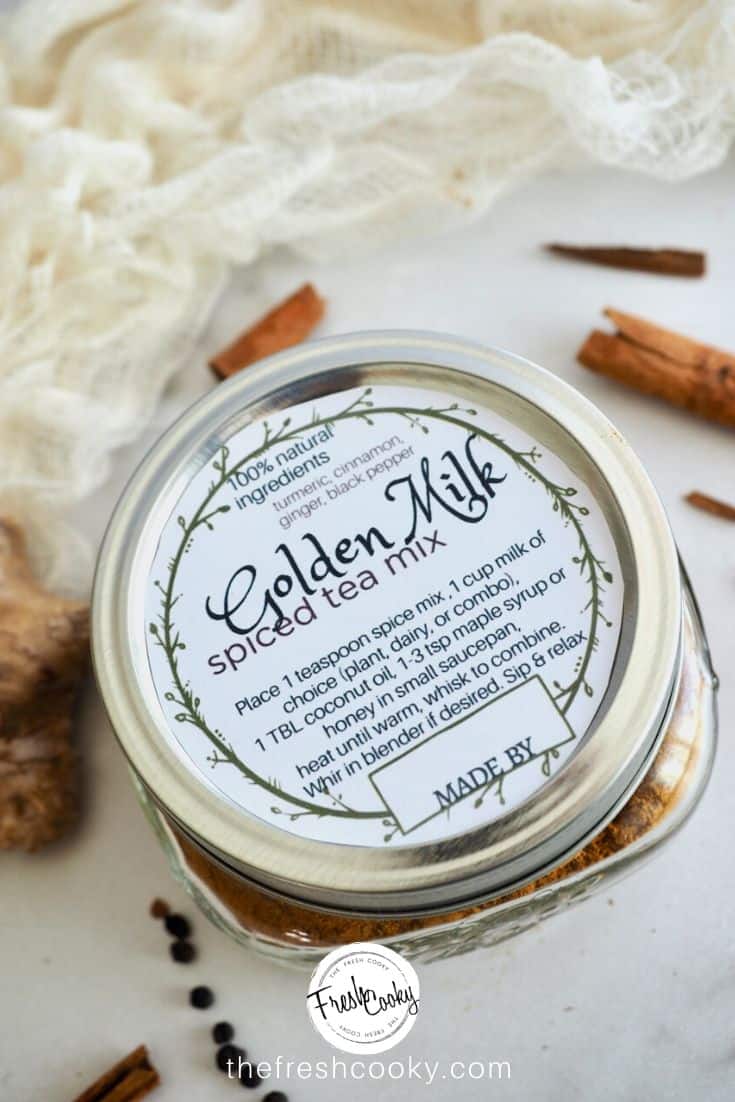 Or a cute tag like this one. Tie with some baking twine, twine or other ribbon.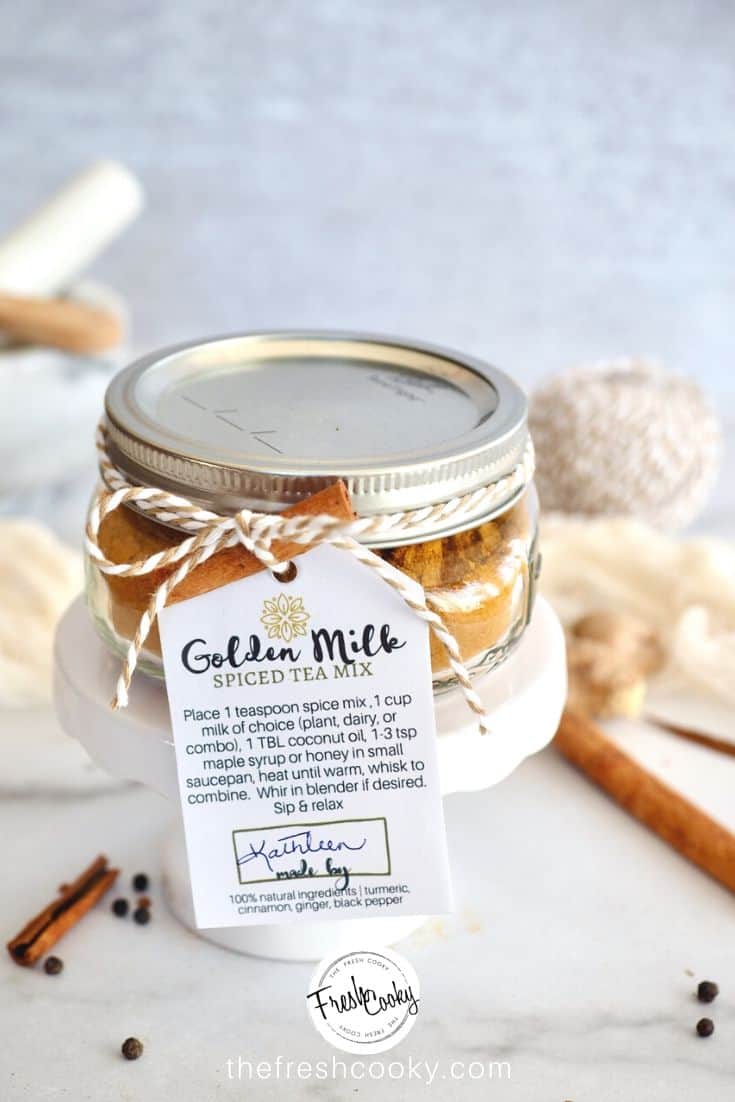 Typically, I use 65# white or kraft paper for most my gift tags, they hold up well and punch well. I have a couple of punches to make tags easier not requiring me to use a whole sheet of labels; this 1 1/2 inch punch and 3 inch punch are great!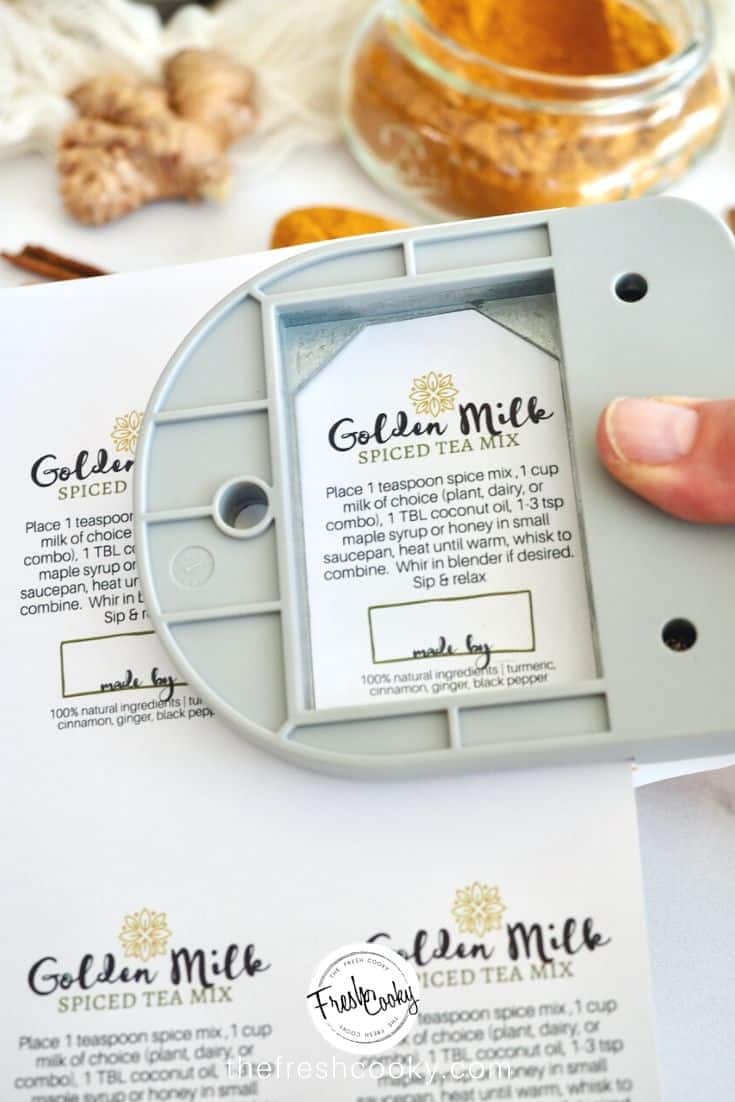 Simply click on the button below. A window will open where you pop in your email address and I'll send you the link to the free, printable gift tags in an email, shazaam!
Bookmark this page, or Pin the following image to your favorite boards for later reference.
Thanks for hanging out with me today! If you enjoy these recipes, please try my Chai Tea Latte, Golden Milk Latte and Bulletproof Coffee, all so healthy and simple to make at home. The handy recipe is just below!
This makes a lovely gift by itself, or make into a gift basket for the gift of health and wellness!
Make a Wellness Gift Basket

I simply purchased a box of individual coconut oil packets, a small jar of maple syrup and packaged up some of this Golden Milk Spice Mix, print out your favorite gift tag instructions and you have a beautiful, wholesome food gift idea!
Turmeric Coffee Variation
Mix this delicious spice mix in some espresso for a powerhouse turmeric coffee latte variation.
1 cup coconut milk, or substitute with your favorite dairy or plant based milk
1 teaspoon Golden Milk Spice Mix
1-3 teaspoons raw honey, maple syrup, coconut sugar, or packet of stevia
1-2 ounces brewed espresso (or really strong coffee)
In a small saucepan; heat milk, stir in spice mix, coconut oil and sweetener until warm. Froth in frother or with hand held frother, pour over top of espresso.
Don't forget to PIN to your favorite Drink board!
Like this recipe?
Don't forget to give it a ⭐️⭐️⭐️⭐️⭐️ star rating and comment below the recipe!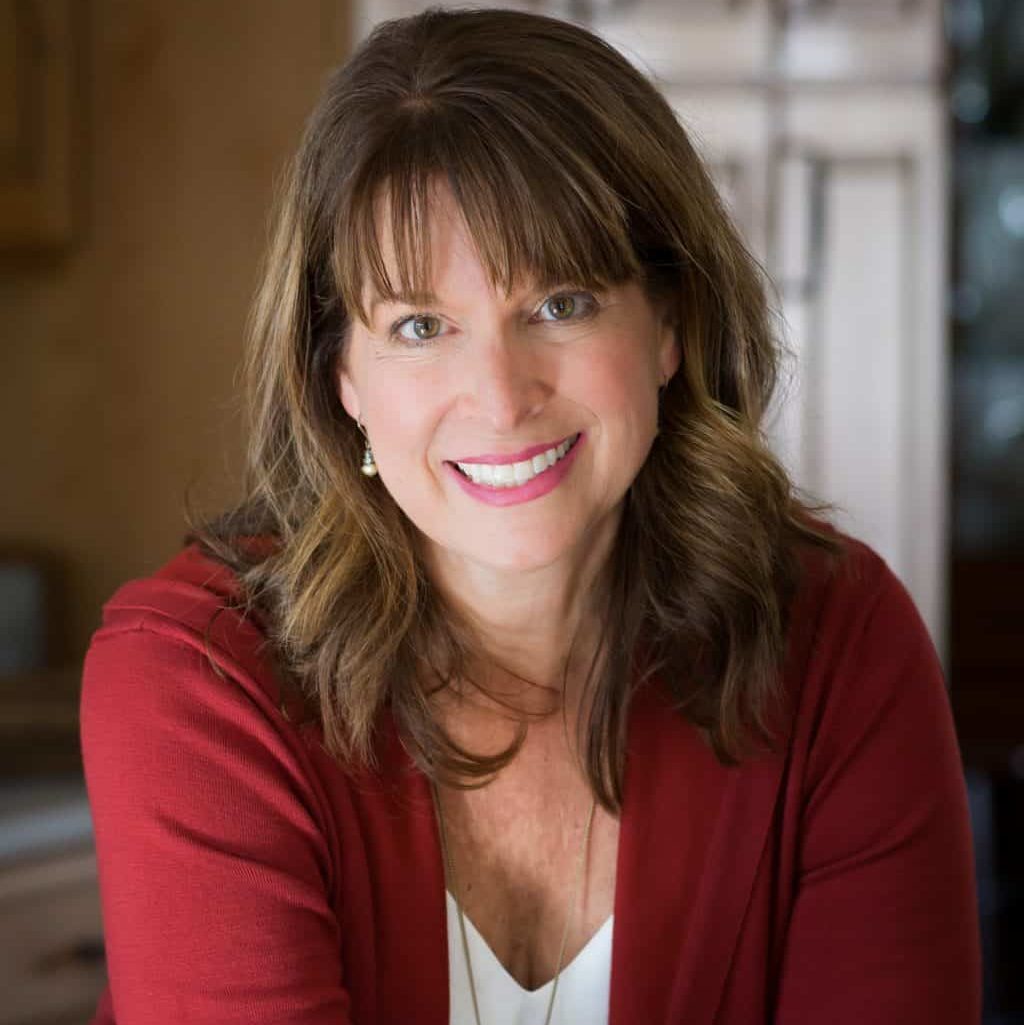 About Kathleen Pope
Recipe Innovator | Food Photographer | Food Writer
Hi, I'm Kathleen Pope. Here at The Fresh Cooky you will find easy, mostly from-scratch, trusted recipes for all occasions. From speedy dinners to tasty desserts, with easy step-by-step instructions. I am here to help teach you how to make mouthwatering recipes without spending hours in the kitchen. Read more about Kathleen here.